Questions to Ask Your Wedding Videographer, According to The Knot Ones to Watch
These pros are in the know.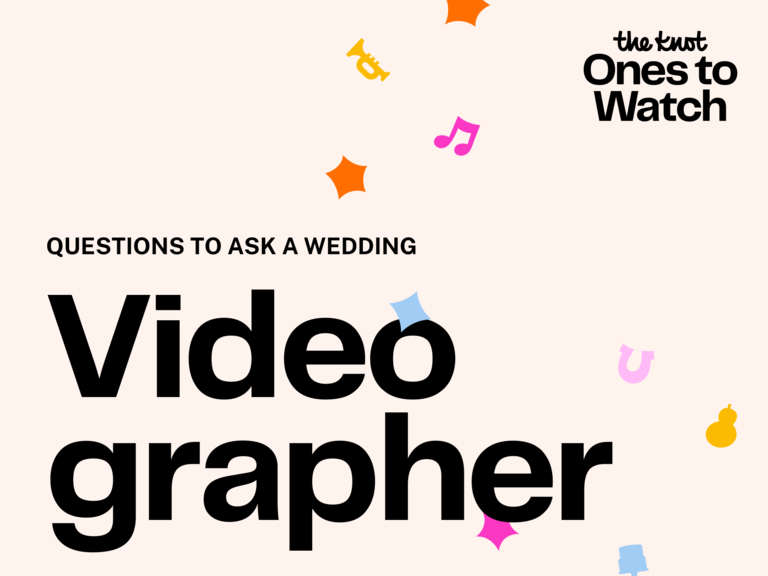 What's the scoop with wedding videography? These 28 questions to ask a wedding videographer will help you understand all the ins and outs of wedding videography. From budget and logistics to style and inspiration, these questions for wedding videographer provide guidance to engaged couples navigating booking a professional wedding videographer.
We recommend having a professional wedding videographer at your nuptials so they can document the candid moments that your photographer otherwise might miss. Your videographer will need to be around for the duration of the wedding, so make sure that you feel completely comfortable working with them. The best way to ensure that is by thoroughly vetting them, which is why we share 28 questions to ask your wedding videographer—before you commit. Use the questions below to guide your interviews as you consider potential wedding videographers to find the best match for the wedding.
In this story:
Meet Our Ones to Watch Experts
We connected with the expert wedding videographers who were honored as The Knot Ones to Watch 2023 to get their professional advice on questions to ask wedding videographers. These knowledgeable pros weigh in below with their videography insights for to-be-weds.
Wedding Videographer Questions About Background and Experience
Your wedding videographer is going to be by your side for most of the wedding day and you'll likely spend more time with them than some of your closest friends on the big day. Not only that, but they're tasked with creating a wedding heirloom. In short, you want the right person for this big job, and understanding their experience and background is a good starting point for your research.
1. Can we see examples of all the films you offer?
Beyond just asking for a peek at their portfolio, LaFleur encourages to-be-weds to inquire about samples of the different types of films a business offers. They may offer full-length films in addition to shorter sneak peeks and even videos cut for social media. Looking at these samples in aggregate will help you understand how they might edit together footage from your wedding day.
2. How long have you been filming weddings? How many do you do per year?
For years to come, you'll look at this video to remember all your favorite things from your big day, so you want someone who will catch every detail. Hiring an experienced videographer is one of the best ways to ensure that happens.
3. How would you explain your approach when working with other vendors on the wedding day?
Jeanty emphasizes the importance of speaking with a prospective wedding videographer about their teamwork and ability to work with other vendors. Pettus concurs adding that "it's important to know that your photography and videography teams will work well alongside each other. Choosing teams with similar editing styles help in this process and asking the questions: Have you worked with each other before? How do you plan to work alongside each other to capture our event?"
4. Have you ever worked with my wedding photographer?
As a follow-up to asking more broadly about a vendor's teamwork, you can also ask the prospective filmmaker about their experience with the specific group of pros you've curated. The photographer and videographer will have to work closely throughout your event to capture all of your moments in the best way possible. If they've worked together before, they'll most likely collaborate well again. If they've never worked together before, that's okay, but it's important they have a chance to meet beforehand to talk about the format and how they want to get it all shot.
5. Have you shot at my wedding ceremony or reception venue before?
Most videographers know how to find the lighting and angles in a given room. But if they've had a client at your wedding venue before, it will come very naturally to them. They'll already know where to set up the tripod or the best angle during your first dance.
6. Are there any other wedding vendors in the area you love to work with?
Good videographers in this industry tend to be pretty well connected. And, if they've worked well with someone in the past (like a photographer), you may want to hire that person too. It's also a good idea to check to see if they're members of any industry associations or if they've won any recent awards.
Wedding Videographer Questions About Inspiration and Style
After asking your wedding videographer questions about their experience, you can dive more deeping into their perspective as an artist. Ask the questions below about their style and where they find inspiration to better understand their creative process.
7. How would you describe your style as a filmmaker?
Jeanty encourages engaged couples to ask this question to wedding videographers. You want to understand their style and whether the types of videos they create are aligned with your wedding vision.
This is one of the most important questions to ask your wedding videographer. Not only do you want to get a sense of the style your videographer uses (cinematic, documentary, vintage, etc.), but you also want to make sure their version of the style aligns with yours. If you want a romantic video, and you and your videographer don't have the same idea of what that means, you could end up paying for a video you don't really like. Asking for samples of their work will give you a sense of how professional your videographer is and the kind of work they do.
8. What is your philosophy on capturing a wedding day?
In addition to understanding a filmmaker's style, you also want to gain insight into their general philosophy and approach to their work. You've seen their "what," now you want to learn about their "why." Pettus shares that, "for our team, providing a positive environment and calming presence far outweighs any desire we have to 'create movie magic.' Magical video moments would mean nothing if captured in a way that detracted from the organic nature of the event. It's our biggest challenge as live-event documentarians and our greatest creative asset."
Meanwhile, the Soks share that their philosophy is informed by their "our love of people and the stories they carry with them. It's just amazing that everyone on the planet is running towards the same goal; and thats to love their families and build community. Yet the expression of these goals happen through the lens of culture, race, gender etc. All this diversity makes for beautifully rich stories that ultimately reminds us that we are all connected." Knowing what motivates your pro will help you understand them more and benefit your working relationship.
9. What do you need to do your best creative work?
Expert wedding videographer LaFleur encourages couples to ask this question. Is your videographer going to be able to roll with the punches and still create great work? Are they going to bring an uplifting vibe to the overall day or does their creative process necessitate a more somber mood? Understanding the kind of environment that your filmmaker needs to thrive will help you know if they're a good fit for your big day.
10. I am nervous in front of cameras. How can you help me relax?
It's natural to feel a bit nervous so ask the pros how they'll make you feel like your best self in front of the camera. The Soks encourage couples to not be afraid to "move, dance, laugh, play! Video differs from photography in that we are not looking for poses. We want to capture genuine moments."
Wedding Videographer Questions About Budget and Packages
It's time for the budget talk. You want to know how much you should set aside for this valuable wedding pro and what videos they're be delivering at the end of your partnership.
11. How does your pricing work?
Let's talk about budgeting for your wedding video. Videographers typically charge a flat rate based on an amount of time. Others offer preset packages that also include other pieces, like a same-day edit or an extra shooter. Even if you're just buying a standard package, it's important to run through what's included. And if there's something you're hoping for—be it a short trailer to share with family or a special video for social media—ask about it and get any agreements in writing.
12. How many hours of filming do your packages include?
A wedding videographer's packages likely include a certain number of hours of filming on your wedding day, anywhere from four to an unlimited number of hours. The more time your videographer spends filming your wedding, the more you'll pay, so you'll want to make sure that the amount of time and cost aligns with your needs and budget.
13. How many days/ hours do clients typically hire you for?
Getting a sense of what a vendor's most popular offering may help you if you're struggling to decide what level of service or package is best for your wedding. Pettus shares that, "many to-be-weds don't consider events leading up to the wedding day for photo/video coverage, but those are our favorite things to capture, These pre- and post-wedding events allow family and friends to be captured in their most natural state—meaning more memories to call back on throughout the years."
14. What isn't included in your packages?
Never make assumptions about services—it's always better to ask more questions up front so that everyone is on the same page with expectations. Asking what isn't included is a great way to make sure no important information or details are overlooked.
Wedding Videographer Questions About Logisitics
There will be lots of moving parts on the wedding day so it's paramount that you ask logistics questions ahead of time so nothing slips through the cracks. The last thing you want on the big day is to be tracking down loose ends.
15. Are you available on our wedding date?
It may seem obvious, but before meeting with a videographer, be sure to ask about their availability on your chosen wedding date. If you're looking at a solo videographer and they're booked on your big day, that's a deal breaker.
16. What is your backup plan on a wedding day if something were to happen to you or your equipment?
Even though you are hoping for the best, it's wise to plan for the worst and have a solid backup plan in place. LaFleur encourages engaged couples to ask about what backup plans a videographer has in place in the event that something should go wrong with their equipment during the wedding. She also recommends asking about the process for after the wedding. What is your backup process for our footage after the wedding? Does the vendor have a solid system to ensure nothing happens to your footage?
17. What does your camera and lighting/sound equipment look like?
Gone are the days of massive camcorders and intrusive lighting pieces. Most videographers get the job done with a camera no bigger than your photographer's. Ask about it either way so you know what to expect. Another good thing to see? The microphone they would use for your wedding ceremony—will it be a handheld or a clip-on?
18. Will you be the one filming on our wedding day?
This is a particularly important question if you're interviewing a videography company who employs lots of pros. You'll want to make sure that the person you're speaking to will be the one who will actually film your wedding—or that you can meet that person before signing on the dotted line. It's essential to hire a videographer that you and your partner actually get along with, as they'll be at your side for most of your wedding day.
19. Will there be a second shooter, a stationary camera or any other backup cameras for our wedding?
Without a second shooter or any other backup, it may be difficult or nearly impossible for your videographer to capture every moment on camera. Many times, a second shooter comes with the videography package, but just in case, it's good to ask.
20. What is your cancellation policy?
This is a question that many couples forget to ask, but, especially in the wake of the COVID pandemic, it's an essential one. What happens if you need to cancel or reschedule your wedding? Is there a cancellation or postponement fee, and if so, how much is it?
21. Do you use drones?
Drones are a relatively new trend in wedding photography and videography. These mini-helicopters can provide breathtaking aerial footage of your big day, but they do require training to operate. Ask your videographer about their experience with drones, if they think they'd be able to use one at your venue, and how much it would cost. They should also have special insurance in case of an accident.
22. Will you be shooting any other weddings the same day or weekend?
If your videographer has several events to shoot on your wedding day, you'll want to be sure they have time for your wedding. Ideally, you'll have your videographer for the entire day, but big studios often schedule and manage multiple weddings per weekend. So in some cases, the person whom you speak with when signing your contract won't actually be the one shooting your wedding. If that's the situation, schedule a meeting with the assigned videographer to make sure their style meshes with yours.
Wedding Videographer Questions About Deliverables
Your wedding photographer will deliver a gallery with a certain number of photos afte the wedding. But what does the videographer deliver? The options for videos are much more varied so it's critical that you are all in agreement about the deliverables that are expected.
23. How will you choose music for our wedding video?
Music can really set the tone for your wedding day—and your wedding video! But when it comes to using popular music in a wedding film, things get a bit tricky. Because popular songs tend to be copyrighted, it can cost a lot of money to use them in a wedding video—and if you use music that's not properly licensed and post your video on social media, the video can be taken down and you and your videographer can be fined. Many wedding videographers use licensing services to help them access music selections for your video.
24. Can you explain how your editing process works?
As you learn more about a videographer's style, you'll also want to ask about their editing process. How does the videographer take all of the footage they gather on your wedding day and splice it together into a short video (usually three to five minutes for a highlights reel and 20 to 30 minutes for a full wedding film)? Do they use live audio or mostly music? You should also check out plenty of examples of a videographer's work—both highlights videos and full wedding films.
25. What's your usual turnaround time?
Editing a wedding video takes time, especially during the busy season. Most wedding videographers take about three months to complete their final film, but it can be longer or shorter than that depending on the videographer's staffing and schedule. It's important to ask this question to set expectations.
26. How will the final product be delivered?
Your final video should be presented to you as a digital file, which will make it easy to watch and share with loved ones.
27. Are you open to edits/feedback from us?
Many wedding videographers will provide you with a rough cut of your video so you can provide edits and feedback before the final film is produced. Talk to your videographer about how the feedback process works, and if additional rounds of edits are included in your package.
28. What input do you want from us, and what do you prefer to have final say on?
Many videographers view each piece they create as an artistic endeavor, not just the story of your wedding day—so they have a specific vision in mind that could be at odds with yours (you might want a particular song in the video, for example, while they might be against using it). If you trust your videographer completely, this shouldn't be a problem. But if you have a certain idea of what you want in your wedding video, you may want to talk that over with them before you sign the dotted line.