The Ultimate Emo Wedding Song Playlist
Honor your inner emo kid with these wedding songs.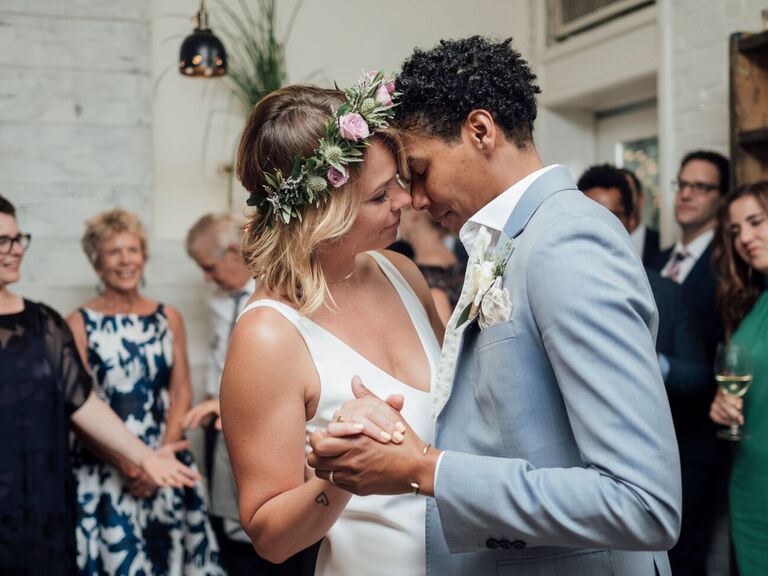 BAM Wedding Photography
Did you fall in love with an emo kid? Hoping for a bit of nostalgia on your big day? Well, you've come to the right place. We've dug deep in the aughts archives to round up a list of the best emo, pop punk, and alt love songs for your wedding day.
These wedding songs will have you ready to dust off your Converse, tease your hair, and bust out the heavy liner on your big day. Once you've taken a look and created your ultimate emo wedding playlist, tell your DJ or band so they can work your requests into your final lineup of songs.
"My Guardian Angel," The Red Jumpsuit Apparatus
Lyrics you'll love: "I will never let you fall/I'll stand up with you forever/I'll be there for you through it all/Even if saving you sends me to heaven"
Starting us off with a song that'll bring you back to slow dancing at your high school prom. The ideal first dance song, Ronnie Winter's soft singing delivers powerful lyrics over a mostly acoustic melody that leads up to a harder rock chorus. This song is about transcendent love that withstands any obstacle or challenge.
"I Will Follow You Into the Dark," Death Cab for Cutie
Lyrics you'll love: "And if Heaven and Hell decide that they both are satisfied/Illuminate the no's on their vacancy signs/If there's no one beside you when your soul embarks/Then I'll follow you into the dark"
Your ceremony may have talked about being together until death do you part, and this song really encapsulates that idea. It's a super popular first dance song, or even an emotional processional song for your walk down the aisle.
"First Day of My Life," Bright Eyes
Lyrics you'll love: "Yours was the first face that I saw/I think I was blind before I met you/And I don't know where I am, I don't know where I've been/But I know where I want to go"
We can't think of a better way to commemorate the first day of the rest of your life than with this song. It's a slow burn that celebrates both self-actualization and the feeling of finding someone who feels like home.
"Check Yes Juliet," We The Kings
Lyrics you'll love: "Run, baby, run/Forever we'll be/You and me"
This song has the classic high-energy emo sound and lyrics that will make you sentimental for your teenage years. You may no longer be sneaking out of your house to meet up at night, but this song's us-against-the-world message is a great mentality to carry forward into your marriage.
"Goodnight World," Brightside
Lyrics you'll love: "Goodnight world/It's the look in your eyes when you're staring at mine/Singin' goodnight world/Hello you"
While this 2017 song may be a bit newer than the rest, it's a beautiful example of a soft emo sound that's perfect for a wedding. Each of the three stanzas speak to the progression of life: finding yourself on your own, growing into your relationship with your partner, and then growing old together.
"Warmness on the Soul," Avenged Sevenfold
Lyrics you'll love: "You've been there from the start for me/And your love's always been true as can be/I give my heart to you/I give my heart 'cause nothing/Can compare in this world to you"
Find your kind of venue
From barns to ballrooms, discover reception venues that feel like you.
A deep cut from a band that's known for more hardcore hits, "Warmness on the Soul" shows a much different side of Avenged Sevenfold. In this ballad, frontman M. Shadows belts soul-baring lyrics accompanied by beautiful piano.
"I Caught Fire," The Used
Lyrics you'll love: "In your eyes/I lost my place/Could stay a while/And I'm melting in your eyes/Like my first time that I caught fire/Just stay with me, lay with me now"
From the spiraling opening cords, this song encapsulates how it feels to fall in love. You'll love looking into your love's eyes as you dance your first dance to this song. If the original is too heavy, you can always use an acoustic version.
"Here In Your Arms," Hellogoodbye
Lyrics you'll love: "Well you are the one, the one that lies close to me Whispers "Hello, I've missed you quite terribly" I fell in love In love with you suddenly Now there's no place else I could be But here in your arms"
If you're looking for a more upbeat alternative than the traditional emo vibe, Hellogoodbye's 2006 hit will have you and your spouse hitting the dance floor with a fun, high-energy first dance. Or save it for later as you dance with your guests.
"I'll Catch You," The Get Up Kids
Lyrics you'll love: "Don't worry, I'll catch you/Don't ever worry/No need for reminding/You're still all that matters to me"
A simple and pretty song about being there for one another throughout the years. After starting out with a soft piano, the song builds to a crescendo of drums and guitar with more intense singing, before closing on another soft note.
"Stolen," Dashboard Confessional
Lyrics you'll love: "I watch you spin around in your highest heels/You are the best one of the best one/ We all look like we feel/You have stolen my/You have stolen my/You have stolen my heart"
This list wouldn't be complete without a track from one of the ultimate emo bands. "Stolen" is the perfect tempo for a slow first dance, and the lyrics apply perfectly to a wedding.
"The Only Exception," Paramore
Lyrics you'll love: "That I'm content with loneliness/Because none of it was ever worth the risk/But you are the only exception"
This one's for the cynics-turned-lovers. Hayley Williams's voice is beautiful amid an acoustic backdrop, as she starts by describing her hesitancy to fall in love, before declaring her love as "the only exception"—making it seem all the more powerful.
"First Date," Blink-182
Lyrics you'll love: "Let's go/Don't wait/This night's almost over/Honest, let's make/This night last forever/Forever and ever"
Nothing encapsulates the first-date-falling-in-love jitters like Blink-182's 2001 hit. And what better way to memorialize those butterflies than with this song? If it's too fast for a first dance, check out the acoustic covers or play it when everyone hits the dance floor.
"Fall For You," Secondhand Serenade
Lyrics you'll love: "Because tonight will be the night/That I will fall for you over again/Don't make me change my mind/Or I won't live to see another day/I swear it's true/Because a girl like you is impossible to find"
The lyrics may be bittersweet, but the message is still strong. This song is about rediscovering your love and reevaluating how much it means to you. It's also the perfect tempo to slowly sway across the dance floor.
"Inevitable," Anberlin
Lyrics you'll love: "I want to be your last first kiss that you'll ever have/I want to be your last first love that you'll ever have"
This soft song tells the story of two kids growing up together, falling in love, and ending up as each other's last firsts. And the notion of "breaking every clock" so the moment can't slip away is just perfect for a wedding day.
"You Had Me @ Hello," A Day To Remember
Lyrics you'll love: "I know that I had sworn I'd never trust anyone again but I didn't have to/You had me at hello"
Falling in love is all about taking a risk. This song is about the push and pull between letting yourself fall because the feelings are too strong to deny. It's a sweet sentiment to share with your significant other on your wedding day.
"Always," Panic! at the Disco
Lyrics you'll love: "It was always you falling for me/Now there's always time calling for me/I'm the light blinking at the end of the road/Blink back to let me know
The band that once rose to fame with one of the most dramatic songs about a wedding ever written delivered the perfect first dance song with this 2011 hit. Inspired by The Great Gatsby, this song features a toned-down version of the band's vaudeville, baroque-pop sound with beautiful vocals by Brendan Urie.
"Breathe," Angels & Airwaves
Lyrics you'll love: "And honestly I will love you/You make me feel alive/And I'll love you/Until the end of time"
The consistent drumbeat and looped synth sounds on this track give it the perfect steady tempo for a first dance. Plus, the lyrics about loving each other until the end of time couldn't be more apt for a wedding.
"Piece of Your Heart," Mayday Parade
Lyrics you'll love: "You are the brightest I've seen, you are the best side of me/And just for when we're apart I've got a piece of your heart"
Mayday Parade's 2018 hit starts off introspective, reflecting on the relationship's past. Then, the lyrics become more hopeful as a range of voices sing the chorus, accompanied by upbeat music.
"Kissing In Cars," Pierce the Veil
Lyrics you'll love: "She was always the one/I'll repeat it again, the one/No such thing as too young"
From the kids standing at the altar on the 2013 album's cover, to the lyrics about there being "no such thing as too young," this song captures the feeling of being young and in love. Regardless of if you and your future spouse are childhood sweethearts or not, this song captures the intensity of a first love perfectly.
"Dance, Dance," Fall Out Boy
Lyrics you'll love: "I'm two quarters and a heart down/And I don't want to forget how your voice sounds/These words are all I have so I'll write them/So you need them just to get by"
The second your guests hear that iconic base line, they'll be running for the dance floor. What better way to kick off the dancing portion of the evening than with this high-energy track off From Under the Cork Tree?