Favorite Father-Daughter Wedding Song Ideas
Below are some tried-and-true tracks for this very special moment with your dad.
by Samantha Roberts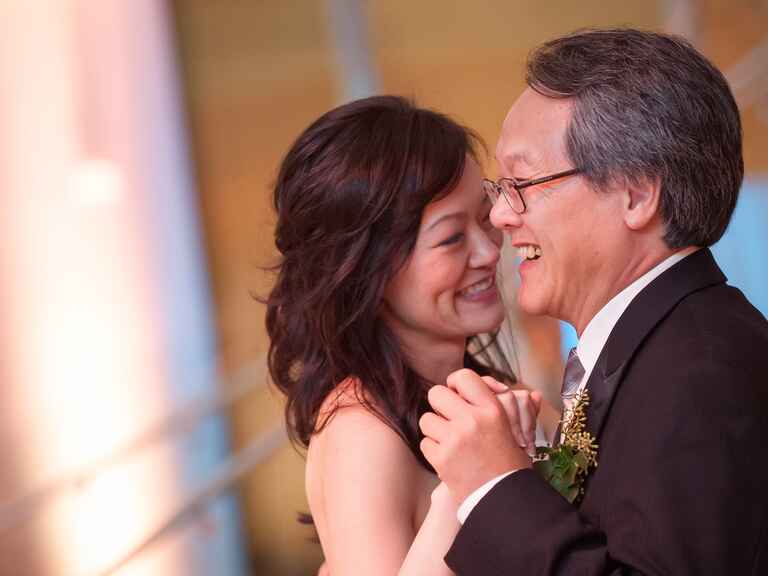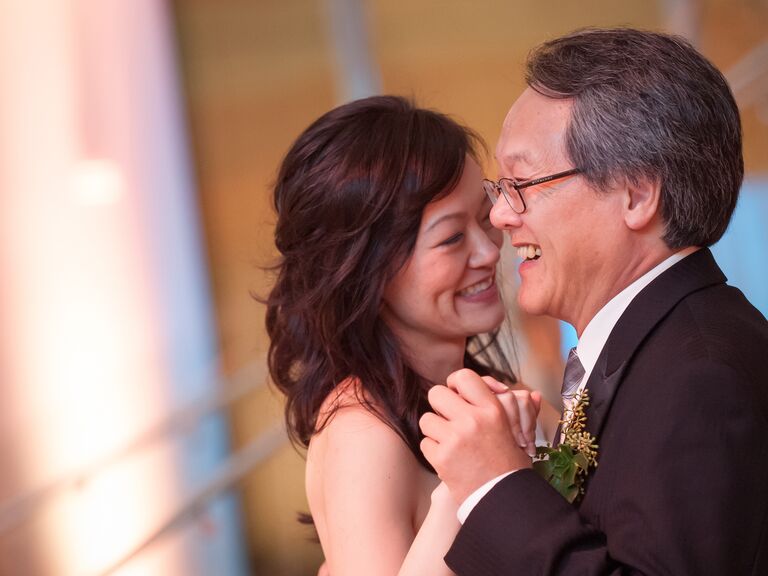 The best father-daughter wedding song will have all the right elements: It's something sweet and meaningful that's great to dance to. Here are more than 30 favorite songs to ask your band or DJ to play or your soloist to sing for this sentimental moment. Choose from this list of classic songs, or let it guide you toward the right pick for you and your dad.
1. "A Song for My Daughter" by Ray Allaire
2. "Always Be Your Baby" by Natalie Grant
3. "Butterfly Kisses" by Bob Carlisle
4. "Daddy" by Beyoncé
5. "Daddy Dance With Me" by Krystal Keith
6. "Daddy's Hands" by Holly Dunn
7. "Daddy's Little Girl" Michael Bublé
8. "Daughters" by John Mayer
9. "Dream" by Priscilla Ahn
10. "Father and Daughter" by Paul Simon
11. "Forever" by The Beach Boys
12. "God Gave Me You" by Blake Shelton
13. "God Only Knows" by The Beach Boys
14. "I Loved Her First" by Heartland
15. "Isn't She Lovely" by Stevie Wonder
16. "Lullaby" by Billy Joel
17. "It Won't Be Like This for Long" by Darius Rucker
18. "My Girl" by The Temptations
19. "My Little Girl" by Tim McGraw
20. "My Wish" by Rascal Flatts
21. "One in a Million" by Larry Graham
22. "She's a Rainbow" by The Rolling Stones
23. "She's Leaving Home" by The Beatles
24. "Stealing Cinderella" by Chuck Wicks
25. "Today I Give My Daughter Away" by Dale Watson & His Lone Stars
26. "To Sir With Love" by Lulu
27. "Unforgettable" by Nat King Cole and Natalie Cole
28. "Wide Open Spaces" by the Dixie Chicks
29. "Wildflowers" by Tom Petty
30. "Wind Beneath My Wings" by Bette Midler
31. "What a Wonderful World" by Louis Armstrong
32. "You Are My Sunshine" by Johnny Cash
Maggie + Michael by Blue Racer Productions from Love Stories TV.
Watch real wedding videos on LoveStoriesTV.com to see more of the sweetest father-daughter moments.
Still searching for the perfect wedding music pro? Search tons of wedding bands and DJs right now.

Not sure where to begin with your wedding planning? Take our Style Quiz and we'll pull together a custom wedding vision and vendors to match, just for you. After that, create a free, personalized wedding website to keep your guests informed (and excited!) about your plans, and a time-saving Guest List Manager to organize your attendees. Even better? You can sync your Guest List Manager and wedding website to update everything at once.