The Final Wedding Dress Details You Need to Know
You've finally found your wedding dress, but now what? Read on for our tips to help you navigate everything that comes after.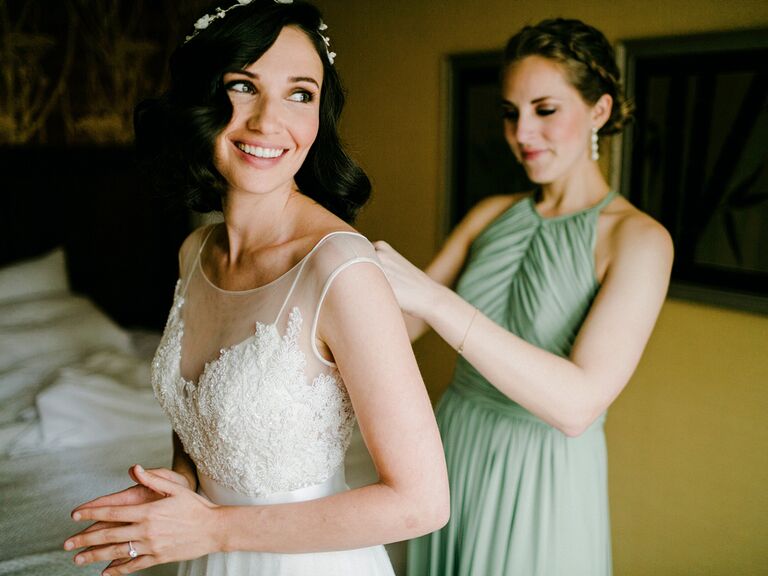 Lev Kuperman
Unlike other dresses, your wedding dress won't come ready to wear straight from the store. In between your dress purchase and your walk down the aisle, there's an entire process to ensure you'll have the perfect fit. From your first fitting to the final try-on, here's what to expect—and what's expected of you—during the next few months.
Before Your First Fitting
Buy your undergarments and bridal shoes. You must have both of these things for your fittings—a bra switch or change in heel height could cause your dress to fit poorly.

Decide which accessories—jewelry, headpiece, wrap, bag—you want to wear with your dress and buy or order them.
Your First Fitting
The first fitting usually takes place about six weeks before your wedding day. Just like when you were shopping, it helps to bring one eagle-eyed friend or family member along for advice. And don't forget your shoes, bra and slip— along with any other accessories you have purchased—so you can see how everything looks together.
This fitting is to ensure two main things: That your gown is the right size, the right color and the right design (neckline, train, sleeves and so on) and that your seamstress has a handle on what alterations need to be made. As soon as you have your dress on, they should begin looking for places where your dress needs to be taken in, let out, shortened, lengthened or altered in another way.
While your seamstress is busy fitting your gown, take a close look at the fit and how the fabric falls. Is there any puckering, bunching or bulging? Look closely at the stitching, embroidery or beading. Does everything seem well-sewn? Look in a three-way mirror to view all angles, and ask for another hand-held mirror if necessary. Speak up if you see anything that you don't like. The seamstress should also be able to tell you why each problem exists, and what can be done to fix it. Before you leave your first fitting, make sure to schedule your next one with the same seamstress.
Your Second Fitting
About a month before your wedding, you should have a second fitting. Again, bring along your undergarments, shoes, jewelry and any accessories you plan to wear for your wedding. If you're deciding between a few different accessories, bring them along to try on with your dress. Photograph each look with your phone, so you can compare each option.
In addition, make sure:
All your concerns from the first fitting have been addressed and fixed

You can move comfortably in your gown

Your dress stays in place as you move

There's no obvious wrinkling, bunching or pulling of material

If you have a full-length dress, that your hem skims the tops of your shoes
Once again, speak up if you see something that doesn't look right. If there is a problem, continue to schedule fittings until you're completely satisfied.
Your Final Fitting
When the day of your final fitting arrives, ask your maid of honor to come along so they can learn about your gown. Does it need bustling? Ask the salesperson to teach them how to do it. Does it have complicated straps or buttons? Make sure they learn how to work them before the wedding day. Also, now's the time to find out how to get rid of last-minute wrinkles. Should you use an iron? On what setting? Is steaming a better option? And what if you spill something on the gown? Are there certain products you should and shouldn't use?
The Wedding Day Pick Up
When your final fitting is complete, schedule a date and time at least two weeks before your wedding to pick up your gown. When that day arrives, try your gown on one last time, especially if it's been awhile since your last fitting. Two weeks allows for your seamstress to perform any small alterations you may need if your weight has fluctuated or you see anything you don't like.
Preserve Your Gown
If you're thinking of preserving your wedding dress, find a reputable preservation service before your wedding day, like Wedding Dress Preservation by The Knot. Start the preservation process as soon as possible, especially if there are stains like wine or dirt that may be hard to remove if set. If you're heading straight to your honeymoon, designate someone you trust to ship your dress off for you.
Still searching for your dress? Find bridal salons in your area here.
Find seamstresses and preservation professionals near you here.