I'm a Bridal Fashion Editor Who Went Wedding Dress Shopping at Galia Lahav - Here's My Experience
Always the fashion editor, never the bride (until now!)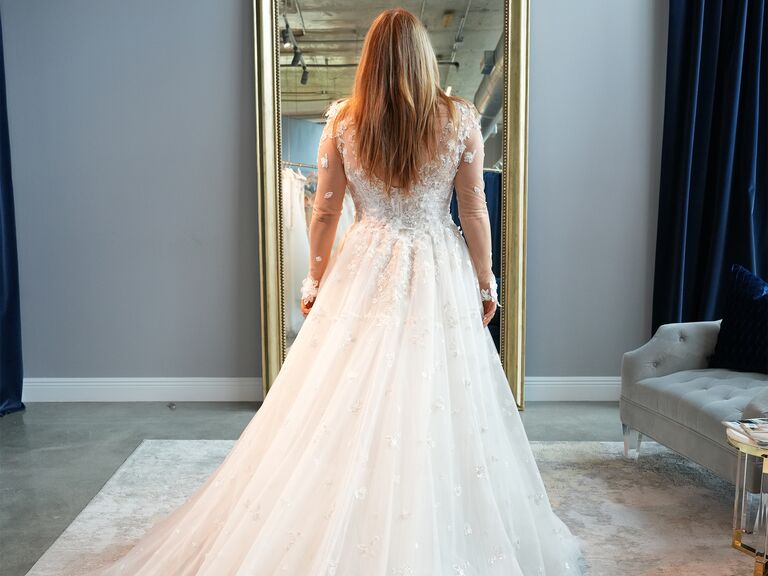 As a bridal fashion editor, I've seen plenty of gorgeous wedding dresses both on the runway and on salon racks. But let me tell you the one place I'm not used to seeing them: on myself! That all changed recently, because, well, I'm engaged to the love of my life, and I finally had the opportunity to step into the bride's shoes (you know, always the bridal fashion editor, never the bride!)
I'll be the first to admit that I had years of built-up expectations of what wedding dress shopping was going to be like. Afternoons of watching TLC's Say Yes to the Dress and intense Pinterest board curation all led up to the moment I walked through the doors of famed bridal designer Galia Lahav's flagship store in Miami, Florida, to pick out my own wedding dress. And if you didn't know, Galia Lahav wedding dresses are kind of a big deal. They've designed some of the most recognizable and breathtaking wedding dresses in the world for brides and A-list celebrities like Simone Biles, Beyoncé and Paris Hilton. Needless to say, I was a bit nervous that little ol' me was getting to shop there, but from the moment I walked in the doors, I was treated like royalty.
The dress experience with Galia Lahav and their staff was beyond anything I could've imagined, and I want to share my experience and all the emotions that came with it with you. Below, I'm spilling the tea on the realities of my dress shopping, my incredible experience trying on Galia Lahav dresses as well as a few tips that no one else tells you about dress shopping, especially if you're like me and deal with things like anxiety and imposter syndrome. Get your pen and paper out, because I think you're going to want to take some notes.
Oh, and spoiler alert: I said yes to my dream dress!
In this article:
The Truth About Wedding Dress Shopping
As I said, I've been writing advice on how to prepare to go wedding dress shopping for years, but as a bride, I learned a few new "truths" along the way that can only come from someone who has lived the dress shopping experience, and I would never gatekeep that from you.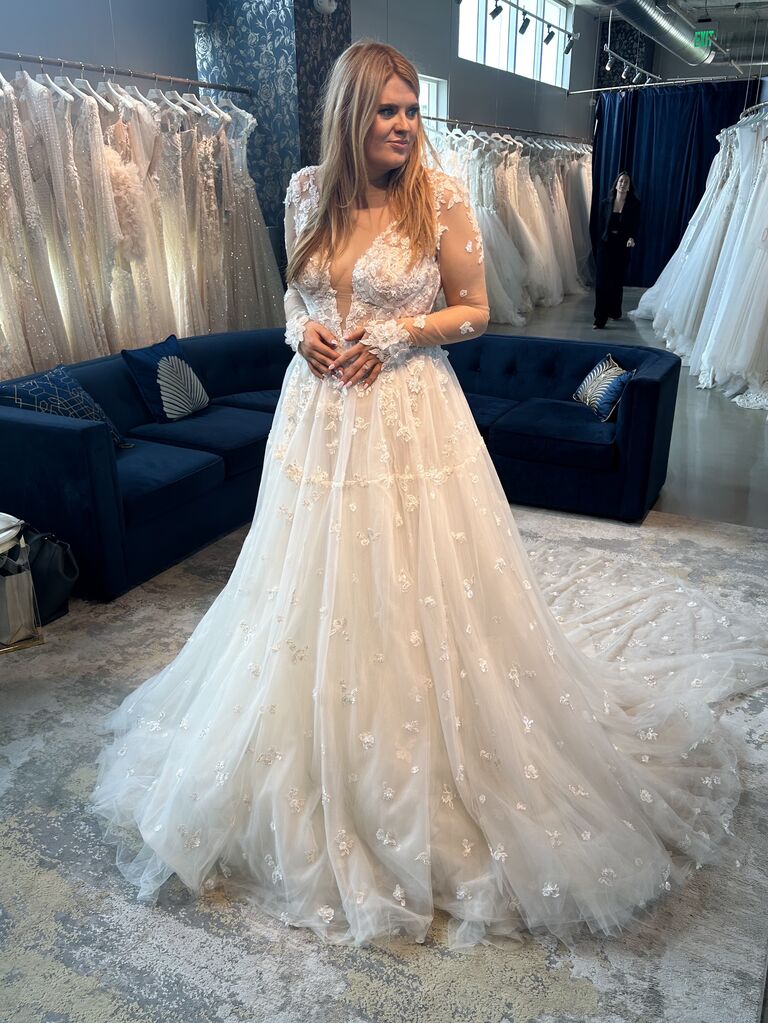 Every Dress is Beautiful
So, why did I choose one of Galia Lahav's flagship locations over a bridal boutique? A flagship is filled with dresses from only that designer, while your local bridal boutique will offer different dresses from multiple designers. Both are incredible options, but I knew I wanted to wear Galia Lahav on my wedding day. So for me, it made the most sense to visit a location where the store would be filled to the brim with their gorgeous dresses. And let me tell you—it was wedding dress heaven. From 3D floral appliques and intricate beadwork to unique fabrics and textures, the detail on Galia Lahav's gowns practically jumps off the racks. No matter what lay ahead, I knew I would find my dream dress because each and every dress was breathtakingly beautiful.
The Spotlight is On You, And that's OK!
When you shop at Galia Lahav, they put you in the spotlight (as it should be!) and I felt like royalty and I can't say enough amazing things about my bridal stylist, Nicole. Despite all this, I still wanted to make sure everyone else was taken care of, even on a day that was supposed to be about me. I would worry that my guests (my mom and one of my best friends, Judi) were getting bored or that I was taking up too much of Nicole's time. None of this was true; it was just my people-pleasing tendencies doing the talking. Nicole reassured me that this is what she and the Galia Lahav team were there for—to make sure both my loved ones and I were comfortable. What a weight that was off my shoulders!
Every Dress is Still Just A Dress
We hear over and over again that your wedding dress is the most important dress you will ever put on, which is a lot of pressure. As I said, Galia Lahav has some of the most beautiful dresses I've ever seen, so to ease my mind, I decided to reverse the narrative and repeat the mantra, "Every dress is still just a dress," in my head throughout the appointment. It helped me relax and stay present in the experience, because it truly is half the fun!
Some Parts of Wedding Dress Shopping Aren't So Magical
Let me get candid with you for a moment. Wedding dress shopping is not always what you see on TV or in movies. In fact, it can be an emotional rollercoaster of anxiety, imposter syndrome (Did I mention we had a camera crew there?) and sometimes body dysmorphia. "What if I don't find my dream dress? Does my stomach look too big in this? Do I even deserve to be here?" Anxiety is real, my friends. If you have thoughts like these during your appointment, know that you there is nothing wrong with you. It just means you're human, like me. Luckily, your support system is there to guide you through these moments, and yes, that includes your stylist (and sometimes even your cameraman).
I have to mention that having a great stylist makes or breaks the experience. My bridal consultant, Nicole, immediately felt like a longtime bestie. I was comfortable enough to open up to her when I was feeling happy, self-conscious or nervous. She validated all of my feelings, reminding me that it's completely normal to feel all different emotions when trying on dresses, which just made me trust her even more in my dress selection process. May we all have a bridal stylist as amazing as Nicole!
5 Realistic Wedding Dress Shopping Tips From A Fashion Editor
Now I'll get off my soapbox and get into the wedding dress shopping tips I learned because, while bringing inspiration to your appointment and wearing nude undergarments is a must, there were a few other IRL tips that I wish I knew. Seriously, why does no one talk about these things?
Prepare, But Don't Overprepare
Have I written about wedding dresses for years? Yes. Did I still need to do research when it came to figuring out what I wanted as a bride? Also yes. Most wedding dress shopping posts will mention that you need to do your research. And they aren't lying! Once I narrowed down what I wanted to wear Galia Lahav, I took some time to scroll through Galia Lahav's website and Instagram page to familiarize myself with their gallery of dresses and narrow down a few styles I could see myself in (Fabiana and Nirvana were a must-try for me!) I sent over my ideal aesthetic and pictures of my wedding venue to Nicole prior to my appointment, which made it easier for her to make dress suggestions too. I didn't realize just how important preparation was going to be because there are a lot of dresses in store and you only have so much time in a day to try them on.
Keep Your Guest List Small
Back in high school, I always imagined having a large entourage at my dress appointment. In the end, I just brought my mom and Judi, and it was one of the best decisions I made. I felt like the intimacy of a small group meant that we were actually able to have real conversations and share opinions. If I had brought a large group, there would've been too many cooks in the kitchen, as they say. If you still want to have a large group of people with you at your appointment, more power to you! Just consult with your bridal salon on their guest limit in advance.
Feel Your Feelings (The Good, The Bad, and The Hungry)
Where are all my hungry besties? Don't just check in with your emotions; also listen to your physical body's cues. I made the mistake of not eating prior to my appointment because I was so nervous, and I didn't bring any snacks (Big L for me). About an hour in, I could hear my stomach grumbling, and it stayed that way until we left. On top of that, I started feeling a bit fatigued halfway through the appointment. I was so focused that I forgot to drink water and was super thirsty. Moral of the story: check in with yourself, eat something and stay hydrated. Luckily, the Galia Lahav Miami team came in clutch with water bottles (and champagne!)
Advocate For Your Comfort
I didn't realize how important comfort was to me until I started trying on dresses. I originally had on high heels for the try-on (a common wedding dress shopping tip), but I actually found them distracting at times. I was thinking about how my feet hurt instead of how I felt in the dresses, which is where I wanted my energy to be. So, I asked Nicole if I could continue trying on dresses without shoes. She, of course, said yes, and I only put them back on if I put on a dress that I was seriously considering. It actually really helped me focus on the decision making process itself instead of the discomfort in my feet.
Surprise Yourself
Never judge a dress by it's hanger. I tried on over ten dresses at Galia Lahav, and each time I put on a dress, I felt like I was getting closer to my yes dress. I would realize I didn't like a certain element and loved another, whether it was the neckline, sleeves, fabric or silhouette. And guess what? The very last dress I tried on was the one! The moment I put it on, I just knew. (I get giddy just thinking about it!) I couldn't run out of the dressing room to show my mom and Judi fast enough. My smile was bigger, and I was just glowing. Was it the dress I expected to walk out with? Not at all. Is it the dress of my dreams? Absolutely yes. Have an open mind and trust your gut! If something catches your eye in the store, let your stylist know because you may be on to something.
Final Thoughts: It's Not About Doing It Right; It's About Doing It Real
Dress shopping at Galia Lahav in Miami was an incredible, once-in-a-lifetime experience, and I will treasure that day for the rest of my life. Not because it was perfect, but because it was real. Remember, dress shopping may not be what you see in movies or on TV, but it's so much better because of that. Now, I'm sure you are wondering, "Lauren, where's the yes dress?!" Well, you're going to have to stay tuned until the big reveal after the wedding in March 2024. I can't wait to tell you all about it!