The Best Bridal Shapewear for Every Type of Wedding Dress
Here's exactly what to look for in your undergarments.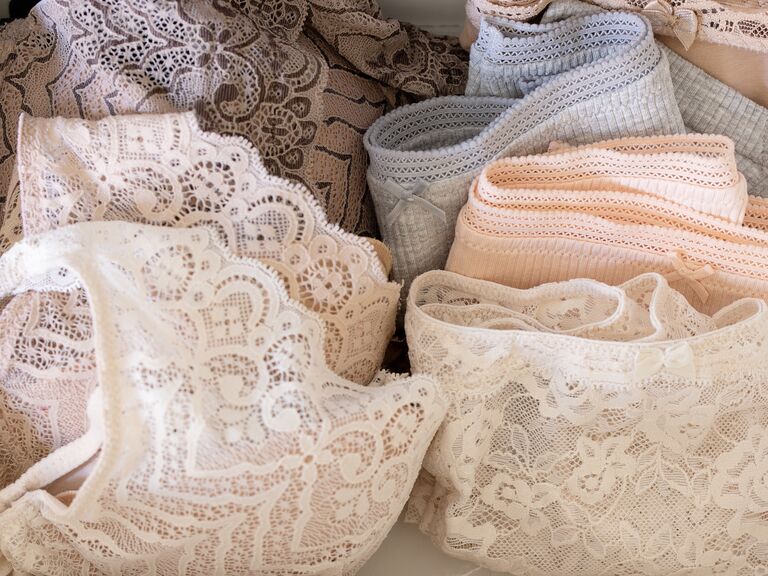 vasanty / Shutterstock
We have included third party products to help you navigate and enjoy life's biggest moments. Purchases made through links on this page may earn us a commission.
If there's one thing we really love about bridal fashion, it's that there's a style to suit everyone. This year's biggest wedding dress trends are a testament to just that, from romantic floral ball gowns to sultry dresses with slits. And if you've found the outfit of your dreams, wedding dress undergarments might be the next thing to check off your list. You definitely don't have to wear shapewear on your wedding day (or ever). But if you are on the hunt for some functional shapewear to complete your look, we've got you. Whether you fell in love with a figure-hugging gown or you're obsessed with illusion necklines, there's wedding shapewear that works under any style of dress. For anyone who appreciates a little extra coverage or support, here's what to wear under your wedding dress.
In this article:
Do You Have to Wear Shapewear Under Your Wedding Dress?
Of course not! It's all about finding the wedding dress undergarments you're most comfortable in. While some feel their best in a standard set of underwear or some sexy bridal lingerie, others prefer the structure and support that shapewear has to offer. Really, it comes down to what feels best for you. You definitely don't have to wear a shaping slip, bodysuit or shorts to complete your wedding look. But if you think you'd feel more comfortable in an extra-supportive undergarment, go for it! Just like pretty much all your wedding-planning decisions up to now, it's about finding the right option for you.
What to Look For in Wedding Dress Shapewear
What to look for changes depending on the style of your gown. After spending hours finding the perfect outfit, you'll want to find the right undergarments to wear underneath it. Read up on these helpful tips to make finding the right wedding undergarments a breeze.
Structure: "First and foremost, you want a piece that won't roll up or down," says Betsie Larkin, founder of the shapewear brand Honeylove. "Needing to constantly adjust your shapewear throughout the night is an unnecessary distraction and, frankly, not worth any of the potential benefits," she continues.

Silhouette: Next, Larkin advises focusing on compatibility with your chosen wedding attire. Start with your outfit's overall silhouette. Slips and bodysuits are great options for anything form-fitting (think: mermaid or slip dresses), as a continuous undergarment will help to avoid any visible lines or creases. "For a tighter fitting dress, a thong style might be necessary to achieve a seamless look," Larkin advises. On the flipside, minimal shapewear works well with more loosely fitted attire (think: A-line dresses and ball gowns).

Style: Consider any other stylistic elements that might dictate what kind of shapewear you choose, like if your dress is backless or has a high leg slit. Surprisingly, there are lots of special shapewear options that can complement unique cutouts and necklines (and we've listed them below!).

Color: The color of your undergarment is another important factor to think about. "While we all associate weddings with white, if your dress is made of a thinner material, white is probably not the best choice," says Larkin. Instead, the shapewear expert recommends choosing a nude tone that blends in with your skin. "If the material is thicker, feel free to go with the white option," she says.

Comfort: Last but not least, it's important to choose wedding shapewear you actually feel comfortable in. "Choose something that is breathable, lays flat and doesn't poke or dig," advises Ratchel Pinlac, founder of Pinsy, a company that specializes in stylish shapewear. "There is nothing worse than feeling uncomfortable and suffocated on your wedding day," she says.
It's a good idea to test out your shapewear before the big day to make sure it checks all the boxes. Keep in mind that you'll likely be wearing it all day long—don't let an uncomfortable undergarment take away from your wedding experience. The good news is that there are lots of comfortable and high-quality options out there to choose from.
Where to Buy Wedding Dress Shapewear
There are lots of great places to shop for wedding gown undergarments both online and in person. If you're unsure of your measurements or you want some extra guidance, we suggest planning a visit to your local lingerie store. But, if you're pretty confident you know what you're looking for, check out some of these trusted shapewear sites:
Spanx: The original shapewear brand is a solid favorite amongst to-be-weds for a reason. The site has a selection of comfortable, body-sculpting shorts, briefs and bodysuits in various designs. Choose a bodysuit with supportive bra cups or go with an open-bust option if you'd rather wear a specific bra.

Honeylove: Honeylove's range of shapewear includes shorts, high-waist briefs, thongs, bodysuits and more. The brand has a wedding collection with shapewear in a bridal shade of white, but you can also shop undergarments to suit a range of skin tones (and sizes).

SKIMS: If you didn't already know, Kim Kardashian's shapewear brand has a dedicated bridal guide featuring a selection of bodysuits in a variety of neutral and nude hues. The A-lister's undergarment company is known for offering inclusive sizing and colorways, though sellout can sometimes be an issue.
The Best Shapewear for Different Wedding Dress Styles
If you've decided shapewear is for you, the next thing to figure out is what style works best with your outfit. Not sure where to start? Don't worry, that's what we're here for. We're sharing all the best shaping undergarments for different wedding dress styles. Bonus: You can shop all of our suggestions online.
Spanx Thinstincts 2.0 Open-Bust Mid-Thigh Bodysuit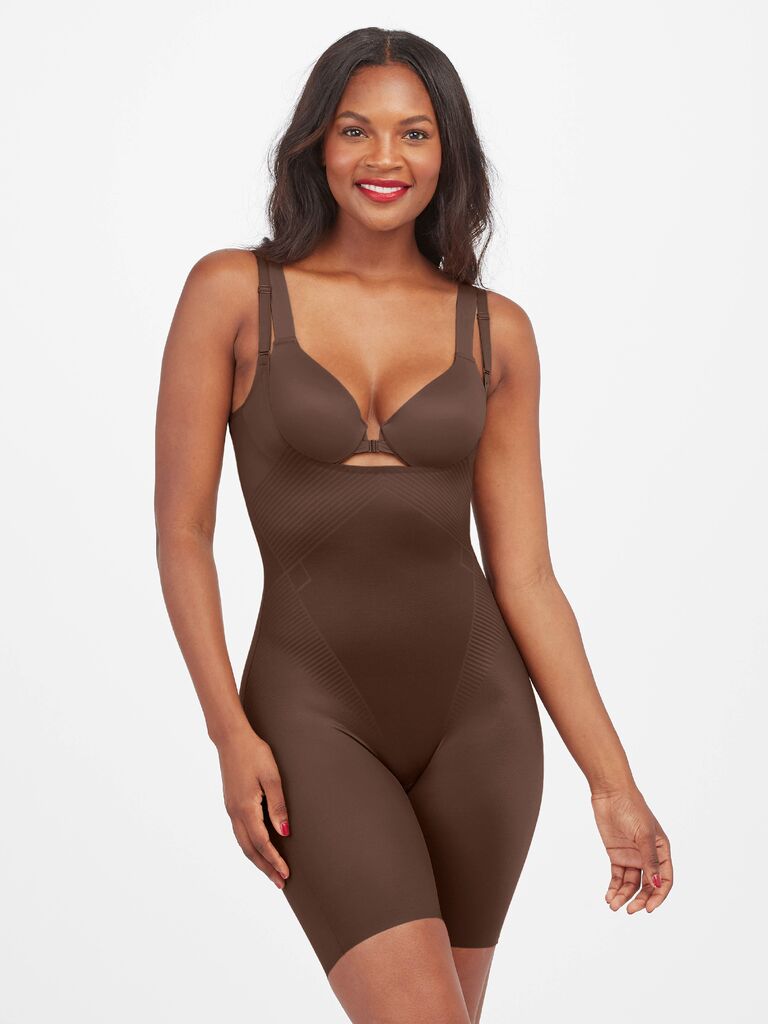 If you're looking for something with a lot of coverage, bodysuits are a great choice. This mid-thigh option is made with silky soft fabric that offers lightweight compression. Since wedding dresses are usually quite heavy on their own, opting for shapewear that's a little more breathable is a good idea. The open-bust design allows you to wear the bra of your choosing—a particularly good feature for unique necklines. Want to know the best part of all? There's an easy-access gusset (because dealing with nature's call in a wedding dress doesn't need to be any harder).
Honeylove Queen Brief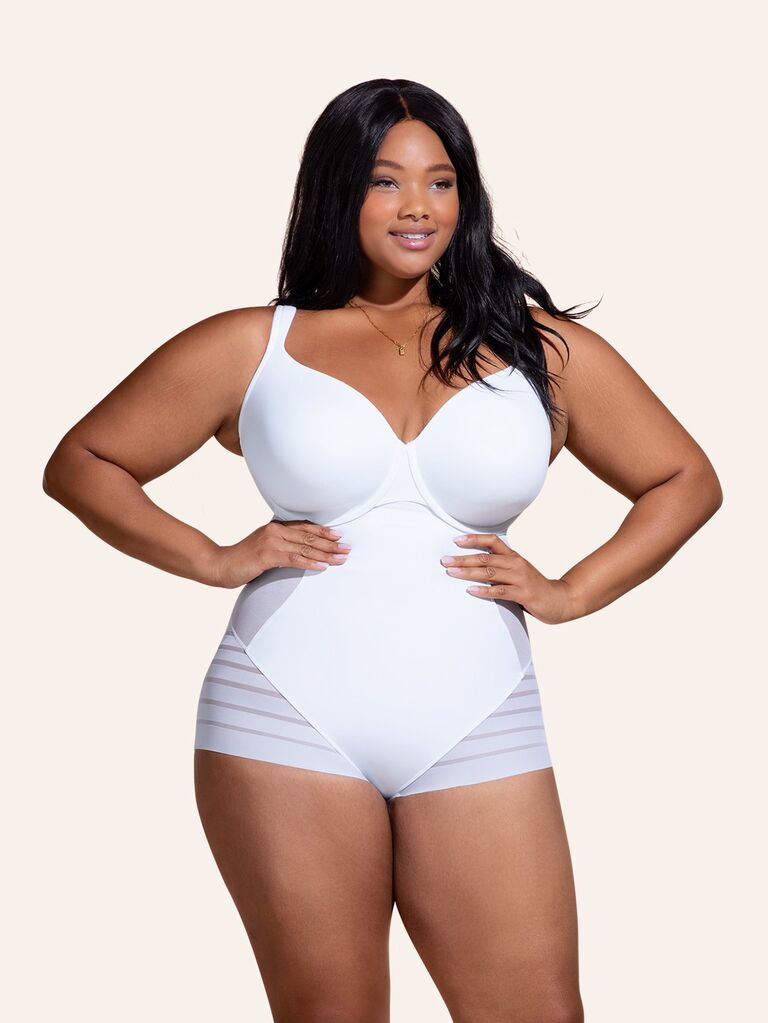 Who said under-the-wedding-dress style can't be chic and sexy? This stylish underwear comes in a fitting shade of wedding white and features trendy sheer paneling. But it doesn't just look great—it also offers seamless compression and support in a range of sizes (XS to 3X). Not sure if a white undergarment will work with your attire? There's also a nude sand hue.
SKIMS Sculpting Legging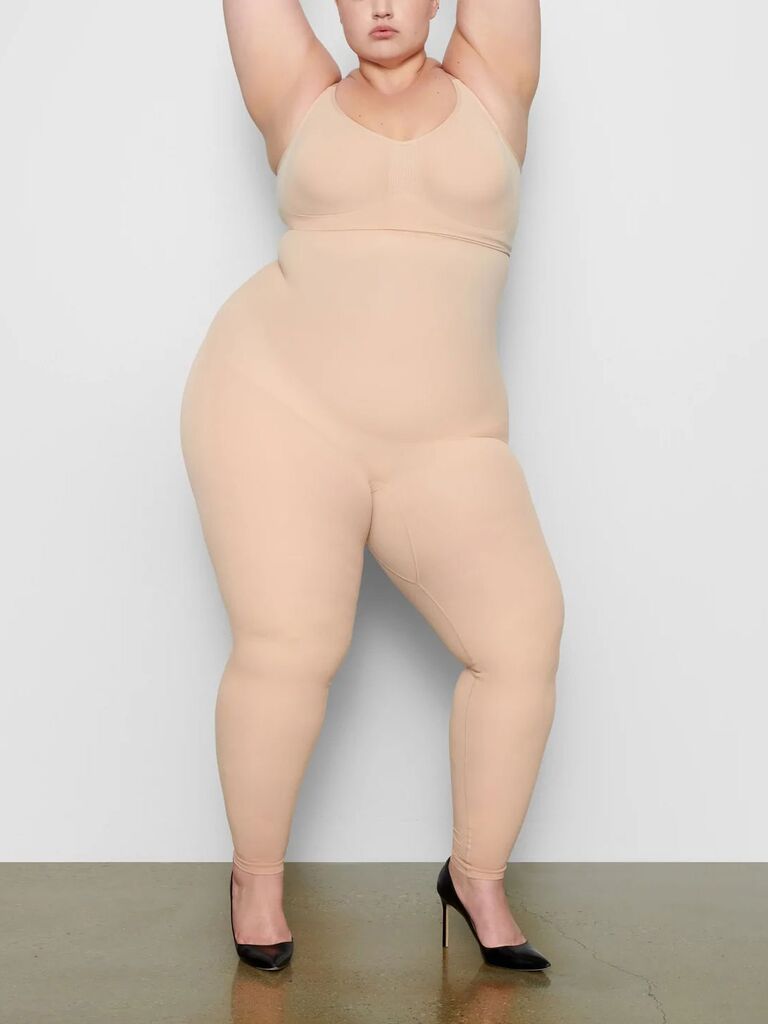 Want more coverage than standard compression shorts? These sculpting leggings from SKIMS will extend that smooth and seamless feeling even further. It's one of the best shapewear options for form-fitting, floor-length gowns (think: a mermaid or trumpet wedding dress). You'll find some of the most size-inclusive bridal shapewear at this well-known brand, and it's especially loved by to-be-weds seeking firmer support.
Yummie Seamless Solutions High-Waist Thigh Shaper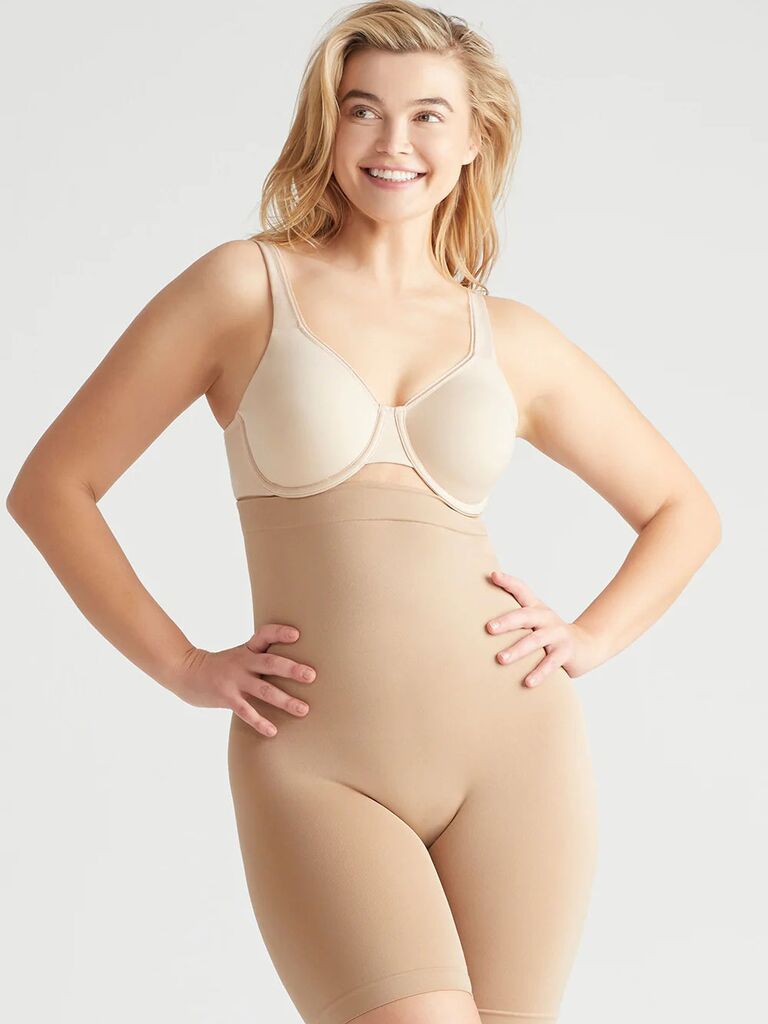 These high-waist shorts combine firm compression with lightweight fabric, resulting in shapewear that's equal parts comfortable and effective. A clever silicone strip prevents the waistband from rolling, helping to give your outfit a seamless appearance. And again, you're free to wear the bra that best complements your dress, whether you've got a trendy square neckline or a chic plunging V-neck.
Knix High-Rise Shaper Short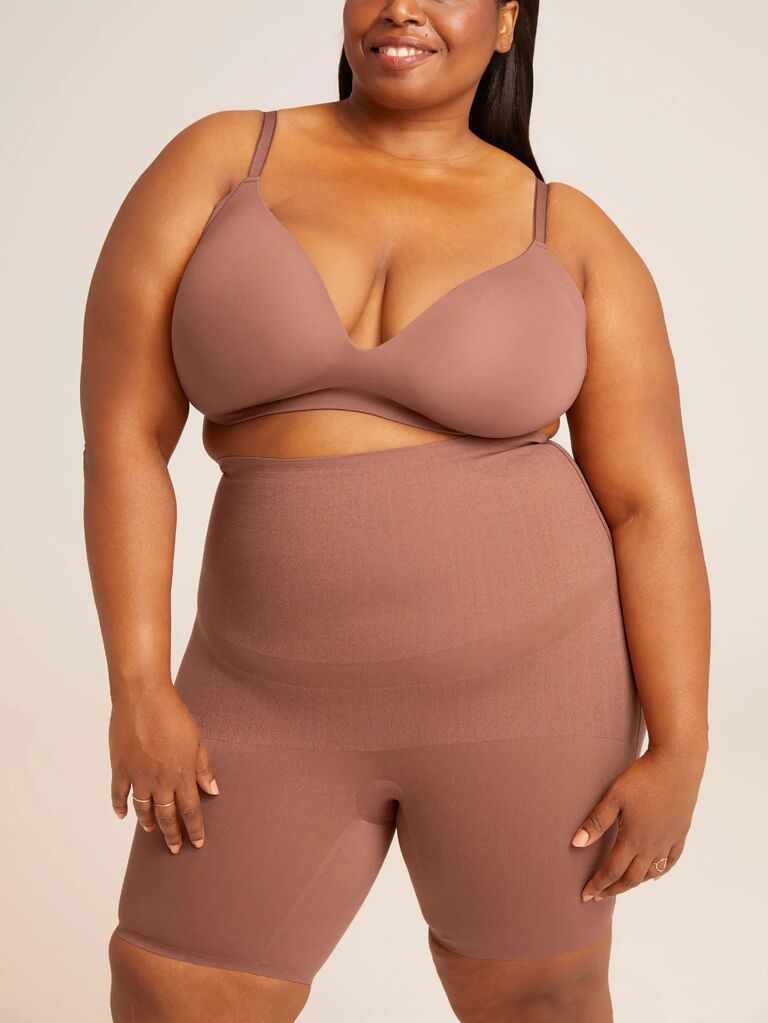 You don't have to wear a full bridal bodysuit under your wedding dress for torso coverage. These super high-waist shorts offer firm support around the waist, hips and thighs. Seamless bonded edges deter digging at the waistline and the silky smooth fabric prevents any visible seams or creases.
Miraclesuit Extra Firm Control Sheer Slip Shaper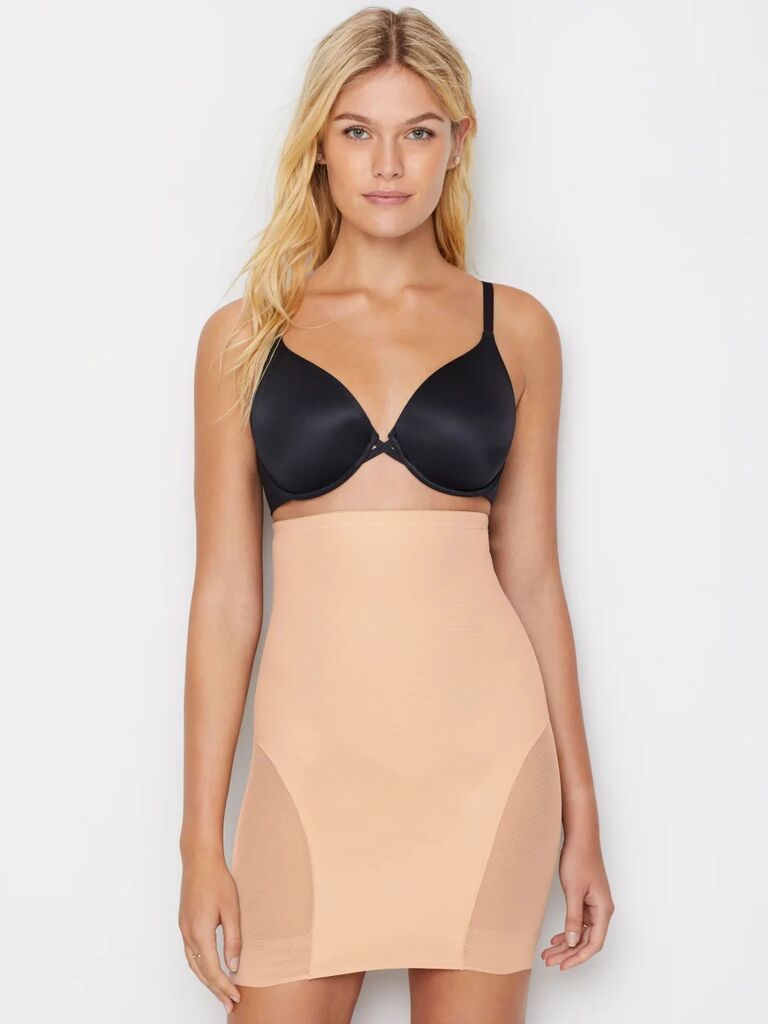 If you're looking for a bridal slip to wear under your wedding dress but struggling to accommodate your gown's neckline or back, we've got you covered. This high-waisted half slip still offers plenty of coverage, but you're free to pair it with your own bra. Firm control panels offer targeted support and the plush-lined high waist prevents uncomfortable digging. Short and half slips are both great options if you're looking for bridal shapewear for a backless or illusion-back wedding dress.
Honeylove Petite Cami Bodysuit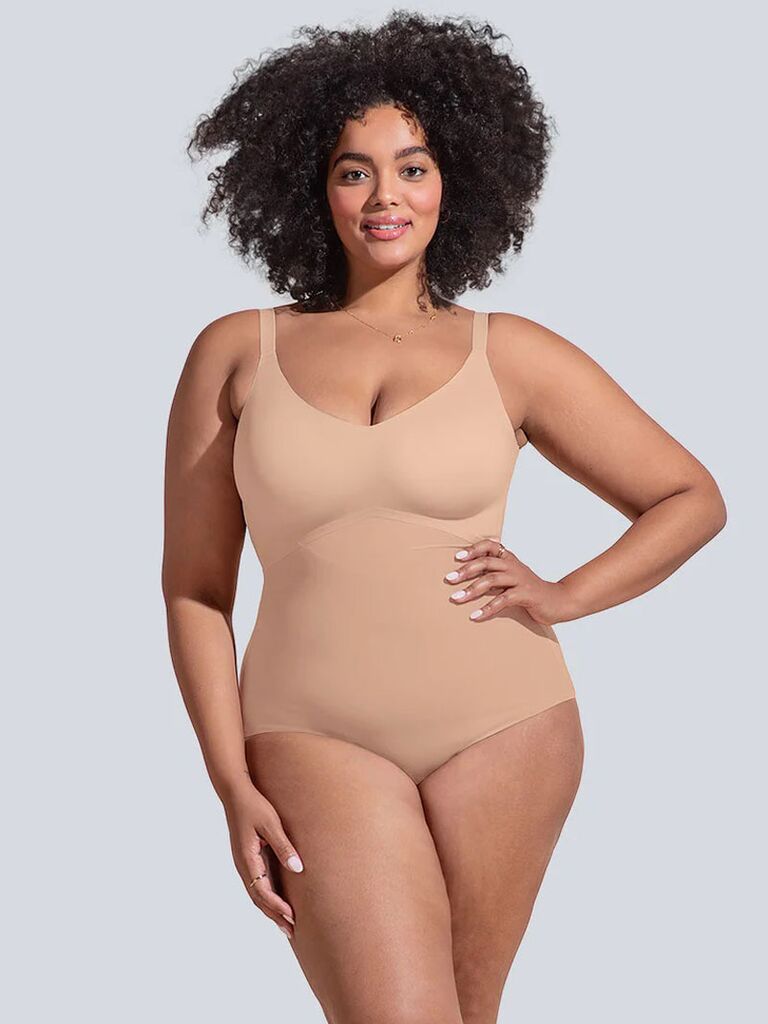 This smoothing bodysuit offers targeted compression around the torso and is specifically designed for those with a petite stature. Adjustable straps help to create a comfortable (underwire-free!) lift for your girls. And if you appreciate fuller coverage, you'll love the seamless, booty-covering fabric at the back. But that's not all: This unbelievable bodysuit has an adjustable gusset that opens.
Spanx Suit Your Fancy Strapless Cupped Mid-Thigh Bodysuit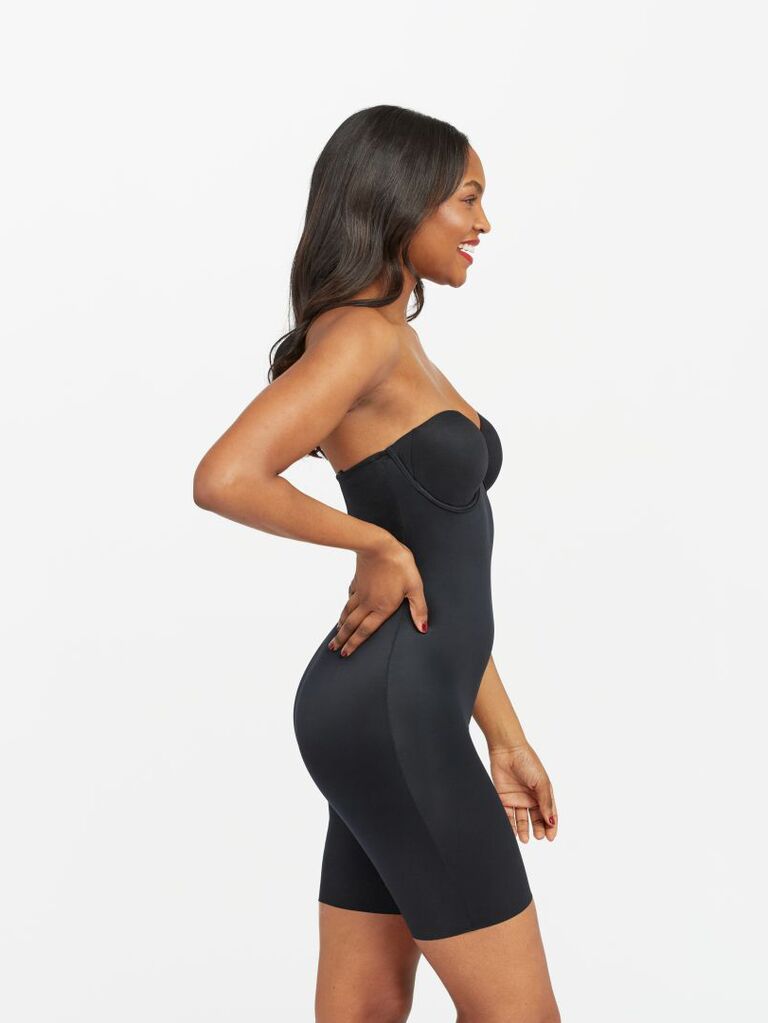 Here's another functional pair of Spanx to wear under your wedding dress (that also comes in a bridal shade of champagne beige). Convertible (and removable) straps make it a versatile fit for lots of different necklines. Not only that, but the built-in bra makes it an all-in-one wedding undergarment that provides seamless, shaping coverage.
Knix LuxeLift Slip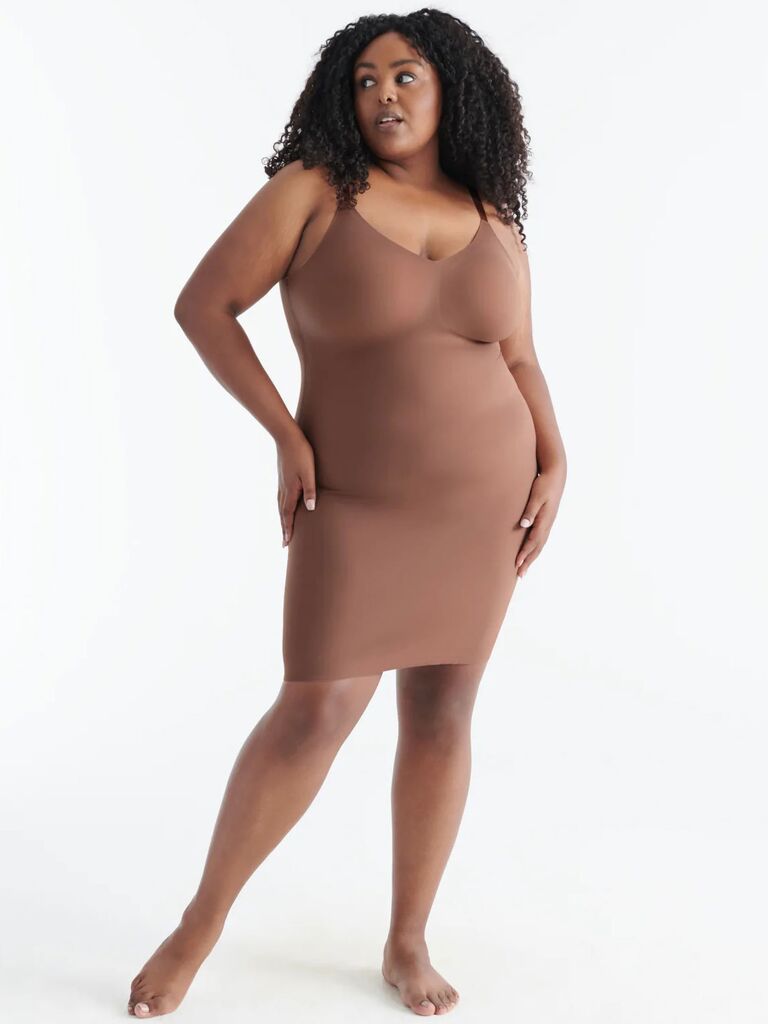 Minimalist, form-fitting gowns are super popular right now. Not sure what kind of shapewear to put on underneath? Try an equally form-fitting slip. Did you know that the underwear experts at Knix have designed a shapewear line too? And it's just as impressive as their period underwear. This figure-skimming slip offers medium support through buttery soft, moisture-wicking fabric. Adjustable straps and removable cups will help you achieve a comfy fit. Shop five different nude hues in S to XXXL+.
Wacoal Red Carpet Strapless Shaping Body Briefer
This bridal shapewear is another great fit for a strapless wedding dress. The supportive underwire bra stays in place thanks to a silicone trim along the neckline and back. Plus, the strapless bodysuit's gusset has a convenient hook-and-eye closure.
Yummie Seamless Ultralight Shaping Thong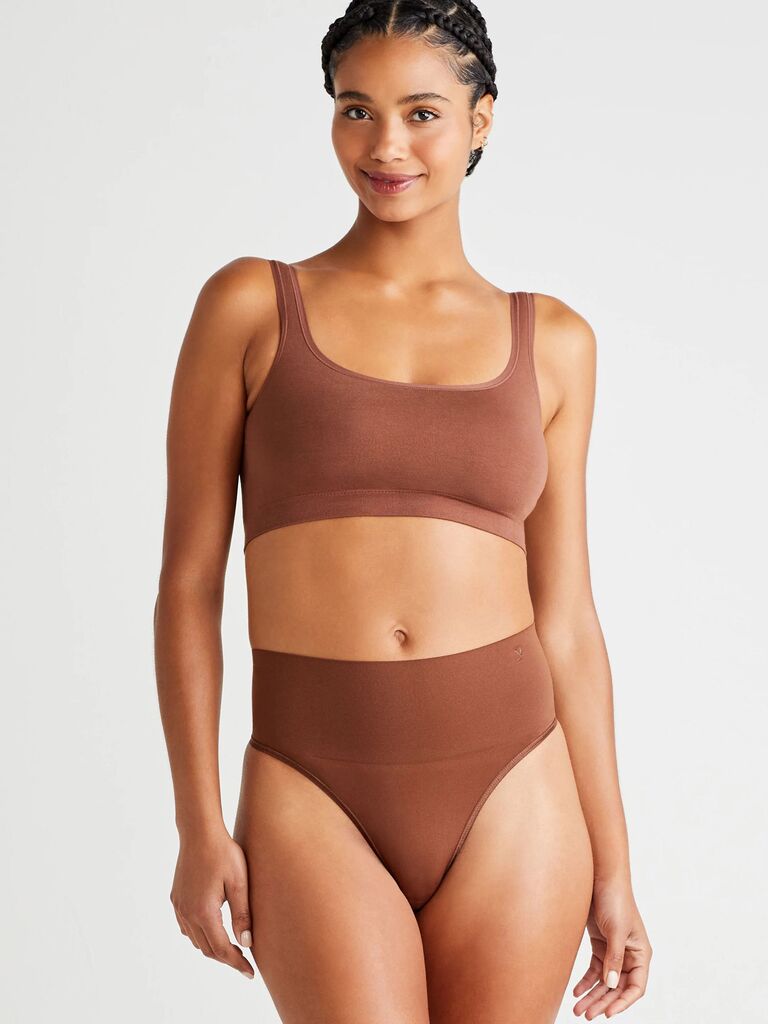 Like we said, wedding shapewear doesn't have to provide allover coverage. For optimal breathability under your dress, go with something that provides support exactly where you want it (and doesn't where you don't). High-waist briefs like this light compression thong will let your legs breathe. Clean edges designed with flat elastic help to avoid a visible panty line. There are a variety of colorways to choose from, including four hues reflecting different skin tones.
Pinsy Sculpting Lace Shapewear Bodysuit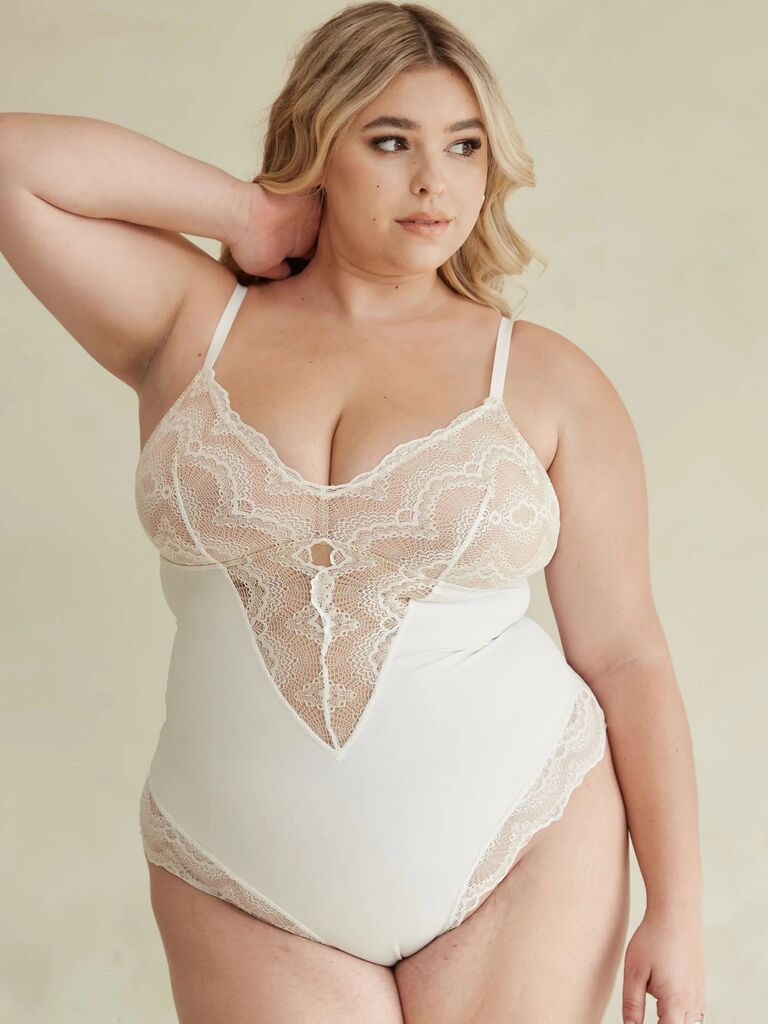 You put a lot of thought into choosing the perfect wedding attire. What if we told you that your undergarments can be part of a stylish and romantic bridal look too? Pinsy's elevated shaping bodysuits aren't just a supportive layer for under your wedding dress—they double as sexy lingerie too. This pretty wedding undergarment provides medium-firm support and has a built-in power-mesh bra.
Spanx Suit Your Fancy Low-Back Mid-Thigh Bodysuit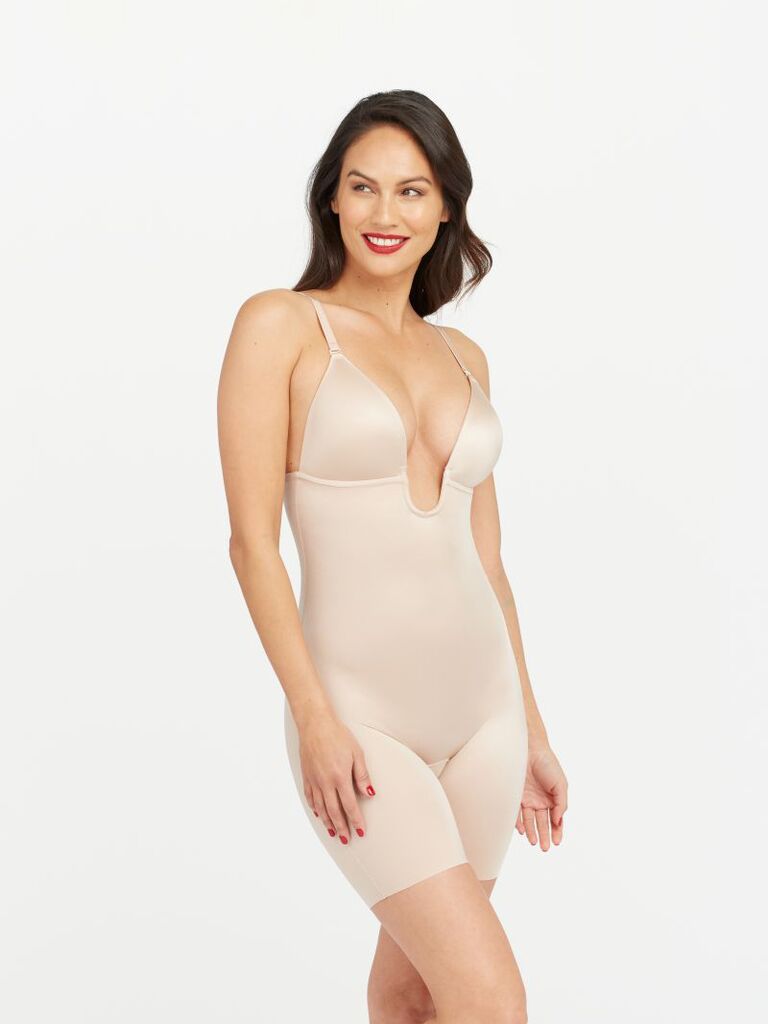 Spanx has some of the best bridal shapewear for low-back and backless wedding dresses. This cleverly designed bodysuit is made for special-occasion wear—and it shows. The plunging neckline, convertible straps and scoop back with a removable clasp make it the ultimate undergarment for a gown with a low front and back. Seamless leg openings prevent visible lines even under a figure-hugging dress.
SKIMS Solution Short #2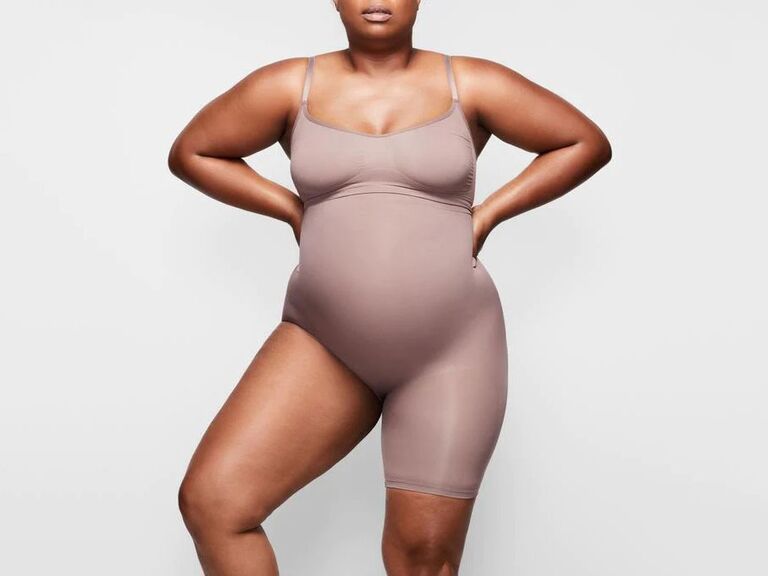 These clever compression shorts were made for wedding dresses with a high leg slit. These super-soft shorts have a lifting and shaping effect (while staying seamless and secure under your attire). The icing on the cake? They come in a wide range of colors and sizes.
Nubian Skin The Parris Corset
Wearing a corset under your wedding dress is a good idea if you want targeted support around your waist but would rather breathe freely everywhere else. It's also an ideal solution if a one-piece bodysuit just won't work for your dress silhouette. You can pair it with the bra and panties of your choosing to complete your wedding undergarments. Nubian Skin's underbust corset is designed to balance compression and comfort, offering a medium hold. It has an adjustable closure, comes in four nude hues and is available in sizes XS to XXL.