Finding the Right Bridal Bouquet Size
Here's how to pick a wedding bouquet that'll match your gown and reception venue perfectly.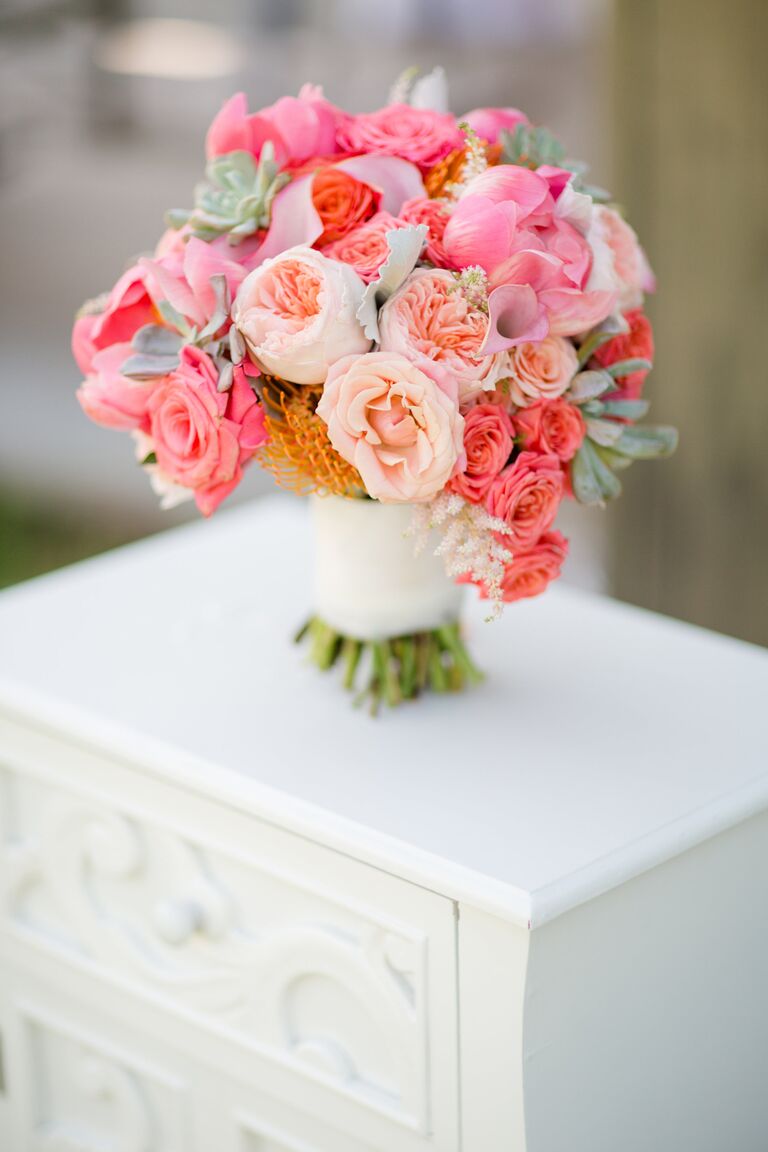 Katelyn James
Picking the right bouquet size is all about scale. While the bride's bouquet is usually grander than those of her bridesmaids (or at least distinct from her bridesmaids' blooms), fitting your wedding flowers with other elements of your wedding day isn't so cut and dry. Here are some simple equations for finding the best bridal bouquet size.
Bouquet + Gown
Ball Gown: A gown with such a grand, impressive shape needs a bridal bouquet to match. If your bouquet is too small, it can get lost in a sea of fabric. In many cases, an easy rule of thumb is the bigger the dress, the bigger the bouquet.
Simple Silhouette: Sheaths are all about feeling light and airy, so carry a bouquet that embodies that same spirit. Consider a small nosegay or a posy. If your wedding dress has structured lines, a bouquet that's too big might hide the dress.
Embellished Gown: Bows, crystals, sashes, and other details can also play a role in how big your bridal bouquet should be. If you've got some sparkle at the waistline, carry a tight nosegay rather than a cascading collection of blooms, so that you don't hide the decoration. If your gown features a lot of embellishment, opt for a simpler bouquet—your bouquet should be considered part of your attire, and your ensemble could look busy if there are too many blooms.
Bouquet + Venue
Ballroom: If you're having your wedding reception in a large, elaborate space, a small bouquet might seem too insignificant. Avoid bitsy bunches of flowers and try an elegant round bouquet. Or, if you really have a flair for the dramatic, go all out with a grand cascading bouquet.
Loft: If city-chic is more your style, think pretty and petite—a large bouquet might overpower your space. If you have your heart set on a cascade arrangement, ask your florist to keep it simple. Cascade bouquets don't have to be a mass of multiple types of blooms -- they can be an elegant composition of just one flower. We love orchids or lily of the valley for a sophisticated look.
Outdoors: Competing with Mother Nature is a definite no-no. Big or small, you'll want something that works with your surroundings. An intimate backyard gathering calls for a hand-tied bouquet for that just-picked natural look, while a reception near the beach (with the ocean as your backdrop) justifies something grander.
Knot Note: Big doesn't always equal bold. Use other elements of your wedding bouquet (color, shape, wrap) to make a lasting impression on your guests.