Make a Grand Entrance With These 23 Wedding Transportation Ideas
We've put together the best transportation options for you and your partner, your wedding party and your guests.
As you fine tune the details of your wedding, don't forget to plan how you'll travel around on your big day. We put together the top wedding transportation ideas that will get you everywhere you need to go, from the ceremony to photos and your reception venue.
When it comes to booking transportation, choose an option that matches your personal style and the vibe of your wedding. If it's in your budget, consider finding fun and unique options for your wedding party and guests too. Don't forget that no matter where you're getting married, The Knot Marketplace is the go-to place to find classic and unique wedding transportation services.
Not sure how you want to travel on your wedding day? Keep reading for a few of our favorite wedding day transportation ideas for you and your whole crew.
In this story:
Wedding Transportation Ideas for the Couple
Arrive at your ceremony in a fairytale-inspired carriage, find a moment alone on a dreamy canoe ride, or travel to your reception in a classic Cadillac. No matter how you choose to get around, you'll love these wedding transportation ideas for you and your partner.
Throughout your day, make sure to take time to bask in the day together. Private transport for just the two of you gives you a chance to enjoy each other's company in the midst of your whirlwind day. "Grabbing your own vintage car, horse-drawn carriage or bicycle tuktuk can be a fun way for you to have a few precious moments to yourself right after you say your 'I do's' and makes for a gorgeous photo op," said Lori Stephenson, owner and creative director of LOLA Event Productions. "Just remember that the team you hired to document your event will want to be able to conveniently capture some footage of you and prefer, when possible, to have at least one member of their team with you doorstep to doorstep so nothing is missed."
Stephenson added she loves it when couples embrace their surroundings when choosing how they get around. That could mean taking a water taxi, golf cart, rickshaw or other option convenient to their wedding venue.
Romantic Rickshaw Transportation for Wedding
Snuggle up on a romantic rickshaw as you make your way to your reception. Create a little privacy with fresh flowers draped across the top so you can sneak in a few smooches during your ride.
Hot Air Balloon Ceremony Exit
If you really want to get away from the rest of the world for a short time, depart from your ceremony on a hot air balloon. Soar high above your town as you celebrate your newly married status. You'll also make quite the entrance if you land at your reception venue.
Fairytale-Inspired Horse and Carriage Wedding Day Transportation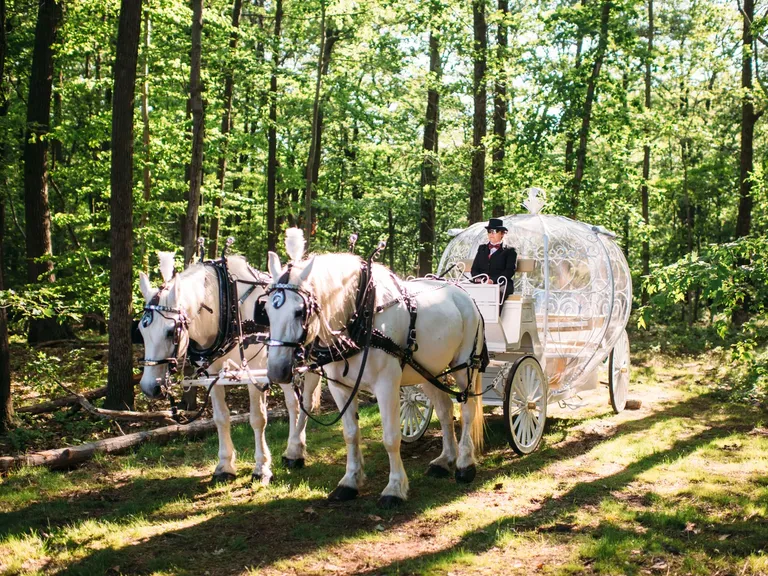 Looking to make a memorable entrance at your ceremony? Arrive via a romantic horse and carriage that's right out of a storybook. We love the intricate details of this Cinderella-inspired design.
Sports Car Ceremony Arrival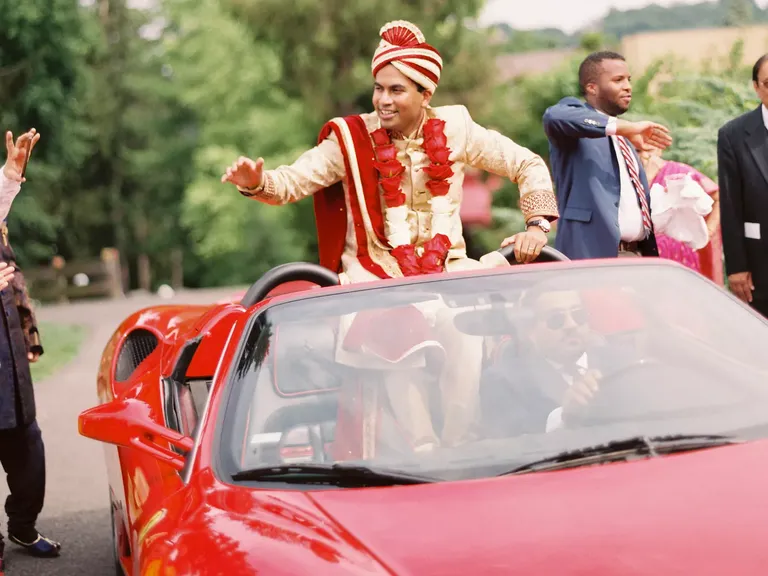 A horse-drawn carriage just not your style? Arrive at your ceremony or make your baraat entrance in an upscale sports car with all the bells and whistles.
Golf Cart Getaway Unique Wedding Transportation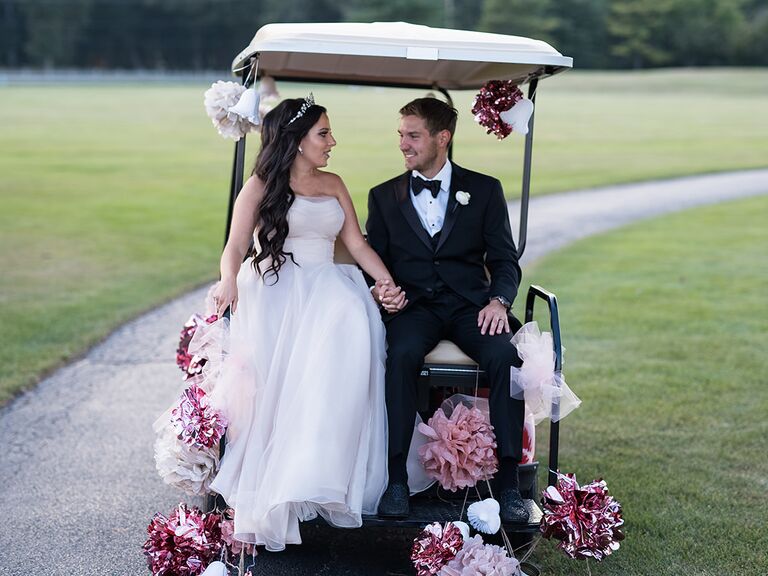 If you're getting married at a country club or golf resort, rent a golf cart so you can take a short trip around the property before your reception begins. For an extra touch, hang a "just married" sign and playful decor to the back of your ride.
Dreamy Boat Ride Transportation for Wedding
Is there a lake on site or near your venue? Take a peaceful boat ride with your partner before your reception. You'll both enjoy a moment surrounded by nature before greeting guests and getting your dance on.
Picture-Worthy Vintage Car Wedding Transportation Option
There's something timeless and elegant about including a vintage car in your wedding. Not only is it a chic option for wedding transportation, but a classic car also looks great in the background of your wedding photos.
Sunset Scooter Ride Transportation at Wedding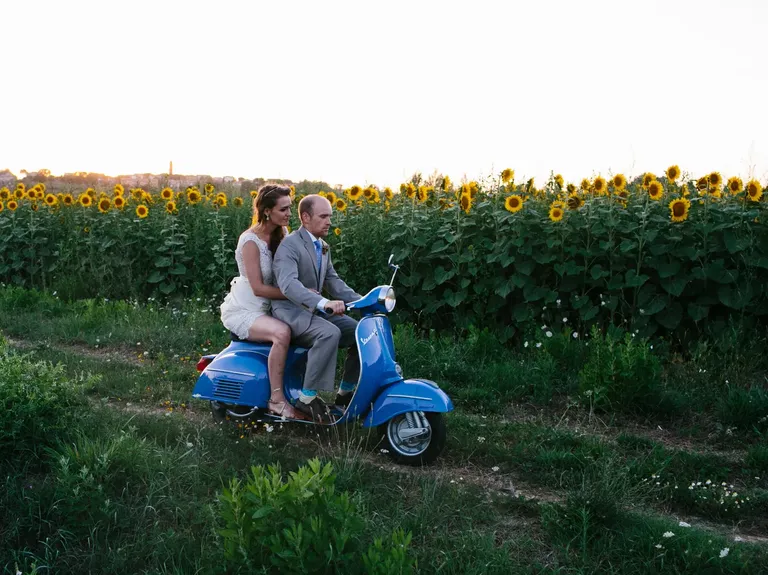 Take a break together before your reception for a mini joy ride on a scooter. If you can time it right around sunset, even better. Just don't drive too fast (unless your wedding 'do can handle it).
Open-Top Jeep Wedding Transportation
Whether you and your partner are the adventurous types, or you've opted for a desert wedding, a Jeep is an exciting wedding transportation idea. Hit the sand dunes or simply take a ride around town from your ceremony to the reception.
Tandem Bike Ceremony Entrance
Are you and your partner planning to make your ceremony entrance together? If your wedding attire allows, consider riding in on a cute tandem bike. It's a sweet symbol of your bond as a couple.
Canoe for Two Fun Wedding Transportation Idea
Escape with your partner for a romantic canoe ride for just the two of you. This is perfect for photos during golden hour, or if you just want to get away for a private moment together before you greet your reception guests.
Rugged Ranger Wedding Entrance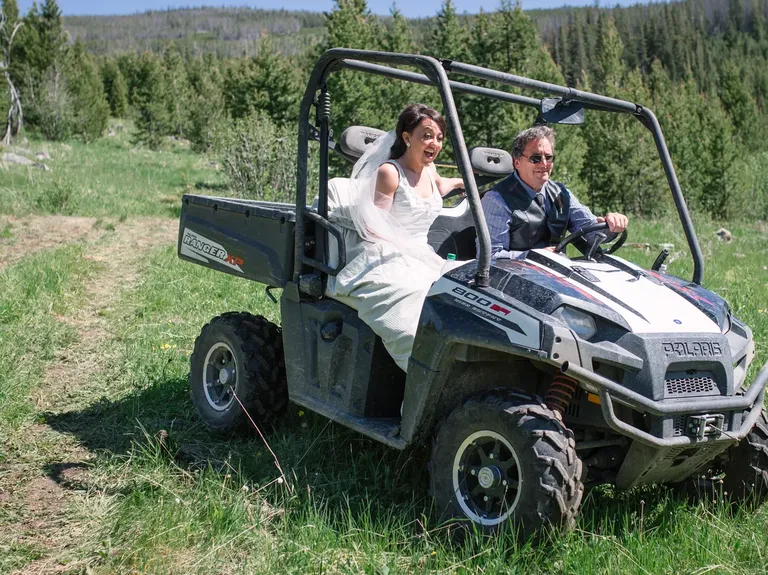 For the thrill-seeking couple who loves off-roading, make an entrance at your ceremony on a rugged ATV. This is also a fun wedding transportation idea if you're getting married outdoors and the walk to your ceremony has some uneven terrain.
Wedding Party Transportation Ideas
Don't forget about your VIPs on your wedding day. Arrange for your wedding party to arrive in style as well. Decide if they will travel with you and your partner, or on their own as a group. A few of our favorite options include a retro VW bus, a rustic wagon ride, or a horse-drawn sled.
Water Taxi Unique Wedding Transportation
Perfect for a water-based venue, arrange for your wedding party to arrive at your reception via water taxi. Have a champagne toast with your crew waterside to kick off the celebration.
Retro Wedding Party Bus Transportation Idea
Have your wedding squad pile into a cool retro van to get around from the ceremony all the way to the after party. This fun wedding transportation idea offers plenty of room for everyone so you can travel together in comfort.
Rustic Hay Rack Ride
Complement your outdoor or rustic wedding with a hay rack ride for your wedding party. Not only will it get your wedding party from your ceremony to your reception in a playful way, but it makes for cute photos too.
1920s Antique Truck Wedding Transporation
Depart the ceremony with your wedding party in an antique truck that also has a unique history. This particular vehicle was once a 1920s beer delivery truck.
Winter Wedding Sleigh Ride
Hop on a picturesque sleigh ride through the snow during your winter wedding. You and your wedding party will have a moment to enjoy the peaceful surroundings before heading to your reception to celebrate.
Old School Volkswagen Convertible Transportation to Wedding
Rent a couple of old school VW Beetle convertibles for a cool wedding party transportation idea. This is fun for a short ride to the reception, or even as your crew's entrance for their introductions.
Wedding Guest Transportation Ideas
Treat your guests to a memorable experience with specialty transportation for them as well. That could look like setting up a service to get them from their hotel to the ceremony, or the ceremony to the reception if they are in different locations. Stephenson and her team are no strangers to arranging unique wedding transportation options for their couples' wedding guests. "We love hiring a fleet of vintage trolleys to get guests or the wedding party to and from the festivities," she said.
Vintage Trolley Wedding Guest Transportation Idea
Rent delightful vintage trolleys for a memorable wedding guest transportation idea. Guests will love hopping aboard to travel to your ceremony, reception and back to their hotel at the end of the night.
John Deere Wedding Guest Tractor Ride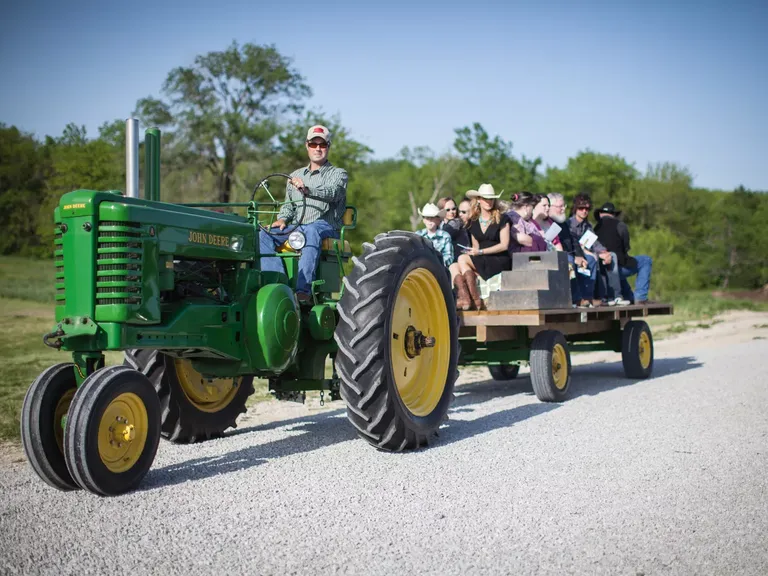 A country wedding isn't complete without a tractor ride. Have your guests get cozy on blanket-covered hay bales as they're transported by an iconic green John Deere tractor.
Club Car Transportation for Wedding Guests
Get your loved ones from your ceremony to your reception location with an open-air club car. This wedding guest transportation idea is great if your festivities are taking place on the same property, but aren't all in the same location.
Pickup Truck Ceremony Transportation
Is it a bit of a walk from the parking lot to your ceremony location? Set up comfy seating in the back of a cool vintage pickup truck to transport guests to the ceremony.
Railway Ride to Wedding Reception
If your ceremony and reception are accessible via train ride, arrange for your guests to travel via railway to your festivities. Create an unforgettable experience for your guests as they enjoy scenic views of your town along the way.