These Are the Most Popular Wedding Colors Right Now
See which hues couples have been loving this season.
What's a party without a pop of color? Ninety-seven percent of couples who married last year incorporated a specific color scheme into their celebration, according to The Knot 2020 Real Weddings Study. And if you're wondering what the most popular wedding colors were last year, we have the answers.
Whether you read through the list to get inspired or you want to see where your chosen hue stacks up, we break down the specific colors couples most selected in the last year. Read on to see exactly which color combos and palettes were favored by married couples in 2020. As you look back on the popular colors from last year, don't forget to consult our wedding color trends guide. It has expert predictions on which hues will be popular in 2021 (plus advice on how to use them IRL). Once you choose your shade, tap your wedding planner to help bring your colorful vision to life. Whatever hue you decide to use, make it authentic to you. It's your day, after all!
The Most Popular Wedding Colors in 2020
Here the wedding colors couples loved this past year.
#1: Dark Blue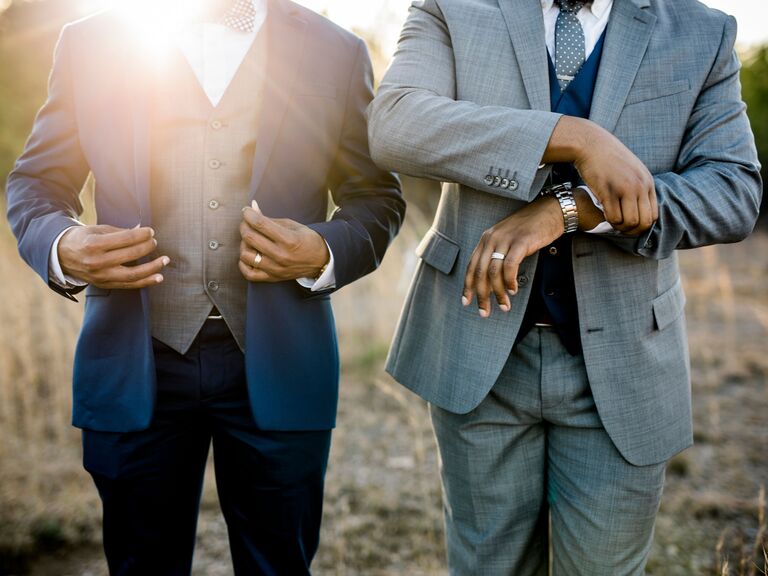 No surprise here: Dark blue remains the most popular wedding color. Nearly 40% of all couples who exchanged vows in 2020 (37%, to be exact) opted for this classic shade. We love navy blue because it's a neutral shade (read: it plays well with any season or style), but it's a little more unique than black or white. Many couples had to reimagine their original wedding plans due to the coronavirus pandemic, which is likely why so many chose this versatile, timeless color. 
Psst: this is good news for couples who were inspired by Bridgerton's blue-themed ball. While many couples opt for a combination of complementary colors, monochromatic weddings could be of interest this year due to the hit Netflix series. To get the look, use navy blue and its various tones for a sleek, modern event.
#2: Ivory or Champagne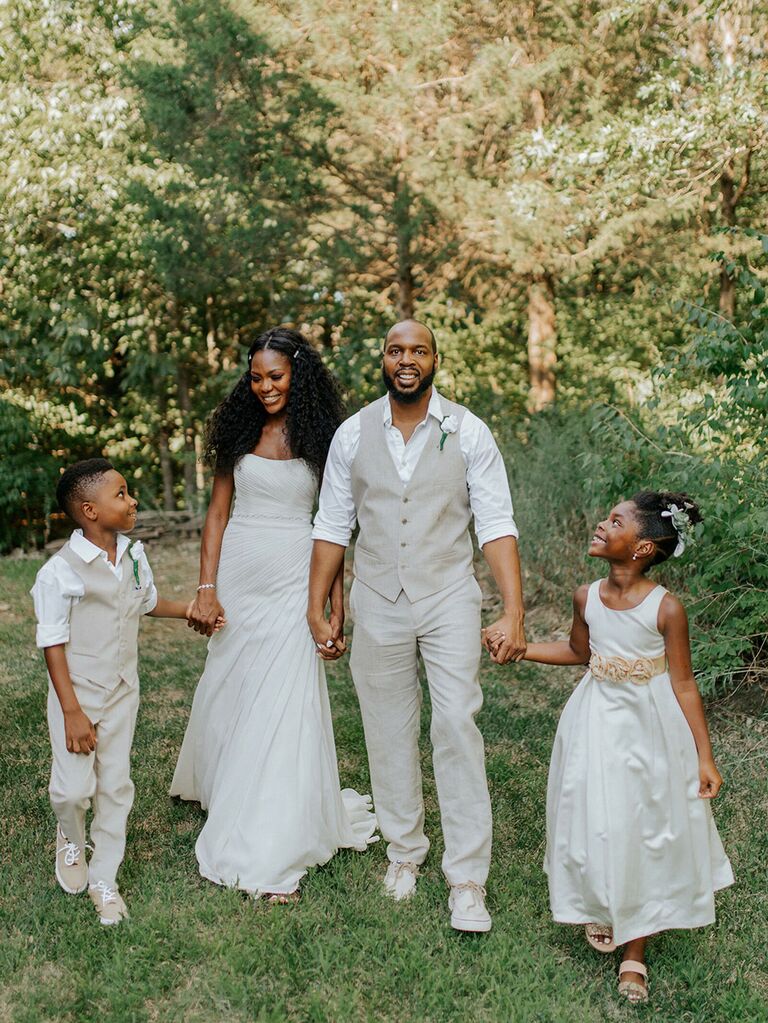 Ivory and champagne have moved up the list, becoming the second among the most popular wedding colors with 31% of all couples incorporating them into their nuptials. These versatile neutrals fit anywhere: from a glam winter wonderland celebration to a laid-back beach wedding. They're light and bright like white, but a little softer and more romantic—making them easy to use for couples everywhere.
#3: Gold and White
Third place was a draw, with 33% of all couples selecting gold or white. We love these options because they're extremely versatile. Metallics are a great option if you need to transition your wedding colors to a different season or if you want to make your chosen palette more edgy. Similarly, white can be used with any season or style by incorporating different textures in your event's decor. 
Other Popular Wedding Colors

JAVA ROSE PHOTOGRAPHY
Burgundy, light pink, dark green and grey followed in terms of popularity, respectively. The least popular wedding color in 2020 was brown, according to our data. Just four percent of couples reported using this unique color for their nuptials.
The Most Popular Wedding Colors in 2019
See how last year's colors stack up against 2019's, below.
#1: Dark Blue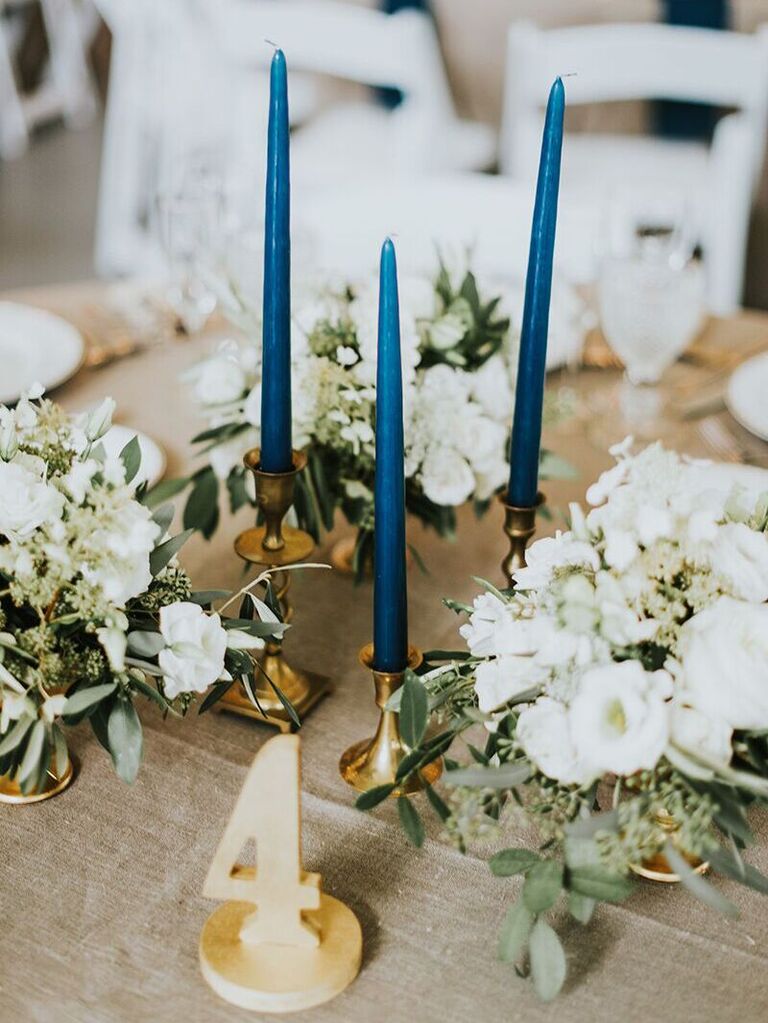 The most popular individual wedding color in 2019 was dark blue. According to our study, 52% of couples who exchanged vows in 2019 chose deep blue for their day-of style. From navy or dusty blue bridesmaid dresses and royal blue suits, this flattering color was a great addition to any wedding day aesthetic. Couples can incorporate this crowd-pleasing favorite into their decor by showcasing items like vibrant blue linens and indigo blue hydrangeas at the reception. It also allows couples to play up creative "something blue" ideas.
#2: Gold

DENISE KO PHOTOGRAPHY
Gold was the next most popular wedding color in 2019, according to our study, with  34% of all couples opting for this classic metallic).  Gold pairs well with any color combination, venue and season, and it looks amazing on its own. Plus, a dash of gold adds a touch of elegance to any event.
#3: Ivory/Champagne and Light Pink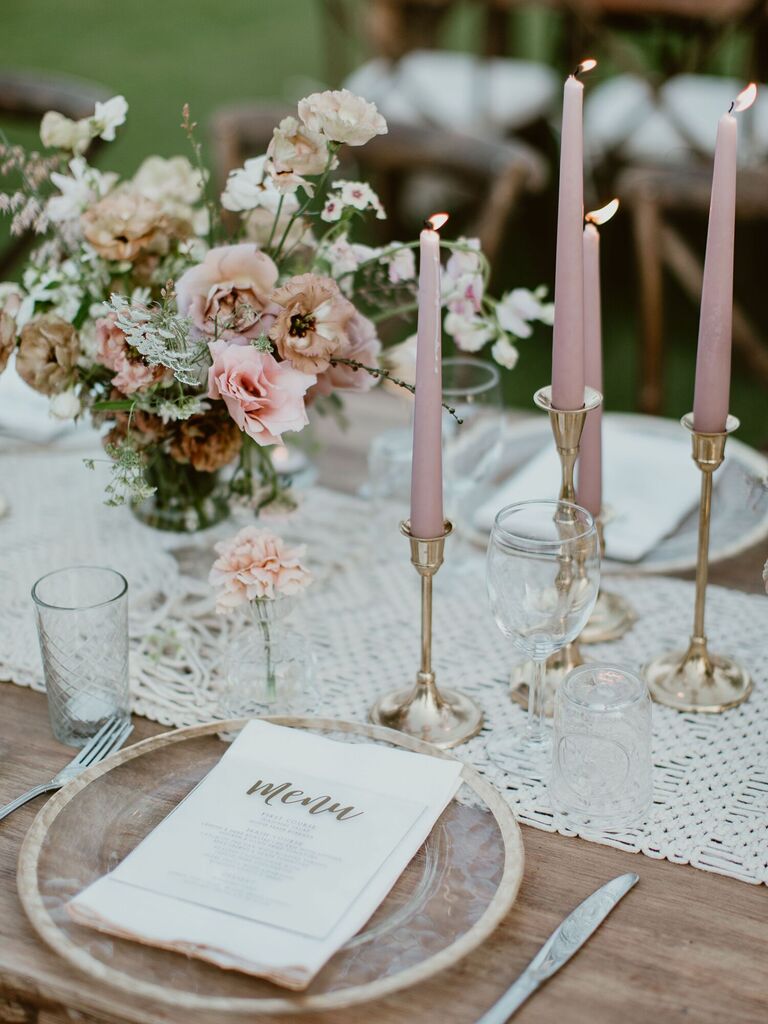 Ivory/champagne and light pink were behind gold in 2019. Both were used by 33% of couples last year. Ivory/champagne has long remained a popular choice among to-be-weds, as the neutral tones are versatile, stylish and easy to coordinate (read: no time spent agonizing over clashing colors). Light pink (also known as blush) has remained a top choice for couples over the years. This pretty hue is a lovely selection for an ultra-romantic event. 
Other Popular Wedding Colors

WILLIAMSBURG PHOTO STUDIOS
Ranking fourth in 2019 was white, with 26% of couples opting for this classic neutral. Nineteen percent of couples used grey for their nuptials, making it fifth on the list (no surprise, as gray is a lovely neutral but not quite as versatile as ivory). Light blue, light green and dark green were closely behind gray, with 17% of couples choosing these hues for their nuptials.
Remember: Your wedding is your day, so you should pick the colors that make you happy. If you absolutely love brown or red, incorporate these rustic hues into your wedding day. As an added bonus, it will make your wedding extra unique, as fewer couples are selecting these hues. Finally, if you're ready to find your wedding colors and style, take our style quiz to help you narrow down your favorites. Then, chat with local wedding pros to help you bring your colorful wedding vision to life.