46 Wedding Sign Ideas That Are Both Fun and Functional
Up-level your decor while offering must-know instructions to guests.
After all the endless hours you've spent planning out every detail of your wedding, the last thing any to-be-wed wants is for guests to overlook parts of the big day or miss the memo on the flow of the celebration. As the guest-of-honor, you'll be pulled in a million directions on the wedding day, but proper wedding signage can do wonders in cutting down the number of queries you find yourself fielding.
In this article:
Wedding Signage Top Tips
Plan Ahead
Although day-of stationery and signage are some of the final items you'll handle on your wedding to-do list, it shouldn't be overlooked and still needs some time to complete. A month out from your wedding is the sweet spot. It's close enough to the big day that your plans are being finalized, but far enough out that a stationer has time to complete your order. While your escort cards and seating chart might get started when you're a month out, aim to have all signage items started about 6 weeks out so they can be wrapped up right at the one-month mark. Chances are that your caterer requires a final headcount and menu finalization around this time; this schedule works perfectly with sending your food and bar menus to print. "Custom wedding signage should be ordered at the same time as your other day-of stationery pieces (think menus, programs, escort cards, etc). Typically, we recommend ordering 4-6 weeks ahead of your wedding day. This allows time for design work, shipping and resolving any unexpected hiccups like lost or damaged packages," advises Kori Trotter, Owner and Chief Designer of Lily & Roe Co.
Have Fun With Color and Texture
Have some fun with the design, but keep legibility in mind. Signage is a great spot to highlight your chosen wedding theme and color palette, but good design is all about balance. Don't lean so far into a creative design that functionality suffers and guests aren't able to use the signs for their intended purpose. "One of our favorite materials for signage is linen, you can do so much with it, by playing around with fabric colors and font colors. We love it when couples personalize their signage to reflect their personalities," says event planner Susan Dunne of Weddings by Susan Dunne.
Consider the Guest Experience
Whether you're going the DIY route or working hand-in-hand with an event pro, plan out your signage needs. Think through the flow of the wedding day from the guests' point of view. Are the restrooms hard to find? Add bathroom indicators to your sign order. Think through every component of the wedding weekend and make a list of all the signs you'll need before diving head-first into the design. Ashley Lachney, owner of Alston Mayger Events, advises to-be-weds to "loop your Planner in so no detail is left untouched. Couples sometimes overlook the fact that the restrooms may not be easy to find, especially at outdoor venues. Ensure that way-finding signage is a part of your package as well as the fun stuff."
Wedding Welcome Signs
Make use of unique wedding sign ideas from the very beginning of your big day. A welcome sign will let guests know they're in the right place. It will also get them excited for the event.
1. Illustrated Cat Sandwich Board Sign
This couple's love of cats was on full display as guests entered the venue. Get inspired by even more ways to include your pet in your wedding here.
2. Boho Linen Sign
Upon arrival at this outdoor wedding, a fabric sign attached to a metal frame ushered guests to the ceremony location.
3. Glam Black Acrylic Sign
If you're planning a sleek, contemporary wedding where a chalkboard sign would feel out of place, acrylic signs are a must-have.
4. Illustrated Acrylic Sign With Greenery Accents
Illustrations of the grooms graced this acrylic sign at the entrance to the wedding venue. Pro tip: If you're using clear acrylic, consider painting the back of the board so the design is more legible.
5. Hot Pink Sign on Card Table
While many signs welcoming guests to your wedding venue are large, that doesn't have to be the case. This couple chose a small sign to sit atop the welcome table where guests left cards.
6. Moody Black Fabric Sign
This couple blended wedding trends for their beach wedding. A dramatic color scheme with indigo and black lent a modern feel to the event, while tropical flowers (like the passionflower illustration seen here) brought an equatorial vibe to the sandy event.
7. Midcentury Modern Curvilinear Welcome Sign
Couples looking for creative wedding decoration ideas should take note of this display as it was successful for multiple reasons. Placing the setup near a highly-trafficked area like the stairs was a smart move because it ensured more people saw the display. Also, the couple seamlessly blended a boho aesthetic with a midcentury-modern look for this display welcoming people to their special day.
8. Multilingual Wedding Welcome Sign
If your special day is going to have many non-English speakers, consider making your day-of stationery and signage multilingual so it's more accessible to all wedding guests.
9. Minimalist Black Sign on Easel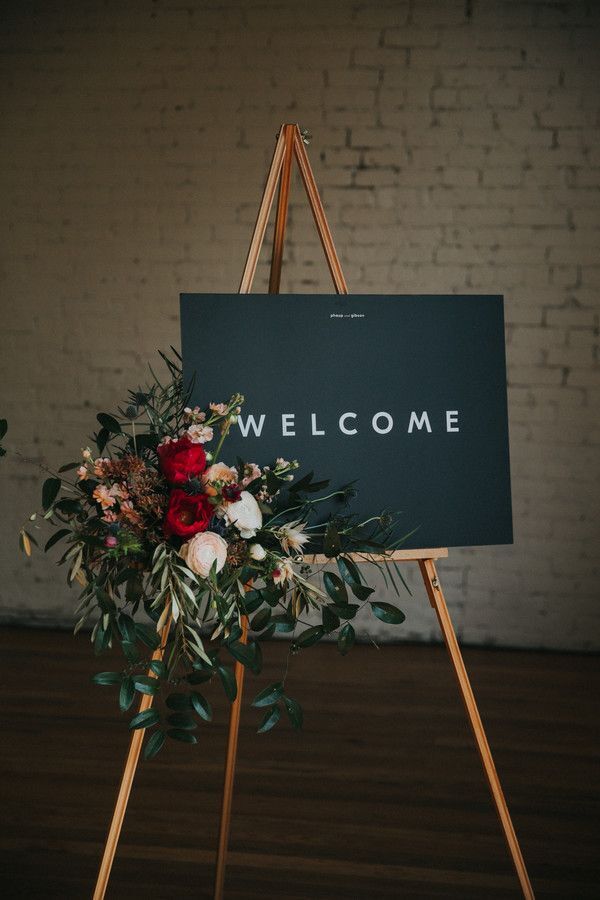 This sign took a less-is-more approach and said nothing besides 'welcome.'
10. Hot Pink Acrylic Sign With Rose Accents
Acrylic signs are trending in the world of wedding decorations, but that doesn't mean there isn't a way to revamp the idea. This couple ensured their acrylic wedding welcome sign felt totally unique and fresh by hanging it from a metal structure instead of simply placing it on an easel.
11. Circular Welcome Sign With Greenery
If you're looking for a way to make your wedding decorations and signage feel unique, play with shapes. Instead of going with a standard rectangular plaque, this couple welcomed guests to their outdoor wedding day with a round wood sign which was painted white.
12. Disco-Themed Acrylic Welcome Sign
A welcome sign is a perfect spot to convey your theme or wedding inspiration to guests. The disco ball motif seen here gives guests a hint at what's to come.
13. Monogrammed Wedding Welcome Sign
This couple cleverly decorated their sign with greenery to match the illustrated greenery encircling their monogram.
Unplugged Sign Wedding Ideas
Guests will probably be snapping pictures throughout most of the wedding weekend, but if you want the actual ceremony to be an intimate, guests-only affair, consider asking attendees to put away their phones for the vow exchange. The great thing about signs is that you can have a bit of fun with them. Instead of simply asking that phones be kept off, a cute phrase like "phones down, eyes up," will ensure your directive doesn't come across too sternly.
14. Black-and-White Unplugged Sign With Eucalyptus Garland
If you're including an unplugged sign in your wedding, place it somewhere visible and highly-trafficked so everyone sees it. This couple places theirs prominently on an easel for all to see.
15. Acrylic Unplugged Sign at Rustic Wedding
While acrylic is most often seen in modern weddings, it can work in rustic- and boho-themed weddings, too.
16. Boho Pink-and-Caramel Unplugged Sign
Adding flowers to your signage display is a great way to make the setup more visible and prominent. This couple used palm fronds and pink anthurium blooms to complement their artsy acrylic sign.
17. Modern Black Sign at Beach Wedding
To add a bit of whimsy to this modern sign, the couple played with lettering by using both sans serif fonts and script ones.
Wedding Ceremony Signs
Unplugged signage is one of the most common ceremony sign ideas, but there are plenty of other spots in your vow exchange where you can include some artful plaques. If you're forgoing stationery programs, consider having one big sign that bears all the program-related info. Also, if there's an activity you'd like guests to participate in during the nuptials, let them know what's needed from each of them with a sign.
18. Slate Sign With Calligraphy
A slate sign prompted guests to take a rock to be used during this couple's unity ritual.
19. Reserved Signs on Ceremony Chairs
The first two rows of seats at the wedding ceremony are often saved for VIPs and close family. Ask your wedding planner to place signs on those seats so wedding guests know where they can and can't sit.
20. Reserved Sign Hung With Ribbon From Chairs
If you're reserving an entire row of seats for VIPs, one sign at the end of the row communicating that may be the only instruction you need.
Bar Sign Ideas
While it's common to have food menus placed on the reception tables, those paper cards generally don't include the drink options on offer. Save your bartender from having to repeat the menu all evening by designing a fun, on-theme sign that communicates what alcoholic beverages are available.
21. Linen Sign Printed With Signature Cocktail Options
For a romantic wedding, consider fabric as your signage material of choice—it adds a softness that acrylic or wooden wedding signs may lack.
22. Bar Sign on Deckled-Edge Paper
The calligraphy and deckled edges of this menu brought ample romance and whimsy to the couple's bar. If you're having a hard time deciding on a signage style you like, let the design you chose for your wedding invitation inform your day-of details.
23. Laser-Cut Wood Sign
Jazz up your rented bar front with a greenery garland and a laser-cut wood sign, as this couple did.
24. Linen Bar Sign With Calligraphy
Because of all the bottles and glassware, a bar often runs the risk of looking messy. However, this couple's event stylist added in a romantic linen sign with calligraphy to up-level the display.
25. Custom Bar Front With Aspen Trees
Instead of hanging a sign atop this bar front, this couple had a custom bar front made that doubled as a sign.
26. Leather and Wood Sign for Bar
For a rustic barn wedding, consider using leather for your signage.
27. Orange Acrylic Bar Sign
Not only are bright signs fun on your own wedding day, but they also look great in wedding photos after the fact as well.
28. Lavender Round Acrylic Sign
It's hard to DIY wedding signs made of acrylic, but your event planner will be able to source a sign designer or even track down a great Etsy listing.
29. Modern Gold Sticker Sign
Vinyl stickers can help you make just about anything into a fun, on-theme sign.
Food and Buffet Signs
If you're having food stations, instead of a plated dinner, let guests know what dish is at each buffet station using food signage. Proper food signage is also an incredibly practical way to communicate dietary restriction notes. If a dish is gluten-free or vegan, make note of that on the sign so attendees know which treats they can safely indulge in.
30. Acrylic Dessert Sign
If you're having an assortment of desserts, instead of wedding cake, a sign communicating what each treat is will be helpful for guests.
31. Custom Neon Sign Behind Wedding Cake
This wedding cake display got a fancy upgrade thanks to a flower wall and custom neon sign.
32. Wood Signs for Dessert Display
Instead of having a dessert table, this couple got creative with a sign-clad dessert wall.
Guest Book Signs
The best signs serve two purposes: they give directions and add to the event's ambience. Especially with the rise of unique guest book alternatives, it can be hard for attendees to know exactly what you'd like them to do if the instructions aren't clearly laid out. Do just that, and contribute to your decor, with a guest book sign.
33. Calligraphed Vinyl Record
As you're wedding planning, take stock of your hobbies and see if there might be a way to include them in your wedding signage. This couple paid homage to their love of music with a record sign.
34. Guest Book Sign Beside Vibrant Flowers
As you're working with your florist to design centerpieces for the reception, keep in mind any other reception spots, like a guest book table or table for wedding favors, that may benefit from an arrangement as well.
35. Minimalist Black-and-White Guest Book Sign
This sign was clean, simple and absolutely eye-catching.
Wedding Reception Signs
From hashtag signs to restroom signs and even ones letting guests know where to drop cards or pick up favors, your reception is filled with activities and details that could benefit from plaques providing instructions to loved ones.
36. In Memoriam Sign
If there are loved ones who are unable to celebrate with you, honor them with a heartfelt sign.
37. Chalkboard Schedule of Events Sign
This sandwich board let guests know when each part of the wedding reception would take place.
38. Television-Inspired Table Number Sign
In lieu of traditional table numbers, this couple made signs that resembled TV and movie posters for their wedding. Get inspired by even more table number ideas here.
39. Neon Double Happiness Sign
This couple had a neon sign custom-made to resemble the Chinese double happiness symbol. The great thing about neon signs is that many can be repurposed as home decor after the special day.
40. Linen Sign for Escort Cards
Since escort cards themselves are generally small, call attention to the setup with a sign. For even more ideas, let these creative escort card displays inspire you.
41. Coral Seating Chart Sign
Instead of just having a seating chart board, the couple jazzed up the vignette with a coral sign decorated with beads. For even more seating chart display inspiration, check out these ideas.
42. Fun Letterboard Sign
Letterboards are a fun option for DIY couples as you can easily make the sign say whatever you want it to. If you're looking for wedding planning tasks to delegate, consider asking bridesmaids or other wedding party members to help with sign creation for your special day.
43. Wedding Hashtag Sign
To ensure guests know what your hashtag is and remember to use it, craft a simple sign to convey the info. Let these additional hashtag display ideas inspire you as well.
Signs With Quotes as Wedding Decor
Signs are most often used to share instructions or need-to-know info with guests, but they don't have to be used as an information conduit. If you simply want a highlight a favorite quote as part of your personalized decor, go for it. Can't decide on the perfect love quote to include? Peruse these 140 swoon-worthy love quotes for inspiration.
44. Chalkboard With Calligraphed Quote
To celebrate the groom's teaching career, a chalkboard sign welcomed guests to the tented reception at this outdoor wedding.
45. Love Quote on Scroll
A long paper scroll is a fun way to display a quote that carries deep meaning to you and your love story. If you can't settle on a quote you like, take a peek at some of these relationship quotes for inspiration.
46. Calligraphed Literary Quote
As part of their reception decor, this couple had a quote from F. Scott Fitzgerald calligraphed onto a black sign. Quote-based signs would also be a nice decor addition for a bridal shower or pre-wedding party.