36 Wedding Champagne Flutes for Your First Toast as a Married Couple
Drink—and clink—in style.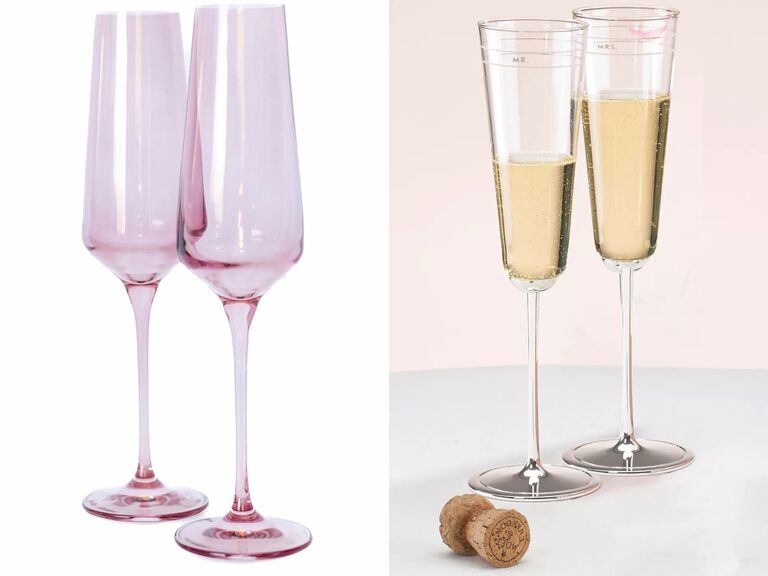 Photos From Left to Right: Estelle, Kate Spade New York
We have included third party products to help you navigate and enjoy life's biggest moments. Purchases made through links on this page may earn us a commission.
When celebratory speeches are made in your honor at the reception, you'll want to raise a gorgeous set of wedding champagne flutes to toast to your future. As you shop for the perfect pair, look for glasses that hold meaning for you and your partner, whether that means personalized champagne flutes with your monogram or an heirloom-worthy set of toasting flutes that you'll bring out for every wedding anniversary and milestone. We're sharing 36 wedding champagne glasses to use for your first toast as newlyweds and beyond, no matter your style or budget. (And if you're shopping for the happy couple, these champagne flutes for weddings just so happen to make great gifts).
In this article:
Personalized Wedding Champagne Flutes
What's more special than sipping from champagne glasses made especially for you? Shop these personalized wedding champagne flutes if you're on the hunt for customized or monogrammed options.
Mr. and Mrs. AZ Etched Toasting Glasses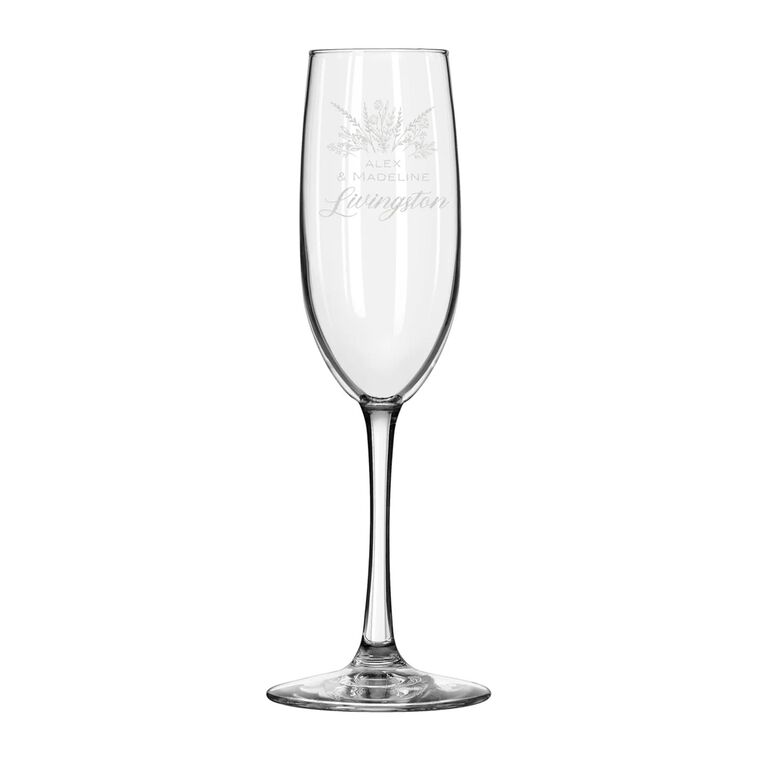 A sweet wildflower motif tops off the etched design on these custom wedding champagne flutes. Add your two names and a shared last name (or request an amended design) to fully personalize the glasses.
Krezy Case Engraved Wedding Champagne Flutes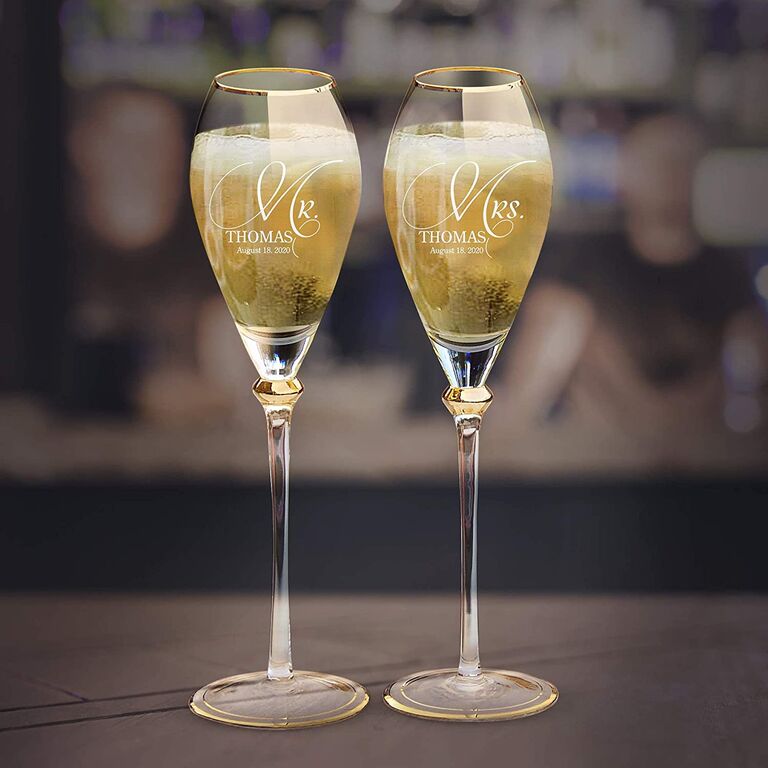 With gold detailing on the rims and stems, these champagne flutes are a perfect pick if you're going for understated elegance. The glasses, which are dishwasher-safe and chip-resistant, are engraved with your names and come with a protective box.
Lenox To Have and To Hold Engraved Wedding Champagne Flutes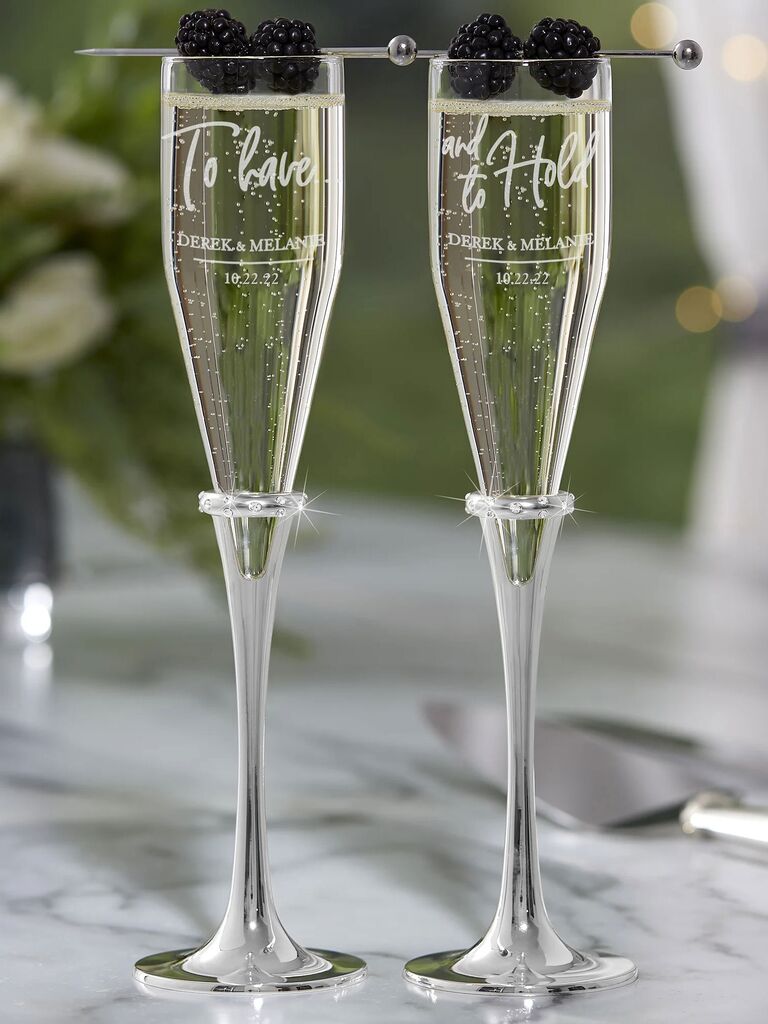 For an extra romantic touch, have your wedding toasting flutes repeat your vows back to you. These glass champagne flutes read "To have" on one and "To hold" on the other, with your names and wedding date underneath for added personalization. The stems feature a silver-plated and crystal accented ring for a touch of glam.
Pacific Customs Engraved Monogram Champagne Flutes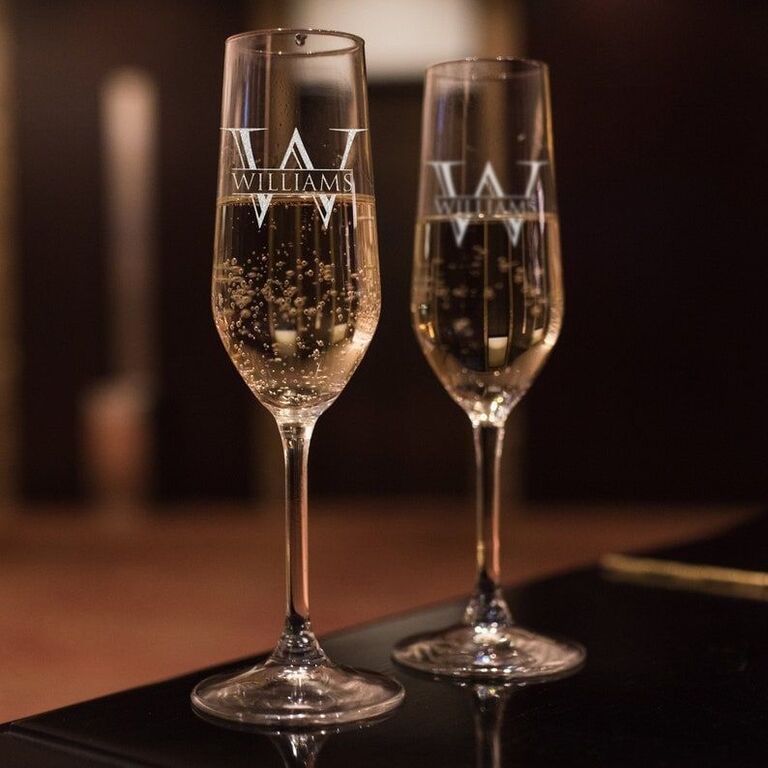 With 12 different designs to choose from, these best-selling wedding flutes make an excellent gift—either for yourself or a soon-to-be-married couple. We like this monogrammed version for anyone who's going to be sharing a last name, but you can also personalize the set with a custom logo or text.
Personalization Mill Engraved Champagne Glasses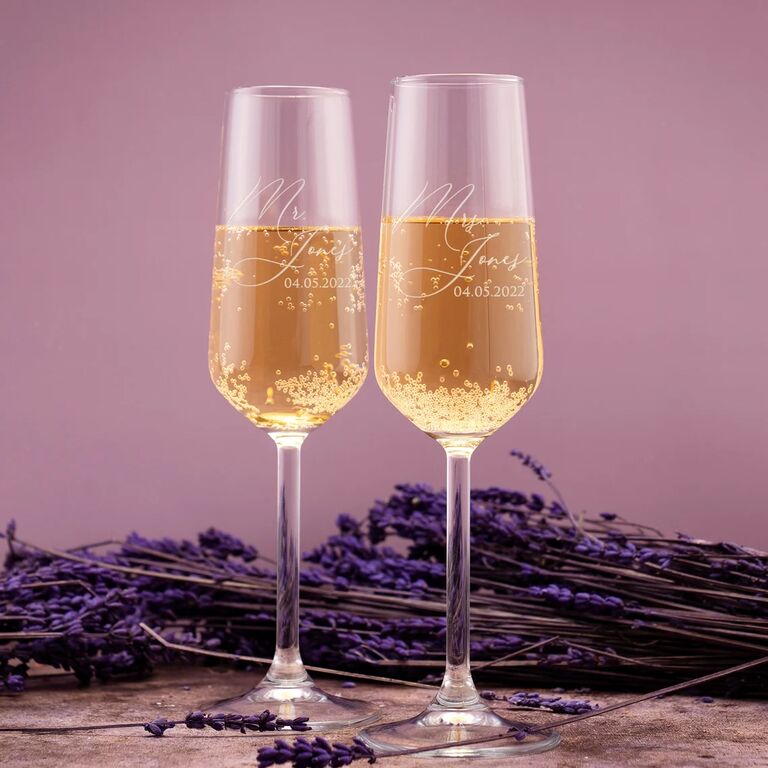 Engraved with two names and the wedding date, this set of champagne glasses will help you always remember your special day. Bring them out on each anniversary for a celebratory toast.
Engraved Wedding Champagne Flutes
From delicate etched florals to timeless monograms, these engraved wedding champagne flutes are stylish and understated.
Luigi Bormioli Engraved Engagement Champagne Flute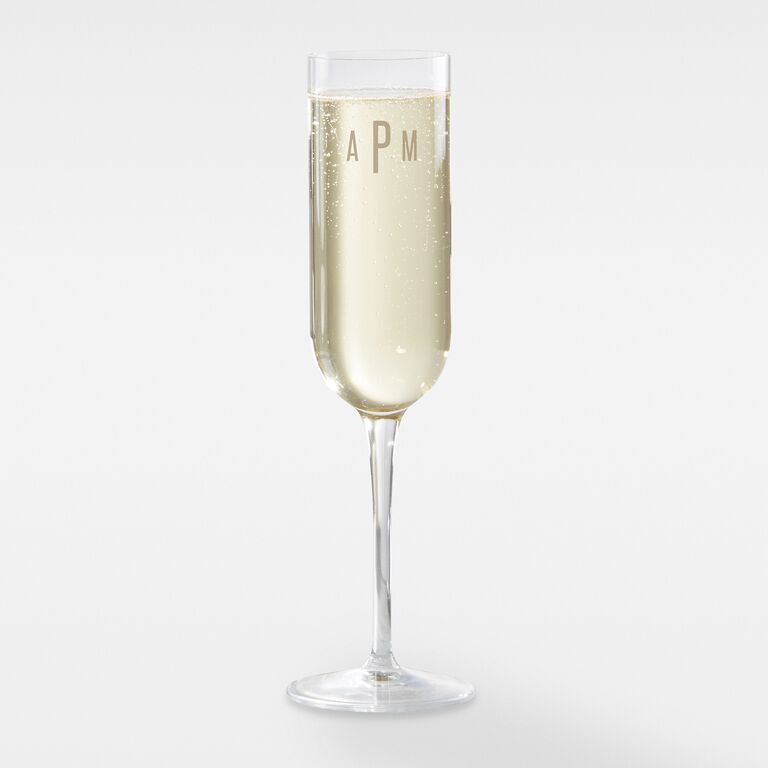 If you're sharing a last name with your partner, mark the start of your new chapter with these monogrammed wedding champagne glasses. Take your pick from dozens of different etching fonts to match your personal style.
Happily Ever Etched Personalized Champagne Flutes with Gold Rim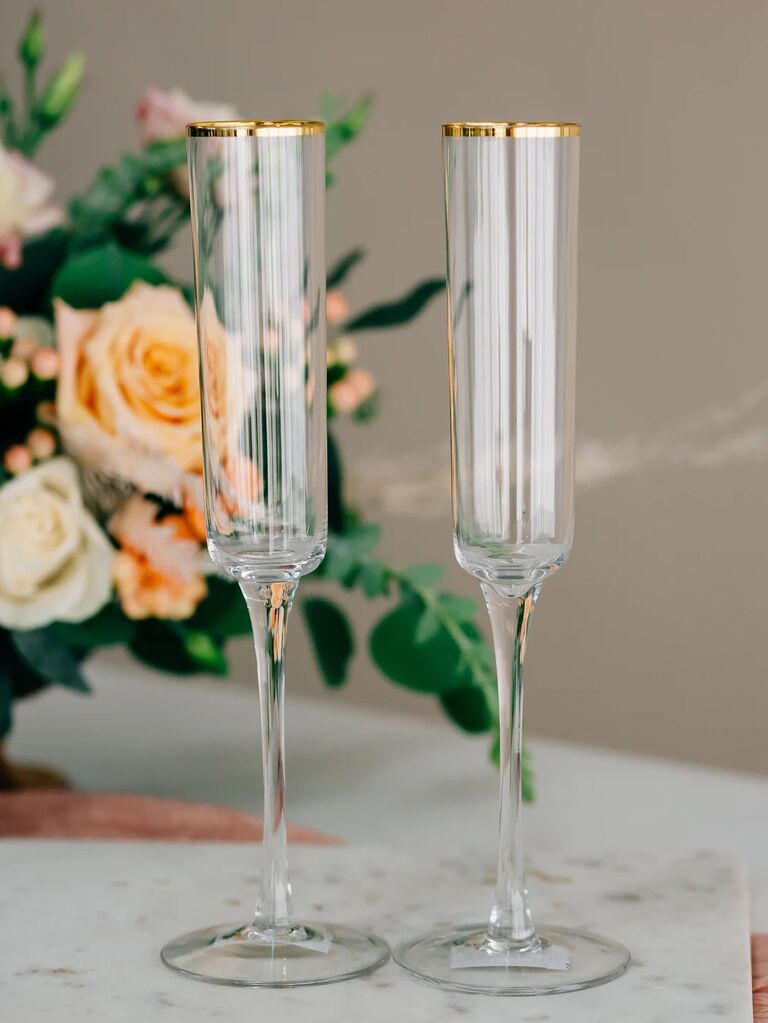 Channel a sleek, modern look with these elongated toasting flutes. The gold rim adds just the right amount of detail without being too flashy, and you can choose from metallic silver, gold or rose gold fill if you opt for the custom engraving.
Lenox Silver Peony Toasting Flutes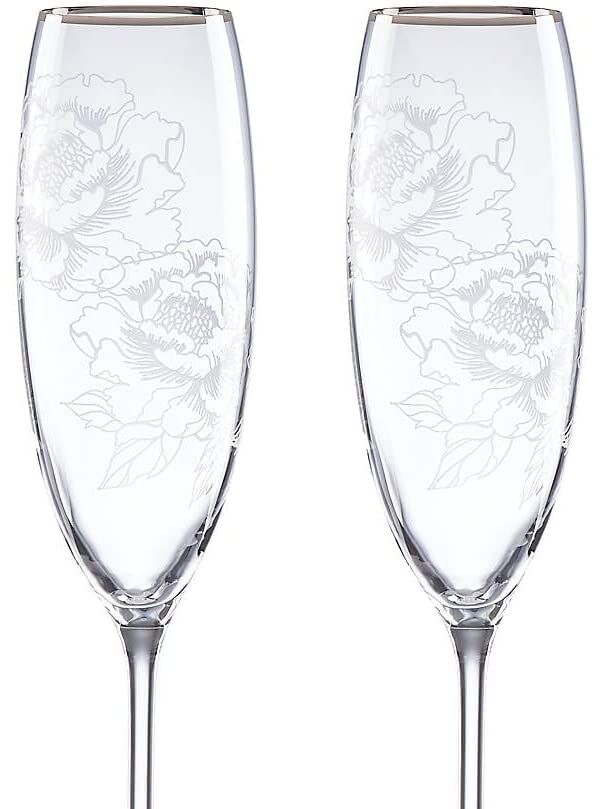 Gorgeous etched peonies add subtle style to these elegant wedding champagne flutes. The glasses are finished with platinum rims, and you can complete the set with the matching cake server and picture frames (hint hint: they're perfect for gifting).
Kate Spade New York Darling Point Toasting Flutes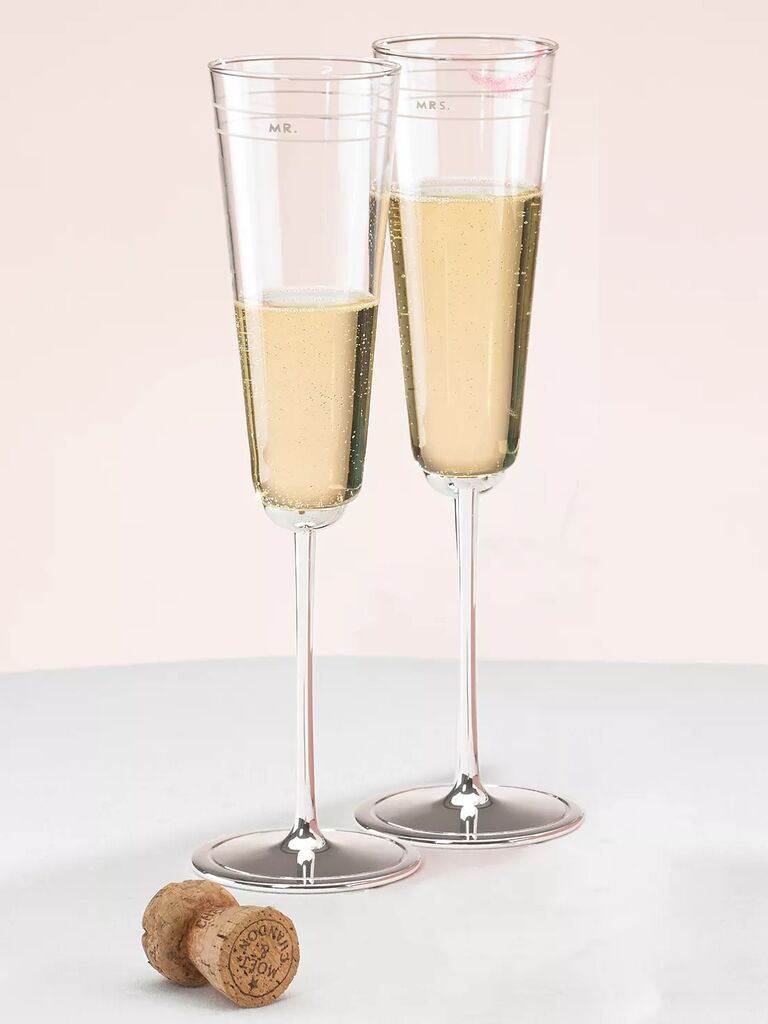 We'd recommend these simple wedding toasting flutes for the ultimate minimalist vibe. The sleek, tall glasses are decorated with subtle "Mr." and "Mrs." engraving, along with silver-plated stems that add to the chic design.
Unique Wedding Champagne Flutes
Not feeling inspired by basic glassware? We've got you. From non-traditional shapes to trendy, iridescent detailing, these unique wedding champagne flutes make a statement and complement your individual style.
The Knot Shop Double Walled Wedding Champagne Glasses
Want something that's just yours? Create wedding toasting glasses that are as unique as your love story. These stemless glasses can be personalized with a logo or monogram and up to two lines of text—plus, each glass can be different. Best of all, the double wall on these flutes will keep your bubbly cool while also preventing condensation.
Art Wedding Group Black and White Wedding Champagne Glasses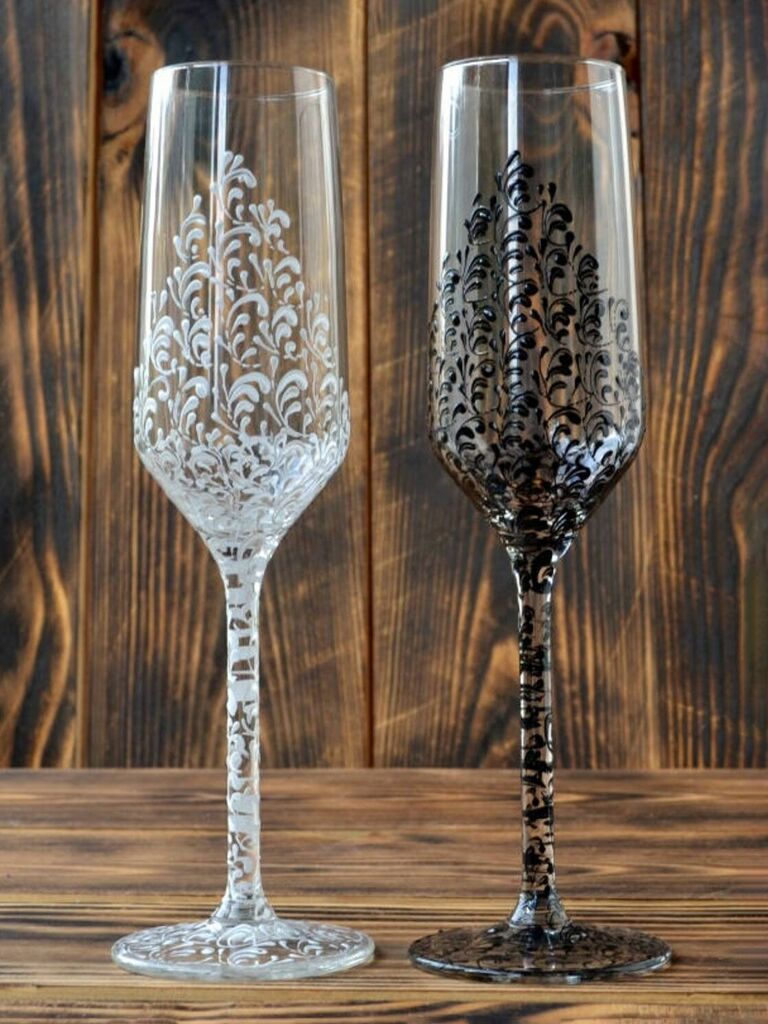 These intricate and edgy champagne glasses make the perfect pair for newlyweds who were drawn together despite their opposite personalities. They can be laser engraved and hand-painted with a whimsical paisley design in a variety of colors like this sophisticated black and white set. An added bonus: They also come with a coordinating cake knife and server.
Anthropologie Zaza Lustered Iridescent Flutes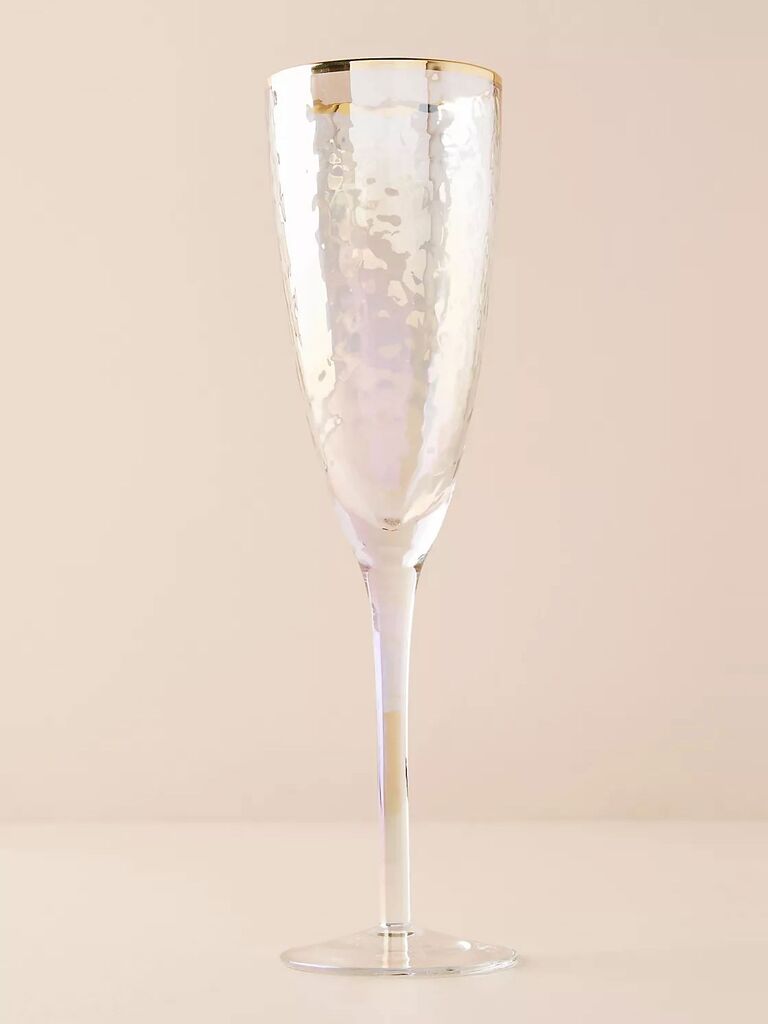 Have you ever seen anything so pretty? (Besides your S.O. of course.) Toast to your new relationship status with these iridescent champagne flutes that sparkle just like the bling on your finger. They have textured glass to reflect light and a glittering gold rim for a glam addition to your tablescape. As a fun bonus, they're sold in groups of four so you'll have a full set to use after the wedding.
The Knot Shop Silver-Plated Champagne Glasses with Interlocking Heart Stems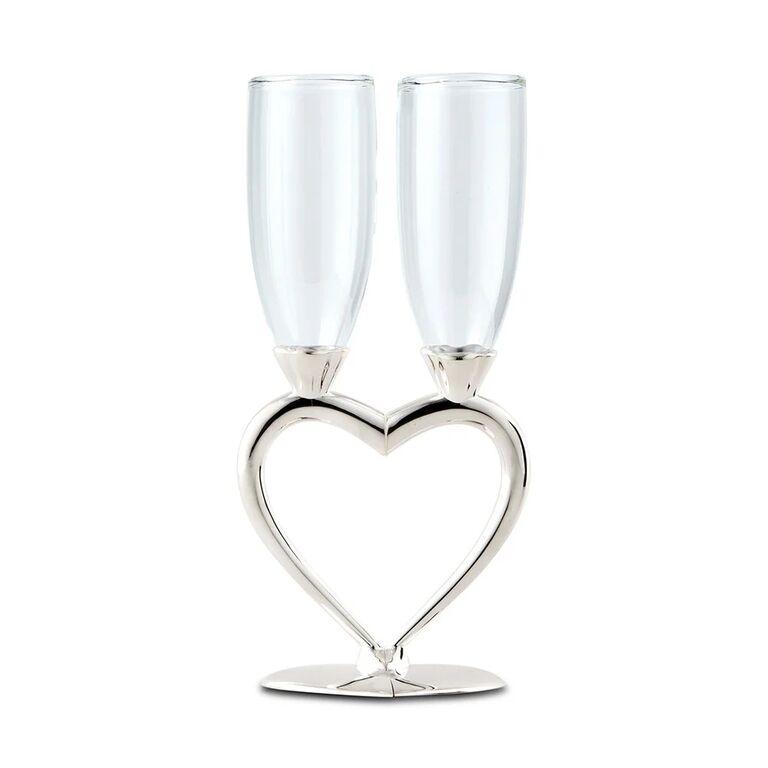 We can see the Pinterest-worthy picture now: You and your spouse cross arms and take a sip of champagne from these interlocking wedding champagne flutes. The distinctive silver-plated stem design creates a beautiful heart when placed next to each other for a physical metaphor of your new union. The bowl can even be custom engraved to make these a one-of-a-kind keepsake.
Crystal Wedding Champagne Flutes
Crystal wedding champagne flutes are luxurious and timeless. Check out these styles that are bound to become instant family heirlooms.
Waterford Lismore Champagne Saucers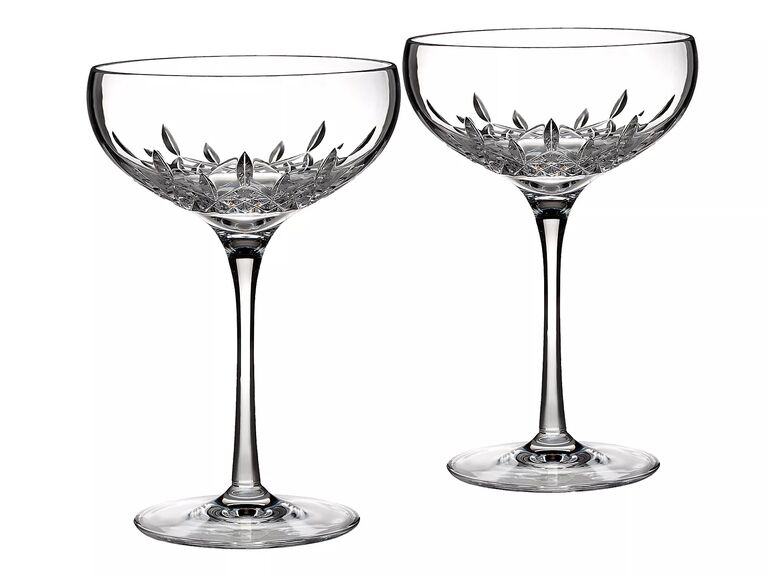 These champagne coupes look like they were plucked right out of The Great Gatsby. Each boasts a cut-crystal design that adds a contemporary statement to Waterford's classic Lismore pattern. You'll definitely break these out for every wedding anniversary to come.
Lenox Crystal Adorn Toasting Flutes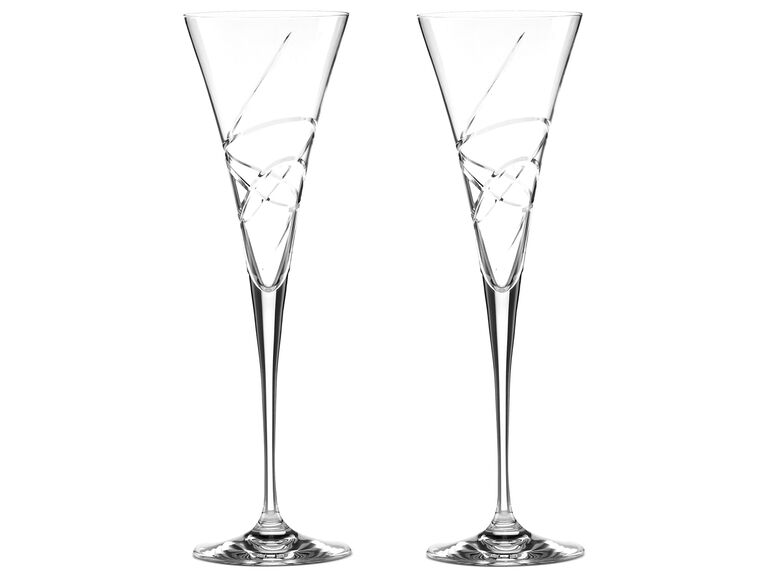 Don't crystal glasses make the best clink noise when toasting? We think so! These timeless trumpet crystal champagne flutes are beautifully adorned with a ribbon cut for a glass you'll want to use to cheers all your wedding guests.
Anna New York Elevo Champagne Glasses with Amethyst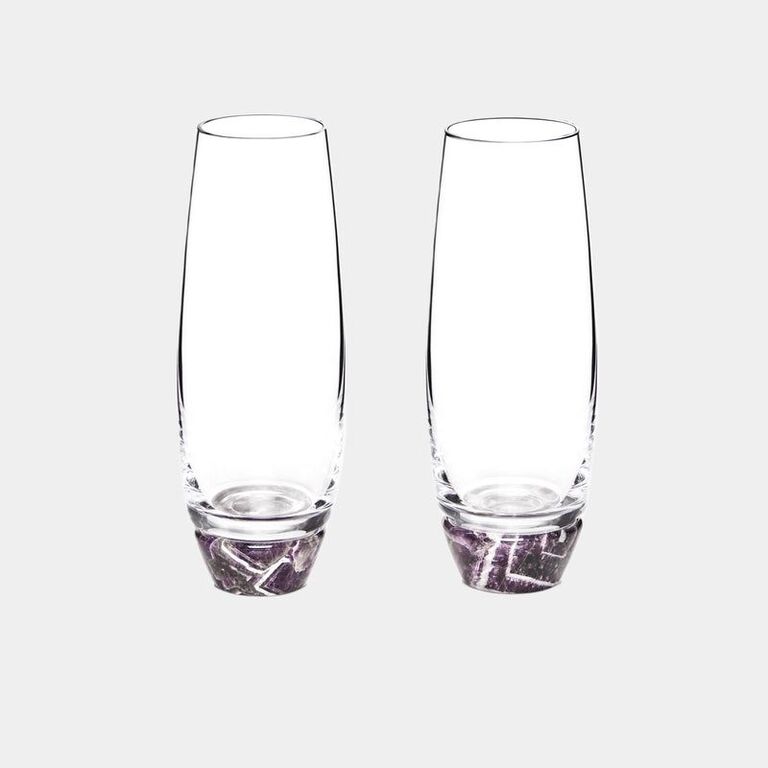 Aside from being the February birthstone, amethysts are said to bring calmness, clarity and wisdom to their beholders—all things that would benefit any couple transitioning into a new chapter. These stemless wedding champagne flutes are decorated with amethyst bases that are as functional as they are beautiful.
Waterford True Love Leaded Crystal Champagne Flutes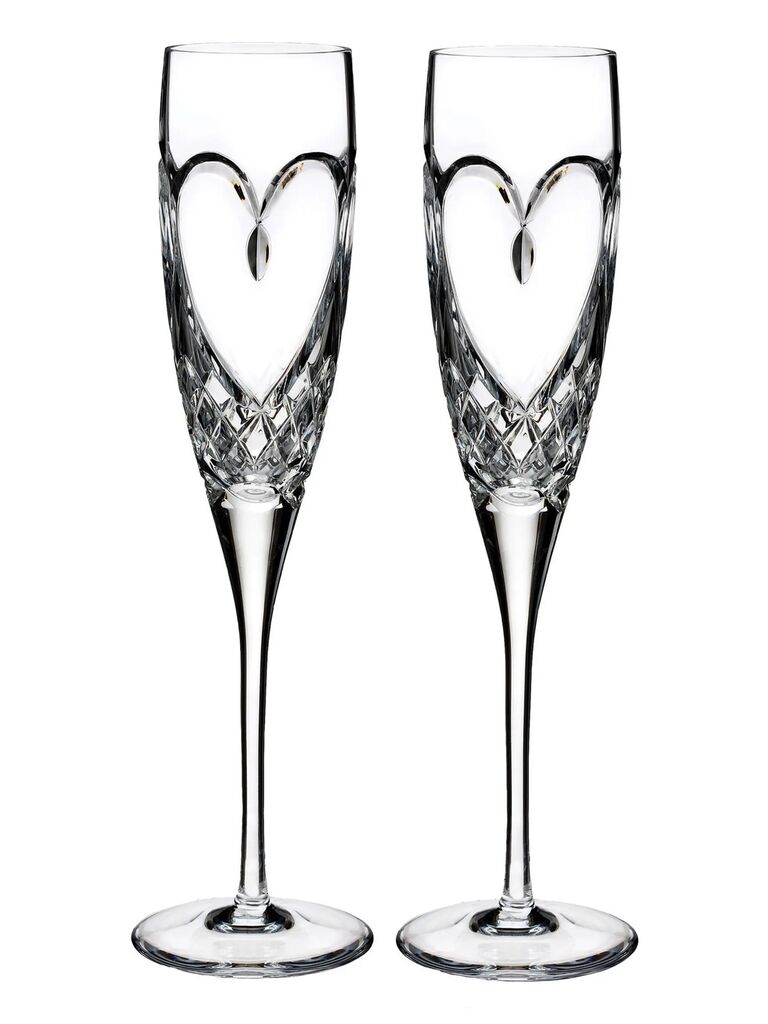 We are of the opinion that you can never have too many heart motifs at a wedding celebration. These crystal champagne flutes are fittingly named "True Love" and are cut with a sparkling heart pattern, making them a romantic way to toast to your new chapter.
Elegant Wedding Champagne Flutes
If you prefer classic style rather than the latest passing trend, you'll love these elegant wedding champagne flutes featuring details like silver plating, crystals and gold trim.
Lenox Disney Bridal Toasting Flutes Set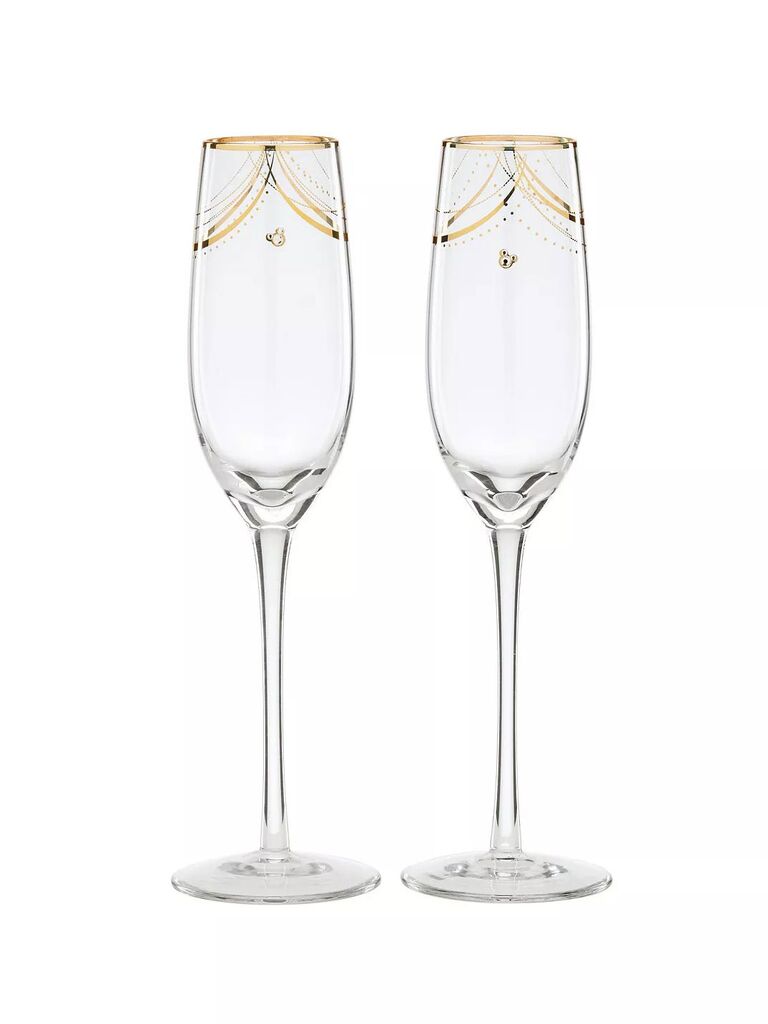 Incorporating you and your partner's shared interests into your wedding day is a fun way to make the event unique and share your relationship with guests. If you're both Disney fans, this magical champagne flute set is for you. The top is decorated with draping gold ribbon detail—reminiscent of a princess' ballgown—and iconic Mickey Mouse ears for a subtle nod to your favorite fandom.
Rolf Glass Wedding Dress and Tux Flutes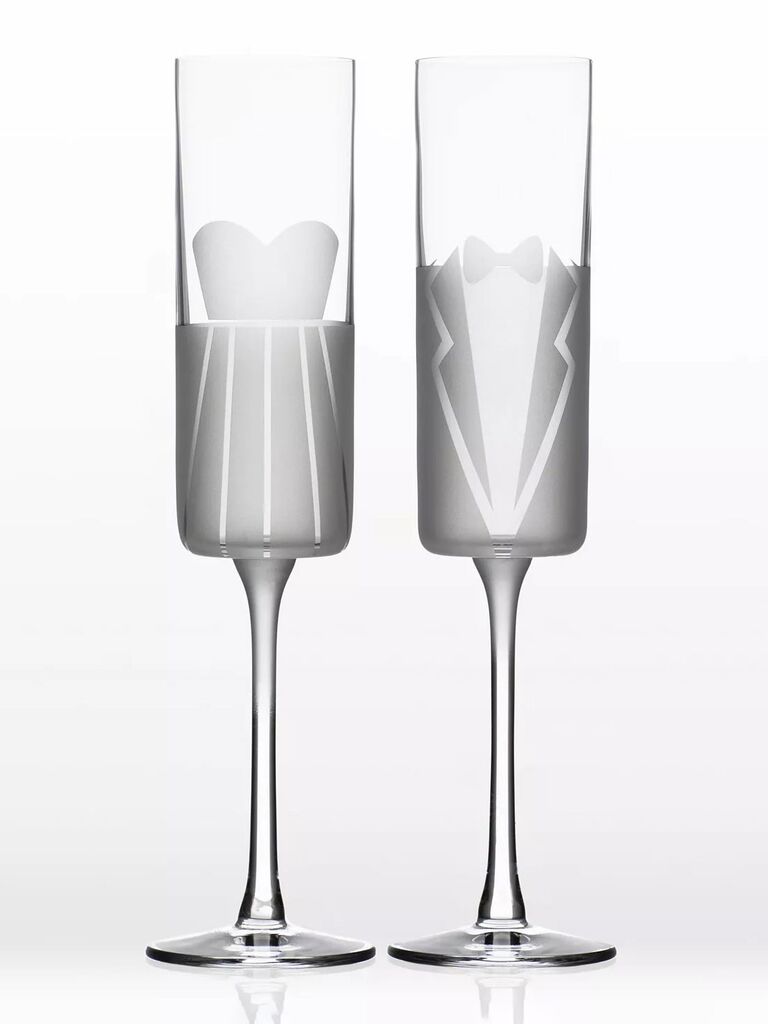 Champagne glasses with clothes—yes, please! This set of crystal champagne flutes will be as well-dressed as you two are, thanks to sand-etched designs meant to look like a wedding gown or a tuxedo. Find them in pairs of two dresses, two suits or one of each.
The Knot Shop Gem-Filled Wedding Champagne Flutes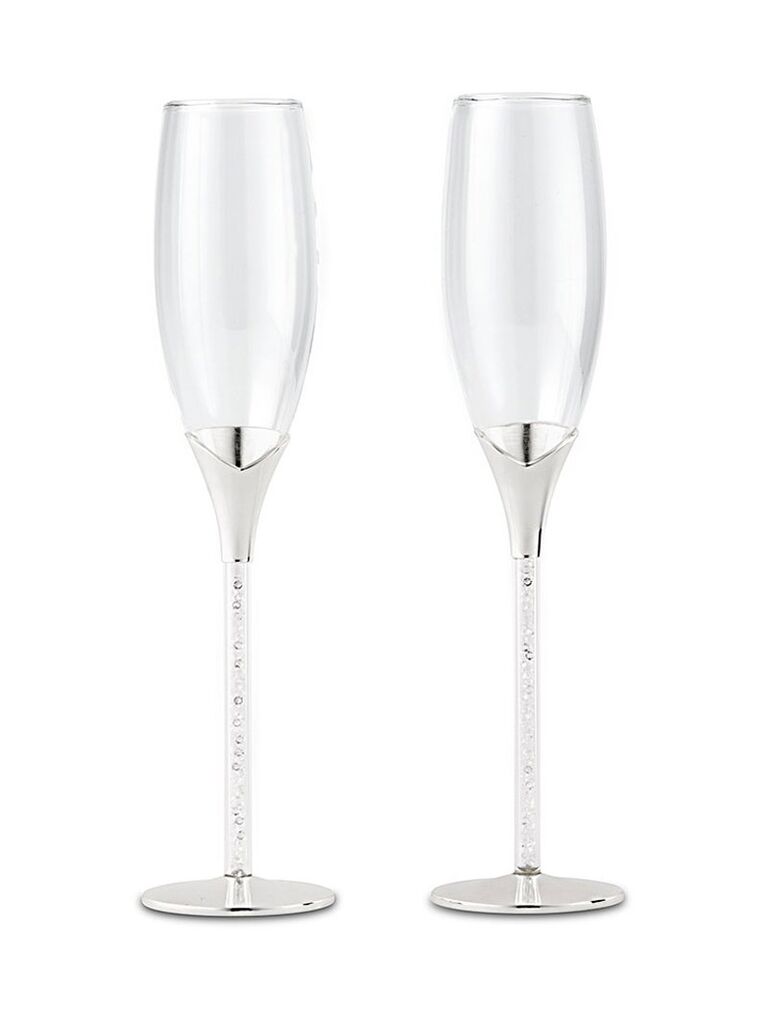 Look closely: The stems of these unique champagne flutes are filled with small glass gems reminiscent of the diamonds you likely just slipped on each other's fingers. The base and epicure are capped with silver plating for extra luster and elegance. Keep them simple (yet classy) or add custom engraving to the glass.
Kate Spade New York A Life Well Loved Toasting Flutes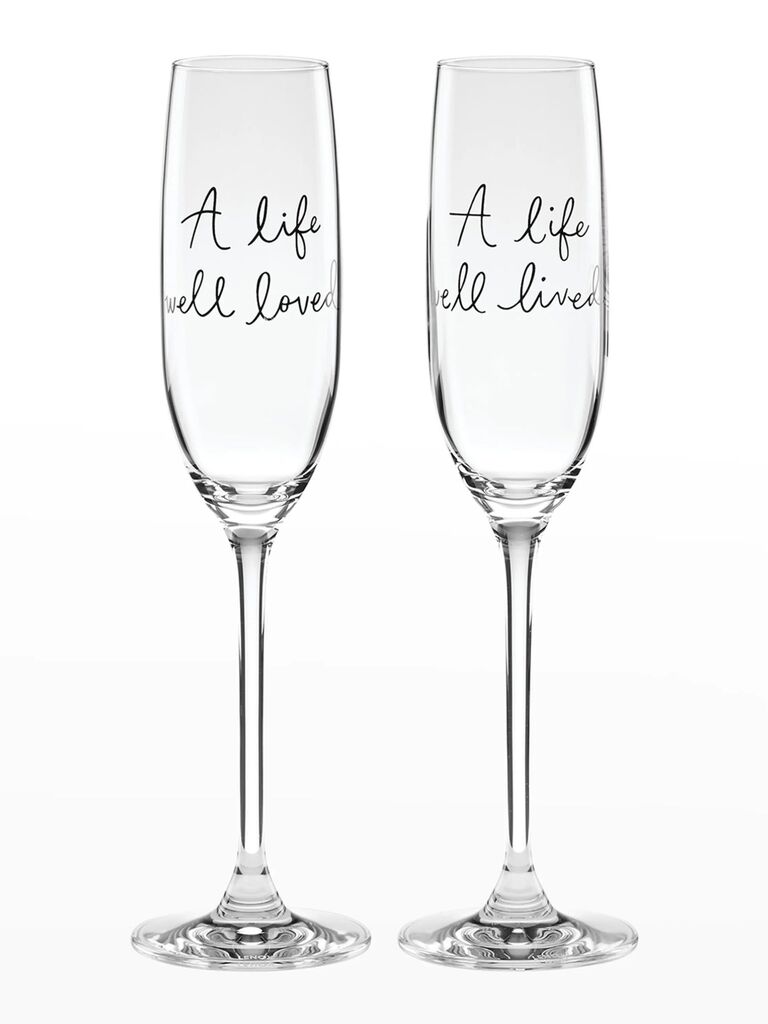 We love the sweet sentiment on these Kate Spade wedding champagne glasses. They read "A life well loved" and "A life well lived." Someone will definitely be copying the quote for their wedding toast to you.
Olivia Riegel Windsor Silver Flute Glass Set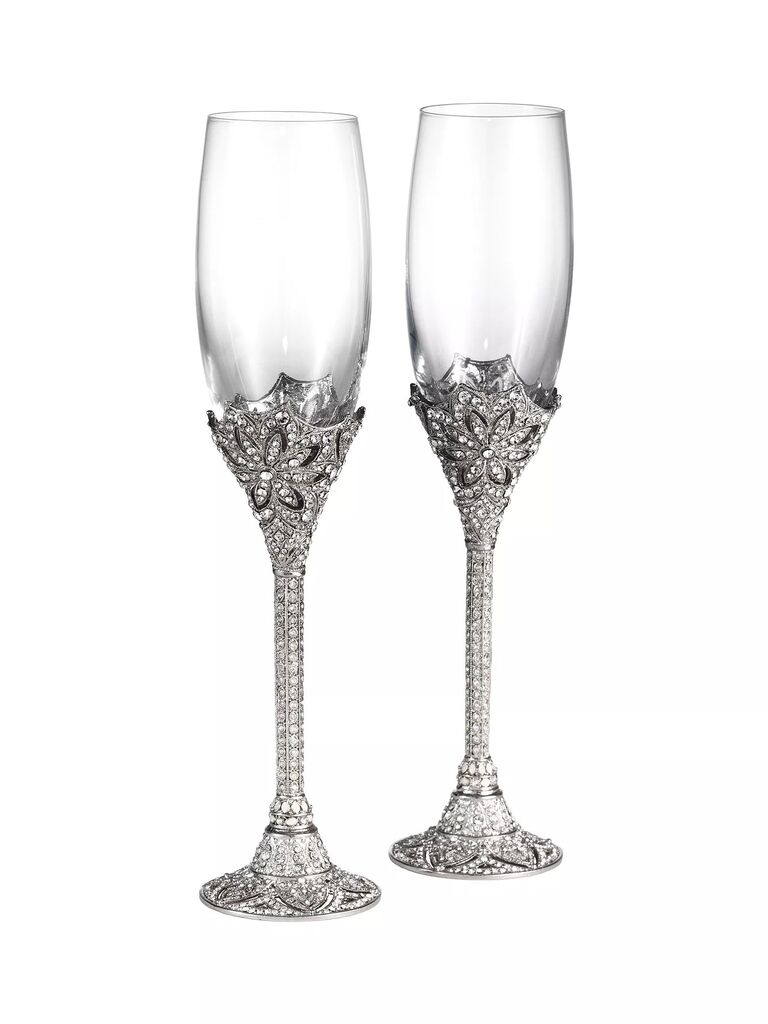 It doesn't get much more glitzy than this! Enjoy your first sip of bubbly as a married couple out of these jewelry-inspired flutes. The stems and bowl are ornately covered in hand-set Swarovski crystals and finished in cast pewter making them worth every penny. (Psst, love the design, but not the color? They also come in gold.)
Modern Wedding Champagne Flutes
Streamlined and chic, these modern wedding champagne flutes are our top picks for anyone who loves a minimalist aesthetic.
Kate Spade New York Rosy Glow Champagne Flute Set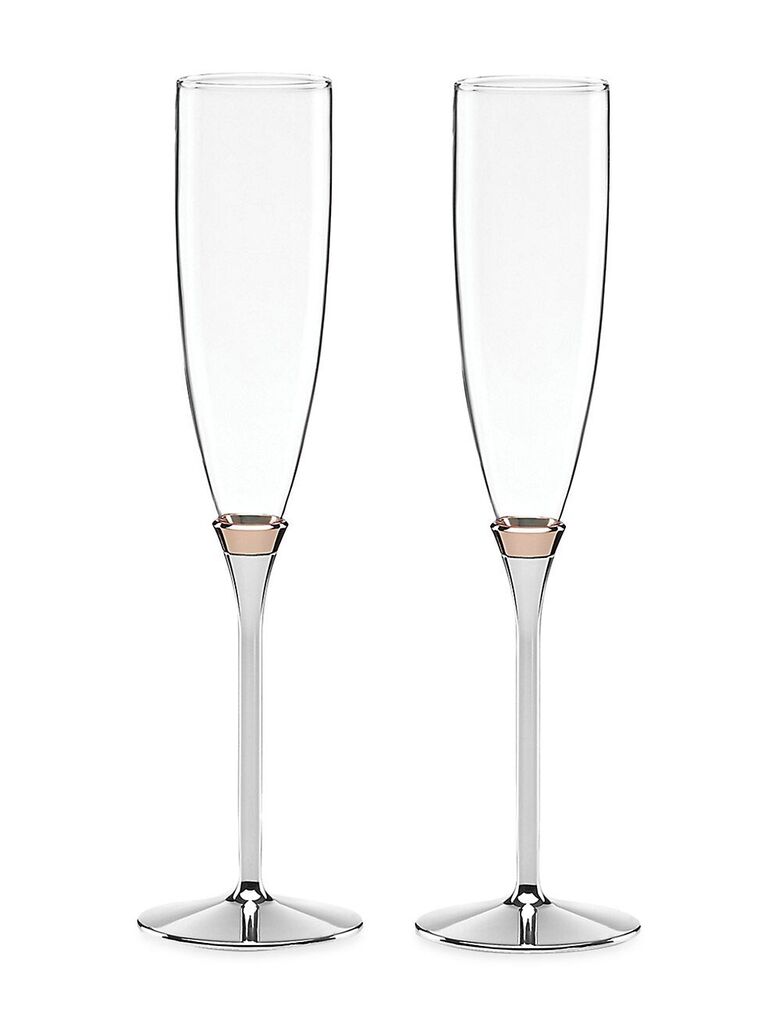 This Kate Spade wedding champagne flute set is simple, yet charming—just like the brand itself. The stems are silver-plated with a rose gold band around the top lending them a preppy appeal. While you're at it, pick up the coordinating wedding cake serving set.
Viski Faceted Crystal Stemless Champagne Flutes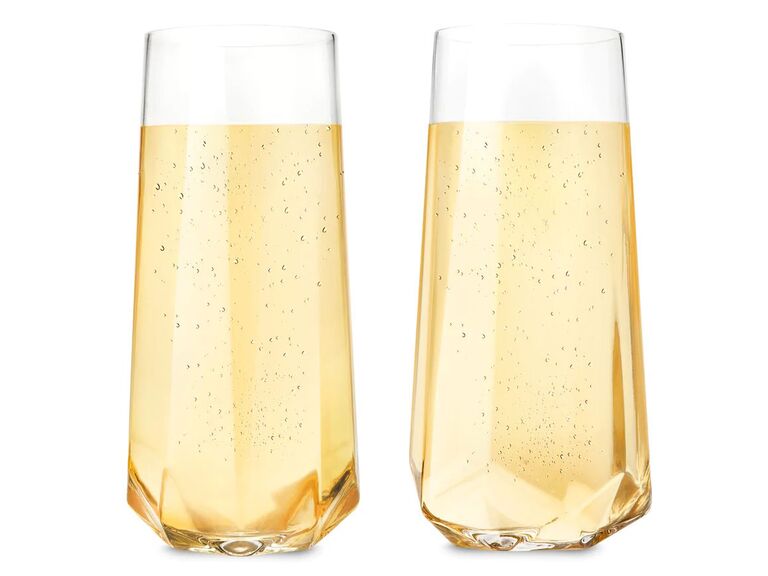 These stemless champagne flutes are the perfect accompaniment to a modern celebration. The faceted bottom and geometric sides create a polyfaceted crystal champagne flute that sends prismatic light through the sparkling wine. They're so unique and pretty, they might just one-up the guests of honor.
Estelle Color Champagne Flute Glass Set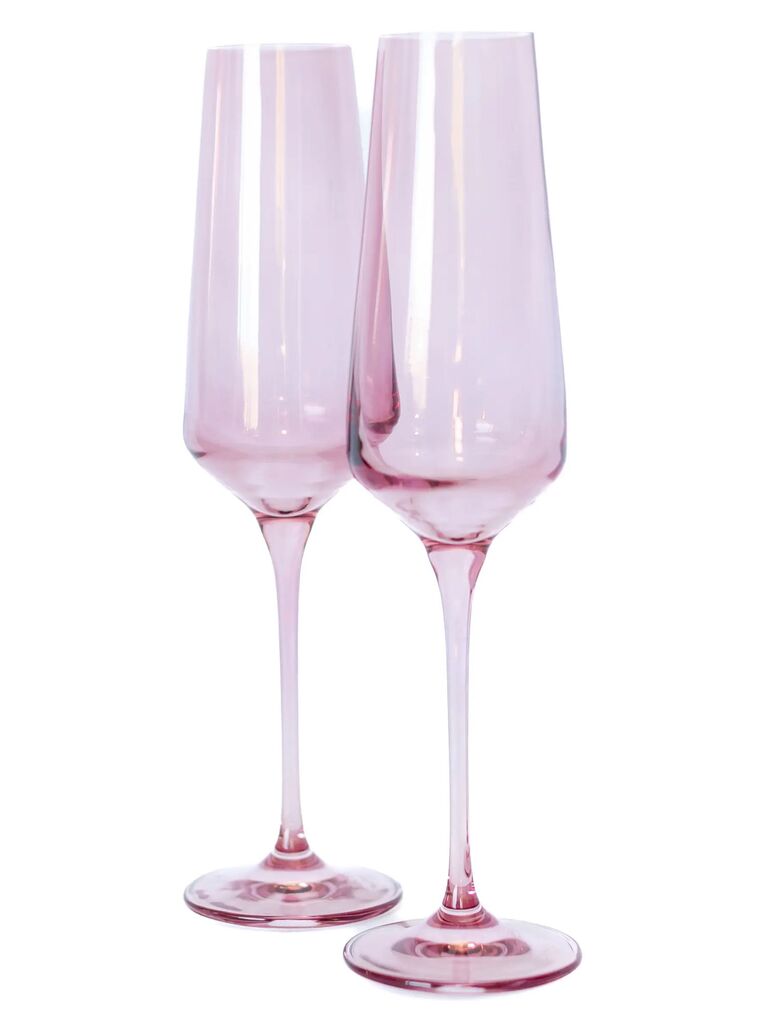 Pretty in pink indeed! Colored glassware is taking over the internet and now you can incorporate it into your wedding day. Snag this set of classic champagne flutes in pink, blue or green to match your big day palette.
Vera Wang Wedgewood Infinity Toasting Flutes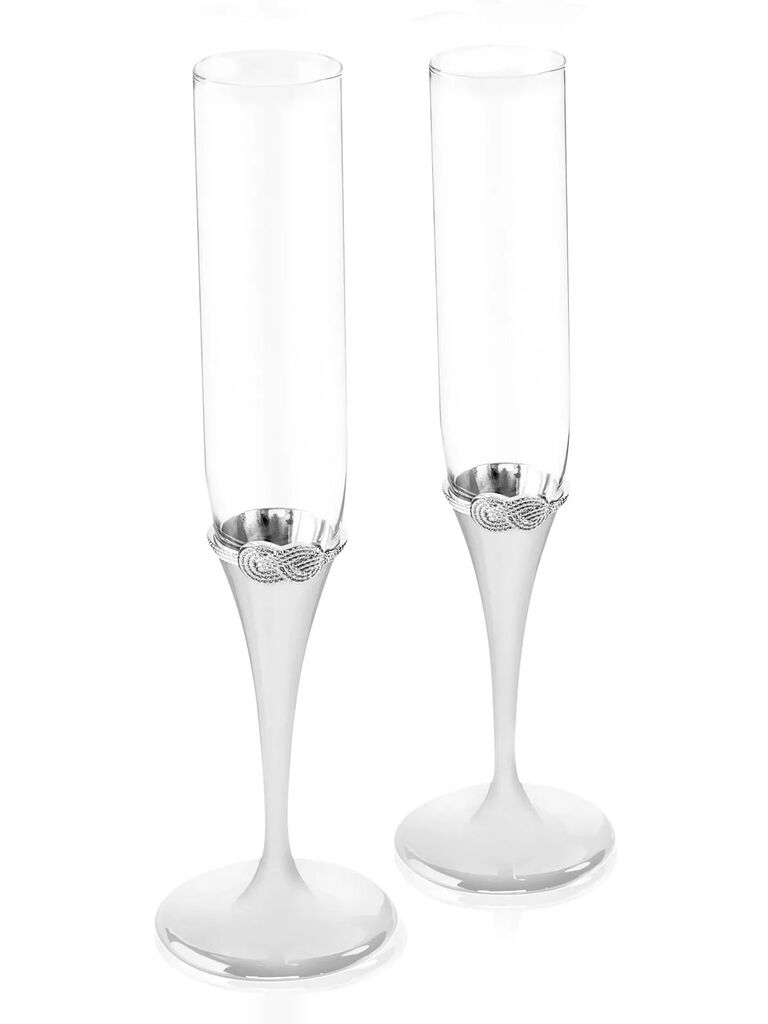 Do you know the history of "love knots"? These infinity loops were derived from an ancient Celtic wedding tradition called "handfasting," where couples would tie their hands together using a cloth to announce their engagement. These silver wedding champagne flutes from Vera Wang are adorned with the romantic icon to celebrate your eternal love. Hear, hear!
Viski Gold-Rimmed Crystal Champagne Flutes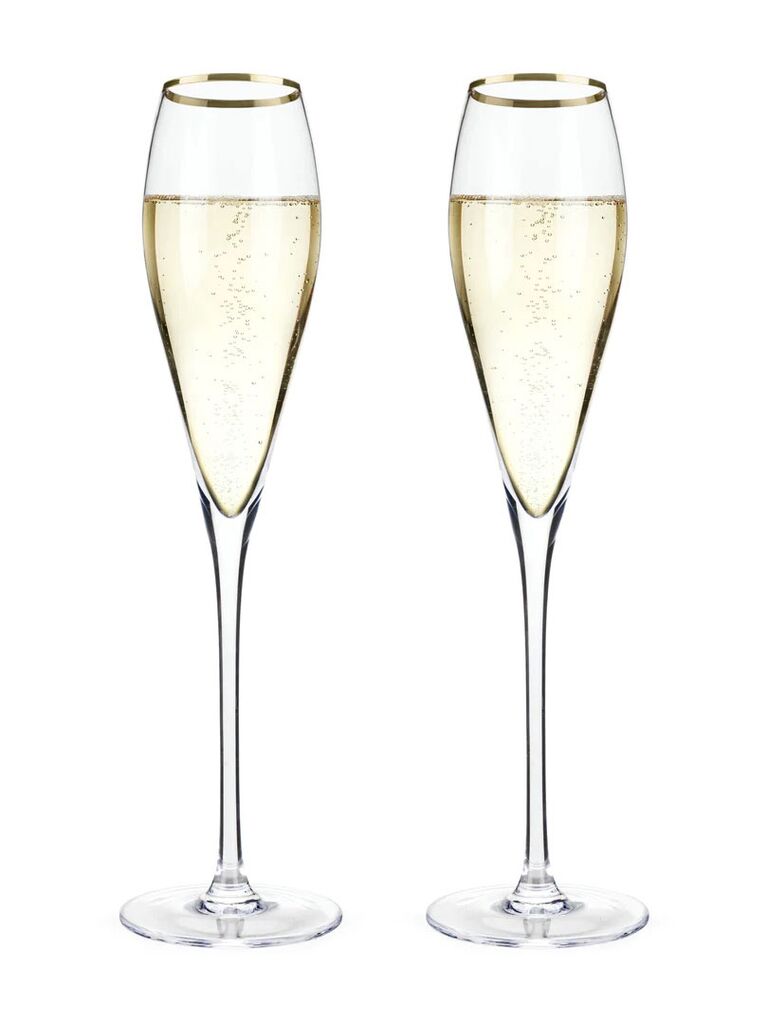 If you're looking for something simple, yet still celebration worthy, consider these gold-rimmed tulip champagne glasses. The narrow base and wider bowl allows the full aroma from sparkling wine to waft up without carbonation loss. They'll perfectly elevate your first drink (or two or three) as a married couple.
Rustic Wedding Champagne Flutes
These rustic wedding champagne flutes draw inspiration from the great outdoors, featuring details like wildflowers, golden branches and tree trunk etching.
Jennifer Francis Fillinger Tree Trunk Etched Champagne Flutes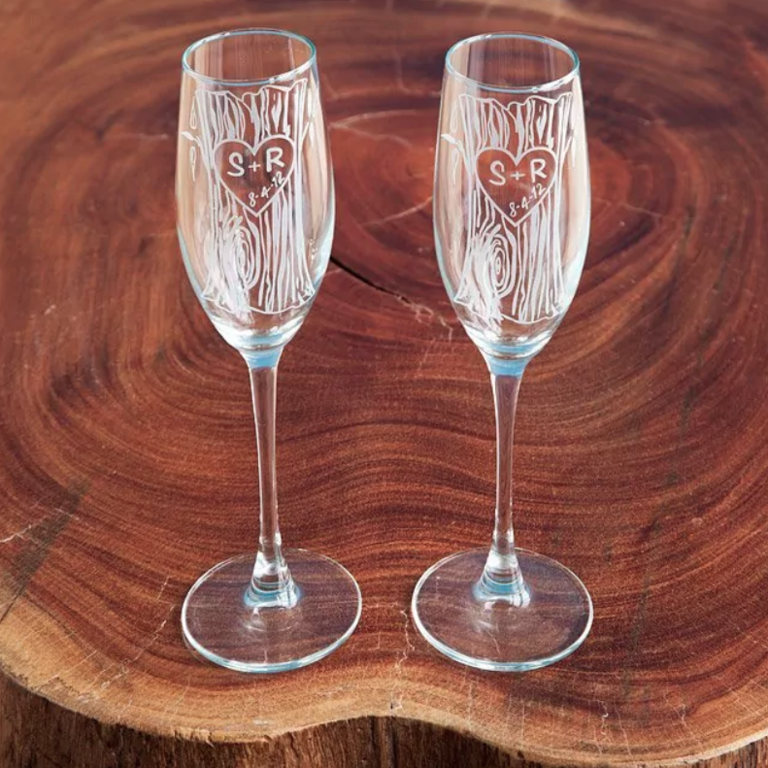 If you can't carve your initials into a real tree, these adorable rustic champagne flutes are the next best thing. The set is customized with your initials and wedding date framed by a heart and tree trunk-inspired etching.
Soho Home Hand-Blown Glass Country House Flutes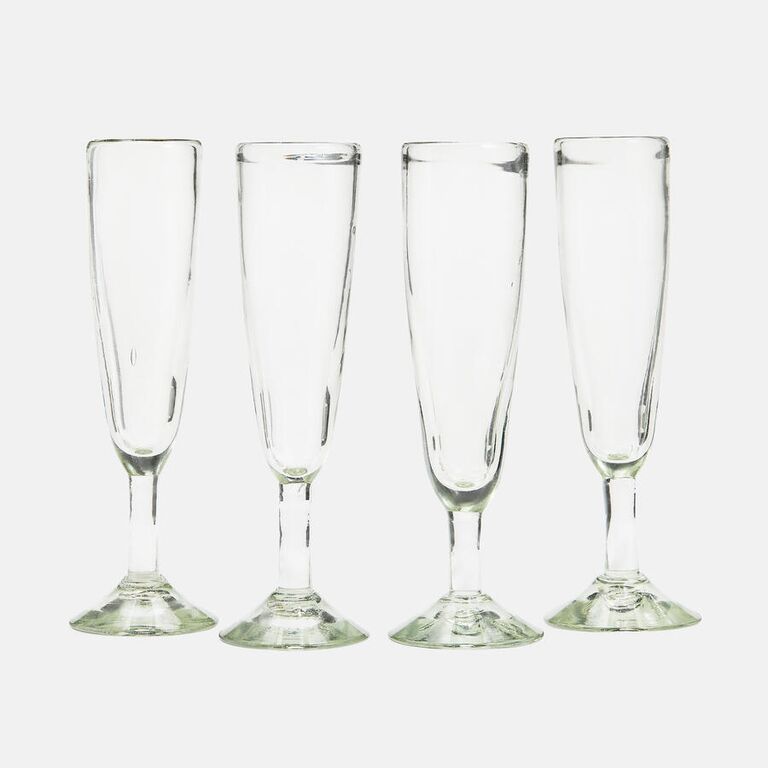 With a thicker and sturdier construction compared to dainty wedding champagne glasses, these hand-blown flutes bring a farmhouse-inspired look to your decor. The recycled glass flutes are dishwasher safe and come in a set of four, which makes them ideal for hosting future dinner parties and wine nights.
Tanika's Dream Gold Branch Champagne Glasses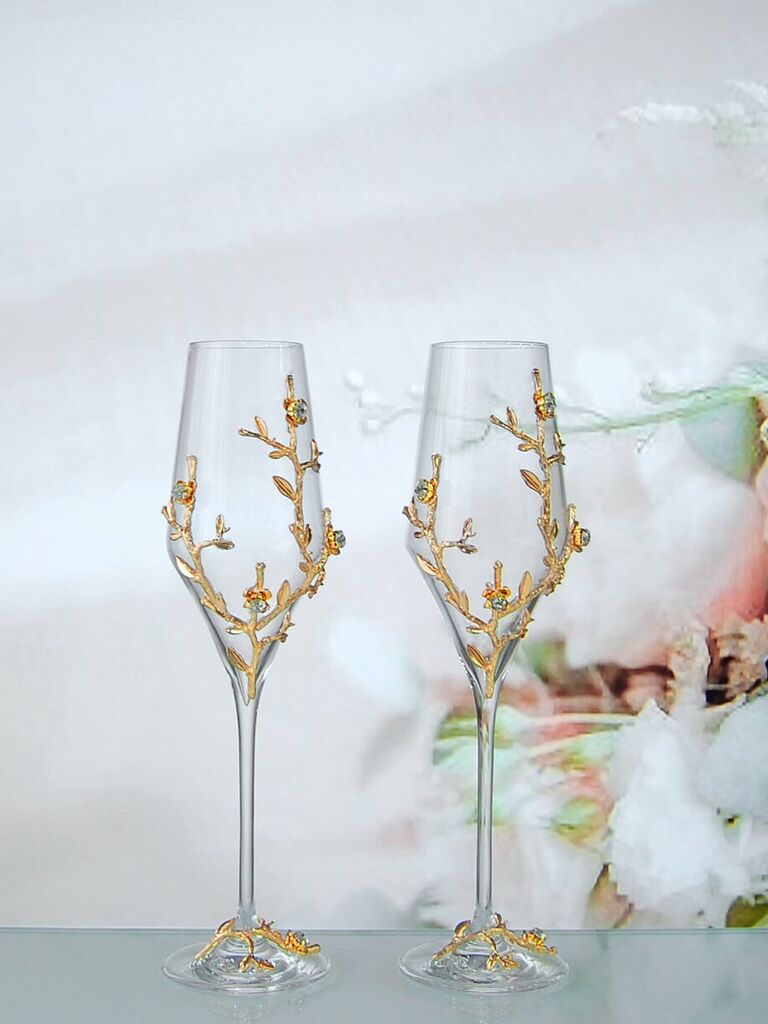 Delicate gold branches and rhinestones add a rustic glam vibe to these crystal champagne flutes. Customize them with optional engraving to turn them into your own wedding day mementos.
Portmeirion Botanic Garden Champagne Flutes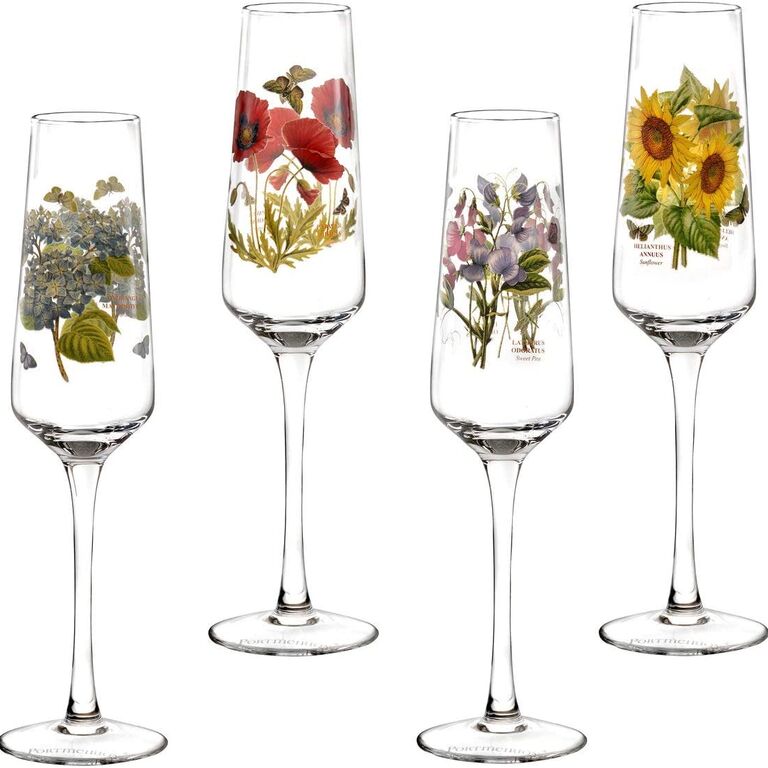 If delicate gold detailing and etching isn't for you, try these rustic wedding champagne flutes instead. The four glasses are decorated with colorful floral illustrations and look just as lovely displayed on a shelf or bar cart when they're not in use.
Vintage Wedding Champagne Flutes
No time to go antique shopping? These vintage wedding champagne flutes are inspired by Old Hollywood glamour and the charm of bygone decades.
Olivia Riegel Dogwood Blossom Flutes
If you want to splurge on champagne flutes that feel wedding day-worthy, we couldn't be more obsessed with this set by Olivia Riegel. Delicate dogwood blossoms—cast in gold-tone pewter with ivory enamel and hand-set European crystals—embellish the base and stem for a duo of fancy flutes you'll want to raise extra high for all your guests to see.
The Knot Shop Tulip Champagne Toasting Wedding Flute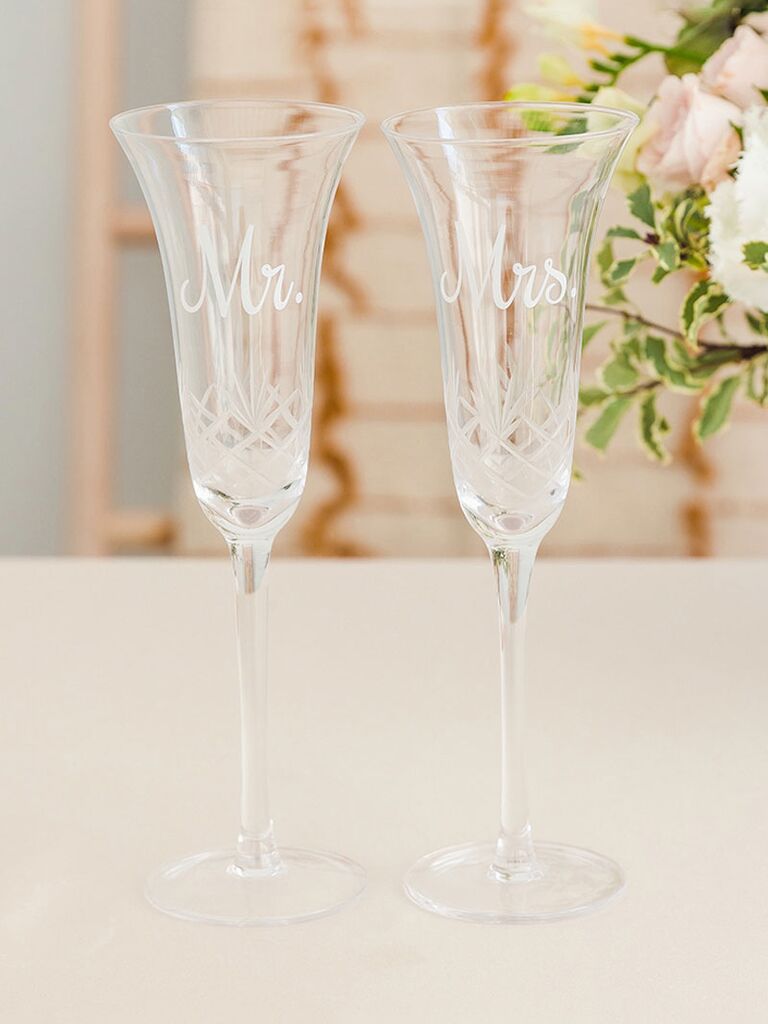 If you're looking for classic champagne glasses for your wedding, you can't go wrong with these stemmed tulip flutes with Mr. or Mrs. printed in script on the glass. They're sold separately so you can buy any combination that fits you and your soon-to-be-spouse.
Gunerska Wedding Pearl-Covered Champagne Flutes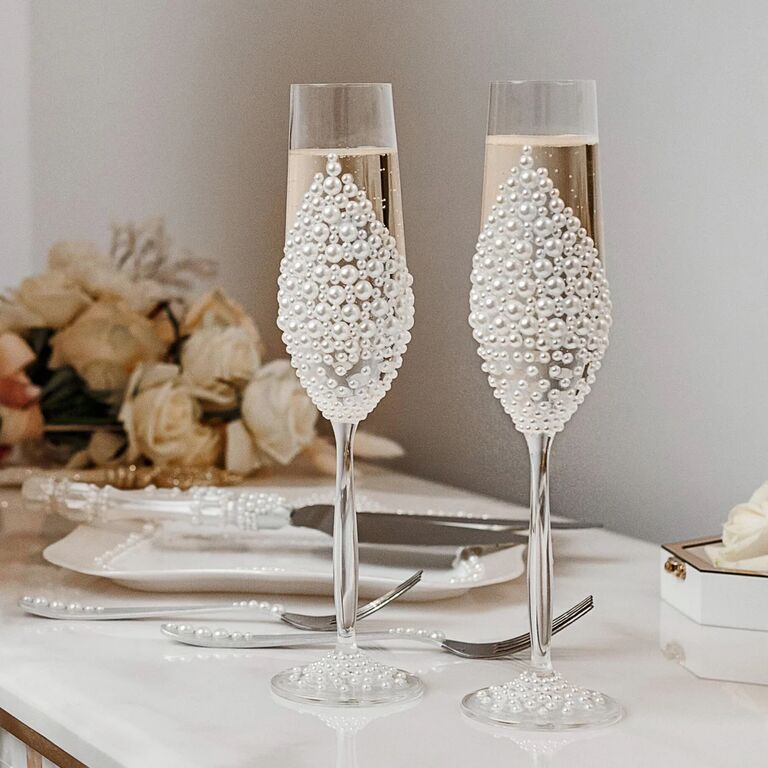 Did someone say pearlcore? These beautiful flutes are adorned with faux pearls inspired by Old Hollywood glam. Purchase them as-is or upgrade with optional engraving and the matching cake serving set.
Terrain Etched Floral Coupes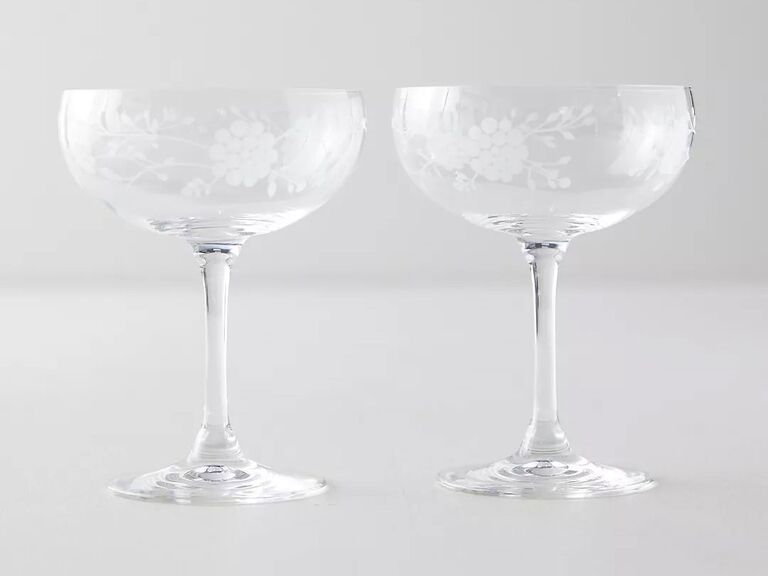 These champagne coupes are classically romantic. The glass is etched with budding vines and flowers for a vintage effect—almost like you thrifted them or snagged them from grandma's house (but in a cool way). We picture them as the perfect finishing touch at your all-white wedding.
The Knot Shop Vintage Style Pressed Glass Champagne Flute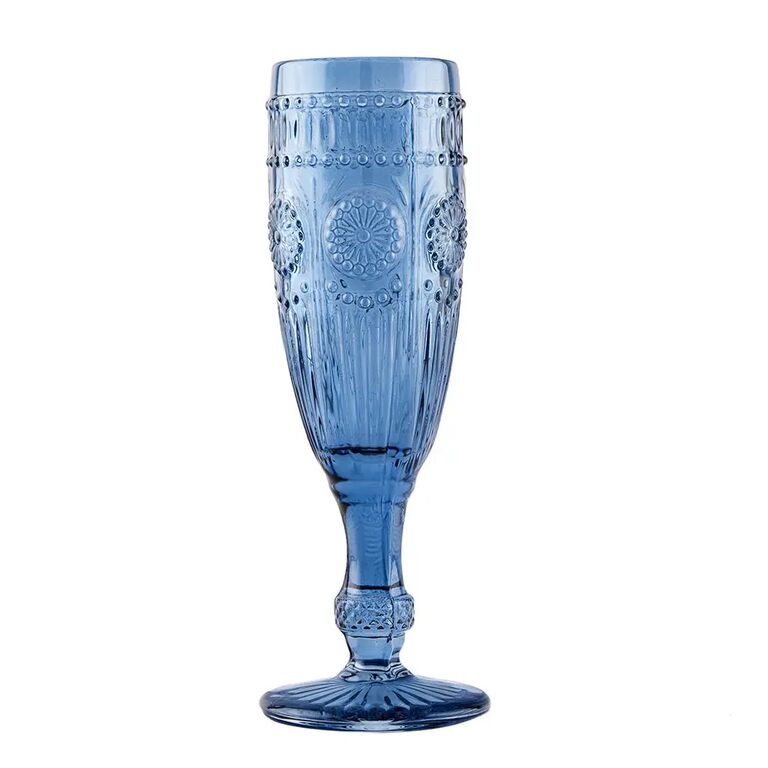 Still in need of something blue? Consider these charming vintage-inspired champagne flutes. The glasses, which feature an intricate pressed glass design, also come in pink or white—and the low price means that you can snag a few for your wedding party, too.