How to Slay a Flash Mob Proposal
Your partner will be absolutely floored.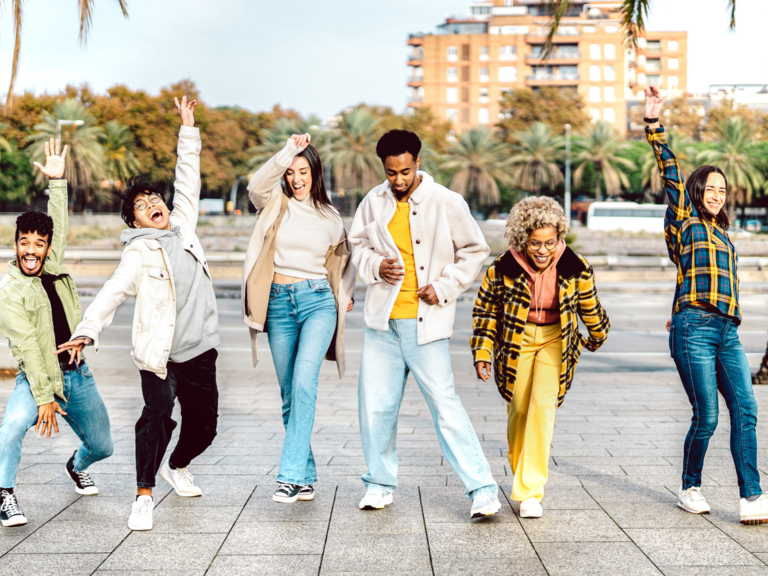 View Apart / Getty Images
Whether you're looking for a way to spice up asking your partner to spend forever with you or you're set on infusing a musical number into the big moment, a flash mob proposal is a great way to wow your partner.
Flash mob dances rose to popularity in the 2000s and took the world by storm with the rise of social media and viral moments. Today, flash mob dances continue to take place, typically in public spaces. Flash mobs can be planned and executed for any number of reasons—from just because to celebrating an occasion like a birthday or getting engaged.
If your partner loves music, dancing, performances or surprises, take their breath away for more reasons than one when you pop the question by pulling off the ultimate engagement: a flash mob proposal.
In this article:
What Is a Flash Mob Proposal?
A flash mob is when people gather in public, seemingly unexpectedly, to perform a choreographed routine. A flash mob proposal is a flash mob that's kicked up a notch in that the person proposing plans the flash mob and usually gets involved in the dance before getting down on one knee at the end of the routine. It should last for the length of a song.
To pull off the feat, the person proposing plans the flash mob in advance. Then, on the day of, they casually bring their partner to the area where the flash mob is taking place, acting equally as shocked as their partner when the dancing begins. But, as it progresses, they—and potentially other loved ones—may choose to join in on the fun.
How Much Does a Flash Mob Proposal Cost?
The cost of a flash mob proposal comes down to logistics and your vision. For example, will you hire a dance troupe or company to help you choreograph and take part in the routine? Will you be decorating the area in which the proposal is taking place? Do you need to pay your dancers, or will you rely on friends and family members to make up your mob? What will you need to play music? Answering these questions will help you estimate costs.
You can also recruit a proposal planner or a flash mob planner to help you bring the proposal to life, but doing so will come at a price. BookAFlashMob.com will help you plan and execute a flash mob proposal at a cost ranging from $1,000 to $5,500. The Heart Bandits, a full-service proposal planning company, has a Las Vegas flash mob proposal package that starts at $2,367 and a New York City package that starts at $1,669.
Steps to Plan Your Flash Mob Proposal
You've bought the ring, and now it's time to plan your proposal, flash mob style. What steps should you take to pull off such a feat? Below, browse six steps for making your flash mob proposal dreams a reality.
1. Determine your date, flash mob size and location.
The most important first step is nailing down three crucial details:
On what date are you proposing?
Are you putting together a small (around 20 people or less), medium (around 50-75 people) or large (100 or more people) flash mob?
Where will your flash mob proposal take place?
When choosing a proposal date, be sure to give yourself enough time to put the flash mob together. Remember that you have to not only figure out logistics but also allow your dancers (and potentially yourself) time to memorize a dance routine. Giving yourself and those involved plenty of time to nail down the details and dance moves will help you feel more confident on the occasion.
The size of your flash mob is up to your discretion and the resources at your disposal. Where your flash mob will take place is also your call. "Think about your vision for your proposal," says Rachel Handler, special event coordinator at BookAFlashMob.com. "Do you both love nature? The city? Do you want it to be intimate or a grand performance?"
Legally, you may have some limitations. "Depending on the venue, sometimes a permit is required," Handler adds. Asking your planner or contacting the location is always a safe bet to ensure you're prepared legally.
2. Pick your music.
Flash mob proposals only need to last the length of a song. Pick a tune that's upbeat, romantic, fun and, most importantly, meaningful to your future spouse. Popular options include "Marry You" and "Just the Way You Are" by Bruno Mars, "Teenage Dream" by Katy Perry and "Sugar" by Maroon 5.
3. Choreograph your dance routine.
If you are working with a planner, they'll help you find a choreographer and dancers for your proposal—or if your family and friends are game, use them as your talent. If you are DIYing your flash mob, working with a local dance troupe or company can help you lighten the load. Once your routine is nailed down, you can record it and send it to participants so everyone can practice in advance.
4. Figure out logistics.
After you determine the bigger logistics like your date, who's taking part in your flash mob and where you'll execute it, it's time to nail down other important details. Namely, what your plan will be that day to get your partner to the location. Additionally, how will your music get played at the right moment? What are your plans after popping the question? When planning, think of the full day to ensure you have all your bases covered.
5. Recruit a videographer and/or a photographer.
Another crucial element of any proposal? Photography and videography! An engagement is already a monumental moment that you want documented, and this rings even truer if you're putting together an entire flash mob. Be sure to check out The Knot Marketplace to find a photographer, a videographer or both to capture the occasion.
6. Have fun and be confident!
Once the preparation is done, get ready for the big moment! Going into the day of your proposal and flash mob, remember to enjoy yourself. It will be over before you know it, but the memory will last a lifetime.