The Best Wedding Songs from Fleetwood Mac
From "Don't Stop" to "Dreams," these Fleetwood Mac songs will be the hits of your wedding reception.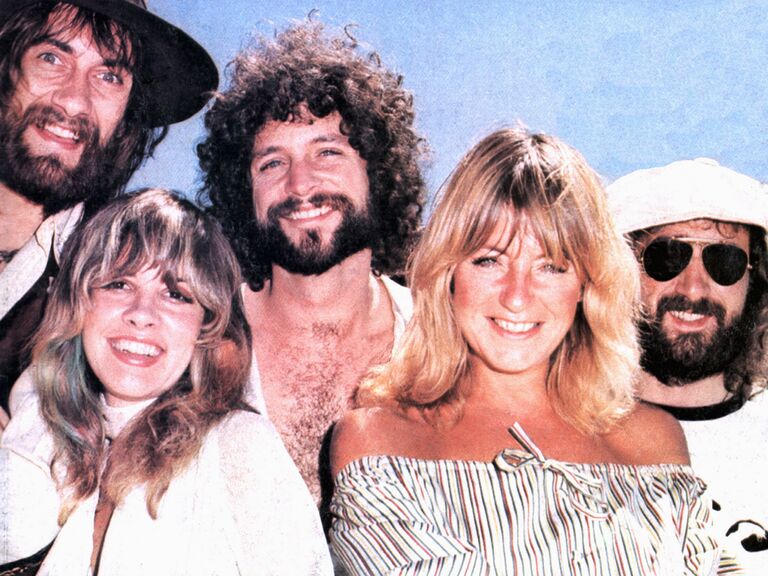 Getty Images
Since its inception in the '60s, Fleetwood Mac has released dozens of tracks. The rock-and-roll band currently features Stevie Nicks, Mick Fleetwood, John McVie, Christine McVie, Mike Campbell and Neil Flynn. What's more, over the years, Fleetwood Mac and its members—both current and former—have released chart-topping singles and groovy tunes that are sure to impress you and your guests on your wedding day.
To help you narrow down your wedding music playlist, we've selected the best Fleetwood Mac songs to play your during cocktail hour and wedding reception. From dance floor favorites to uber-romantic love songs, we've got you covered: Read on for a full list of Fleetwood Mac's best songs, all of which can help make your special moments all the more memorable.
Once you've narrowed down your favorite Fleetwood Mac songs, consider compiling them onto a Spotify playlist, which you can pass along to your wedding band or DJ. Be sure to do this as soon as possible to give the vendor(s) enough time to implement your song requests into their already-established lineup of wedding music.
"Don't Stop," Rumours
Lyrics you'll love: "Don't stop thinking about tomorrow/Don't stop, it'll soon be here/It'll be better than before"
"Don't Stop" from Fleetwood Mac's 1977 album, Rumours, is one of the band's best-known songs. Its upbeat rhythm has stood the test of time, making it a wedding reception favorite for couples and families across multiple generations. For an alternative to the Fleetwood Mac version, check out Elton John's cover.
"You Make Loving Fun," Rumours
Lyrics you'll love: "You, you make loving fun/And I don't have to tell you, but you're the only one"
You likely already know "You May Loving Fun" thanks to its catchy chorus. Christine McVie takes the lead on vocals, which are accompanied by a slew of instrumentals (think: electric pianos, drums, tambourines, guitars and more). Per Wikipedia, the song was inspired by an affair McVie had with the band's lighting director. At the time, she told her husband, fellow Fleetwood Mac member, John McVie, that the song was about her dog.
"Songbird," Rumours
Lyrics you'll love: "And I wish you all the love in the world/But most of all, I wish it from myself"
This tender ballad features Christine McVie on piano and vocals and Lindsey Buckingham on acoustic guitar. McVie revealed to Mojo Magazine that she wrote the song in just 30 minutes at "about 3:30 a.m." She also told Uncut Magazine that she loved the song's universal appeal. "It doesn't really relate to anybody in particular; it relates to everybody. A lot of people play it at their weddings or at bar mitzvahs or at their dog's funeral."
"Everywhere," Tango In The Night
Lyrics you'll love: "You know that I'm proud/And I can't get the words out/Oh, I want to be with you everywhere"
This chart-topping hit stems from Fleetwood Mac's 1987 album, Tango In The Night. Throughout the love song, Christine McVie describes her affection and infatuation with her special someone.
"Hold Me," Mirage
Lyrics you'll love: "You and me got plenty of timeThere's nobody in the future/So baby let me hand you my love"
"Hold Me" was written by Christine McVie, who, at the time, was dating Beach Boys drummer Dennis Wilson following her split with band member John McVie. Its cheery beat, sky-high vocals and sweet lyrics make a great first dance song choice.
"Say You Love Me," Fleetwood Mac
Lyrics you'll love: "'Cause when the loving starts and the lights go down/And there's not another living soul around/You woo me until the sun comes up/And you say that you love me"
Christine McVie penned "Say You Love Me" while married to John McVie. Fast-forward to today and the song remains one of Fleetwood Mac's biggest hits. Its upbeat rhythm—combined with McVie's vocals, catchy melody and the incredible guitar solo—makes it a popular wedding song for post-dinner grooving.
"As Long As You Follow," Greatest Hits
Lyrics you'll love: "Now I know I can't lose/As long as you follow/I'm gonna win
"As Long As You Follow" is a love song that was written and performed by McVie and her then-husband, Eddy Quintela. It is featured on Fleetwood Mac's Greatest Hits album from 1988. The song's guitar solo pairs perfectly with the soothing vocals. Play it during cocktail hour or dinner. Alternatively, opt to use it as a nontraditional first dance song.
"Dreams," Rumours
Lyrics you'll love: "It's only me who wants to wrap around your dreams/And have you any dreams you'd like to sell?"
"Dreams" remains one of Fleetwood Mac's biggest hits. (ICYMI: Have you seen it blow up on TikTok last year, inciting hilarious reactions from Stevie Nicks and other band members?) Stevie Nicks wrote the song herself as she was going through a breakup with fellow band member, Lindsey Buckingham. Since it's not really a dance song, you'll want to play this one during dinner as your guests as refueling.
"Landslide," Fleetwood Mac
Lyrics you'll love: "I took my love, I took it down/I climbed a mountain and I turned around/And I saw my reflection in the snow-covered hills/'Til the landslide brought me down"
Nicks wrote "Landslide" in 1974. At the time, her father asked if she wanted to pursue another profession should singing not work out in six month's time. Spoiler alert: Three months into that six-month goal, Mick Fleetwood asked her to join the band. Nicks has revealed her own father had influenced the song—making it an especially fitting choice for a father-daughter dance song.
"Sara," Tusk
Lyrics you'll love: "Drowning/In the sea of love/Where everyone would love to drown"
Nicks wrote "Sara" about her former friend, Sara, who had an affair with her ex and bandmate, Mick Fleetwood. While Nicks' ex, Don Henley, claims the song is actually about their unborn child, she revealed this to be untrue in 2014. The soft-rock song—which is ideal for cocktail hour thanks to its soothing melody and music—features guitars, keyboards, piano and drums.
"The Chain," Rumours
Lyrics you'll love: "I can still hear you saying/You would never break the chain (Never break the chain)/Chain keep us together (running in the shadow)."
After dinner, have your wedding band or DJ play "The Chain"—and watch as your wedding guests scurry to the dance floor to rock out. Through its lyrics, the song conveys a message of connection and togetherness. Plus, music enthusiasts across all genres will love the song since it fuses rock, folk and country flavors. And if your musical taste leans a bit more indie, check out Florence + The Machine's cover of this classic.
"Silver Springs," Rumours
Lyrics you'll love: "You could be my silver spring/Blue-green colors flashin'/I would be your only dream"
Nicks wrote "Silver Springs" about her breakup with Buckingham. The tender ballad puts Nicks' signature pipes on full display. She came up with the song title after passing a highway sign that said "Silver Springs" on it. The singer-songwriter revealed, "Silver Springs sounded like a pretty fabulous place to me. And 'You could be my silver springs', that's just a whole symbolic thing of what you could have been to me."
"Big Love," Tango In The Night
Lyrics you'll love: "Oh, I'll build you a kingdom/In that house on the hillLookin' out for love/Big, big love"
Buckingham, who wrote, "Big Love," described the song as a "lustful mid-to-up tempo number featuring love grunts." His voice is the only one featured in the song. The rock-inspired vocals and guitar instrumentals will make you want to get up on the dance floor after dinner.
"Love In Store," Mirage
Lyrics you'll love: "All I know is the way that I feel/Whenever you're around/You've got a way of lifting me up/Instead of bringing me down"
This beautiful love song is from Fleetwood Mac's 1982 album, Mirage. Christine McVie takes the lead on vocals, while Nicks provides stunning harmonizing. Buckingham's voice can also be heard in the background. While it may be too fast-paced to be a first dance song, consider playing it directly afterward to extend the happy and romantic vibe.
"Love Shines," 25 Years–The Chain
Lyrics you'll love: "Love shines when I think of you/You make it happen/You make it true"
"Love Shines" was written by Christine McVie and then-husband Eddy Quintela. It was also the first song that was released following Nick's departure from the band. The song's romantic lyrics and happy melody make it a must-play during dinner. This way, your guests the chance to unwind, relax and listen to the track completely uninterrupted.
"Rhiannon," Life Becoming A Landslide (Live)
Lyrics you'll love: "She rules her life like a fine skylark/And when the sky is starless/All your life you've never seen/Woman taken by the wind"
Fleetwood Mac's "Rhiannon" is a passionate number led by Nicks' killer vocals. Billboard noted the tune's "infectious melody"—which, of course, is best enjoyed during dinner or cocktail hour.
"Seven Wonders," Tango In The Night
Lyrics you'll love: "If I live to see the seven wonders/I'll make a path to the rainbow's end/
I'll never live to match the beauty again"
"Seven Wonders" is sung by Nicks, who reminisces about a past lover. It's a sweet love song in which she exclaims that no beauty—not even the Seven Wonders Of The World—could live up to the beauty from her former fling. The catchy chorus will have your wedding guests singing along throughout dinner.
"Think About Me," Tusk
Lyrics you'll love: "But I knew we would be together/And I couldn't wait for more"
Released in 1980, "Think About Me" was written by Christine McVie. The song goes back to Fleetwood Mac's rock roots with electric keyboards and guitar instrumentals. The Boston Globe described it as a "bouncy" number, and we'd have to agree. The gorgeous harmonizing is an added bonus.
"Blue Letter," Fleetwood Mac
Lyrics you'll love: "It was a blue letter she wrote to me/It's silver words she told/Wanna be on the road to paradise"
"Blue Letter" was recorded by Buckingham and Nicks back when they were still dating. The guitar solo—coupled with Nicks' trademark vocals—makes it a must for your wedding reception. Consider playing it after dinner, when your guests are ready to get up and hit the dance floor. Fun fact: It is the only song on the Fleetwood Mac album that was not written by a member of the band.
"Over My Head," Fleetwood Mac
Lyrics you'll love: "You can take me anytime you like/I'll be around if you think you might/Love me, baby (over my head)/And hold me tight"
Christine McVie wrote and sang "Over My Head," which was released in 1975. Back then, Billboard described McVie's voice as "completely distinctive" and "with a sexy huskiness that is unique in pop today"—which still stands true today if you listen to the tune. What's more, the soothing melody, vocals and instrumentals make it a great song for cocktail hour.