Inside George Clooney and Amal Alamuddin's Love Story
It all began with a swoon-worthy meet-cute at the actor's Lake Como villa.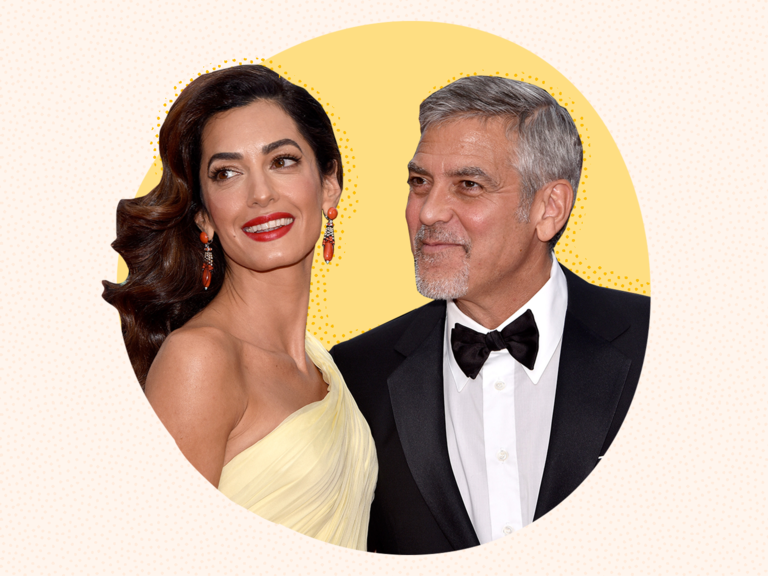 Getty Images | Design by Tiana Crispino
George Clooney and his wife Amal Alamuddin are as aspirational as A-list power couples come. The famed Hollywood actor began dating the human rights lawyer in 2013 after connecting over their mutual interest in campaigning work. Following an ultra-romantic proposal and an equally luxe wedding weekend in Venice, Italy, George and Amal Clooney reign as one of the most talked-about couples in Hollywood. In the years since their nuptials, they welcomed twins in 2017 and continue to excel in their respective career paths, as well as their joint humanitarian work. Here, we break down everything to know about George Clooney and his wife Amal Alamuddin's relationship timeline, including their engagement and wedding details.
Who is George Clooney's wife? He's married to Amal Alamuddin, a Lebanese and British human rights lawyer.
George Clooney and Amal Alamuddin met in 2013 after being introduced by a mutual friend at a dinner party in Lake Como, Italy.
George Clooney and Amal Alamuddin got engaged in April 2014. They married later that year on September 27, 2014, in Venice, Italy
George and Amal Clooney's twins, Alexander and Ella Clooney, were born on June 6, 2017.
1993: George Clooney and Talia Balsam Get Divorced
Before George Clooney and Amal Alamuddin's relationship began, the actor had a string of high-profile relationships. George Clooney was previously married to ex-wife Talia Balsam, a fellow actor, from 1989 to 1993. After their divorce, he was linked to stars like Cameron Diaz, Charlize Theron, Lucy Liu, Lisa Snowdon, and Stacy Keibler.
2013: Amal Alamuddin and George Clooney Meet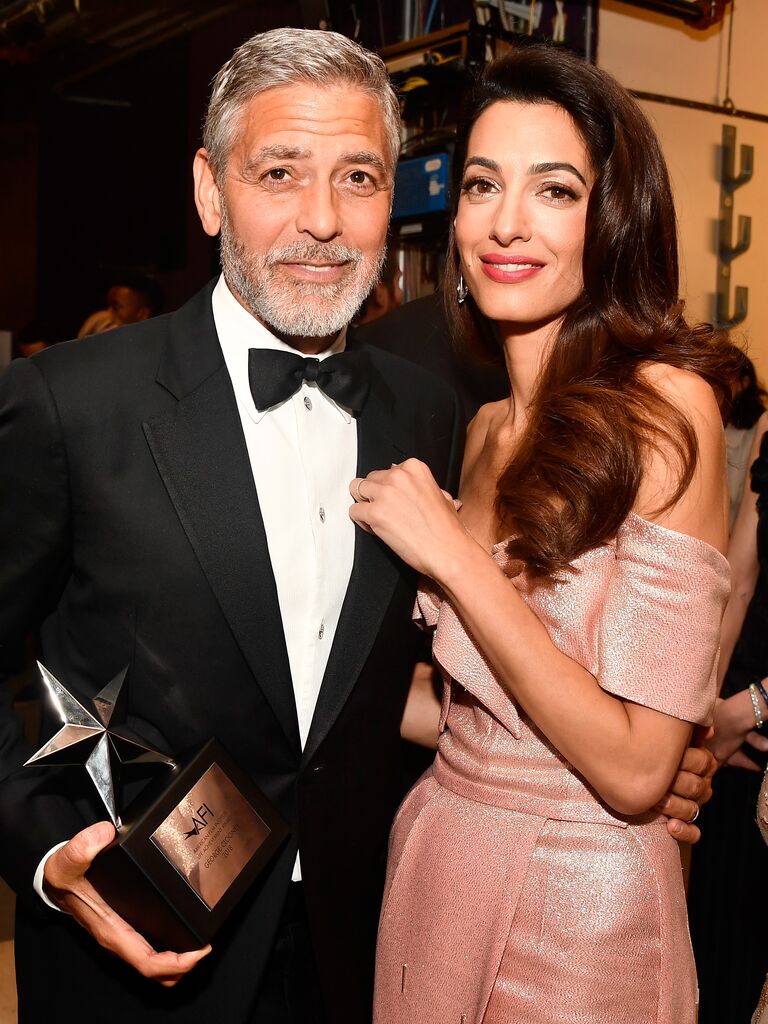 So, how and when did Amal and George Clooney meet? The movie-worthy meet-cute happened in the Oscar winner's own home in Italy. Amal Alamuddin and George Clooney met through a mutual friend in 2013. Clooney was preparing to host a dinner party at his Lake Como residence when a guest asked if they could bring a friend. That friend was Amal Alamuddin, a Lebanese and British human rights lawyer, who happened to be in town on her way to the Cannes Film Festival. "A mutual friend of ours said, 'I'm stopping by and can I bring my friend?" George recalled on the Netflix special My Next Guest Needs No Introduction with David Letterman. "And I was like, 'Of course!'"
George Clooney knew nothing about the Oxford graduate at the time, but his agent had a feeling that the two would hit it off. "I got a call from my agent who said, 'I met this woman who is coming to your house, who you're going to marry,'" George continued on the show. "It really worked out that way."
It wasn't quite love at first sight for George and Amal Clooney, which he explained to Letterman. "The funniest thing was my mom and dad were visiting so my parents were there. And we just talked, we stayed up all night talking," he shared. "And I got her email address, because she was going to send me some pictures of my parents. So we started writing. I didn't know if she wanted to go out with me—I just thought we were buddies."
In another interview with The Hollywood Reporter, Clooney revealed that they continued to talk over the next few weeks as their connection deepened. "She sent some pictures from when she was here, and we were writing each other, emailing, talking, mostly about what was going on in each other's lives," he told the outlet. "And over a period of time it became clear we were more than just friends."
2013: Amal Alamuddin and George Clooney Start Dating
The spark between George Clooney and Amal Alamuddin continued to grow, and they officially began dating later that year.
October 2013: George Clooney and Amal Alamuddin Have Their First Date
After corresponding over email for months, George and Amal had their first date in October. The duo met up in London while Clooney was recording the score for his film Monuments Men. Alamuddin met him at Abbey Road Studios before they ventured out to dinner—an activity that was caught by the paparazzi. "We went for dinner," George told THR. "[Amal] said, 'Let's go to this place.' It was one of those places that was incredibly hip and chic. And when we came out, there were 50 paparazzi there. But she handled it like a champ."
December 2013: George Clooney and Amal Alamuddin Celebrate Christmas in Mexico
George Clooney told THR that his relationship with Amal Alamuddin escalated "pretty quickly" while he was in London. Just two months later, George and Amal celebrated the holidays together with a trip to Cabo San Lucas, Mexico.
February 2014: George Clooney and Amal Alamuddin Travel to Africa
Just after the turn of the new year, George Clooney and Amal Alamuddin embarked on another trip together, this time to Africa. This proved to be the turning point, as Clooney later said it was when he realized Alamuddin was the one. "We went on a safari in Kenya," the actor explained to THR. "Amal loves giraffes; they're her favorite animal. She went to this place called Giraffe Manor, where the giraffes stick their heads through the windows and kiss you. I had a picture of her, looking back, smiling at these giraffes and I said, 'I think I'm going to ask her to marry me.'"
April 2014: Amal Alamuddin and George Clooney Get Engaged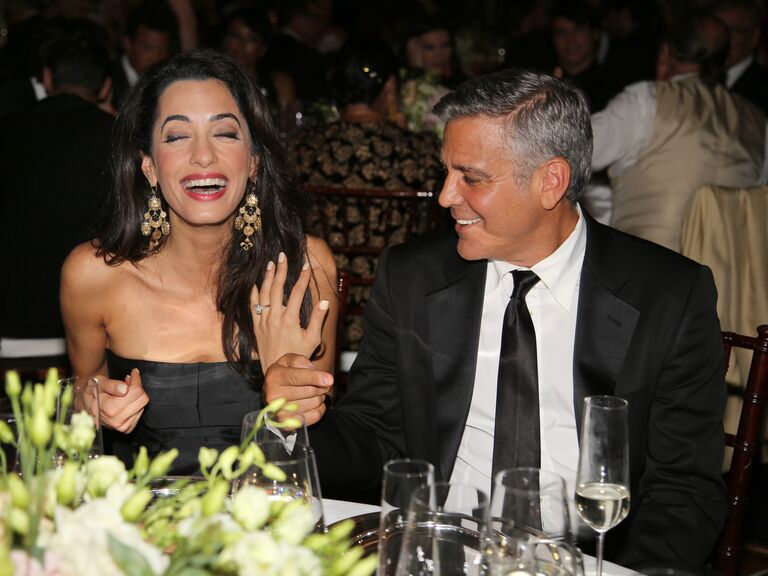 George Clooney proposed to Amal Alamuddin on April 28, 2014. The romantic moment occurred just a few months after the couple's trip to Africa, though the proposal was much more low-key. Clooney popped the question during an at-home date night. After making pasta for dinner, he asked his girlfriend to grab a candle lighter from a drawer, where he had a ring waiting as music from a family member played in the background.
"I did all the stuff, got down on my knee and did all the things you're supposed to do," Clooney recalled to THR. "I had a playlist with my Rosemary [Clooney] songs on it, and I was waiting for this song, 'Why Shouldn't I?'…And it played, and she's like, 'Holy sh—!' And she just kept staring at the ring, going, 'Oh, my God.' It was twenty minutes of me on my knee, waiting for her to say yes, because she was so shocked. She only said yes when 'Goody, Goody' came on, which isn't very romantic—it's kind of mean: 'So you met someone who set you back on your heels, goody, goody.'"
Amal Clooney's engagement ring is estimated to be a 7-carat emerald-cut solitaire diamond flanked by tapered baguette side stones on a platinum band.
September 2014: Amal and George Clooney's Wedding Details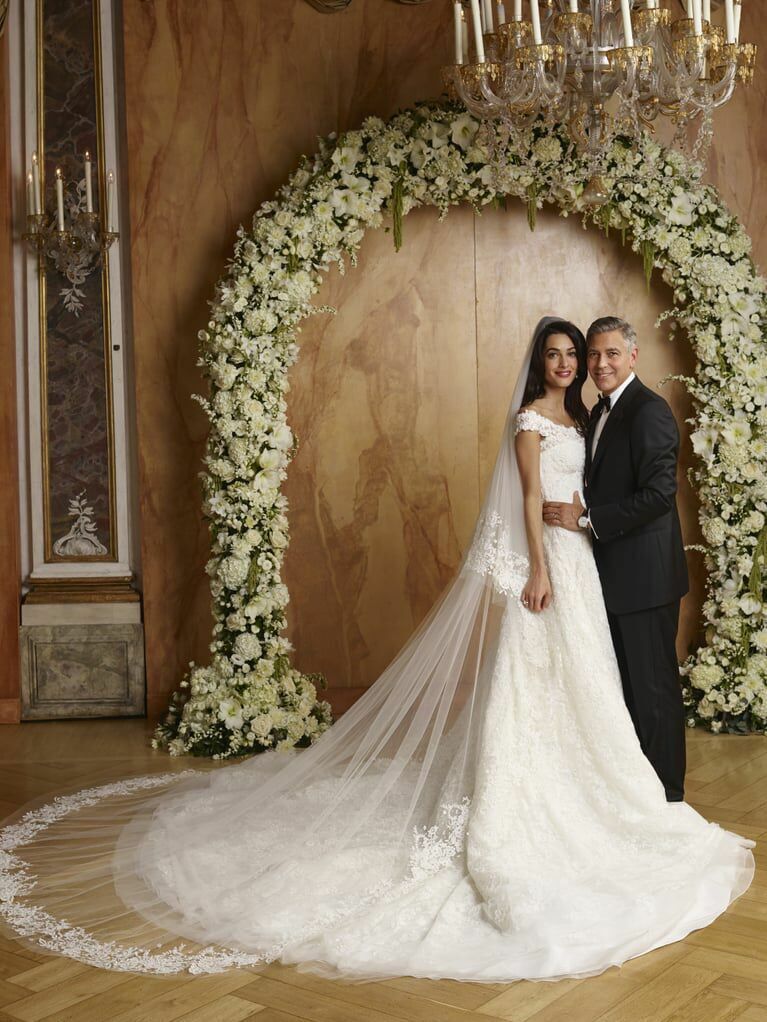 Following the engagement, George and Amal Clooney's wedding preparations kicked off. The couple got married on September 27, 2014, amid a whirlwind weekend of lavish parties, decadent food, and a lot of Casamigos tequila. Here's everything to know about the couple's Italian nuptials, which instantly became one of our favorite celebrity destination weddings.
George and Amal's Secret Wedding Plans Were Leaked
George Clooney and Amal Alamuddin attempted to have a private wedding in Venice, Italy. But after their plans were leaked to the press, scores of paparazzi and fans flocked to the historic city as all were desperate to get a glimpse of the glamorous to-be-weds. Since the city is only accessible by waterways, George and Amal were photographed arriving at their wedding festivities from Lake Como on a boat looking effortlessly chic, eliciting crowds of onlookers.
"We didn't tell anybody else that we were going to do it but eventually somebody figured it out," Clooney told THR of the secret nuptials. "Oh, my God! Once people got wind of it, it became an event. We took a bus from here to Venice, then we got on a boat, and once we got on the boat, there were so many paparazzi and so many people standing there waiting. We were sitting down in the boat, and I was like, 'You know what? Why are we hiding? Why are we ducking? We shouldn't be ashamed of this.' And we got up and waved."
The Festivities Lasted Four Days
George and Amal Clooney's wedding took place over four days. The fun began on Friday, September 26, with separate bachelor and bachelorette parties for the couple and their friends. The next day marked their formal wedding ceremony at Aman Venice, a luxury resort in the heart of the city. The bride wore an elegant Oscar de la Renta off-the-shoulder lace gown for the occasion, while the groom opted for a Giorgio Armani tux. The newlyweds treated their guests to a five-course dinner, including wild mushrooms, lobster risotto and a four-tier art deco cake, reportedly paired with 250 bottles of champagne and 100 bottles of Clooney's Casamigos tequila. The party allegedly went on until 5 a.m. the following morning.
The festivities continued the next day with a pool party at Casa Cipriani where guests snacked on a picnic-style buffet. That night, the group enjoyed another dinner in the hotel's restaurant.
Their Guest List Included Plenty of A-Listers
George and Amal Clooney's wedding guests were an esteemed group of friends. The nuptials were attended by stars like Matt Damon and his wife Luciana Barroso, Cindy Crawford and her husband Rande Gerber, and John Krasinski and his wife Emily Blunt.
George and Amal Were Officially Married at Venice City Hall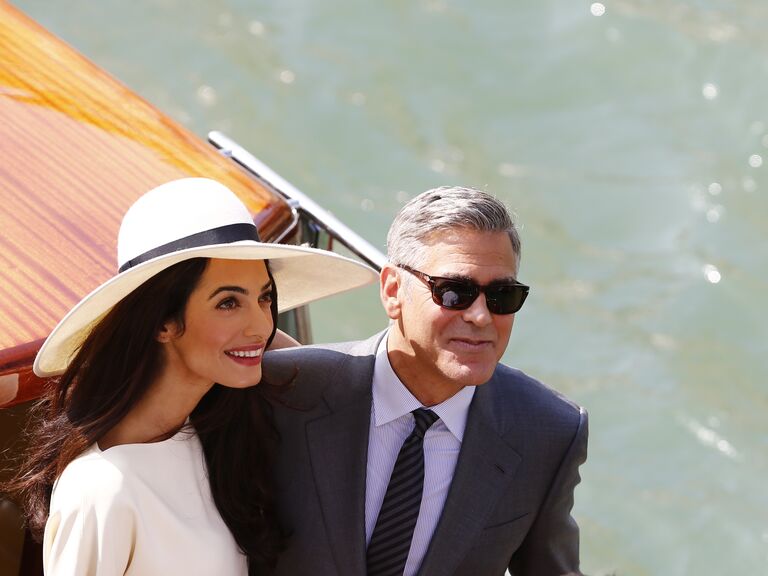 As guests departed on Monday, George and Amal Clooney were legally married at Ca'Farsetti, Venice's town hall. The bride wore a memorable cream-colored Stella McCartney pantsuit and a wide-brimmed hat for the legal proceedings, which reportedly only lasted about 10 minutes.
"George and Amal radiated love all night," the bride's mother, Baria, later told People Magazine. "The wedding was so unbelievably special, it was legendary."
2014-Present: Amal and George Clooney's Marriage
Following their wedding in Italy, George and Amal Clooney have occasionally shared tidbits about their nearly-decade-long marriage. Here's what they've been up to since swapping vows.
January 2015: George and Amal Clooney Make Their Red Carpet Debut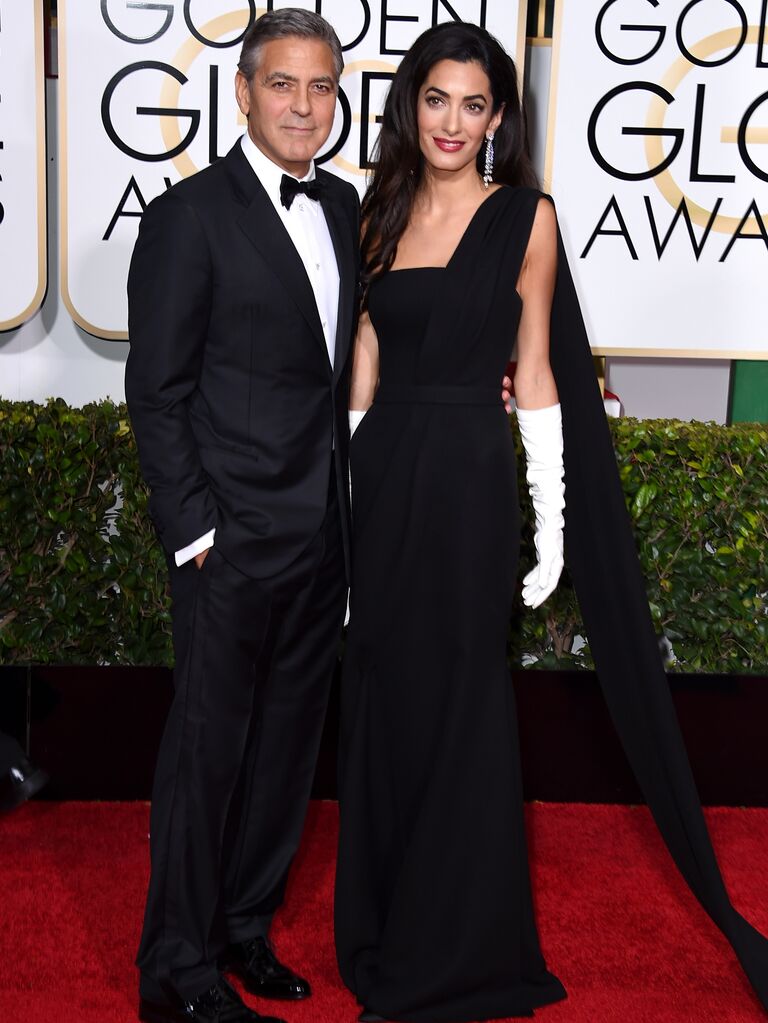 The year after their wedding, George and Amal Clooney made their red carpet debut at the Golden Globes, where George received a lifetime achievement award.
May 2015: George Clooney Says Wife Amal Changed His Life
In a May 2015 interview with People Magazine, George Clooney spoke highly of his wife, saying that meeting her completely altered his life plans. "All I know is that it sort of changed everything in terms of what I thought my future–my personal future–was going to be," he told the outlet. "But I've always been an optimist about the world. I wasn't always completely optimistic about how it was going to work out personally for me. But now I am."
June 2015: Amal Clooney Visits Husband George's Hometown
One month after that interview, Amal Clooney visited her husband's hometown of Augusta, Kentucky. While there, the newlyweds spent time with family, visited the local high school, and enjoyed treats at a bakery.
February 2016: George Clooney Reveals Marriage Secrets
After marking their one-year wedding anniversary, George Clooney told Extra TV how he and his wife make their romance work amid equally busy schedules: "FaceTime, we'll do that," he told the outlet. "Mostly it's just try not to go very long…We spend an awful lot of time together. We try not to have these huge gaps. We're able to manage, so far, between my work and her work and the things we're doing; we're able to manage it pretty well."
Late 2016: George and Amal Clooney Launch the Clooney Foundation for Justice
At the end of the year, George and Amal Clooney launched a passion project together. Given their shared interest in human rights activism, they created the Clooney Foundation for Justice, a philanthropic group that advocates for justice through accountability for human rights abuses around the world. In the years since, they've built schools for Syrian refugees, supported citizens of Ukraine, and donated $1 million to the Southern Poverty Law Center, an organization that fights against hate groups.
February 2017: George and Amal Clooney Announce They're Expecting
In early 2017, rumors began swirling that George and Amal Clooney were expecting. Sources told various outlets that the couple "let everyone in both families know quietly," and that everyone was "very happy" about the news.
George Clooney confirmed the pregnancy in a French television interview on February 20, 2017. "We are really happy and really excited. It's going to be an adventure," he remarked. "We've sort of embraced it all…with arms wide open."
George and Amal Clooney welcomed their children, twins Alexander and Ella, on June 6, 2017—but more on that below.
September 2017: George and Amal Clooney Make Their First Public Appearance Since Becoming Parents
A few months after becoming parents, George and Amal made their first public appearance at the Venice Film Festival, where George was promoting his movie Suburbicon.
May 2018: George and Amal Clooney Attend Prince Harry and Meghan Markle's Wedding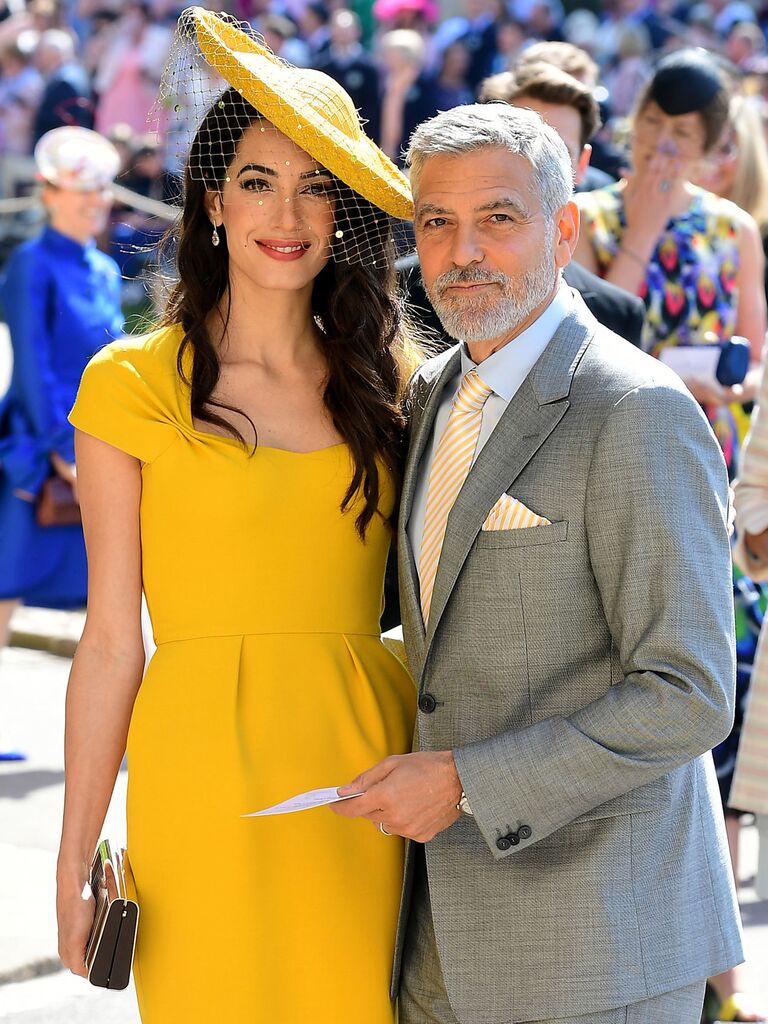 On May 19, 2018, George and Amal Clooney were two of the most stylish guests at Prince Harry and Meghan Markle's wedding. Amal looked elegant in a bright yellow dress and a matching fascinator, while George opted for a gray suit with a pale yellow striped tie.
Speaking to Daily Mail, Clooney opened up about his longtime friendship with the royals. "We live not too far from one another and we have dinners and stuff and we're friends with them for all the reasons that you're friends with anybody," he explained. "They're just really nice, fun, kind people, they're a very loving couple."
November 2020: George Clooney Reveals He Didn't Plan on Remarrying Until Meeting Amal
George Clooney sat down with GQ to talk about a range of topics, from movies to parenthood. During the conversation, he shared that he didn't ever see himself remarrying. "I'm gonna work, I've got great friends, my life is full, I'm doing well," Clooney said of his life at the time "And I didn't know how un-full it was until I met Amal. And then everything changed. And I was like, 'Oh, actually, this has been a huge empty space.'" He added that he had "never been in the position where someone else's life was infinitely more important to me than my own. You know? And then tack on two more individuals, who are small and have to be fed."
February 2022: George and Amal Clooney Accept the Catalyst Award Together
During a virtual ceremony in February 2022 hosted by the Elevate Prize Foundation, George and Amal Clooney were honored with the Catalyst Award for their work through the Clooney Justice Foundation. The award was founded to recognize individuals who use their platform to inspire social change. Amal shared that the prize money (which amounted to $250,000) would be given to their TrialWatch program, which watches criminal trials around the world and defends people who are unjustly detained.
"One of the Elevate Prize Foundation's core values is human safety and freedom–a goal we share at the Clooney Foundation for Justice as we work to free the innocent and punish the guilty, waging justice one case at a time," George said in the acceptance speech. "Our goal at the foundation is to free the innocent and punish the guilty. I think we're both inspired by the young people out there challenging injustice in their communities, a new generation that won't accept the status quo."
February 2017-Present: Amal and George Clooney's Twins
In 2017, George and Amal Clooney officially became parents to fraternal twins. Here's what they've said about their foray into parenthood thus far.
February 2017: George and Amal's Twins are Born
How old are George Clooney's twins? Alexander and Ella Clooney are currently five years old. They were born on June 6, 2017, at St. Mary's Hospital in London. The Clooneys released a cheeky statement confirming the happy news that day: "This morning Amal and George welcomed Ella and Alexander George into their lives. Ella, Alexander and Amal are all healthy, happy and doing fine. George is sedated and should recover in a few days."
September 2017: George Talks About the Pregnancy Reveal
In 2015, George Clooney told CBS This Morning that expanding the family wasn't a priority for him and his wife. But as they started thinking about having children, they grew fonder of the idea. "We just felt we'd gotten very lucky, both of us, and we should share whatever good luck we've got," he told The Hollywood Reporter in 2017. "It would seem self-centered to just have that belong to us."
He also confirmed that he was with Amal at the doctor's appointment where they learned they were expecting twins. "He goes, 'Well, there's one.' And I said, 'Great.' And then he goes, 'And there's the second one.' And I was like, 'What?' We just sat there, staring at that piece of paper they give you, and I kept thinking there was a mistake," he explained.
December 2020: The Family Speaks About Protecting Their Son During the Pandemic
George Clooney's kids are rarely photographed in public, and the family was hardly seen at all in 2020—a decision they made to protect their son, Alexander. "This has been a crappy year for everyone. Started badly and ran badly all year long, until recently," Clooney told The Guardian. "My son has asthma. They say it's not so bad on young people. But do we know that? We don't know anything about the long term of this yet."
September 2022: George Clooney Reveals More Details About His Twins
While promoting his 2022 romantic comedy Ticket to Paradise, in which he stars alongside longtime friend Julia Roberts, George Clooney spoke about his kids in several different interviews. When asked by Entertainment Tonight if his twins will follow in their dad's acting footsteps, he said they can "do whatever they want," adding, "My guess is that they're a little smarter than me, so, they'll probably do something—they already speak three languages, so, I'm still working on English."
During a separate interview with CBS This Morning, the actor revealed one parenting faux-pas he claims he and Amal made. "We've made a terrible mistake," he teased. "We taught them Italian. But we don't speak Italian, so we've armed them with a language they can harm us with. And we both don't really know what they're saying."