The 65 Ultimate Greek Wedding Songs
Opa! Your big fat Greek wedding playlist is here.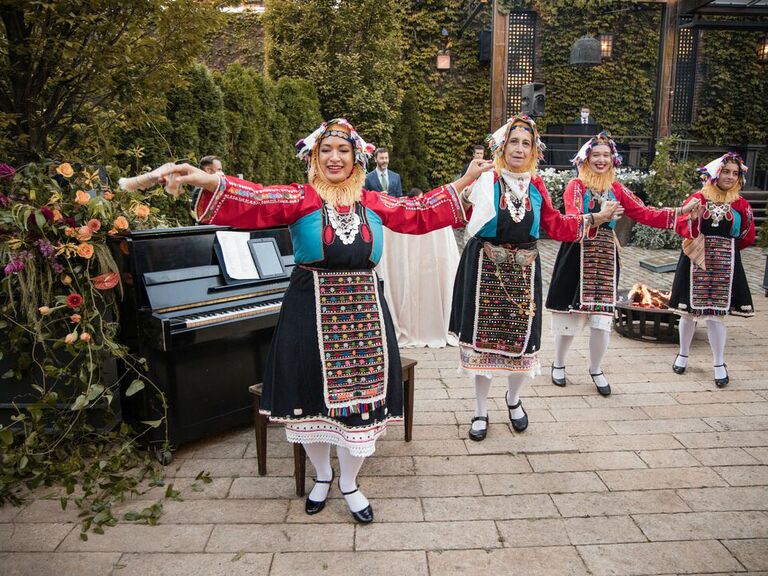 Susan Stripling Photography
Greek weddings are joyous occasions that inspire much celebration: money dancing, plate smashing and parties that last until the early hours of the morning. If you've been to a Greek wedding, you've likely encountered Greek dancing before. It's one of the most essential (and fun) parts of a Greek wedding reception.
We've rounded up some of our favorite Greek wedding music and accompanying dances to help you dance the night away to a balanced mix of music and dances. Once you've built your perfect playlist, make sure to let your band or DJ know of your selections. Opa!
Wedding Party Dances
You're going to want to get the party started by leading a few syrto or kalamatiano dances with your families and wedding party. Traditionally, this part of the evening starts with the married couple leading the line for a song, then the koumbaro/a (best man or maid of honor), the bride and groom's parents, and any other family members who want to lead. Not surprisingly, there are lots of wedding-specific Greek songs that are perfect for this part of the night, including the classic "Our Bride Is Beautiful" that's featured in the movie My Big Fat Greek Wedding.
"Orea Pou Einai I Nifi Mas," Kiki Fragouli (Our Bride Is Beautiful)
"Hronia Polla Na Zisete Nyfi Kai Gambros," Gioula Kotrotsou (Many Years, May You Live, Husband and Wife)

"Nyfi Mou Koloriziki," Takis Karnavas (My Fortunate Bride)

"Simera Gamos Ginete," Dimitris Sakalis (Today A Wedding Is Happening)

"Kainourgios Gamos Ginetai," Konstantinos Karaiskos (A New Wedding Is Happening)

"O Gamos Kalorizikos," Yannis Konstadinou (The Fortunate Wedding)

FEATURED VIDEO FROM THE KNOT

"Se Osous Gamous Kai An Piga," Kostas Metzelopoulos (To The Weddings I've Been To)
Syrto and Kalamatiano: Traditional
Syrto, and its derivative, kalamatiano are possibly the most popular traditional dance styles, joyous and festive dances with roots in antiquity. These 12-step dances are set to traditional folk songs, and performed as dancers hold hands and to make a chain and move in a counterclockwise direction. Get ready for a little bit of cardio, because some of these songs can get pretty fast. You'll want to dedicate a large portion of your Greek dancing to the syrto and kalamatiano, since they're the most common and well-known dances. Don't forget to give non-Greek guests a quick lesson beforehand!
"Mantili Kalamatiano," Kiki Fragouli (Handkerchief from Kalamata)

"Kalamatianos," Giorgos Kotsinis (Instrumental)

"Ta Palamakia," Giannis Katevas (The Clapping)

"Bikan Ta Gidia Sto Madri," First Generation (The Goats Entered The Corral)

"To Louloudaki Tou Vouno," Tzina Spiliotopoulou (The Flower Of The Mountain)

"Dari Dari," Mathaios Giannoulis (Dari Dari)

"Kato Sto Rema To Vathy," Agathi and Giorgos Dimitropoulos (Down In The Deep Stream)

"O Po Po Maria," Efi Thodi (Oh Oh Oh Maria)

"Vale Mou Krasi Na Pio," Mathaios Giannoulis (Give Me Wine To Drink)

"Oles Oi Melahrines," Giannis Katevas (All The Brunettes)

"To Papaki," Haroula Labraki (The Duckling)

Find your kind of venue

From barns to ballrooms, discover reception venues that feel like you.

"Dio Mavra Matia Agapo," Theodosia Stigga (Two Black Eyes I Love)

"Mou Pariggile T'Aidoni," Theodosia Stigga (The Nightingale Ordered Me)
Kalamatiano: Modern
Many modern Greek pop songs also follow the traditional 7/8 beat, making them perfect for dancing the kalamatiano. These songs are often crowd favorites, so be sure to sprinkle in a few among the more traditional folk songs.
"Metro Antistrofa," Konstantinos Koufos (I Count In Reverse)

"Ti Allo Thelis Pio Poli," Valadis (What Do You Want More)

"Glika Glika Glikia Mou," Kelly Kelekidou (Sweet, Sweet, My Sweet)

"Kou Pepe," Panos Kalidis

"Gia Kalo Kai Gia Kako," Panos Kiamos (For The Bad And The Good)

"Agapi Mou," Giorgos Papadopoulos (My Love)

"De Sou Kano Ton Agio," Giorgos Tsalikis (I Won't Make You A Saint)

"Adiorthoti," Thanos Petrelis (Incorrigible)

"Ximeromata," Konstantinos Argiros (Waking Up)

"I Pio Wraia Stin Ellada," PersonaS (The Most Beautiful In Greece)
Sirtaki and Hasapiko
From the opening sequence of My Big Fat Greek Wedding to the dancing scene in Zorba the Greek, this category includes some of the most iconic Greek songs. Hasapiko is a Greek folk dance that originated in Constantinople in the Middle Ages, while the sirtaki is its derivative that was invented for the Zorba the Greek movie. These songs are fun additions to a wedding, and the sirtaki, particularly, is very easy for non-Greek guests to catch onto.
"Zorba The Greek," Kostas Papadopoulos

"Frangosyriani," Gainnis Poulopoulos (Frangosyriani is a region formerly in Greece)

"O Horos Tou Sakena," Bouzouki Kings (The Dance of Sakena)

"Hasaposerviko," Yanis Paximadakis (Hasaposerviko is the name of the dance)
Nisiatika (Island Songs)
Islands are an integral part of Greek culture, and each comes with its own unique traditions and identity. The traditional wedding lineup will often include lots of beautiful songs that hail from all over the Greek islands. Unlike other traditional Greek folk songs with their solemn sounds and subject matter, the island songs tend to be cheerful, light and upbeat. You can dance syrto or kalamatiano to most of them but some, like ikariotiko, even come with their own dances.
"Ikariotikos," Bouzouki Kings (Dance from Ikaria)

"Mes Tou Aigaiou," Nasia Konitopoulou (In The Aegean)

"Stin Paro Kai Sti Naxo," Nasia Konitopoulo (In Paros and In Naxos)

"Armenaki," Giannis Parios (Little Traveler)

"Xekinaei Mia Psaropoula," Elina Konsetantopoulou (A Fishing Boat Is About To Sail)

"Samiotissa," Paradosiako Elliniko Glenti (The Woman From Samos)
Tsamiko
Slow things down with a few tsamiko songs sprinkled in among the kalamatiano. Tsamiko is a traditional folk dance from central Greece, the Peloponnese and Epirus that follows a 3/4 meter with a slower tempo. In the middle of many of these songs, there is a clarinet breakdown where the line leader (typically, but not always, a man) will hop, stomp and even perform acrobatic stunts. It's the perfect opportunity for the groom to show off (if that's his thing).
"Papalamprena," Kiki Fragouli (The Wife of Father Lambro)

"Enas Aetos Kathontane," Kostas Metzelopoulos (An Eagle Was Sitting)

"Itia," Giannis Konstantinou (Willow Tree)

"Saranta Palikaria," Stelios Kazantzidis (Forty Men)

"Lemonia," Kostas Metzelopoulos (Little Lemon Tree)
Zeibekiko
Bring all the drama with a zeibekiko: a solo dance typically (but not exclusively) performed by men channeling machismo, bravado and passion. Zeibekiko songs are a subset of rebetika, urban Greek music with themes of heartbreak, defeat and despair that originated with the displaced Greek populations of Asia Minor. There are no set steps to a zeibekiko—you just have to feel the music. Dancers step, hop and jump along to the 9/8 rhythmic pattern, with some light acrobatics sometimes included. Definitely save the zeibekiko for later in the night, as this near-sacred dance is best performed after a couple of drinks (or with taking a shot as part of the dance!).
"Zeibekiko Tis Evdokias," Christos Nikolopoulos (The Zeibekiko of Evdokia)

"Roza," Dimitris Mitropanos (Roza)

"Den Thelw Tetious Filous," Natasa Theodoridou and Pashalis Terzis (I Don't Want Those Types Of Friends)

"Apopse Thelo Na Pio," Haris Alexiou (Tonight I Want To Drink)

"Paliokeros," Pashalis Terzis (Bad Weather)

"Den Pao Pouthena," Vasilis Karras (I'm Not Going Anywhere)

"Ti Imouna Gia Sena," Antonis Remos (What Was I To You?)

"O Aetos," Notis Sfakianakis (The Eagle)

"Ma Esi Me Kes," Notis Sfakianakis (You Burn Me)

"Vrehi Fotia Sti Strata Mou," Stratos Dionisiou (Rain Falls On My Path)
Tsifteteli
Tsifteteli is a Greek belly dance that originated with the Greeks living in Asia Minor. From the violin-predominance to the use of drums, the Middle Eastern influence is obvious. There are no set steps, and unlike other Greek dances, the tsifteteli is performed solo—typically by women. Due to its more...PG-13 nature, tsifteteli will often happen toward the end of the evening.
"O Salonikos," Christos Nikolopoulos, Giannis Dounias (The Man From Thessaloniki)

"Aneva Sto Trapezi Mou," Sakis Raspitsos (Get Up On My Table)

"Anapse To Tsigaro," Giannis Thymakis (Light the Cigarette)

"Rixe Sto Kormi Mou Spirto," Katerina Kouka (Pour A Match On My Body)

"Sala Sala," Despina Vandi (Sala Sala)

"Chamopoulia," Dimitris Basis (The Sparrows)

"Mes Tis Polis To Hamam," Rena Dalma (In The City's Hamam)

"Tha Ta Kapso Ta Lefta Mou,"Kostas Karousakis (I'll Burn All My Money)

"Piga Se Magisses," Glykeria (I Went To The Witches)

"Magika Halia," Lefteris Pantazis (Magic Carpet)