The Ultimate Guide to Planning a Destination Wedding in Greece
Celebrate your big day in one of the most romantic places on Earth.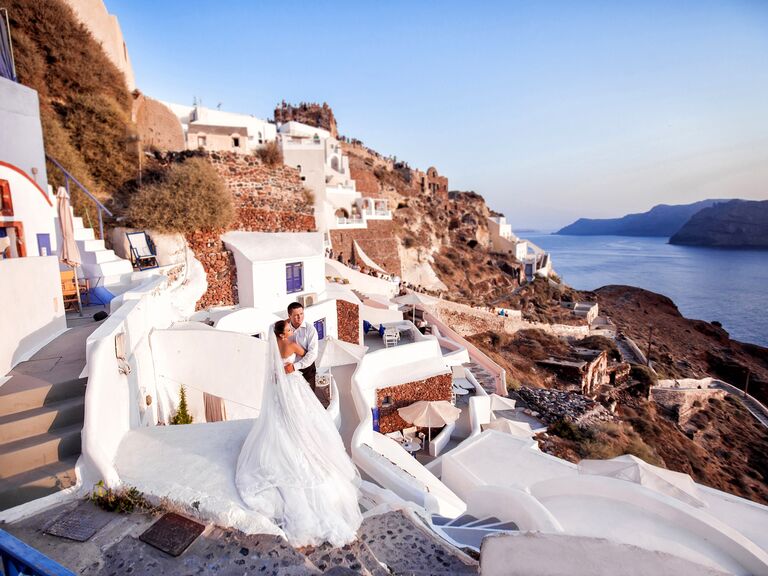 Rostov Oleksandr/Shutterstock
With its white-washed cliffs and stunning seaside views, it's no wonder destination weddings in Greece are so popular. But Greece has more to offer than just beautiful backdrops. From world-class beaches and ancient archeological sites to delicious food and year-round sunshine, Greece is the perfect place to make your fairy-tale wedding dreams come true. Follow these tips to plan your perfect destination wedding in Greece.
Why Couples and Guests Love Greece
Couples from around the world agree that Greece is one of the most romantic places on Earth. Wander down cobblestone streets lined with pink and purple bougainvillea, and you'll find yourself falling in love all over again.
With over 9,000 miles of coastline (the most in Europe) and thousands of beaches (more than 500 of which have prestigious Blue Flag status), there's no shortage of jaw-dropping backdrops to make your special day perfect. Greece is also steeped in history, with tons of ancient ruins, archeological museums and UNESCO World Heritage Sites that will make for unforgettable experiences for your guests.
While the scenery is obviously gorgeous, much of Greece's charm comes from its culture and its people. Xenia (hospitality) is a deeply rooted value in Greek culture, so be confident that your vendors will be committed to providing you and your guests with a warm and genuine experience.
Whether you're opting for a boho beach elopement, a laid-back taverna dinner or a lavish luxury wedding, Greece has something for everyone. No matter what you choose, the country's charming Mediterranean vibe guarantees your wedding will be romantic and memorable for years to come.
The Best Places to Get Married in Greece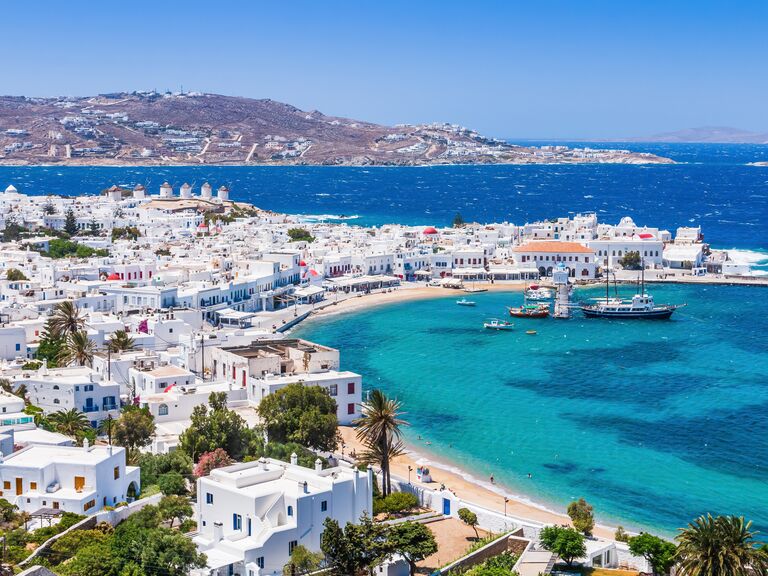 Greece is known for having hundreds of islands, each of which has its own culture shaped by its distinct landscape and history. Each Greek island offers a different type of dreamy setting for a wedding, but there are many options on the mainland as well.
Santorini, Mykonos and Other Cyclades Islands
The Cyclades (pronounced Key-kla-dess) islands offer the classic look most people think of when imagining the Greek islands: bright white buildings, blue domes and charming port-side towns. The Cyclades include some of the most popular Greek islands, including Mykonos, Paros, Naxos, Milos and, of course, Santorini.
Santorini is the most iconic Greek island and universally regarded as one of the most romantic places in the world. In Santorini, you can tie the knot on a terrace overlooking an ancient volcanic caldera set amidst a spectacular sunset. Are you swooning yet? Venues on Santorini include hotels, cliffside churches and wineries.
Noteworthy Venues:
Santorini Gem offers a poolside reception area and villas that accommodate both small and large parties.
180° Sunset Bar in Mykonos has the perfect backdrop for your wedding photos, overlooking a bay and port.
Crete
Greece's largest island is almost its own country, with four provinces and several major cities. Crete boasts a diverse terrain that includes ancient ruins, breathtaking beaches and several mountain ranges and gorges. Wedding venues on Crete range from olive groves and beaches to hotels and upscale resorts.
Noteworthy Venues:
Other Greek Islands
If you're looking for a different vibe from the Cyclades islands, there are tons of other islands to choose from. The Ionian islands, situated in the Ionian Sea between Greece and Italy, offer lush greenery and vibrant waters. Settled by the Venetians several hundred years ago, these islands have a distinct cultural identity that includes Italian influences in addition to Greek ones. Corfu, Zakynthos and Kefalonia are popular islands in this chain.
The Sporades in the north Aegean Sea include Skiathos and Skopelos. They are similarly lush, featuring beautiful beaches and pine forests. It's no wonder Skopelos was the idyllic setting for the wedding in Mamma Mia.
If you're hoping for a gorgeous setting with historic architecture, look no further than Rhodes. This gorgeous island in the Dodecanese chain (in the east Aegean Sea) offers venues that overlook medieval ruins and beautiful waters.
Noteworthy Venues:
Mainland Greece
Looking for a cosmopolitan affair in an ancient city? Consider hosting your nuptials in Athens. The 5,000-year-old city offers any type of venue you could imagine, from swanky hotels to seaside villas and bumping beach bars. Athens offers the added convenience of easier travel for your guests, who will likely fly into the city from abroad.
While Athens and the Greek islands are obviously amazing, don't sleep on other parts of mainland Greece. Thessaloniki, the country's second-largest city, is the perfect location for an urban vibe within a smaller city atmosphere, and is great if you're inviting guests from northern Greece. The Peloponnese region, located on the southernmost part of the mainland, also offers plenty of seaside venues in beautiful locations.
Noteworthy Venues:
The Hatzi Mansion, located in the Athenian Riviera, offers Tuscan-inspired architecture with dramatic flair.
B Restaurant in Thessaloniki's Museum of Byzantine Culture boasts fine dining in an urban, chic setting.
The Westin Hotel in Costa Navarino, Messinia, is an upscale beachfront resort with views of an ancient castle.
Greece Wedding Legal Requirements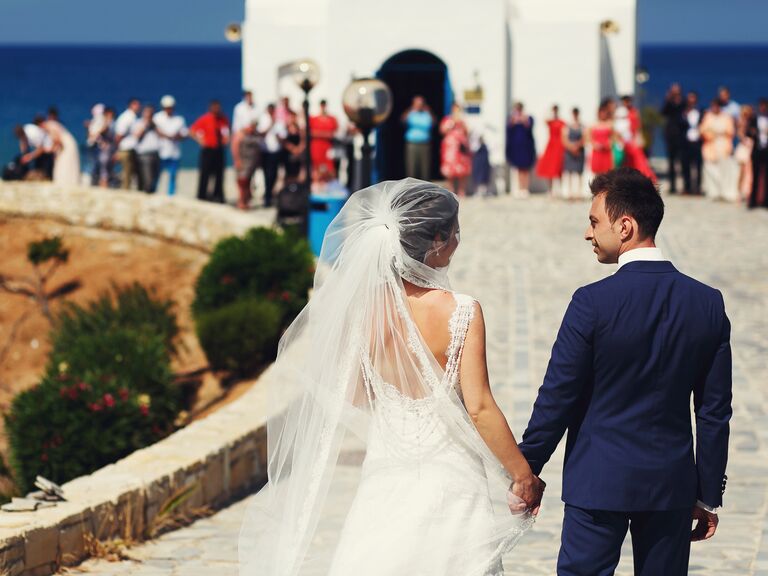 There are several options for international couples planning a wedding in Greece. Legal, civil and religious ceremonies all require different paperwork and costs. Navigating these requirements can be a unique experience, especially for couples who have not traveled or conducted business abroad before.
Experts recommend enlisting a planner. "You need a great wedding planner to sort things out for you so you can feel stress-free and enjoy the process," says Alexandra Kritikou, executive wedding consultant at Gold Weddings, a wedding-planning agency based in Greece.
Legal Weddings vs. Symbolic Weddings in Greece
A symbolic wedding is a good option for couples who want a secular ceremony and are looking to bypass legal documentation for an overall smoother process. For legal reasons, a symbolic wedding is also a great option for LGBTQ+ couples looking to marry in Greece.
Symbolic wedding ceremonies are performed like civic ceremonies, and no legal documentation, such as a marriage license, is required. You would just need to complete the necessary documentation and hold a civil ceremony in your country of origin in addition to the symbolic ceremony in Greece.
Required Legal Documents
The process for obtaining a legal marriage certificate in Greece involves procurement of several documents, including: passports of both parties, birth certificates of both parties, an affidavit of marriage, and, if applicable, death or divorce certificates proving the dissolution of any previous marriages. If one person in the couple has Greek citizenship, additional documentation is required in the form of a wedding announcement published in a local newspaper at least eight days before applying for the license.
Couples looking to marry in a religious ceremony—including Orthodox Christian, Catholic, Protestant and Jewish ceremonies—will need additional documentation, such as baptism certificates. The US Embassy in Greece lists contact information of institutions those documents need to be sent to.
All of these documents must be translated into Greek in order to submit the marriage license application, so be aware that this will affect your timeline and costs.
Legal Marriage Timeline
It's important to note that there is a waiting period between submitting the marriage application and the wedding day. The waiting period is typically seven days for civil ceremonies, but it can vary by municipality from several days to several months.
For this reason, the US Embassy in Greece recommends beginning to gather documentation months in advance.
Legal Marriage Cost
A couple getting married in a legal ceremony in Greece can expect to incur several costs:
€7 for the affidavit of marriage
€30 public fee voucher to authenticate the affidavit
$50 (or $100 if both are US citizens) to notarize the affidavit
€100–€200 for translation services
Additional fees, contingent on the city hall of the area the wedding is taking place in
Greece Wedding Planning Tips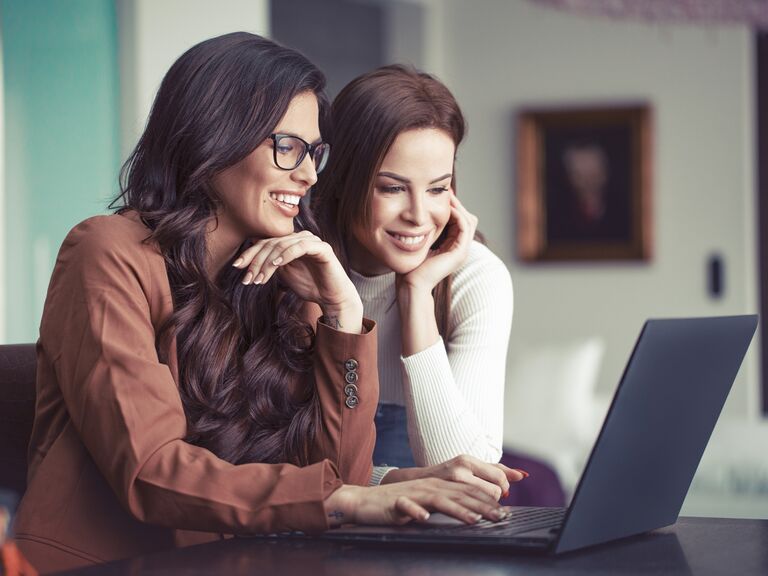 A huge part of Greece's economy is devoted to tourism, so there's no shortage of venues, hotels and transportation available.
Be aware of cultural differences, especially between the US and Europe. Things in Greece and other areas of Europe move at a much slower pace than the US, so getting started early and enlisting the help of a professional will ensure you can handle everything with ease.
How to Get There
Several airlines offer direct flights to Athens out of the following major US cities, available on a seasonal or year-round basis:
American Airlines: New York, Chicago, Philadelphia
Delta: Atlanta, Boston, New York
Emirates: New York
United: New York, Washington, DC
Other airlines offer layovers throughout Europe, which can be a cheaper option (and can allow you and your guests to see another country). Most international flights land in Athens.
From there, travel to the islands by plane or ferry (this is often the cheaper and more scenic option, but it takes longer). The more popular islands, such as Santorini and Mykonos, have international airports with direct connections from Athens and other major European cities. The mainland is accessible by rental car as well as a network of buses and trains.
Greece Weather
"Greece is the perfect place to have a wedding because you can plan on having it outside for most of the year," Kritikou says.
Greece is known for its warm, Mediterranean climate. Winters are typically mild and wet, with some snowfall in certain regions, such as the north and places with higher elevation. Summers are hot and dry, with temperatures on the hottest days exceeding 100 degrees. Greece gets over 250 days of sunshine per year on average, making it a perfect place for an outdoor event.
The best time period to travel to Greece is between April and November, says Kritikou, with the warmest temperatures from June to August. However, the two-week period between August 1 and 15 is a national religious holiday. Many Greeks are off from work and take their summer vacations during this period, so be aware that there will be more crowds during this time.
Choosing Your Venue and Vendors
When choosing your venue, wedding planner and other vendors, feel free to shop around until you find a good fit. Maybe you have a specific island or area in mind; in that case, you can start by looking for planners and venues there. If you're open to different options, look for a planner in Greece or the US who serves a broader area. As you're booking vendors, make use of The Knot Marketplace to find weddings pros with experience in destination weddings abroad. Hiring an experienced vendor team is a great way to ensure every step of your destination wedding goes smoothly.
Budgeting Tips
Having an international wedding can be surprisingly affordable, even after taking travel costs into account. Keep in mind that the rental process for hotels and resorts in Greece differs from the US, and you may need to rent out the entire property in order to host an event there. Depending on the number of guests you have, exploring smaller venues that specialize in microweddings and elopements can help you keep costs down while not compromising on your vision.