One Bride's Guide to Getting the Most Out of Your Honeymoon
From budget insight to scoring awesome "honeymooner" treatment, this brand-new bride has the details on maximizing your trip.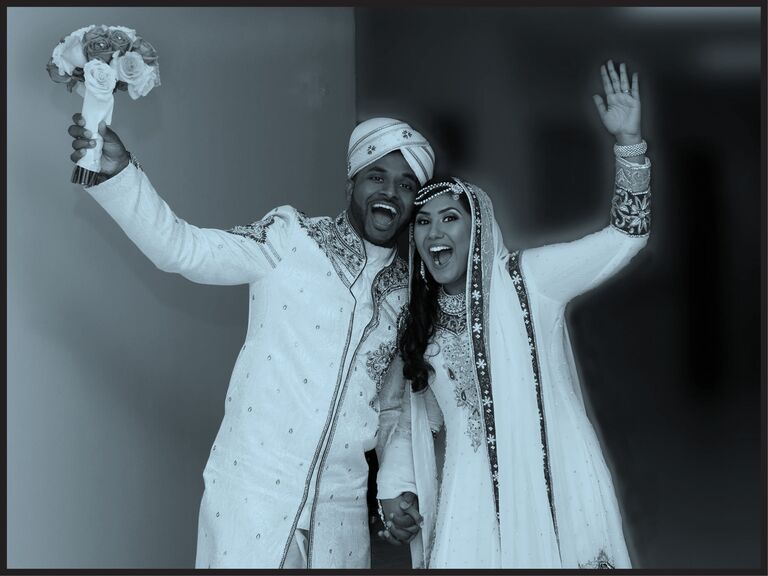 Amena, Orlando, Florida
After planning a wedding in less than a year with her now-husband, Dev, Amena couldn't wait to relax on her honeymoon. Married on March 21, 2015, the couple took off to Jamaica for six days following their big day. (Read his take on their honeymoon here.)
I wish I knew…to call ahead about the crowd.
We got married at the end of March, so we wanted to avoid spring-breakers at all costs. But it never occurred to us to find out ahead of time what the typical crowd was like at the resort. While we avoided the party scene, most of the other people at our resort were older, which was kind of a buzzkill. We were hoping to meet and hang out with other honeymooners, but because the clientele was older, there wasn't lively evening entertainment. I would definitely recommend asking what the hotel scene is like before you book.
I wish I knew…how far our budget could go.
Friends had recommended that we honeymoon at an all-inclusive from the get-go; that way we wouldn't have to worry about blowing our budget or stressing out about money while we were traveling. Once we came up with a budget (about $3,500), we both agreed to contribute about half and soon began researching options. Our goal was to get the most bang for our buck. Since we live in Florida, flying to the Caribbean wouldn't cost us too much, so the bulk of our budget could be spent on the hotel, food, and activities. After looking at reviews and prices of several all-inclusive resorts in the Caribbean, we decided on our Jamaican resort because it included the most: In addition to the room and food, excursions (like a hike to a nearby waterfall) and water sports (like scuba diving and snorkeling) were also part of the package. We loved not having to pay for anything while we were there; not thinking about money and how much everything was costing us helped us feel carefree.
I wish I knew…how well honeymooners are treated!
When you let people know you're on your honeymoon—whether it's your taxicab driver, your waiter or your hotel's reception desk—they go out of their way to treat you special. Our travel agency, HoneymoonsInc.com, told the resort that we would be on our honeymoon. When we checked in, a complimentary cheese-and-fruit tray was sent up to our room, and we got free 30-minute massages in the resort spa! No one told us to announce that we'd just got married, but once we mentioned it, it was so lovely to get extra attention and recognition. (Too bad we didn't say anything on our plane ride; maybe we could've gotten upgraded!) For us, this was our first trip alone together, and we really wanted it to be special—and by telling people that we were just married, we felt like everyone wanted to celebrate us.
I wish I knew…what a smart move it is to go right after the wedding.
Some couples want to wait a few weeks or months after their wedding to save up for the ultimate honeymoon. But I'm so glad that we got married and then went to Jamaica the very next day. After all the excitement and stress of wedding planning, being together away from everyone else and experiencing a little adventure was amazing. We had the chance to celebrate the experience of becoming husband and wife away from all the wedding excitement.