All the Romantic Things To Do On Your New Orleans Honeymoon
A trip to New Orleans is a full-sensory, romantic getaway.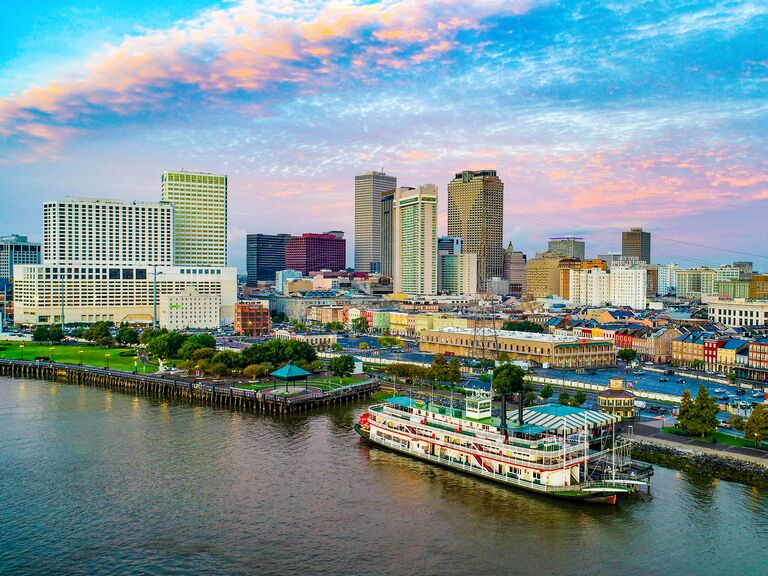 Kruck20/Getty Images
We have included third party products to help you navigate and enjoy life's biggest moments. Purchases made through links on this page may earn us a commission.
New Orleans is perhaps best known for its legendary Mardi Gras celebrations that bring travelers from across the globe to the famous French Quarter each year. But the Louisiana city is also a mecca of good food, lively culture and romance. Couples will enjoy indulging in Creole and Cajun cuisine favorites like po'boys and gumbo against the backdrop of live music. There are also historical sites, grand luxury hotels with private balconies and all the southern hospitality you deserve after saying, "I do."
NOLA is a quick flight from Atlanta—newlyweds can expect to get there in about 90 minutes. Couples traveling from New York City will want to leave about three hours for their flight with a layover, and it's about six hours from San Fransisco. Consider this your guide to a romantic New Orleans honeymoon.
Is New Orleans Good for a Honeymoon?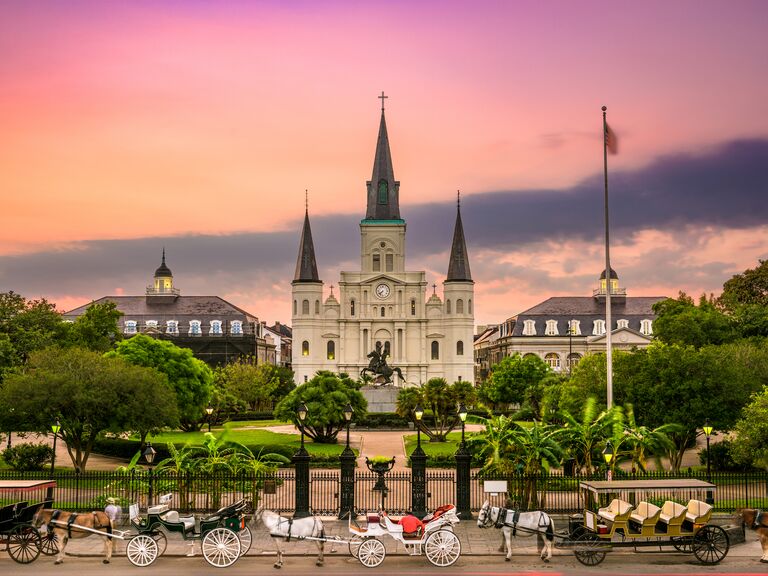 Pros of a New Orleans Honeymoon
New Orleans is a vibrant experience from check-in to departure. You'll see gorgeous and historic places, like Bourbon Street, the Garden District and Jackson Square. Live jazz music will provide the soundtrack to your days and nights, and the warm air during the first half of the year feels pleasant. Your tastebuds will sing as your palette tries beignets, bayou shrimp pasta and other foods that are simply unforgettable. The fragrant scent of dough and sweets filters throughout the city.
Cons of a New Orleans Honeymoon
Though New Orleans is known for its warm weather, it is no beach getaway. It takes nearly two hours to get to the nearest beach, Biloxi, and it's in Mississippi. Couples hoping to dip their feet in the ocean will want to pick another spot while remaining vigilant about hurricane season. Bugs are also common from early spring until the weather gets chillier. Though Mardi Gras is a bucket-list-worthy event, it also draws large crowds. Honeymooners who want a more intimate vacation will either want to plan around the annual celebration or go somewhere else.
The Best Times of Year to Go on a New Orleans Honeymoon for Good Weather
New Orleans summers are hazy, hot and extremely humid, and the area is prone to hurricanes in the fall. You'll enjoy the area's mildest weather from December through May.
Things to Do During a New Orleans Honeymoon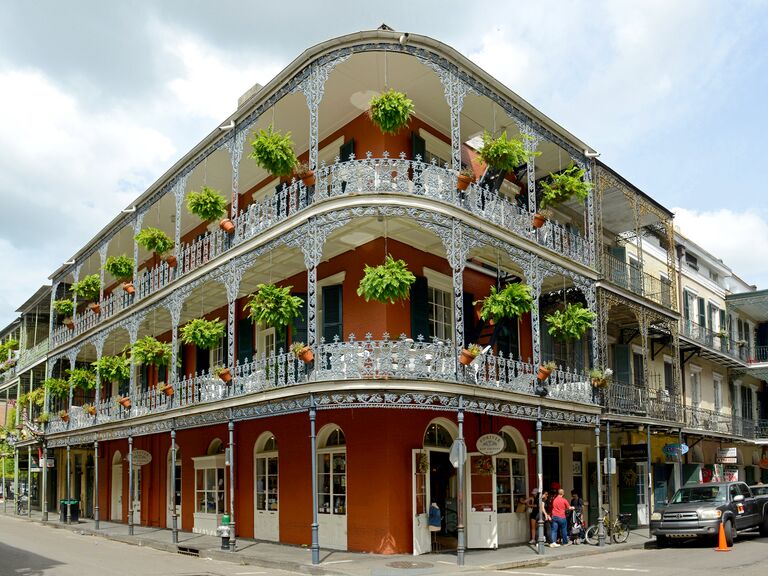 From historical sites to food to write home about, a NOLA getaway is full of to-dos to remember. Each area has a distinct charm.
Walk Bourbon Street
Bourbon Street is the 13-block stretch in the heart of the famous French Quarter. Upper-Bourbon Street draws the most attention for its nightlife, bars and restaurants serving large Sazerac cocktails. But the central section of the street also has its share of must-sees, including Pat O'Brien's, The Cat's Meow and Channing Tatum's restaurant Saints and Sinners. Peek into your future at Marie Laveau's House Of Voodoo.
Eat at Café du Monde
Kim Kardashian famously once flew to New Orleans simply for Café du Monde beignets. The establishment started as a French Market coffee stand in 1862, and its beloved beignets have attracted visitors and locals alike. The French-style treats are generously covered in powdered sugar and pair perfectly with a cafe au lait or dark-roasted coffee. It's an ideal spot for breakfast or an afternoon pick-me-up.
Visit St. Louis Cathedral
St. Louis Cathedral's triple steeples don many postcards from New Orleans. Dedicated to Saint Louis, also known as King Louis IX of France, it is the oldest cathedral in continuous use in the nation. Visitors can attend mass daily (check the schedule). You can also take self-guided tours Thursday through Monday.
Stroll Around Jackson Square
Couples who like to experience history alfresco will want to make a pit stop at Jackson Square, which faces the Mississippi River. The park was added to the National Historic Landmark register in 1960, but first entered US history books as the site of the Lousiana Purchase in 1803. These days, it's known for its live music, including holiday caroling, unique street performances and timeless natural beauty.
Visit the Garden District
The Garden District exudes Southern charm at every turn. Honeymooners will take in historic mansions, lush landscaping, quaint cottages and oak-lined streets. Hop the St. Charles streetcar or stroll through the area, taking time to stop and smell whatever is in bloom in one of the well-manicured gardens. You can get a complete history lesson the Garden District by signing up for a walking tour.
Enjoy Nature at New Orleans City Park
The 1,300-acre New Orleans City Park is larger than Central Park in New York City and a hub of greenspace and activity. Embrace your inner child at the Carousel Gardens Amusement Park or discover a hidden gem in the Train Garden. Active couples will especially love the biking and boating opportunities.
Best Hotels and Resorts in New Orleans for a Honeymoon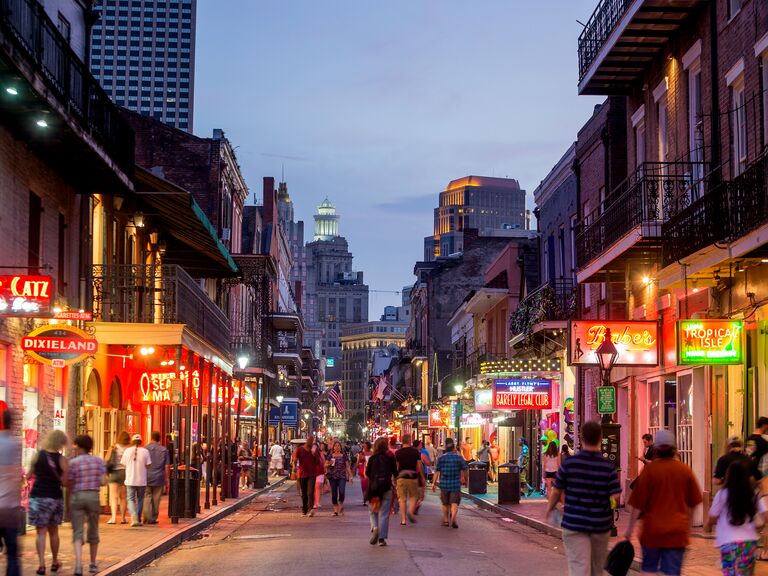 Hotel Monteleone
Besides comfortable accommodations, Hotel Monteleone is perhaps best known for its Carousel Bar and Lounge. The only revolving bar in NOLA, the hotspot serves craft cocktails like Sazeracs and old-fashioneds, and bar grub like oysters Rockefeller and seafood gumbo.
Le Pavillion Hotel
One of the most gorgeous luxury hotels in the city, Le Pavillion combines lavish accommodations with Southern hospitality. The elegant guestrooms have a baroque feel and soothing whirlpool tubs. Once a hidden speakeasy during Prohibition, Le Pavillion now allows guests to raise a glass without fear of retribution at Cachette 1907 Bar & Lounge.
Dauphine Orleans
Dauphine Orleans, a 111-room boutique hotel, is an oasis in the heart of the French Quarter. Its intimate courtyard, salt-water pool and cottage-style accommodations offer a tranquil respite from the lively Bourbon Street, which is a stone's throw away.
The Saint
Situated in the Central Business District, The Saint is known for its funky style and sinful nightlife. Live music constantly plays at the Burgundy Bar, and there's a cocktail menu for every one of the seven deadly sins. Lust (Champagne, rose water, wild hibiscus syrup and mint) is made for toasting to your heavenly future.
The Ritz-Carlton, New Orleans
Ritz-Carlton hotels have a reputation for posh and plush accommodations, and the one in New Orleans is no exception. After a night on the town, roll out of bed and head to the hotel's spa for a treatment. Or, sip coffee on your private balcony overlooking the French Quarter.
Sonesta New Orleans
Located right on Bourbon Street, Sonesta New Orleans offers easy access to the bustling city. On-site dining and entertainment options include a Cajun restaurant, an oyster bar, a jazz club, a cocktail lounge, a beautiful courtyard and a pool. Speaking of entertainment—Bourbon Street will often provide the soundtrack to your sleep. Couples looking for quieter accommodations may want to find something away from the lively stretch.
Windsor Court Hotel
Windsor Court Hotel boasts a five-star reputation. The guestrooms feature Italian marble bathrooms and suites have wet bars. Relax in the heated rooftop pool or spa. The grand salon offers afternoon tea, and you'll hear live jazz in the lounge.
What to Pack for a New Orleans Honeymoon
New Orleans weather is typically on the warmer side. Lightweight, light-colored clothing will prevent you from overheating. We recommend soft cotton tees, flowy tunics, linen sundresses and polo shirts. For bottoms, linen shorts, skirts and light cotton pants will keep you comfortable. Some places may have the AC blasting, so bring layers like cardigans.
You'll be walking a lot, so comfortable-but-stylish shoes like sandals or cool sneakers are a must. You'll want some dressier outfits, like black dresses or pants and a nice top, for romantic dinners and nights out.
Insect repellent and SPF will keep the area's bugs and sunburn from putting a damper on your vacation. A hat and sunglasses will shield your head and eyes from the sun.