13 Customs to Expect at a Traditional Japanese Wedding
Wedding experts explain how historic customs informed the weddings seen in modern-day Japan.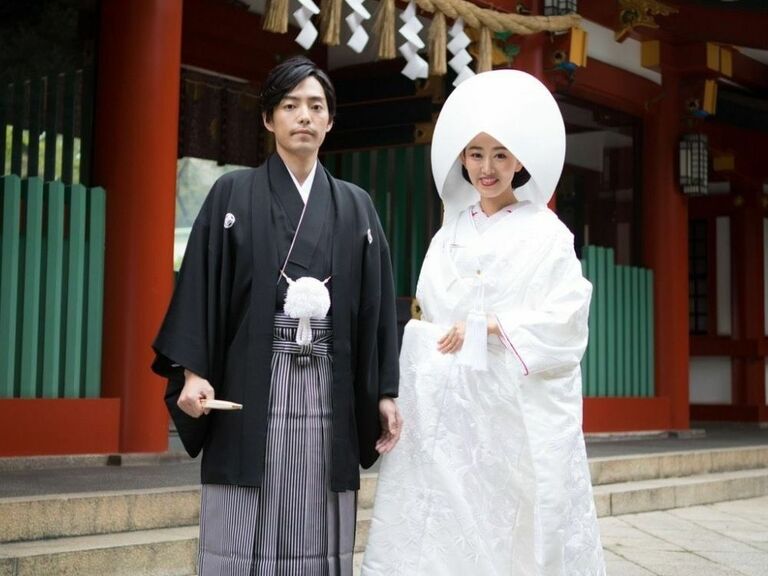 Eriko Sakihama / UNISON
We have included third party products to help you navigate and enjoy life's biggest moments. Purchases made through links on this page may earn us a commission.
While some wedding traditions, steeply rooted in history, may be found in modern Japanese weddings, the nuptials celebrated by most couples in Japan today are not as traditional as people may assume. While Japanese culture, etiquette and influences are very much still present in Japanese weddings, the whole affairs tend to blend contemporary style with traditional elements for a more modern, westernized event. Ayuka Chelsea Matsumoto, wedding expert and Creative Producer of Present & Co., explains that modern "Japanese weddings are very westernized. Though there are still Japanese traditions and rituals, they are not strongly focused on. These weddings represent a mixture of the ancient Japanese spirit and sophisticated Western cultural influences. Truthfully, Japanese weddings are very similar to the style of celebrations seen in the United States. For wedding ceremonies, Shinto-style ceremonies represent around ten to 20 percent of weddings. However, most couples prefer a Christian style ceremony at a chapel, even though they may not be Christians themselves."
To highlight everything from historic customs to modern practices, industry experts Matsumoto and Yumi Matsuo, wedding photographer and owner of Yumi Matsuo Studio, explain the traditions that have and continue to influence wedding ceremonies seen both in Japan and internationally by couples looking to honor their Japanese heritage.
In This Story:
The Betrothal
The Japanese betrothal ceremony, called the yuinou, is an exchange of symbolic gifts between the to-be-wed's families. "Yuinou is a traditional ritual between the families of the bride and groom," says Matsumoto. "They exchange betrothal money and gifts. It typically takes place at the bride's family house, but sometimes in a private room of a traditional Japanese restaurant. Many brides wear the furisode, a kimono for unmarried women."
Historically, some popular gifts to exchange during yuinou included: konbu, a seaweed whose name can be written to mean "child-bearing woman"; a long white piece of hemp, representing a wish that the couple will grow old and gray together; and a folding fan, which spreads to show future wealth and growth. The main gift was money (about $5,000), tucked in a special envelope called a shugi-bukuro, which has gold and silver strings that are impossible to unknot. The other gifts are given in ornate rice-paper envelopes. However, Matsumoto explains that, "today, Yuinou is getting more casual such as a family lunch or dinner at a traditional Japanese restaurant."
Sake-Sharing Ceremony
Although many current Japanese weddings aren't as richly steeped in tradition, a sake-sharing ceremony is part of traditional Shinto wedding ceremonies. "They say that the current Shinto wedding style started around 120 years ago and that it was the Japanese emperor's wedding," notes Matsumoto. During Shinto weddings, "not only are wedding vows and rings exchanged, but also cups of sacred sake are exchanged between brides and grooms and families. This Shinto wedding ritual is very connected to Japanese culture and we call exchanging cups of sake between brides and grooms, 'San San Kudo.'"
Matsumoto goes on to explain that "San San Kudo is the casual expression, but formally it's called 'Sankon No Gi.' By drinking sake from the same sake cup, the couple is firmly united as husband and wife. There are three types of sake cups: small: past, medium: present, and large: future. Small: 'I am grateful for my ancestors who raised me and for the past that I have met.' Medium: 'My aspiration to marry and work together with this person'. Large: 'A wish to build a happy family and pledge eternal love.'"
Shu Shu Costa in the book Wild Geese and Tea : An Asian-American Wedding Planner (Riverhead Books, 1997), shares that regardless of religious rituals, most Japanese also include a cultural sake-sharing tradition at the wedding, popularly called san-san-kudo—san means "three," ku means "nine," and do means "to deliver." This ritual dates back to a time when sharing sake created a formal bond as strongly as a handshake did in Victorian times. Using three flat sake cups stacked atop one another, the bride and groom take three sips each from the cups. Then their parents also take sips (for a total of nine sips), cementing the bond between the families.
Auspicious Wedding Dates
"Regarding Rokuyo, in Japan, we have a calendar term of fortune-telling," explains Matsumoto. In an effort to select an auspicious wedding date on which to marry, some Japanese couples consult the calendar as part of rokuyo when planning their wedding. The practice is "originally from China," says Matsumoto. "Taian is the most auspicious day and of course, it's the most popular date. On the other hand, Butsumets is the least auspicious day but some wedding venues offer discounts on those days. Nowadays, still parents consider the wedding date, but young couples don't care about that so much."
Daytime Weddings
While Saturday evenings are the most popular time to tie the knot in America, most Japanese weddings take place around lunchtime as opposed to dinner time. "I would say in America the most popular date and time is Saturday afternoon for a ceremony and dinner reception," notes Matsuo. "In Japan, I've heard the most popular date and time is Sunday late-morning ceremony followed by a formal afternoon lunch reception."
In-House Vendors
With Japanese weddings, it isn't customary to craft a vendor team you've sourced yourself. Instead, venues generally handle everything from floral arrangements and photography to dress rentals and makeup in-house. "The venues handle everything in Japan so choosing the one for your day is probably the biggest decision couples have to make," explains Matsuo. "The venues often handle everything in-house. They have their own bridal shop (for wedding dress rentals), makeup artist, florist and in-house photographer and videographer. Couples can choose from different packages the venue offers and it's rare to be able to bring in outside vendors." Matsumoto concurs, explaining that "though some wedding companies are trying to change the wedding culture by applying a freelance wedding planner, Japanese weddings are still very cookie cutter. Firstly, couples have to choose the venue and an in-house wedding planner will be in charge of each couple automatically. They can't choose a wedding planner normally. Also, they have to use in-house and/or affiliated florists, photographers, etc. Otherwise, they have to pay extra costs. In a city like Tokyo, weddings are getting more flexible and customizable, but practices in the countryside are still the same as in the 1970s."
Bouquet and Letter to Honor the Parents
"At a Japanese wedding reception, there is a bouquet presentation and a bride's letter to parents. At the end of the reception, there is the bouquet presentation from the bride and groom to their parents, followed by the presentation of a letter from the bride to her parents. This event may surprise Westerners, but it is a uniquely Japanese event, as it is very emotional and brings many guests to tears. It concludes with a final thank-you address by the father of the groom and the groom. In Japan, marriage is still considered as the union between two families. For example, if there's a wedding for Ms. Hanako Yamada and Mr. Taro Tanaka, it's signed as 'Wedding Reception for The Tanakas and The Yamadas,'" explains Matsumoto.
Japanese receptions are scheduled out to the minute. And at the end, the couple presents their parents with a hanataba (large flower bouquet). It's a way to honor your parents and thank them for everything they've done up until this point. Then the bride will read a letter she's prepared for her parents. It's usually super emotional and meant to bring guests to tears to conclude the event.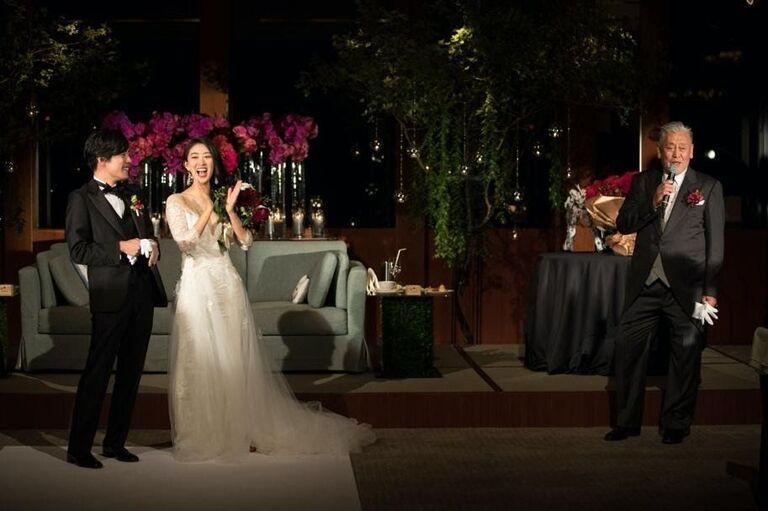 Formal Reception Without Dancing
A common misconception about Japanese weddings is "that there is dancing at the reception," says Matsuo. "I think a lot of my guests who were visiting from the US were surprised to find out that dancing is not a huge part of the wedding day in Japan. It's a much more formal affair and after the reception, friends will go out afterward to drink and dance at the after-party." Along with the lack of dancing, the wedding ceremony as a whole is much more formal, scheduled and punctual than weddings in the United States tend to be. Matsuo shares that "wedding ceremonies are oftentimes only attended by family and then guests join for the reception. The reception is very formal and punctual. We did a sit-down lunch, had our bosses make speeches and did a sake toast. Dancing is not very common in Japan. Couples may have a first dance but DJs and live bands are reserved for the after-party. While in America, you often see sweetheart tables or a couple sitting with their wedding party, in Japan, you typically don't have a wedding party and instead, the VIPs are your bosses and coworkers. They will sit at the head table with you and your family and friends will sit further away."
Monetary Gifts
It is common to give cash gifts, wrapped in special cloth wrapping, as wedding presents for the to-be-weds. "Goshugi-bukuro (shugi-bukuro) is a special envelope for Goshugi. Goshugi is a gift of money for weddings in Japan," says Matsumoto. "Normally, if you are a friend of a couple, you should give ¥30,000 (about $300). If you are a boss or a teacher of them, ¥50,000 (about $500). If you are a relative, ¥50,000 to ¥100,000 (about $1,000). Money should be wrapped in a Goshugi-bukuro that you can find at a stationery store, supermarket and convenience store in Japan. Goshugi-bukuro should be brought in a special cloth called fukusa." Matsuo goes on to share the importance of bringing crisp, new bills. The cash gift "needs to be a crisp new bill in a proper wedding envelope (called shugi-bukuro). Don't give a used bill. Make sure they are crisp $100 bills. Furthermore, don't give an amount that is divisible by two. It's said to be inauspicious as it can be easily split by the couple."
Gifts for Guests
It is also common for the couple to give gifts, known as hikidemono, to their wedding guests. "Hikidemono is a gift from the bride and groom to the guests as an expression of their hospitality and gratitude," says Matsumoto. "Recently, guests can choose the hikidemono's items from a catalog and it's very popular. It includes experience-based gifts, such as spa or afternoon tea options. The price of the hikidemono is about 10% of goshugi. Also, when guests leave the venue, the couples give them a very small gift such as sweets, bath salt, candles, etc. around ¥200-500 ($2-5)."
Dress Rentals
Instead of buying wedding dresses, it is common in Japan to rent wedding dresses. "Japanese weddings don't include dancing like Western celebrations and the bride and groom are basically at their table during the reception. So, dresses are often able to be kept clean. Besides, most brides change the dress from a white wedding gown to a colored dress during the reception," notes Matsumoto of the common practice of renting wedding dresses in Japan. "We need to start doing this in America," jokes Matsuo. She explains that in much the same way "that grooms here will rent a tux for their wedding day, brides rent both kimonos and Western-style dresses in Japan. The kimonos have the added benefit of being essentially wraps that can be fitted for any size."
Dress Changes
Brides wear big white hats called wataboshi or tsunokakushi. It's the Japanese equivalent for a veil. It's a big white piece of cloth that can be worn in different ways. The bride typically wears a wig underneath.
I was so surprised to find out that it's part of the tradition to change dresses numerous times during the wedding day. I think it's most commonly two times but I've heard of weddings with up to five outfit changes! Oironaoshi translates directly to changing colors so it's usually white for your first look and a different brighter color for your second.
I started off with the shiromuku (traditional white kimono for brides) and then did a more colorful kimono for my second outfit. My husband Eric stayed in the same outfit. We thought about doing a third look, a more Western-style option (white or red evening dress for me and tux for Eric), but decided against it since we already did a similar look here for our New York wedding.
Wedding Portraits
When it comes to wedding photography, there is a special emphasis on formal portraits in Japan. "As a wedding photographer, I often deliver upwards of a thousand images for my couples," explains Matsuo. "When you think of wedding photography in America, you're used to having the entire day captured. From getting ready to first looks and everything in between. One of my favorite parts is documenting those sweet candid moments throughout the day. But in Japan, it's only about the formal photos. For my own wedding in Japan, we didn't have any photos or videos during the ceremony and at the end, the photographer took three photos to commemorate the day. One bride and groom photo, one immediate family photo and one guest photo. We didn't receive the digital files, we just received a framed book with the three photos. Then, for the reception, they had a photo package called 'snapshots.' They delivered around 75 images from our reception in a more classic event photography manner."

While day-of wedding photography is more limited in Japan, Matsuo explains that "in Japan, it's customary to take bride and groom portraits before or after your actual wedding day. Maedori (before your wedding day) and Atodori (after your wedding day). As a wedding photographer myself, I think this is such a smart concept. You don't have to take time out of your wedding day to do these portraits and instead, you schedule a time outside of your wedding to do the formal portraits. You can choose a studio, your wedding venue or a completely separate location."
Advice for Guests
"If you attend a Shinto wedding, please don't forget to wear socks or stockings, since barefoot at the shrine it is considered blasphemy to the Gods," advises Matsumoto. "For guest's dress code, women guests wear a one-piece dress or kimono. In Japan, there is a culture of deciding what is good or bad luck from Kanji/Chinese characters or based on how the word sounds. For example, if you wear two pieces, it means 'separate' or 'divorce.' As in Western culture, white is the color associated with the bride, and black is the color of mourning, so they are taboo. However, nowadays, some couples ask you to come dressed in white or a particular color, in which case you should follow it. Animal leathers and fur are not allowed in Japanese weddings because they remind people of 'life and death.' Swinging earrings evoke a feeling of 'instability (unstable family)' so they're not good. Additionally, in Japan, there is a unique manner of dress called TPO that means 'Time, Place and Occasion/Opportunity.' For example, sleeveless and barefoot outfits are not acceptable at a Japanese wedding. If your dress is sleeveless, you need to cover your arms."
References:

Wild Geese and Tea, An Asian-American Wedding Planner by Shu Shu Costa (Riverhead Books, 1997)