Wedding Reception After-Party Primer
Your step-by-step guide to planning a post-reception blowout.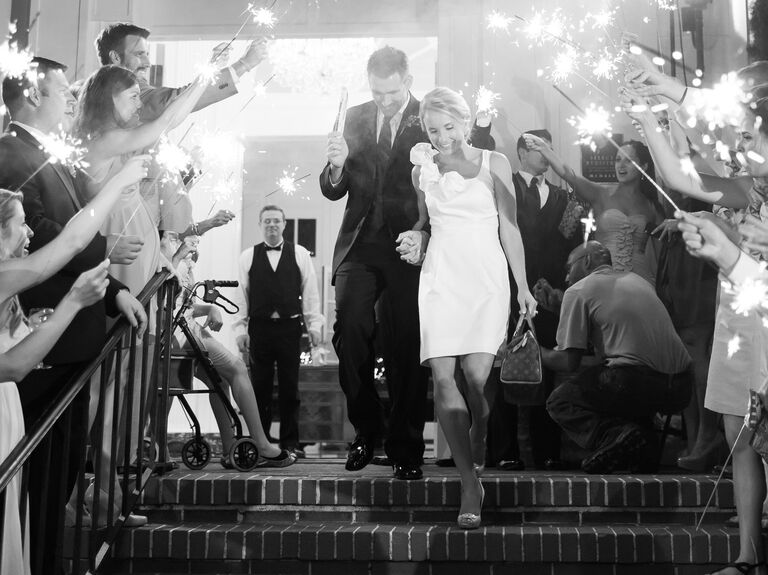 Jere & Ashley Dotten
Any bride will tell you that the reception flies by. But the last dance doesn't have to signal the end of the celebration. There are always revelers who refuse to let the good times come to a close, so it's essential to have an after-hours game plan. It isn't just a way to prolong your wedding day (and you will appreciate every extra minute) -- consider it another chance to impress your guests with surprising details and personal touches. Here's how to get the party started.
Settle on a Style
There are three types of post-wedding paths: one is the somewhat spontaneous let's-meet-at-a-bar gathering where guests show up and pay their way; two is the our-own-room-in-a-bar route with or without an open tab; and the third is the well-organized-wedding-part-two celebration where guests continue in the open-bar revelry with or without added entertainment (a DJ, pool tables, sundae bar). The main differences are the legwork, cost, and possibility of snafus (mainly that the bar is overcrowded). Once you decide what type of after-party you want, the rest of the decisions will come easy.
After-party Pointer: Even if you go for the low-maintenance, meet-at-a-bar kind of party, call at least a week ahead to make sure they haven't booked any private parties for that night. You don't want to be scrambling around town in your wedding gown, looking for a good bar.
Invite Right
The best thing about planning the after-party is that traditional wedding etiquette need not apply. Yes, everyone should feel welcome to join, but official invites are simply not necessary. If you want to ensure all your guests are aware of the post-wedding festivities (and won't make other plans), include the after-party info on a separate card to be sent with your wedding invitations. Or, post it on your wedding website with a link to the venue. Destination weddings will do right with the info listed on the weekend's schedule of events. For a more low-key after-party, it's fine to let everyone know about the plan through word of mouth -- start spreading the news at the shower and bachelorette party.
After-party Pointer: Deciding who to invite to the after-party is simple: If they're invited to the reception, they should be invited to the after-party. Even if you know some of your guests won't be up for partying after the reception, still extend the invitation so no one feels snubbed. That said, you can position the party as a mainly friends affair by choosing a hip location like the new lounge in town or a billiards club. But if your parents and their friends want to attend, they should still be welcome with open arms.
Choose a Convenient Spot
You'll hear lots of compliments and praise from your friends and family throughout your reception, so use the after-party to show your guests how much you appreciate them. When you choose your after-party venue, remember the old real estate axiom: what matters most is location, location, location. Make sure the after-party is somewhere that's convenient to the reception. If the majority of your out-of-town guests are staying in the same area, find a nearby bar or lounge. If you're having your reception in a hotel ballroom, check if you can rent a smaller room -- or even a suite, if your guest list is small -- in the same hotel to host your party.
After-party Pointer: By the time your reception is over, at least a few of your guests will probably have had a bit too much to drink. Transportation to the after-party should be one of your main concerns -- if the venue is not within walking distance, consider booking a shuttle to get guests around safely, or hire a few cabs to wait outside your reception space when it's finished.
Vary the Decor
You've thought through every detail to make your guests gasp when they see your reception space -- go for the same reaction when they enter your after-party. To wow them once again, you'll need unexpected décor, so pick a theme that's different from your reception. If you've stuck with a formal, classic style throughout your wedding, make your after-party a little more laid back by giving out leis and serving tropical cocktails. If you chose big band classics for your reception tunes, hire a DJ to play all your '80s favorites at the after-party. Had a casual outdoor ceremony and reception? Treat your guests to a Latin-themed after-party, complete with salsa band, mojito bar, and cigars rolled to order.
After-party Pointer: When you pick your after-party theme, make sure it matches your personalities. If you and your friends have more fun at the neighborhood bar than at a super swank club, don't feel like your party needs to be ultraposh -- making everyone comfortable is an important step to after-party success.
Feed the Crowd
You served a delicious dinner at the reception, but after hours of dancing and drinking, your guests are going to be hungry. Whether you opt for an open bar at your after-party, you should also offer your guests something to snack on. Follow the rules of décor. Just like it's smart to vary the look of reception and the after-party, it's also a good idea to serve a different type of food. If your main dish at dinner was salmon, a sushi bar at your after-party might be fish overload. And it doesn't have to be too fancy -- we know a couple who served mini burgers, fries, and milkshakes for a tasty midnight snack.
After-party Pointer: Do you have to have an open bar? Well, that's up to you and your budget. Open bar is always appreciated, but the decision also depends on where and what kind of after-party you're throwing. If you've rented out a room or a suite at your reception site, yes, open bar is essential. If you've rented out a private space at a bar, it's a generous and appropriate gesture. If it's a less formal, let's-hit-this-bar type of event, it's not necessary.
Wear What You Want
Even if the after-party is held in the bar next door, you can generally expect everyone to stay in their party clothes. If it's held at the hotel where everyone's staying, many guests will want to change into more casual gear. That's fine, unless the after-party room has a dress code. It's considerate to let your guests know what sort of attire is expected after the reception's over. If you're planning a casual after-party, tell your guests they should feel free to change out of their formalwear and into something more comfortable. If you think it'd be fun to coordinate the attire with your party's décor (like a black and white theme, or a Hawaiian luau), make your plans clear beforehand so no one feels left out by dressing inappropriately.
After-party Pointer: If you want to sport your white dress 'til dawn, go for it. Play the princess card for as long as you wish. Just know, every extra hour you're in your gown -- especially around food and drinks -- you run the risk of staining your dress. If you're wearing a two piece gown, consider changing into jeans and leaving the top on.
Cover the Costs
So, who's paying? Chances are there will be many a guest offering to slap down their credit cards at the bar. Because the after-party is a relatively new wedding trend, there's no set etiquette for who traditionally pays. The bride's parents may consider it part of the reception and pay for the after-party, especially if it's taking place in the same hotel or resort, since it can be easily added to the final bill. On the other hand, many couples choose to pay for the after-party themselves, regardless of who pays for the wedding, since the attendees will generally be the couple's younger friends. If you're uncertain on who's planning on paying, consider offering to split the bill with your parents. No need to go overboard -- if you're worried about overspending, just put a cap on the open bar after an hour or two.
After-party Pointer: All good things must come to an end, including your wedding day. If you're renting a space, you probably have an allotted amount of time, so deciding when to go home can be pretty clear cut. Otherwise, if you and your husband are up for it, there's no reason you can't celebrate till dawn! If you're hosting a brunch or leaving early for your honeymoon the next morning, make sure you've got someone to give you a wakeup call so you don't oversleep.
Thanks to Pamela Barefoot of Atrendy Wedding & Event Company; Melissa Paul of Evantine Design