How to Throw a Kentucky Derby Bridal Shower Filled With Southern Charm
These race for the roses-inspired bridal shower ideas will send the bride off to the altar in style.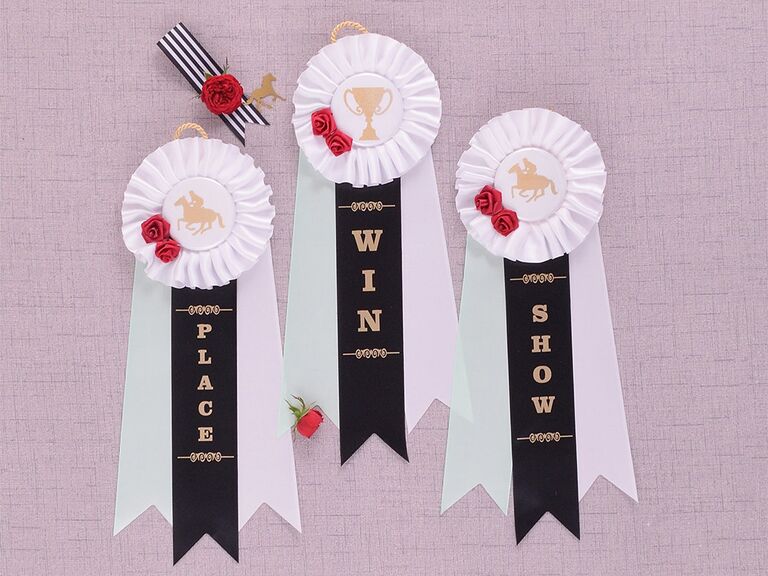 We have included third party products to help you navigate and enjoy life's biggest moments. Purchases made through links on this page may earn us a commission.
For the couple that's simply mint to be, a Kentucky Derby-themed bridal shower is an unexpected option that gives you plenty to work with. The world's most famous horse race at Churchill Downs comes with loads of classy, equestrian-themed inspiration for a wedding shower they'll never forget. Since 1875, the Kentucky Derby has been run on the first Saturday in May, making it an especially wonderful theme for a spring shower. But if the guest of honor loves horses, Southern charm, or just a good julep, it can be a fun shower theme year-round. With so many iconic elements (Big hats! Red roses! Mint juleps!), this party theme offers a lot of structure but also a lot of opportunities to play. Here are some of our favorite pieces to get it started on the right hoof—or, rather, foot.
Posted Fête Kentucky Derby Bridal Shower Invitation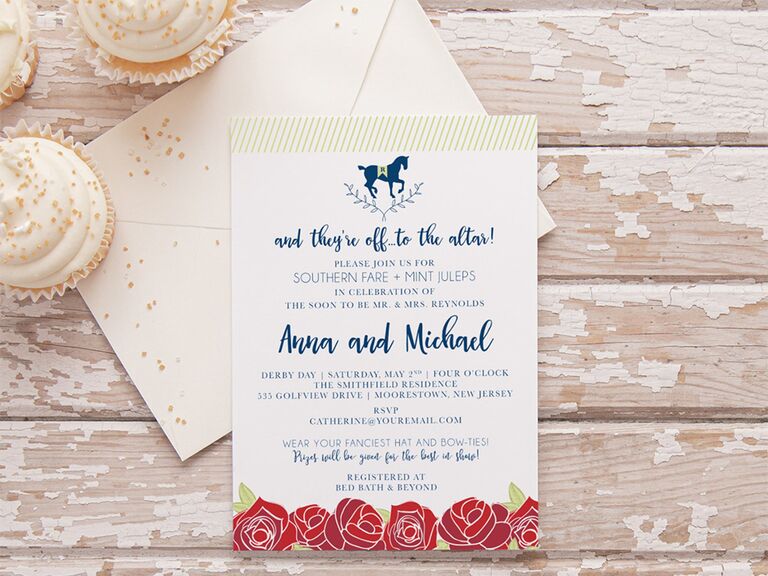 Invitations are a great way to set the theme, and it's even better when someone has already created the perfect mailers. You can further personalize them with a slew of fonts and color options to help make these run for the roses-inspired invitations just right for the bride-to-be.
Miss Pok-a-Dot Printable Mint Julep Sign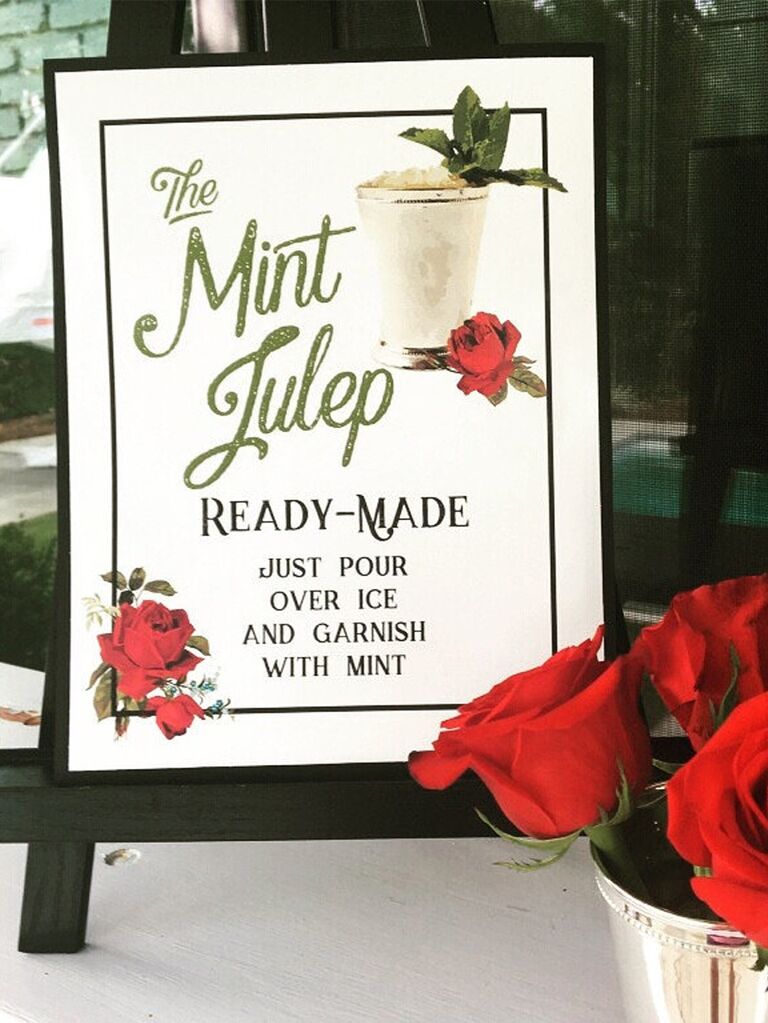 For a derby-inspired brunch, you'll want to serve Churchill Down's best-known drink: the mint julep (natch). If you simply must have a mimosa option as well, the seller can also make a customized menu in the same roses-themed design.
Moonlight Weddings & Events Burgundy Floral Dessert Plates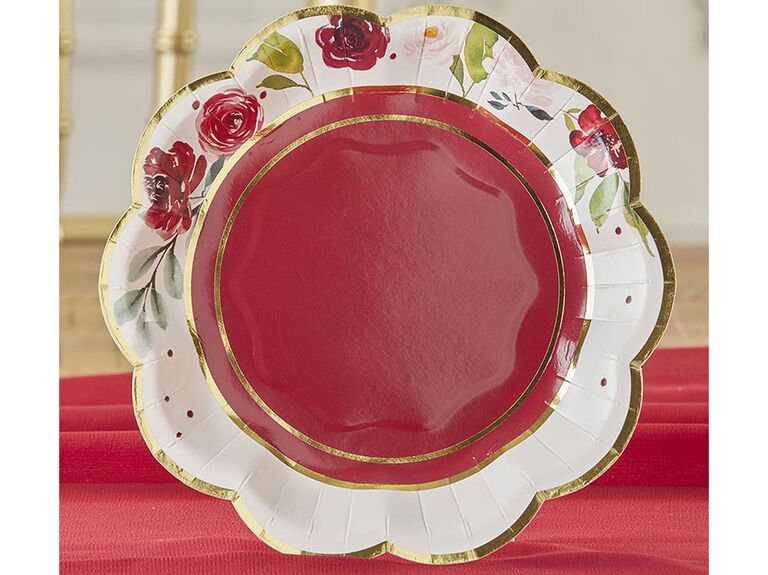 Paper plates do not have to look cheap. For a casual affair—not to mention easy clean-up—these flashy, floral dessert plates hit the mark. The burgundy roses give a nod to the garland of roses that the winner of the Kentucky Derby has received since 1925.
littlechicklets Horseshoe Drink Stirrer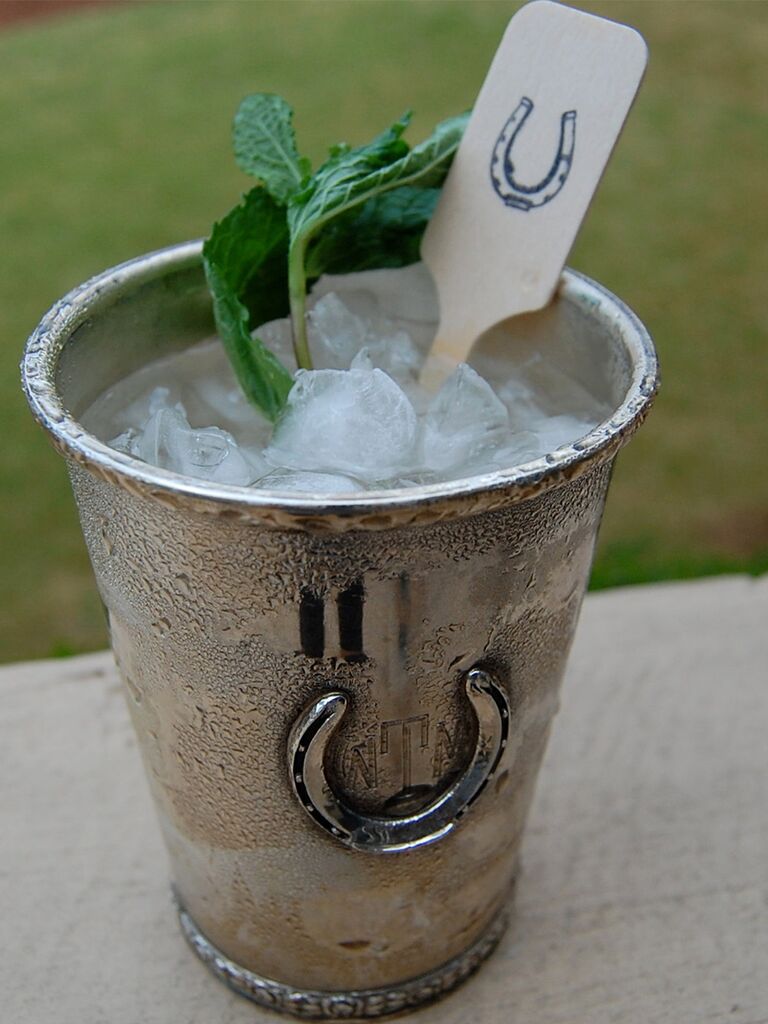 Even people who don't know much about the Kentucky Derby know that its signature drink is the mint julep. You may not be able to give every guest their own sterling silver cup, but you can top their drinks off in style with these 6-inch long wooden horseshoe drink stirrers.
Pomp and Pedestal Kentucky Derby Party Rosette Ribbons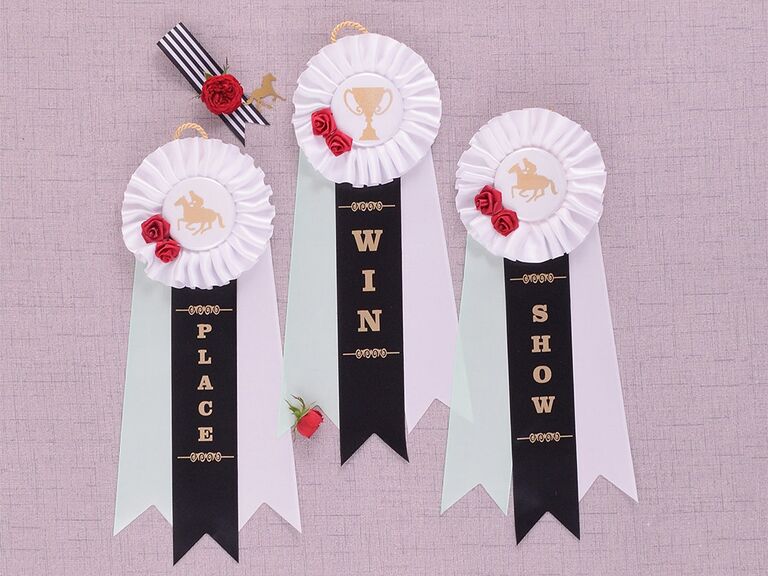 These custom derby shower decorations double as prizes for whatever games you choose. Whether it's a best hat competition or some good-natured shower games, your guests are sure to wear them with pride. The buttons come with gold foil for extra flash and the mini red rose detail says derby day without saying a word.
Diamond Ferrier Classic Horseshoe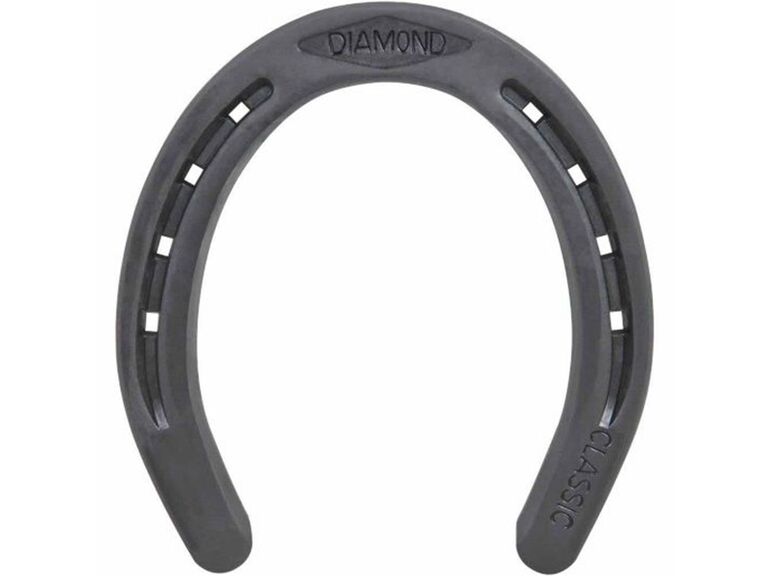 We couldn't resist tossing in a set of real steel horseshoes straight from an authentic farrier, aka the folks who make horseshoes. These are heavy, so they make great napkin weights at an outdoor fete. You can also gift one to the newlyweds-to-be to hang over their door to bring good luck in their married life.
Krafty N Katchy Red Roses Cupcake Toppers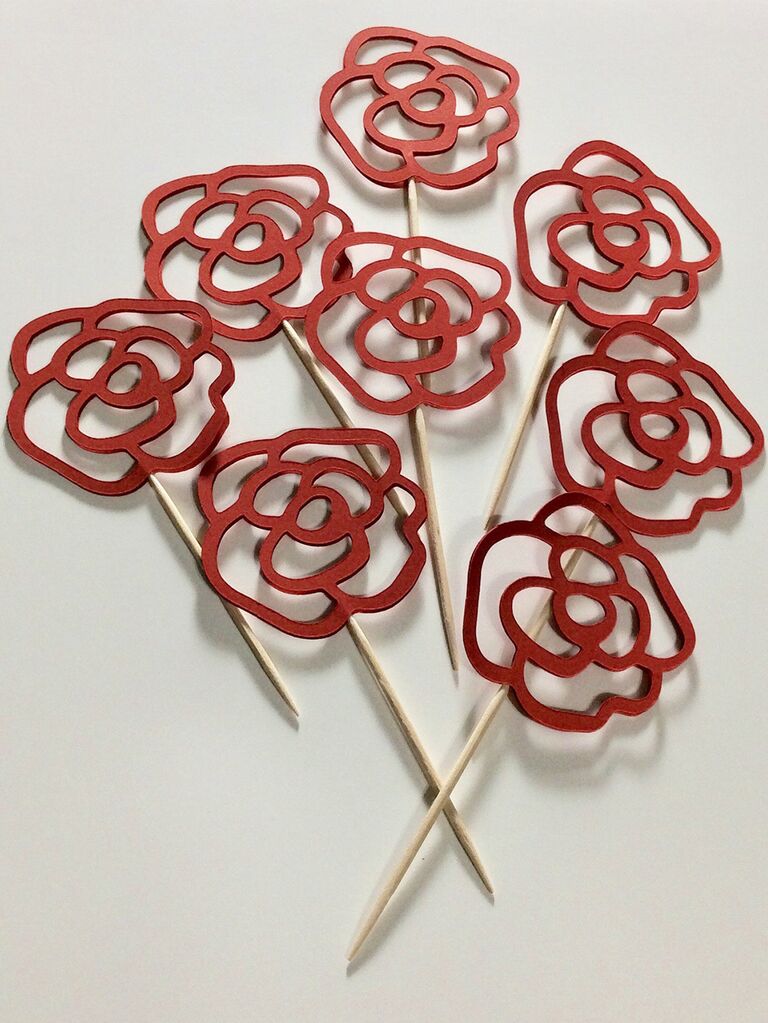 Red rose cupcake toppers or hors d'oeuvres toothpicks bring the famous Kentucky Derby winner's garland to the party. The roses are made of high-quality card stock and each topper is double-sided so there are no bad angles.
Label Imprints Personalized Silver Mint Julep Cup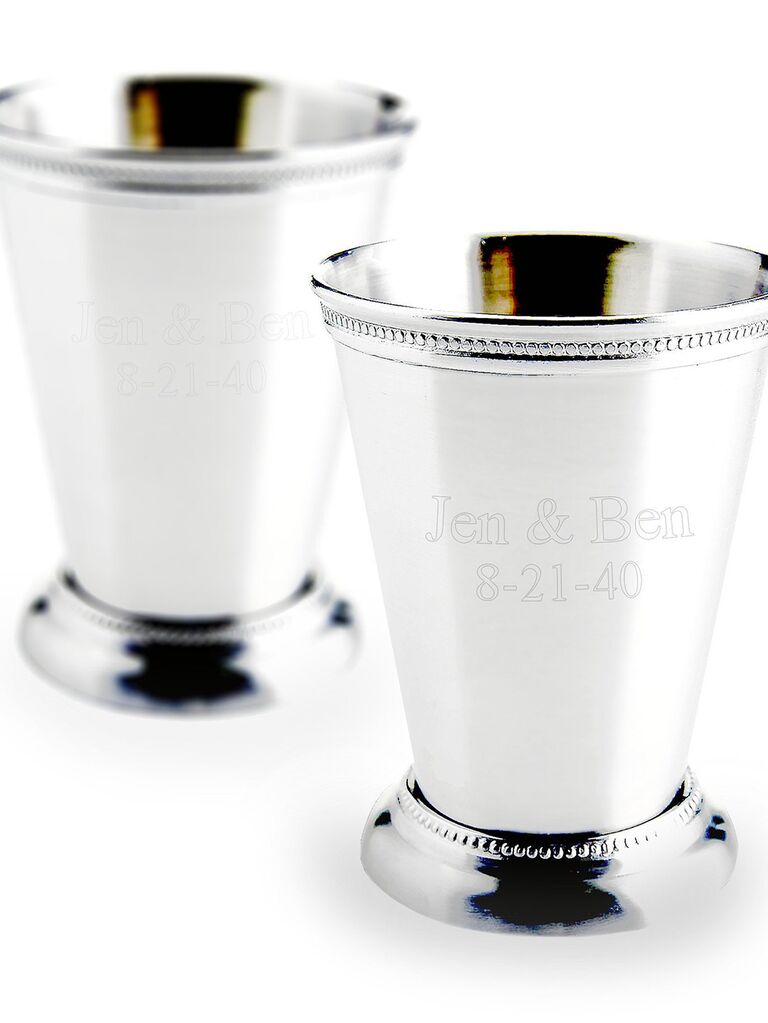 Commemorate the wedding shower with an engraved julep cup for the guest of honor. Leave it blank or engrave one or both sides for an added fee. It'll make a lovely little vase for fresh-cut flowers or a vessel for a sprig of fresh mint and an ice-cold mint julep for many derby days to come.
enfete Kentucky Derby Horse Show Ribbon Garland
Grosgrain and satin ribbon give this garland a showstopping look at an equestrian party. Each rosette is 5.5 inches wide and the tails are a stunning 12 to 16 inches long. The ribbons are sold individually but, if you order two or more, they come with a 3-foot length of satin ribbon between each.
Loah Design Printable Derby Bingo Games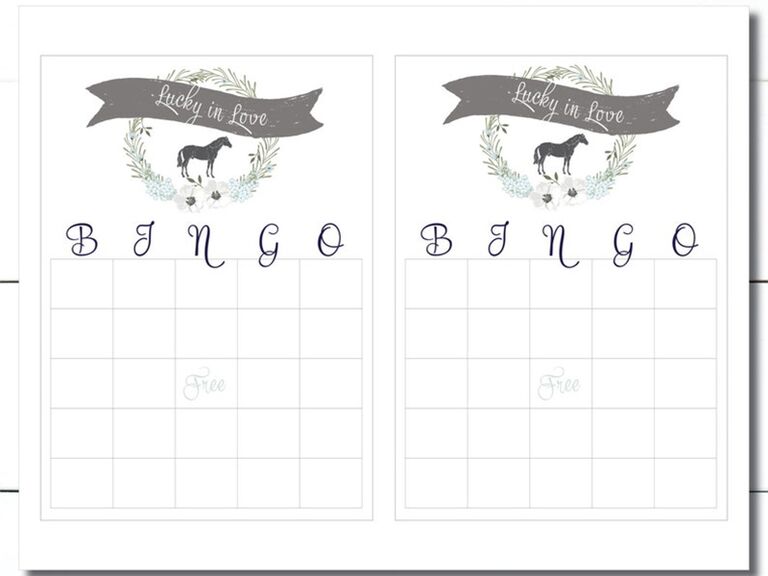 Wedding shower games are a classic way to keep everyone entertained and involved in the day's festivities. There are a number of variations on bingo you can play, including having guests fill in squares for gifts they think the bride might receive. Whatever version you play, you can make sure it's on theme with these printable cards.
Creations by Deven Kentucky Derby Party Hand Fans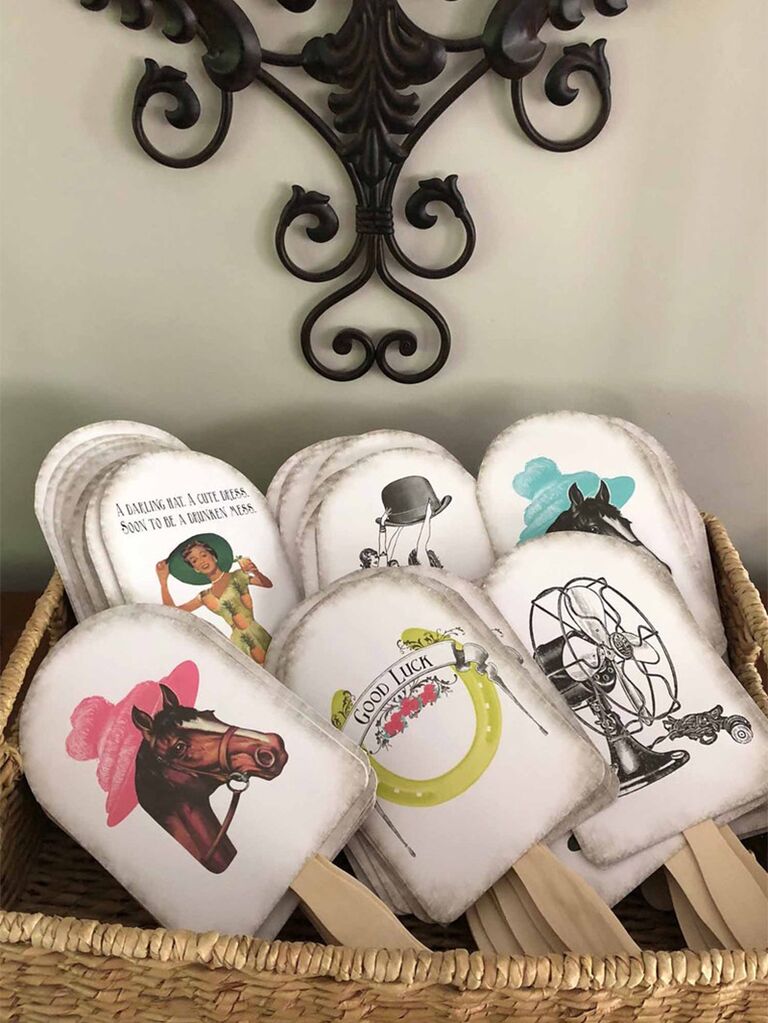 If you know the party is going to be outside in the heat, grab a stack of these sassy hand fans in sets of either 18 or 30. There are six different designs altogether and two different backs.
Simon and Le Derby Photo Booth Props
After the julep, big hats are probably the next most well-known signifier of the Kentucky Derby. Let guests pose with different hats and fascinators in the photo booth with this easy to print, cut and assemble prop set. The seller provides an easy-to-follow tutorial video and has a slew of other adorable derby-themed goodies worth eyeing.
Zoey Elisa Metallic Horses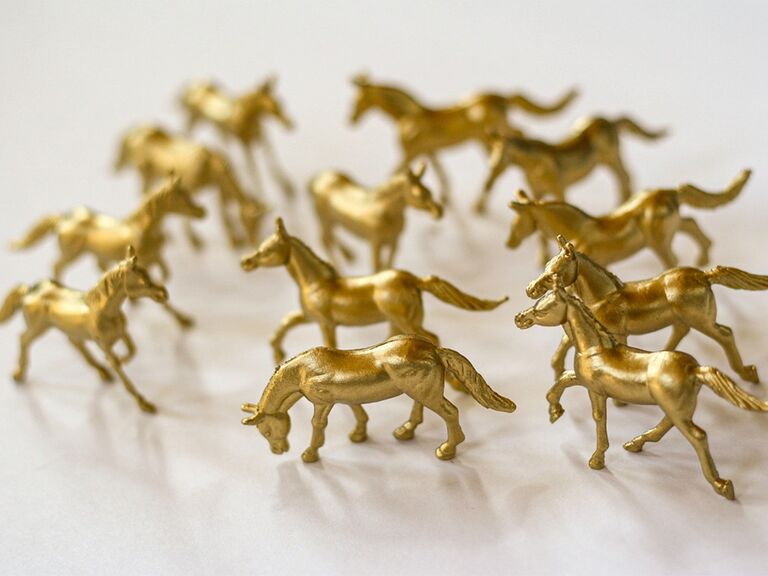 What's not to love about these cute little horses in your choice of 13 colors? Coordinate them with the colors of the event or go for glamorous gold or silver. They measure between 1.5 and 3 inches across, making them ideal cake toppers or table decor.
Destination Summer Vintage Embossed Beverage Dispenser in Green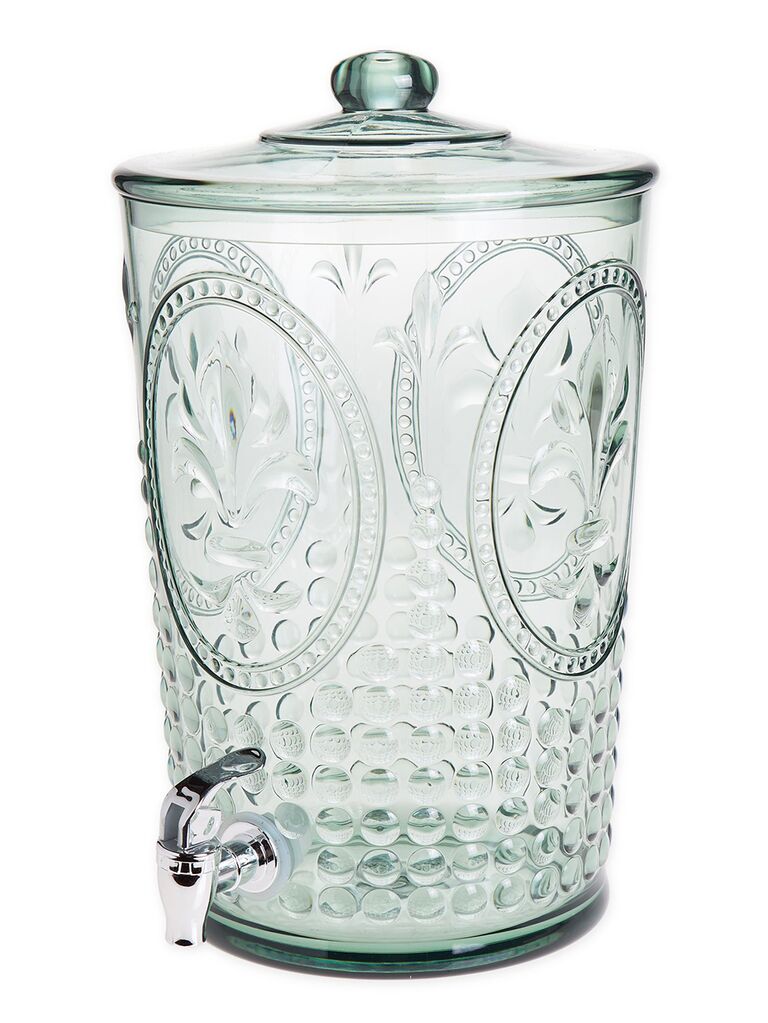 This vintage-inspired green-glass beauty holds 1.95 gallons of mint julep, oak lily or any other signature derby drink of the day. Keep ice, cups and garnishes nearby and forget the expense of a bartender at this event.
Real Housewife Hats Kentucky Derby Hat Ivory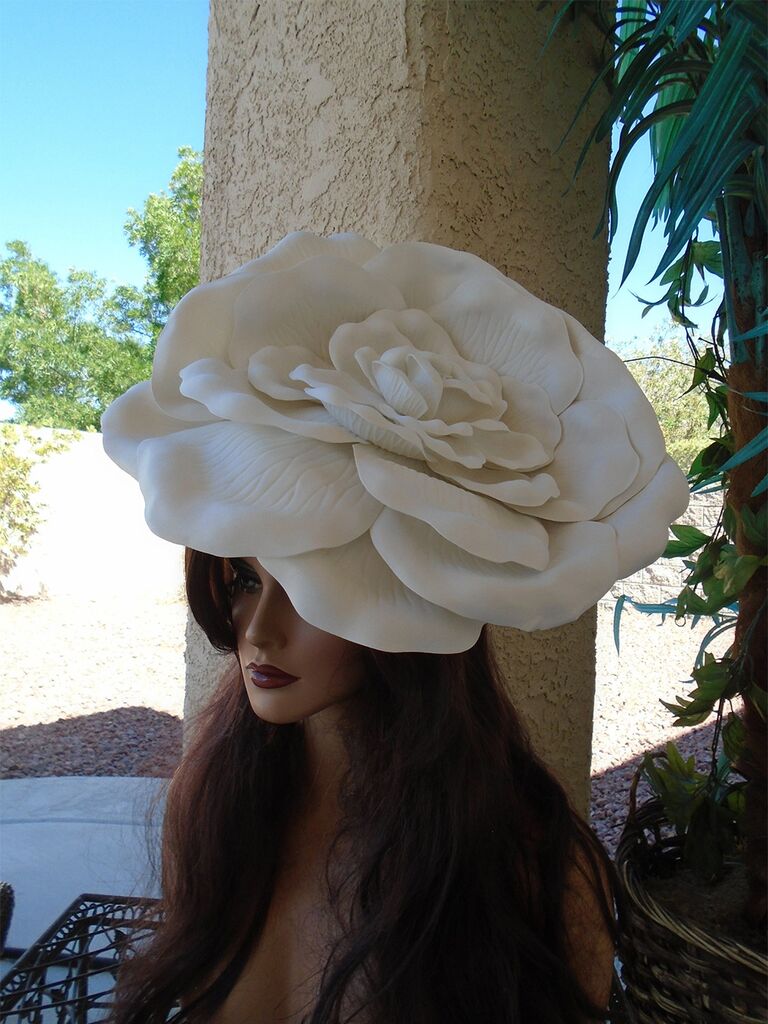 It wouldn't be the Kentucky Derby without a big hat, fascinator or headband. This 16-inch across ivory foam rose comes on a satin headband ready to make a statement. Give this to the bride to wear at her shower and crown her queen for the day.
EnFete Talk Derby to Me Napkins in Red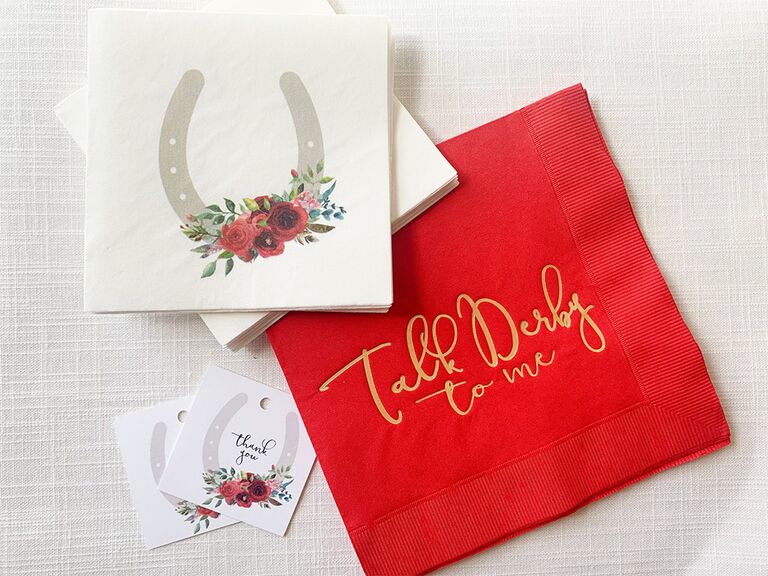 Keep the conversation lighthearted with these hilarious 3-ply luncheon napkins. Add more derby fun to the party by checking out this seller's full spread of horseshoe napkins, tags and other supplies.
The Gold Arrow Boutique Racehorse Party Plate Set with Cups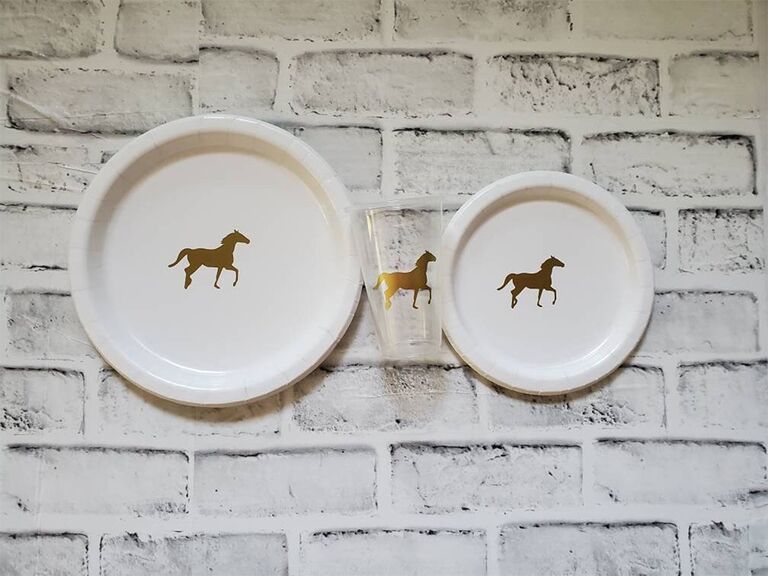 Complete the place settings at the shower with these simple white and gold equestrian plates and cups. Choose from a set of lunch plates or smaller cake plates, depending on what will be served.
Marta's Cakes and Cookie Kentucky Derby Theme Decorated Sugar Cookies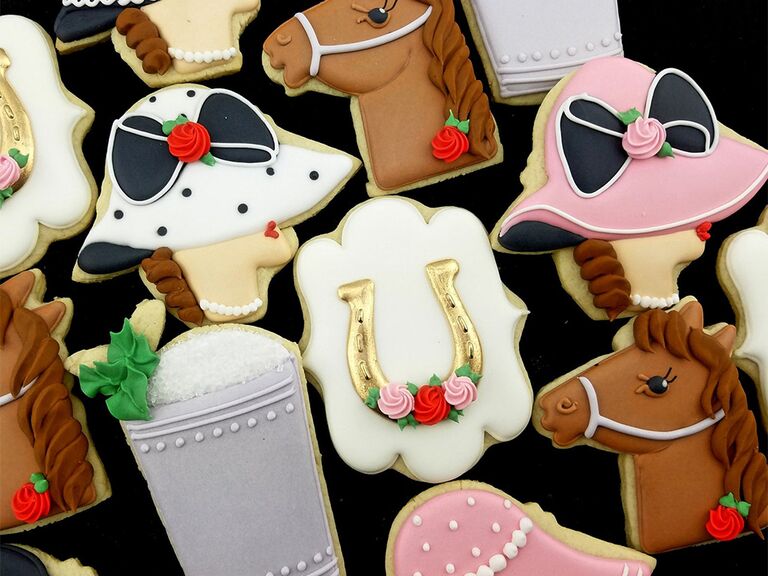 Are they decorations or dessert? Both! Choose from chocolate or sugar cookies and select either a light or dark skin tone for the three women. Reviewers rave about both the quality and flavor and the fact that they do not break in transit.
Little Legal Designs Off to the Altar Banner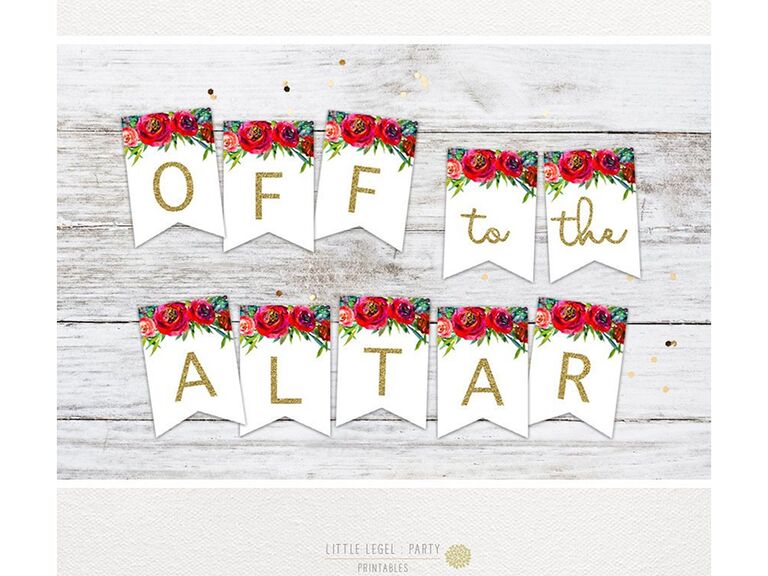 Any horse racing fan will appreciate the play on words on this printable banner. Hang it above a dessert table or wherever the guest of honor will be seated.
Hippo Factory Kentucky Derby Bridal Shower Welcome Sign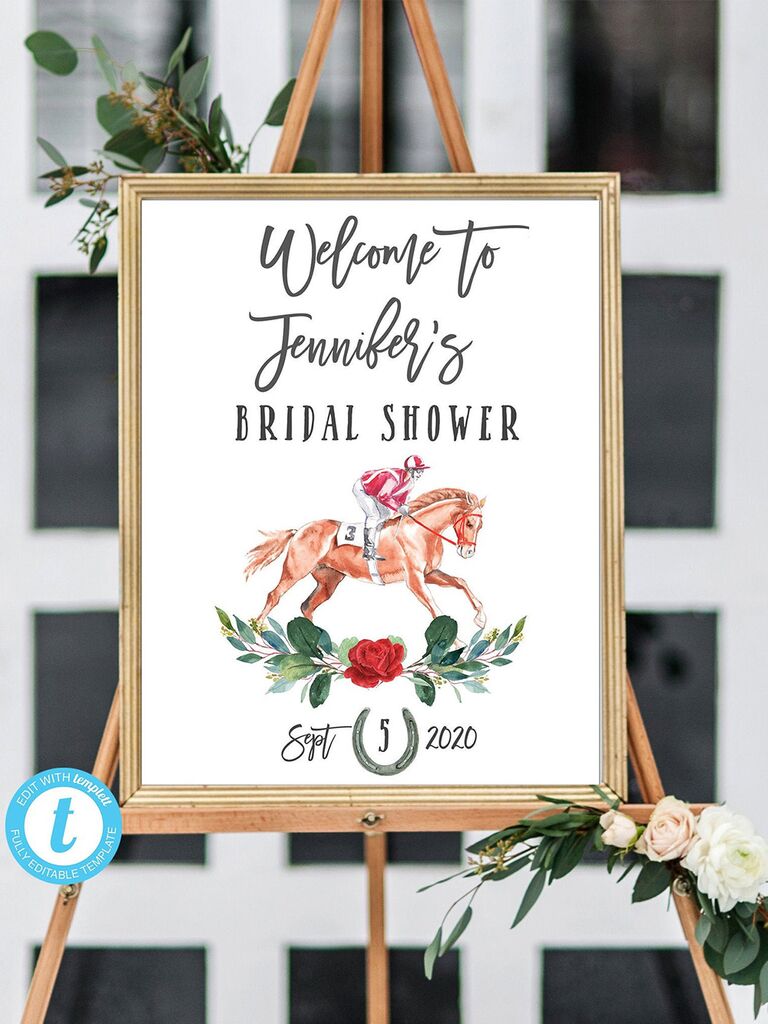 Welcome guests to the shower with this lucky horseshoe welcome sign. You can customize the font and text to suit the event. Print it on larger posterboard to direct guests to the party in a larger public venue, or frame a smaller print to display by the gift table.