The 40 Best Bridal Shower Ideas to Pamper the To-Be-Wed
From decor to food, all the ideas you need to shower the nearly-newlywed.
A wedding shower (also commonly known as a bridal shower) is a fun party that offers loved ones the chance to pamper the to-be-weds. But if you've volunteered to host, you may be in need of some bridal shower ideas. Planning all the details, plus ensuring the aesthetic feels creative and unique, can be a little daunting at first. To help, we've connected with some of our favorite wedding pros to share what to do at a bridal shower, what food and drinks to serve, the best games to play and how to decorate to inspire your celebratory event.
In this article:
Top Bridal Shower Tips
To plan the best bridal shower, you need to know some hosting tips. Read below to learn a few etiquette rules and planning tasks, recommended by experts.
Plan inclusively.
Although "bridal shower" is a common term within the wedding industry, the inherently gendered term under-emphasizes the importance of inclusivity concerning wedding showers. Whether a wedding has a bride or not, a wedding shower to pamper to-be-weds with love and gifts is customary and there are a few steps you can take to ensure the entire event feels inclusive. Many couples are shifting away from showers that only include one to-be-wed toward combined events that honor both partners who are getting married.
You can also feel free to move away from themes that feel bridal-centric suggests Rachael Ellen Mayo, wedding planning expert and owner of Rachael Ellen Events. "No matter who the guest of honor is, allow the celebration to be about that person. Consider themes outside the regular 'blushing bride' concept and what the guest of honor loves. Do they love breakfast food? Plan a beautiful brunch without traditional 'bridal' details. It isn't ever about being a 'bride' or 'groom,' it's about celebrating this exciting milestone in that person's life."
Get creative with bridal shower themes.
Virginia Frischkorn, wedding planning expert and owner of Bluebird Productions, Something Blue by Bluebird and Bluebird in a Box, encourages anyone planning a wedding shower to "pick a theme! It's so much easier for guests to get excited and choose gifts if there's a theme." One theme that Frischkorn suggests is an "around the clock" theme. "Each guest is given a time and should bring a gift that correlates with that time. For example, if I got 5 PM, I would choose a cocktail shaker set or if you got 9 AM, select the coffee maker off the registry. Another fun shower theme is a wine tasting and having guests bring a bottle to try and a bottle for the couple to keep."
However, Karina Lopez, expert event and wedding planner and owner of KC You There, advises that you don't need to go overboard with thematic party ideas. "Themes can sometimes get a bit out of hand. If you're having a Parisian-themed shower, you don't need mini Eiffel towers or berets everywhere. Play off the feel and color of your venue and when in doubt, pick a focal piece and incorporate mini details here and there."
The host pays for the shower.
"The person hosting the shower covers the cost," explains Mayo. "That could be the bride, a mother, the bridesmaids, or one specific friend, but the financial obligation always falls on the person who offered to host." This is important to keep in mind because numerous people could host a shower for the to-be-weds. "Family and friends of the family are the most common hosts of a wedding shower," notes Frischkorn. "The wedding party often has so many other expensive events surrounding the wedding (from a potential engagement party to a bach party and more), so hopefully a family member or family-like member will offer to host."
It's crucial to have the budget conversation early and handle with care. "One thing to keep in mind is that weddings are expensive for everyone involved and money can be a touchy subject, so it's never good to just assume," says Lopez. "If there's a specific shower the bride has in mind, she may want to consider contributing as well." For more details and etiquette surrounding who pays for the wedding shower, take a peek at this advice.
Be considerate with the guest list.
Melissa Williams, expert wedding planner and owner of B. Astonished Events, advises that you "make sure that the guests you are extending invites to for your shower are on your guest list for the wedding. It can get tricky when you invite guests to the shower but exclude them from your wedding day." Check out this advice about wedding shower invitations for more insight.
Gift thoughtfully.
While giving a gift from the wedding registry is always a good idea, you may feel like gifting a set of mixing bowls doesn't quite celebrate your bond with the bride-to-be or guest of honor. Furthermore, for some themed showers, certain gifts may be requested. When it comes to purchasing a gift for the shower, check in with the host if you're unsure what to buy. And if you're still feeling stuck, check out some of our favorite contemporary bridal shower gift ideas here.
Dress appropriately.
With so many prewedding events to attend, it can be difficult to put together outfits for each one, both as a guest and as the person of honor. If you're feeling stuck and can't decide what to wear to a wedding shower, let these bridal shower outfit ideas and this advice about what to wear to a wedding shower as a guest inspire you.
As the guest of honor, do what you want.
Lopez encourages to-be-weds being showered to "do what you want. Everyone seems to have something to say; 'don't open gifts at the shower, it's boring,' or 'don't do games, it's lame.' Open the gifts if you want and play all the games you want to play. At the end of the day, your guests will be happy as long as you are happy."
Unique Bridal Shower Ideas
For people who want the bridal shower to stand out, check out these five eye-catching bridal shower ideas. Here are decoration and food ideas you can incorporate into your prewedding event.
1. Tropical Wedding Shower Pineapple Decorations
Give simple tablescape details, like pineapples, a DIY upgrade with a coat of gold spray paint. You can also use other fruits to add a fresh feel to the table, like lemons, grapes or peaches.
2. Wedding Shower Palm Leaf Centerpieces
Feel free to play around with themes and do a bit of mixing and matching. This bridal shower idea was a creative juxtaposition of modern and tropical.
3. Cupcakes With Bride-to-Be's Picture
Even the desserts at this bridal shower put the bride-to-be front and center. Vanilla cupcakes with an image of the nearly newlywed were served for dessert.
4. Seed Packet Escort Cards
If you've chosen a garden or "Let Love Bloom" theme, seed packets are a great favor for attendees. Each seed packet was for a specific flower that matched the table markers.
5. Individual Naked Cakes
Each guest at this bash received their own petite semi-naked cake. For people who love sweets, this is the perfect amount of sugar.
Fun Bridal Shower Ideas
There are numerous ways to make the wedding shower a fun and interactive experience. Below are various options you can use to liven up the party.
6. The Shoe Game
The shoe game is a timeless standby for wedding receptions and showers. The host will ask questions about which partner is more likely to do a certain thing or act a certain way. Each to-be-wed will hold one of their own shoes and one of their partner's shoes. They'll hold up whichever shoe corresponds to the person most likely to do whatever the question asks.
7. Bubbly-Inspired Prewedding Toast Invitation
A shower months before the wedding day isn't always in the cards. Consider a champagne toast with some of your dearest friends on the morning of the wedding.
8. Cotton Candy Station
You'll score major bonus points with a to-be-wed who has a sweet tooth with a cotton candy station. Some cotton candy companies even allow the guests to make their own confections.
9. This-Or-That Game
Crunchy or smooth peanut butter? Red or white wine? See how well your close friends really know you with a game where guests have to choose what you like between various options.
10. Doughnut Bar
At a brunch- or breakfast-inspired shower, offer an assortment of sugary doughnuts or guests to nosh on. You can also have a trendy doughnut wall.
11. Guess the Number of Kisses Game
Simple door games, like asking guests to guess the number of chocolate kisses in a vase, are fun additions that keep the event lively. Have door prizes on hand to reward the winners of these party games.
Elegant Bridal Shower Ideas
If the guest of honor wants an elegant bridal shower, there are ways to do it that won't overshadow the actual wedding. Use these seven ideas for your bridal shower for inspiration.
12. Pink-and-Gold Place Setting
It's hard to go wrong with pink and gold. This color scheme is a tried and true color combination and looks great with floral patterns.
13. Fruit Parfait Table
For a brunch shower, add fruit tarts or berry parfaits to the menu. Individual servings are one of the best ways to offer numerous flavors for guests to try.
14. Mimosa Bar
To add a celebratory feel to your shower, break out the bubbly with a festive mimosa bar for wedding shower guests to enjoy. You can even have small carafes of juices for people to grab and add to their bubbles.
15. Garden Rose Bridal Shower Centerpiece
Talk about dreamy. This romantic centerpiece was absolutely breath-taking and is one of our favorite pastel bloom arrangements.
16. Single-Tier Cake With Fresh Flower Accents
There's so much to love about this cheerful-and-petite cake. Fresh blooms and fruit, decorative icing and even an eye-catching milk-glass stand are everything you want at an elegant bridal shower.
17. Pink-and-Purple Bridal Shower Invitation
Include whatever floral varieties will be present in the day-of decorations on the initial stationery design. For this shower, illustrations of orchids and pampas grass hinted at what was to come.
18. Individual Lemon Cakes
Especially for a tea party theme, mini cakes and sandwiches lend themselves well to a high-tea-inspired menu. We love how each cake is personalized with each guest's name.
Boho Bridal Shower Ideas
If you haven't found the laid-back bohemian decor you're looking for, don't worry. Check out these five bridal shower party ideas that you'll totally want to add to your mood board.
19. Boho Bridal Shower Peacock Chair
Chances are the to-be-wed will be opening presents during the wedding shower. Rent an over-the-top chair to make them the center of attention during gift time.
20. Lush Boho Tablescape
If you can't have the wedding shower outdoors, bring the outside in. This boho-chic prewedding soiree had grass, wildflowers and lots of greenery adorning the tables.
21. Varied Floral Centerpieces
Dressing up the party tables with groupings of small arrangements is a great way to make an impact while minding the overall budget. We love how the succulent, ranunculus and protea are in different vases giving an eclectic vibe.
22. Boho-Chic Macrame Table Runners
The wedding shower had beautiful autumn colors throughout. The tables had amber goblets, macrame runners, and votives.
23. Ivy Accent Wall and Custom Frames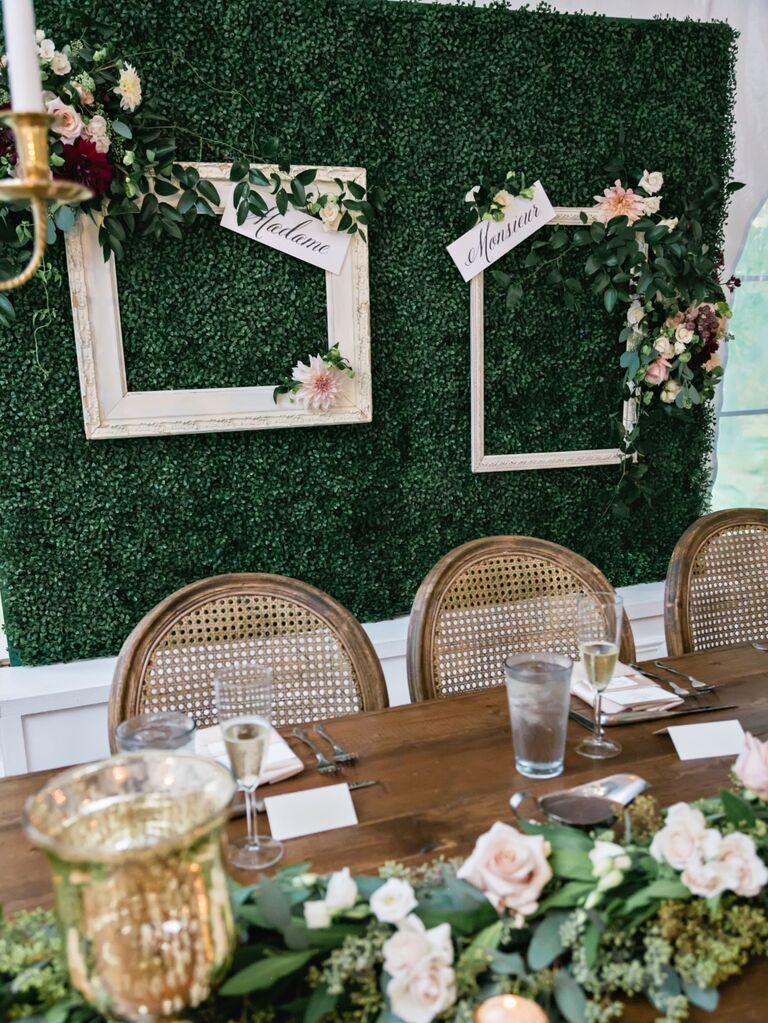 Instead of sweetheart chairs, the wedding shower had an ivy accent wall with frames behind bohemian-style wooden chairs. So when the happy couple sat in front of the frames it would like a cute picturesque moment.
Modern Bridal Shower Ideas
Don't be afraid to mix things up. Steal one of these modern bridal shower ideas for an unconventional celebration.
24. Gold-and-Teal Balloon Installation
We think the balloon installation trend is epic. Not only is it dramatic, but the installation serves as a photo backdrop for bridal shower guests to pose in front of.
25. Floral Centerpieces in White-Textured Vases
These arrangements may have been small, but the impact they had was immense. Astilbe, roses and greenery made up this modern bloom display.
26. Ghost Chairs With Monogram Decals
If the to-be-wed plans to change their last name after the wedding, consider highlighting that at the wedding shower. At this shower the new monogram was placed on chairs as custom decals.
27. One-Tier Simple White Cake
While your wedding cake may be a multi-tier masterpiece, stick with something more petite for your prewedding needs. A mini cake like this would also be a welcome addition to a bach party weekend or an engagement party.
28. Lilly of the Valley Cake Details
There's a reason the royals love to use lilies of the valley in wedding arrangements. The blooms, even in icing form, are beautiful.
29. Jewel-Tone Bridal Shower Napkins and Place Mat
Spotlighting the to-be-wed is the most important part of the event, so try to do so with as many party details as possible. The cute phrases on the napkins and place mat were a subtle way to shout out the soon-to-be bride.
Creative Bridal Shower Ideas
Feel free, with the guest of honor's permission, to get creative as possible when thinking of ideas for entertaining the crowd and keeping everyone satisfied. Take a look below to see how you can accomplish this goal.
30. Ice Cream Sandwiches
If a cake isn't the to-be-wed's cup of tea, consider an alternative dessert offering like ice cream sandwiches. This is a great option because the flavor combinations are endless.
31. Scratch-Off Game
Craft stores often have supplies to make DIY scratch-off games. Consider placing one beside each place card as a fun and simple door game.
32. Greenery-Inspired Menu
The decor at this tropical-themed bridal shower had all the right elements. Illustrated palm fronds on this menu design perfectly complemented the fresh greenery atop the tables.
33. Fresh-Squeezed Juice
Start a morning wedding shower off right with fresh-squeezed juice. This is a good option for parties that want non-alcoholic beverages for their guests.
34. Keepsake Favorite Memory Cards
In addition to having a guest book at the bash, consider including party games that will provide the to-be-wed with meaningful keepsakes of memories shared with the loved ones in attendance.
35. Custom Sugar Cookies
Reinforce the bash's aesthetic with on-theme decorated sugar cookies. This happy couple wanted duck-hunting-inspired sweets at their wedding shower.
36. A Themed Wedding Shower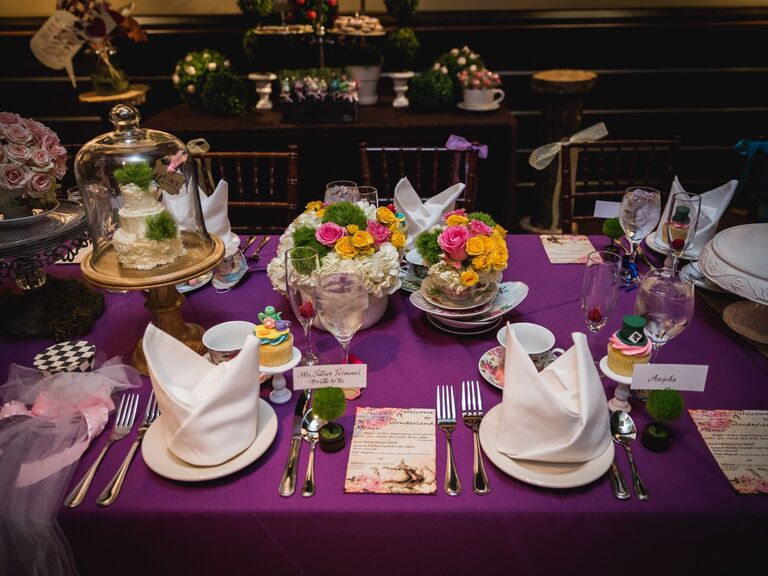 If the to-be-wed wants a themed shower that represents their passions, go all the way. The bride loved "Alice in Wonderland" books and movies, so she had a Mad Hatter tea party for her bridal shower.
Small Bridal Shower Ideas
For bridal showers with short guest lists, there are options for you too. Turn up the intimacy level to 100 with these small bridal shower ideas.
37. Pastel-Hued Mug Party Favors
For coffee lovers, consider having a coffee bar at the shower. Gift each attendee a cute mug to use that day and bring it home with them.
38. Petite Centerpiece With Roses
Roses are a great addition to any centerpiece. From bridal showers to wedding arrangements, they work well––even for non-wedding events like baby showers.
39. Lavender Party Favors
People love getting party favors they can actually use later. Guests at this event could select a bunch of dried lavender flowers or a lavender soap to enjoy.
40. Heart-Shaped Bridal Shower Guest Book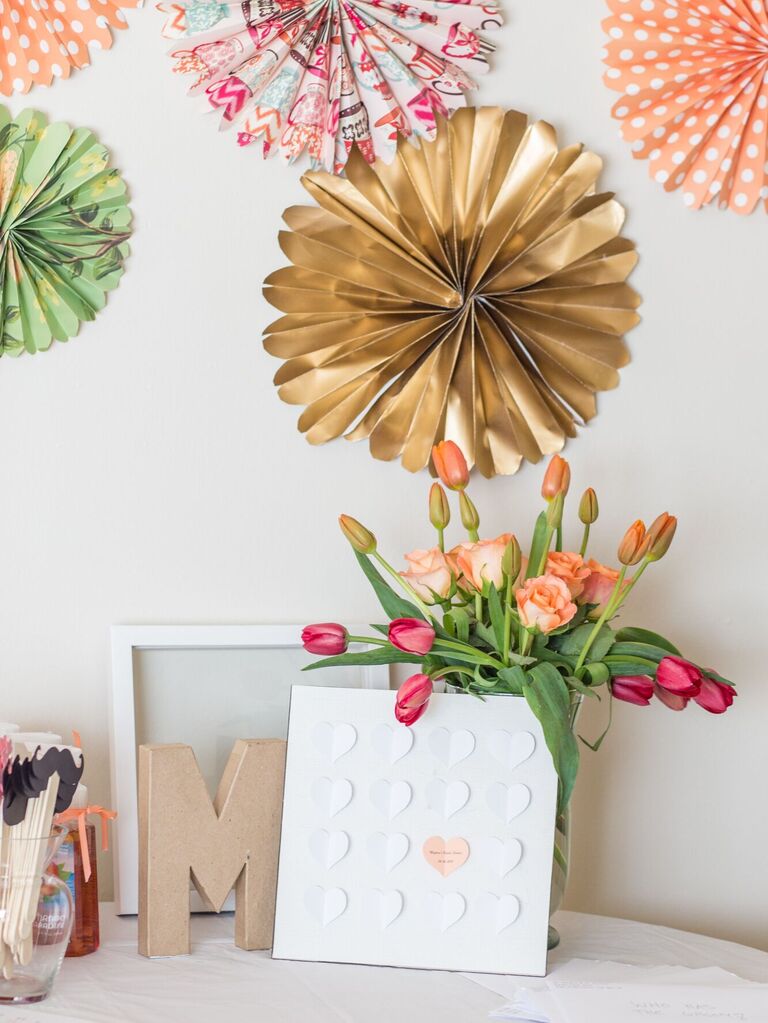 Typically, having a guest book at the wedding is customary, but there should be one at the prewedding events too. This ensures that anyone who can't make it to the big day will have their well wishes given to the couple.