Hosting a Bridal Shower to Remember: Everything You Need to Know
A well-planned shower? We love to see it.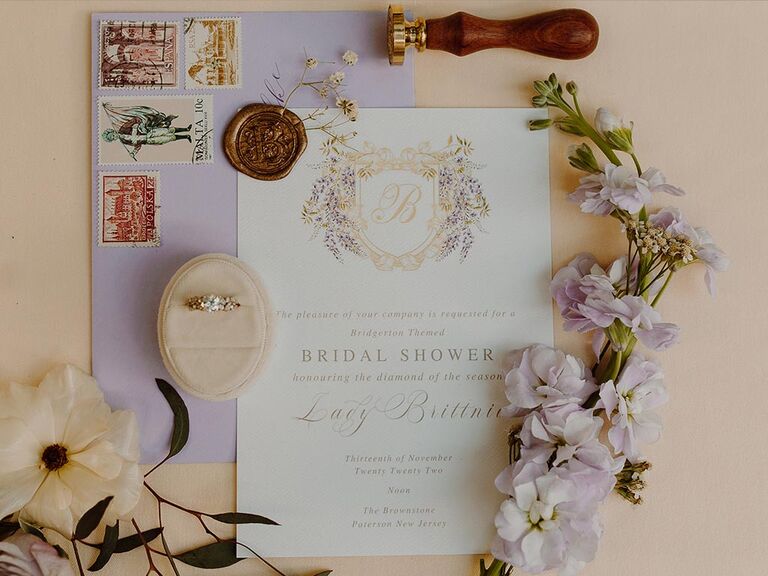 Photo: Flora Co Photography,Planning: Ride or Bride Events
On the list of exciting events that you have lined up for your wedding may be hosting a bridal shower. This traditional celebration is one of the pre-wedding events that has been practiced for hundreds of years and can be a very special time spent with close friends and family. While today's bridal showers might look a little different than those from your Grandma's day, they still serve as an opportunity to celebrate the bride and sometimes even her future spouse ahead of the actual wedding date. In fact, next to the wedding itself, a bridal shower can be the next-biggest event in terms of scale and scope
If you're just getting the planning started, you might be wondering how to host a bridal shower. Rest assured, we've got you covered. We reached out to top experts in the wedding field to get all the details on hosting a bridal shower.
Who Hosts the Bridal Shower?
Traditionally speaking, the bridal shower is most often hosted (read: paid for) by the maid of honor, however the entire bridal party should get involved with planning and celebration, explains Lilia Shatnaya, owner and designer at Plume and Stone Invitations in Brooklyn. Each person can have a delegated task that they're in charge of ahead of the bridal shower and often the mother of the bride helps with the finances. While the bride doesn't throw her own bridal shower, Shatnaya notes that she does often express her wishes as to who she would like to be responsible and plan the shower depending on her relationship with that person.
It used to be taboo for family members of the bride to host the bridal shower (it seemed like a direct plea for gifts), but nowadays, the mother of the bride and/or other relatives may host the shower if desired. It's best for the bridal party to reach out to the mother of the bride to figure out who's hosting—or if they can work together to plan the event.
Where to Host a Bridal Shower
Just as there are many options for where to host your wedding, there are endless options for where to host a bridal shower, however, the most common venue is at a restaurant or event hall because they already have food and drink built in. "If you choose a restaurant that has cute decor, that means you have less to do—and the less you have to do, the easier it is to plan and execute," explains Jamie Chang, owner and destination wedding planner at Mango Muse Events in Los Altos, California. If you're opting to host the event at a bridal shower venue, make your first stop The Knot Marketplace, where you can easily source a space near you.
For a more personal and intimate bridal shower, Chang recommends hosting it at the home of one of the hosts. "There's an undeniable warmth that comes with a home and bringing not only the bride but loved ones into it," she says. "It does take more work (cleaning both before and after, providing food, etc.), but there's no time limit, and you can feel free to sit and chat which is nice."
When Should You Host a Bridal Shower
Before you settle on a date for your bridal shower, it's a smart idea to have your wedding date locked in. This will afford you the right amount of time in between the two large-scale events. Shatnaya recommends hosting your bridal shower a solid two or three months before the wedding, as this gives you enough time to finalize plans in the weeks before the big day. "Hosting a bridal shower around this time prepares the bride for the big day, gives ample time to the bridal party to prepare the toasts and games," she says. "The bridal shower should be hosted after the wedding invitations have been sent out."
What Time Should a Bridal Shower Start?
Unlike the wedding, which is most commonly hosted into the evening hours, bridal showers tend to be daytime events—usually beginning either in the late morning or early afternoon. "If you are a morning person, brunch would be ideal for your day—you get amazing sunlight, and you feel alive and connected all day long into the night," says Jen Sulak, lead wedding photographer, Weirdo Weddings. "Some people come alive more in the later afternoon and evenings, so you could also create a special dinner and a night out if you feel that is how you roll." Learn more about the best times for a bridal shower.
Does the Host of a Bridal Shower Give a Gift?
Gifts are traditionally given at a bridal shower, and usually, the person who hosts the shower also gives the guest of honor a gift—though it can be small and sentimental (a framed photo, for example), rather than a huge present. "The planning of the party alone is so much work, including food and games, and the host or hosts probably spent a lot of their own money on it," says Sulak, whose work has been featured in many top industry publications.
What Do You Need to Host a Bridal Shower
Think of a bridal shower as a small-scale wedding. First, you'll want to create a guest list so you can get an idea of how big of a space you need for the venue. Once you have a list and know how many people are invited, you can start thinking of where to host the shower.
After the venue is secure, it's time to send out invitations. "Remember to include RSVP details as to where the bride is registered," says Shatnaya. "You may also want to write who is hosting the shower."
When it comes to food, Jacqueline Vizcaino, owner of Tinted Events Design and Planning, suggests satisfying guests' appetites by serving up loads of delicious finger foods so that guests can pick and choose what they like without having to commit to a full meal. "When it comes time to cut the cake (or cupcakes!), don't feel pressured into traditional designs—there are tons of creative recipes, so let your imagination run wild," she says. "For some added entertainment factor, why not plan games where winners can take home prizes?"
Average Cost to Host a Bridal Shower
Just as with the costs for a wedding, the cost of a bridal shower can vary significantly. "Hosting a shower can cost from $1,000 and up if you are having a handful of people with cocktails and champagne," says Shatnaya. "For a bridal shower for a larger group of people, or a sit down brunch with free flowing alcohol, expect to spend between $2,000 and $4,000." Of course, extras, such as custom cake, decor and backdrop can cost upwards of $800 and more, and inflation may mean that the average shower is more expensive now than it would have been a few years prior.
How to Host a Bridal Shower
Here are some tips to make sure your bridal shower goes off without a hitch.
Recruit the help of your bridal party.
No bride should plan her own shower. This is a job for your maid of honor, your entire crew of bridesmaids or other loved ones. "If you're the maid or matron of honor, definitely get help from the bridal party, and if you're a sibling or family member, bring in other family members to help," says Chang, who has over 14 years of experience in the wedding industry. "If you're a friend, utilize the help of other friends in the same group."
Choose a fitting theme.
Vizcaino suggests tapping into the bride's personality to dream up a unique theme that sets her bridal shower apart. "Whether it's a tropical paradise, vintage tea party, or something out of this world—let her special day be as magical as possible by incorporating that one-of-a-kind concept in every detail—from decorations right down to what food is served," she says.
Book vendors far enough in advance.
The vendors you'd hire for a bridal shower are the same vendors doing other weddings, so it's a good idea to book them ASAP. Vizcaino suggests giving yourself ample time to get everything organized "Book a florist and caterer ahead—it'll make all the difference in getting exactly what you dream of," she adds.
Set up a way for gifts to be digital or physically present.
"We all love giving gifts in this circumstance, be it cards, presents, gift cards or other types of gifts, so why not set up a streamlined way and clear communication for gifting?" suggests Sulak. "If the bride already has a wedding registry people can buy off of, make sure that is shared so it still feels personal and the bride (soonlywed) feels loved and special!"
Add memorable charm.
Shatnaya suggests making the day extra special by having guests sign a guestbook for the bride to keep. "Bring a Polaroid camera and take photos of each guest and the bride, and have the guests tape their photos inside the book," she says. "This will be an incredible memory for her whether or not a photographer was present."
Play fun games.
Bridal shower games are always a fun addition to the day. Some fun games that Shatnaya recommends playing at a bridal shower include the Newlywed Game where the couple compares answers to questions. "Advice cards can also be given out and read out loud as well as heartfelt toasts given by the closest people," she adds.