Bridal Shower Host Etiquette Q&A
In charge of planning the bridal shower? We know you're facing a sudden downpour of tricky issues, so here's a guide to troubleshooting sticky shower situations.
by the knot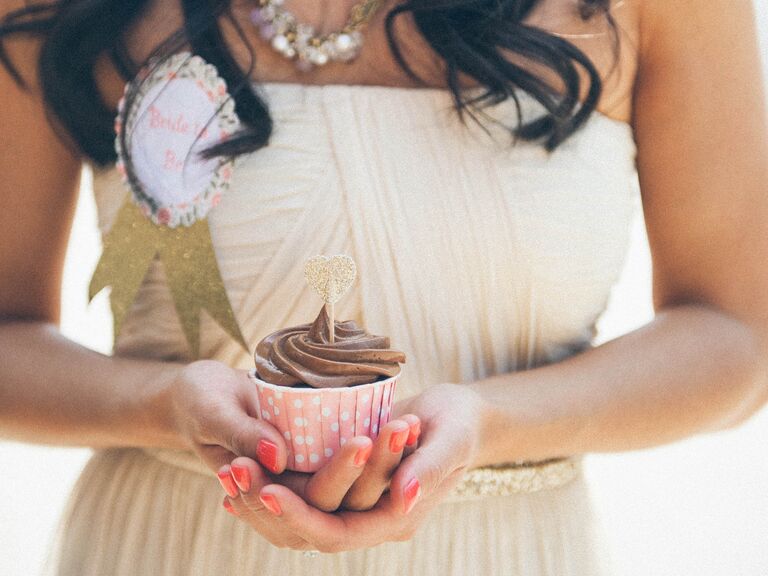 Q: I'm worried my bridal shower will be boring. How can I tell my maid of honor what kind of shower I want?
A: First things first: You really shouldn't try to take control of this party being thrown in your honor. But while we're sure your maid of honor is trying to plan a bridal shower that suits your personality, there's no reason you can't give her a little guidance. When she approaches you to decide on the date, drop subtle hints like, "Any weekend in May would be perfect, since I love the gardenlike feel of spring." Better yet, enlist a shower spy: Share your concerns with a trustworthy bridesmaid who can help steer the maid of honor toward your bridal shower ideas and your sense of style.
Q: Who is expected to throw my bridal shower? I was hoping it could be at my mom's house.
A: It's long been customary for the maid of honor or the bridesmaids to throw the wedding shower—so if any one of them is your sister, you're in luck and it would be totally acceptable to throw the bridal shower at your mom's. Your mom can take on the role of cohost—the mavens of manners no longer look down upon that as a quest for presents (after all, bridal shower gifts are usually expected no matter who's hosting).
Really, it comes down to who wants to throw you the bridal shower: your aunts, the groom's family, your mom's best friends, your college pals or even your coworkers. More brides and grooms are living in cities other than the one where they grew up, and their attendants may be from college, where they live now or elsewhere. What if the wedding is in the bride's hometown, but none of the bridesmaids live there? It's unrealistic to expect a maid of honor in Seattle to plan a shower in Chicago without help from the locals. Faraway bridesmaids and honor attendants definitely pitch in, but Mom is often party central these days, and no one's horrified.
Q: My mother's friend is throwing my bridal shower. Should I bring a hostess gift?
A: A nice, handwritten thank-you note would be perfectly acceptable, but many brides also choose to show their gratitude with a small gift, like a flower arrangement, box of treats, or lunch out on the town.
Q: My girlfriend and I want to give our friend a luncheon bridal shower at a restaurant. Who pays for the meal? My girlfriend says each guest should pay for her own meal, but I want to do the right thing.
A: If you two are hosting the bridal shower and inviting the guests, then you two should pay for it. If a luncheon seems too expensive, think about tea or dessert instead, or have the luncheon at one of your homes. It's cheaper to come up with a menu and cook it yourselves than to plan a restaurant event.
Q: I'm the maid of honor—for the second time—in my friend's second wedding. She doesn't want a shower—she's having a family wedding luncheon and not inviting many friends. What should I do?
A: Any maid of honor's job—be it a first wedding or an eighth or ninth—is to be there for the bride, listen to her wishes, and act accordingly. Your bride says no bridal shower? That's one less thing for you to do! We do understand, though, that as the maid of honor you want to do something nice for her. Think high tea for two—if she's not into tea, consider going out for coffee, drinks or dinner, or try a spa for massages. The idea is to do something together—your treat—to celebrate her upcoming wedding.
While you may not have the final say over your bridal shower style, your wedding style is totally up to you. Take our Style Quiz to find a wedding style that speaks to you.