35 Sweet Lemon-Themed Bridal Shower Decorations & Ideas
Add some zest to your party with these editor-approved picks.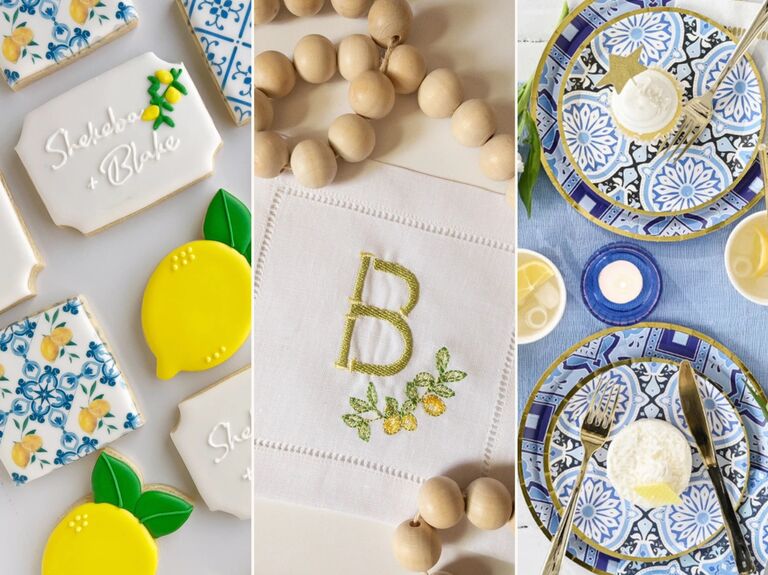 Photos, left to right: PetiteSunBakery, PlayfulStitches901, CoterieParty
We have included third party products to help you navigate and enjoy life's biggest moments. Purchases made through links on this page may earn us a commission.
If your guest of honor loves sunshine, summertime and bright color palettes, a lemon-themed bridal shower might just be the perfect fit. This trending party theme is a popular pick for bridal showers, bachelorette parties and even rehearsal dinners, whether you're actually headed to the Amalfi Coast or just there in spirit. We've scouted all of our go-to retailers for the best lemon bridal shower decorations and ideas, from citrus-themed table linens to Italian-inspired details and signs. Below, shop our picks to celebrate the bride finally finding her main squeeze.
In this story:
Editor's Picks: Lemon Bridal Shower Decorations
Want to know our must-have lemon bridal shower ideas? These standout items are worth the splurge to take your party theme to the next level.
Lemon-Themed Bridal Shower Invitation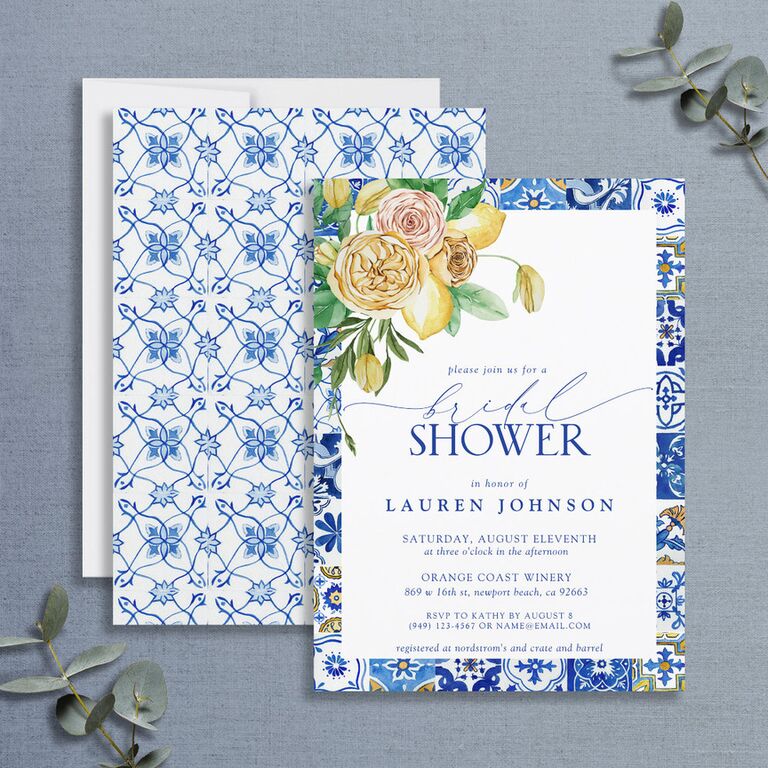 Pretty blush roses and a Positano blue tile pattern complement the bright yellow lemons on this bridal shower invitation, giving your guests a sneak peek at the theme to come. What we love about this design is that you can edit the invites by changing up the paper type, shape and corner style for a truly custom look. And if you don't want to mail hard-copy invitations, there's also an option to instantly download the template to send via email.
Tom Collins Cocktail Kit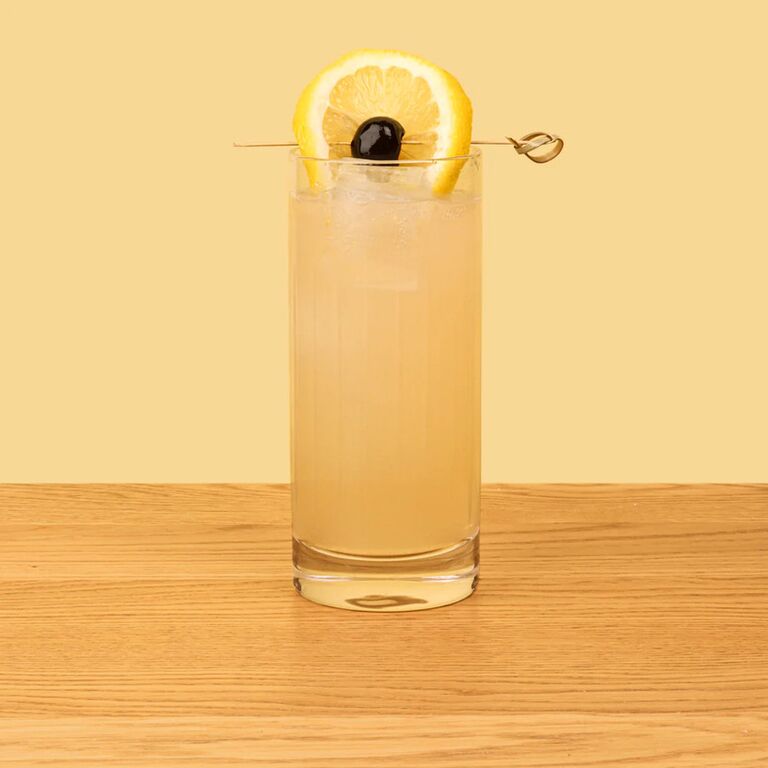 What better way to embrace the theme than by serving citrusy cocktails? This kit includes the simple syrup and lemon juice you'll need to make signature Tom Collins drinks—just add gin and optional soda water.
Handmade Lemon Blossom Candlestick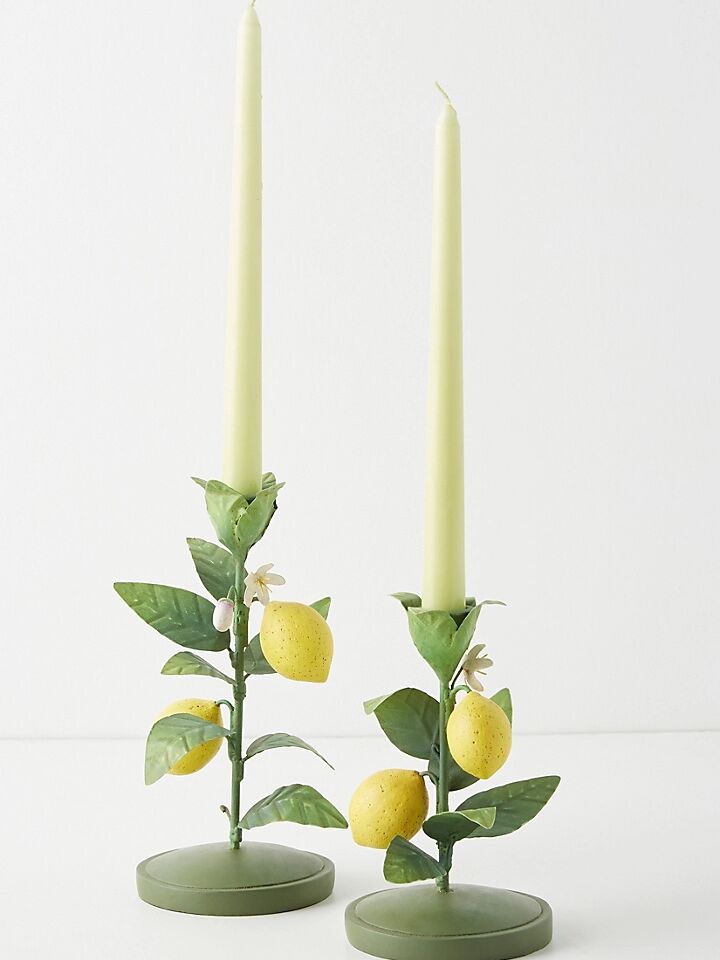 Create your very own tabletop lemon grove with the help of these gorgeous candlesticks, which you can pair with white, yellow or green tapers. As the shower host, you'll be tempted to keep them for yourself after the party ends, but you can also send them home with the bride-to-be as a sweet surprise.
Lemon Print Bride-to-Be Sash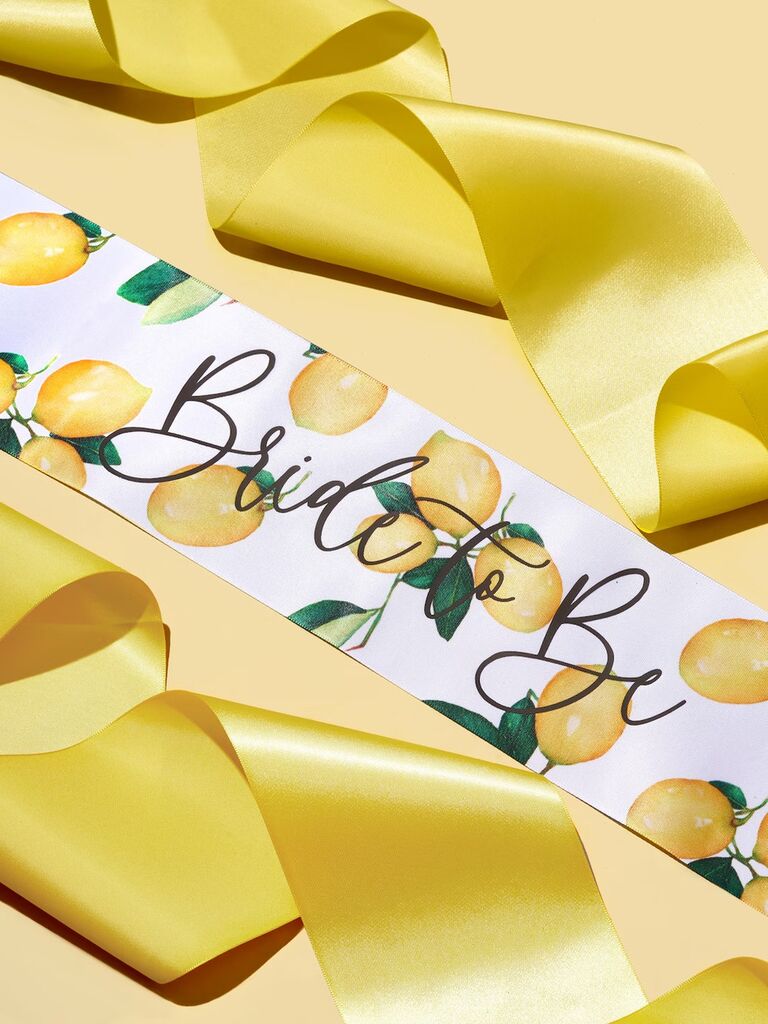 Present this fun sash to the bride-to-be as soon as she walks into the party. It's cute enough to match her bridal shower outfit while also tying into the lemon theme. Customize it by choosing from more than 20 different font colors.
Old-Fashioned Lemonade in Glass Bottles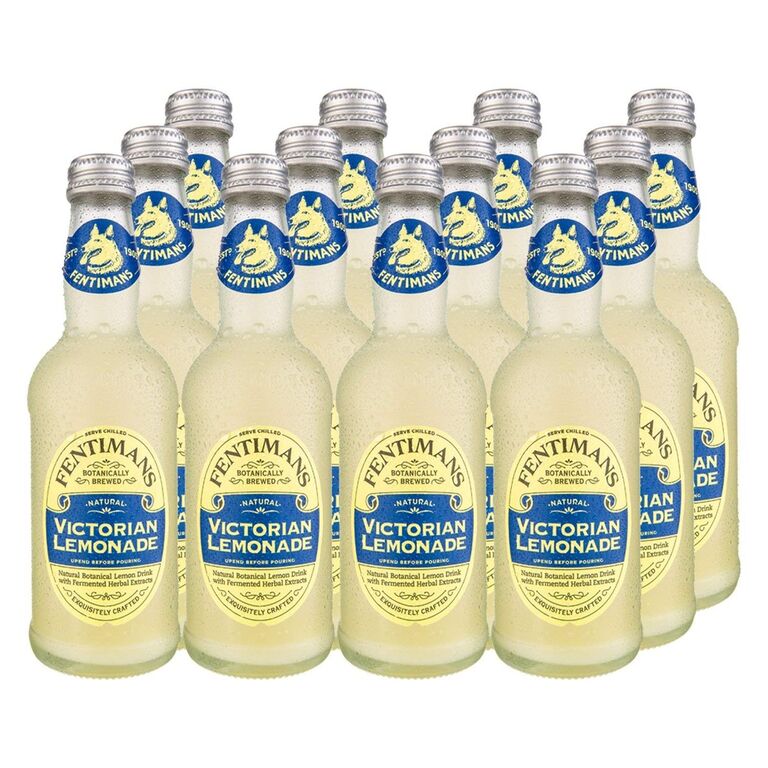 Your lemon bridal shower isn't complete without some old-fashioned lemonade (spiked or un-spiked is up to you). We can personally vouch for this small-batch lemonade, and the individual glass bottles are perfect for gifting as bridal shower favors to guests young and old.
Monogrammed Cocktail Napkin with Lemon Motif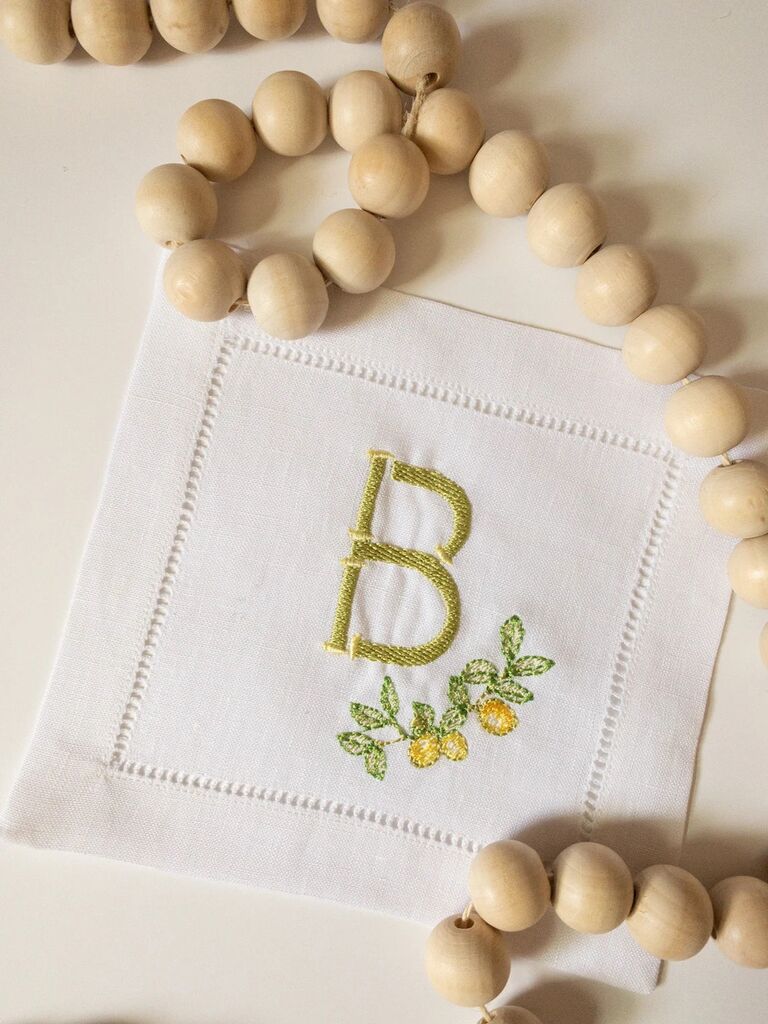 Snag one of these adorable monogrammed cocktail napkins as a little treat for the bride-to-be—and make sure her drink stays fresh throughout the party! If you're hosting a smaller group, we love the idea of giving a custom napkin to each attendee.
Lemon Bridal Shower Centerpieces
From lemon-shaped platters to colorful blue and white table runners, these centerpiece decorations will bring your tablescapes to life.
Trio of Chinoiserie Vases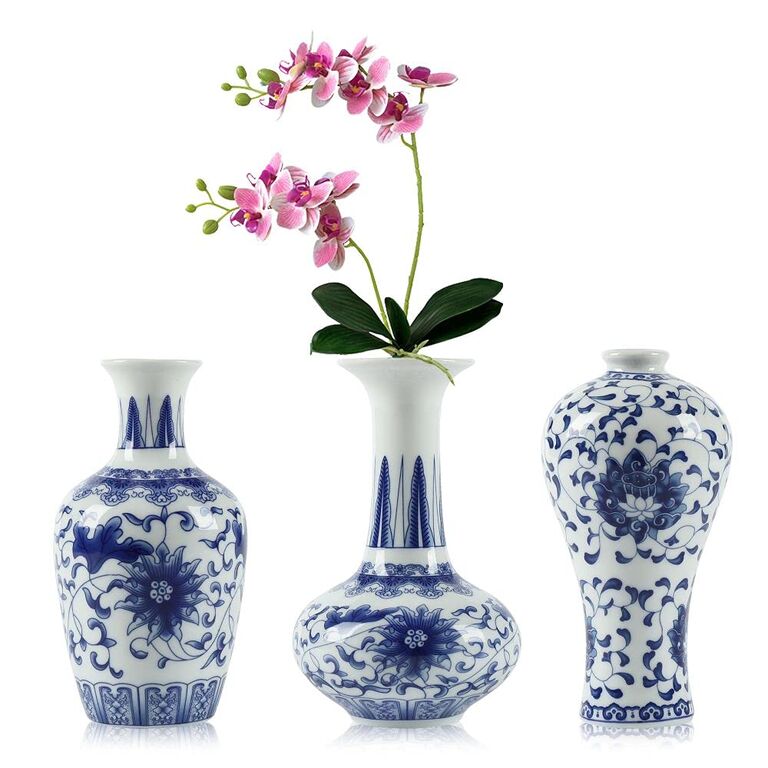 You don't need pro-level flower arranging skills to make these blue and white vases look good. Fill each vase with a few flowers and greenery branches, then cluster them together at the center of the table for a quick bridal shower centerpiece.
Ceramic Lemon Platter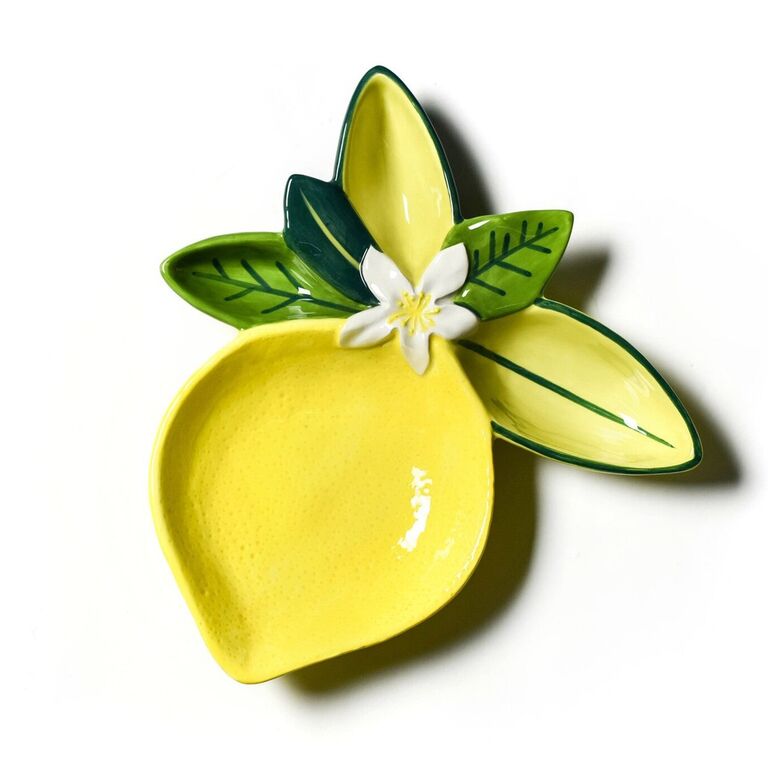 Perfect for crudités or other finger foods, this lemon platter adds a bright pop of color to your grazing table. Pair it with the matching trinket bowl or serving board for a cute set.
Blue and Yellow Table Runner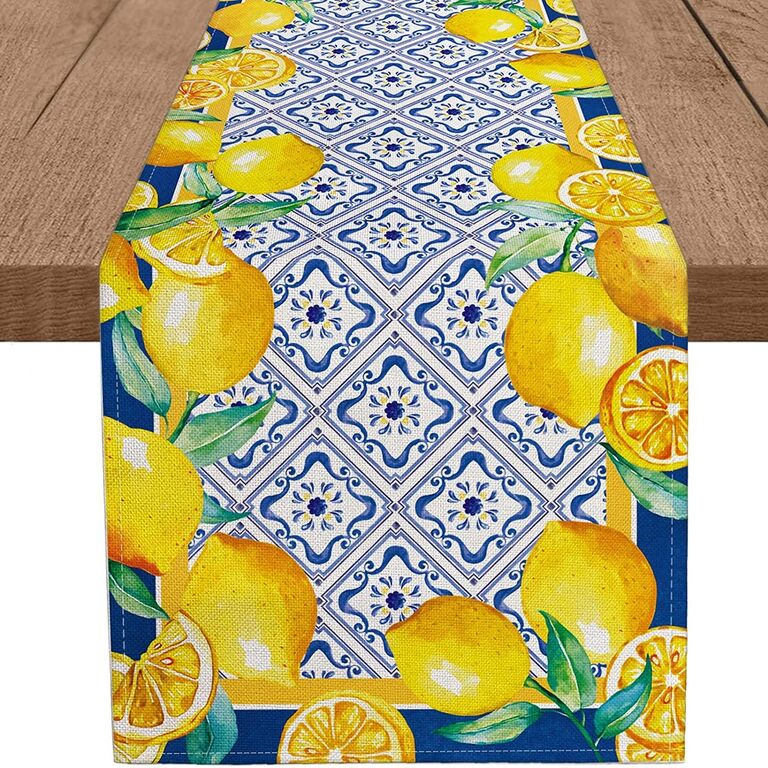 This table runner can be layered on top of a standard tablecloth or used on its own, depending on the level of formality you're going for. Place it down the center of a wooden table for a rustic Italian farmhouse vibe.
Double-Wick Citrus Candle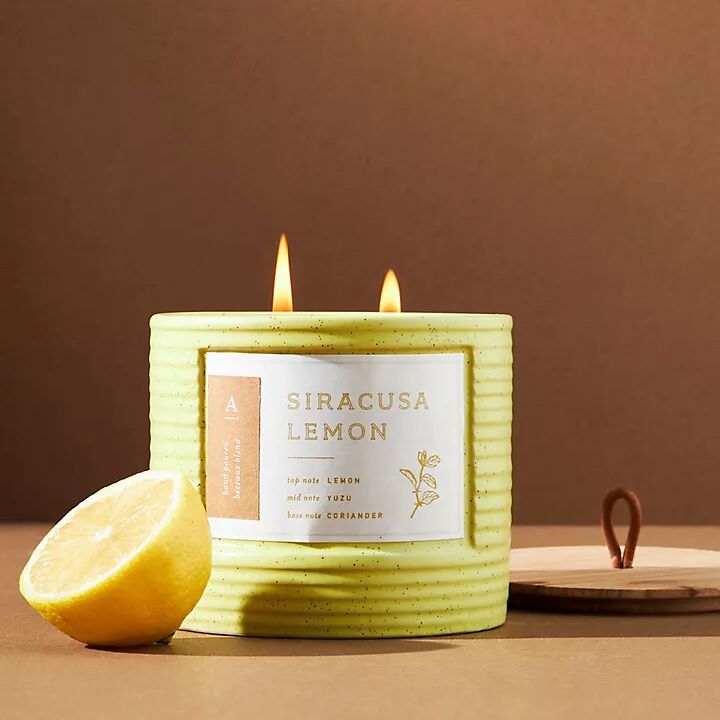 Don't underestimate the power of aromatherapy when it comes to hosting a memorable bridal shower. Freshen up the party space with a citrus-scented candle, like this one that includes notes of lemon, lime and olives encased in a cheerful yellow ceramic vessel.
Faux Greenery and Lemon Garland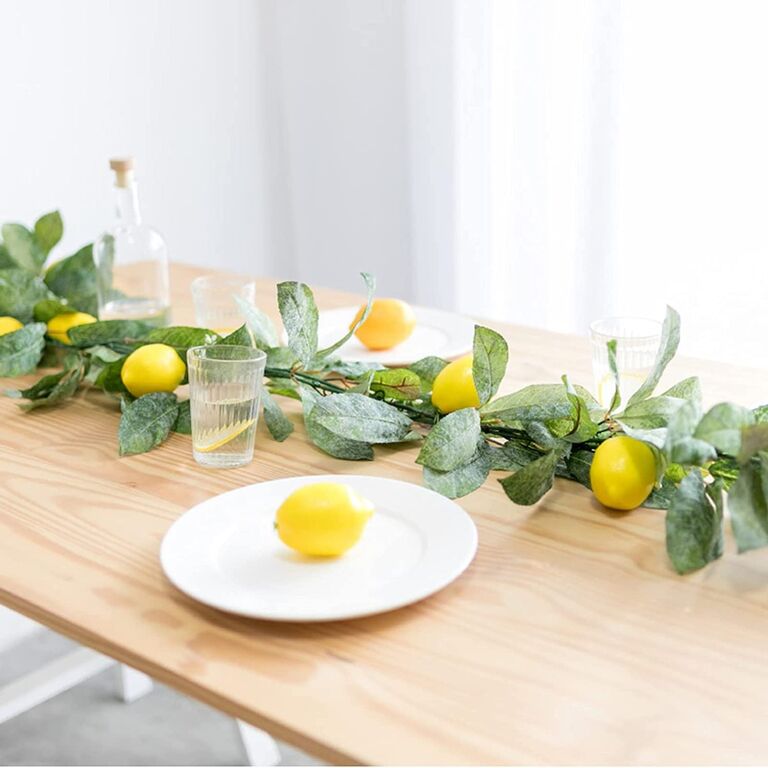 Looking to elevate your lemon-themed bridal shower centerpieces? This garland features faux greenery and lemons for a colorful (and easy) easy solution—just use it as a runner down the middle of the table. If you don't use it on the table, you can drape it around a staircase bannister or create a wreath for the wall.
Lemon Bridal Shower Table Decorations
Shop our picks for a mix of practical and decorative table items, like paper plates, cocktail napkins and cups to match your lemon-themed shower.
Main Squeeze Bridal Shower Napkins
Paper napkins come in handy for drink stations and dessert tables. This pack of 100 napkins matches the "main squeeze" party theme with a cute phrase written in gold lettering.
Blue Striped Cotton Napkins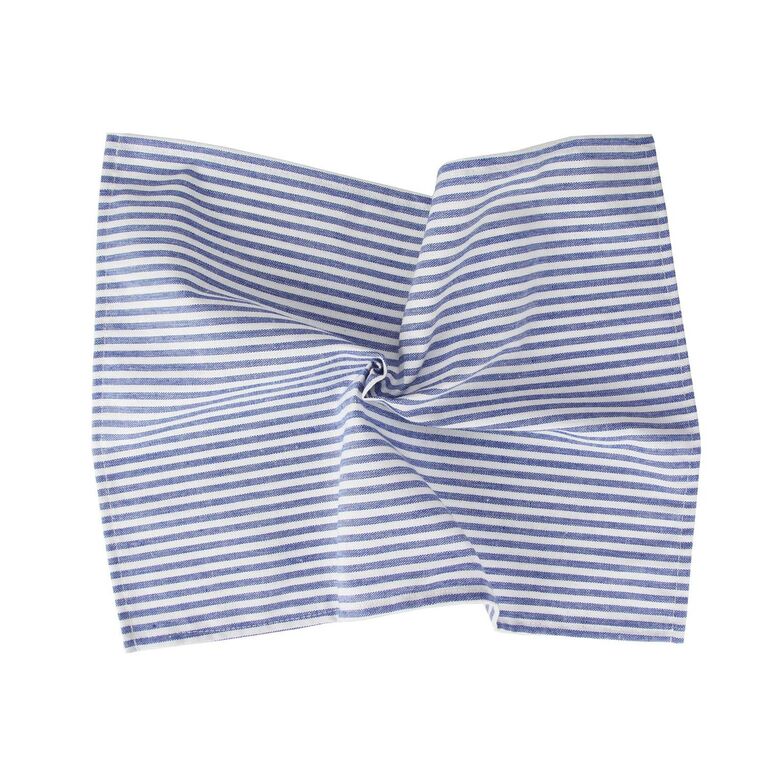 If you're hosting a sit-down meal during the bridal shower, decorate the place settings with cloth napkins for an elevated look. They'll feel fancier than paper napkins and will tie into the Amalfi coast aesthetic.
Lemon Napkin Rings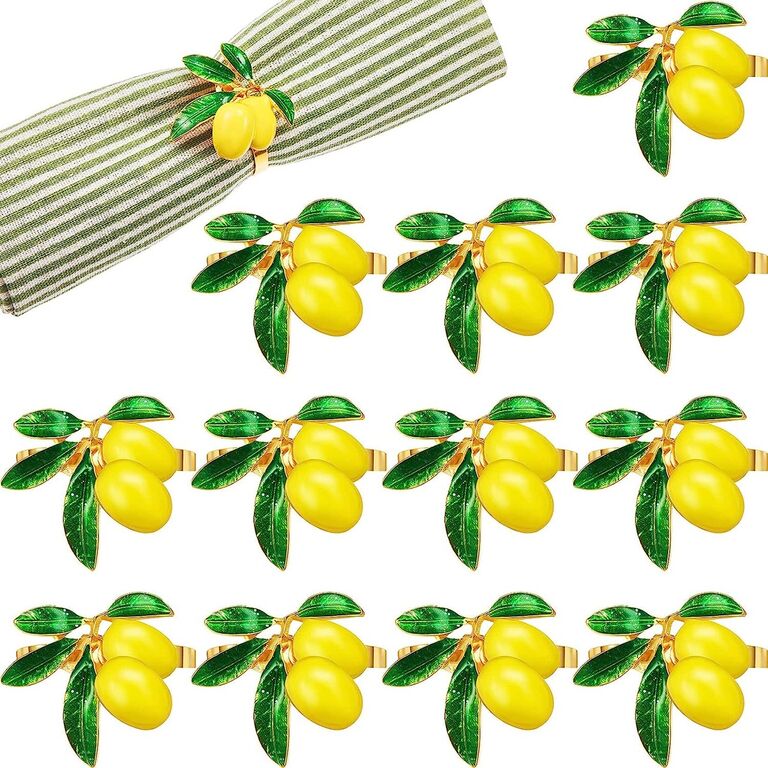 Cloth napkins give you the opportunity to finish off each place setting with a cute napkin ring. These mini lemons are a no-brainer for a lemon-themed party, and guests can take them home at the end of the day.
Blue Paper Tumbler Cups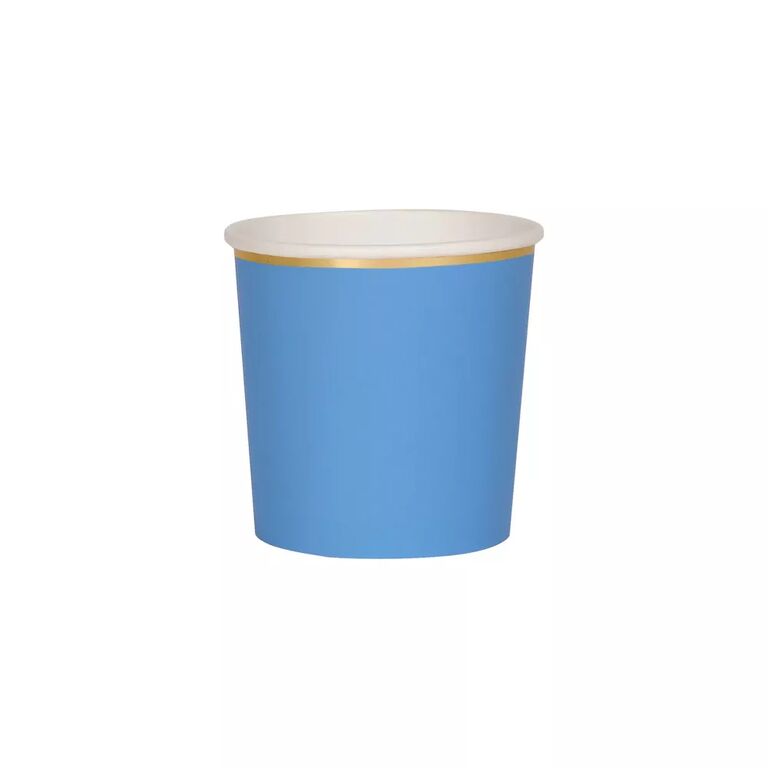 These bright blue tumblers are a practical choice for serving everything from drinks to pre-portioned snacks. Gold detailing on the rim makes them feel just a little fancier than the average paper cups.
Blue Italian Tile Print Paper Plates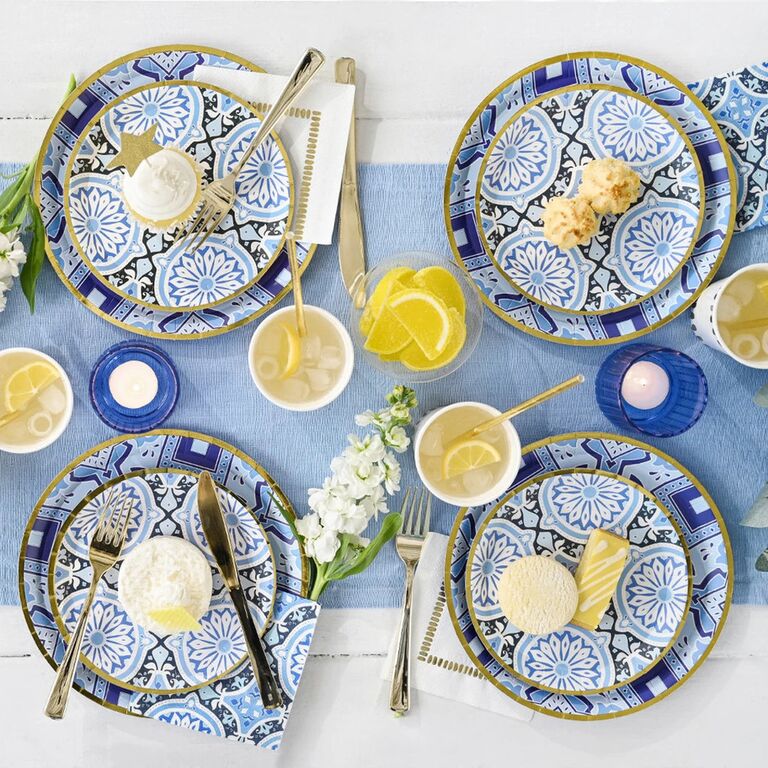 You won't need to worry about post-party clean-up with these patterned paper plates. Arrange your tables with them ahead of time, or simply put the stack of plates next to a food buffet for easy access when it's time to eat. (P.S.: You can also get the smaller plates and cocktail napkins with the matching design.)
Lemon-Themed Bridal Shower Cake Decorations
Whether you're keeping it simple with homemade cupcakes or opting for a totally custom bridal shower cake, these decorations and ideas are a nod to your cheerful party theme.
Lemon-Themed Cupcake Toppers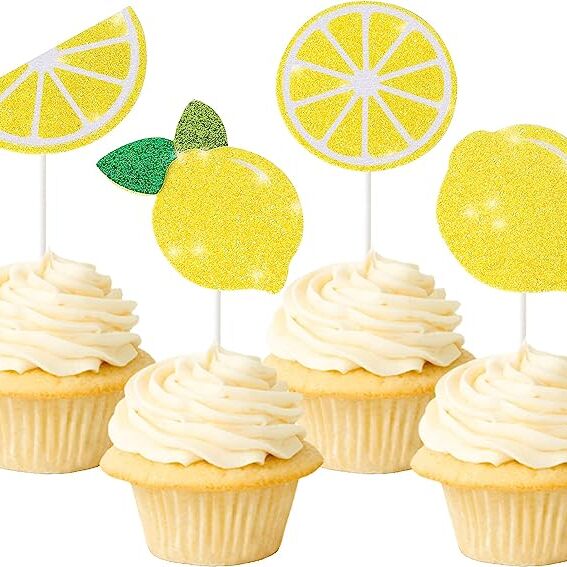 Easily upgrade a batch of cupcakes with these lemon-shaped cake toppers. The kit includes four different glittery designs for a total of 24 toothpicks, which you could also use for a charcuterie board or other hors d'oeuvres.
Customized Lemon Bridal Shower Cookies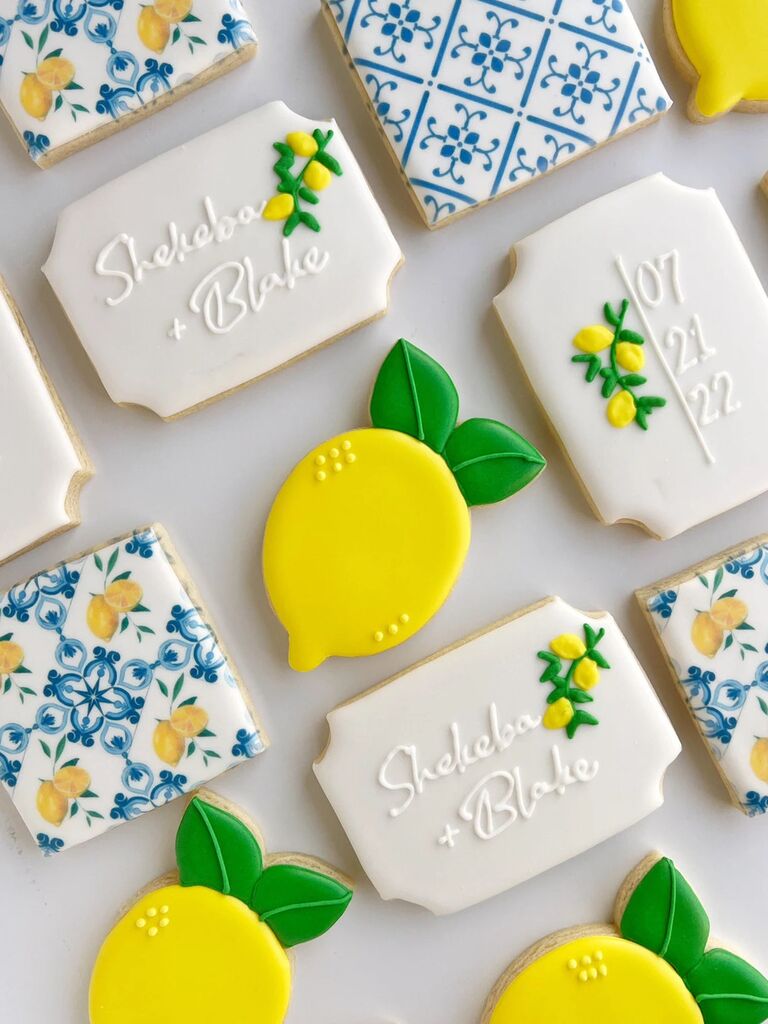 These sugar cookies are almost too cute to eat, but they're bound to be a hit for your lemon-themed bridal shower. The seller makes every batch to order and you can customize yours with a wedding date, names or monogram.
Cake with Dried Lemon Slices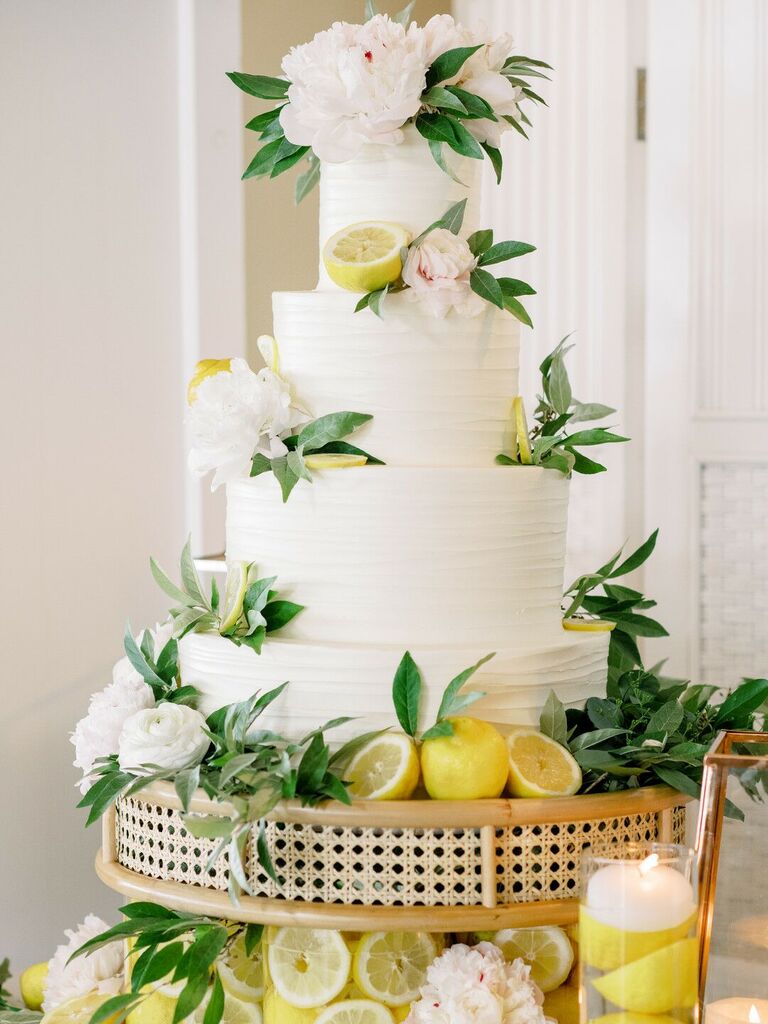 Bring some zest to the bridal shower dessert table by decorating your cake with actual lemons and flowers. Get the look by placing fresh or dried lemon slices around the sides of a round buttercream cake.
Yellow Polka-Dot Baking Cups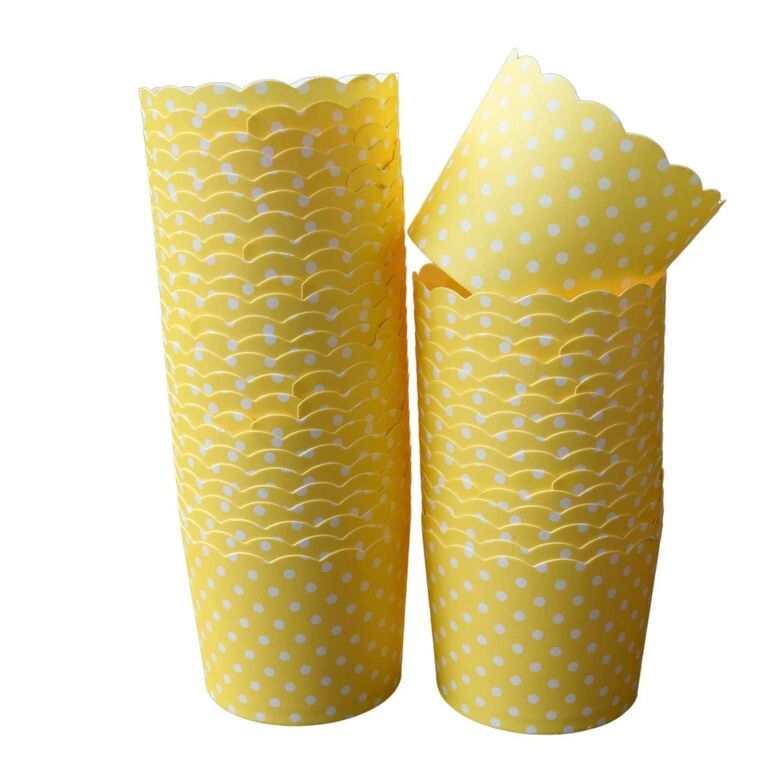 Made from food-grade paper, you can pour batter directly into these polka-dotted cups or pop them onto pre-baked cupcakes to cover up basic liners.
Edible Cake Wrapper with Blue Tile Print
Transform a plain cake in just a few minutes by adding this decorative wrapper, which features an Italian tile design printed onto a sheet of frosting using edible ink. The seller offers three different sizes to fit a variety of round cakes, from six to 10 inches.
Lemon Bridal Shower Balloons
What's a party without balloons? Check out these cute helium and air-filled options for your lemon bridal shower decor.
Personalized Helium Bridal Shower Balloon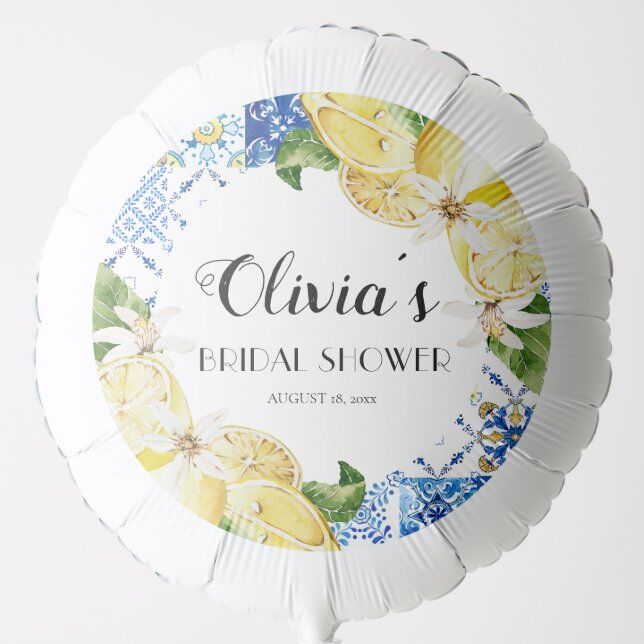 Tie this customized balloon onto the bride's chair or put it at the entrance of the party to greet guests upon arrival. Editor's note: The balloon arrives deflated, so you'll need to purchase a helium tank or have it inflated locally (at a grocery store or party supply store). The same balloon design is available in a small or medium size, which you can add to a centerpiece or gift box.
Lemon Balloon Bundle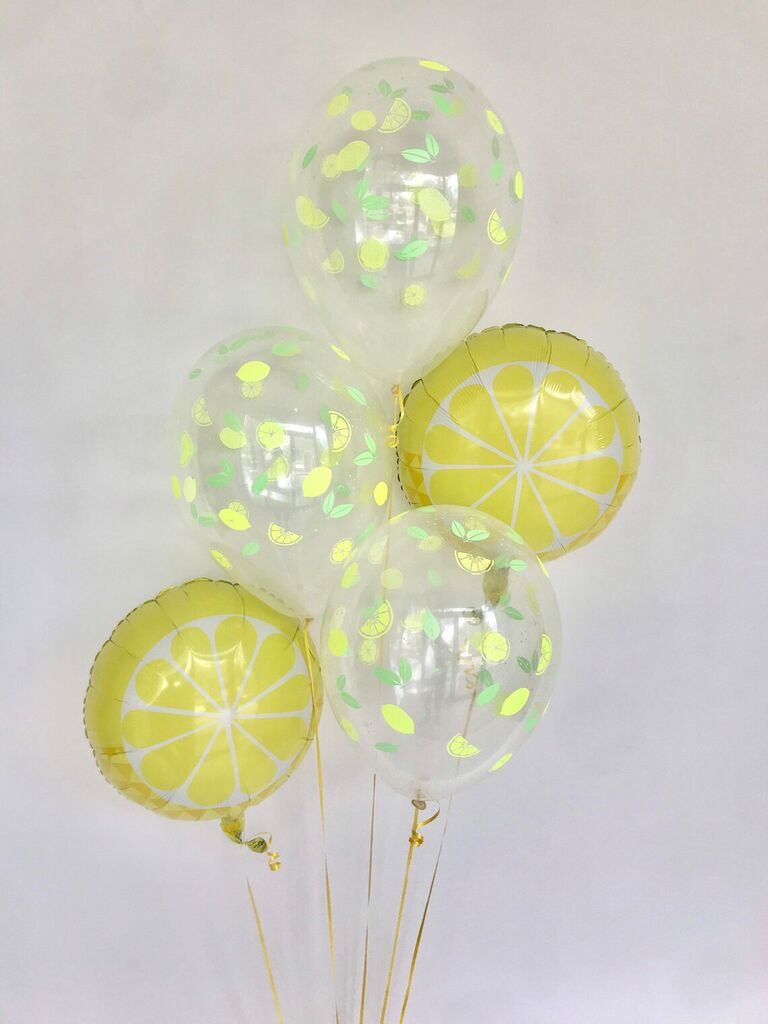 Tie these bright balloons anywhere you want to direct guests' attention: the DIY lemonade bar, the gift table or even the guest of honor's chair. Not only will these inflatables brighten up the room, they'll also provide a fun backdrop for photos. Choose from either the two mylar balloons, the three clear balloons or the entire kit.
"Yay" Gold Balloon Letters Kit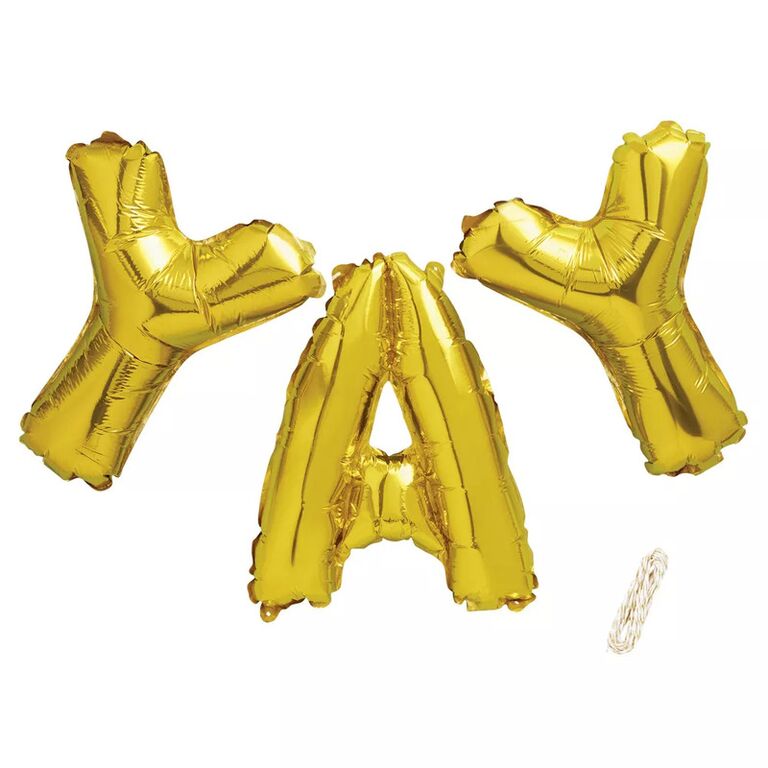 Displaying a simple celebratory message, these gold letter balloons can be strung above the bride-to-be's chair or against a blank wall as a photo backdrop. They're easily inflated with the included straw—no helium required.
Yellow Balloon Arch Kit with Ivy Garland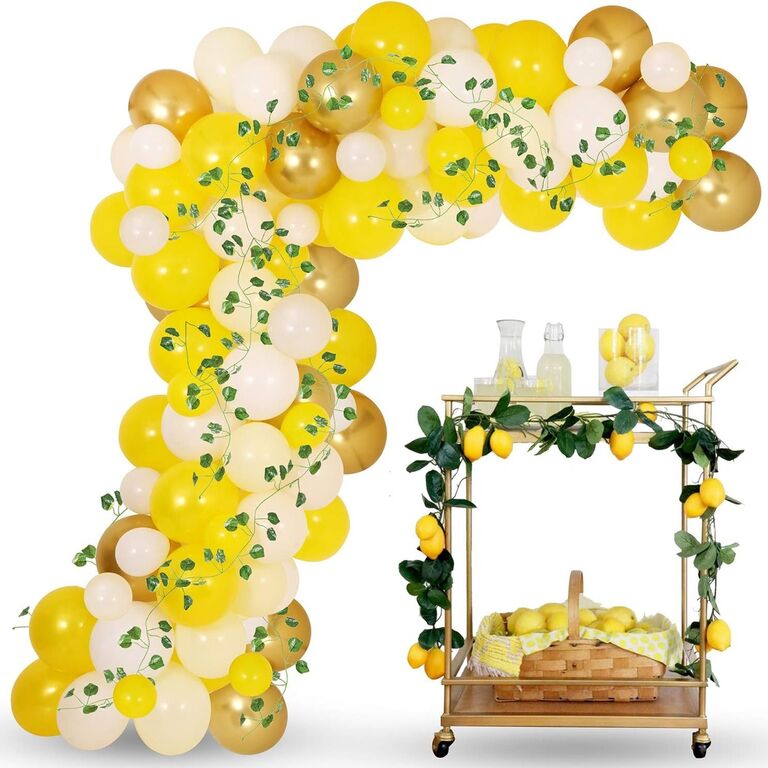 This balloon arch is a statement addition to your lemon-themed bridal shower decor. All the balloons you'll need are included in the kit, but the reviews recommend that you might want to enlist at least one other person to help you inflate and hang them. Finish off your masterpiece with the included faux ivy garland, which adds a bit of rustic flair.
Whimsical Yellow Polka-Dot Balloons
Used on their own or with other inflatables (like giant lemon balloons), we love the whimsical look of these polka-dotted balloons. The set includes a gold balloon weight and a spool of white ribbon, so you won't need to worry about making another trip to the party store for extra supplies.
Lemon Bridal Shower Games
Incorporate one or two of these bridal shower games and activities into the party itinerary, from scratch-off cards to easy print-at-home templates.
Printable Bridal Shower Bingo Cards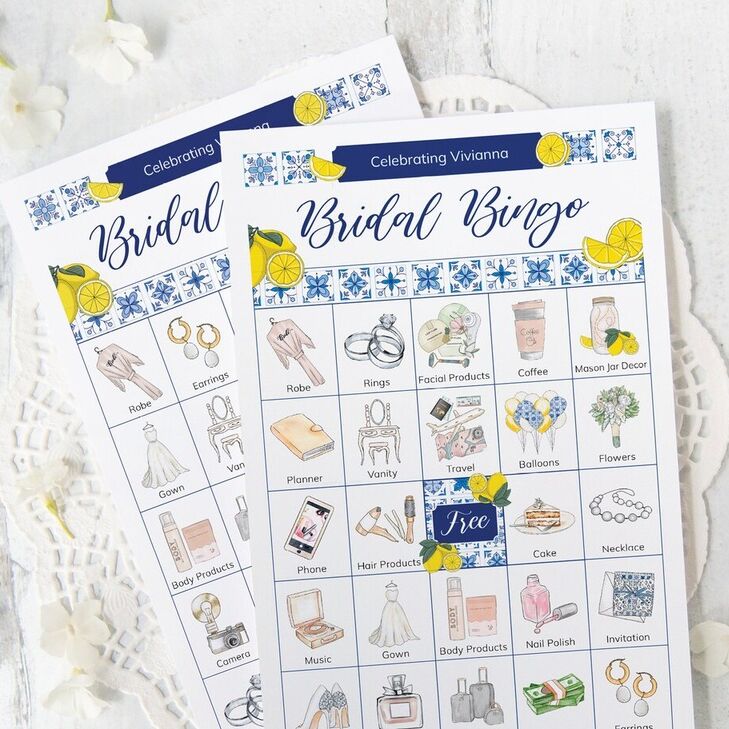 A classic game gets a wedding-themed refresh with these bingo cards you can print at home. The game is an easy way to break the ice and stir up some friendly competition at the party, especially if you have guests in a range of ages. Yellow lemons and a blue tile border bring a bit of your theme to the customizable cards.
Reveal the Lemon Scratch-Off Card Game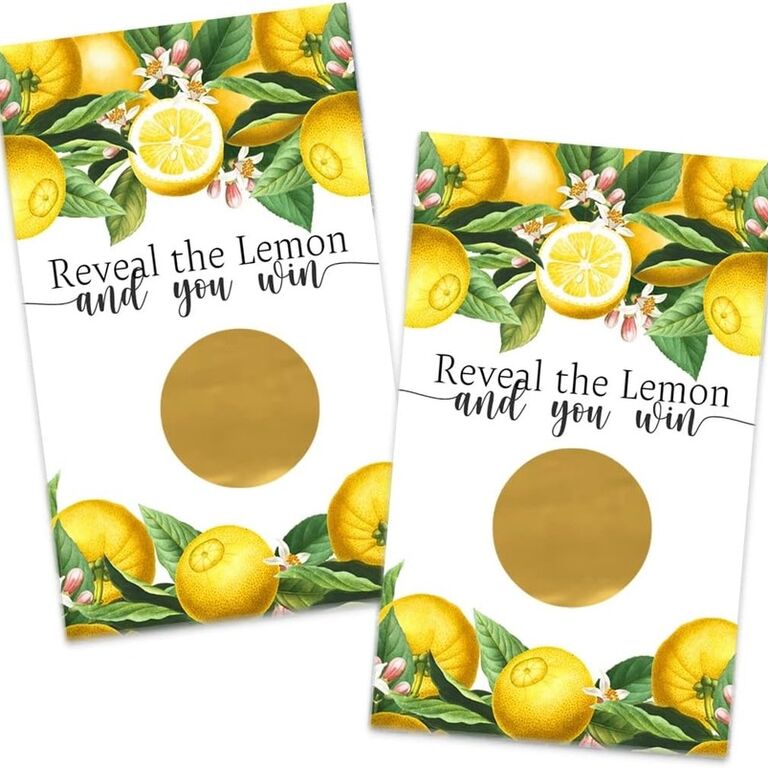 Be sure to have special bridal shower game prizes set aside for this scratch-off game. The set includes five "winning" cards and 25 additional cards—whoever's cards reveal lemons will be crowned as winners.
Lemon-Themed Bridal Shower Recipe Binder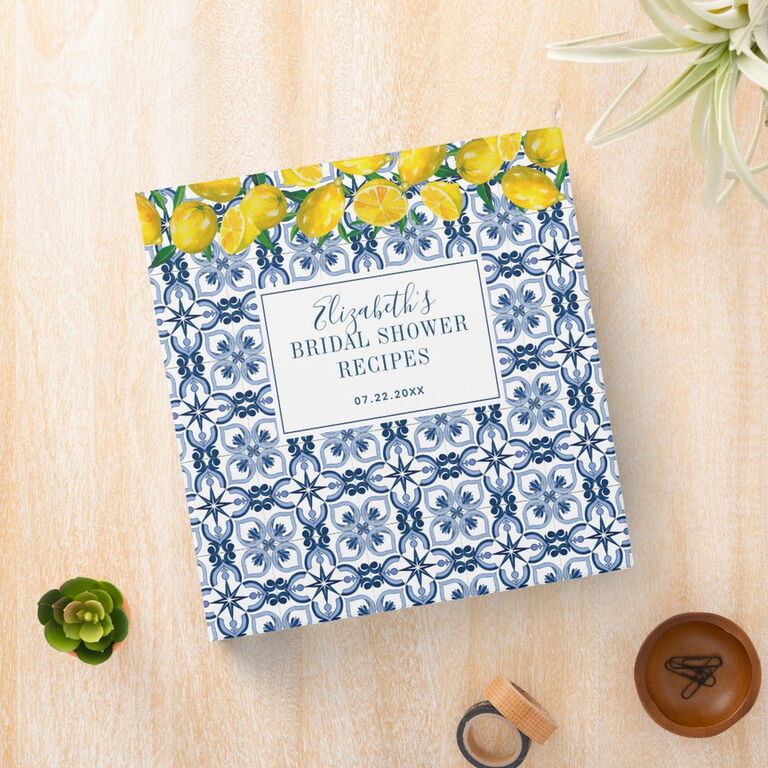 This bridal shower activity takes a little bit of pre-planning, but the payoff will be extra-special on the day of the party. Ask each guest or household to share a favorite recipe and collect them all in this keepsake binder (use the matching recipe cards for a cohesive look). The bride will love flipping through the pages, especially if she's the sentimental type.
Lemon-Themed Bridal Shower Game Bundle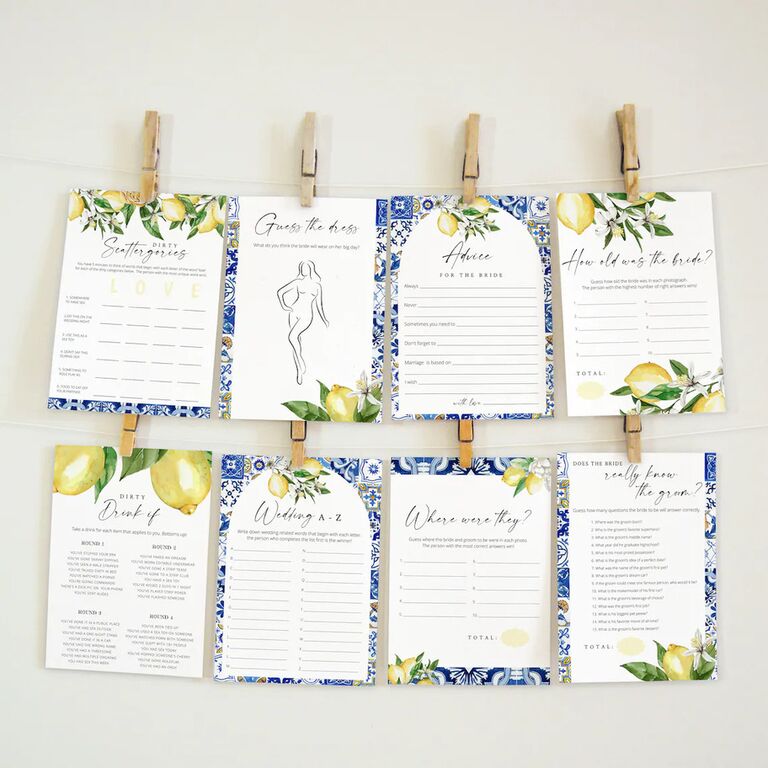 Printable bridal shower games are an inexpensive and easy way for guests to have fun and win prizes at your party. This instant download pack includes 23 games with lemon-themed designs, including Mad Libs, two truths and a lie, and an advice card.
Guess How Many Kisses Bridal Shower Game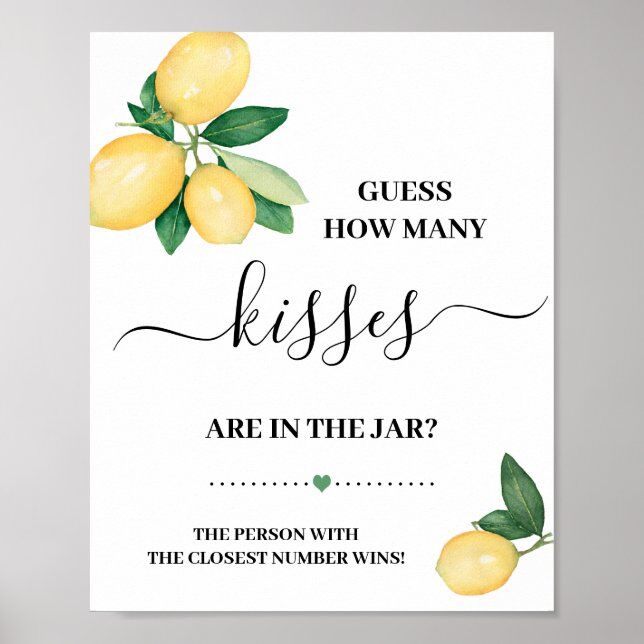 All you need for this game is a jar and some chocolate kisses. Place the sign next to a stack of notecards and a box where guests can place their bets.
Lemon Bridal Shower Signs
These lemon-themed signs are functional and decorative when it comes to adding the finishing touches to your party space.
Lemon Bridal Shower Welcome Sign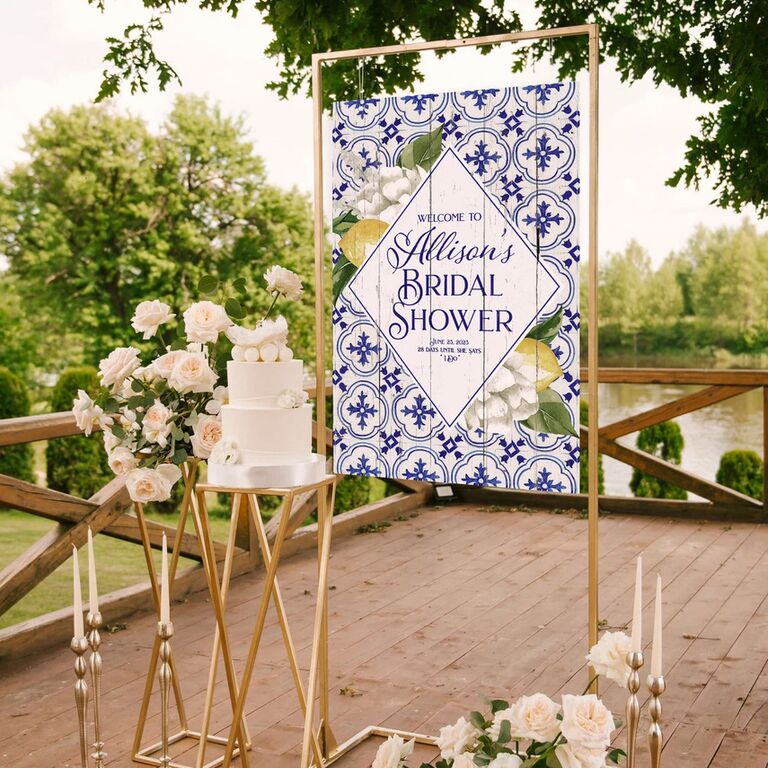 Set the tone for your lemon-themed shower as soon as guests walk in with this charming welcome sign. Available in nine sizes, you can also choose from foam or canvas material depending on your budget.
Main Squeeze Bridal Shower Banner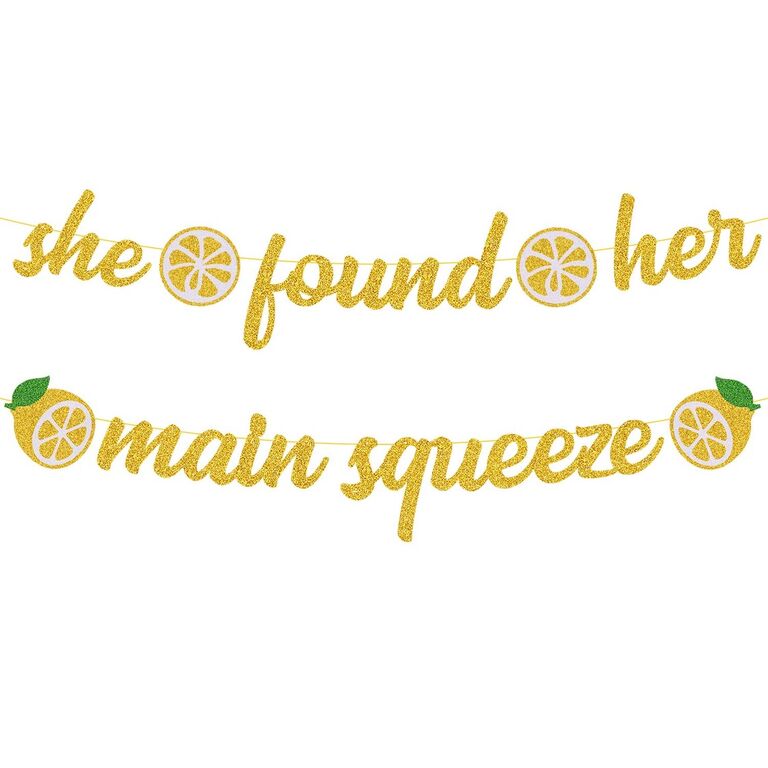 This sparkly banner is a must for a "main squeeze" theme. It arrives ready to go with string, so all you need to do is hang it above the dessert table, drink station or anywhere that needs a little extra decoration.
Lemon-Themed Bridal Shower Gifts Sign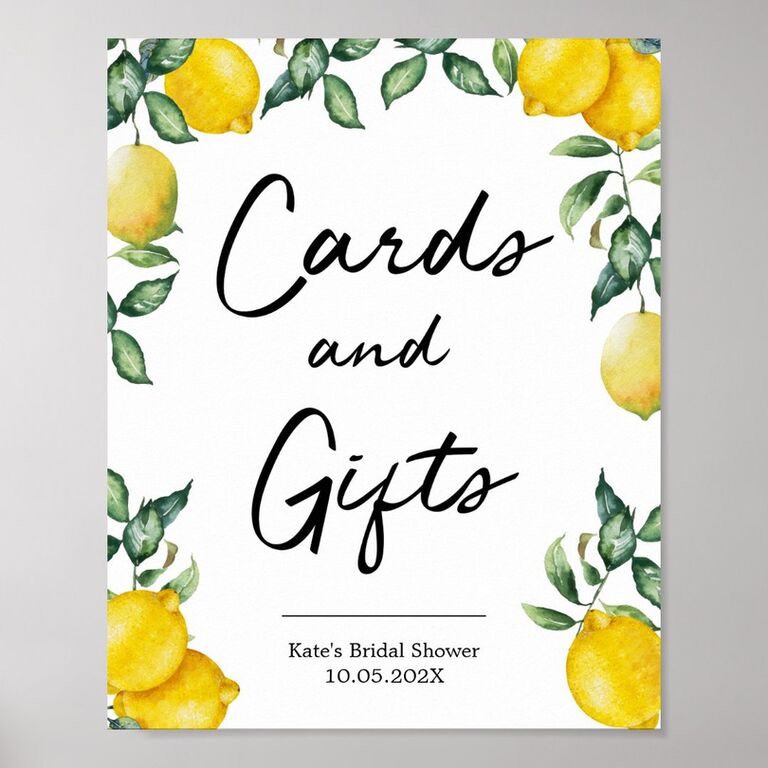 Instruct guests where to place their cards and gifts with this lemon-adorned sign. You'll find the same design on place cards, invites and other signage, so you can use it as inspo for your whole event.
Lemon Favor Gift Tags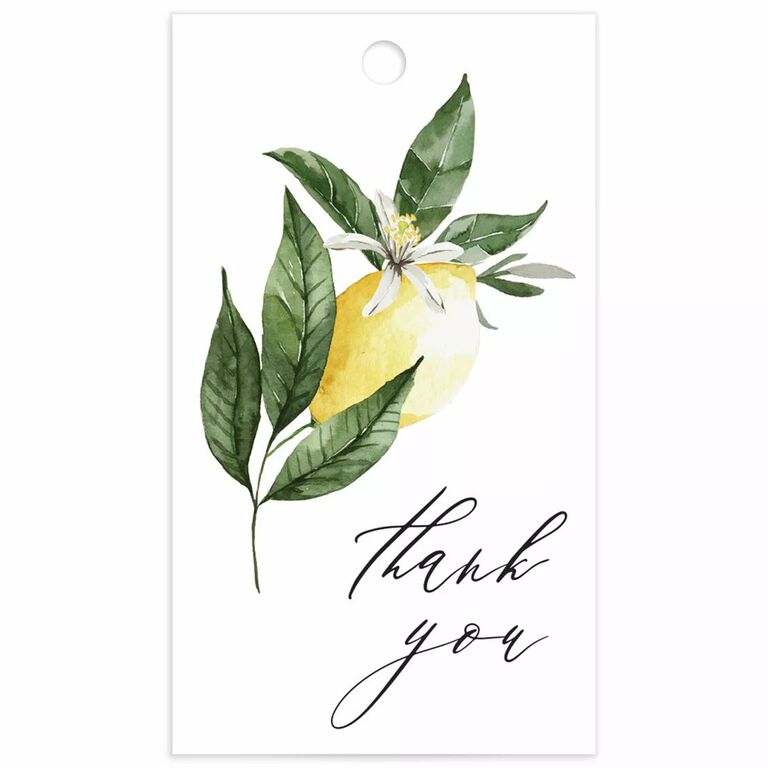 Adding a small "thank you" to your wedding shower favors is a great way to show guests you appreciate them. These favor tags feature a pretty watercolor lemon illustration, and the back can be customized with the couple's names.