18 Wedding & Bridal Shower Themes That Aren't Overdone
From a Bridgerton tea party to a cottagecore garden soirée.
A good theme can take any party from cute to simply unforgettable. If you're a maid of honor, bridesmaid or family member of a bride-to-be and you're tasked with planning the bridal shower, we're here to help. If you really want to impress the bride and your guests, you'll need a fresh theme that's actually fun. Fear not: We've got plenty of modern bridal shower ideas right here.
Inspired by Netflix shows, pop culture phenomenons and nostalgic activities, we've rounded up unique bridal shower themes that will seriously impress your guests. Consider this your first step to planning an unforgettable bridal shower. Once you've picked a theme, use this planning checklist to make the big day one to remember.
Bridgerton Tea Party
We're all a little Bridgerton-obsessed, aren't we? We've got the scoop on everything you need to know about Bridgerton-inspired wedding trends and regal wedding dresses Daphne would definitely wear. But if the bride-to-be can't get enough of Netflix's hit period drama, plan a Bridgerton bridal shower too. Give the traditional tea party shower theme a Regency-era makeover. Consult a local florist for lush floral arrangements, monochrome centerpieces and garlands of greenery. Create lavish tablescapes with elegant china, floral tablecloths and elegant place cards inspired by society papers. Invite guests to come dressed to the nines in their most regal outfits. As for the menu, serve fancy finger sandwiches, pastel cupcakes and a variety of tea flavors to take guests back in time to England circa 1811. We have a feeling Lady Whistledown would want an invite.
Cottagecore Garden Party
If you tend to keep up with internet fads, you're likely well aware of the trendy cottagecore aesthetic that's taking over social media. If you can picture yourself living in a quaint cottage on a picturesque countryside while baking bread and frolicking in wildflower fields, you fit the cottagecore vibe. Bring this whimsical style to your bridal shower with a neutral color palette, comfort foods on the menu and lush greenery throughout the space. Ask guests to come in their best cottagecore dresses for a memorable celebration.
Taylor Swift Eras
This bridal shower theme is a must for a die-hard Swiftie. Taylor Swift has had plenty of career-defining eras spanning nearly two decades. To set the scene, invite your guests to come dressed in an outfit inspired by their favorite TSwift phase (think: a sundress and cowboy boots for Fearless, an all-black edgy ensemble for Reputation, or a boho cottagecore dress for Folklore). Transform the venue with bridal shower decorations in color palettes inspired by every album, and set up plenty of photobooth props for Instagram pictures. Don't forget to craft a Taylor Swift playlist full of her best hits to sing throughout the party. (Bonus points if you organize a karaoke party for everyone to show off their performance skills.)
PowerPoint Party
You might've seen this trendy party idea on TikTok. While a PowerPoint party can work for an in-person gathering, it's a great bridal shower game to play during a virtual celebration at home too. A few weeks before the event, ask guests to prepare a PowerPoint presentation about any topic—the more creative, the better. Since you're celebrating a bride-to-be, consider asking everyone to keep the topics focused on weddings (like rounding up which celebrities would be fun wedding guests, ranking the most unforgettable Say Yes to the Dress moments, or rating wedding dresses from your favorite rom-coms). A PowerPoint party is an easy way to get everyone involved and keep the energy high.
An Astrology Bridal Shower
If the bride religiously checks her horoscope and uses a daily zodiac app, she'll be delighted by an astrology-themed bridal shower. Hire a professional astrologer to read everyone's birth chart and make predictions based on their astrological energy. We have a feeling guests will be impressed by this creative wedding shower idea.
The Bride's Final Fiesta
It's one of the bride's final fiestas before married life, so celebrate accordingly. If your crew never misses a Taco Tuesday, this fun bridal shower theme is a must. Put your mixology skills to the test by creating a variety of margarita flavors to accompany tacos, nachos, quesadillas and tostadas.
Emily in Paris
Looking for a fresh take on the Parisian-themed wedding shower? Plan a soirée inspired by Emily in Paris, Netflix's kitschy rom-com series about an American influencer navigating life as a Parisian. Create a menu inspired by the finest French foods (read: cheese, wine, croissants and plenty of baguettes). To customize this cute bridal shower theme, replace "Emily" with the bride-to-be's name. Purchase French-themed shower decorations to make it feel like you're celebrating along the Seine. Don't forget to make a playlist of French café jazz music for romantic ambiance.
Coachella Festival
Transport your crew to Indio, California with a Coachella-inspired bridal shower. Perfect for music-loving brides, this unique bridal shower idea is a fresh take on the boho theme. Create a playlist lineup of the bride's favorite songs, and use Coachella's iconic font on the invitations and the party signage. Don't forget to offer guests flower crowns and summery accessories to pretend you're soaking up the West Coast sun.
Stock the Bar
A stock the bar party is just right if the to-be-weds are wine and liquor connoisseurs with a wedding registry full of cool barware. This unique idea is a little different from a typical wedding shower because guests are invited to bring an alcohol-centric item from the couple's registry or a bottle of alcohol to help them stock the bar in their newlywed home. If you're in search of a good coed wedding shower idea, this is it. What better way for their closest friends to meet, mingle and celebrate the happy duo?
Breakfast at Tiffany's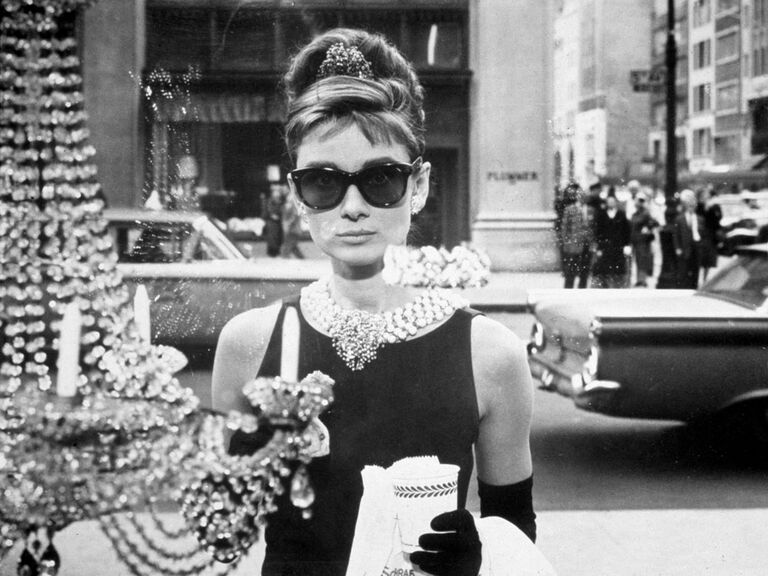 Upgrade the traditional mimosa brunch shower idea with an Audrey Hepburn-approved twist. Decorate your space with Tiffany blue decorations and glittery accents. Serve guests croissants, coffee and bubbly beverages to channel Holly Golightly's iconic ritual of having breakfast in front of Tiffany's. Invite guests to come dressed in black mini dresses, and supply strands of pearls to emulate the classic film.
Bravo Bridal Shower
You might have heard of a Bravo-themed bachelorette party, but what about a Bravo-themed bridal shower? If the bride-to-be has a serious obsession with the Housewives, Vanderpump Rules, Below Deck or Summer House, this fun bridal shower theme will help you "whoop it up" like never before. Use our guide to shop the best Bravo-themed decorations, gifts, clothing, party favors and printable games to plan a celebration that's genuinely cool—not uncool.
Pajama Party
You're never too old for a pajama party. We love this nostalgic bridal party theme, and not just because the dress code is super comfortable. Invite guests to come dressed in their favorite pair of PJs, and consider giving them customized robes or slippers as party favors. Plan a menu inspired by your favorite breakfast foods—we can't think of anything better than spreads of waffles, pancakes, French toast along with a mimosa bar.
Charity Shower
For the couple who's lived together for a while and don't see the need for traditional shower gifts (like cookware and bath linens), why not use the wedding shower to pay it forward? This unique bridal shower theme could also work for anyone who'd rather not be the center of attention at a gift-giving extravaganza. Instead of having guests bring gifts to the bridal shower, ask them to give a donation to benefit the couple's favorite organization.
Napa Valley Wine Experience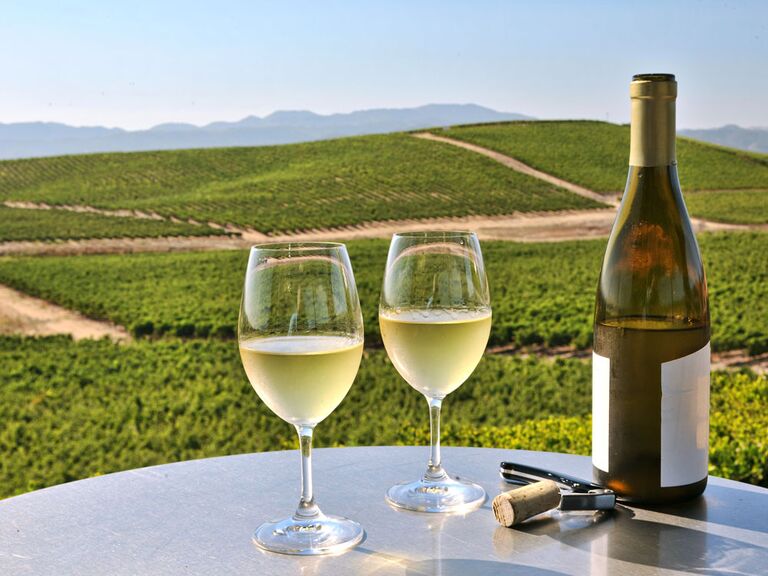 Oenophiles, take note. If your guest list is down to travel, take the crew to Napa Valley for a weekend of winery hopping and sightseeing. But don't stress if domestic travel isn't in the budget—bring Napa to you with a DIY wine tasting weekend. Visit your local wine trail (or hit up the nearest liquor store) to get a variety of blends to sip while celebrating the soon-to-be newlyweds. Give guests personalized wine glasses as party favors.
Glamping
Perhaps your crew loves the great outdoors. If you'd rather spend a day checking out a local hiking trail than sipping on champagne, organize a glam camping (or glamping) excursion for the bride and her wedding party. Kick off with a small party like brunch at someone's house to open gifts. Then head out for a fun, outdoorsy activity like a hike or bike ride. Sure, it's a little unconventional, but it can definitely work for the right crew. Make the activity optional and for all ability levels. For those celebrating with older family members and friends, consider a less physical activity, like an outdoor picnic at a local park. Towards the end of the evening, make a campfire to roast marshmallows and enjoy the views.
Lemon-Themed Bridal Shower
How about a citrus-themed bash for the bride-to-be? A lemon-themed bridal shower is an excuse to decorate your space with bright colors and serve refreshing beverages and savory treats. Make the bar look like a lemonade stand for a nostalgic touch (and serve a signature drink garnished with fresh citrus). As for the menu, offer lemon-infused dishes and treats. Quirky lemon and citrus decorations will make this a bridal shower theme to remember. Shower guests will be seriously impressed by your attention to detail.
Top Chef Cook-Off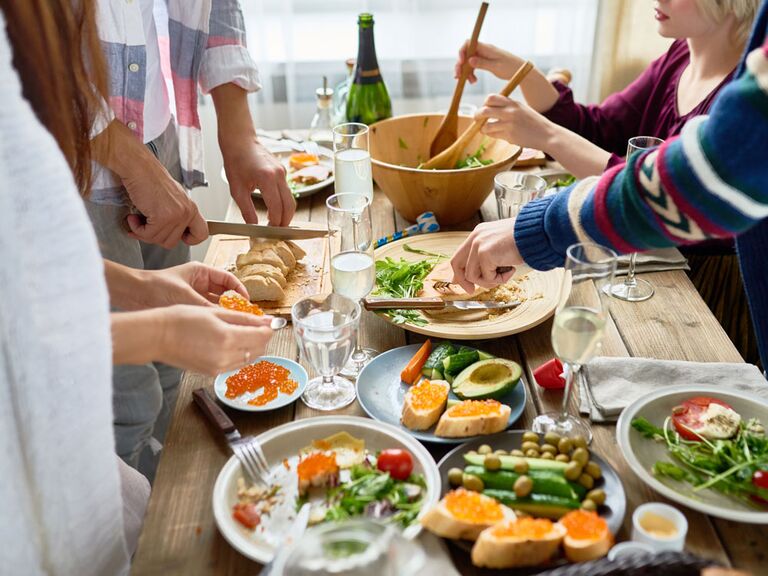 Cooking classes are a fun way to spend time with your inner circle—plus, they'll help you pick up a few new skills too. If the bride loves experimenting in the kitchen, treat her to an afternoon of cooking lessons. Hire a chef to lead your group, then host a friendly cook-off to see who can make the best dish. Regardless of who wins, everyone will get to indulge in a delicious meal at the end. What could be a better prize?
A Nautical Clambake
Bring classic New England charm to your bridal shower with a nautical clambake theme. Offer guests a feast of fresh lobster, crab legs, mussels, quahogs and shrimp to pretend you're celebrating in the Hamptons. Decorate with a navy and red color palette, and fill mason jars with seashells for a true seaside feel. Any beach bum will love this creative bridal shower idea.