Let Your Love Bloom With These 22 Spring Wedding Shower Invitations
Spring showers mean plenty of flowers... especially on your invites.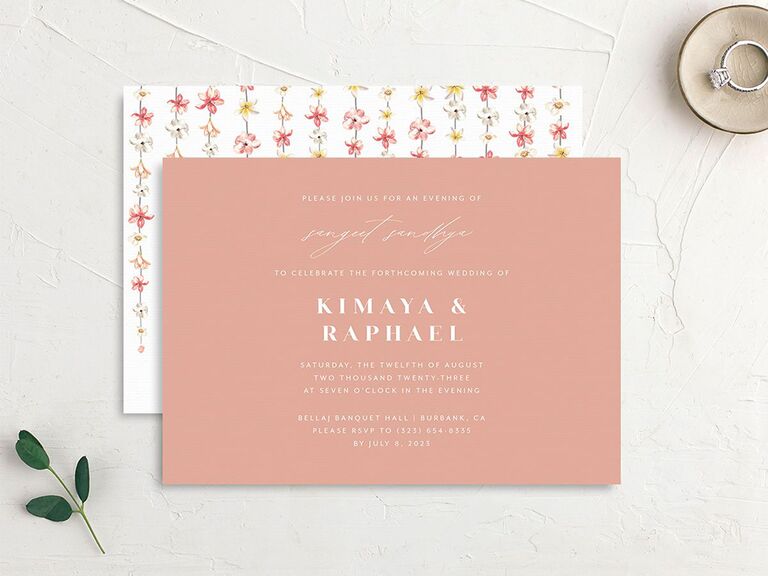 We have included third party products to help you navigate and enjoy life's biggest moments. Purchases made through links on this page may earn us a commission.
Centered around pampering a newlywed-to-be (or both partners for a couple's shower), the bridal shower kicks off prewedding party festivities, allowing loved ones to shower the guest(s) of honor with well-wishes (and gifts). Spring bridal shower invitations should reflect the season, so we've picked out gorgeous stationery options for all kinds of tastes (including a bunch from our very own The Knot Invitations). The season is also the ideal time for several popular bridal shower themes, like a garden party or outdoor bridal brunch with bubbly—and we've got wedding shower invitations perfectly matched to those occasions, too. Want to keep it simple? Stick with simple garden florals and personalize the invite details to fit your planned wedding shower theme.
Friends and family members on your guest list will need to know the date well in advance so they can mark it on their calendars, make travel plans and take time to choose the perfect gift. So, while it may feel far away right now, with on-trend details like watercolors, flowers, greenery and pretty pastel colors, these invitations will have your attendees eagerly awaiting spring.
The Knot Watercolor Crest Bridal Shower Invitations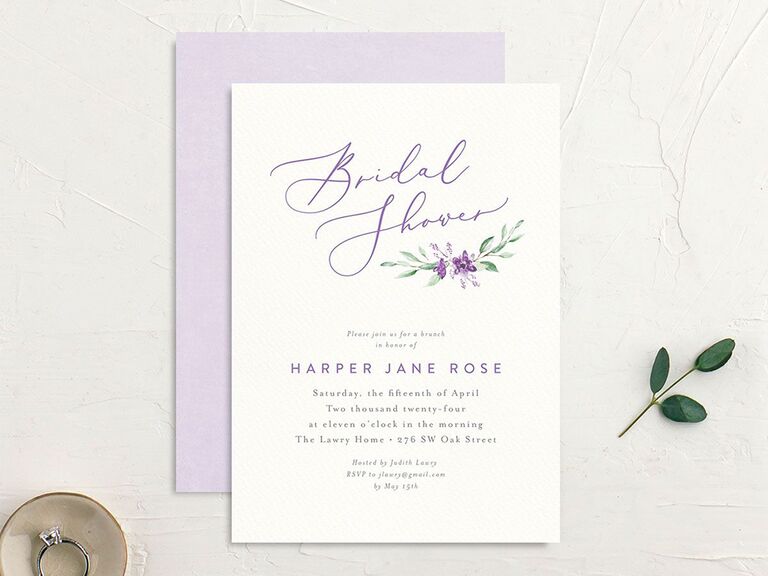 With gorgeous looping script and an understated watercolor floral accent, these invitations are especially seasonal in purple. The color-coordinated matching envelope adds an extra-special touch, don't you think?
The Knot Romantic Calligraphy Bridal Shower Invitations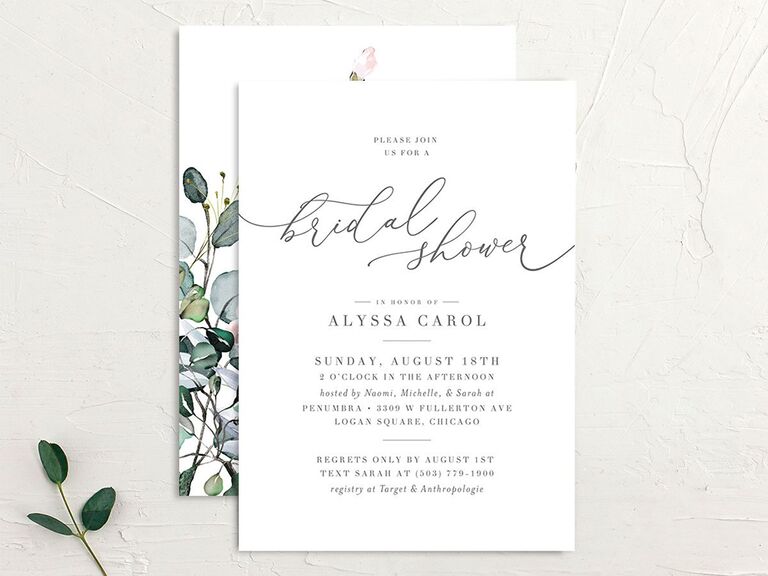 The flirty calligraphy here is definitely a draw, but it's the full-page watercolor illustration of flowers and greenery—on the back and lining the envelope—that truly top off these spring bridal shower invitations.
The Knot Elegant Hydrangea Bridal Shower Invitations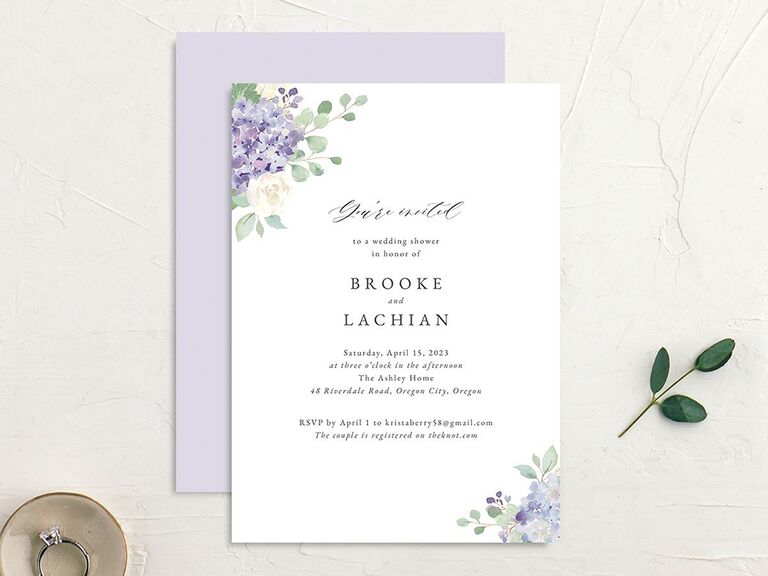 If there is anything more lovely than one hydrangea, it's two hydrangea blooms offsetting your bridal shower party details. Carry the motif to your celebration with slews of hydrangea in mason jars dotting the tables.
The Knot Minimal Floral Bridal Shower Invitations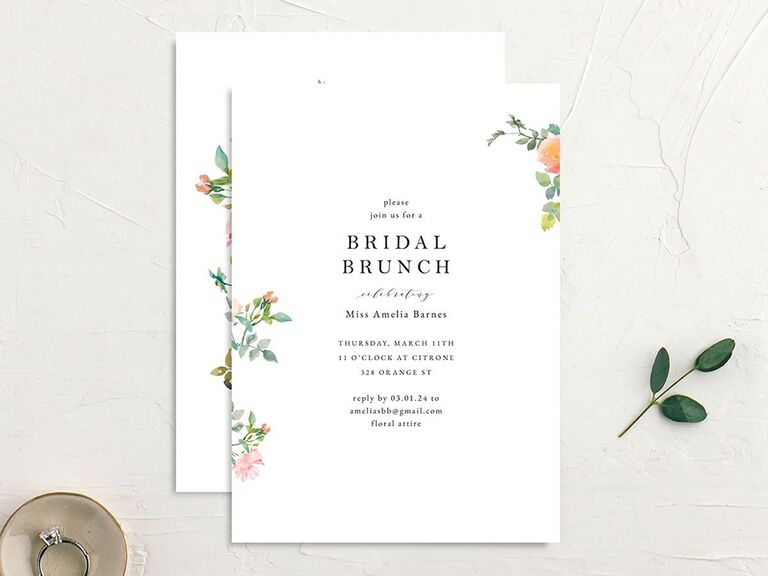 Set the scene for a spring bridal brunch with these tasteful floral bridal shower invitations With eight gorgeous custom color palettes to choose from (think: orange, yellow, red and more), you're sure to find a combination that suits your style and celebration.
The Knot Leafy Hoops Bridal Shower Invitations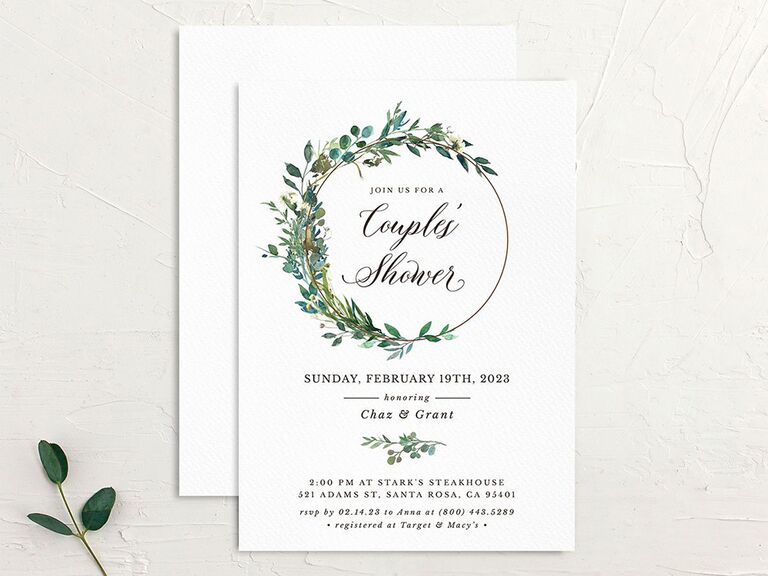 Greenery, but make it chic. A decorative hoop around your personalized couple's shower details brings a woodsy and rustic vibe to these elegant invitations.
The Knot Vibrant Floral Bridal Shower Invitations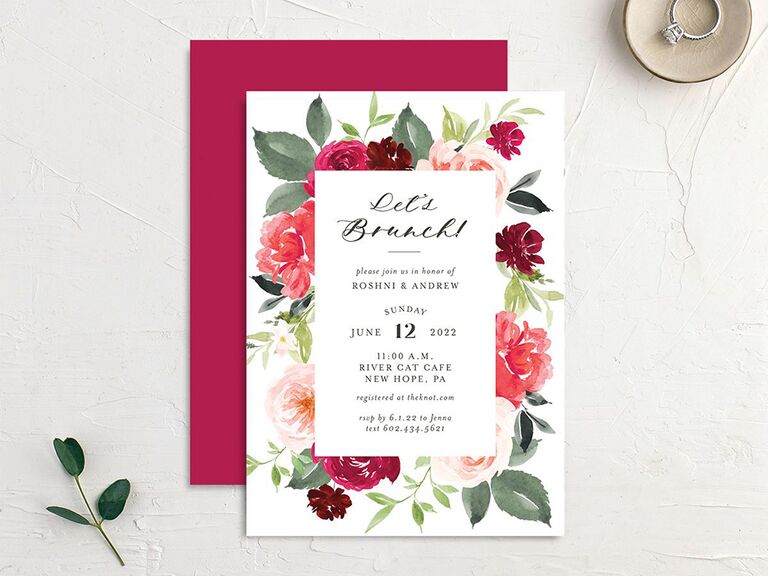 A gorgeous floral frame brings a bright pop of color to these vibrant invitations. The text is easy to personalize, but we think "Let's Brunch!" is kind of perfect here. One thing is for sure: Guests are going to find these invitations impossible to ignore once they land in their mailbox.
The Knot Watercolor Blooms Bridal Shower Invitations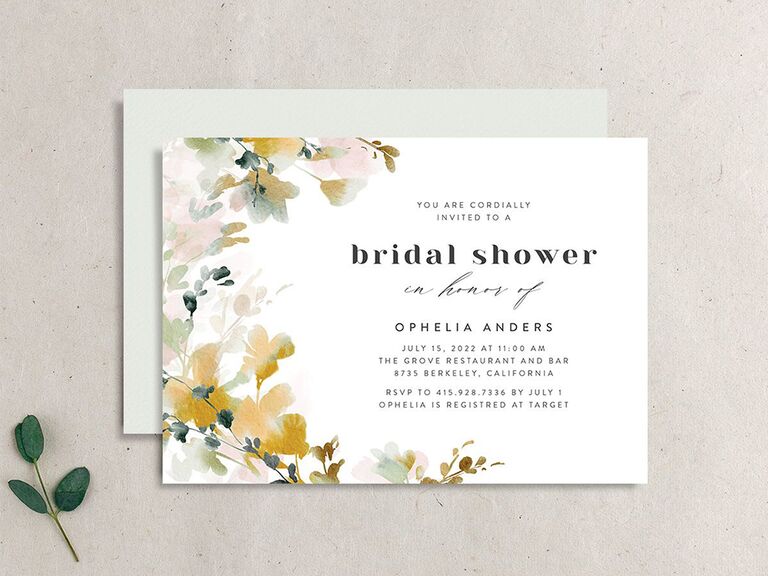 There's a reason why watercolor details are always trending—you simply can't beat the elegant, handmade touch they lend. The elegant blossoms on this wedding shower invitation are a perfect example of that, imbuing the design with a quiet sophistication.
Designed by Nancy Noreth Vintage Garden Bridal Shower Invitations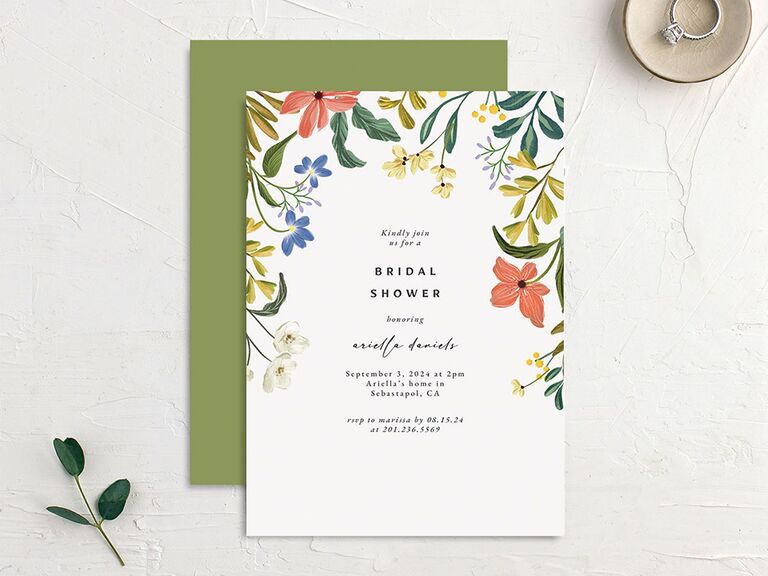 The vintage garden florals that take center stage on this design feel almost storybook-like, making it the perfect choice for a wedding shower celebrating your happily ever after. Decorate your wedding shower scene with vintage books, moss and other magical elements to play into the ethereal theme.
The Knot Wild Vines Bridal Shower Invitations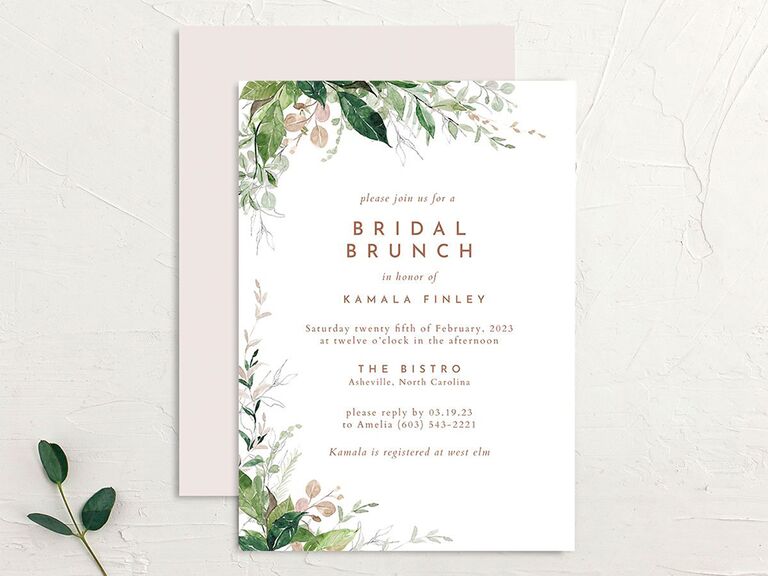 Let love grow wild with this aptly-titled bridal shower invitation. The blush pink and green hues are stunning for spring, striking just the right decorative note without overwhelming the design.
The Knot Dark Wreath Bridal Shower Invitations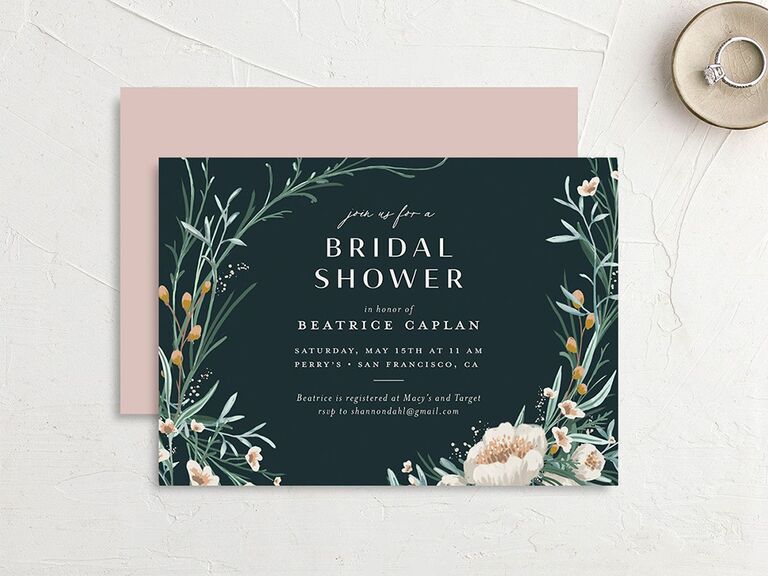 When done right, dark colors are not off limits for spring. White text and cascading greenery soften the background on these whimsical wedding shower invitations, proving dark green is truly seasonless.
Susan Moyal Flowers & Greens Bridal Shower Invitations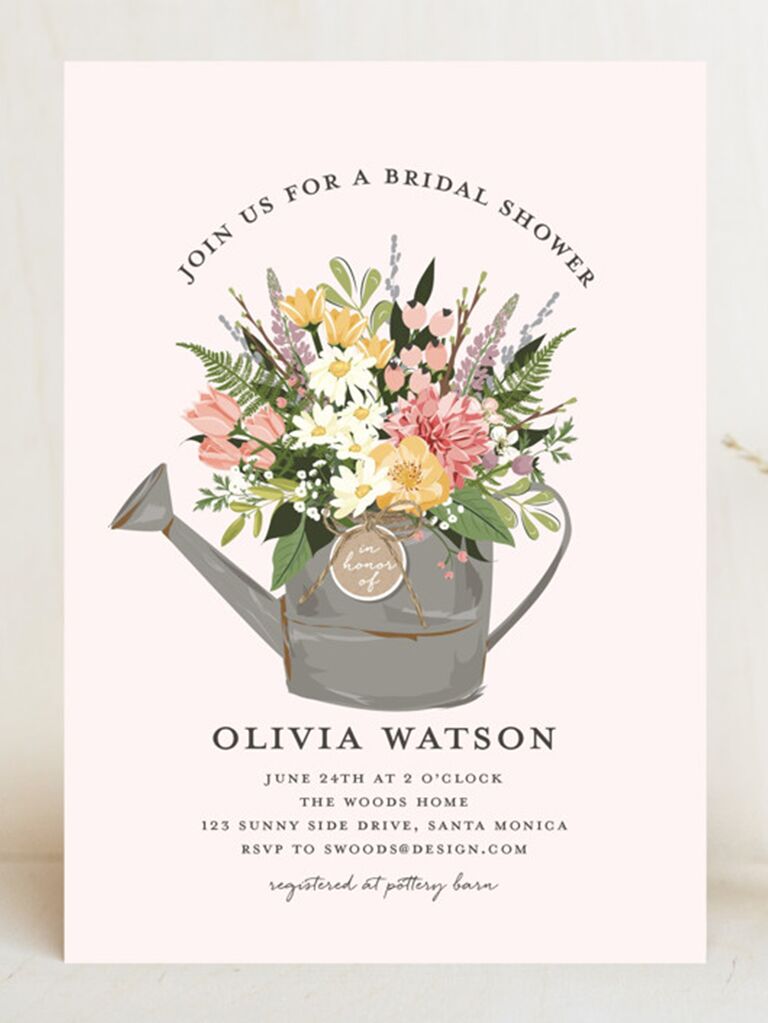 Tell us you're hosting a garden party without telling us you're hosting a garden party. Seriously though, we can't get over how adorable this garden bridal shower invite is. The rustic watering can is overflowing with spring blooms and boasts a charming little tag that you personalize to say whatever your heart desires.
The Knot Gilded Botanical Bridal Shower Invitations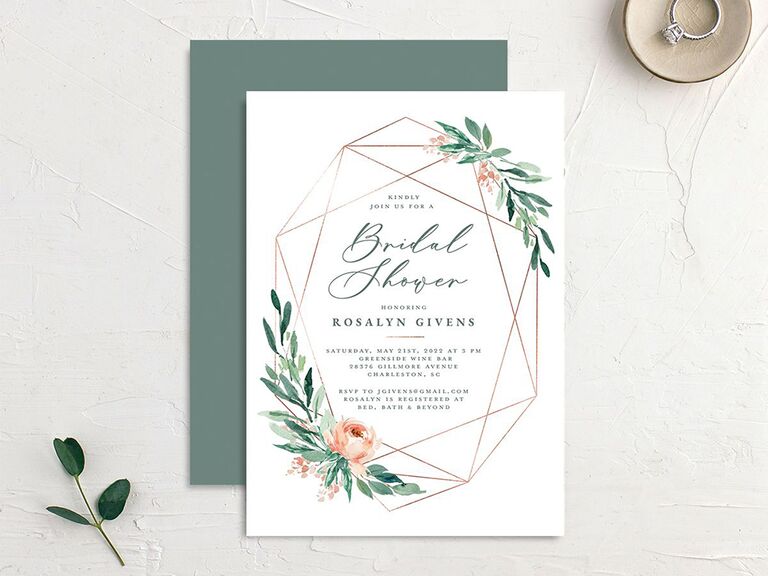 Boho brides will gush over this botanical stationery design that pairs metallic geometric lines with springy watercolor flowers and leaves. Tie the design into your day with lots of gilded details, like flatware and vases.
The Knot Beloved Floral Bridal Shower Invitations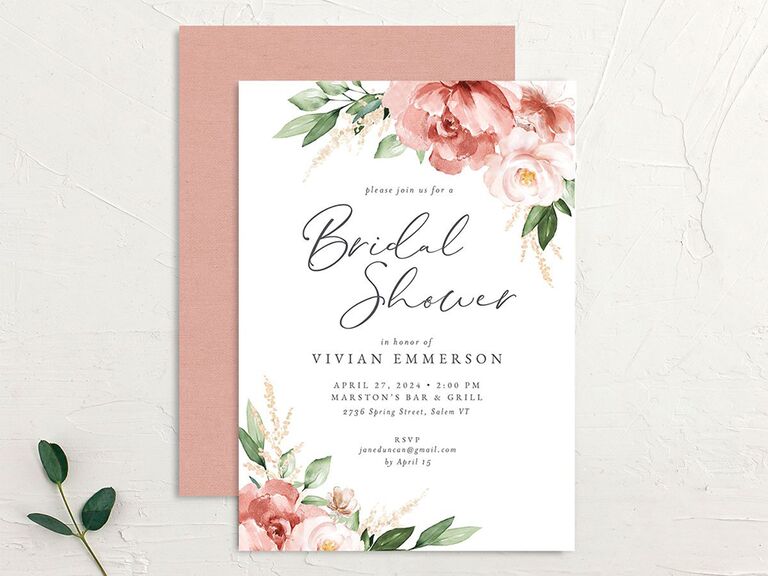 Classic and feminine in all the best ways, peony blooms bring a delicate romance to these floral bridal shower invitations. Whether you're hosting a tea party or sending out a bridal brunch invitation, this stationery fits the bill.
The Knot Botanical Floral Bridal Shower Invitations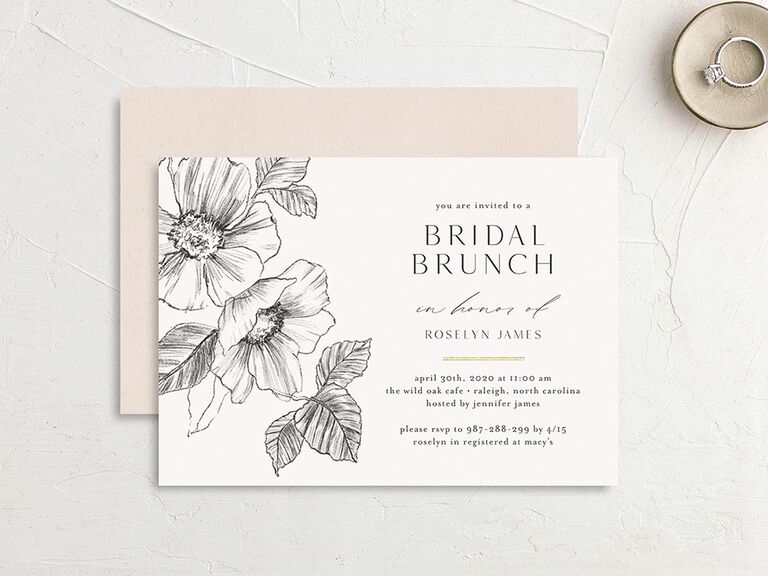 Sketched florals and a hint of faux gold foil are all these classy, modern invites need to stand out. Accentuate the modern black accents on the invitation with equally-daring pops in your decor, like matte black chargers on the table. So chic.
Itsy Belle Studio Citrus and Cake Bridal Shower Invitations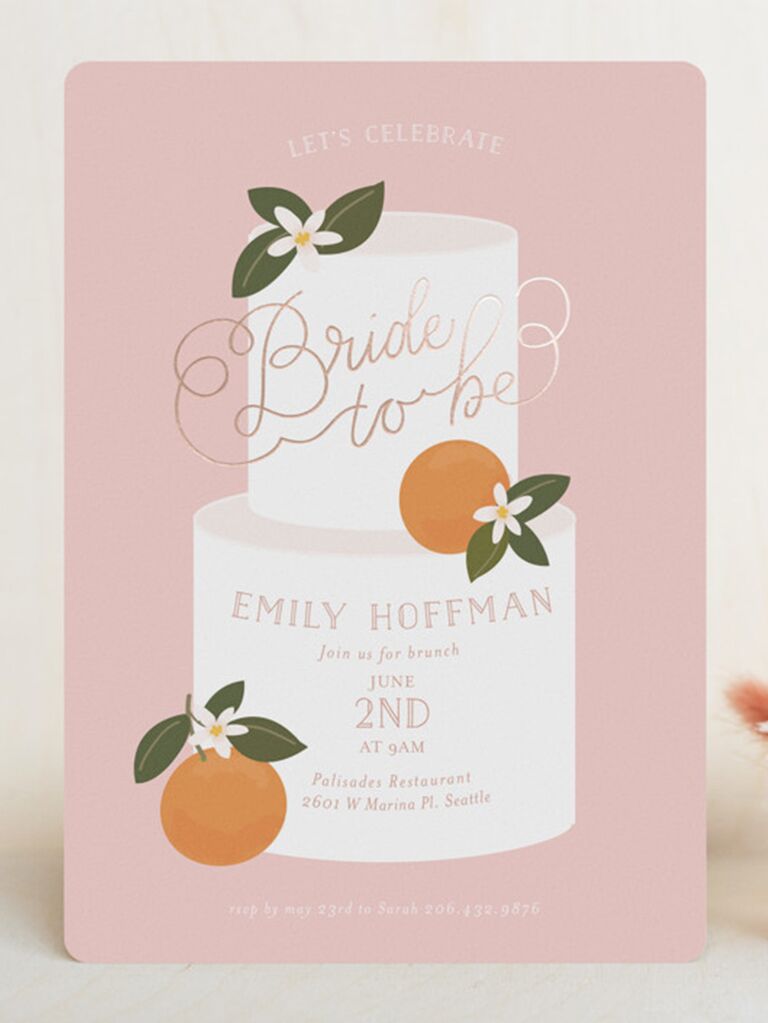 Whimsical lettering and a touch of shine (from rose gold foil) pair with the sweetest citrus and cake illustration, making this design a top contender for a cheery spring bridal shower.
The Knot Romantic Roses Bridal Shower Invitations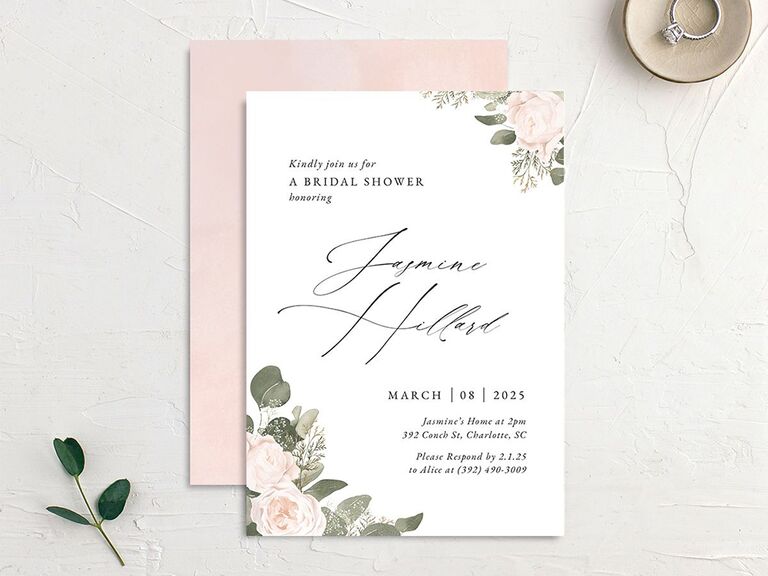 Roses and rosé bridal shower theme, anyone? Think pink ahead of your big day with these beautiful bridal shower invitations adorned with the most quintessentially romantic flower.
The Knot Classic Anemone Bridal Shower Invitations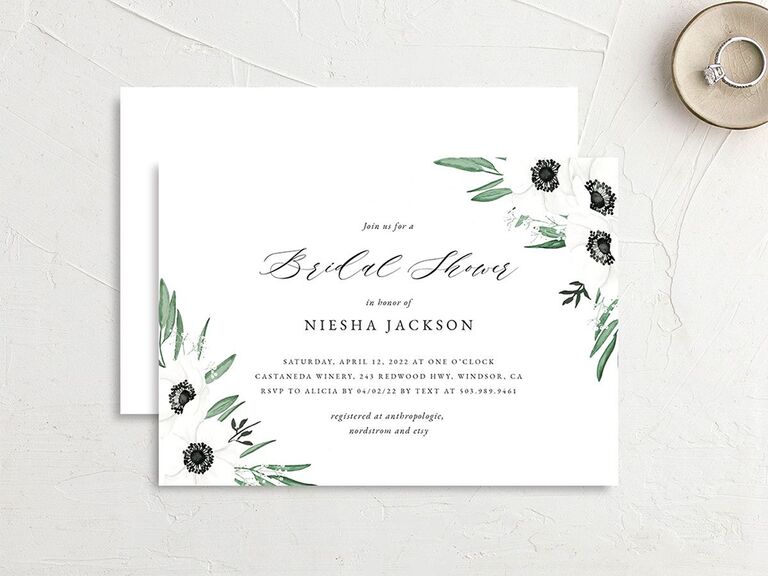 For the couple that prefers a simple stationery palette, these wedding shower invitations feature neutral black, white and green tones and minimal illustrations. They're modern and timeless at once—and great for a couple hosting a shower in literally any season.
The Knot Floral Canopy Bridal Shower Invitation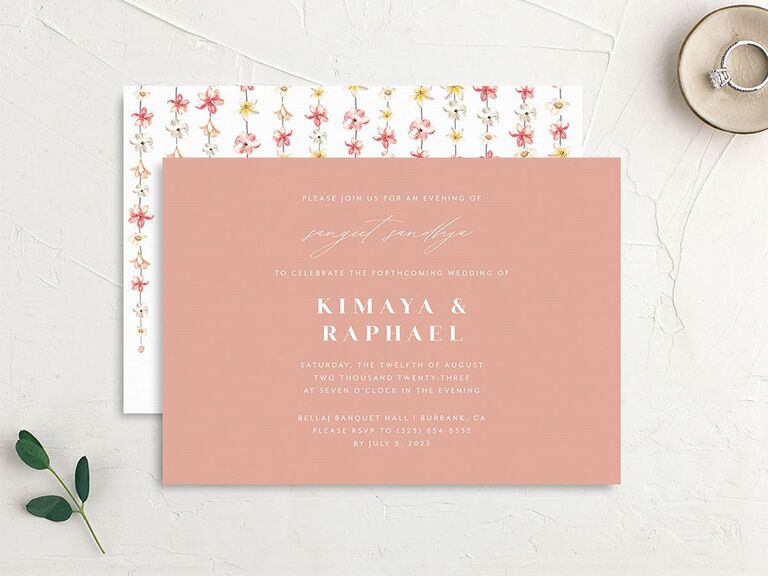 These wedding shower invitations go bold with a solid colored background but keep it light on the reverse with fun flowers hanging down in complementary colors. They would be so fun to recreate for your shower as tabletop garlands.
Shiny Penny Studio Mimosa Brunch Bridal Shower Invitations
These playful invitations prepare guests for exactly what's on the menu at your bridal brunch—mimosas, of course! Honestly, the longer you look at these invites, the cuter they get. We're especially fond of the mint and citrus color palette—so fresh.
Phrosne Ras Sparkling Umbrella Bridal Shower Invitations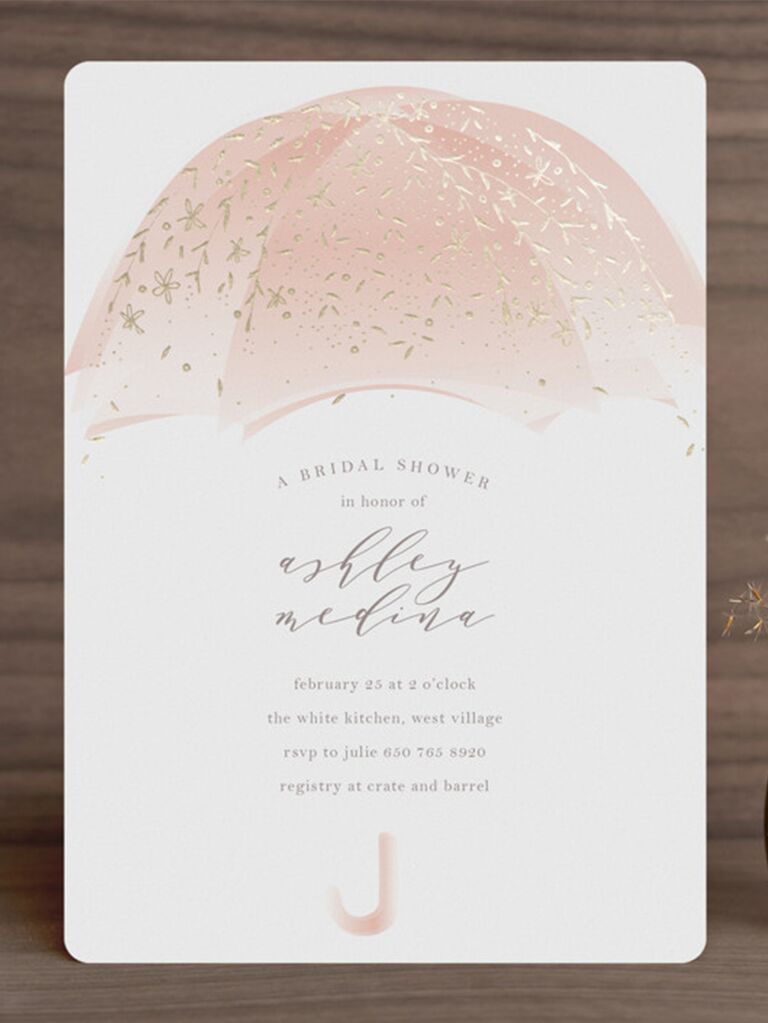 April showers bring May flowers—and this sparkling umbrella design will bring a smile to your face. A watercolor umbrella arcs over the event details, with the guest of honor's name standing out in playful script. Tiny foil-pressed flowers and confetti details take your invite game to the next level. Guest: Prepare to be wow-ed.
Jennifer Wick Cascading Shower Bridal Shower Invitations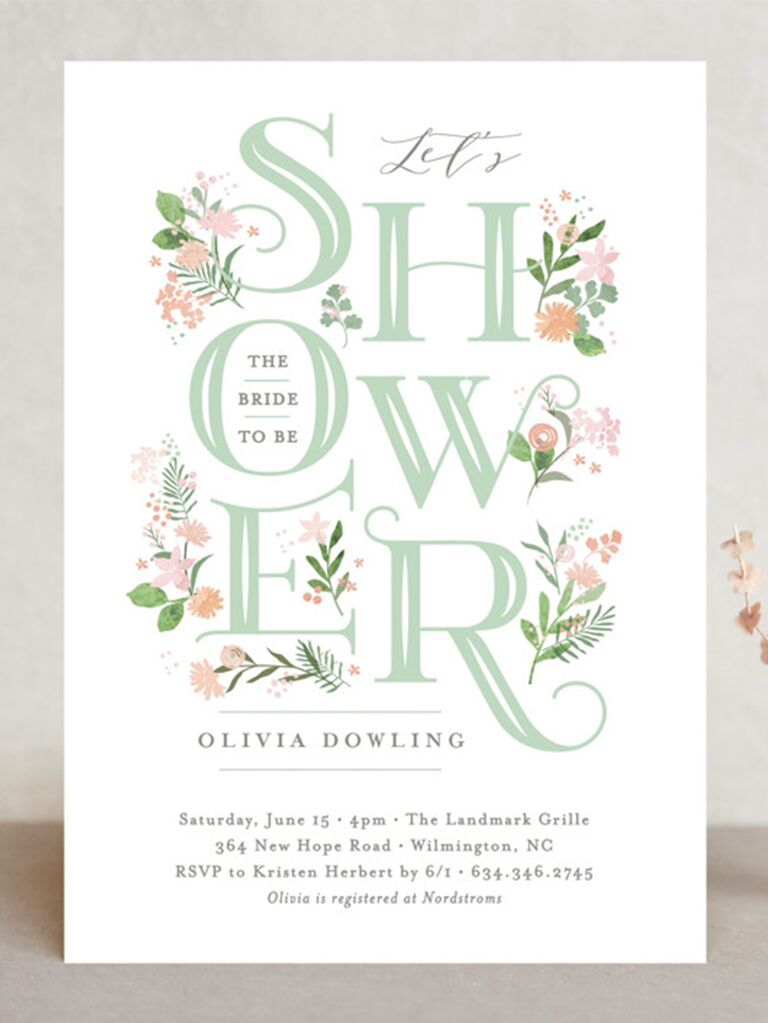 The word shower takes center stage on this invitation, running down the length of the paper and acting almost as artwork. Personalize the rest of the invitation with need-to-know info for your guests, like tthe time and date of the shower and where the happy couple is registered.
Bohemian Woods Wildflower Bridal Shower Invitation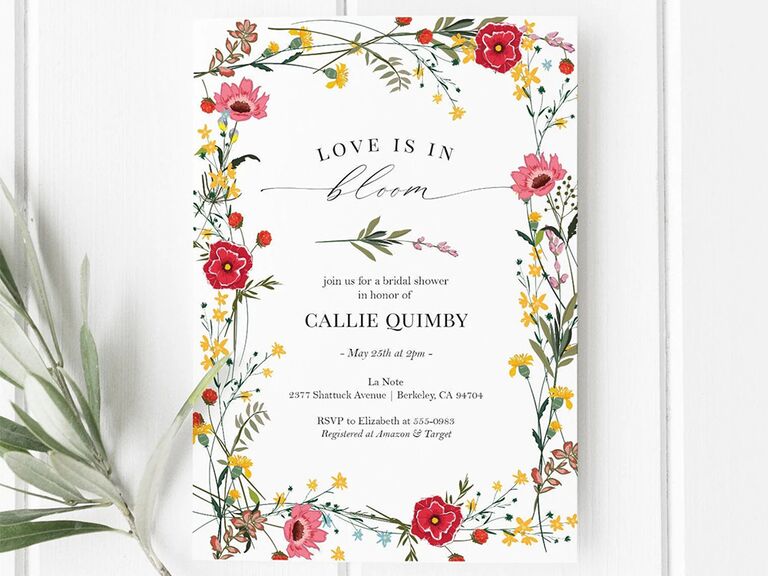 If you want to go the route of printable templates for your spring wedding shower invitations, this beauty should be first on your list. The instant download is ready to personalize, with coordinating printable party supplies, including this adorable sign for a make-your-own bouquet bar, which sounds like our kind of bridal shower favor.