A Lake of the Ozarks Bachelorette Party City Guide to Plan Your Weekend
It's all about water and sun on a bachelorette party in this beautiful pocket of Missouri.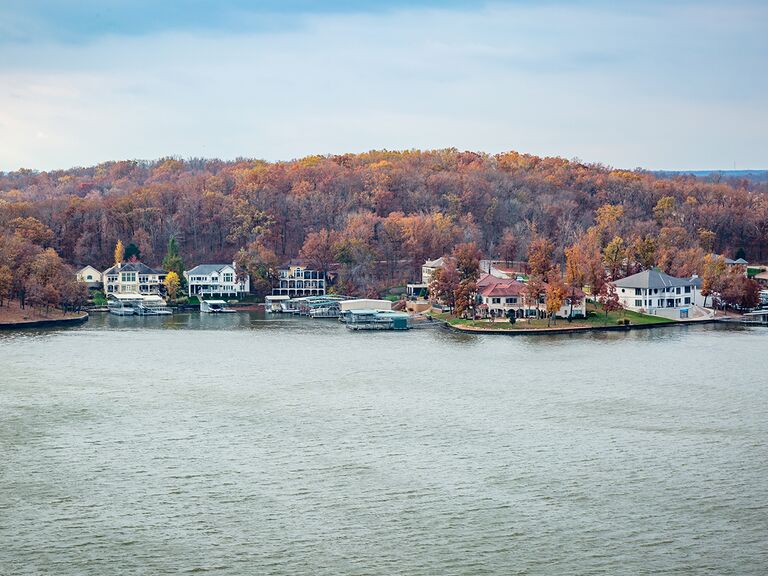 Jon Manjeot/Shutterstock
We have included third party products to help you navigate and enjoy life's biggest moments. Purchases made through links on this page may earn us a commission.
Just a few hours outside of Kansas City, Des Moines, and St. Louis you'll find the beautiful and tranquil Lake of the Ozarks. Whether you know it from its eponymous Netflix show or it's the first time you've heard of this lake town destination, a Lake of the Ozarks bachelorette party is a great way to have fun on the water, spend days out in the sun, and enjoy a low-key, low-cost bachelorette party weekend. From boat rides to daytime pool parties to lake barges, you'll have plenty to do on a weekend here.
What Are Some Lake of the Ozarks Bachelorette Party Ideas?
First things first: Prepared to spend your days on and in the water. From renting pontoon boats for a day out on the lake to splashing around by the pool bar at one of the Lake of the Ozarks pool parties, you'll be waterlogged after your Lake of the Ozarks bachelorette party. But there's also a ton of other exploring to do, including along the Lake of the Ozarks wine trail or down into the aptly named Bridal Cave. Or if you prefer a bit more of a relaxing vacation, spas are aplenty in this beautiful location. (Don't forget to thank the girls for making the trip with swag and bride tribe attire from The Knot Shop.)
For the Water Lovers
The best way to get around the Lake of the Ozarks is by boat. And that's also the best way to spend the day out on the lake. Rent a pontoon boat, wave runners, and other watercraft from myriad of shops around the lake (many come with captains who can safely navigate you to your destinations). You'll be able to try water sports, sunbathe, and even bar hop aboard the boat.
For a Little R&R
With top-notch resorts around the Lake of the Ozarks, there are plenty of spas to pamper your bride and her tribe. Consider Spa Shiki, in the Village of Four Seasons, which was awarded "Best Spa in Missouri" or quick treatments (like hair and nails) at Spa 54 at Camden on the Lake.
For the Land Lubbers
Back on dry land, there's still plenty to do on a Lake of the Ozarks bachelorette party. Start with the Lake of the Ozarks wine trail, where you'll taste your way through seven local vineyards. Or for the explorers, visit Bridal Cave, a million-year-old cavern you can explore on a fun lantern tour.
What Do You Do at a Bachelorette Party in Lake of the Ozarks?
Day 1
Morning: On arrival, grab breakfast at Couture Catering and Cafe, where you'll find breakfast sandwiches, biscuits and gravy, and a loaded cheesy hash brown casserole.
Afternoon: Today's the day to be out on the water. Take your pick of water sports by renting jet skis from Dirty Duck Boat Rentals or a private pontoon with captain from Anchor. With either option, you'll have plenty of time to play in the water, or relax and enjoy the sun on board. If you'd rather start the weekend off early with a little taste of the local scene, hop on board a Bar Hop Cruise with Playin' Hooky at the Lake, where you'll stop at three different bars, including Backwater Jacks, Lake House 13, and the famous Franky & Louie's Beachfront Bar & Grill.
Evening: Tonight, head to H.Toads for both dinner and some fun. Located at Camden on the Lake, this beautiful lakefront restaurant offers options like chicken chili nachos, grown up mac & cheese, and seared ahi tuna salad. Then it's just a quick hop from your seats to Toad Island, the Caribbean-themed outdoor bar with live music, and Chill Bar, where you'll find frozen drinks.
Day 2
Morning: This morning, grab breakfast at JB's Boathouse, where you'll find buttermilk pancakes, biscuits and gravy, and omelete at this lakefront spot in the Margaritaville Lake Resort.
Afternoon: It's a right of passage to attend a pool party at the Lake of the Ozarks, and you'll have to pick which one to head to with the crew. Options include Coconuts Caribbean Beach Bar & Grill, which is known for its pool parties. Here you'll find a swim up bar, tables and umbrellas in the pool, and DJs blasting music all day. Then there's Shady Gators, which throws an all-day pool party featuring live music. This is also a great spot for themed party nights which have ranged from 90s-themes to foam parties, so if you miss the time at the pool, check their calendar for a Saturday night event. And then there's Backwater Jacks, with a poolside bar, in-water chaise lounges and tables, and plenty of fun.
Evening: For dinner head to JB Hooks for a fine dining experience at the lake. You'll find sushi, seafood, and steaks on the menu, along with panoramic views of the Ozarks (request patio dining if it's available). Then make your way to Dog Days for live music, frozen drinks, and a great rooftop bar area.
Day 3
Morning: Grab brunch between 9 and 11 over at Paradise Restaurant and Bar today, where you'll find featured mimosas and bloody Marys (including a Mimosa Tower that must not be missed).
Afternoon: Today, you'll spend your last day on land by tasting your way through the fantastic wineries surrounding the Lake of the Ozarks. Make stops at Casa de Loco, Eichenberg Winery, Golden Rock Winery, Seven Springs Winery, and Shawnee Bluff, the must visit if you can only make it to one. Shawnee Bluff offers stunning lake views, great lunch options, and live music all weekend long.
Evening: For your last night, head to dinner at Tucker's Shuckers, where you'll find a casual yet delicious menu of buffalo chicken dip, lobster in a jar, oysters on the half shell, shrimp po'boys, and so much more. Stay for live music, or bar hop just a short walk away to one of the nearby bars including S.N.A.F.U., Wise Guy's Brew Pub, Fat Polly's Pub, Icehole, and Lucy's at the Lake .
Where Should I Stay in Lake of the Ozarks for a Bachelorette Party?
Boat rides are easy to hitch and most of the spots you visit won't be in walking distance, so don't worry about location when it comes to booking your accommodations on a Lake of the Ozarks bachelorette party. Instead, pick from a plethora of resort-style hotels and large group AirBnBs around the area.
Best Lake of the Ozarks Bachelorette Hotels
Camden on the Lake Resort is a great spot for the weekend, especially when you book the Bride's Last Fling package which includes a shot glass veil for the bride, spa credit, and free drinks for each of the girls in the booking.
For a more upscale spot, The Lodge of Four Seasons is a great escape and is home to the Spa Shiki, if your bride is looking for easy access to R&R.
Budget-friendly yet luxe, the Regalia Hotel & Conference Center offers an onsite spa and restaurant, a large outdoor pool, and gorgeous lake views all within a short trip to nearby attractions.
Best Lake of the Ozarks Bachelorette Party AirBnBs
For other home rental options, we've found success using sites like VRBO and HomeAway.com.