7 Important Marriage Topics to Discuss if Your Partner Isn't a US Citizen
Policy expert Doug Rand and legal expert Anjana Prasad explain everything you need to know about US citizens marrying non-US citizens.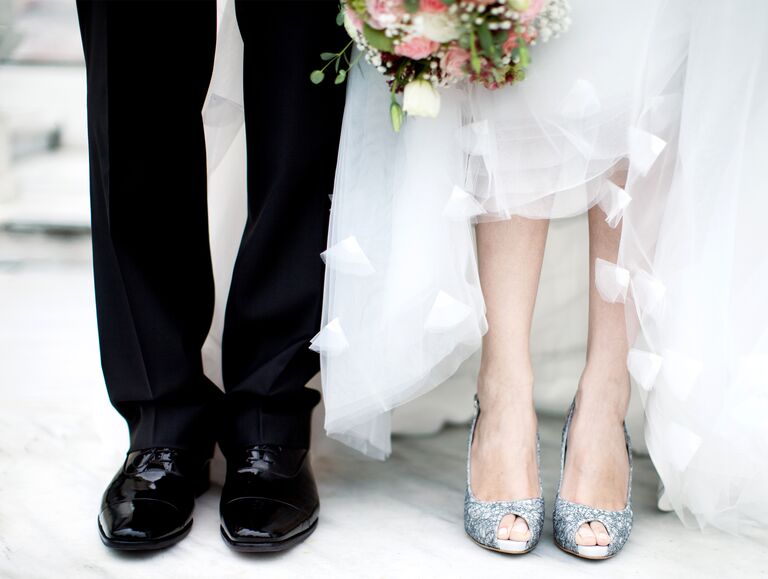 Getty Images

Amy and Antonio met in college. Amy was a US citizen, born and raised in Ohio. Antonio was an international student from Italy. After graduation, they planned their dream wedding in Napa Valley, California. A month before the wedding, Antonio went home to Italy to see his family. When he returned to the United States, he wasn't allowed to enter because he simply told the truth at the border—that he was returning to marry Amy, his fiancée. He returned to Italy distraught and not sure what exactly he had done wrong.
Cross-cultural marriages continue to be on the rise. Above all, we know love knows no boundaries, and is borderless and boundless. That said, immigration law can be complicated, so there are a few important practical discussions you should have with your fiancé before tying the knot.
1. Does it matter what country we choose to get married in?
Regardless of where you choose to get married, your marriage will always be recognized in the United States, so long as it was legally recognized in the country where the marriage took place. All you need is your marriage certificate to sponsor a spouse for US permanent residency (commonly known as a "green card").
Where you get married does matter, however, when it comes to choosing where your partner will be living while the green card case is pending. The process can take around 9 to 12 months. If you're a US citizen and go through the process while your partner's living in the United States, you shouldn't have any issues, since your partner will be able to remain here while waiting for the green card.
If you decide to get married in a different country, however, you have to be prepared to be separated from each other for up to a year, unless you both choose to temporarily live abroad. While the green card case is pending, it's going to be very difficult, if not impossible, for your partner to enter the United States once you get married.
2. If we choose to go through the process while my partner is living abroad, can I go live with them?
You can visit your partner in their home country as often as you'd like. If you choose to temporarily remain in their home country until their green card is approved, be sure you continue to maintain your residence in the United States. If it appears you have permanently moved to your partner's home country, you'll have to go through the extra hurdle of proving that you plan to re-establish residency in the United States during your partner's green card application process.
3. How much will this entire process cost?
Depending on whether you're filing while you're both in the United States or if you're filing while your spouse is abroad, the fees will range from $1,200 to $1,760. That doesn't include additional fees for the required medical exam (typically around $200) and any legal fees.
4. How long does it take to get US citizenship after getting the green card?
If you're a green card holder who is married to a US citizen, you live in the United States, and you've never been out of the country for more than six months at a time, you can apply for US citizenship three years after receiving your green card. Once you apply, it may take another year or more until your citizenship is approved.
5. Should we start the immigration process before or after we get married?
Although you need to consider where you want to get married and live while you're waiting for the green card, you can't begin the green card process until you're married. There's a different visa for engaged partners (the K-1 Visa), and while that may be a good option for some couples who want to be together faster, it's still necessary to get married before applying for a green card.
6. What happens if my wedding is planned in the United States but my partner is refused a visa or unable to enter the US with the visa they have?
Unfortunately, you have only two options if your partner is unable to come into the United States for the wedding. The first is to get married abroad and have the wedding there. The other option is to get legally married abroad and postpone the wedding until your partner receives the green card and enters the United States. In both scenarios, your partner will have to wait abroad until they get the green card.
7. Can my spouse work in the US and travel internationally?
That depends on where you are in your immigration journey.
During the time that your spouse is waiting for their green card to be approved, they can't travel internationally unless they have a valid travel permit, and they can't work in the US unless they have a valid work permit.
Once your spouse has a green card, they are free to work anywhere in the US. They can travel internationally, but they could put their green card status at risk by leaving the US for more than one year at a time.
Once your spouse has applied for US citizenship, they cannot leave the US for more than six months at a time.
And finally, once your spouse becomes a US citizen, they can work and travel without any of the above restrictions.
Doug Rand is the president and cofounder of Boundless and a policy expert who helped implement the International Entrepreneur Rule and several other immigration policies for the Obama administration. Anjana Prasad is a senior advisor for immigration law at Boundless. Reach out to set up a conversation: doug@boundless.co