Exclusive: Peloton's Ally Love Debuts Her Wedding Album
The wellness guru and husband Andrew Haynes were selective about their vendors. See why.
Ally Love's husband Andrew Haynes may have unlocked a new talent. The groom, who works in corporate and took the lead on planning his own wedding, mapped out the entire destination wedding week within six months of popping the question.
The site of their engagement, Rosewood Mayakoba, was where the couple also decided to host their intimate destination wedding for their closest loved ones. "This is one of our happy places. This is a place that we have loved and gone to quite a bit," Love tells The Knot exclusively. "Andrew suggested that we create it here, and that was a dream come true for me."
The couple had erected a space on the property solely for the purposes of their wedding: in front of a beach lagoon with an open seagrass backdrop. Both Love and Haynes wanted to showcase the diverse landscape of the resort, which features the Mexican Caribbean Sea paired against the sunset tones of the Riviera Maya. "The theme was very much around 'beach luxury.' We're both from tropical places. I'm from Miami and Andrew is from Trinidad, so we love the water," muses Love. "We didn't necessarily want to have a wedding on the beach, but I wanted that water vibe."
Equally important was creating a destination experience, of sorts, for the couple's guests, all of whom flew in from various spots across the hemisphere. "Every event had a different kind of environment. There was an event that's a garden party. And another event on the beach, basically like a carnival Trinidad and Tobago-themed beach party. Where we got married was on a lake, like a lagoon," she muses. "We had poolside drinks, every breakfast was by the pool… There were a lot of different types of textures, which was really important to me."
Not to mention: the process wasn't exactly the easiest, as couples of 2020 and 2021 can imagine. "For us, we followed the CDC guidelines, we listened to the news, leaned into the safety protocols," Love explains. "We started to loosely plan, and once everything was cleared, we decide to hit 'go' and we went for it."
See exclusive photos from Ally Love and husband Andrew Haynes' wedding below. Plus, read up on their love story, their wedding planning process and other details.
In This Article:
Ally Love and Andrew Haynes' Wedding Album
Prior to getting married, Love partnered with The Knot to showcase how she and Haynes were purposefully wedding planning. Because of that intent, their vendors were sourced internationally and fit several prerequisites. Each professional on the couple's vendor team was representative of the diversity they so champion, and the couple chose BIPOC- and women-owned businesses.
A 2021 wedding trend where couples lead with allyship to select pros, Love and Haynes were among the first to shout this approach from the rooftops. "We are making a new tradition," notes Love. "It's really about using our wedding as a platform to promote women, BIPOC, black indigenous people of color, vendors and creators."
The to-be-weds didn't have to look far to source their core planning team, however. "About five of us were planning. Andrew spearheaded the planning and organization, and then we had four other people on that team," she says. "These were all a diverse group of people whom we've known for years and trust. They all come with different expertise, which was combined to plan the wedding… With coordinating, we met once a week and kept in touch in a group chat. It was pretty seamless." Here are other key details from their wedding below.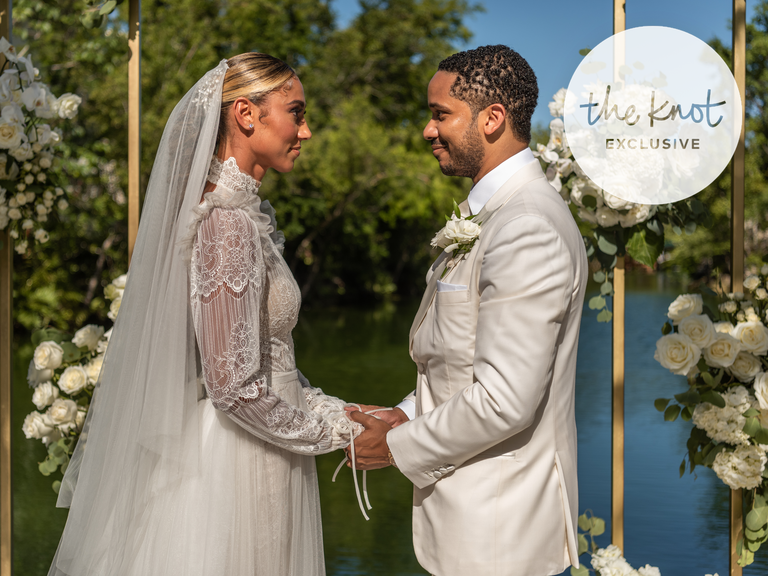 They Skipped the Traditional Wedding Party
The standard wedding weekend didn't apply to Ally and Andrew's timeline, and the couple bucked tradition across the board. "We didn't have a reception or rehearsal dinner," she notes. "We didn't have bridesmaids or groomsmen. We actually didn't want anyone to feel excluded. We love all of our friends. So, to say these people are our favorites and they're just attending? We wanted to make sure we didn't establish any of [the selectiveness]."
Sustainability Was a Focus
The Rosewood Mayakoba is inherently sustainable among other luxury properties. The brand has been notably anti-plastic, ridding itself of remnants of plastic bottles and even straws. A similar ethos was applied to Ally's wedding dresses. "I think personally and economically, for me, I got wedding dresses that I know I can wear again. I know everyone probably says this, but my wedding dresses will appear again because I think they are so transitional," she says. "I actually got them tailored… none of my looks had very long trains. My overskirt is very elaborate, but in terms of the wedding dresses and the looks from throughout the week, I can recycle and upcycle them and let friends borrow them."
She concludes, "One of the biggest and largest contributors to being environmentally friendly is fast fashion. It was important. I made sure everything that I wore for the weekend, I can upcycle and wear again. It's not just for that one event. Including shoes, everything."
They Held Prewedding Events to Reflect Their Upbringings
As the couple overhauled the traditional wedding weekend events (rehearsal dinner and reception), they ended up creating themed nights for guests to immerse themselves in their upbringings. The bride is from Miami, while the groom was born in Trinidad. "We created a specialty chicken that was something just to die for. Juan Paulo is the head chef at the Rosewood, and we partnered with him on the menu," she says. The welcome party was a Mexican-themed party to immerse guests into the locale and their destination of the week.
The following night featured a Trinidad and Tobago Party, then a Miami-themed event to spotlight Love's hometown. "There was jerk chicken, curry, chana, all of these things that are very much Trinidad and Tobago-inspired food," she notes. "The Miami Night is very much Miami inspired. So you have ceviche, things that you can get in Miami.
Finally, the wedding meal was a fusion of every influence across their various junctures in life. "For the wedding, we did a dinner that includes so many things. [High-level], it's a Mediterranean-inspired wedding dinner," she notes.
The Welcome Bag Was Very 'Ally Love'
The Brooklyn Nets announcer and wellness guru, who runs her own LoveSquad business, decided to lean into the personalization and "essentials" concept. The welcome bag included a recovery kit (Band-Aids, safety pins, Tide Sticks) and wellness partners like RXbars, REN Skincare, Adidas bags, Bare Minerals makeup and EverEve athleisure.
One of the cutest details was a hair scrunchie comprised of a special fabric. "We took the extra fabric from the wedding dress—I cut off from all of my wedding gowns and outfits for the week—and a colleague from Peloton, who is a designer on the side, created scrunchies for everyone out of the tulle from the wedding dress. So they all have hair ties from the wedding dress. It's really cool."
The Bride Showcased Female Wedding Designers
If there was an area of opportunity to dynamically showcase female vendors, it was through the fitness instructor's bridal fashion choices. Love wore looks by numerous designers and businesses, all women-owned and created. Her various week-of pieces were designed by the likes of Lee Grebenau, Berta Balilti of Berta, Megan Ziems of Grace Loves Lace, Nadine Merabi and Daphne Newman. New York-based Spina Bride and L'Fay Bridal were also her boutiques of choice for the shopping experience. See their vendors below.
Venue + Day-Of Coordinator: Rosewood Mayakoba | Event Designer: Daniela Parra, Archive Rentals, Vanessa Jaimes Floral Design | Rentals: Rebel Bloom | Photography: Miguel Juarez | Videography: Jurame Weddings | Bridal Attire: Lee Grebenau, Berta, Grace Loves Lace, Nadine Merabi and Daphne Newman | Boutiques: Spina Bride, L'Fay Bridal | Stationery: La Crafteria | Catering: Rosewood Mayakoba | Entertainment: Big Bang Productions + DJ Dulce | Cake Topper: Vanessa Jaimes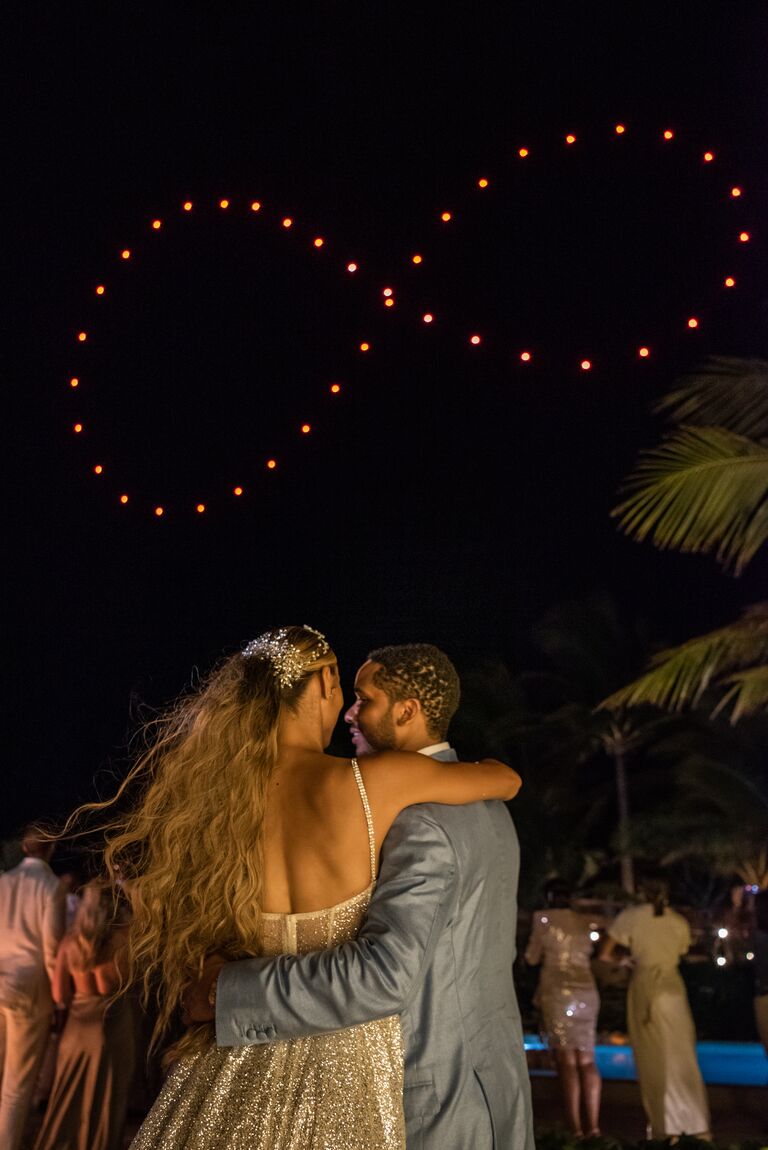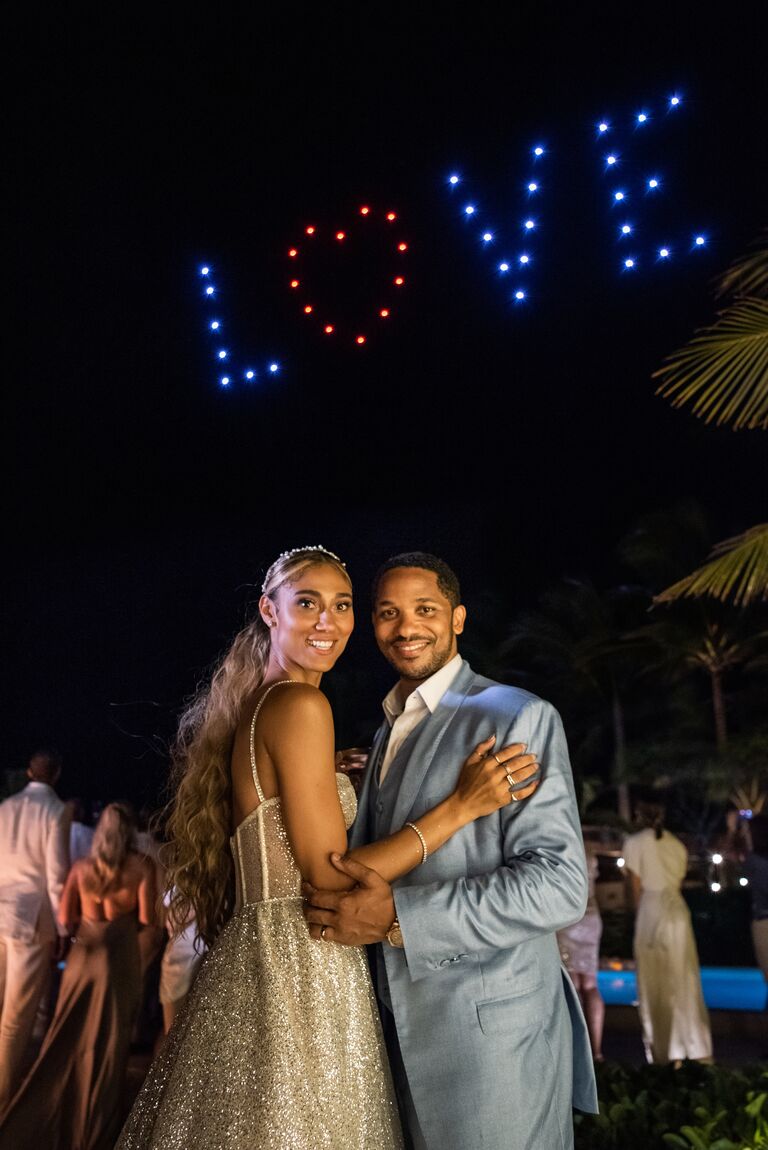 How They Wedding Planned Purposefully
Ally Love knew her wedding would be nontraditional in many ways, but it was the planning process that especially looks different for the Peloton instructor and her fiancé, Andrew Haynes. The bride-to-be and her boyfriend of 10 years got engaged over the 2020 holiday season during a getaway to Mayakoba, Mexico. "I'm going to be completely transparent," Love tells The Knot in an exclusive interview. "While I am not in the driver's seat of planning this wedding, I am in the supporting role. We were in a partnership prior to wedding planning, so one of the things that I make sure I am available to do is whatever support Andrew tells me he needs."
Haynes, after all, is the couple's wedding planner. "I will say our wedding planning is definitely nontraditional. In most of the conversations I've had around [the topic], it's usually the bride who takes on the job of planning the wedding or anyone who identifies as the bride or the partner who is the best planner. In our case, it's actually going to be the best planner, period, which is Andrew. He's planning the wedding."
Weeks into their engagement, the couple noticed the broader impact they could make through their wedding decisions. The bride-to-be, who already has a platform for promoting positivity and mindfulness, saw an area where she could upend traditional narratives in the planning process. Here, Love opens up to The Knot about purposeful wedding planning, starting with her venue all the way to the guest list and the types of events the to-be-weds will be hosting throughout their wedding week.
The couple's vendors and registry were both areas where they saw an opportunity to highlight women-owned and BIPOC-founded businesses. "When we thought about wedding and event [professionals]… we wanted to celebrate the diversity of leaders in the industry," says Love. "This is how we can carry our purpose into the planning of the wedding itself. It's really not only important to us as a couple, but it's aligned with our individual mission of why we've been put on this Earth."
Along with their selections, the couple has purposefully planned moments of their own to look forward to. "When I hear stories about wedding days, most people say: 'It was the best day of my life' or 'It was a blur. It goes by so fast,'" says Love. "Taking that feedback, I want to see Andrew enjoy it… With my proposal, I was really present. I think that's the one thing I want to share with him. I want to be able to remember him in the moment. It's not necessarily him with me. I don't think it's about the first dance or any of those things. It's just me in my mind looking out at this wedding and seeing him smile and be so happy, and remembering those moments."
Another purposeful aspect of planning is being mindful, present and generous with their loved ones. "In terms of staying grounded, it's been a little challenging. It's not always easy," admits Love. "I actually had a few conversations around how it's not really the angst, the anxiety or the pressure of wedding planning, it's the uncertainty. It's the uncertainty of when you're sending out these invites or these text message invites like, 'Hey, do you wanna come to my wedding?' It almost brings you back to that little girl having her first party, and you're just like, 'What if people say no?' …What we've done is thought about all these [factors] and protectively provided resources, a cushion, to ensure our wedding is as accessible as possible to all the people we love."
The Couple's Wedding Vision
Love and Haynes wanted to hold their nuptials in a place that was meaningful to them. "We often call certain places in our lives 'our happy places.' I don't know if anyone has ever found their happy places, but those are few and far between," explains Love. "When we thought about planning our wedding, it was more about finding a spot that was definitely our happy place, but somewhere we would love to share with our friends and family."
"A Time to Remember" was their theme. "We want it to be a time to remember; our engagement, the proposal was a time to remember," notes Love. "And we often lean into that when we think of our life together. Sometimes, when you're with your partner or your best friends or even your parents, there are times in your life when you're like, 'Oh my gosh, I can't stand this person. They get on my nerves.' It's a natural reaction and a natural response, but when you step back on a macro-level, you're like, 'Time is fleeting, and I only have this amount of time left.' As we cherish our relationship for the years we have been together and look forward to spending the rest of our lives together, we wanted to make sure that this particular moment in time… the week of our wedding, we can bring people together for a time to remember, that we can really cherish that time as much as possible."
"We talk about planning with a purpose, and I think that that's us being not only practical but tapped into what connects us and what bonds us," Love adds. "And what's deeply important to us. The most valuable asset you have is your time and how you spend your time. Since we obviously want to spend the rest of our lives together, I think we look at the overarching theme of 'This is a Time to Remember.' And this is us using that as we continue to plan with a purpose."
The couple will welcome 200 to 250 loved ones to their Mexico destination wedding, and that was also purposeful. "The agreement Andrew and I came to early on was that we're not going to say no to each other," says Love. "If there's someone you want to invite, and for the most part, we really get along with each other's friends. But if there's someone maybe we didn't know… we basically got an Excel sheet, filled it out with as many names as we could in terms of who we wanted individually and collectively to be there, and no one is allowed to say no."
Though the wedding will be on the larger side for a destination event, most of their guests are thrilled to attend. "As I started this conversation, I was going for small, maybe family, a couple of friends," Love recalls. "And Andrew was like, 'Nah, we're going to have the biggest, safest party there can be.'"
The Wedding Registry Details
Love and Haynes knew their wedding registry was another opportunity to fill their new marriage together with meaning and intention. "Maybe people feel the pressure of buying something or spending money that they may need to use in other places, given the times that we are in," says Love. "It was like, 'How can we make sure that we are being of service? How can we use this experience in our lives to continue our mission to give back more than we take?'" The couple turned to The Knot Registry to select products and experiences to give back to their community and women-owned businesses, especially by using the filters to help with their search.
"We also want to continue to lift up our community, so this is the perfect way for us to do so," says Love. "Whether it's highlighting some of the products we use already in our home or some of my favorite things we're going to introduce into this house that we're creating together, even though we live together already."
Specific products also reflected their heritages, respectively. "I pulled a lot of products from Trinidad. There is a very deep, rooted culture, because Andrew is from Trinidad, and our family would be traveling from Trinidad," says Love. "And I'm American. I grew up in Miami. My family's rooted in Miami."
It was equally important for Love to source products from a Black-owned business like Ayesha Curry's cookware line. "As a couple, just because we're Black, doesn't mean we have everything together. I think it's telling that narrative and identifying someone who I look up to and someone in the cooking space like Ayesha Curry," she notes. "It was like, 'How can we make sure that we are putting placement and visibility to those that we are inspired by?'"
The registry also showcased their favorite activities as a couple: being plant parents, consuming comedy, being home, regrouping and catching up after a chaotic week. "In terms of telling that story of highlighting products, the reason I don't want to highlight one individual product or individual artist is not giving one visibility over the next," she reflects. "It's understanding more of the direction of how we can reshape how we're looking at wedding planning. Redefining and reimagining is such a big part of the conversations that we're having. And when I think of such a profound moment, it's like not about this one product or one brand that we love… It's about how we can continue to stay curious and promote this path of planning that's a little more purposeful and a little more thoughtful."
Their Love Story and Engagement
With COVID, the couple flew to Mexico for a year-end celebration of their own after all that they had endured. Part of their decision was to do something different for a vastly different holiday season in 2020, one without their families to mitigate risk. Haynes, meanwhile, was planning something special of his own, a Christmas Eve proposal on the beach. "It was a total shock. I have been with my partner for about 10 years," says Love. "So, to take it to the next step, we've kinda, like, always known that this was the direction we were going, and we wanted to do it on our time. For it to be reality right now, it's pretty surreal… We've been together for a decade, since I was young Ally. We've grown to know each other very well and we've grown to be best friends. We love spending time together."
One activity they especially enjoy as a couple is traveling. They've now visited 25 countries and they're counting. "It's not unfamiliar for us to travel or be in unfamiliar places or problem-solve when we don't know where we are or in unfamiliar territory. With that, I will say that we've grown to really enjoy the time that we have, the memories that we have," she says. "I think we've evolved in terms of not only the challenges of traveling together but living together. Living together in close proximity when you are in the midst of being sheltered in place, and having to work from home, and then having your gym at home and everything being in one spot, we've actually enjoyed this time together. It's not to say we don't have troubles. Everyone has conflict, it's more like how do you resolve the conflict… We communicate so well. We converse about everything, even when it's uncomfortable. That's been something that I've seen grow with us over time. It's kinda cool to think about the future and say, 'How well are we going to communicate in 10 years?' We both are committed to communication."
In marriage, they're looking forward to building out their values. "Andrew wears our values better than I do. It's not that I don't wear them well, but he's often in the position where he will remind us of who we are. I do that for other people, so I do that on Peloton to remind you of who you are and tell you you're a boss, and tell you how special you are," says Love. "But Andrew often reminds me as a collective that's what we do for other people, so with our friends and family, that's what we do… The answer is yes. If you're tapping us in, we got your back."
Along with putting others first, the couple is service-oriented and in tune with their faith. "We think about how we can lead from a place, always, of service? How can we give back and this is one of the things I definitely subscribe to. How can we give back more than we take?" she continues. "How can we be that couple to provide space, even when it's challenging to those that we love? In more ways than not, we both believe in God. We both pray. We pray together."
The Engagement Ring Details
Even after revealing the proposal on social media, Love kept her ring a secret before debuting the sparkling, custom-designed piece (and a fresh manicure) with her fans in mid-January. "When we first started dating, we've been together nine years… I discussed what kind of ring I might want," Love recalls. "I might have alluded to something, but I don't remember exactly. I remember Andrew saying, 'You don't know what you want just yet.' The ring is a symbol of the connection or your love, as a physical representation, and it should reflect the love itself and where you are in life."
Haynes worked with Danny Mikhay of Luxury Watch Collective in New York City's Diamond District to design a piece that best represented Love, ending with what appears to be a four-to-five-carat solitaire diamond on a double-shank, pave-diamond band. "He did all the research online and connected with our jeweler… They worked together and Andrew created the ring," says Love. "Danny advised him on what's best and he learned all things about diamonds and clarity and I sincerely had no idea… He tells it better than I do. He picked out the diamond, the cut [and] the band, which has diamonds."
While the piece is stunning, Love values the story behind it more. "The ring is cool. It's quite special because he designed it himself. But more importantly, it was that day, the conversation that we had prior to him bringing out the ring and getting on his knee and asking, 'I want to spend the rest of my life with you. Will you marry me?'" she reflects.
The to-be-weds, who share a birthday and a mutual love of private dining experiences (whether at home or while traveling), were greeted by an oceanfront dinner for two when they got to the Rosewood property. The special moment, ideal for year-end reflections, ultimately laid the groundwork for an intimate proposal.
"This was the case where we're having a nice dinner, just us, no one else. I didn't notice a thing," Love recalls. "He left to 'go to the restroom,' and one of our friends met him to hand him the ring. Andrew had met up with his friend earlier that day to hand off the ring. So after he 'excused himself' from the table, we jumped right back into the conversation when he returned. We were connecting and it was nice to have a year in review in our relationship. That's where it started."
During the conversation, Haynes found an opening and dropped to one knee. Their immediate families, meanwhile, knew what was happening, which is why Love's own mother was avoiding her calls. She laughs, "My mom knows she can't keep a secret." The couple celebrated in the most 2020 way possible: with private fireworks.
How Ally and Andrew Met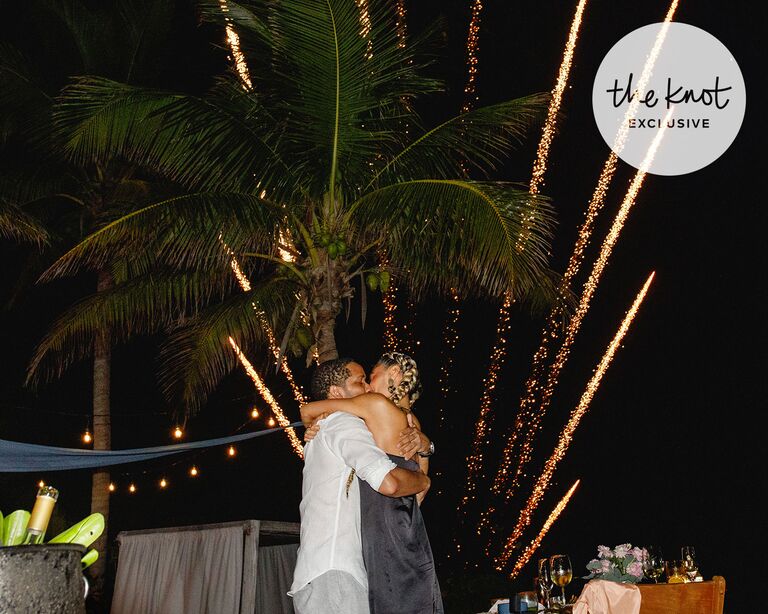 "It's a great story that should be told by both of us," notes Love. "There's always two sides to the 'how-we-met' story." From Love's perspective, the couple initially met on New York City's nightlife circuit through mutual friends. "We used to go out and party and we met through the love of dance," notes the fitness instructor. "What's happened and transpired--and we have many and great friends who got married sooner--is we never felt rushed. Andrew has always been a person who's adamant about timing… Our relationship started when we were young and fun, and we've grown together over time."
Through nine years of dating, the couple has traveled to 25 countries around the world and expanded their careers. "We never felt rushed to make this step and we both wanted the timing to be right," Love explains. "It has to be at the right time for that particular couple. Not at that time society puts on you. It has to come at the time and for us, we've been lucky not to wear that pressure too heavily."
In part, Love attributes their bond to their community, both public and private. "I love that we have a vast community at Peloton, the Brooklyn Nets and Lovesquad," she notes. "Our members have been with me for the last four years I've been at Peloton. They've heard about Andrew, my mysterious beau, for so long."
Then there's the couple's inner circle. "Granted new friends have come along the way, Andrew and I have still maintained and sustained friendships throughout our relationship. We have a strong community around us, in addition to our families," she pauses. "We really have friends and couples in all areas of our lives with whom we've been able to cultivate great relationships… This year was full throttle: then, the proposal happened and I was able to [unplug from social media and] enjoy time with my fiance. Which, I have to learn to say 'fiance' because he's been my boyfriend for so long."