What's Your Mexico Honeymoon Style?
Find your dream escape for two South of the Border.
by Jennifer Hirshlag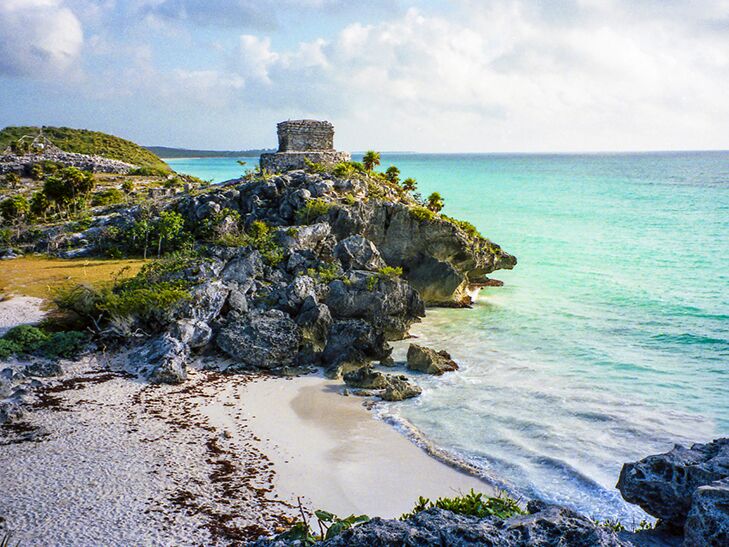 With beaches, bustling cities, historical sites and terrain that traverses both mountains and jungles, Mexico offers so many getaway options for you and your new spouse. Scratching your head over which one to choose? Take this quiz first. Answer the questions to reveal what type of traveler you are—and then pass it on to your partner—and discover the honeymoon destinations bound to make you the happiest.
1. It's the weekend! You...
A) Find a new recipe and cook up a scrumptious dinner.
B) Do some gardening.
C) Attend gallery openings.
D) Hit a hiking trail.
E) Chill out with some friends.
F) Go shopping.

2.Your dream wedding venue is:
A) A restaurant known for its incredible menu.
B) A forest clearing or botanical garden.
C) A sculpture park.
D)A renovated warehouse space.
E) A coastal setting.
F) A boutique hotel with a downtown vibe.


3. What's your must-have travel accessory?
A) My smartphone, so I can Instagram on the go.
B) My yoga mat.
C) The Artsy app with its list of must-see shows.
D) My hiking boots.
E) Light reading.
F) A chic bag for hands-free sightseeing.


4. Which movie would you rather watch on the plane:
A) Jiro Dreams of Sushi
B) Wild
C) Frida
D) 127 Hours
E) Blue Crush
F) Lost in Translation
5. You just checked into your hotel. What's the first thing you do?
A) Read all the menus tucked into the hospitality materials.
B) Check my messages one last time and then turn off my phone for good.
C) Assess the hotel decor.
D) Drop my suitcases and then head off to explore the premises.
E) It's been a long trip—it's totally time for a nap.
F) Meet with the concierge to book tickets for a local symphony, play or dance performance.
6. Who would be your ultimate celebrity sighting while traveling?
A) Anthony Bourdain
B) Gwyneth Paltrow
C) Marina Abramovich
D) Leonardo DiCaprio
E) Cameron Diaz
F) Alexa Chung

7. What's your drink of choice during a getaway?
A) A bottle of fine wine
B) A juice smoothie.
C) Pellegrino.
D) Tequila shots.
E) An umbrella drink.
F) A fancy mixed cocktail.

Mostly As: The Foodie
Your Instagram feed is pic after pic of meals you've lovingly prepared (or are about to devour!), and you'd go to the ends of the earth to try new flavors and regional specialties. When you plan a travel itinerary, it's always around the can't miss culinary spots you've read about ahead of time.
Your honeymoon destination is: Oaxaca City, Oaxaca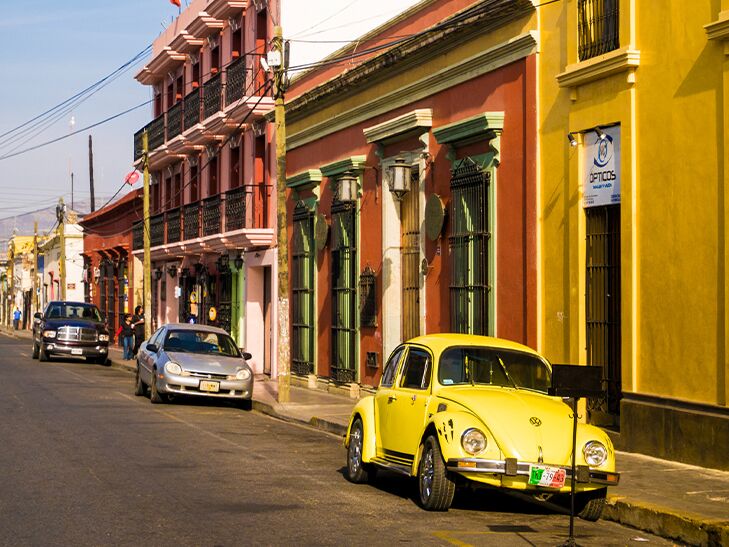 This capital city of the state with the same name is known as the land of moles for the seven sauces that go into making its regional cuisine. Think you've already tasted these Stateside? Think again. Even the more common mole poblano is otherworldly here, perhaps because locals rely on traditional recipes—some of which include more than 20 ingredients—to distinguish the toppings. Feast on a different one every night of your trip, and then drop by the famous Mercado de la Merced food market to check out the colorful spices that go into making them. Share a bag of chapulines (fried grasshoppers) as you make your way through the stalls for a snack you won't soon forget. When you're ready to work off some of those extra calories, take a day trip to the Zapotec ruins of Monte Albán outside of town. Climb the impressive stairs leading up to the South Platform for a view that's still just as impressive today.
Mostly Bs: The Eco Traveler
Your happy place? It's being in nature. Your lifestyle follows suit, with a focus on fresh and local organic foods and products. And, of course, doing your part to save the earth comes naturally to you.
Your honeymoon destination is: Tulum, Quintana Roo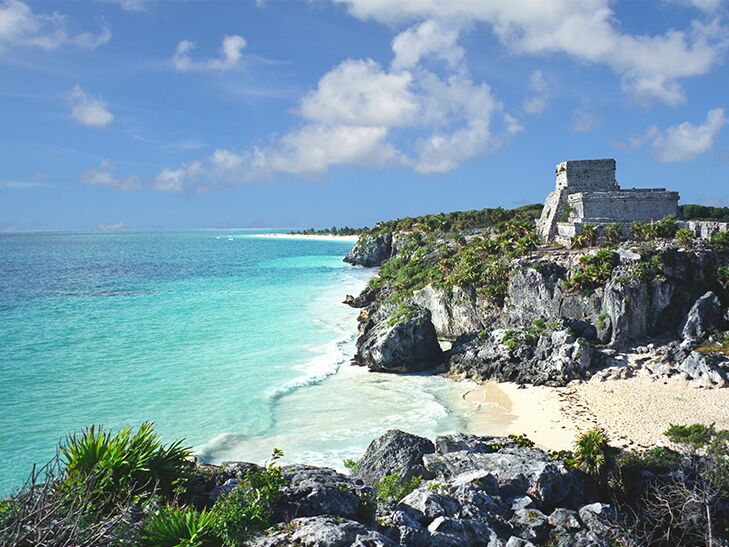 Don't let the popularity of the destination steer you away. This coastal town grew to be a favorite getaway because of its natural beauty and the wellness retreats that celebrated it. Book one of your own and spend your honeymoon taking in the view from your beachside bungalow, enjoying meals prepared from local produce and getting your om on while the sun sets over the waves. When you're ready to get out, explore the nearby Reserva de la Biosfera Sian Ka'an, the largest protected area in the Mexican Caribbean that's home to thousands of species of flora and fauna. Not remote enough? In Isla Hobox, a 26-mile paradise northwest of Cancun, you'll feel like a castaway. The streets are made of sand, hammocks hang from the trees and you can swim among friendly whale shark before toasting the breathtaking surroundings with micheladas back on land.

Mostly Cs: The Art Lover
It's been years since you took your college exam on the subject, and you can still rattle off the differences between Surrealists and Futurists. You brush up on your favorite artists by flipping through the many books stacked on top of your coffee table, but nothing is better than seeing their work up close and in person.
Your honeymoon destination is: Mexico City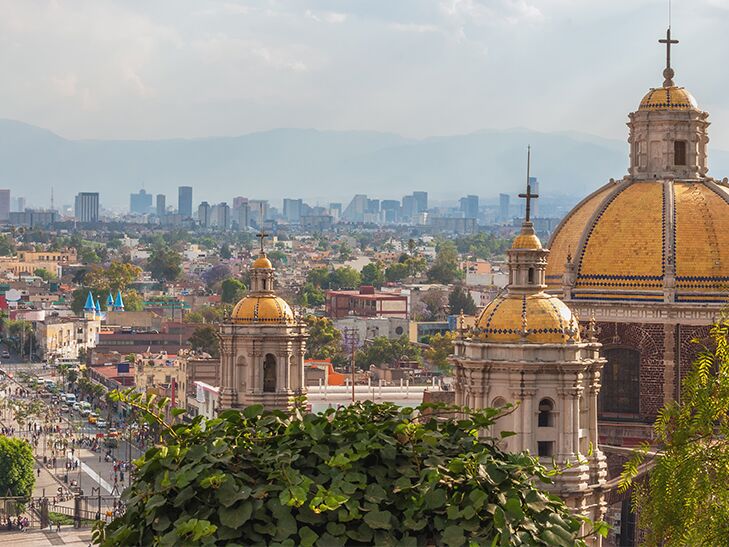 With some 150 museums and a burgeoning contemporary gallery scene, it'dd be impossible to take in everything Mexico City has to offer in just a week's time. But you and your spouse will have so much fun trying. Get ideas for your newlywed nest by dropping by the former homes of painter Frida Kahlo and architect Luis Barragán. Then take your pick from world-class exhibit spaces, from the spectacularly designed Museo Soumaya to the contemporary wonderlands of the Museo Jumex and the Museo Universitario Arte Contemporáneo. Dream about starting your own collection in the San Rafael or San Miguel Chapultepec neighborhoods, dotted with art storefronts. Then journey a few hours outside the city—and thousands of years back in time—to the Teotihuacán archeological ruins to see where art and design began.

Mostly Ds: The Thrill Seeker
Sure, getting married will be an adrenaline rush—that's one of the reasons you can't wait to say your I do's. So when it comes to your honeymoon, you plan to keep your hearts racing with an adventure of a lifetime.  
Your honeymoon destination is: Ciudad Valles, San Luis Potosí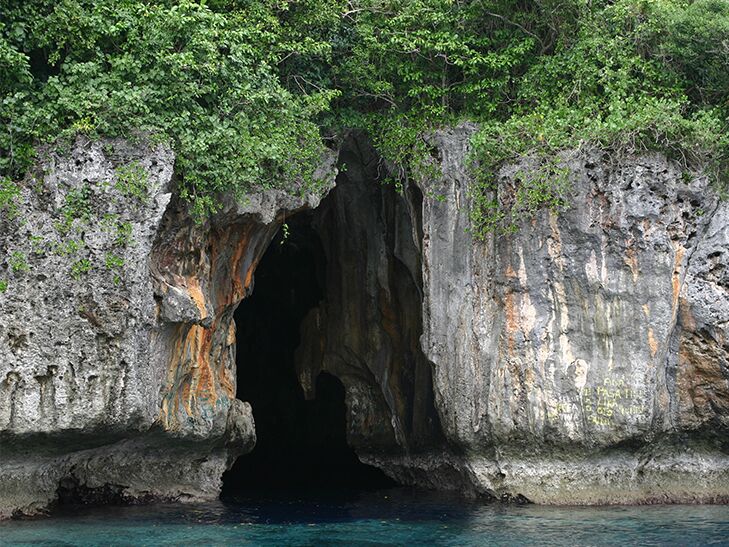 Rest up in the sleepy city of Ciudad Valles. You'll need all your energy to take in the best of what this central region of Mexico has to offer. Start with a visit to the nearby Tampaon River, often ranked among the most beautiful in the world. Navigate its turquoise swells by raft during the rainy season, stopping to dive into a water cave before moving on to see its majestic 300-foot Tamul waterfall. If the view from below isn't breathtaking enough, rappel down its side from above. Or save up your courage for the Cave of Swallows, with its limestone walls providing refuge for thousands of birds. (Pro tip: Camp nearby so you can witness their sunrise exodus, refortify and then kick off the afternoon with a base jump into the pit's 1,200-foot depths.) As you look up from below, just think of the stories you'll have to share with your kids someday.
Mostly Es: The Beach Bum
Forget la vida loca. For you, it's la vida low-key. You won't even let your wedding planning harsh your mellow, and your honeymoon should be equally easy going.
Your honeymoon destination is: Puerto Vallarta, Jalisco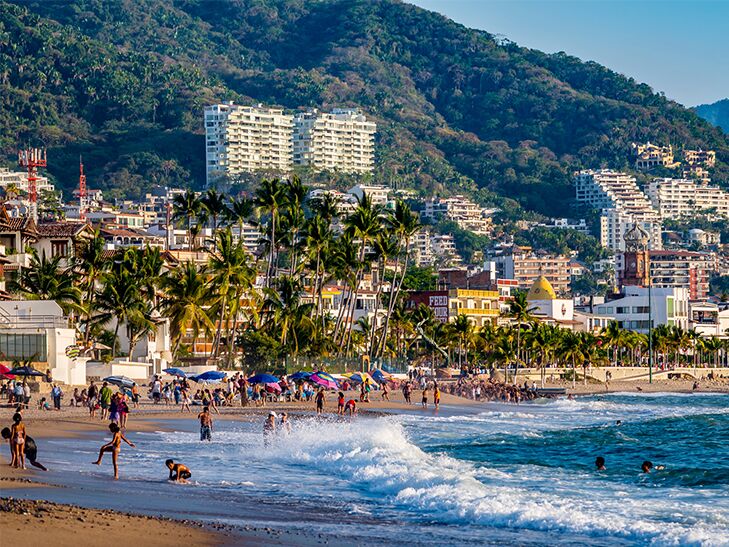 Do nothing at all at this resort haven, except run your toes through the sparkling white sand and swim in the crystal-clear blue waters of the Bahía de Banderas that it borders. When you've had enough of lazing beneath palm trees and sipping cocktails out of coconuts, head into town for dinner (there are restaurants aplenty) and dancing (Puerto Vallarta is also known for its nightlife). Looking for a place where you can hang ten rather than just hang out? Consider Sayulita, about 25 miles north of Puerto Vallarta, as an alternative. You can rest, relax and ride the waves at this quiet fishing village turned boho hotspot.

Mostly Fs: The Cosmopolitan
When the weekend arrives, you can't wait to get out and about, even if you're simply walking along the shopping thoroughfares. After all, how can you experience your surroundings if you're sitting on your couch? When it comes to your best vacation ever, getting away from it all is not how you would describe it. You want to be fully immersed among the people, place and things that make a destination distinct.

Your honeymoon destination is: San Miguel de Allende, Guanajuato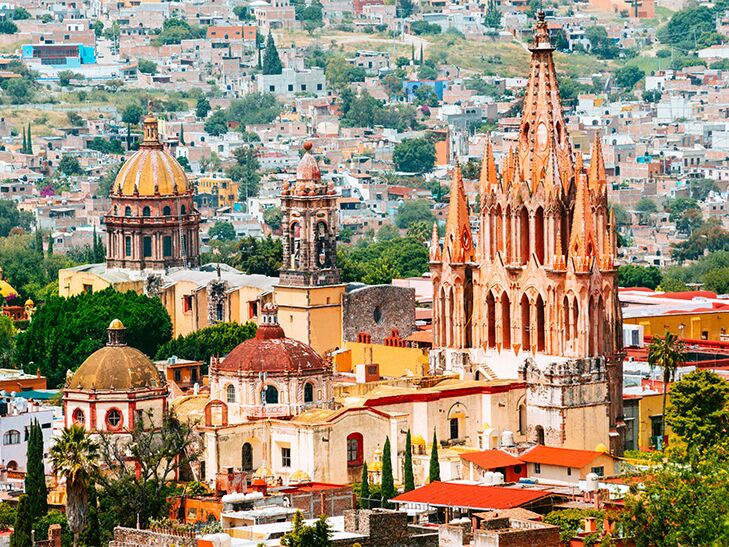 Book a room in one of the luxury hotels nestled within this city, but don't be surprised if you discover yourselves spending very little time there. Even newlyweds will find the winding cobblestone streets out the front door too irresistible. Set off to admire the colonial houses painted in the prettiest pinks, greens, yellows and reds—and take selfies in front of every single one of them. Stop in stores (you'll find treasures around every corner) before heading to the city's crown jewel, the multi-spired Parroquia church, whose pink facade looms impressively over the town's center Jardín. After an afternoon nap, book a table at a rooftop restaurant. You'll want to take in the city below as the light fades behind the Guanajuato Mountains in the distance. Then wake up the next morning and hit repeat. As many expats here can tell you, you'll fall so in love with this destination that you'll never want to leave.