These 12 Miami Proposal Ideas Will Have You Ready to Pop The Question in No Time
This city has something to suit every style.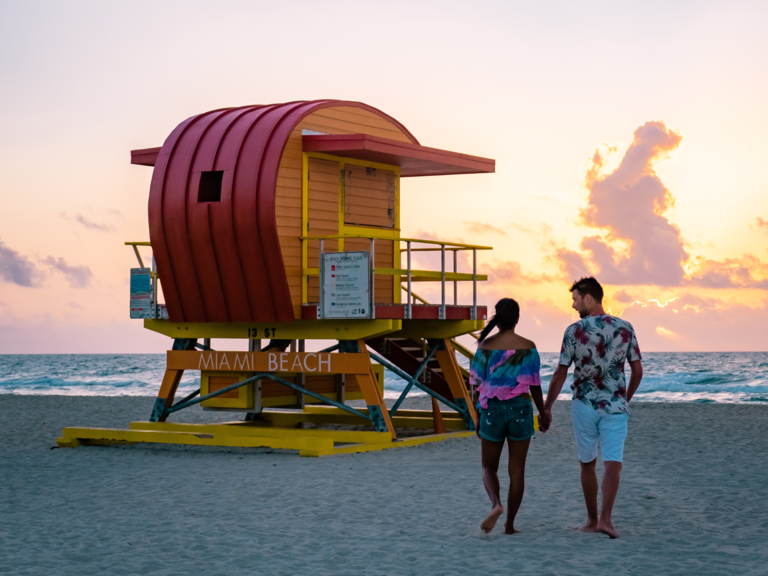 Photo: fokke baarssen / Shutterstock
If Miami proposal ideas are what you seek, you're on the right page. We know how overwhelming it can feel to plan a Miami proposal with hundreds of places trying to capture your attention. That is why we've compiled a list of some of the best places to propose in Miami which you can narrow down to select which one best fits your proposal vision.
For some tips regarding where to propose in Miami, we spoke with Miami-based wedding photographer Talia Lopez, owner and lead photographer of TLC Photos, and Stacey Ambrosio, the expert behind Ambrosio Photography with more than 15 years of experience. They also provided some recommendations as to the most romantic places to propose in Miami which we considered when developing our list.
Once you've solidified your venue choice for your Miami proposal (hopefully one featured on this list), you can use The Knot Vendor Marketplace to help find a proposal planner, proposal photographer and additional vendors you can work with to bring the elements on your wedding proposal checklist to life.
In this story:
How to Decide Where to Propose in Miami
Miami is a large city spanning more than 55 square miles making it a solid choice if you're someone who wants to consider all of their options for a Florida proposal. "Miami has a lot of options for proposal locations - beaches, botanical gardens, historic museums, a lighthouse on the end of Key Biscayne, or any of the endless miles of boardwalks," says Ambrosio. There are also several establishments in the suburbs cities including Coral Gables and Miami Beach which frequently serve Miami locals and visitors–the possibilities are essentially endless when it comes to the best places to propose in Miami. Ambrosio recommends checking the calendars or contacting the venues you're interested in in advance as many places often have events, festivals, or weddings taking place.
Additionally, Lopez recommends trying to ask your partner or deduce ahead of time whether or not they'd want a lot of people watching your special moment and go from there.
The Best Time of the Year to Propose in Miami
When it comes to the best time of year for your Miami proposal, this will depend on your preferences and how you anticipate your special moment going. If you're okay with lots of tourists, you'll more than likely be satisfied during any time of the year crowd-wise since Miami is a tourist-heavy city. With that being said, there are some best practices you can follow if you want to minimize the likelihood of popping the question in front of hundreds of people, especially in a public place. "Saturdays and Sundays are pretty hectic as there are typically a bunch of people everywhere, especially on any beach," says Lopez. "However, I have found that if couples have their proposal during the week, there can be somewhat of a more private moment, especially at the beaches. Monday through Friday between the hours of 8 am and 5 pm are the best times for proposals if you're looking for something more private."
When determining the best time of year for your Miami proposal, consider what the weather will likely be like. For the most part, the weather in Miami feels the same and is on the warmer side. Lopez explains that June and July may be hotter whereas January temperatures may drop to 40 or 50 degrees depending on the day.
The Best Places to Propose in Miami
Miami is a big city with a plethora of locations suitable for a memorable proposal. Thanks to our research and recommendations from Lopez and Ambrosio, we were able to narrow down our list to share those can't-miss places with you.
Vizcaya Museum and Gardens in Miami, Florida
Both Lopez and Ambrosio recommend a proposal at the picturesque Vizcaya Museum and Gardens. This mansion-like museum is the perfect place for a sophisticated yet affordable proposal. If you keep an eye out on the museum's calendar for events such as movie night, this could make for an even more unique and fun way to ask your partner for their hand. It is important to note that all visitor tickets must be reserved online, so make sure you do so to ensure you're not turned away at the entrance.
Phillip and Patricia Frost Museum of Science in Miami, Florida
This all-in-one museum, aquarium and planetarium that is the Phillip and Patricia Frost Museum of Science is a great spot for popping the question, especially for a partner who loves all things since. Since the museum is divided into four buildings, we recommend taking your partner on a scavenger hunt through each one (that way you both get to experience it all) before presenting the ring.
Marion Miami in Miami, Florida
If an elevated proposal experience is what you seek, head to Marion Miami. Your partner will feel like the superstar they are from the moment they step into this chic restaurant and cocktail lounge filled with velvet chairs and photos of Old Hollywood icons. Whether you visit for dinner or some drinks, please note that there is a dress code–if your partner is in need of a new outfit, a pre-meal shopping spree could be a fun way to spend time together beforehand.
Bayfront Park in Miami, Florida
Nestled in the heart of Miami sits Bayfront Park. This 32-acre park offers beautiful views of Biscayne Bay and the Miami skyline. You can open up your ring box while you take a stroll along the side of the bay or do so at the top of your ride on the nearby Observation Wheel–either way, a proposal at this park will be a memorable one.
DoubleTree by Hilton Grand Hotel Biscayne Bay in Miami, Florida
If you're looking for a waterfront location for your proposal, it's hard to go wrong with the DoubleTree by Hilton Grand Hotel Biscayne Bay. Whether you choose to ask your partner to be yours forever from the comfort of your hotel room or on the Metromover located just outside the property, you'll be equipped with a picturesque and water-filled backdrop for those engagement photos.
Romantic Places to Propose in Miami
If a particularly romantic proposal is what you seek, these venues below will help you pull off the proposal of your dreams–you can thank us later.
The Biltmore Hotel in Coral Gables, Florida
Ambrosio recommends a proposal at The Biltmore Hotel. "The Biltmore is a great location if you want epic architecture, options for an indoor proposal and a more formal feeling." Although this hotel is located in Coral Gables, it's only a 17-minute drive to Miami which is great if you want the Miami feel without all of the hustle and bustle.
Perez Art Museum Miami in Miami, Florida
Since you're about to start your own unique creation that is the next chapter of your life, it's only fitting to get down on one knee at the Perez Art Museum Miami. Featuring more than 200,000 square feet of exhibit space, we don't doubt that your partner will describe this venue as a 'masterpiece' of a choice for years to come.
Fairchild Tropical Gardens in Coral Gables, Florida
If your partner loves all things flowers, Ambrosio recommends a proposal at the Fairchild Tropical Botanic Garden. With 83 acres of tropical gardens and exhibits, this botanical garden is one of the most romantic places to propose in Miami, especially during those summer months since it's largely outdoors.
Perfect Places for a Rooftop Proposal in Miami
Miami is filled with rooftops for your proposal. Whether you'd prefer a rooftop bar or restaurant, read on for our favorites.
The Betsy Hotel in Miami Beach, Florida
The Betsy Hotel in Miami Beach is where you should head if you're looking to execute a luxurious rooftop proposal. This hotel's rooftop not only contains a pool deck but hanging string lights and views of the Atlantic Ocean perfect for a romantic rooftop proposal in Miami. After you pop the question, you can head into the pool for a late-night swim (thanks to your room key)–we can't think of anything more romantic.
Watr at the 1 Hotel South Beach Rooftop in Miami Beach, Florida
For a rooftop proposal with Japanese influence, head up 18 stories to the top of 1 Hotel South Beach for a meal at Watr. With a menu including dishes such as scallop sashimi and snow crab avocado, your partner will be impressed with the high-quality cuisine in addition to the ring you're going to slide onto their ring finger. If you're not a guest at the 1 Hotel South Beach, you're going to need a reservation for the restaurant for your restaurant proposal, so make sure to make one in advance.
Sugar at East Miami in Miami, Florida
Sugar sits on the 40th floor of the East Miami Hotel and offers beautiful panoramic views of the city in addition to unique tapas and light bites. This rooftop contains a garden area and can be visited during the daytime or evening. Although no dress code is required, nighttime attire is encouraged if you plan to pop the question after sunset.
Rosa Sky Rooftop in Miami, Florida
Rosa Sky Rooftop is one of the most popular rooftop bars in Miami. Its colorful lighting and decor make it unique from some of the other rooftops in the area. If you plan on having a professional photographer to capture your special moment, Lopez recommends reaching out to the bar early on to ask for permission.