5 Mother of the Bride Dress Rules You Can Totally Break
Forget what you know about finding a mother of the bride outfit.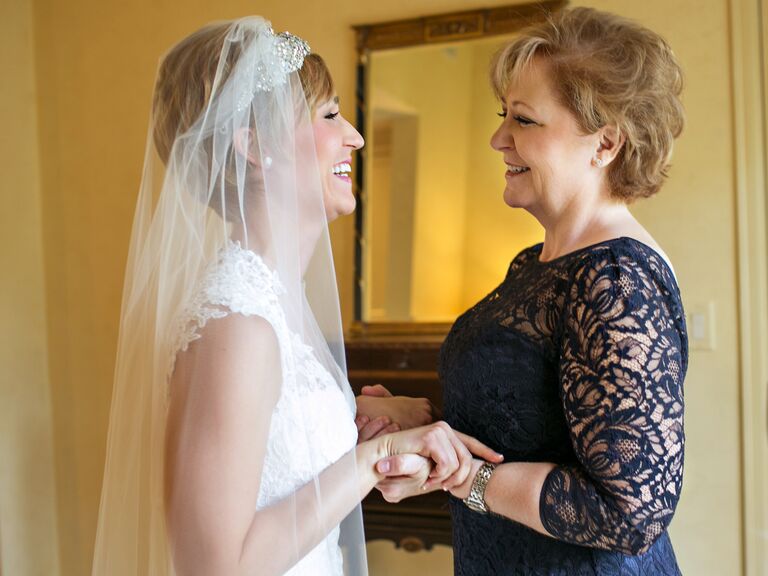 ERIN JOHNSON PHOTOGRAPHY
Not sure what your mom should wear to your wedding? Here's a helpful tip: Expand your search to more than what usually comes to mind when you think "mother of the bride dresses." In other words, don't be afraid to think outside the box, buck tradition and do what works for your mom's taste and your wedding style. It's high time someone busted these five old-school mother of the bride dress myths.
1. She Can't Wear White (or Blush, or Ivory or Champagne)
Tradition dictates only the bride gets to wear white to the wedding, but rules were meant to be broken, right? If you've always imagined your mom and/or bridal party in a creamy hue along with you (or instead of you), that's exactly what they should wear. It'll also give your wedding look a clean and uniform aesthetic.
2. She's Not Allowed to Wear Black
There's nothing more elegant than an all-black clad wedding party, including the mother of the bride or groom. Black is universally flattering and lends an instantly formal vibe to weddings, especially for evening celebrations. Your mom wants to wear black? We say go for it! Look for structural details, lace embellishments or pretty accessories to add texture and dimension to a plain black look.
3. She Needs to Wear a Dress
A dress is expected, but that doesn't mean it's necessary. A pantsuit, jumpsuit or another two-piece ensemble are all fair game when it comes to dressing the mother of the bride.
4. She Has to Wear Something Super Matronly
If buttoning all the way up isn't your mom's style, don't force her into a tired or shapeless dress because the run-of-the-mill mother of the bride ensemble fits that bill. She should step out in something fresh, modern, formfitting or unique—she deserves to feel beautiful and wear an outfit that's authentically her.
5. She Must Match the Bridal Party
While she may not want to completely clash with your wedding party (it could be a bit of a distraction), don't think she has to wear blush chiffon because your bridesmaids will be wearing it. Your mom is a very special lady and deserves to stand out if she wants to.
Here's a handy cheat sheet of traditional mother of the bride duties.