The Best Affordable Bridesmaid Dresses That Don't Look Cheap
Looking for inexpensive bridesmaid dress options? We've pulled together dozens of gorgeous gowns, with the vast majority under $100.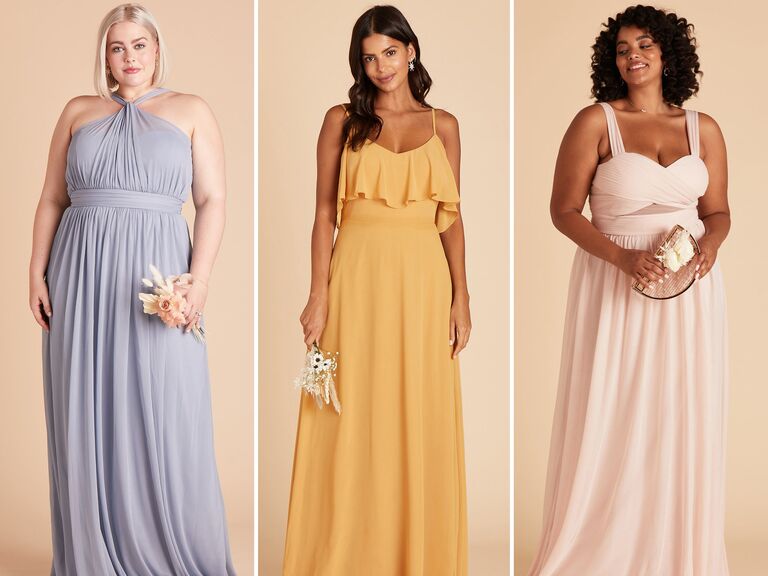 We have included third party products to help you navigate and enjoy life's biggest moments. Purchases made through links on this page may earn us a commission.
Considering all the costs that go into being a bridesmaid these days, looking for affordable bridesmaid dresses can really help. Style, color and silhouette are always front of mind when choosing bridesmaid dresses, but it's also important to consider budget limitations, since 'maids typically pay for their own attire. Asking your friends to break the bank for a custom-made couture number they'll only wear once is a hard ask.
And while we're on the subject, why are bridesmaid dresses so expensive anyway? Well, most bridesmaid dresses are sewn when ordered—and are all cut from the same dye lot (meaning the fabric for each is dyed together so every 'maid wears a truly identical hue). When you pay for a designer gown, you pay for the custom work that goes into it. But that doesn't mean you can't find budget-friendly bridesmaid dresses that still look elegant. Here, we tell you exactly what to look for, as well as where to shop. Plus, we're sharing all our favorite styles for under $100.
In this article:
How to Save Money on Bridesmaid Dresses
The trick to finding a wide variety of bridesmaid dresses under $100 is to think outside the box: Consider off-the-rack options and dresses that aren't necessarily marketed as bridesmaid styles. Wondering where to buy bridesmaid dresses that won't put a dent in your crew's wallets? Look to your favorite everyday retailers, like Lulus and ASOS, for affordable occasion wear that (bonus) can be worn well after the wedding day—that way, your girls will get the most bang for their buck. Just know that off-the-rack attire can be trickier to alter, since you won't be ordering the gowns to each girl's unique measurements. (That said, ASOS carries petite, tall and curvy sizes.)
If you'd rather go the traditional route (aka buy from a bridal retailer), David's Bridal sells gowns under $100 too. Meanwhile, Brideside and The Dessy Group carry styles under $150. (Check out these sites for junior bridesmaid and maternity bridesmaid dresses too.) We also love Birdy Grey, a newer, on-trend bridesmaid dress site where everything costs $99.
Don't forget about sales, either—discounts can take gorgeous bridesmaid dresses from aspirational to attainable. But if you're considering going the off-the-rack route or shopping reduced-price dresses, keep in mind that there may not be enough in stock to support a larger bridal party. Another trending option for inexpensive bridesmaid dresses? Rent the Runway, a rental site that offers marked-down designer attire. It's a nice way to shop more sustainably if your attendants won't wear their dresses again. But of course, there are a few caveats to renting worth keeping in mind. Alterations aren't possible (aside from maybe using some sticky tape) and inventory can be limited. Plus, you may find the delivery date to be a little last minute.
Some final words to the wise? If you're committed to choosing affordable bridesmaid dresses, seriously consider having a mismatched bridal party. Dye lots won't matter and each attendant can pick a style that best suits their body type (solving size and alteration issues). Overall, you'll have way more flexibility (read: more opportunities to score inexpensive gowns).
Ready to start shopping? Check out these cute and affordable bridesmaid dresses that don't look cheap. Most are under $100, some are under $50, and all are editor-approved. (Plus they're all available online.) We've even sorted them by popular category so you can navigate our roundup with ease.
Bridesmaid Dresses Under $100 by Color
Bridesmaid dresses should fit into your overall color palette—look for shades you like and shades that work for your attendants too. Below, we've rounded up the best affordable bridesmaid dresses in every color of the rainbow, from classic shades like burgundy and lavender to trendy hues like burnt orange and dusty blue.
Purple Bridesmaid Dresses Under $100
Ranging from lavender to a deep eggplant, purple is one of the most versatile colors you can choose for your bridesmaids. Lighter purples give off a whimsical, retro vibe, whereas darker purples feel more sophisticated and formal. If you're opting for a mismatched bridal party, sage green, gray and silver complement most shades of purple.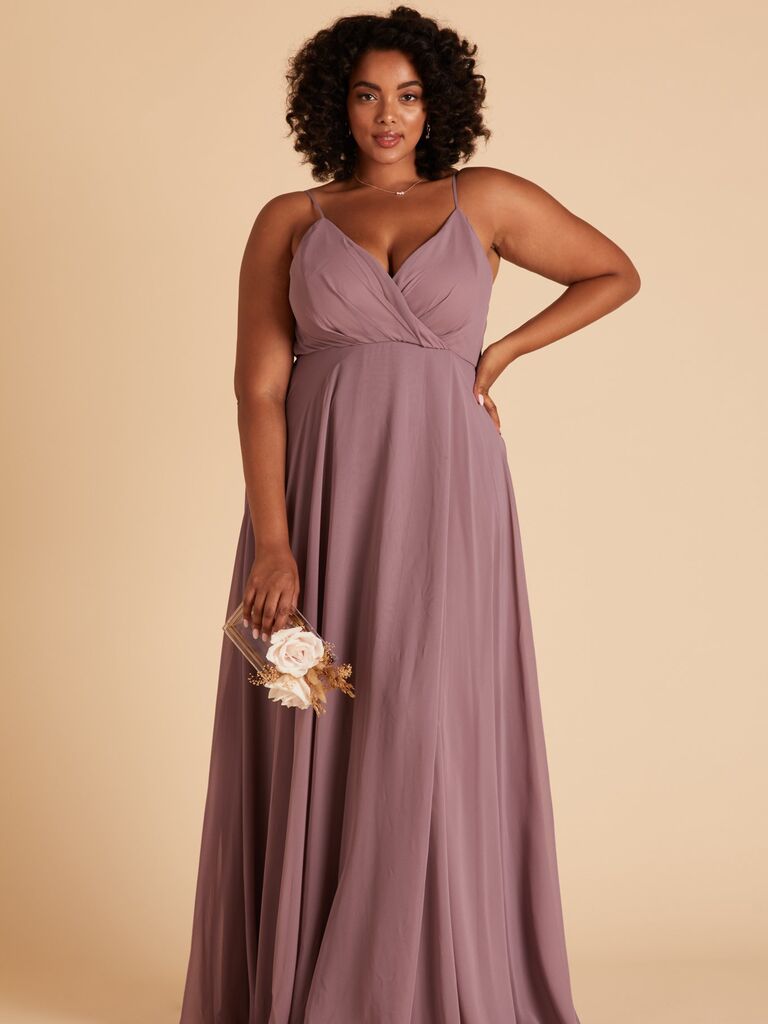 Shopping for affordable plus-size bridesmaid dresses? Birdy Grey sells gorgeous options. This mauve gown is impressively comfy, timelessly chic and has pockets (score).
Birdy Grey Curve Kaia dress in Dark Mauve, $99, BirdyGrey.com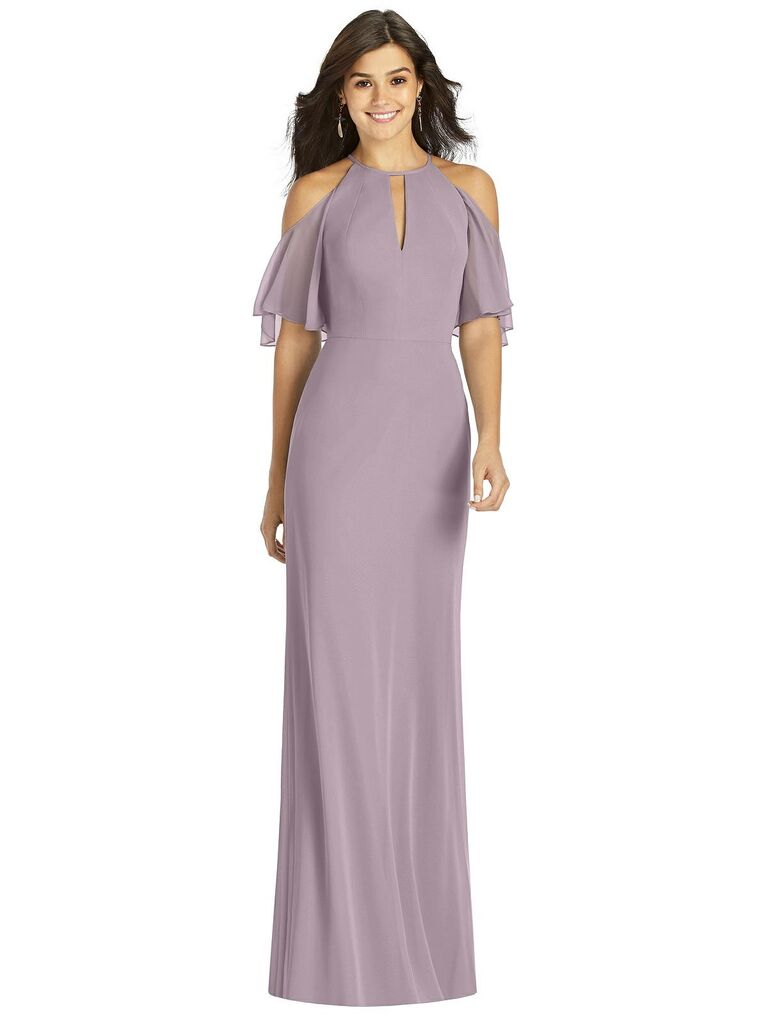 Here's a versatile cold-shoulder style with an on-trend keyhole neckline. This affordable lavender bridesmaid dress looks so far from cheap, we can't believe it's under $100.
Thread Bridesmaid ruffle cold-shoulder mermaid maxi dress in Lilac Dusk, from $99, Dessy.com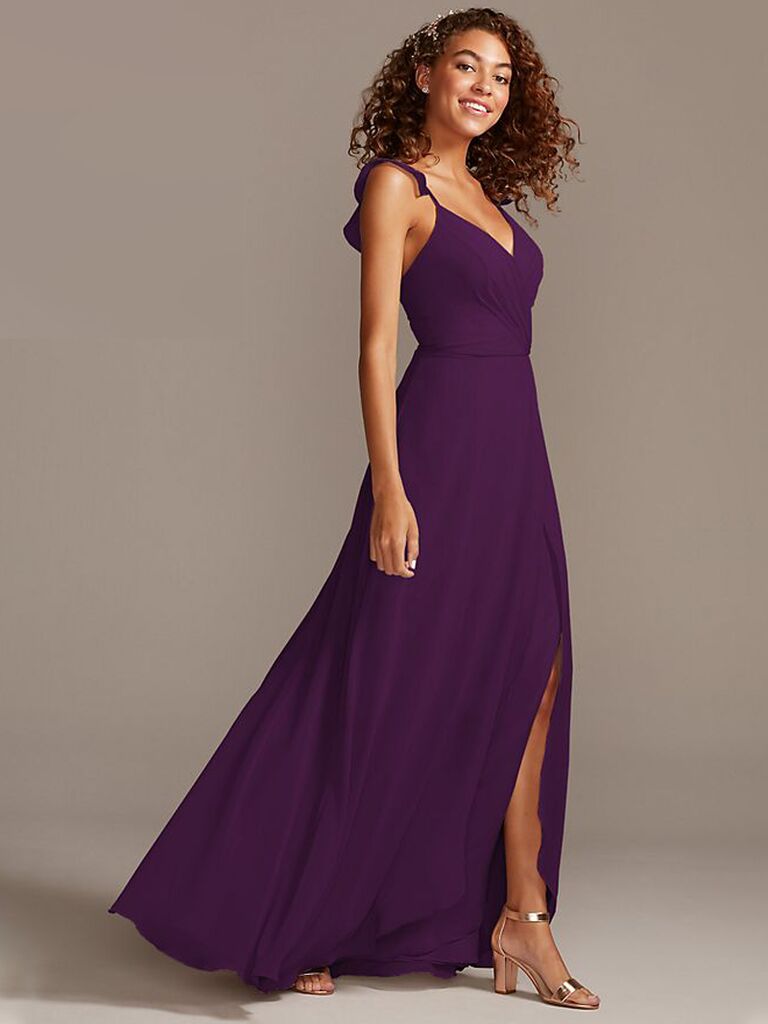 Looking to put a fashion-forward spin on a traditional long gown? Try this V-neck maxi dress with unique ruffles on the straps, which give a classic silhouette a playful twist.
David's Bridal ruffle spaghetti strap chiffon bridesmaid dress in Plum, $100, DavidsBridal.com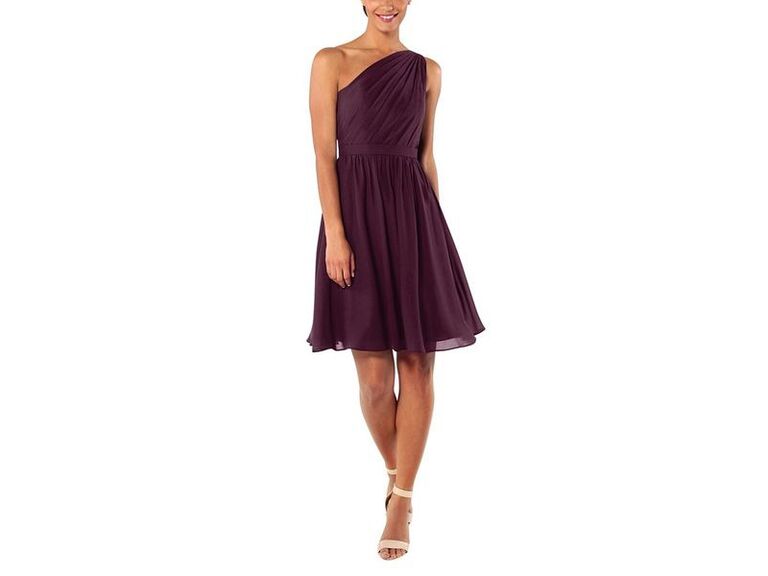 This affordable short bridesmaid dress, with a pretty one-shoulder neckline, still gives off an elegant vibe. The flowy chiffon looks gorgeous in deep purple.
Brideside Tina cocktail bridesmaid dress in Grape, from $99, Brideside.com
Pink Bridesmaid Dresses Under $100
Pink bridesmaid dresses have taken weddings by storm, and for good reason. Popular hues, from blush to dusty rose, complement a wide range of settings. Here are our favorite affordable (and super-cute!) bridesmaid dresses in the beloved color.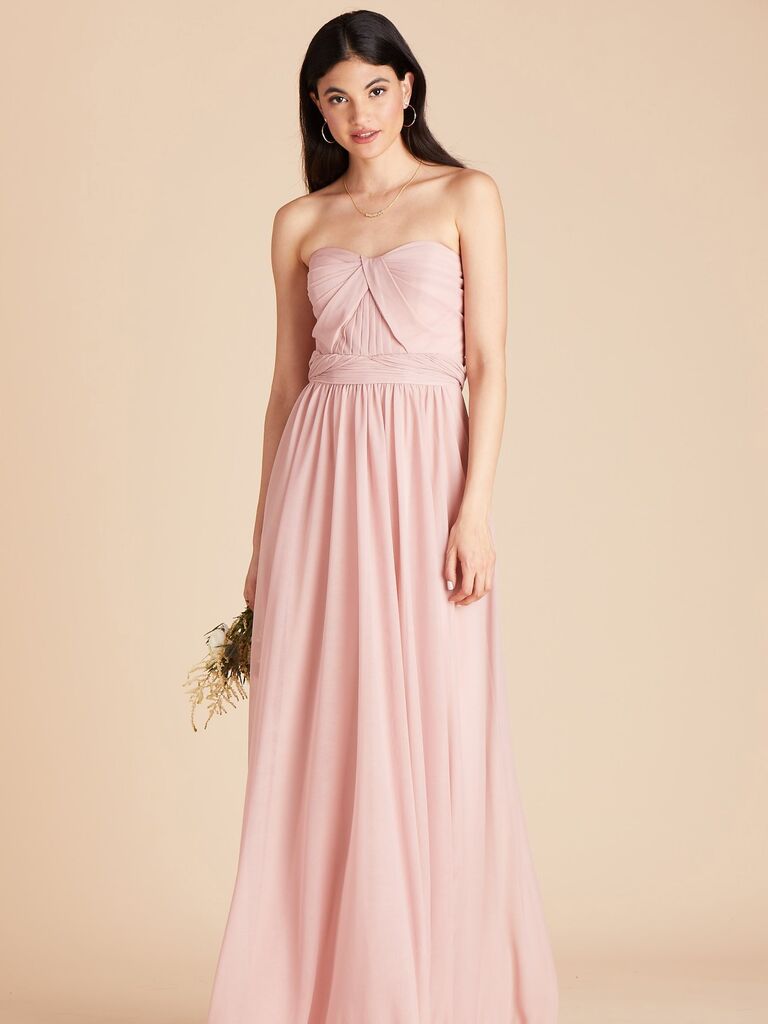 We love strapless gowns in pink, but don't worry if your 'maids don't. This inexpensive bridesmaid dress is convertible, so your attendants can add straps.
Birdy Grey Chicky convertible dress in Rose Quartz, $99, BirdyGrey.com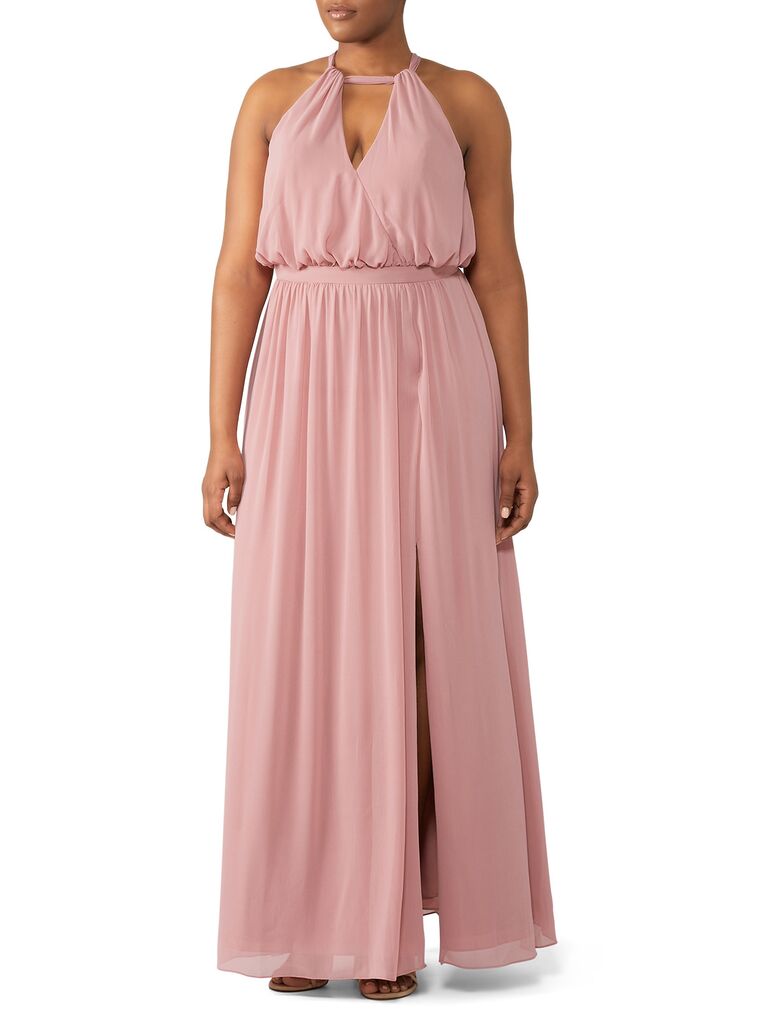 This blush bridesmaid dress costs a pretty penny—that is, unless you rent it. Then, you can score the bridesmaid dress for under $50, all thanks to rental discounts. We adore the gathered neckline and the bow in the back.
Watters blush Fleurette gown, from $40 to rent, RenttheRunway.com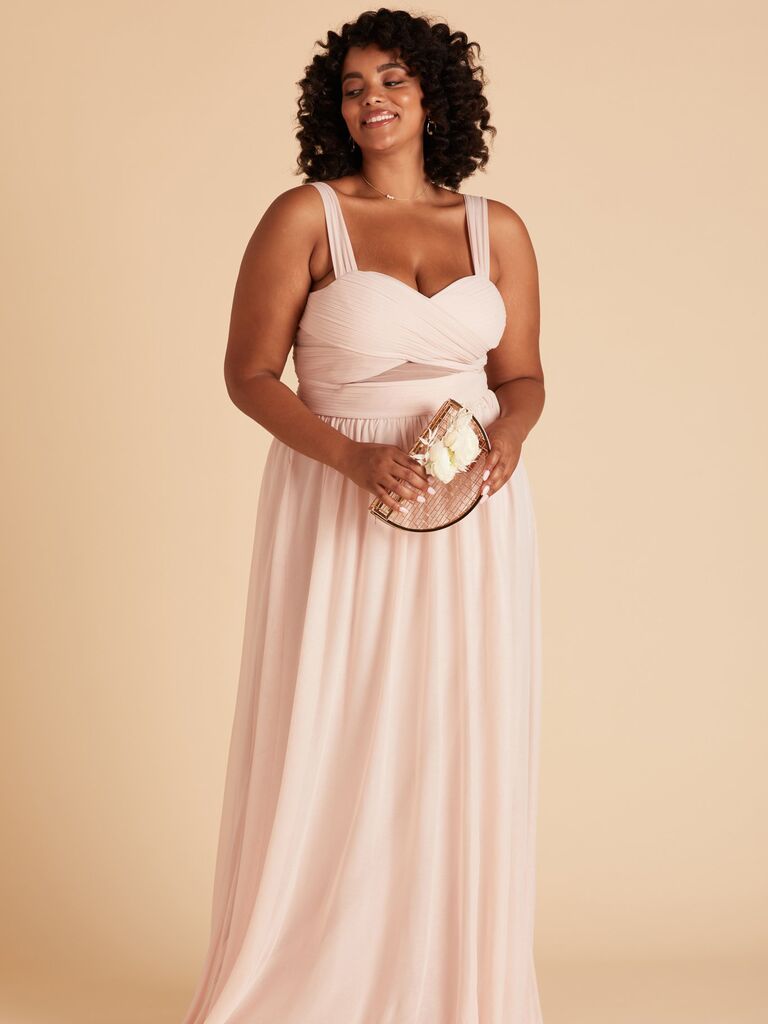 Here's another stunning plus-size bridesmaid dress that looks anything but cheap. Better yet, the straps are adjustable, so your 'maids get to choose from a few different (but equally lovely) necklines.
Birdy Grey Curve Spence convertible dress in Pale Blush, $99, BirdyGrey.com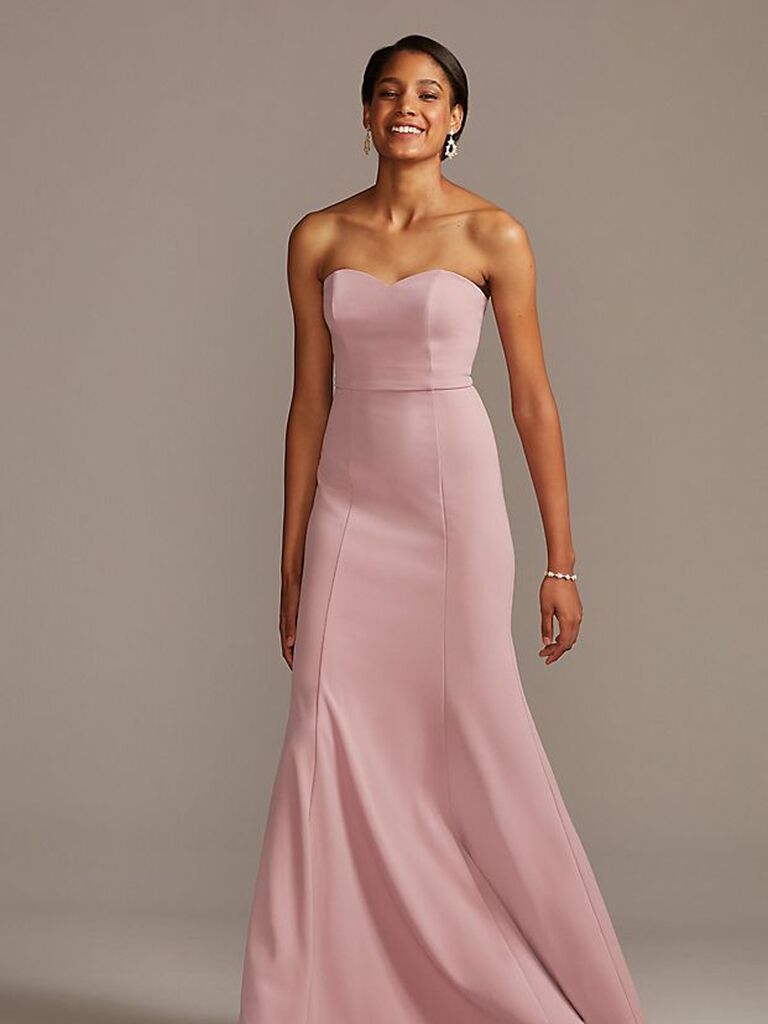 Simple and elegant, this dusty rose dress suits a formal celebration.
DB Studio sweetheart strapless stretch crepe dress in Dusty Rose, $100, DavidsBridal.com
Red Bridesmaid Dresses Under $100
These affordable red bridesmaid dresses put the spotlight on fall- and winter-ready colors like burgundy, cranberry and wine. They're timeless, glamorous shades couples turn to year after year—and we can see why!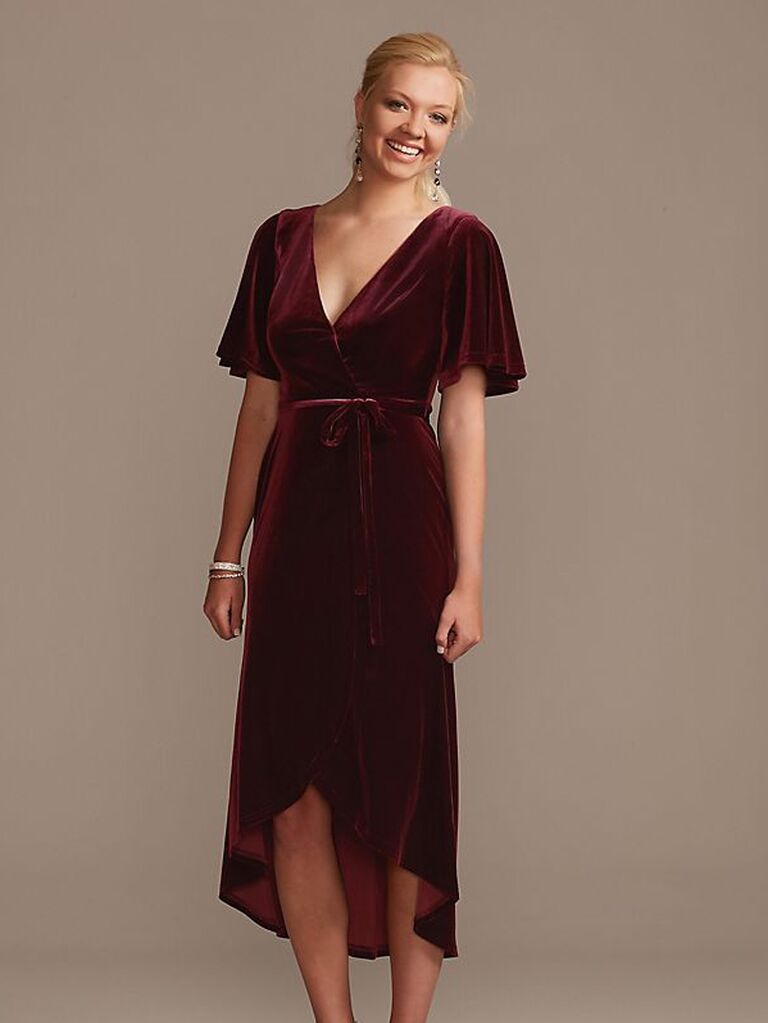 Luxe velvet fabric takes this affordable red bridesmaid dress to a whole new, seriously stunning level.
DB Studio velvet flutter sleeve midi dress with tie waist in Wine, $100, DavidsBridal.com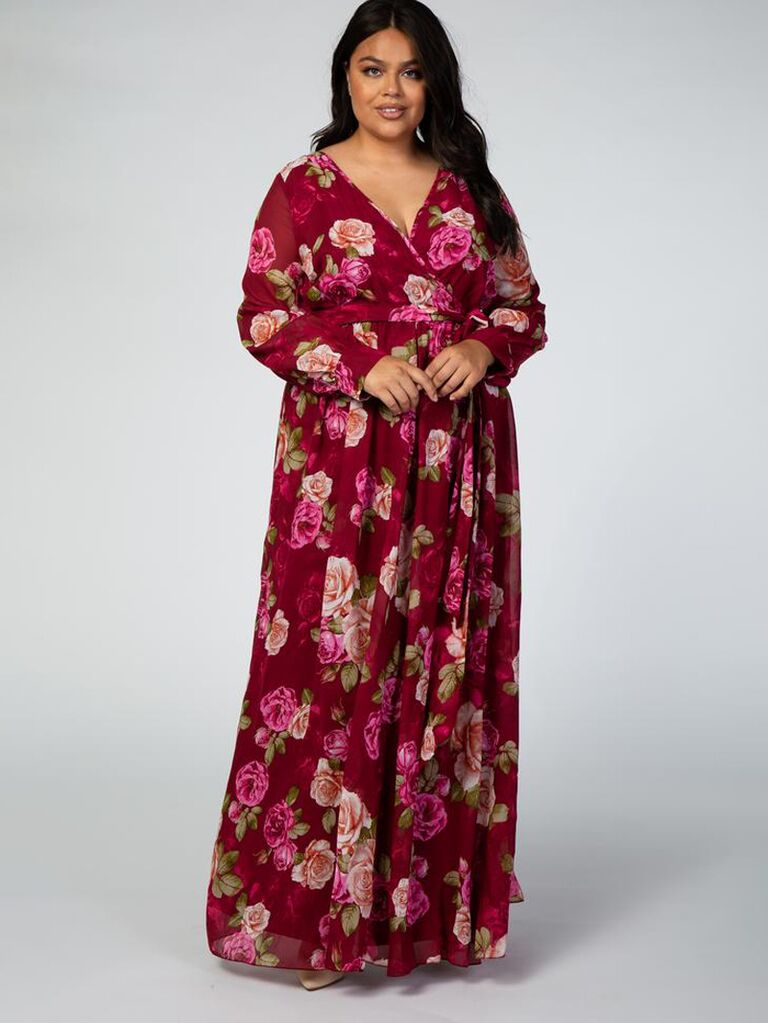 A floral pattern makes this inexpensive burgundy bridesmaid dress look super fresh and fun.
PinkBlush burgundy rose floral chiffon long sleeve plus maxi dress, $75, PinkBlushMaternity.com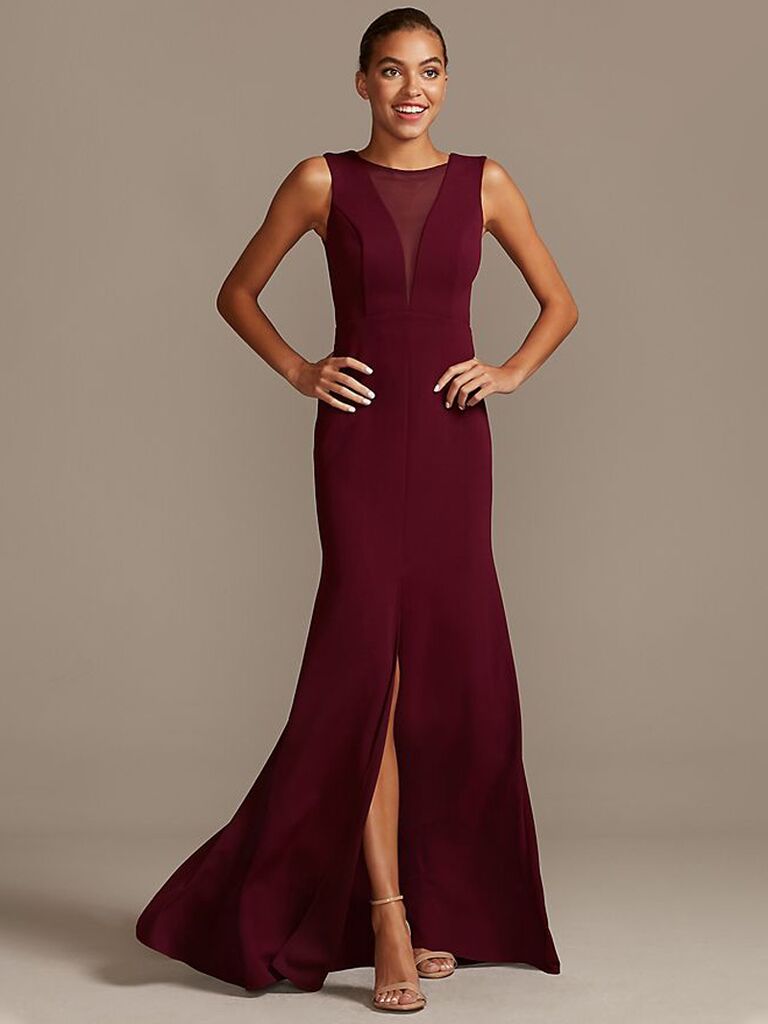 We're here for modern high necklines, and especially this stylish one with mesh detailing! We could see this inexpensive burgundy bridesmaid dress at a contemporary gallery wedding. The gown—like many in this roundup—is also available in plus sizes.
DB Studio illusion deep-V center slit stretch crepe dress in Merlot, $100, DavidsBridal.com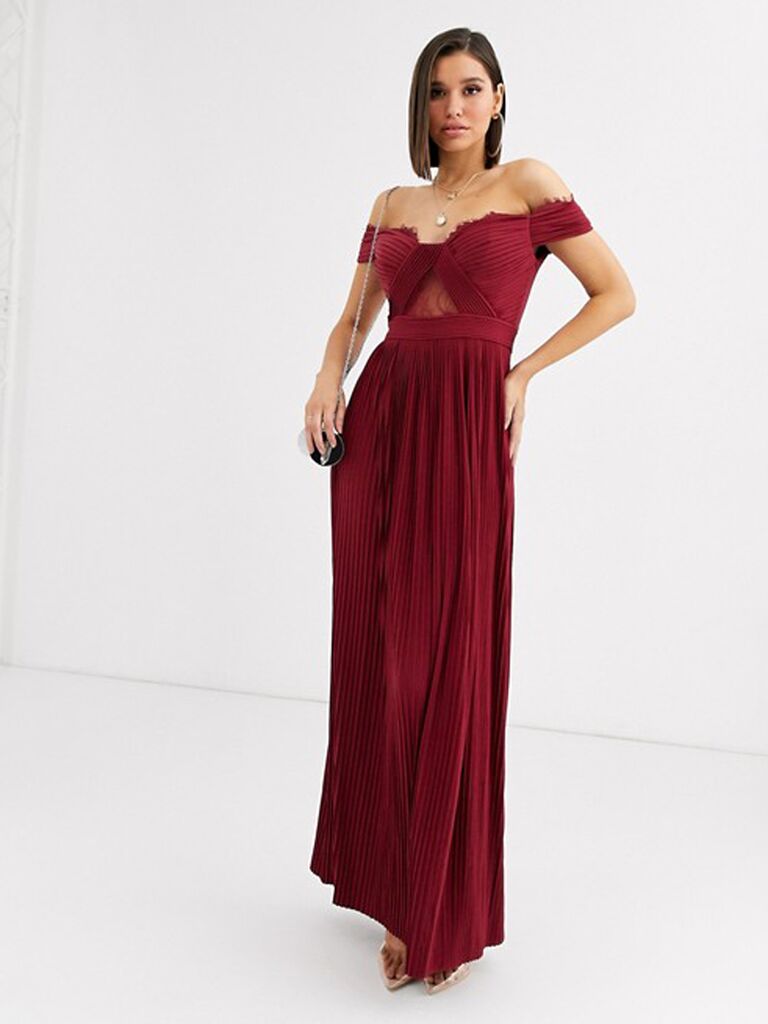 Off-the-shoulder necklines are the fad that's here to stay. This sophisticated cranberry bridesmaid dress has statement-making lace detailing.
ASOS DESIGN premium lace and pleat bardot maxi dress in Oxblood, $95, ASOS.com
Orange Bridesmaid Dresses Under $100
Looking for a bright, cheerful color that goes well with a wide variety of color palettes? Don't sleep on orange! While coral and peach have been longtime staples in the wedding world, moodier shades like rust are also gaining traction.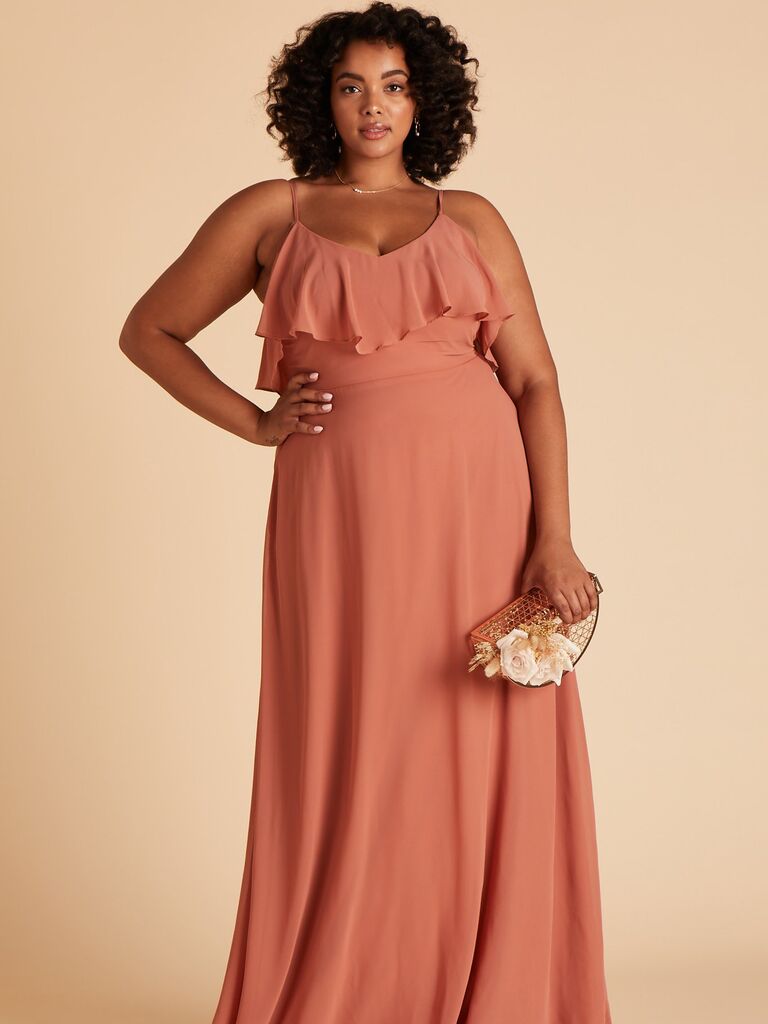 This warm orange bridesmaid dress is gorgeously understated. It pairs well with other earthy, desert-inspired hues.
Birdy Grey Curve Jane dress in Terracotta, $99, BirdyGrey.com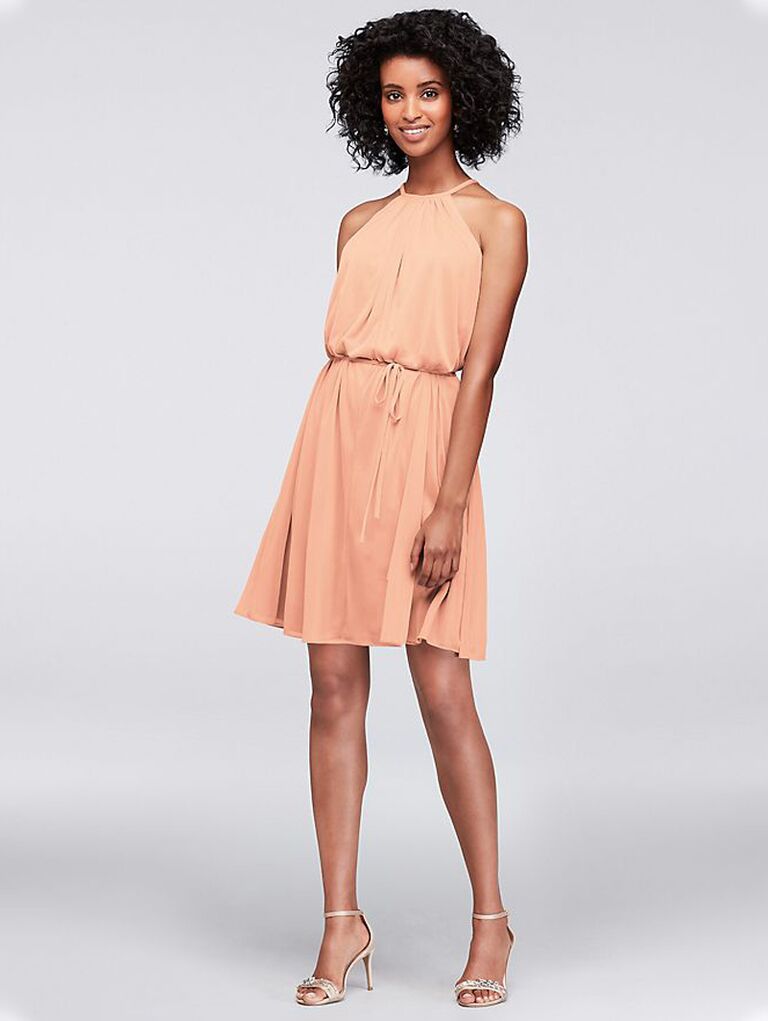 This affordable, casual bridesmaid dress is just peachy! We like the cute halter neck and tied waistline, which both contribute to an effortlessly pretty look.
David's Bridal soft mesh halter short bridesmaid dress in Bellini, $70, DavidsBridal.com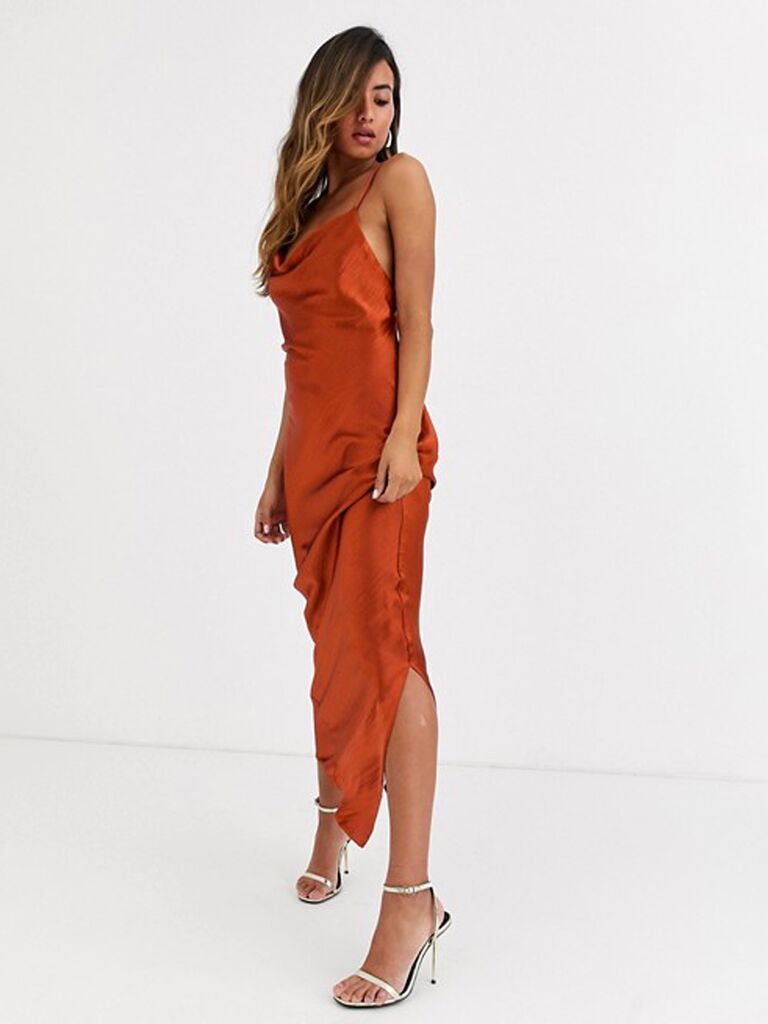 Slip dresses are having a moment, so of course we had to include one on this list. This boho bridesmaid dress is surprisingly cheap (in a good way). You could pay a lot more for that trending shade of burnt orange!
ASOS DESIGN cami maxi slip dress in high shine satin with lace up back in Rust, $72, ASOS.com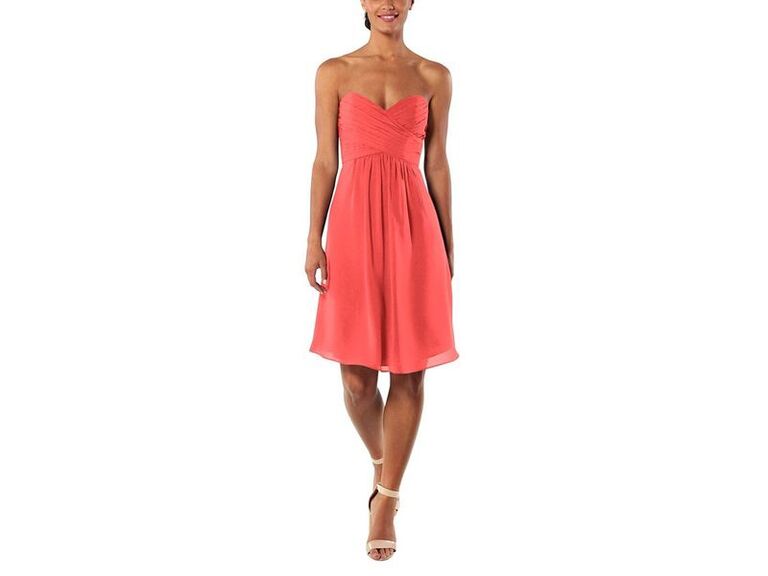 Shopping for an inexpensive coral bridesmaid dress? Here's a bright, bold option that works well for a summer wedding. The short hemline is casual and it'll keep your bridesmaids cool.
Brideside Charlotte cocktail bridesmaid dress in Coral, from $99, Brideside.com
Yellow Bridesmaid Dresses Under $100
Talk about a happy color for a happy occasion! These cheap yellow bridesmaid dresses will brighten up your day without going over budget.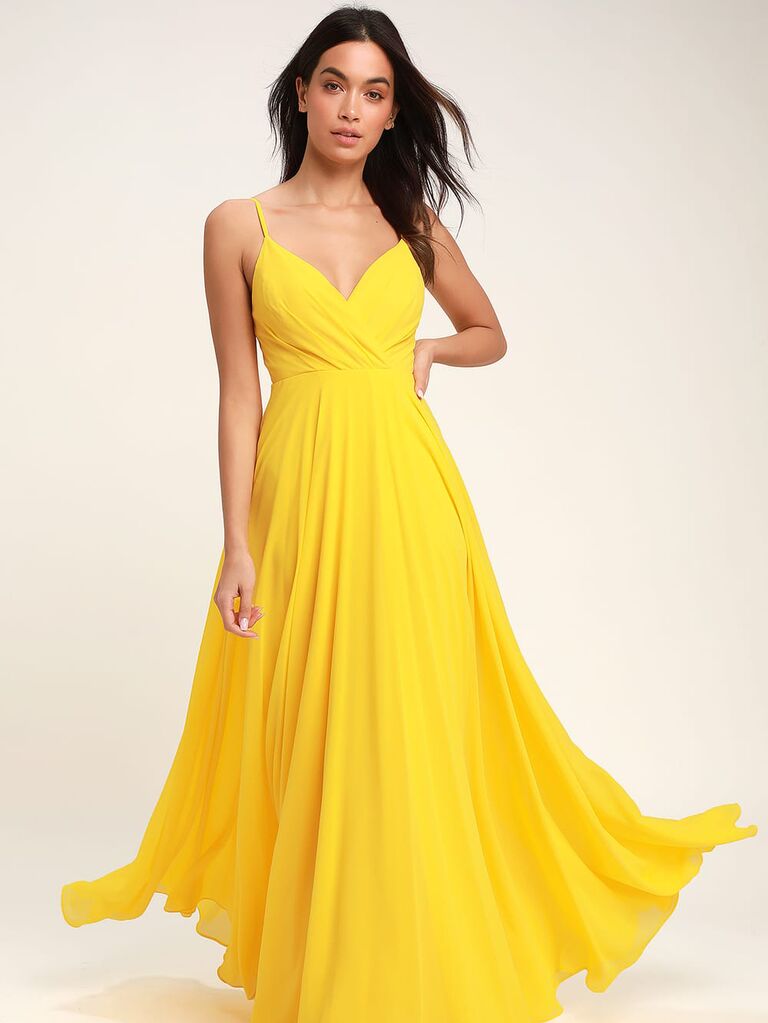 Why let your bridesmaids blend in when they can stand out? This floaty maxi was made for colorful weddings.
Lulus All About Love yellow maxi dress, $97, Lulus.com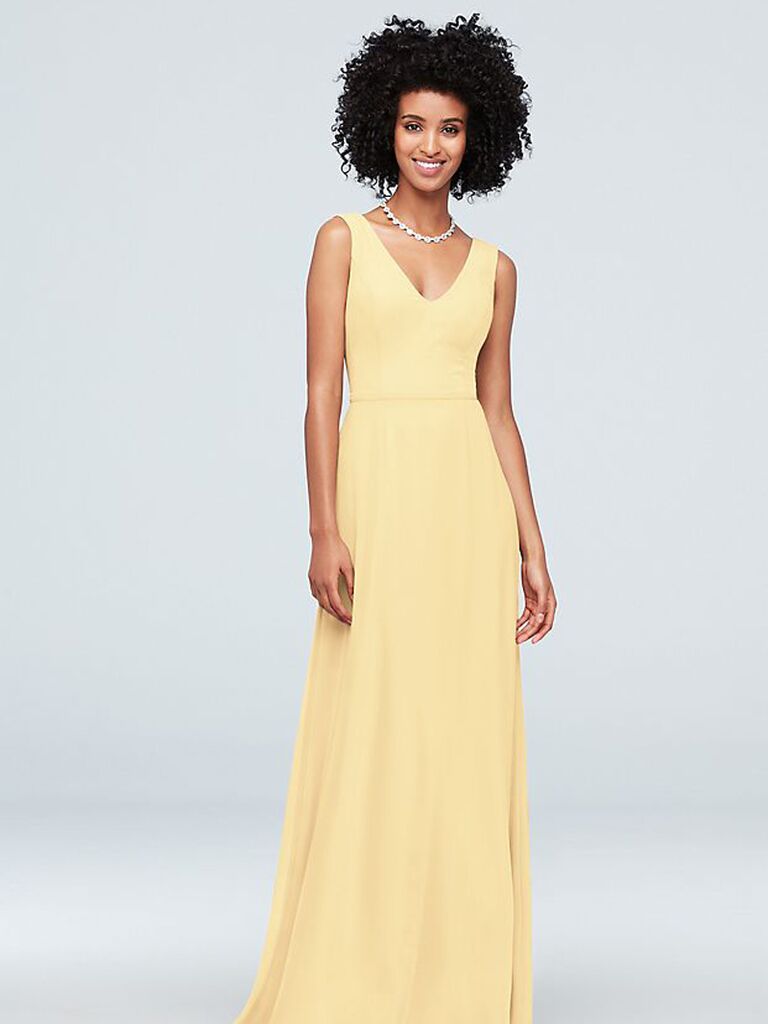 A simple silhouette in a cheerful color? You really can't go wrong. We appreciate this gown's understated elegance.
David's Bridal chiffon V-neck tank bridesmaid dress in Canary, $100, DavidsBridal.com
This yellow-orange bridesmaid dress is simply sunshiney. Finish the look off with a wildflower bouquet.
Birdy Grey Jane convertible dress in Marigold, $99, BirdyGrey.com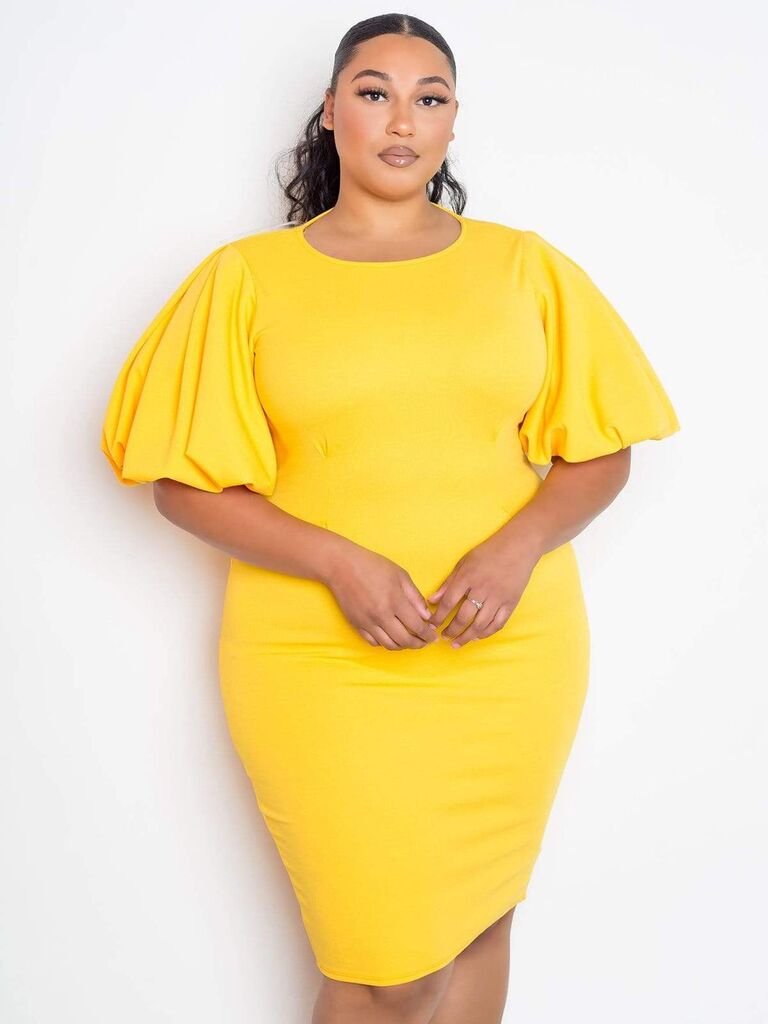 Shopping for short yellow bridesmaid dresses on a budget? The pouf sleeves set this glamorous plus-size option apart.
Buxom Couture voluminous sleeve dress in Yellow, $64, CoEdition.com
Green Bridesmaid Dresses Under $100
All your guests will be green with envy when your 'maids show up in this alluring color. Here are our favorite affordable bridesmaid dresses in nature-inspired hues.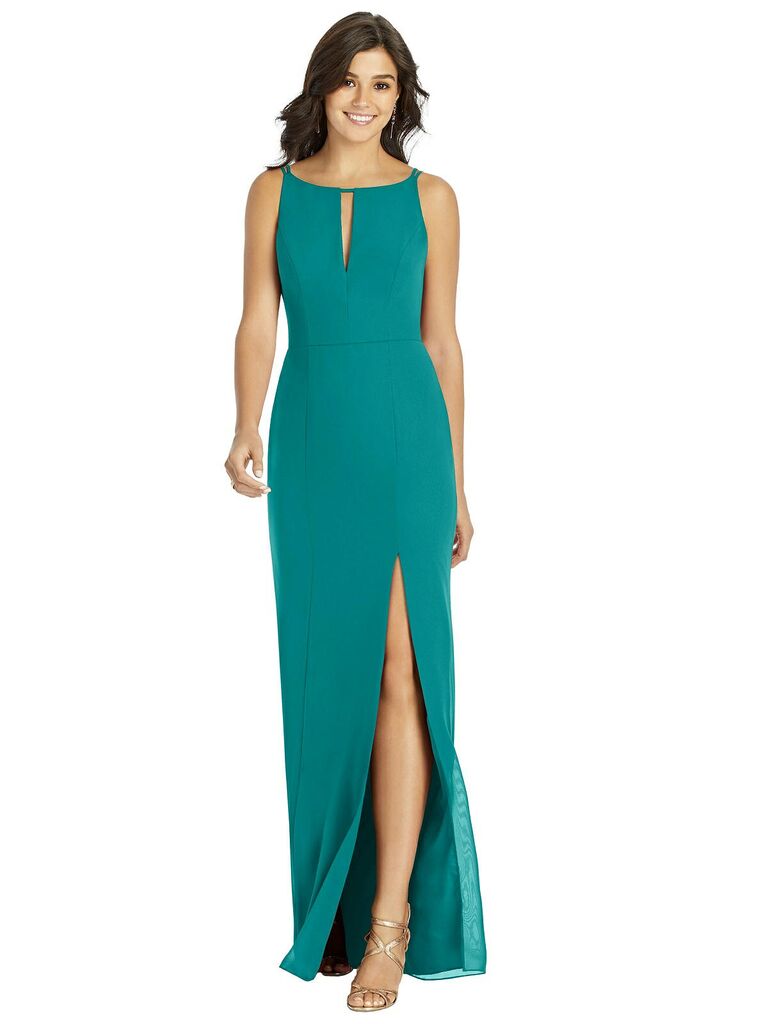 A rich jewel tone at this price? Yes, we're for real. This structured bridesmaid dress is both classy and classic.
Thread Bridesmaid keyhole neck mermaid dress with front slit in Jade, from $99, Dessy.com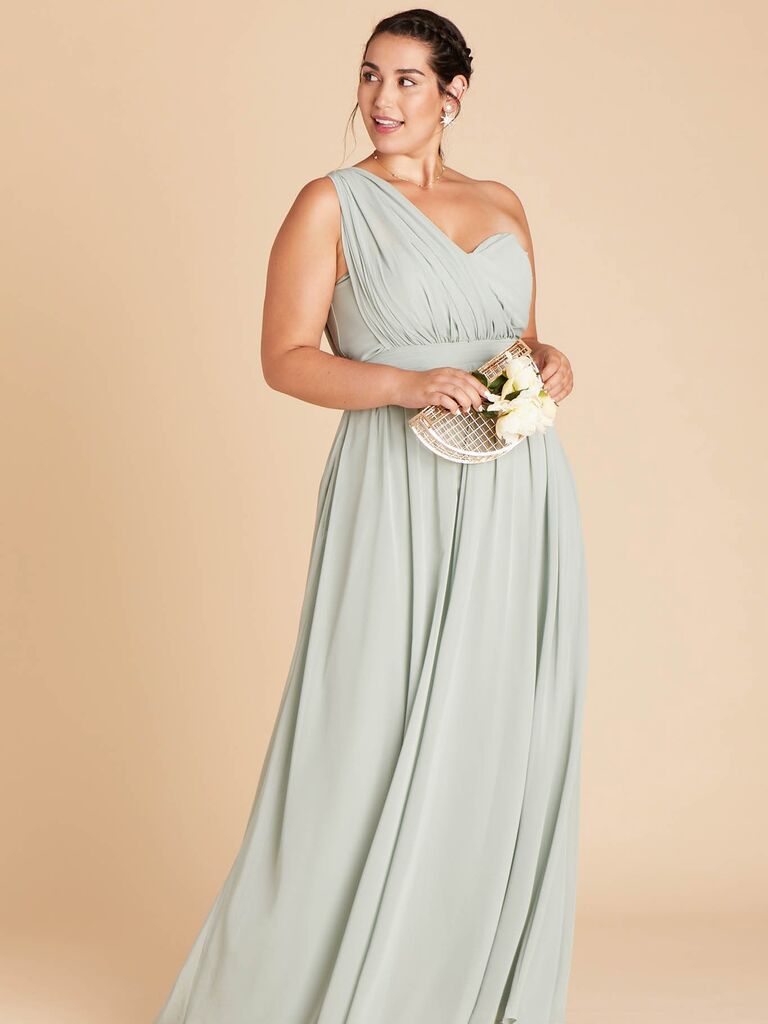 This soft shade of sage is ideal for a springtime or garden wedding. And yep, this bridesmaid dress is convertible, so you've got lots of styling options.
Birdy Grey Curve Grace convertible dress in Sage, $99, BirdyGrey.com
We're obsessed with this surprisingly affordable scalloped bridesmaid dress. It's fun, flirty and that emerald green color is *chef's kiss.*
Speechless scalloped crepe high-low spaghetti strap dress in Hunter, $100, DavidsBridal.com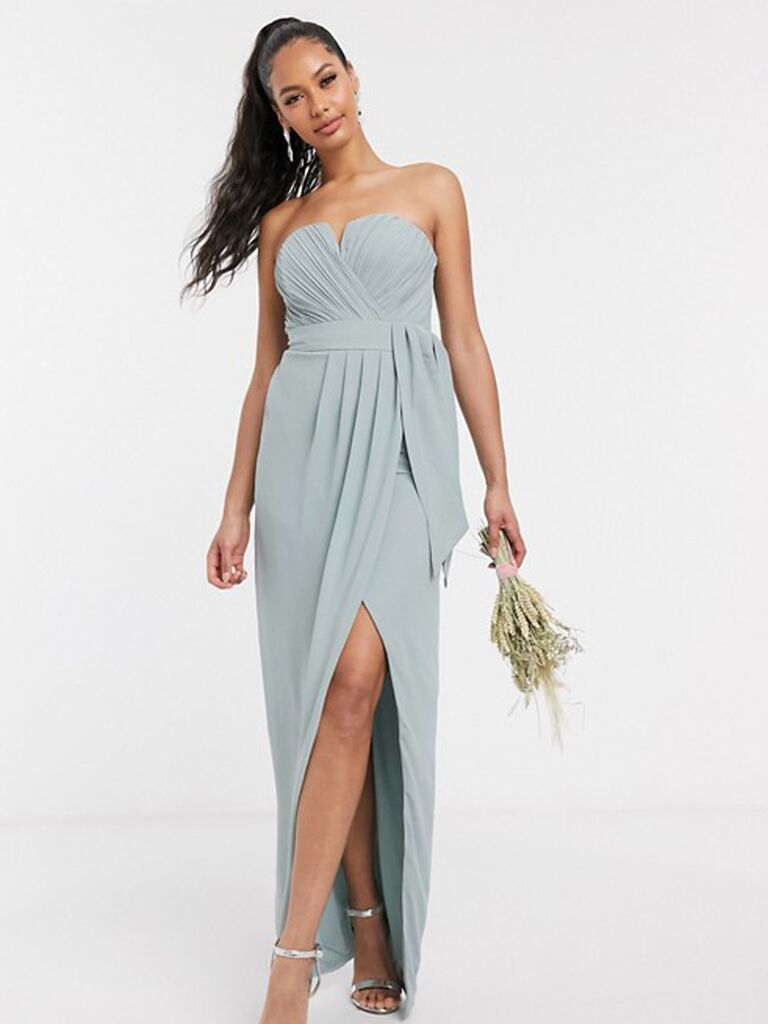 Pleats, draping and a sweetheart neckline—what's not to love? This affordable sage bridesmaid dress is sure to sell out fast, and especially at that price.
TFNC bandeau wrap midaxi dress with pleated detail in Sage, $79, ASOS.com
Blue Bridesmaid Dresses Under $100
Whether you're planning a wedding by the beach or just love this cool and calming color, these inexpensive blue bridesmaid dresses are beautiful without blowing your best friends' budgets.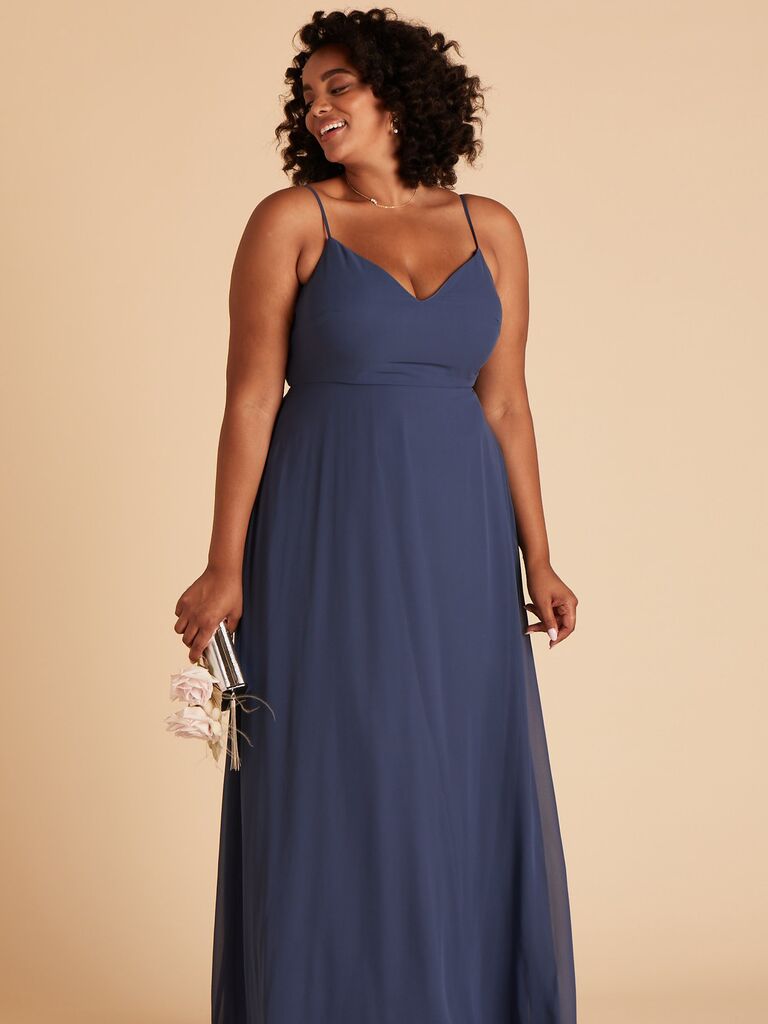 First up is this simple number in a chic, stormy blue. Just imagine how it'd look beside the sea! We love how it's paired with beachy accessories (peep that pearl necklace). FYI, model shots are great resources when it comes to learning how to style a gown.
Birdy Grey Curve Devin convertible dress in Slate Blue, $99, BirdyGrey.com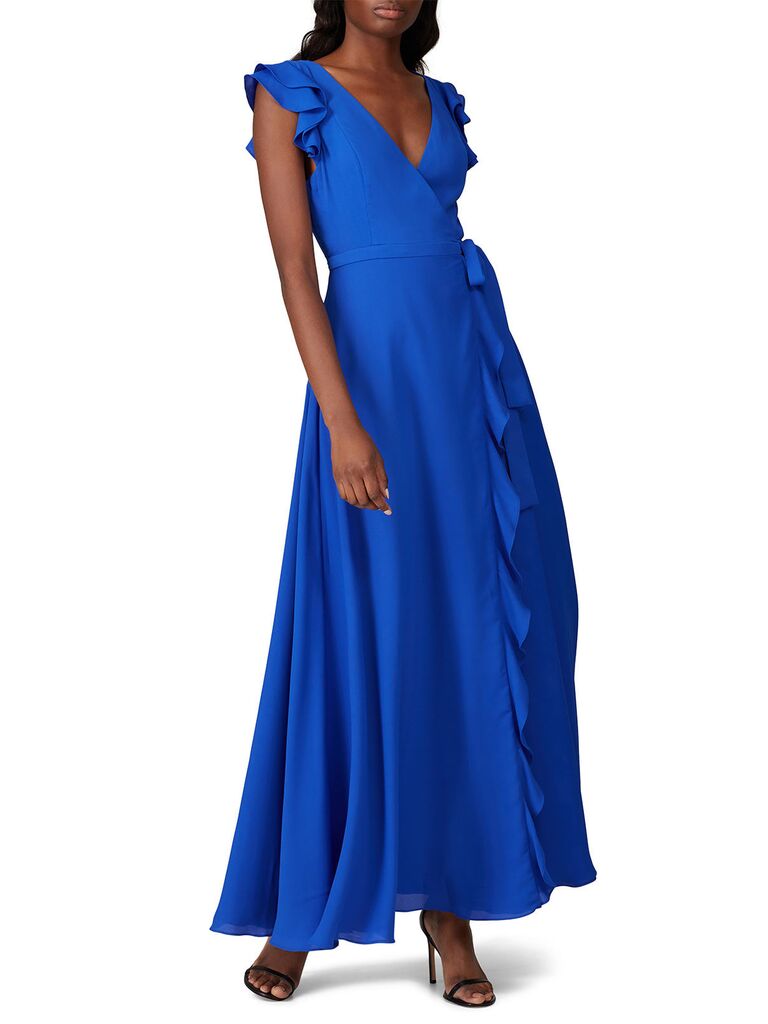 This royal blue bridesmaid dress is refined but still looks fresh, courtesy of the ruffled details and peekaboo back. Best of all, renting it will save you hundreds of dollars. Yep, this bridesmaid dress is under $50 to rent. We repeat, it's under $50.
Fame & Partners cobalt Kira dress, from $30 to rent, RenttheRunway.com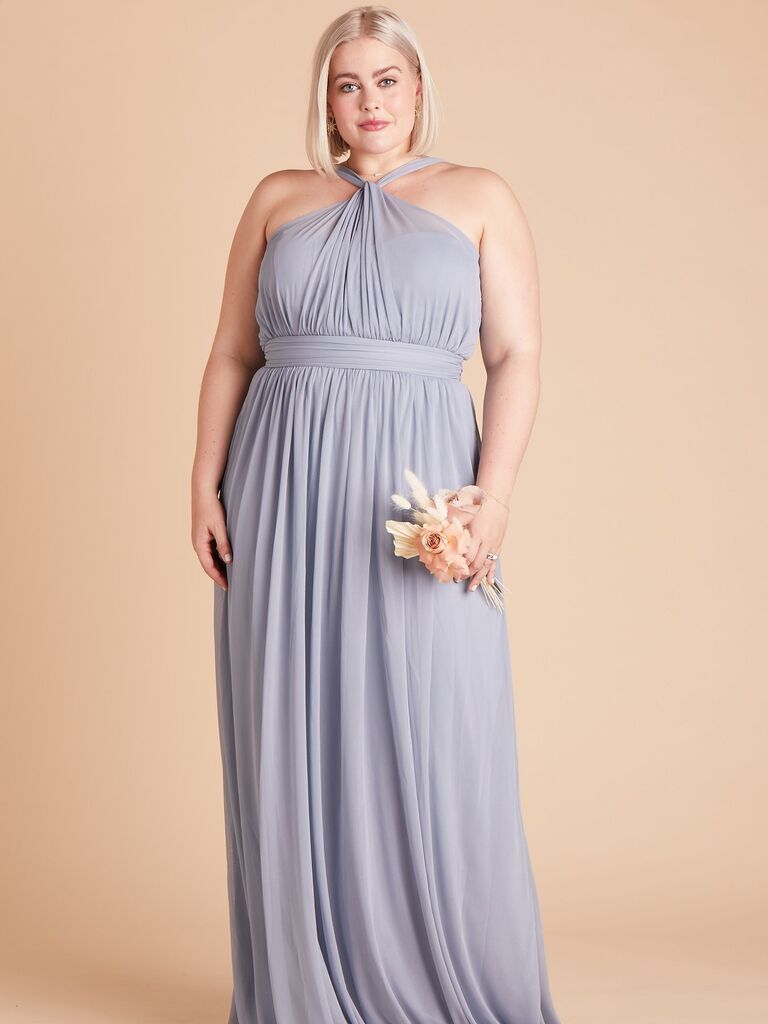 Love the look of a Grecian neckline? This dusty blue bridesmaid dress will make your crew feel like goddesses.
Birdy Grey Curve Kiko dress in Dusty Blue, $99, BirdyGrey.com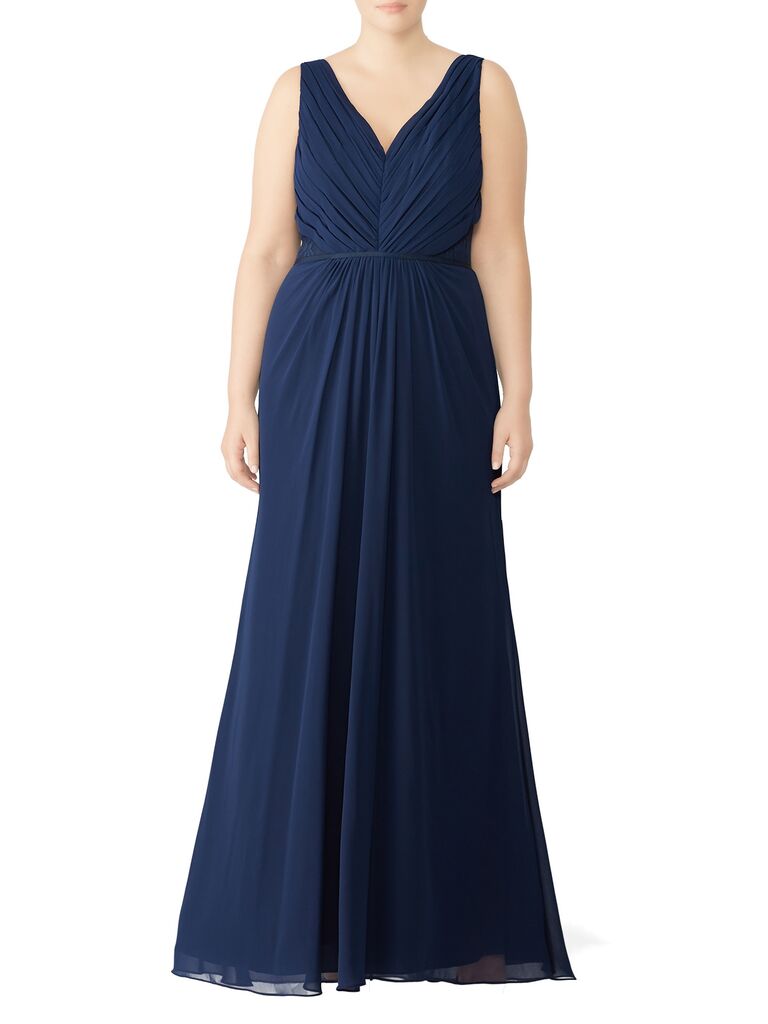 Of course, we couldn't forget about navy. This fancy blue bridesmaid dress only looks expensive if you rent it for the wedding. Your entourage will love the surprise lace insets on the back.
Monique Lhuillier Bridesmaid navy Amalia gown, from $35 to rent, RenttheRunway.com
Black Bridesmaid Dresses Under $100
It may not seem like the most bridal color, but black bridesmaid dresses are hot right now. The most obvious benefit to this versatile shade is that your bridesmaids can recycle it for future events. (After all, the LBD is a wardrobe staple!) Nude, blush and white all pop against black without feeling too harsh.
You can't go wrong with a plain black gown. This minimalist style could swing boho, thanks to the blouson top and pockets.
Birdy Grey Curve Gwennie dress in Black, $99, BirdyGrey.com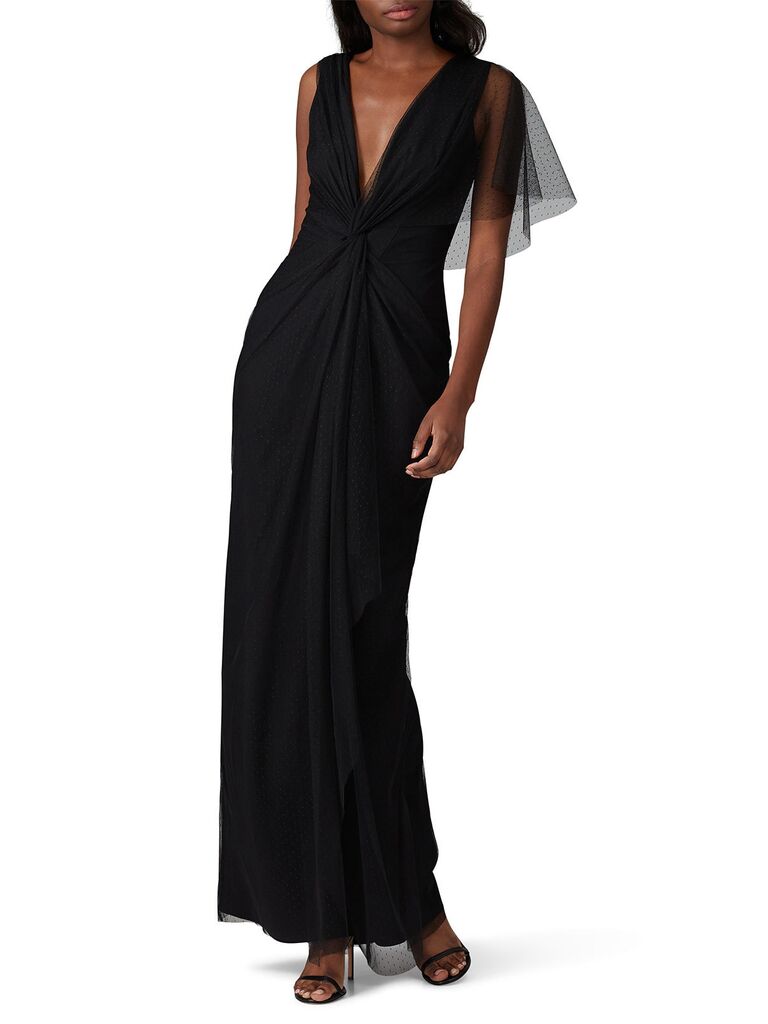 An asymmetrical, oversized ruffle feels both elegant and vintage-inspired. Go for minimal accessories with this dress and let its unique silhouette really shine. Psst: The gown also makes a great affordable maid of honor dress, especially when paired with simple, coordinating black bridesmaid dresses.
Katie May black Olivia gown, from $45 to rent, RenttheRunway.com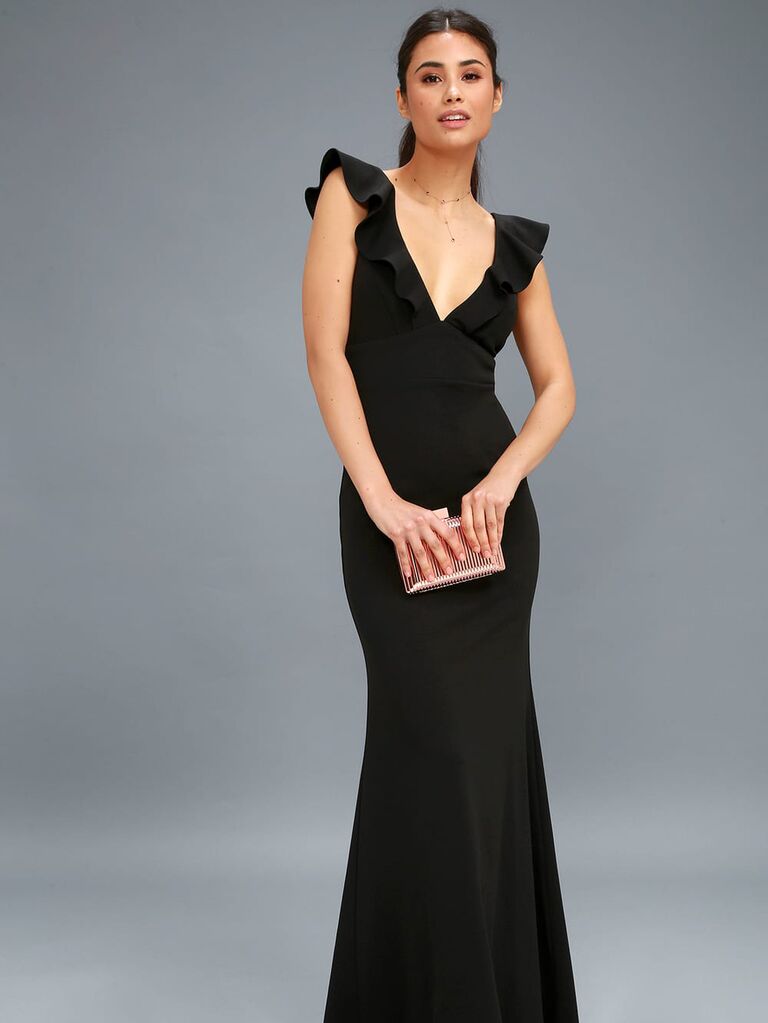 Want your bridal party to give off more of a flirty vibe? Consider this affordable black bridesmaid dress with a ruffled deep-V neckline.
Lulus Perfect Opportunity black maxi dress, $98, Lulus.com
You can definitely snag a glam black bridesmaid dress on a budget. Want proof? Look no further than this one-shoulder evening gown.
David's Bridal one-shoulder simple chiffon bridesmaid dress in Black, $100, DavidsBridal.com
Metallic Bridesmaid Dresses Under $100
Love sparkle? You're in luck. While sequins and glitter can rack up a piece's price, we scoured the web for bridesmaid dresses in gold, silver and other metallic shades that are actually affordable.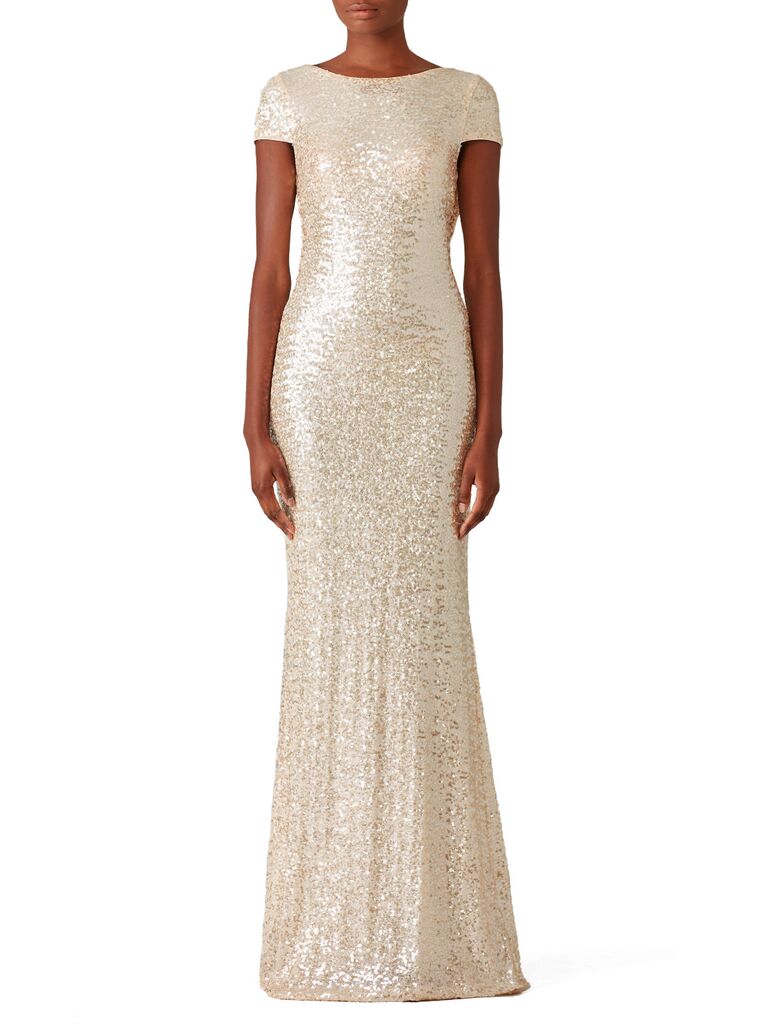 Okay, this gown is exactly $100, but the daring cowl back is worth it. The champagne sequins look 100% more expensive than they are.
Badgley Mischka champagne Award Winner gown, $100 to rent, RenttheRunway.com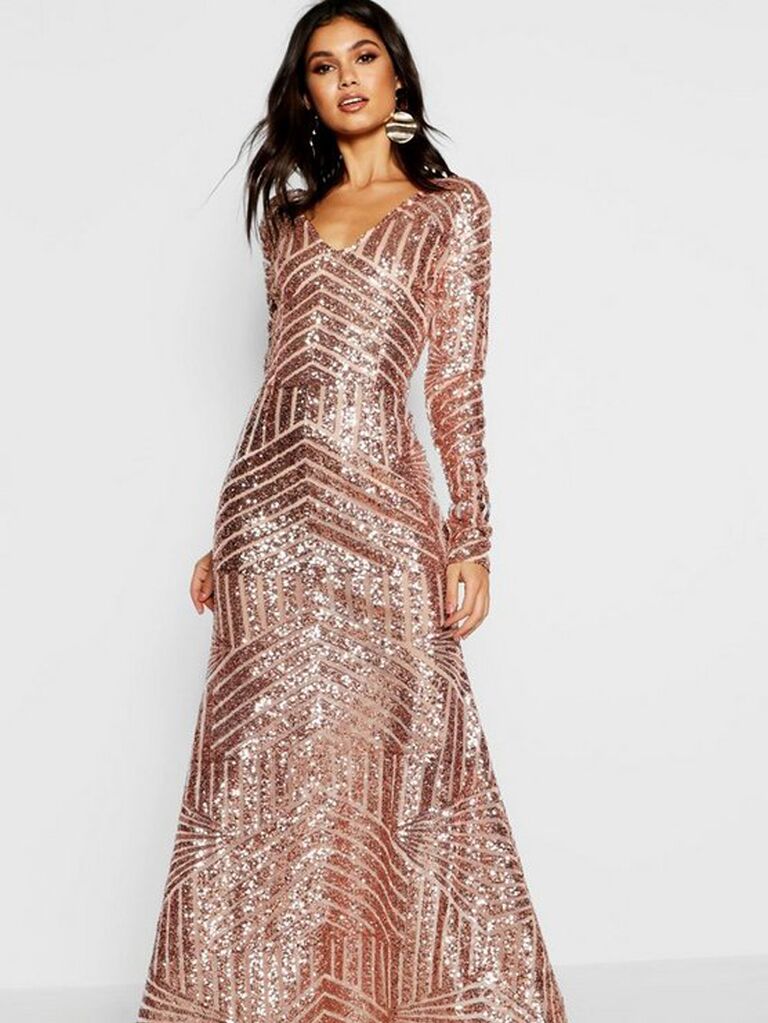 Thought we forgot about long sleeves? Think again. This sparkly, rosy V-neck gown is giving us modern Gatsy vibes.
Boohoo Boutique sequin long sleeve maxi bridesmaid dress in Nude, $75, Boohoo.com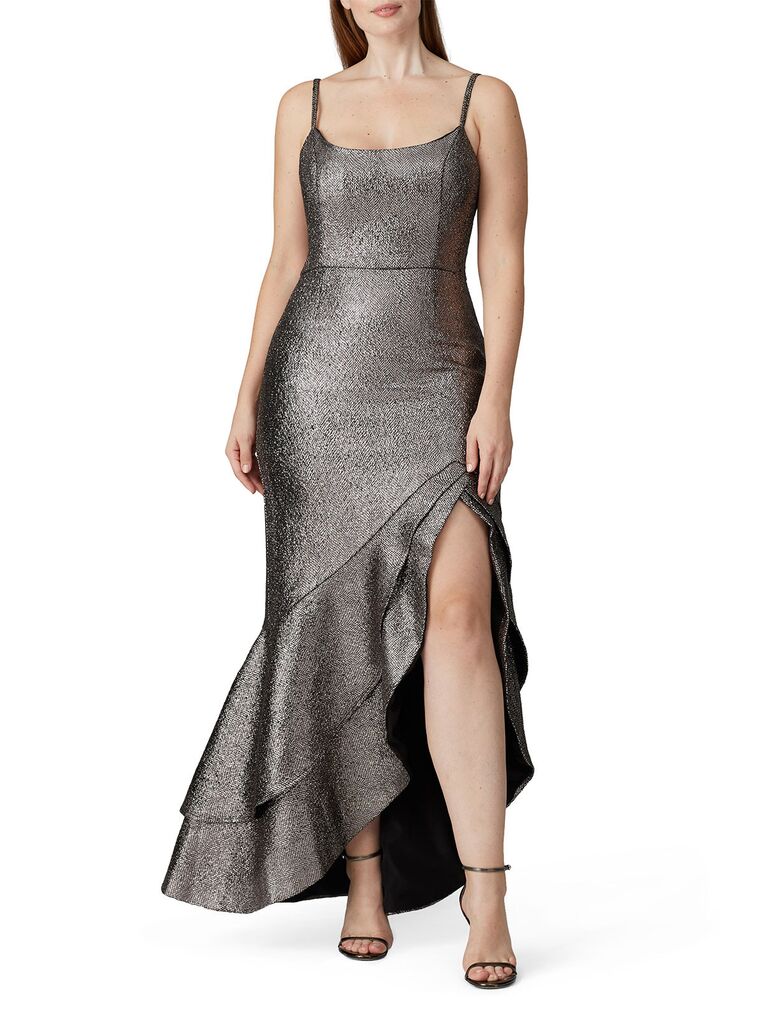 In our opinion, silver bridesmaid dresses are underappreciated. This dark metallic hue would really pop at a festive New Year's wedding. Can you believe this gown originally cost $450? We can. But with Rent the Runway, a bridesmaid can wear it for under 100 bucks.
Hutch silver metallic Malia gown, from $60 to rent, RenttheRunway.com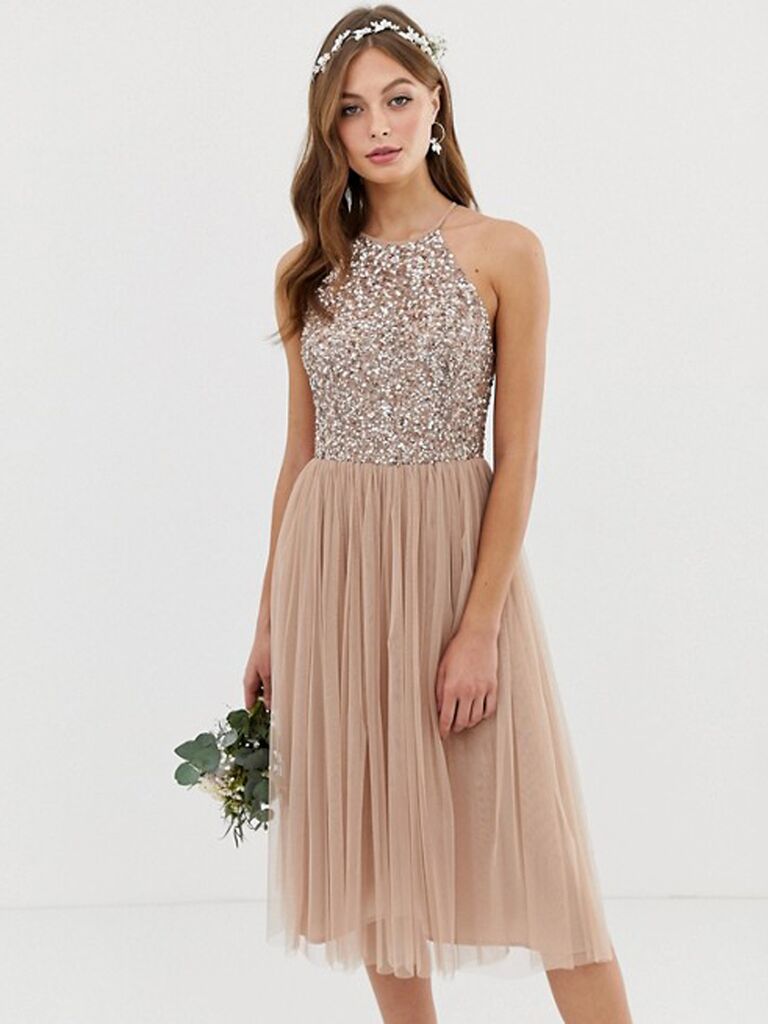 A pink sequin top and short beige skirt combine for a super-trendy (and super-affordable) rose gold bridesmaid dress.
Maya Bridesmaid halter neck midi tulle dress with tonal delicate sequins in Taupe Blush, $95, ASOS.com
Bridesmaid Dresses Under $100 by Length
Length is always important to consider when choosing your bridesmaid dresses, since long gowns usually come across as more formal and nighttime-ready (aside from maxi sundresses), while short garments are often chosen for casual daytime affairs. But length is also important if you're searching for affordable bridesmaid dresses. Typically, the more fabric, the more expensive the style is. Fear not, though—as you've already seen, we've found plenty of inexpensive long bridesmaid dresses. And naturally, we've included short options too. While we're on the topic of short: If you're buying a shorter dress off the rack online, buffer in time to try it on and return it if necessary. It's hard to tell just how short a skirt is until it's on your bridesmaids' unique bodies.
Short Bridesmaid Dresses Under $100
Short bridesmaid dresses can be extra-affordable. If you're going for a classic vibe, try knee-length or tea-length fit-and-flare dresses. Planning a contemporary boho bash? Midi styles and asymmetrical hemlines are for you.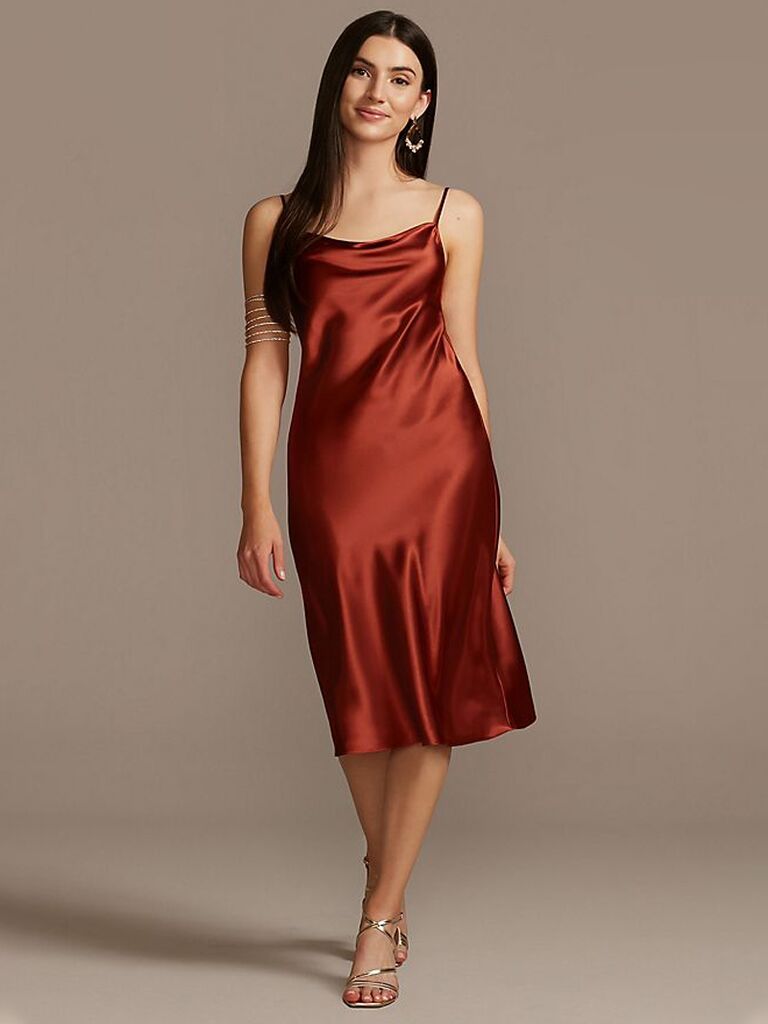 This satin slip is the epitome of boho style right now. The silky, affordable bridesmaid dress will make your 'maids feel like a million bucks (without spending big bucks).
DB Studio midi satin slip dress with spaghetti straps in Cinnamon, $80, DavidsBridal.com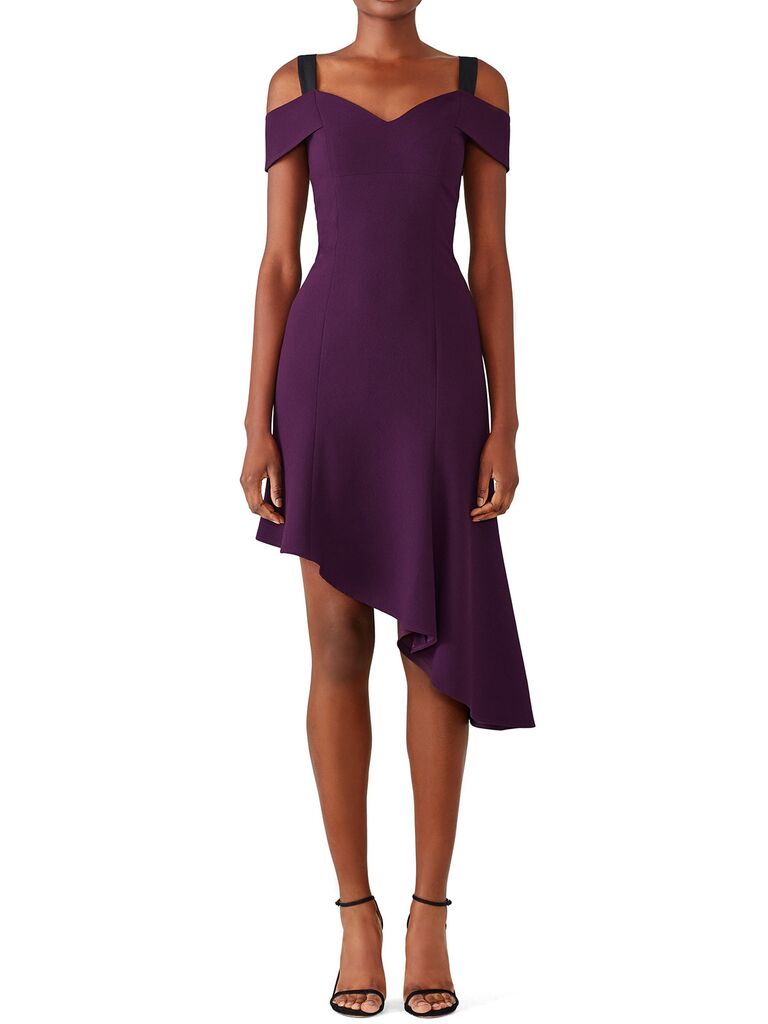 Have a little fun with your bridesmaid attire. This high-low dress would look great paired with other purple and patterned dresses.
Slate & Willow purple Lydnsey dress, from $30 to rent, RenttheRunway.com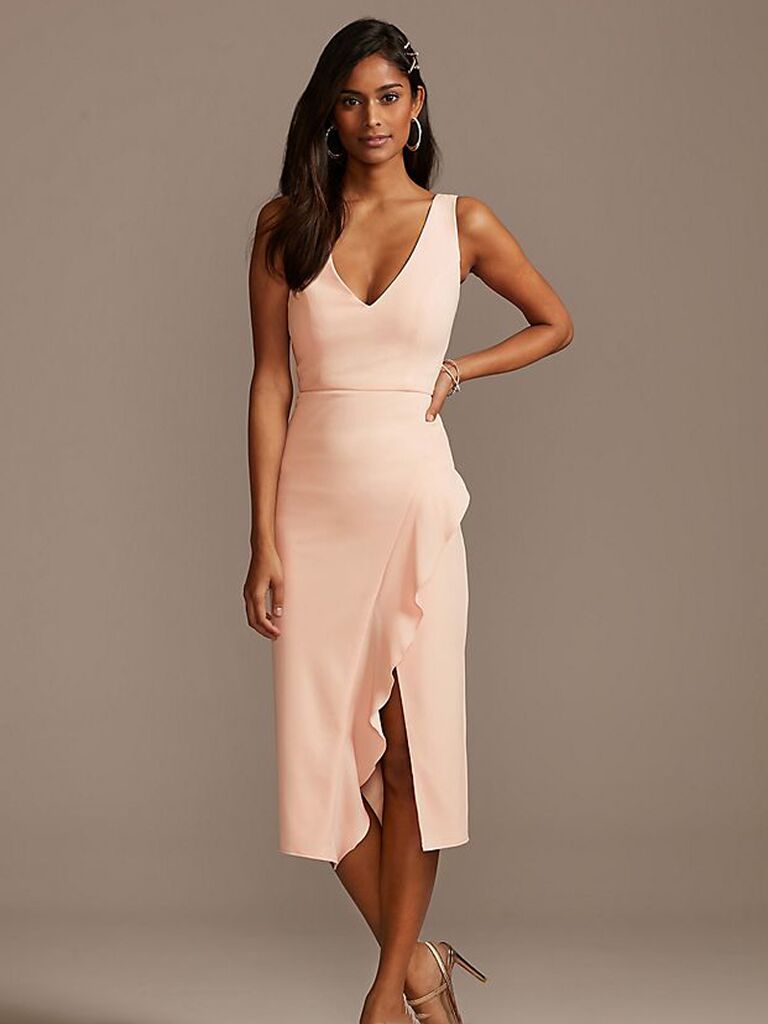 This cascading hemline is definitely eye-catching, but the affordable price (under $100, obvs), is what really grabs our attention!
DB Studio V-neck stretch crepe midi dress with ruffled slit in Petal, $90, DavidsBridal.com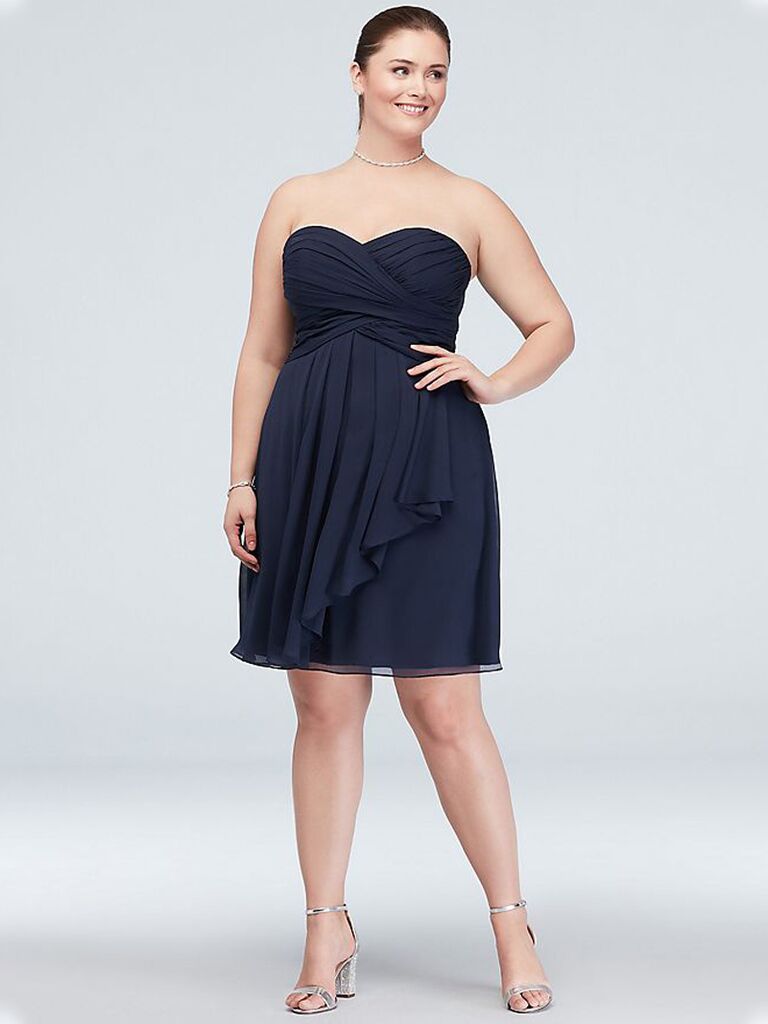 Beautifully draped chiffon gives this short, affordable bridesmaid dress a polished look.
David's Bridal short crinkle chiffon dress with front cascade in Marine, $80, DavidsBridal.com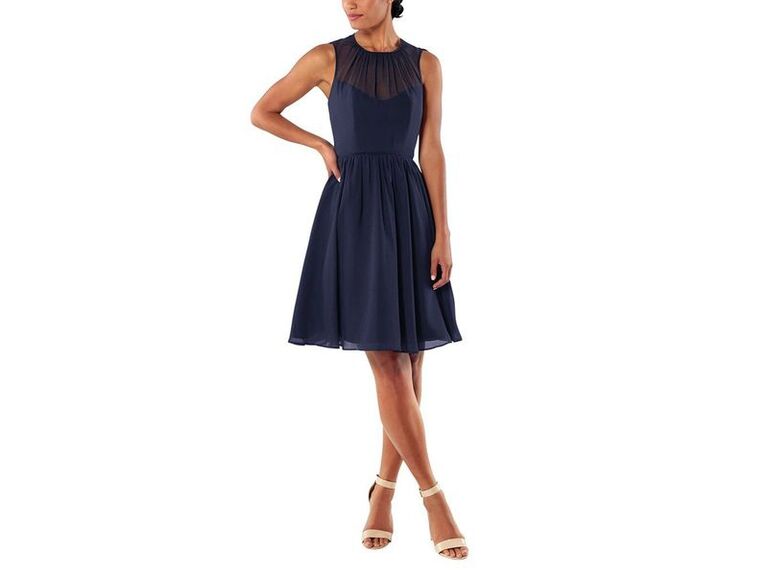 This navy blue cocktail dress is an easy pick for a whimsical, daytime wedding. The back boasts fancy eyelash lace that'll impress all your loved ones.
Brideside Daisy cocktail bridesmaid dress in Midnight, from $99, Brideside.com
Long Bridesmaid Dresses Under $100
Long bridesmaid dresses used to give off a super-traditional vibe, but they're all the rage right now. What's the appeal of all that length? Longer dresses feel instantly elegant. (How often do you or your crew get to rock a full-blown gown?)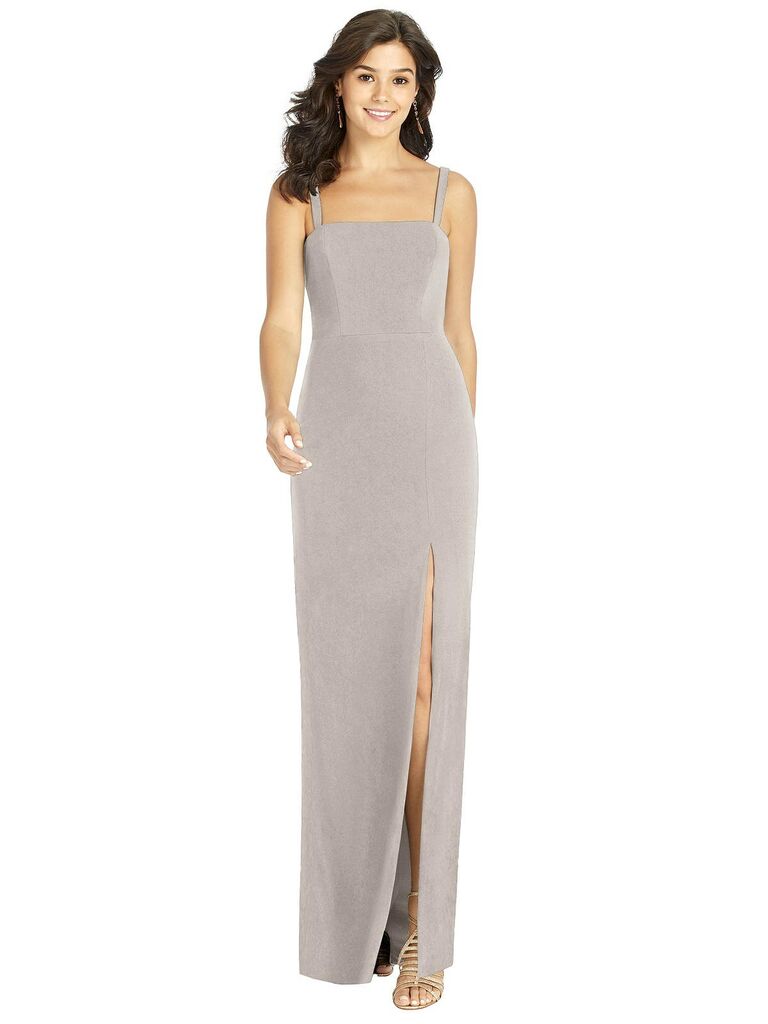 In case it wasn't clear, earthy shades are all the rage lately. That puts this unique taupe bridesmaid dress right on trend. (So does the square neckline.)
Thread Bridesmaid flat strap stretch mermaid dress with front slit in Taupe, from $99, Dessy.com
Breezy draping makes this long bridesmaid dress look ethereal. Who knew you could achieve that vibe on the cheap?
Lulus Heavenly Hues light grey maxi dress, $84, Lulus.com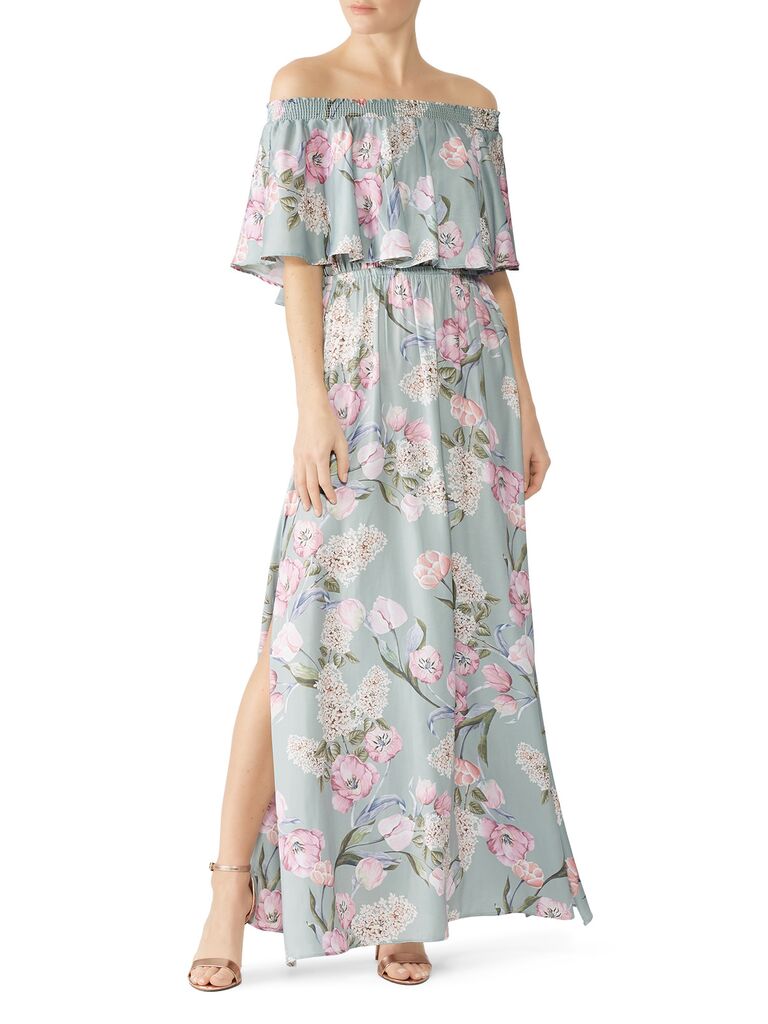 You can now snag Show Me Your Mumu's beloved bridesmaid dress at a more affordable price on Rent the Runway. This is what boho wedding dreams are made of. Yay for discount bridesmaid dresses!
Show Me Your Mumu Primavera Floral Hacienda maxi, $30 to rent, RenttheRunway.com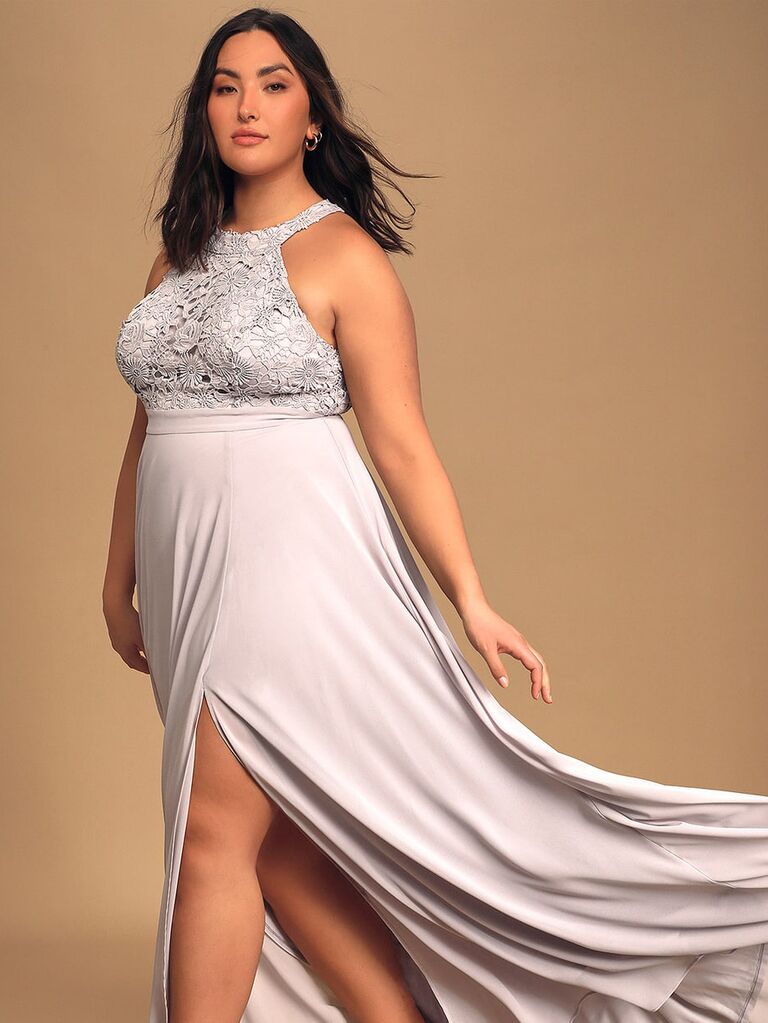 Add some texture to your bridesmaids' outfits with the help of this budget-friendly long bridesmaid dress. The top is made from dreamy, photo-ready lace.
Lulus Picture Perfect light grey lace maxi dress, $98, Lulus.com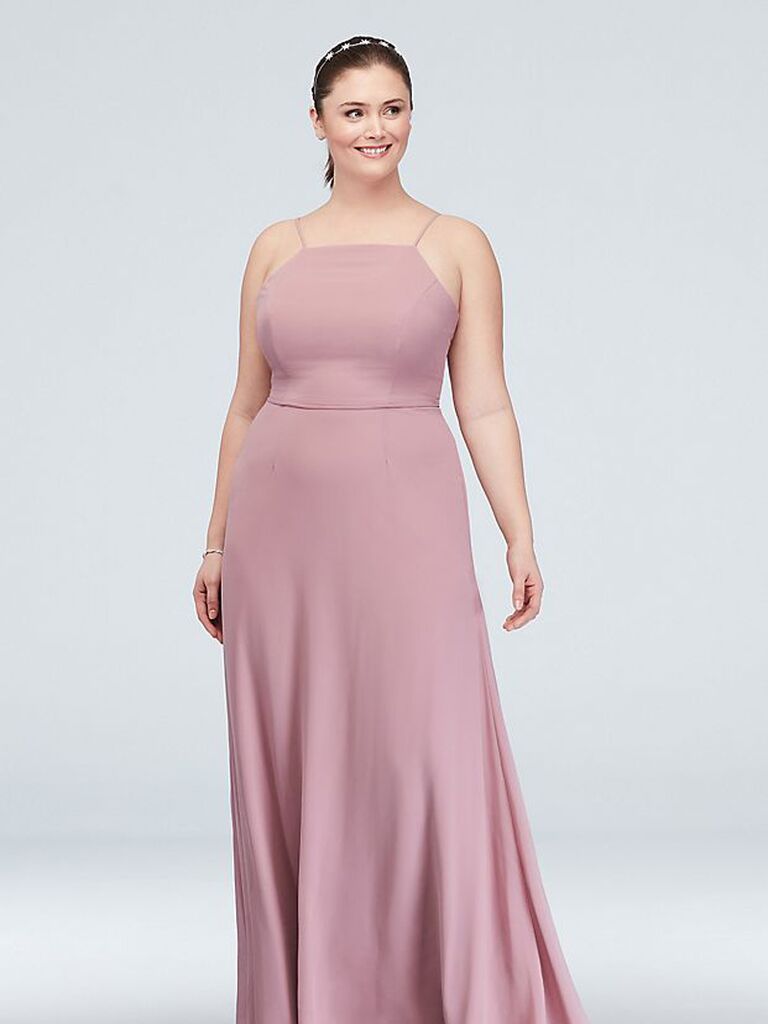 Dress up this simple and affordable long bridesmaid dress with headbands, bracelets or earrings—the choice is yours.
David's Bridal chiffon high-neck bridesmaid dress in Quartz, $100, DavidsBridal.com
Bridesmaid Dresses Under $150
Have a little more to spend? These gowns fall right around the national average cost of bridesmaid dresses. And you'd be surprised how many more options open up with an extra $50 (or even $20).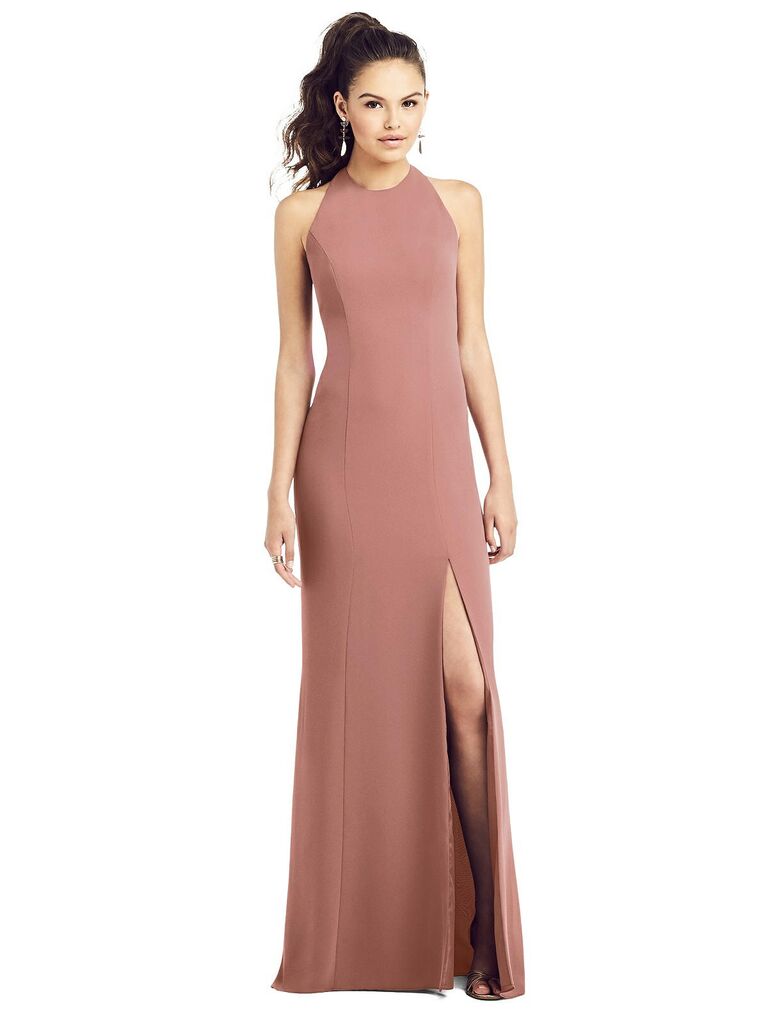 We're not sure what we like most: the structured silhouette, the high neckline or the cool colors this bridesmaid dress comes in. We'll let you decide.
Thread Bridesmaid open-back jewel neck trumpet gown with front slit in Desert Rose, from $135, Dessy.com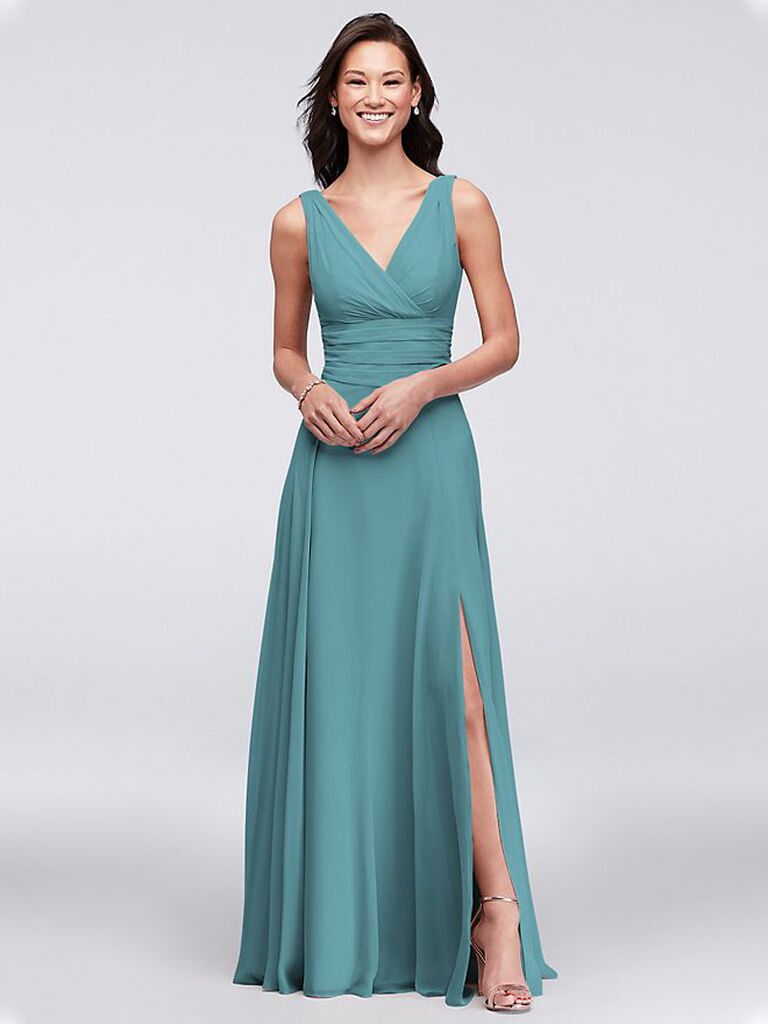 The ruching on this affordable bridesmaid dress is simply divine.
David's Bridal surplice tank long chiffon bridesmaid dress in Teal Blue, $150, DavidsBridal.com
A crisscross neckline sets this gown apart from your average bridesmaid dress.
David's Bridal crisscross high-neck mesh bridesmaid dress in Sunflower, $140, DavidsBridal.com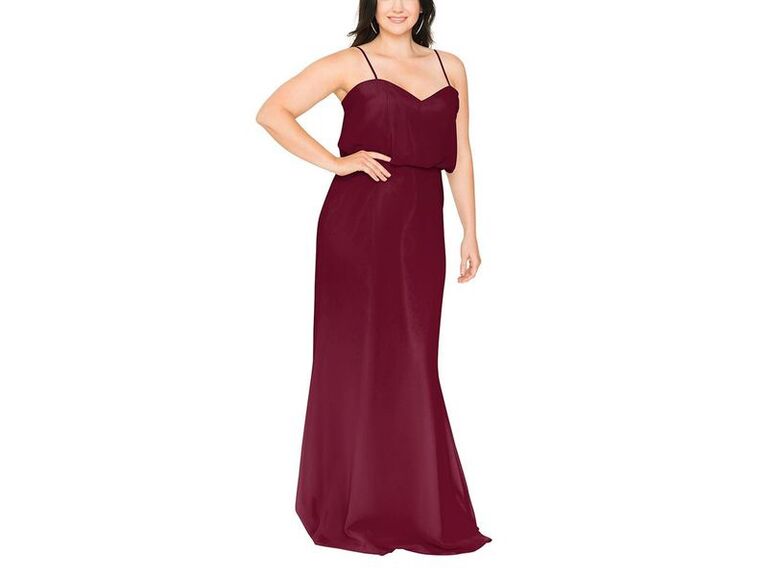 Here's another trendy blouson bridesmaid dress at an affordable price. The gown comes in extended sizes, plus a myriad of colors.
Brideside Penelope bridesmaid dress in Berry, from $119, Brideside.com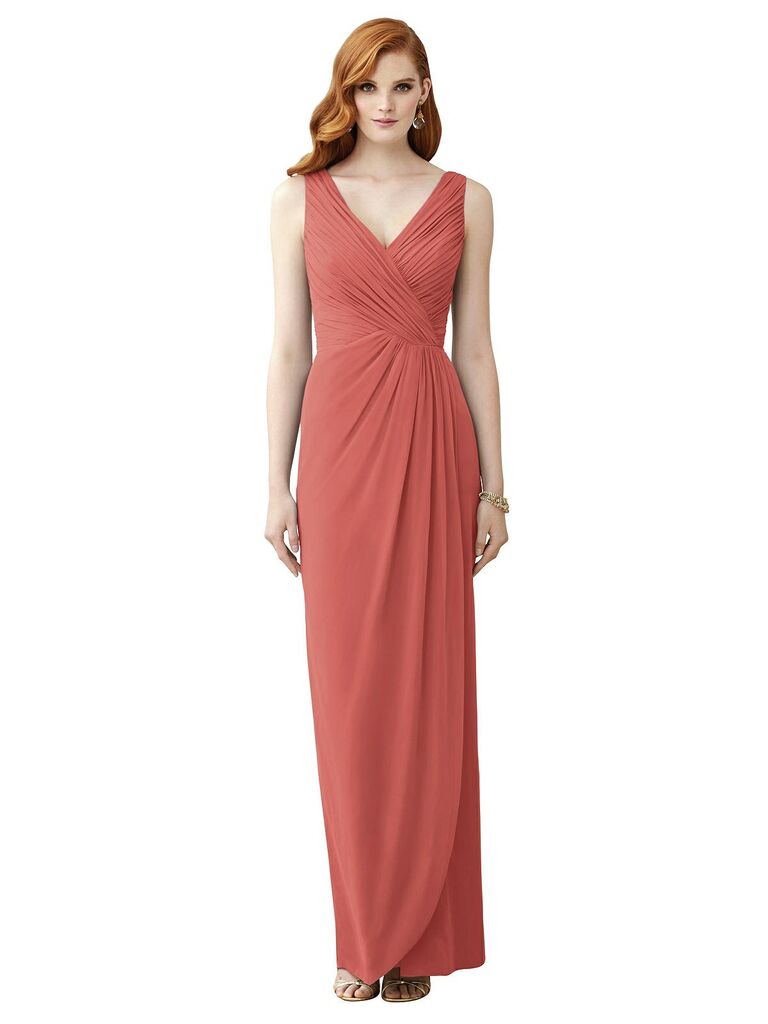 This romantic bridesmaid dress has a gathered waistline that'll stand the test of time. We're also impressed by all the color options, from solid shades to floral prints.
Thread Bridesmaid Dahlia sleeveless draped faux wrap maxi dress in Rouge, from $149, Dessy.com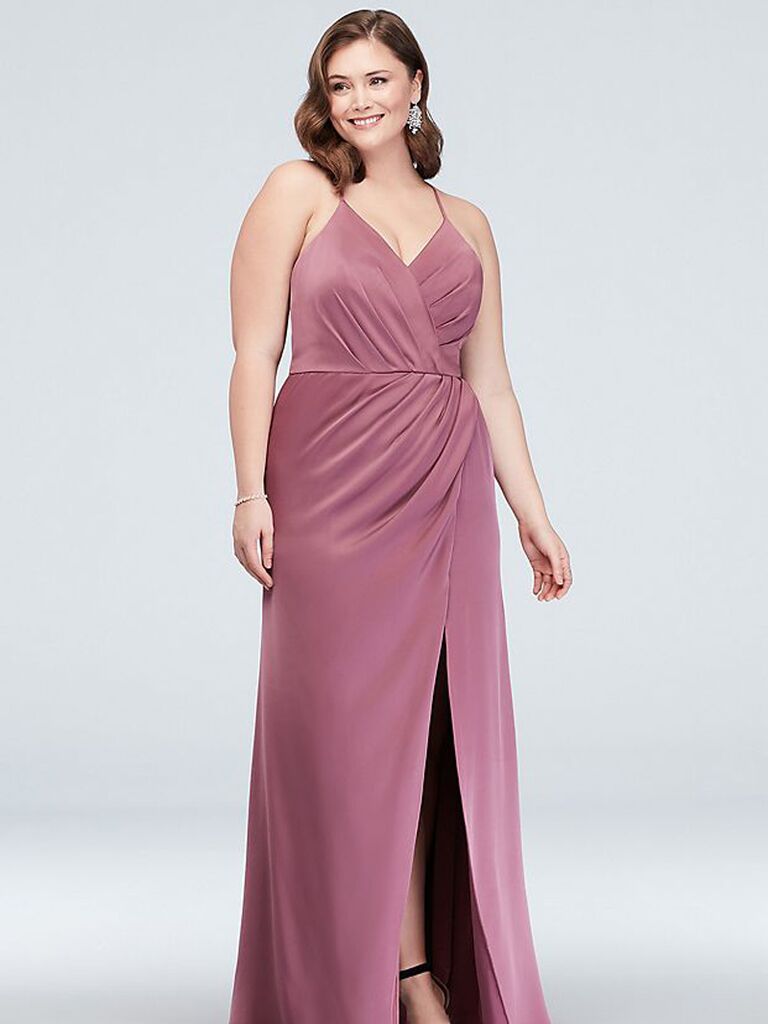 What can we say? We can't get enough of pretty pleats. There's a reason they're a go-to bridesmaid dress accent.
David's Bridal spaghetti strap crepe-back satin bridesmaid dress in Chianti, $140, DavidsBridal.com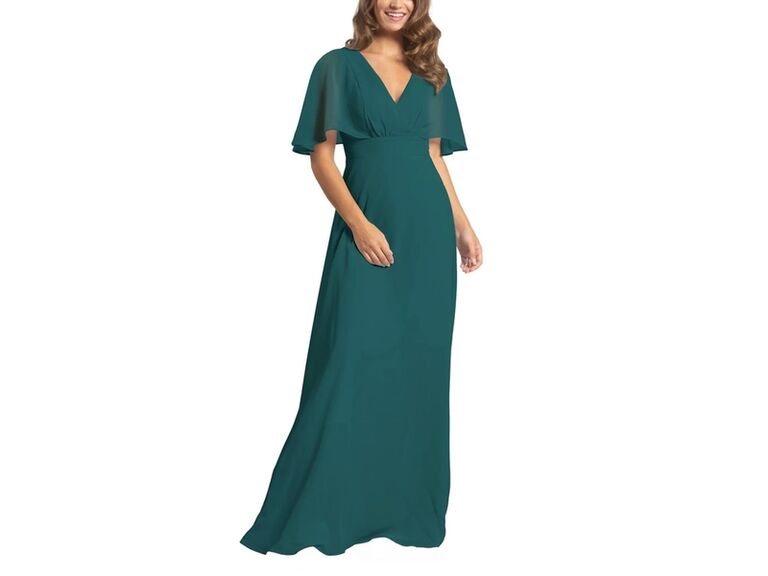 Another bridesmaid dress element we love? Flutter sleeves. We also like this affordable bridesmaid gown's V-neck and V-back.
Brideside Kyle bridesmaid dress in Aurora, from $129, Brideside.com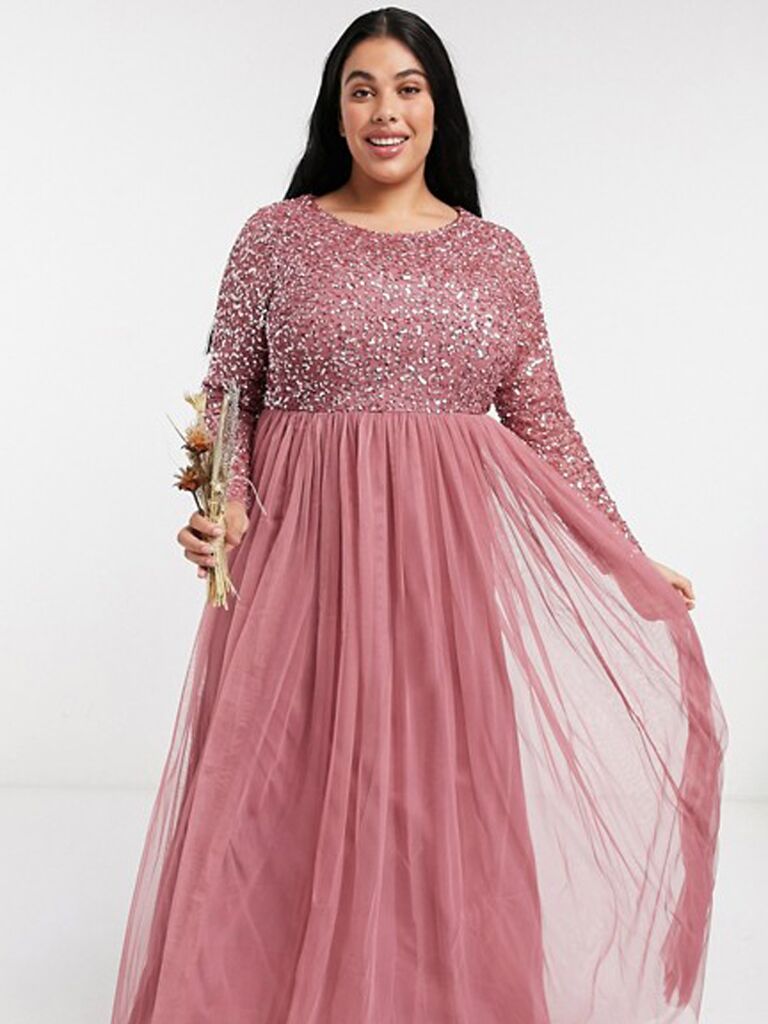 Willing to splurge a little on sequins? This budget-friendly long-sleeve bridesmaid dress should certainly catch your eye. Between the embellished bodice and tulle skirt, we think we're in love.
Maya Plus delicate sequin long sleeve maxi dress with tulle skirt in Rose, $143, ASOS.com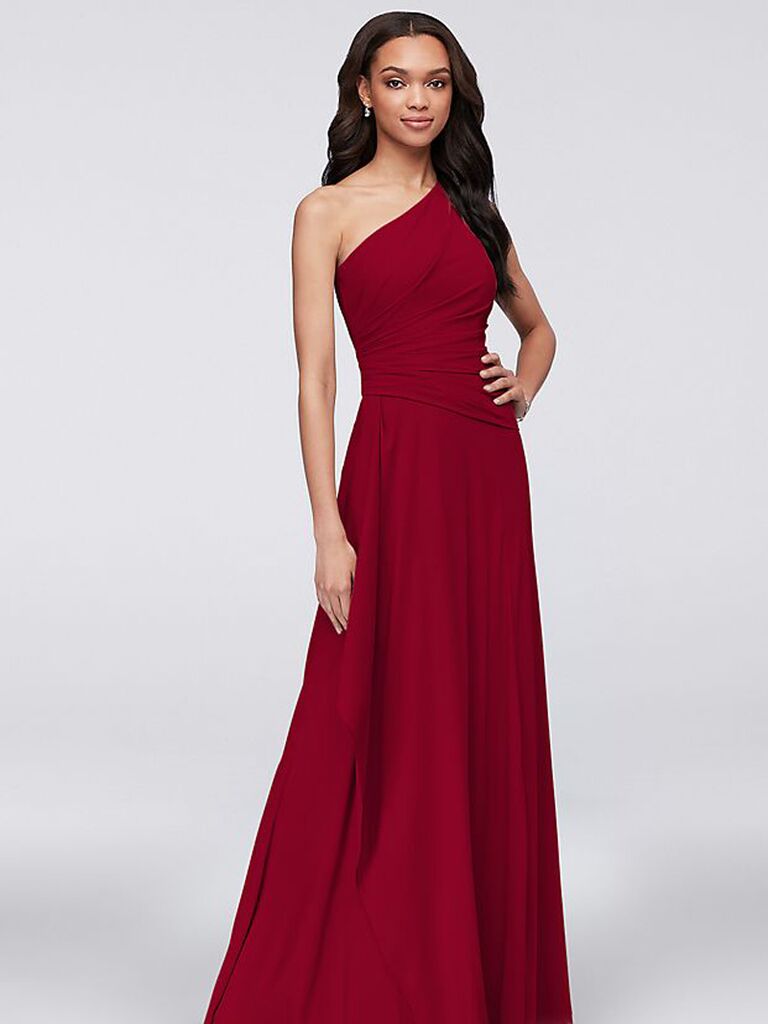 We had to get in one more cool neckline for good measure. This formal bridesmaid dress is the definition of effortless elegance.
David's Bridal one-shoulder georgette cascade bridesmaid dress in Apple, $150, DavidsBridal.com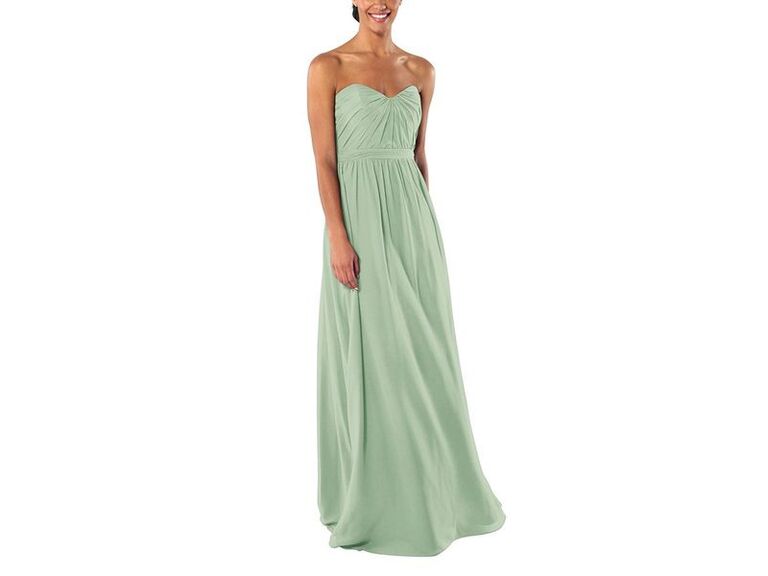 If you can't get enough of strapless bridesmaid dresses, here's one final option that won't break the bank. It's got all the timeless details: a sweetheart neckline, thoughtful draping and an A-line skirt.
Brideside Phoebe bridesmaid dress in Sage, from $119, Brideside.com