55 Affordable Bridesmaid Dresses That Don't Look Cheap
Looking for inexpensive bridesmaid dress options? We've pulled together dozens of gorgeous gowns, with the vast majority under $100. Bonus: We've sorted them by popular style.
by The Knot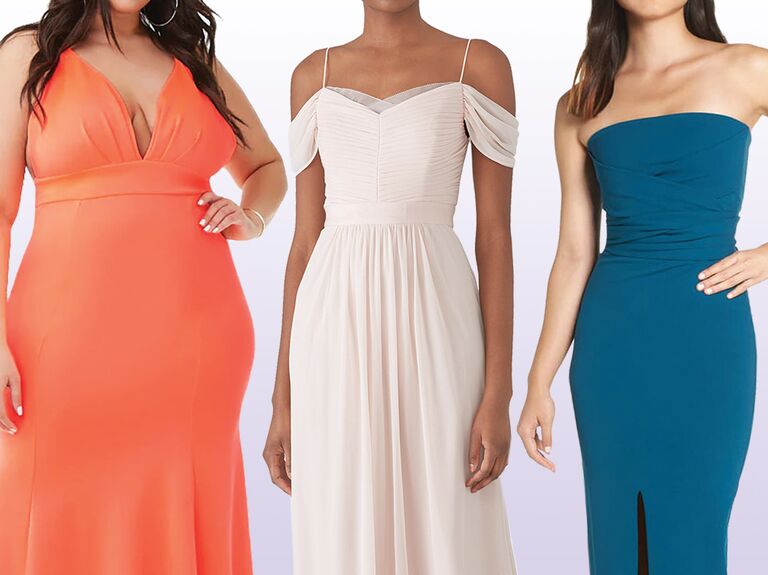 Considering all the costs that go into being a bridesmaid these days, saving where you can could really help your bridal party in the long run. Style, color and silhouette are always front of mind when choosing bridesmaid dresses, but it's also important to consider budget limitations, since 'maids typically pay for their own attire. Asking your friends to break the bank for a custom-made couture number they'll only wear once is a hard ask.

And, while we're on the subject, why are bridesmaid dresses so expensive anyway? Well, most bridesmaid dresses are sewn when ordered—and are all cut from the same dye lot (meaning the fabric for each is dyed together so each 'maid wears a truly identical hue). When you pay for a designer bridesmaid dress, you pay for the custom work that goes into it. Fortunately though, plenty of bridesmaids dresses priced under $100 still give off an elegant vibe.
The trick to finding a wide variety of bridesmaid dresses under $100 is to think outside the box: Consider off-the-rack options and dresses that aren't necessarily marketed as bridesmaid styles. Wondering where to buy bridesmaid dresses that won't put a dent in your crew's wallets? Look to your favorite everyday retailers, like ASOS, for affordable occasion wear that (bonus) can be worn well after the wedding day—that way, your girls will get the most bang for their buck. Believe it or not, Nordstrom also carries inexpensive options from go-to budget-friendly brands like Lulus. Just know that off-the-rack attire can be trickier to alter, since you won't be customizing the gowns to each girl's unique measurements.
If you'd rather go the traditional route (aka buy from a bridal retailer), David's Bridal carries gowns under $100 too. Meanwhile, Brideside and The Dessy Group carry styles under $150 if your gang can spend a little more. Don't forget about sales, either—discounts can take gorgeous bridesmaid dresses from aspirational to attainable. But if you're considering going the off-the-rack route or shopping marked-down dresses, keep in mind there may not be enough in stock to support a larger bridal party. 
Another great option for inexpensive bridesmaid dresses? Rental sites. Our favorite is Rent the Runway, which lets you borrow designer pieces for a fraction of their retail cost. (And psst ... through The Knot, couples can offer their guests a 20 percent discount code. Just head to your Wedding Website dashboard—or create one—to redeem.) Again, the only caveat is you'll be limited when it comes to alterations (which may not be accommodated at all) and stock might be lower.
Some final words to the wise? The retailers we listed above also sell maternity and junior bridesmaid options if you're shopping for an expecting or younger attendant. And if you're committed to choosing affordable bridesmaid dresses, seriously consider having a mismatched bridal party. Dye lots won't matter and each attendant can pick a style that best suits their body type (solving size and alteration issues). Overall, you'll have way more flexibility (read: more opportunities to score inexpensive gowns).

Ready to start shopping? Here are our top picks for affordable bridesmaid dresses that don't look cheap. Most are under $100, some are under $50, and all are editor-approved. We've even sorted them by popular category so you can navigate our roundup with ease.
Bridesmaid Dresses Under $100 by Color
Look for shades you like and shades that work for your girls. Bridesmaid dresses should fit into your overall color palette, which we can help you choose here. Below, we've rounded up affordable bridesmaid dresses in the most popular hues, from classic colors like purple and red to trendy shades like black and coral. 
Red Bridesmaid Dresses Under $100 
These affordable red bridesmaid dresses put the spotlight on fall and winter-ready colors like burgundy, cranberry and marsala. They're timeless, glamorous shades brides turn to year after year—and for good reason.