Your Go-To Guide for Coordinating Mismatched Bridesmaid Dresses
With inspiration to help you nail the look.
We have included third party products to help you navigate and enjoy life's biggest moments. Purchases made through links on this page may earn us a commission.
When choosing wedding party attire, it's not easy to please everybody in the group. Coordinating mismatched bridesmaid dresses, however, can be a great way to incorporate each of your bridesmaids' personal style and preferences into your wedding day ensemble. When executed correctly, not only will this method allow your bridal party to look cohesive without being overly uniform, but it can also be a great way to satisfy the wants of each member of the group.
There are a number of ways to mix and match bridesmaid dresses for your big day. Lauren Whalley, Fashion, Beauty and Inclusivity editor at The Knot, explains that, "The mismatched bridesmaid trend is going beyond just changing up the neckline of a dress. Many brides are going all out—mismatching different fabrics, colors and patterns." While coordinating outfits is certainly important for the occasion, what matters most is that each bridesmaid feels comfortable and confident throughout the day. Allowing them to choose a dress in the style that suits them best will ensure their personalities can shine through.
While the mismatched bridesmaid dress trend is certainly a popular choice for 2023 weddings, we don't predict that matching dresses will be going away anytime soon. According to Whalley, the decision ultimately stems from the wedding's aesthetic, budget and of course, the couple's personal preference. "Someone having a glam ballroom wedding may like the luxe uniformity of all-black matching bridesmaid dresses. On the other hand, an outdoor spring wedding might lend to more laidback floral prints and patterns like you would see at a garden party", she reveals. The method of mixing and matching dresses simply allows for an individual look for each member of the wedding party.
In this article:
How to Coordinate Mismatched Bridesmaid Dresses
At the altar, mismatched dresses offer an effortlessly beautiful look, but coordinating outfits for each of your bridesmaids can actually require a lot of effort. Not to worry—we're here to help make the process as seamless as possible. Here's our expert advice on how to nail the look.
Create a Vision Board
As a 2024 bride herself, Whalley has been browsing different bridesmaid dresses for her own wedding. Throughout the process, Pinterest has become her best friend. Her best advice is to create a digital vision board that can be shared with each of your bridesmaids. "Don't just include dress examples, but also inspiration photos that give them a better idea of the overall vibe and feel you are going for", she advises.
Order Fabric Swatches
To narrow down your search, you'll want to see how various colors, patterns and textures look next to each other. The good news is that many bridesmaid dress brands make this easy, by offering fabric swatches that can be sent straight to your door. Take full advantage of this by requesting swatches of each color or fabric type you're considering. Remember, things can look different online, so it is always best to play it safe and have swatches on hand.
Determine a Unifying Design Detail
Even if you decide to go the mismatched dress route, it's important to determine at least one consistent element between each look that will help create cohesiveness. For instance, you may give your bridal party the freedom to choose the style and cut they want for their gown, but request that the color match the specific swatch you've picked out. Alternately, you may not have a specific color in mind, but ask that they each pick out a floral-printed dress, in order to keep with the theme.
Consider Ordering From the Same Retailer
Many bridesmaid dress brands make it easy to coordinate mismatched looks by offering various styles in the same fabric, or different shades of popular wedding color palettes. For a more seamless shopping experience, consider working with a retailer that specializes in bridesmaid ensembles. Chances are, they will have stylists available to work one-on-one with your crew.
Consider Convertible Dresses
One of the simplest ways to achieve a mismatched bridal party look is to go with convertible gowns. Convertible gowns are able to be worn in a variety of different ways. Going this route allows each of your bridesmaids to wear their dress in ta silhouette that makes them feel the most confident. Plus, because there are so many different ways to style convertible dresses, they can even switch up their look between the ceremony and reception—or at a later date.
Talk to Your Bridal Party
If you are unsure of whether you should go the mix and match route, consider getting your bridesmaids' opinion on the matter. Whalley explains that while it's your decision at the end of the day, it may be helpful to hear from the group what they would feel most comfortable and confident in.
6 Ways to Do Mismatched Bridesmaid Dresses
Ready to get inspired? Here's six of our favorite ways to incorporate mismatched bridesmaid dresses into your nuptials.
Different Style Dresses in the Same Color
Maybe you love the look of matching bridal party dresses, but want to cater to each of your bridesmaids' personal style and preference—after all, there's no 'one size fits all' when it comes to fashion. If that's the case, you might want to consider having your crew rock dresses in the same color that feature different lengths, silhouettes or necklines. Many bridesmaid dress retailers make it easy to coordinate this kind of look by giving bridesmaids a variety of styles to choose from that can then be made-to-order in the color of the couple's choosing.
This bridal party's ensemble has us tickled pink. With different styles and lengths of dresses, all in a soft pink shade, they were able to achieve this charming look.
Hoping to create a timeless look for your bridal party? Neutrals are a no-brainer. This crew rocked nude-colored gowns in varying styles, lengths and fabrics.
Here's a group whose attire doubles as the bride's something blue. Their baby blue A-line gowns each feature a unique neckline as a way to let their individual personalities shine through.
Different Shades of the Same Color
One way to incorporate different color bridesmaid dresses without straying too far from your wedding color palette is to experiment with shades. If you have a desired color in mind for your bridal party's attire, but don't like the idea of looking overly uniform, this might be the way to go. Once you've decided on the color, explore similar dress options in slightly darker or lighter shades. When you combine the looks together, you're left with a unique effect. Pro tip: this method works especially well for larger bridal parties.
This bridal party achieved a gorgeous ombré effect by choosing dresses that are different shades within the same color family. The red, pink and nude colors all pair seamlessly next to one another.
There's no raining on this bridal party's parade. Their beautiful blue gowns, each in varying shades and styles, pair perfectly with the showers and flowers.
Here's an ensemble that's as good as gold. The group wore traditional Indian wedding attire in various shades of beige, each look accented with gorgeous gold embellishments.
Choose Multiple Colors
Who says you have to choose just one color for your bridesmaids' attire? Chances are, you've selected a handful of colors for your wedding, whether they're going to be incorporated into the floral arrangements, table settings, or decor. Why not have your squad rock those same colors down the aisle? Choosing dress colors based on your wedding color palette is a fun way to tie together the various elements of your big day.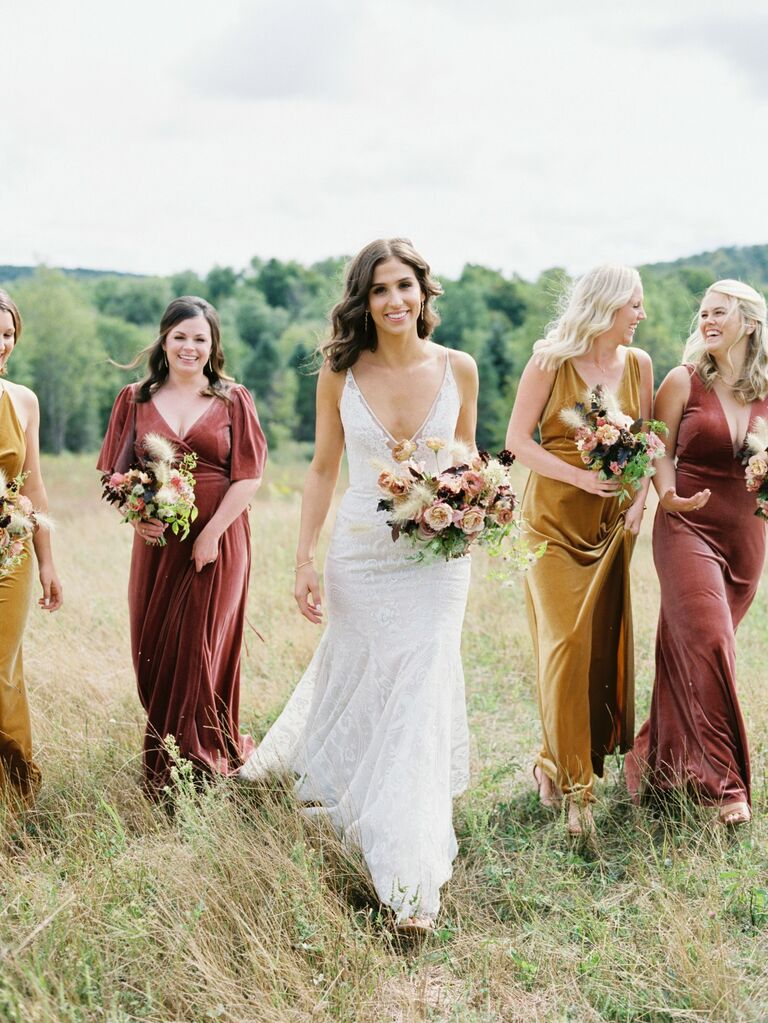 This bridal party's attire has autumn written all over it. The group's velvet gowns, in red and mustard yellow, make for a warm and rustic look that pairs perfectly with the outdoor setting.
We can't get enough of this citrus-hued wedding party style. The combination of green and orange dresses and suits makes for a delightfully colorful aesthetic.
Even against the gorgeous city skyline, this wedding party holds the spotlight. We love the way their navy, maroon and gold dresses and suits contrast one another, while being united by the colors in their bouquets.
Mix Solid and Patterned Dresses
When you think of bridesmaid dresses, chances are, an image of a solid-color gown comes to mind. While simple dresses are a popular choice for many weddings (as to not create too much of a distraction at the altar), the reality is that there are no hard and fast rules when it comes to bridesmaid attire. Patterns are a great way to add an interesting element to your group's fashion, especially when paired alongside solid gowns. Our advice for coordinating this type of look is to start by finding a pattern you truly love. From there you can use the colors within that pattern to determine what shades your solid dresses will be.
Here's a group of bridesmaids that were ready for their closeup. We love how each of their dresses have their own unique feel, while still being united through the various shades of blue.
This bridal party's attire is a prime example of how to coordinate without matching. The floral printed gowns incorporate each of the shades of pink worn by the other bridesmaids.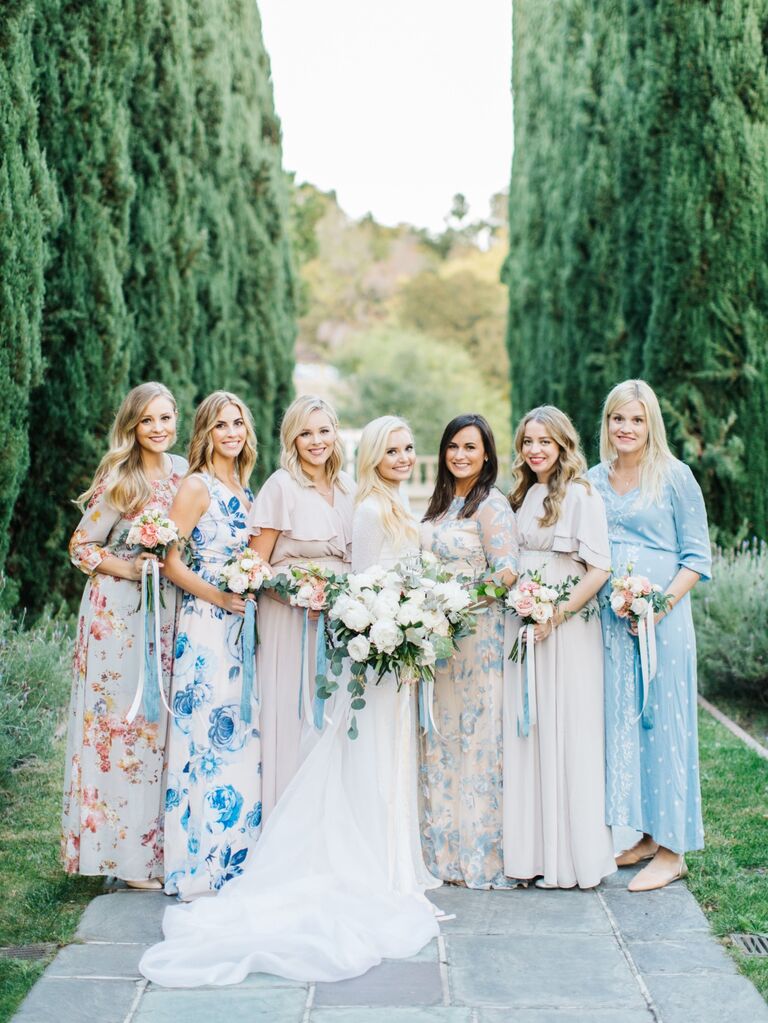 If you're worried about the possibility of different patterns clashing, take note of this group's ensemble. The neutral-colored gowns help to break up the bright colors on the patterned ones.
Experiment with Different Textures and Embellishments
Want to mix and match bridesmaid dresses like a pro? Once you've taken style, color and pattern into account, consider how you can incorporate various types of texture into your group's wardrobe for the day. Sequins, beading and embroidery are all interesting design elements that can help take your bridal party's attire up a notch. Texture can also be a great way to allow your maid of honor to stand out within the group, when the others are wearing a solid gown.
Vintage-loving brides: here's some inspo you're sure to love. These textured gowns, featuring beading and sequins, all give off a 1920s vibe that has us swooning.
Now here's a crew that certainly sparkled as they walked down the aisle. Their silver dresses, in satin and sequin, make for a look that's delightfully unique.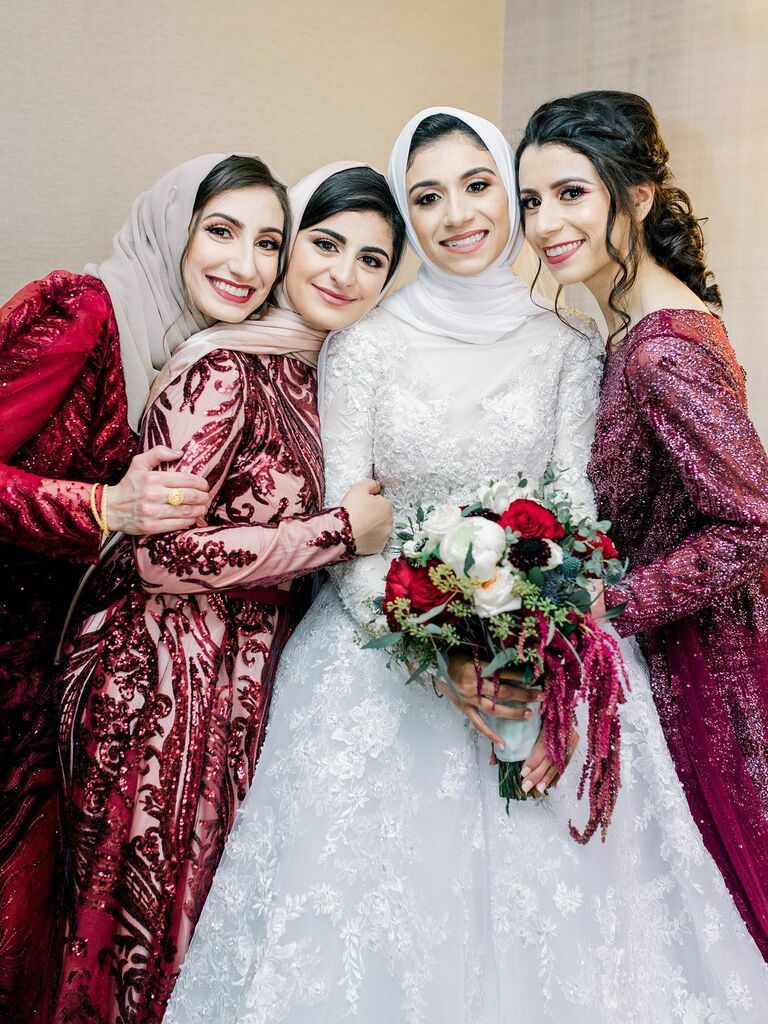 This bridal party's ensemble is oh-so romantic. Their red dresses of different hues are each adorned in sequins and crystals for a look that stands out.
Mix Similar Prints in Different Colors
If you're more of a maximalist and you're not afraid to take risks when it comes to style, you might consider having each of your bridesmaids sport a different printed gown. This method is one that makes a statement, and for all the right reasons. Our advice is to give your group some guidelines for choosing a dress in a particular pattern. Whether you decide to go with sparse florals, gingham or even swiss dot, this method is one of the best ways to let your bridesmaids showcase their personalities.
Now here's a group that's ready for a garden party. Their colorful floral gowns look lovely next to one another, especially when tied together with the same bouquet of flowers.
This wedding party's attire has spring written all over it. We love the way they mixed and matched delicate floral prints in different pastel colors.
Despite wearing different dresses, this bridal party is united by their whimsical, boho vibe. The warm tones, fun patterns and flower crowns are just a few of the things we love about this look.
Where to Buy Mismatched Bridesmaid Dresses
Finding the right retailer can help streamline the process of coordinating different bridesmaid dresses. These four are our tried and true options for finding a wide variety of options online, at prices that won't break the bank.
Birdy Grey
Birdy Grey is known for being a beloved bridesmaid dress retailer, and for good reason. Their selection of modern and timeless options offers something for everyone to love. However, what truly sets them apart is that all of their dresses are just $99, all the time.
Show Me Your Mumu
If you're looking for trendy, fashion-forward options for your wedding party, Show Me Your Mumu is your one-stop-shop. From mini dresses for the bachelorette party, to gowns for the day of the wedding, they have it all, and more. If you're a fan of satin, you'll love their colorful selection.
Jenny Yoo
With Jenny Yoo's timeless options, you can ensure your group will get the most possible use out of their dresses. Made from high-quality materials, and featuring elegantly understated designs, your bridesmaids will be reaching for their Jenny Yoo gown for years to come.
Azazie
With over 70 color options to choose from, you can guarantee that Azazie will have options for you, no matter what your wedding color palette is. Not only are their gowns affordable, but they also offer custom sizing on most styles.