Your Go-To Guide for Coordinating Mismatched Bridesmaid Dresses
Plus, a shoppable guide.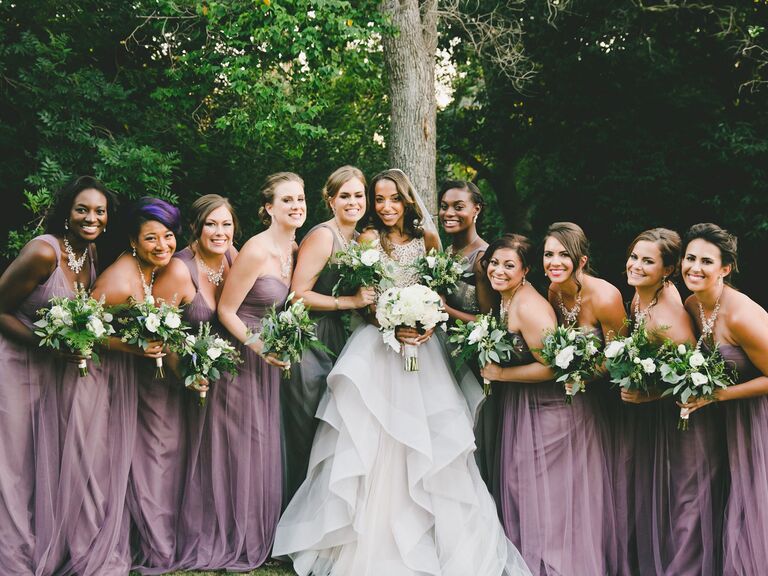 ONELOVE PHOTOGRAPHY
We have included third party products to help you navigate and enjoy life's biggest moments. Purchases made through links on this page may earn us a commission.
When choosing wedding party attire, it may seem like everyone involved has an opinion. If you're hoping to please the whole crew (while looking super stylish), consider mismatched bridesmaid dresses. When executed correctly, mismatched bridesmaid dresses will help your squad stand out; different styles will also allow each member of your wedding party to find a hue, cut and fabric that perfectly suits them.
But while mixing different styles and colors together gives off that effortless look, it does require effort. Here, we cover everything you need to know about flawlessly coordinating mismatched bridesmaid dresses. Plus, we've included a shoppable guide featuring the most popular colors.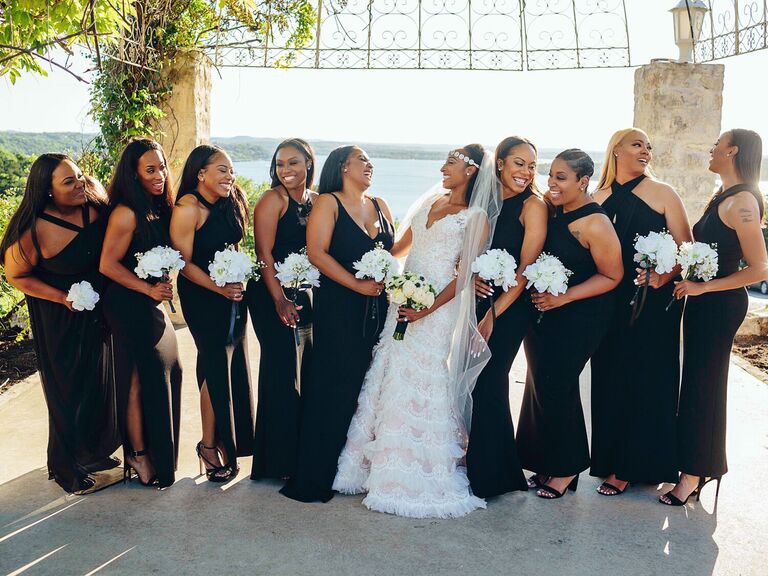 Is it OK to have mismatched bridesmaid dresses?
The short answer is yes, it's OK to have your crew rock mismatched bridesmaid dresses. In fact, it's an extremely popular choice among to-be-weds, according to Grace Lee, CEO of Birdy Grey. "Not only are mismatched bridesmaid dresses super trendy, they also look amazing in photos."
It's another way to personalize your wedding day too. By allowing your friends to express their styles and tastes, your guests can understand more about you and the people you love. Plus, it's a great excuse to incorporate your favorite colors.
Pros of Having Mismatched Bridesmaid Dresses
Mismatched bridesmaid dresses benefit both the bride and the wedding party. "For the bride, it takes the drama out of picking bridesmaid dresses," says Lee. "All she has to do is [narrow down] a color or color palette, and then her bridesmaids can choose their most flattering silhouette." Say goodbye to the pressure of finding that one perfect dress. Instead, let your crew shop for themselves. All you have to do is give the final OK.
"For bridesmaids, mismatched dresses empower them to choose a style they love so that they'll look and feel their best at the wedding," Lee adds. Beyond that, allowing your squad to pick different dresses gives them more financial freedom. Not to mention, mismatched bridesmaid dresses will open up a broader range of size-inclusive looks that everyone will feel confident in. "Finally, mismatched gowns feel fresh and modern—and will add texture and visual interest to your lineup."
How to Coordinate Mismatched Bridesmaid Dresses
If you're wondering how to pull off mismatched bridesmaid dresses, you have options. According to Lee, there are three main ways to coordinate mismatched bridesmaid dresses.
The first is to ask your bridesmaids to pick styles with a unifying design detail. That could be ruffles on the neckline or stretch crepe material. Alternatively, it could be the color of the dress. You can ask your friends to pick up different style dresses in the same hue for a fun-yet-polished vibe.
Another route to mismatched bridesmaid dresses is implementing a palette of colors. "Pick shades with similar undertones to create a cool ombre effect," says Lee. "For example, sage, dusty blue and dove gray are cool tones; while taupe, blush and rose are warm tones."
If those sound a little too mismatched for your taste, consider a convertible dress that can be styled different ways. Certain dresses can be worn strapless, one-shoulder, off-the-shoulder and more, so there's something for everyone. Since it's the same dress at its core, it will look expertly coordinated.
How to Shop for Mismatched Bridesmaid Dresses
Shopping for mismatched bridesmaid dresses can be intimidating, which is why we've rounded up the best tips and tricks for pulling off the trend effortlessly. Lee says it's important to have fun with picking out mismatched bridesmaid dresses. "These days, there really are no hard and fast rules for mix-and-match dresses, so feel free to mix between fabrics, colors and silhouettes—anything goes!"
When choosing mismatched bridesmaid dresses, choose one consistent element so that they look uniform. If you want everyone in the same color, then they can explore different silhouettes and necklines. Maybe you want light, airy-looking gowns, and with that feedback, your squad can pick out different-colored looks that fit into your vision.
If you decide to shop for gowns in different colors, keep the hues within the same color family. This can be anything from complementary neutral colors (think: beige, taupe, champagne) to bold jewel tones (like sapphire, amethyst and emerald). Even though they're different shades, they'll look cohesive and chic together at the wedding.
Mismatched Bridesmaid Dress Inspiration (and Looks You Can Shop Now!)
Mismatched Blue Bridesmaid Dresses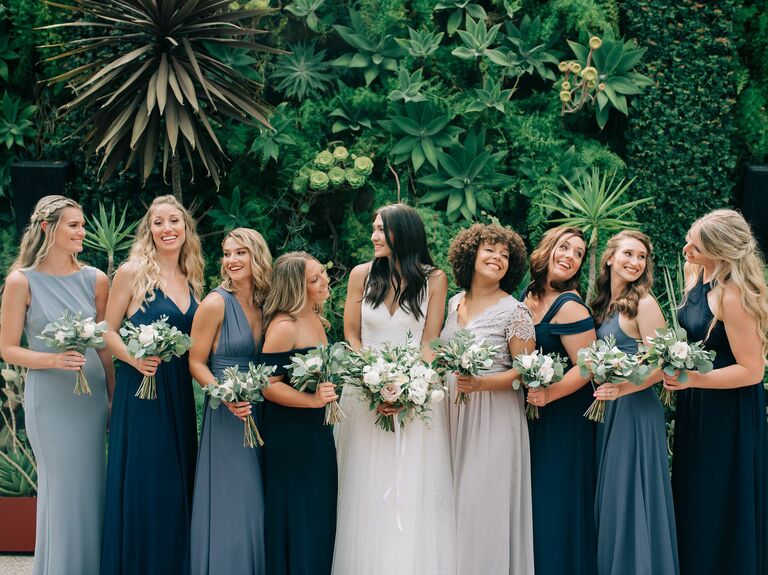 Mix and match shades of calming blue for an effortlessly cool and classic look.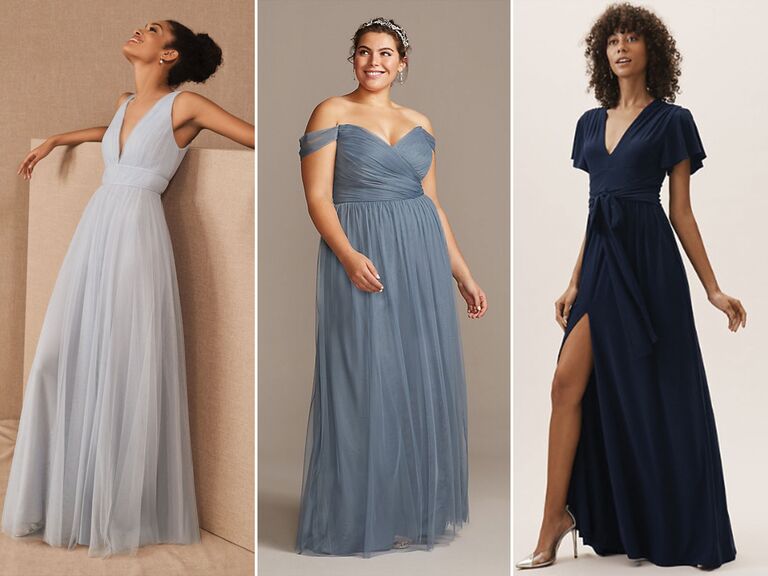 Jenny Yoo Sarita dress in Whisper Blue, $280, BHLDN.com; David's Bridal off-the-shoulder pleated soft net bridesmaid dress in Steel Blue, $150, DavidsBridal.com; BHLDN Mendoza dress in Navy, $198, BHLDN.com
Pull off the fun vibe pictured above by using three distinct shades of blue: light blue, steel blue and navy blue. Keep them looking cohesive by veering toward flowy, airy silhouettes like the ones shown here.
Mismatched Black Bridesmaid Dresses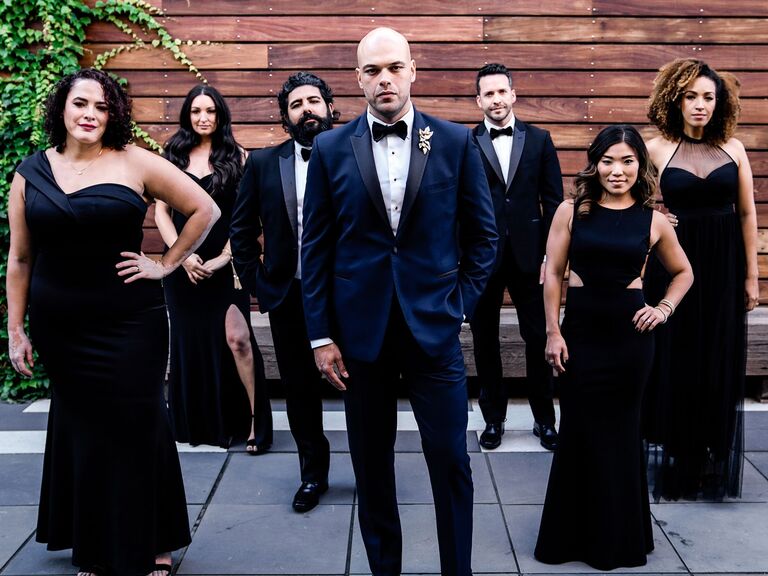 For a look that's equal parts edgy and fun, have your crew rock mismatched black bridesmaid dresses. They'll look undeniably chic in pictures (and IRL).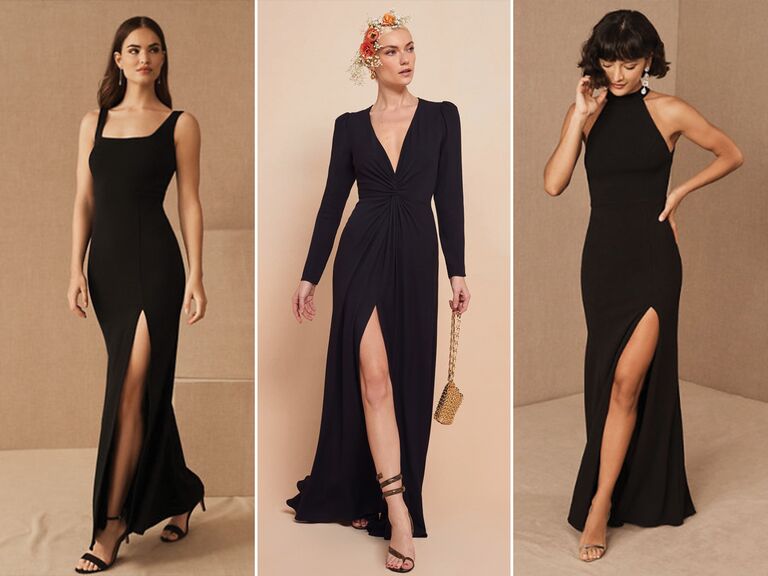 BHLDN Catarina Crepe Maxi dress in Black, $198, BHLDN.com; Reformation Gatsby dress in Black, $428, TheReformation.com; BHLDN Serephina Crepe Maxi dress in Black, $220, BHLDN.com
Achieve a sophisticated, fashion-forward vibe by asking your friends to rock mismatched black bridesmaid outfits. Plus, they'll be able to wear their frock after the wedding—for real.
Mismatched Green Bridesmaid Dresses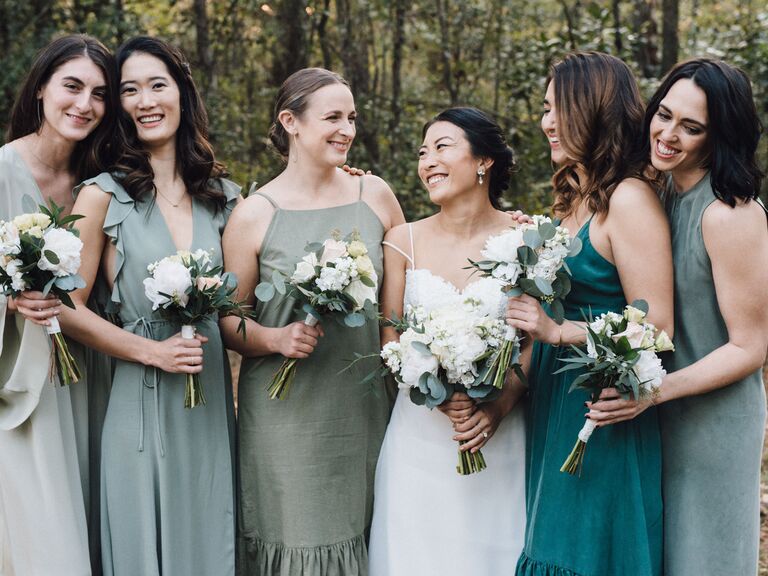 Aiming for a natural aesthetic? We love the idea of mismatched green bridesmaid dresses because they complement the florals and the setting (especially if it's an outdoor venue) so well.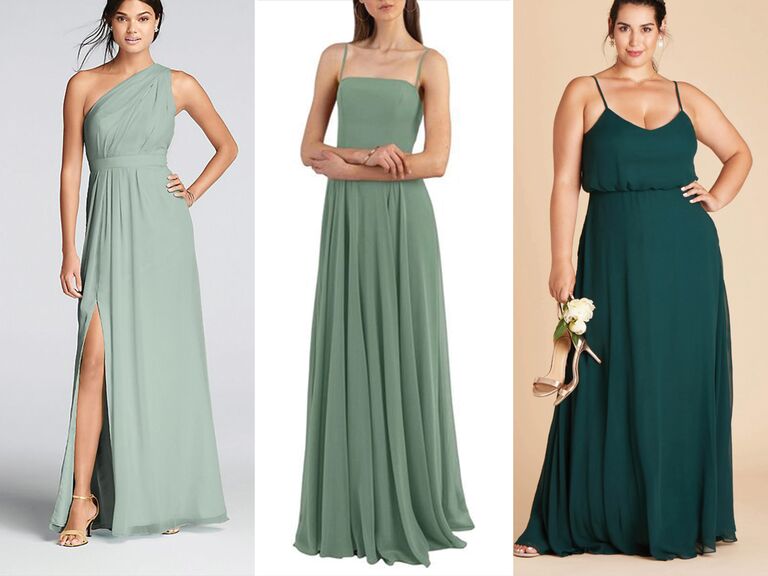 David's Bridal long one-shoulder crinkle chiffon dress in Dusty Sage, $140, DavidsBridal.com; Jenny Yoo Renee bridesmaid dress in Eucalyuptus, $285, Brideside.com; Birdy Grey Gwennie dress curve in Emerald, $99, BirdyGrey.com
If you can't decide between a dusty sage green or a deep emerald green, the key is finding a middle shade to bring them together.
Mismatched Neutral Bridesmaid Dresses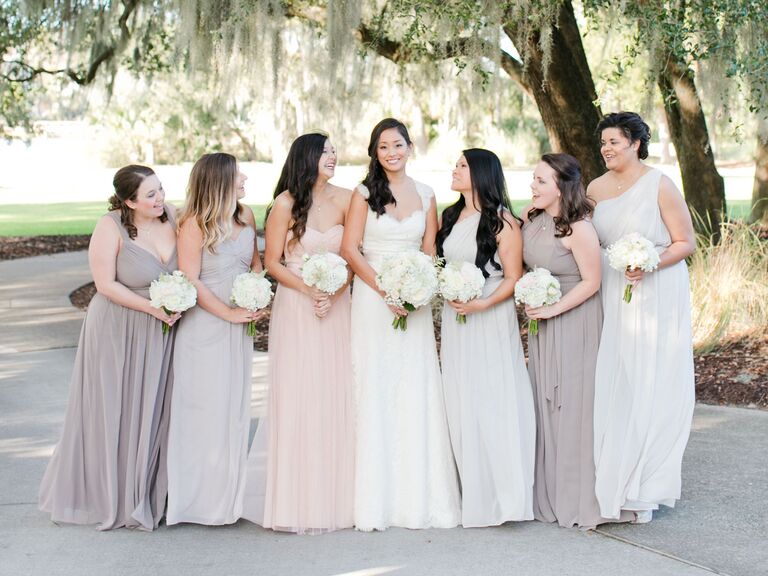 Calling all minimalist brides. Have your crew mix-and-match different muted tones for an effortlessly gorgeous aesthetic.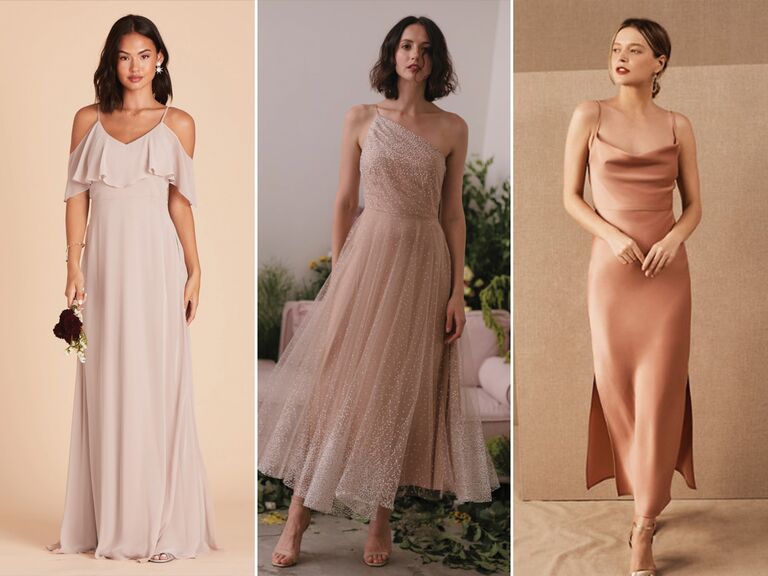 Birdy Grey Jane convertible dress in Taupe, $99, BirdyGrey.com; Sau Lee blanche ombre tulle midi dress in Nude White, $550, Sau-Lee.com; BHLDN Cali Satin Charmeuse Midi Dress in Sedona Sunset, $168, BHLDN.com
Look to colors found in nature (namely the desert) for inspiration. When mixed together, these hues will look absolutely stunning—and the neutral tones will go with any wedding color palette, season or style.
Mismatched Floral Bridesmaid Dresses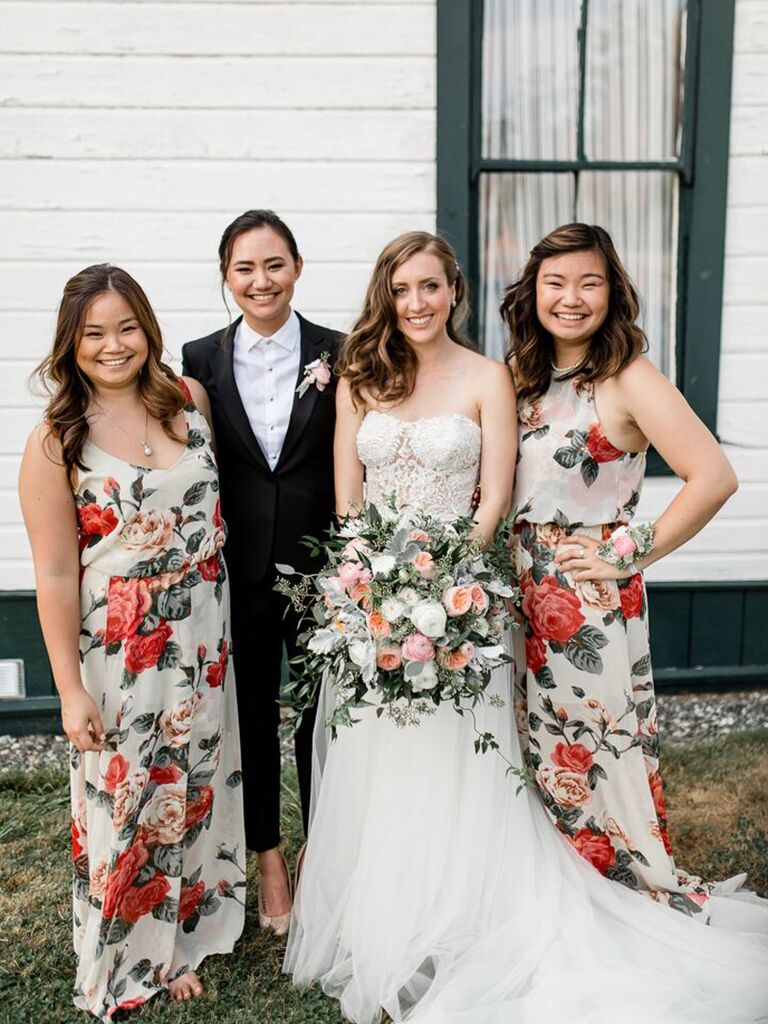 Pulling off mismatched floral bridesmaid dresses may seem daunting, but it's totally doable. Pair a floral print with matching solid colors to nail this trend or stick to the same pattern and use different silhouettes.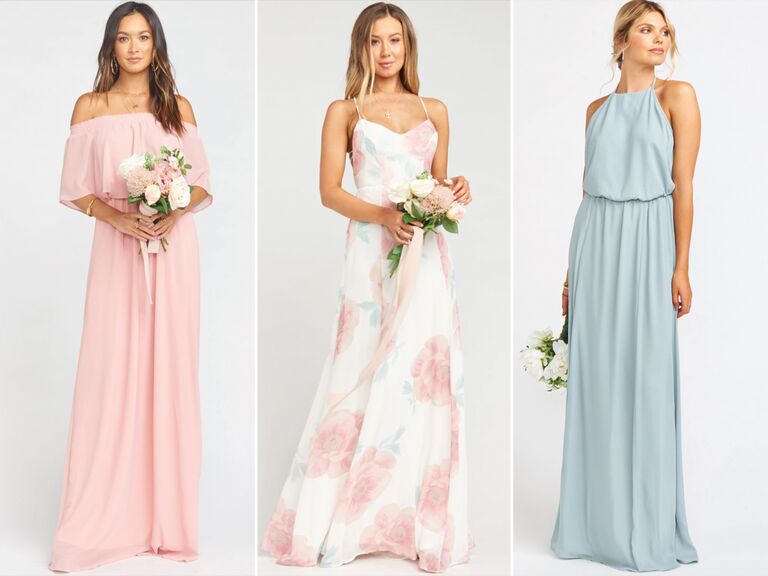 Show Me Your Mumu Hacienda maxi dress in Rosebud Chiffon, $148, ShowMeYourMumu.com; Show Me Your Mumu Godshaw Goddess dress in GWSXMUMU Wedding Bells Floral, $218, ShowMeYourMumu.com; Show Me Your Mumu Heather halter dress in Silver Sage Crisp, $168, ShowMeYourMumu.com
Look to the colors in the print for inspiration. We pulled the dusty pink and blue from the print to create a cohesive and creative wedding party lineup.
Mismatched Navy Blue Bridesmaid Dresses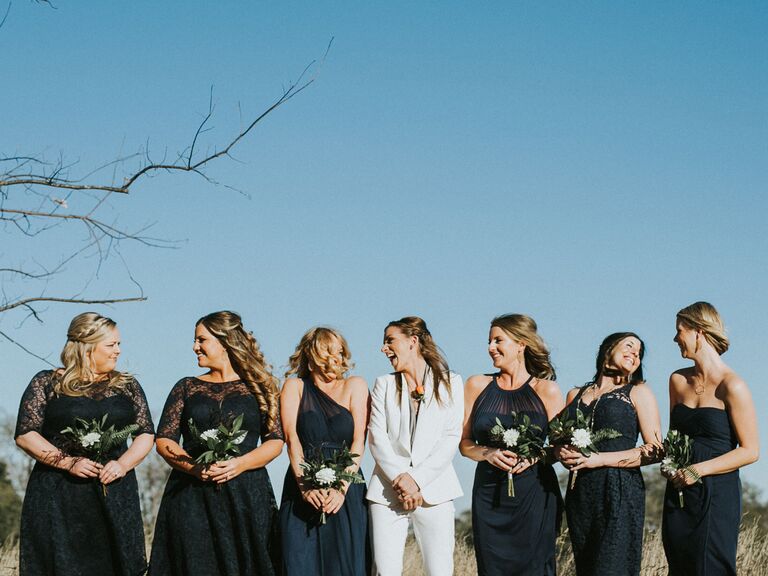 Mismatched navy bridesmaid dresses look formal but still show off your friends' personalities.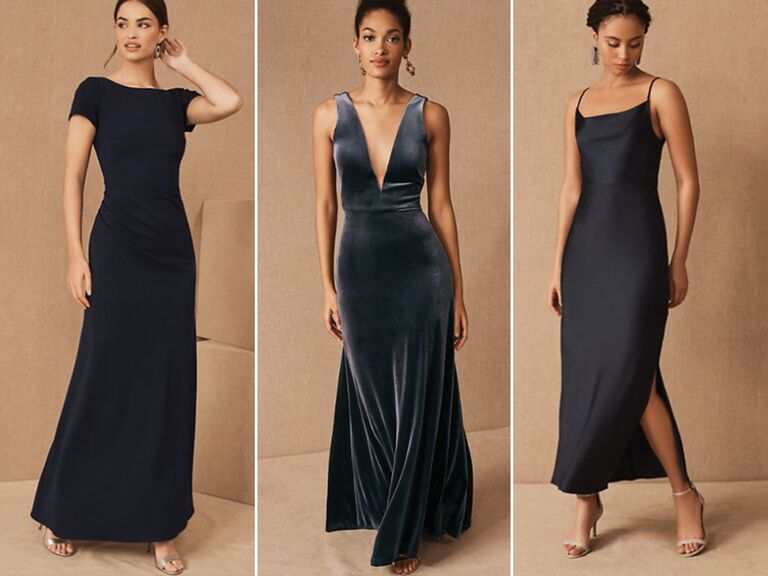 BHLDN Matisse dress in Navy, $198, BHLDN.com; Jenny Yoo Logan velvet dress in French Blue, $290, BHLDN.com; BHLDN Malynn dress in Navy, $168, BHLDN.com
Nail the mismatched navy blue bridesmaid dress look by mixing and matching fabric types. Here, we combined chiffon, stretch crepe and velvet for an eclectic and elegant vibe.
Purple Mismatched Bridesmaid Dresses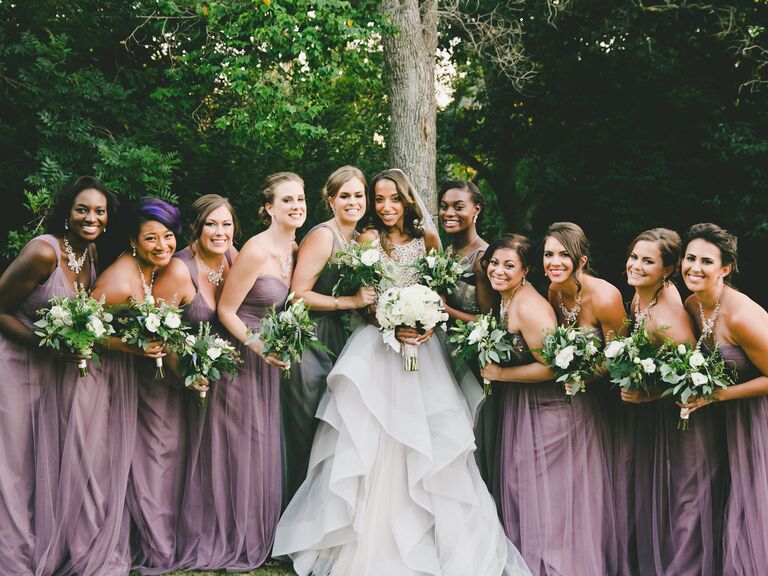 Your friends will feel like royalty in purple mismatched bridesmaid dresses.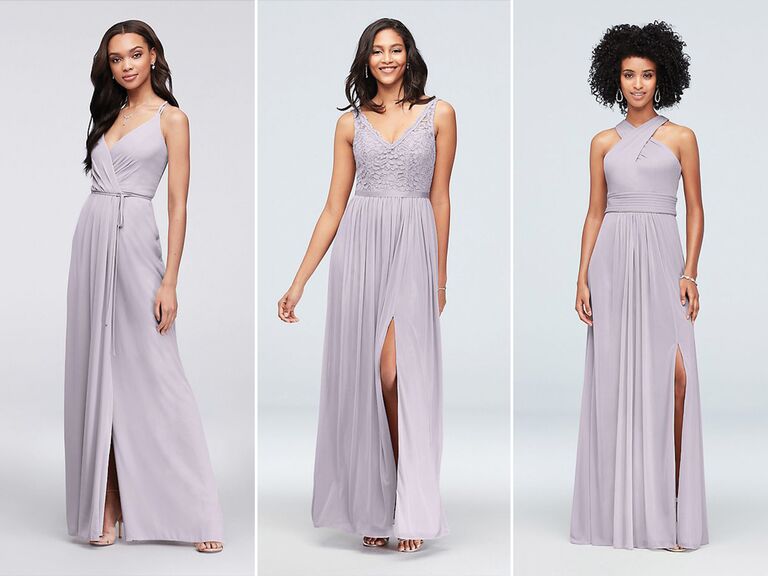 David's Bridal double-strap long Georgette gridesmaid wrap dress in Ladenver Haze, $130, DavidsBridal.com; David's Bridal lace and mesh v-neck bridesmaid dress in Lavender Haze, $170, DavidsBridal.com; David's Bridal crisscross high-neck mesh bridesmaid dress in Lavender Haze, $140, DavidsBridal.com
If you're absolutely in love with your chosen wedding color, give your squad the option to choose their preferred style and neckline. Someone may feel their most beautiful in an off-the-shoulder dress while someone else may prefer straps.
Mismatched Pink Bridesmaid Dresses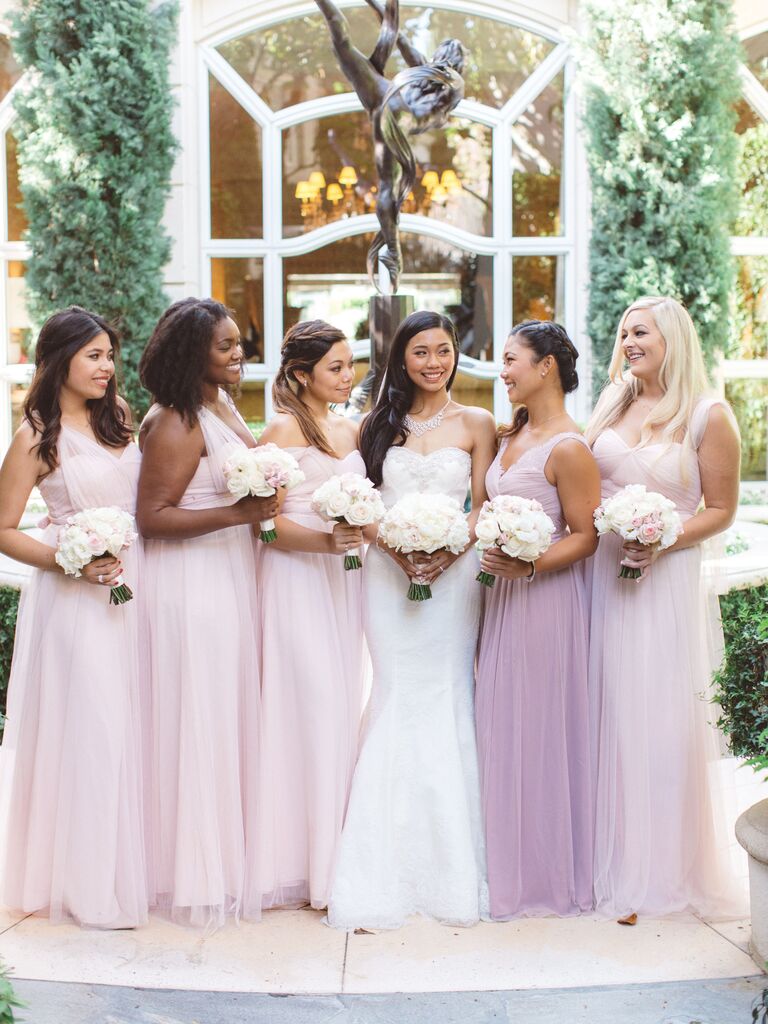 We love this example of how a convertible style can help you pull off mismatched pink bridesmaid dresses.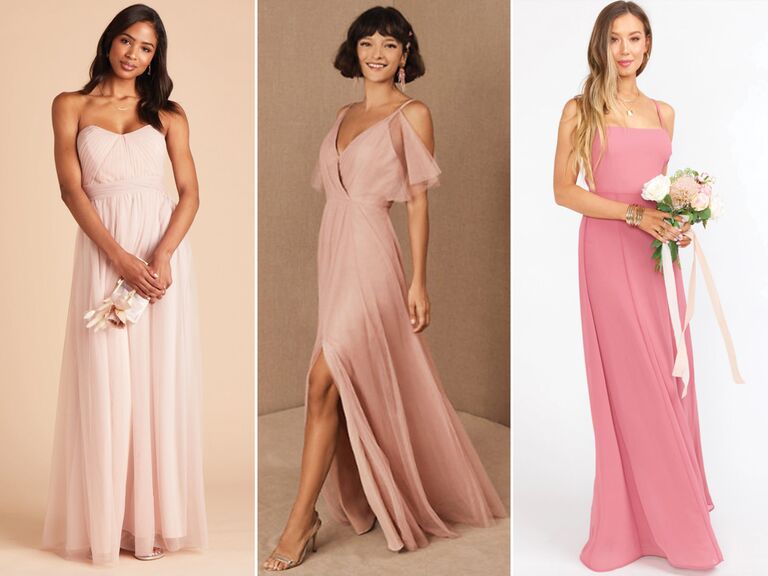 Birdy Grey Christina convertible dress in Vintage Blush, $99, BirdyGrey.com; Jenny Yoo Aeryn dress in Whipped Apricot, $270, BHLDN.com; Show Me Your Mumu Lauren tie maxi dress in Sunset Rose Chiffon, $188, ShowMeYourMumu.com
If you're rather have more hues of pink at your wedding, we have you covered. Like Lee suggested, go for colors with the same undertone for a gorgeous ombre effect that will look stunning in pictures.
Mismatched White Bridesmaid Dresses
Yes, your bridesmaids can wear white. In fact, mismatched white bridesmaid dresses will look absolutely stunning on the beach or at your boho chic wedding.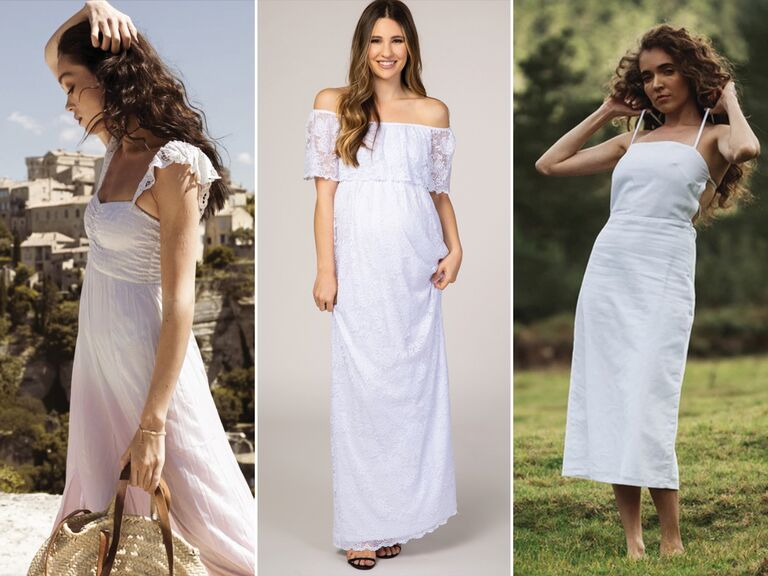 Tiare Hawaii Hollie long dress in Eyelet, $107, TiareHawaii.com; PinkBlush white lace off the shoulder maternity maxi dress in White, $74, PinkBlush.com; Olette Merida blanco dress, $225, Olette.com
The key to nailing mismatched white bridesmaid dresses is to keep the formality level the same. We love the mix of these casual dresses for a laid-back wedding.
Jewel-Toned Mismatched Bridesmaid Dresses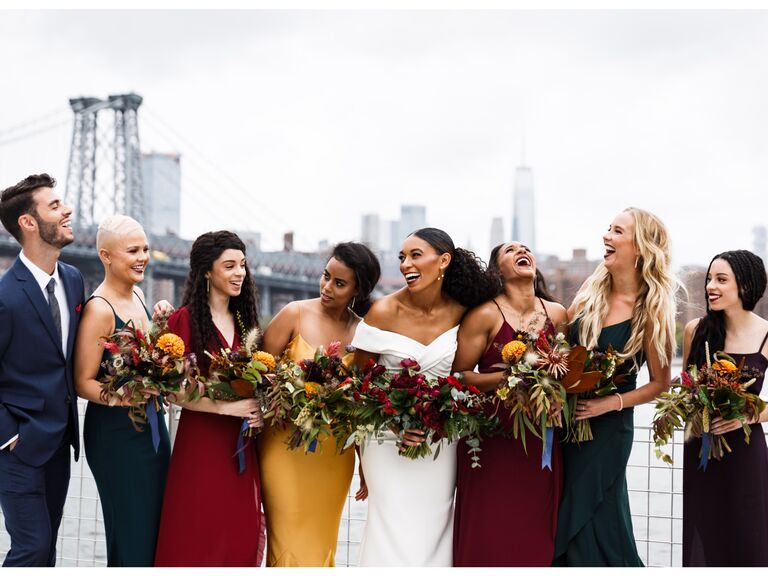 Jewel tones complement each other so well, which is why they'll look stunning on your bridesmaids when mixed together.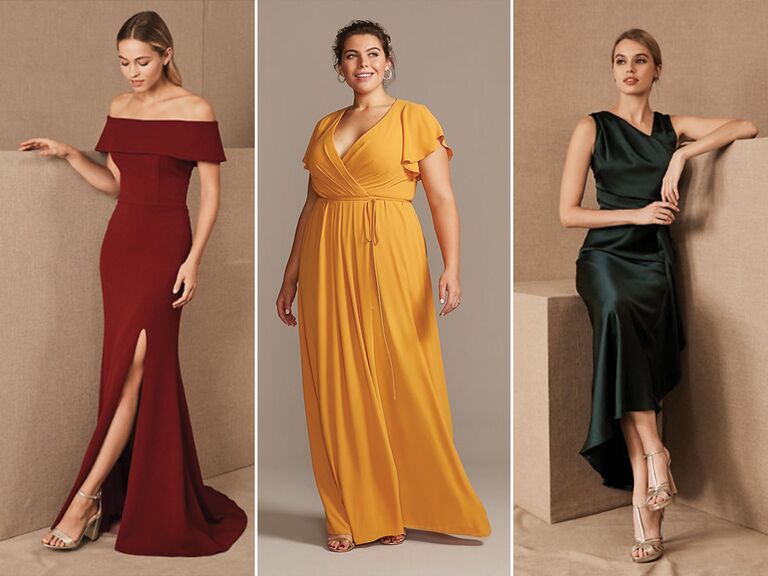 BHLDN Delice Dress in Bordeaux, $198, BHLDN.com; David's Bridal flutter sleeve georgette wrap bridesmaid dress in Marigold, $140, DavidsBridal.com; BHLDN Espen Dress in Dark Emerald, $220, BHLDN.com
Have your squad rock different jewel-toned hues (like yellow, red and green and navy blue)—and add in a matching pattern if you're feeling extra adventurous.