Your Go-To Guide for Coordinating Mismatched Bridesmaid Dresses
We've got five quick tips to help make sure that your bridesmaids look flawless.
by Andrea Fowler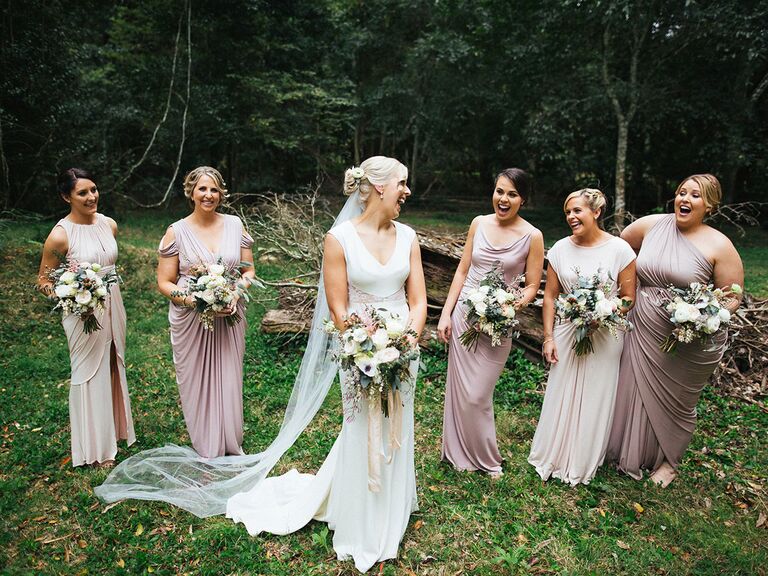 Mismatched bridesmaid dresses can fit in with any wedding style, from ballroom to bohemian. That's part of the reason why they became so popular so quickly and have stayed that way throughout the seasons.
 
Mixing different dress styles together gives off that effortlessly-chic look—to your guests at least, because it does require a little bit of effort. Rebecca Lau Marsh from White Runway put together five guided tips for making sure that your mismatched bridesmaid dresses look perfectly coordinated.
1. Choose one consistent dress element.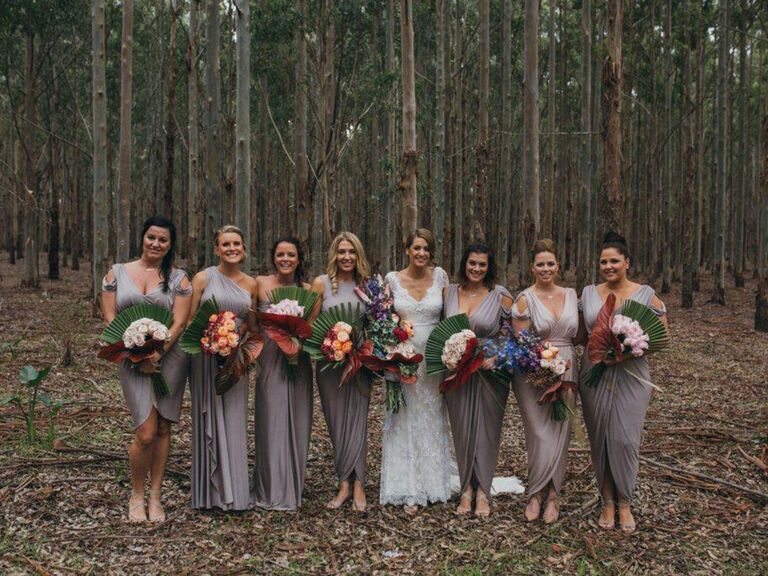 "There are some rules that say to vary no more than two elements such as fabric, color and neckline. However, mismatched dresses can work as long as there's just one link that ties the whole look together," says Lau Marsh. Translation: The bridesmaid dresses can be as different as you'd like as long as they share one thing in common and it's applied across the board. "We've styled bridal parties in 10 different dresses and the photos look stunning." Choose one neckline, silhouette or fabric (or anything else) and make sure every dress shares that detail.

2. Wear dresses in the same color family.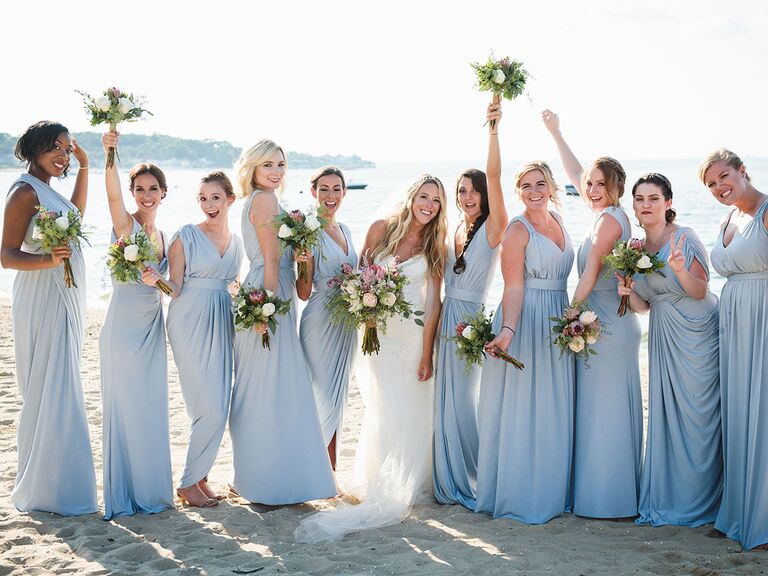 Next to the uniform detail, the bridesmaid dresses should be similar in color. "Styling a bridal party in different dresses can be successful if the bride sticks to a particular color theme or color set," says Lau Marsh. "A great example is when the bride selects a neutral colored theme, such as pink or champagne. The whole party can look ethereal and really beautiful when it all comes together."

3. The bride should set the guidelines and the bridesmaids should select the dress.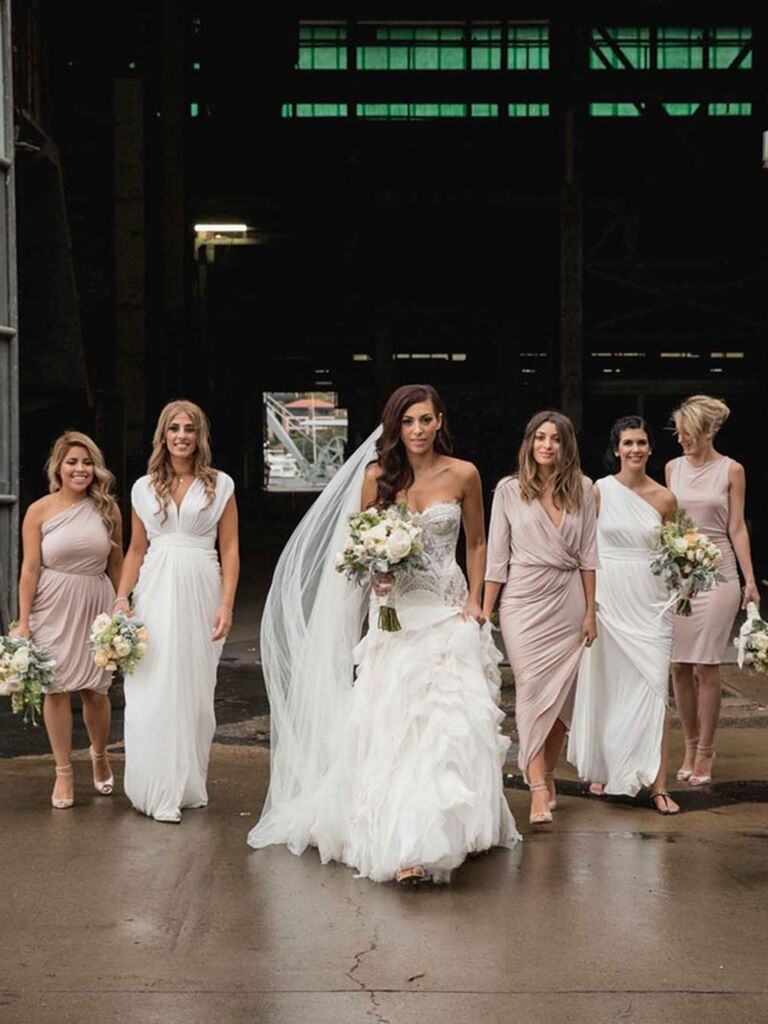 After picking out all the details, it's time for the bridesmaids to choose their dresses. Or they can choose from a few styles that the bride picked out. We're big fans of the bridesmaids choosing their dress because, this way, they can choose whichever one they feel the most comfortable and the most beautiful in. Another pro tip for keeping your crew happy? Letting them rent their dresses. Use a service like Rent the Runway, which allows borrowers to filter options based on color, embellishments and more (essentially, any aesthetic guidelines you've given them).

4. Style the bouquets with the same flowers.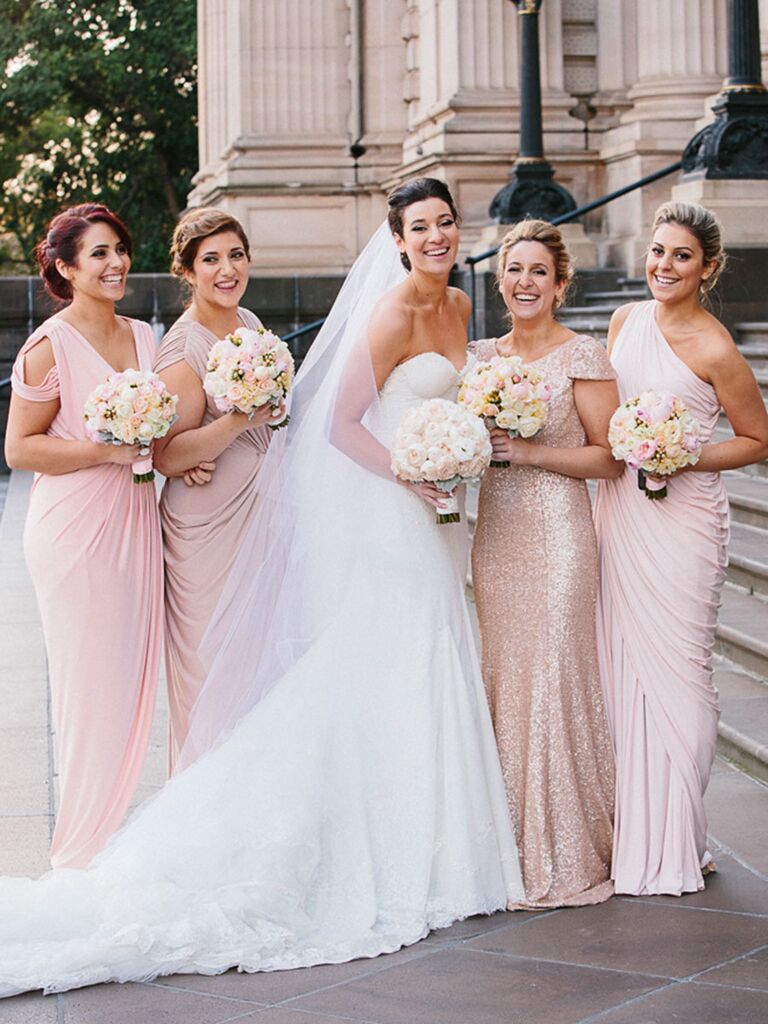 The bridesmaids' bouquets are a great opportunity to play up your dress choice. Go with blooms that have colors that complement the dress hues and reflect the formality. Roses are a classic stem to pair with floor-length gowns, Queen Anne's lace is very bohemian, and peonies are perfectly preppy.

5. Accessorize.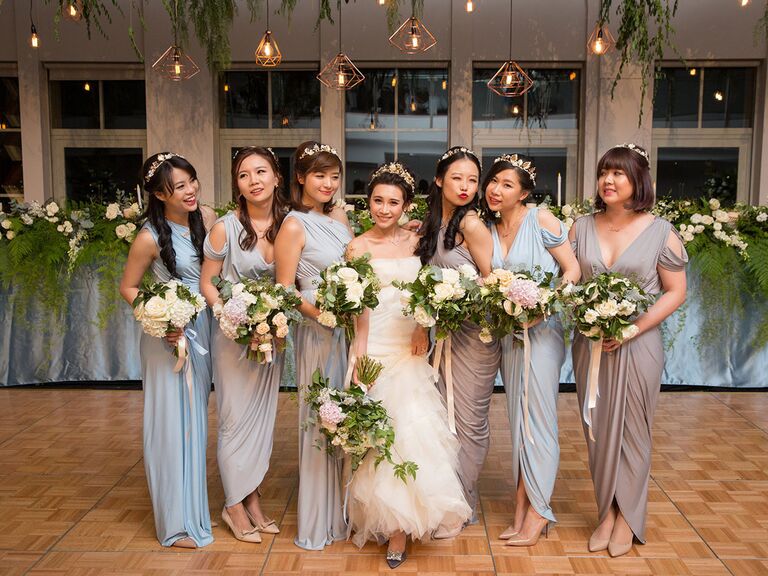 Once the bridesmaid dresses are all picked out, the accessories are another way to help tie them together. Depending on what the dresses have in common, think about gifting your ladies the same statement necklace, a pair of earrings or a clutch. You could even look to hairstyles to further pull the look together too, like variations of a similar formal updo or a half up, half down style with braids. Or, there are always flower crowns.

Disclosure: This post contains affiliate links, some of which may be sponsored by paying vendors.