Go Ahead Mom, Make a Splash in One of These 18 Mother-of-the-Bride Beach Dresses
Trust us, you'll want to *sea* these picks.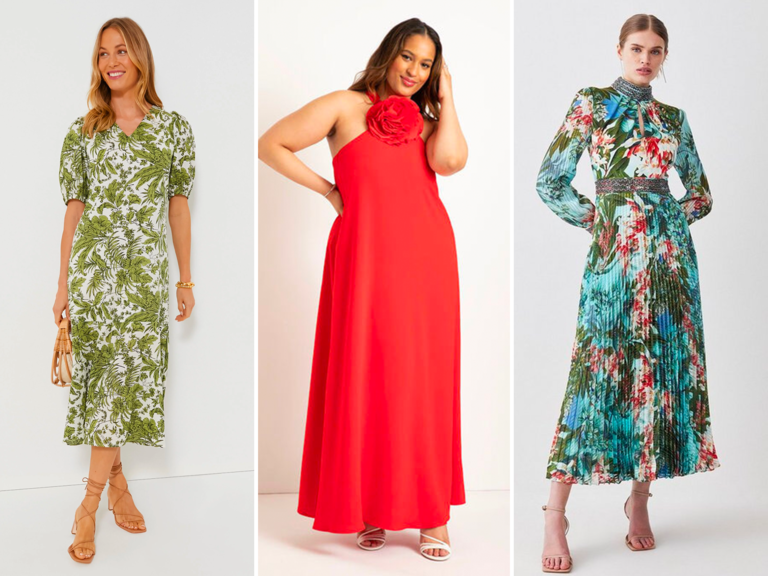 Photos: Tuckernuck, ELOQUII, Karen Millen
We have included third party products to help you navigate and enjoy life's biggest moments. Purchases made through links on this page may earn us a commission.
Moms: There's no need to get salty on your search for stylish mother-of-the-bride beach dresses—we've got the looks for you.
From simple sundresses to elegant gowns, we've rounded up 18 looks that are sure to make a splash at your upcoming event this summer, no matter the dress code. After all, as mother-of-the-bride you'll have plenty of eyes on you as well, so you deserve to look good too.
Keep reading to discover our shoppable picks, plus advice on where to shop for wedding attire and what to look for when browsing options. Then, head to our complete guide to mother-of-the-bride etiquette to learn more about your role in the big day.
The Best Mother-of-the-Bride Beach Dresses for 2023
Ready to shop? Here's 18 of our favorite mother-of-the-bride dresses for beach weddings.
Karen Millen Diamante Trim Palm Floral Woven Maxi Dress
Here's a pick that's guaranteed to take you to the tropics. With a botanical print and breezy skirt you'll be ready to hit the shore. . .Piña colada and parasol, optional.
Dress code: Semi-Formal | Size range: 2 - 12
Mac Duggal Pleated Halter Neck Gown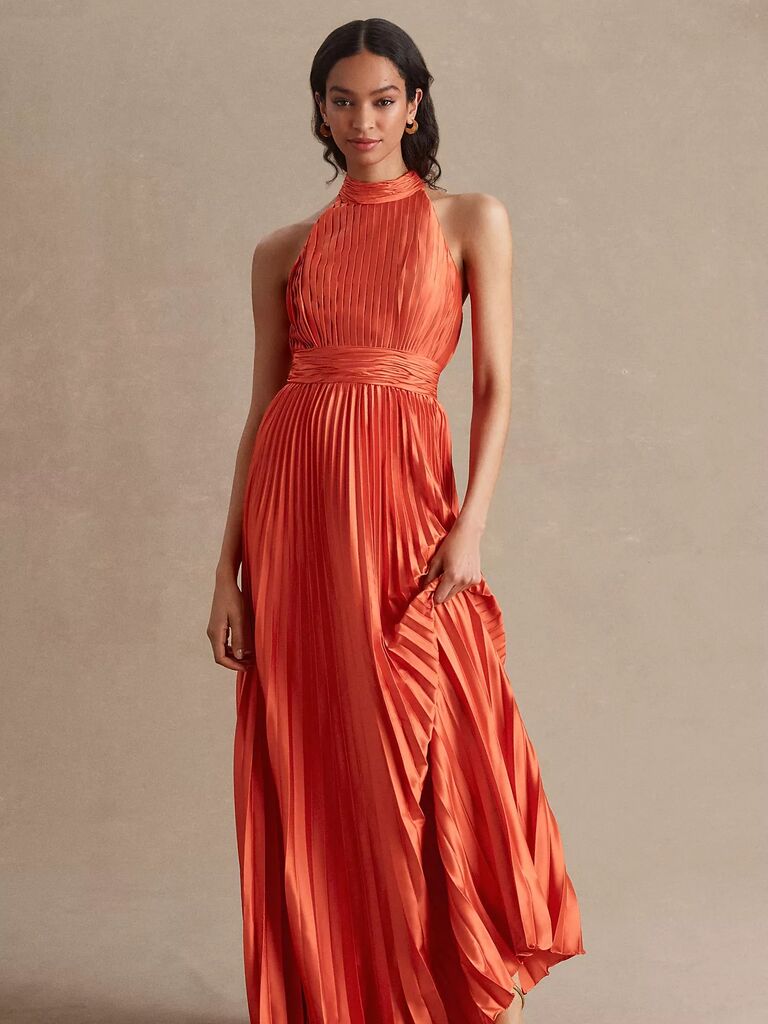 This sunset-inspired gown is guaranteed to shine against a stunning coastal backdrop. The A-line look features a halter neck, cummerbund waist and elegant pleating throughout. Top your look off with a pair of statement earrings for a formal dress code event.
Dress code: Cocktail | Size range: 0 - 16
Sachin & Babi Margaux Gown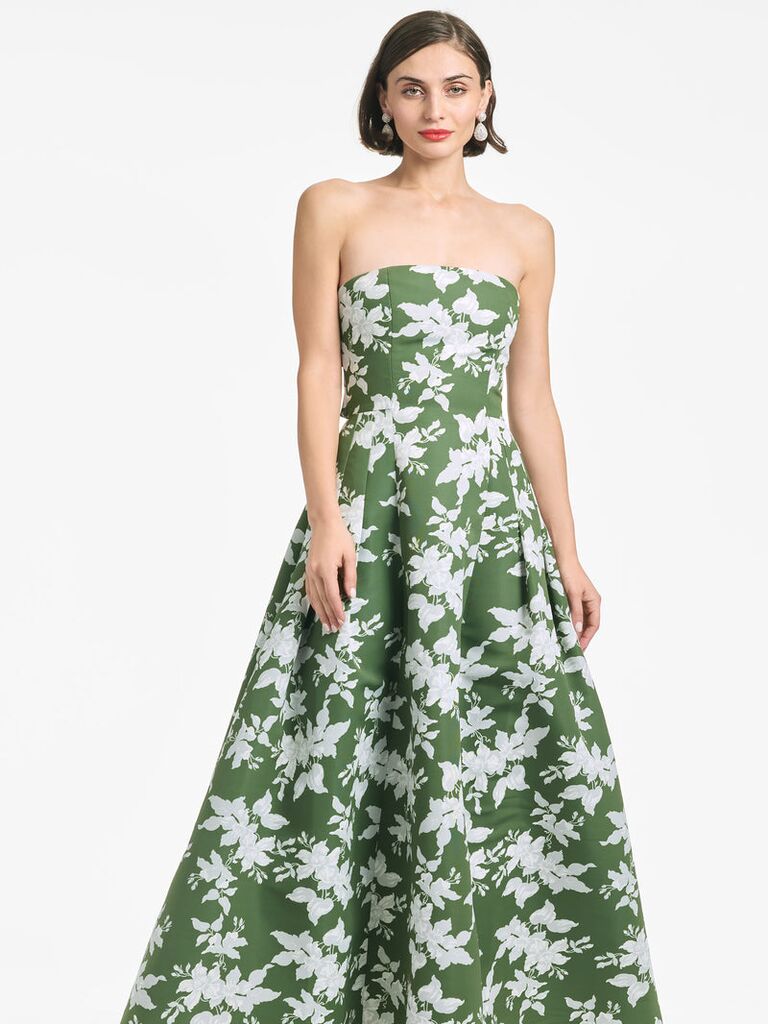 We like to think of this as the quintessential beach wedding guest dress, and not just because of its tropical floral print. Its A-line silhouette makes it breathable, while its length ensures you won't trip over excess fabric (because sand is more than enough of an obstacle).
Dress code: Formal | Size range: 0 - 14
ELOQUII Rosette Dress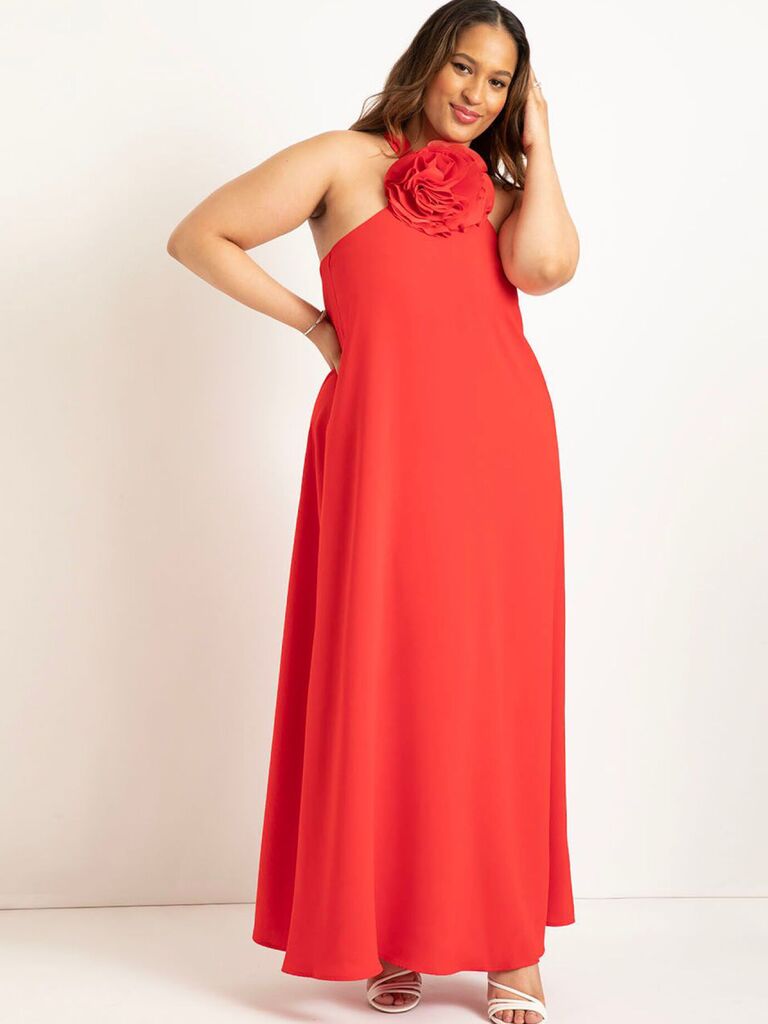 Maybe you want to surprise the bride by being one step ahead on the latest fashion trends (after all, you are a cool mom). If so, you'll love this vibrant maxi dress. Its oversized floral decal makes it totally on trend for 2023-2024.
Dress code: Formal | Size range: 14 - 28
BHLDN Juniper Tiered Backless High-Neck Gown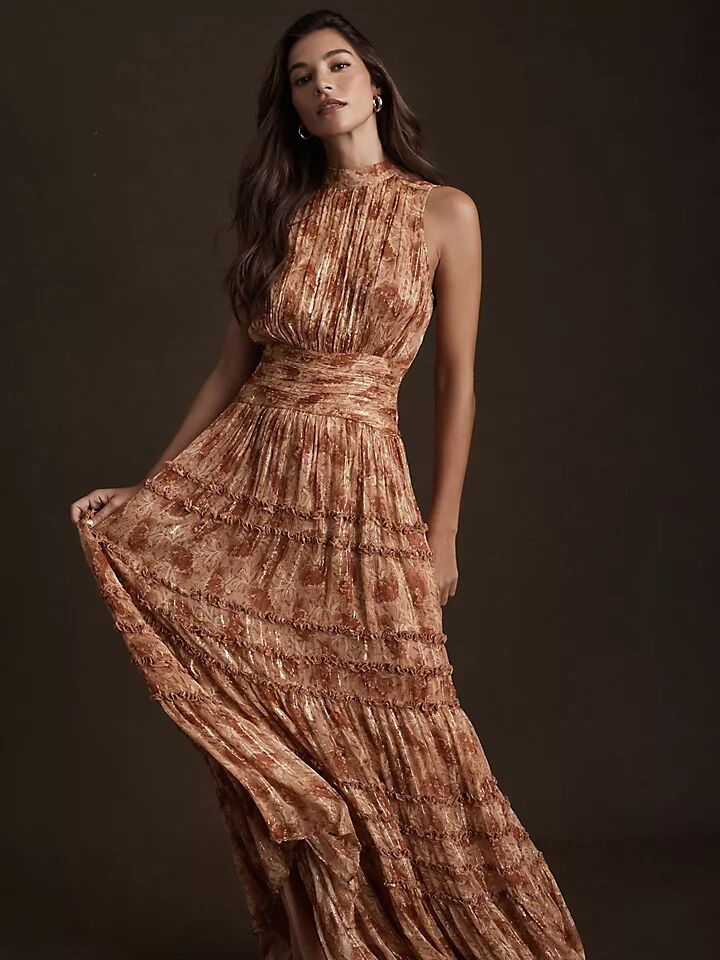 This boho dress is practically begging to be worn barefoot on the beach somewhere. Of course, if you're not a fan of sand between your toes, we've got plenty of stylish sandal picks to finish off your look with.
Dress code: Dressy Casual | Size range: 0 - 16
Lane Bryant Flutter-Sleeve Button-Front Maxi Dress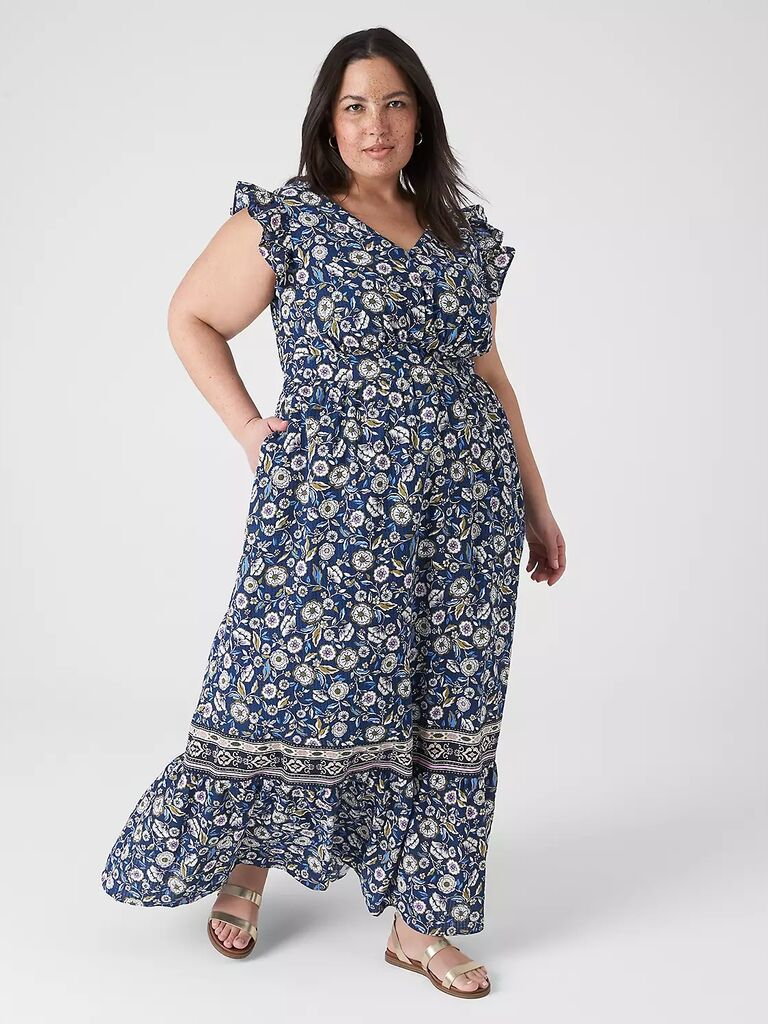 This plus-size printed smock dress is sure to pair perfectly with a floppy sun hat and your favorite pair of sunnies for a beach wedding. Of course, it's super easy to throw on, so be prepared for it to make plenty of appearances after the event as well.
Dress code: Casual | Size range: 14 - 24
Kennedy Blue Rory Mother of the Bride Dress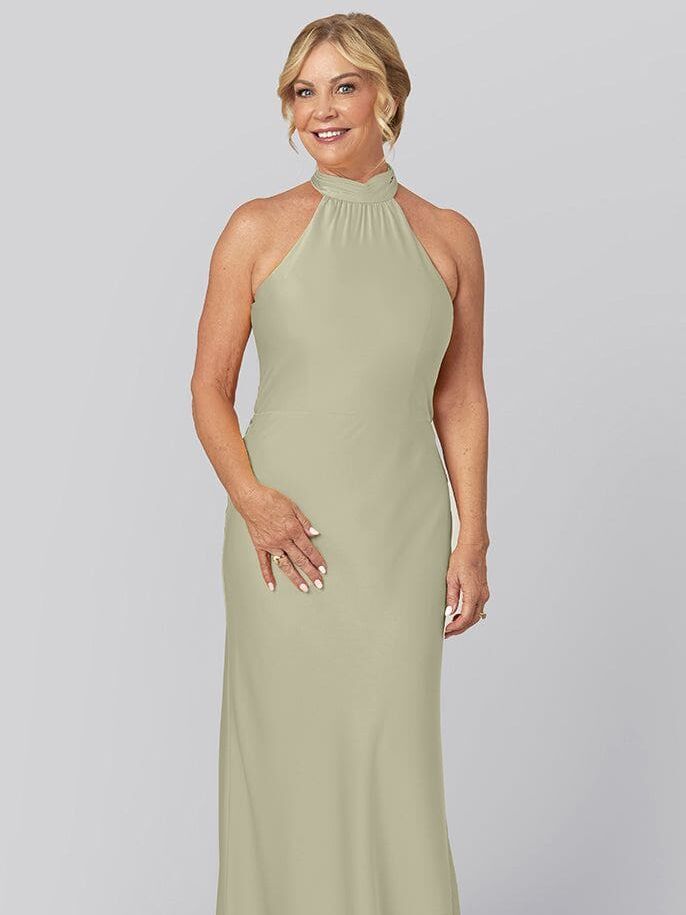 Go ahead Mom, show off those shoulders. This halter-neck maxi dress is the ideal pick for nuptials under the summer sun. Because it's available in a wide range of sizes and colors, you're sure to find a hue that suits.
Dress code: Formal | Size range: 00 - 32
Mac Duggal Amelie Floral Brocade Strapless Gown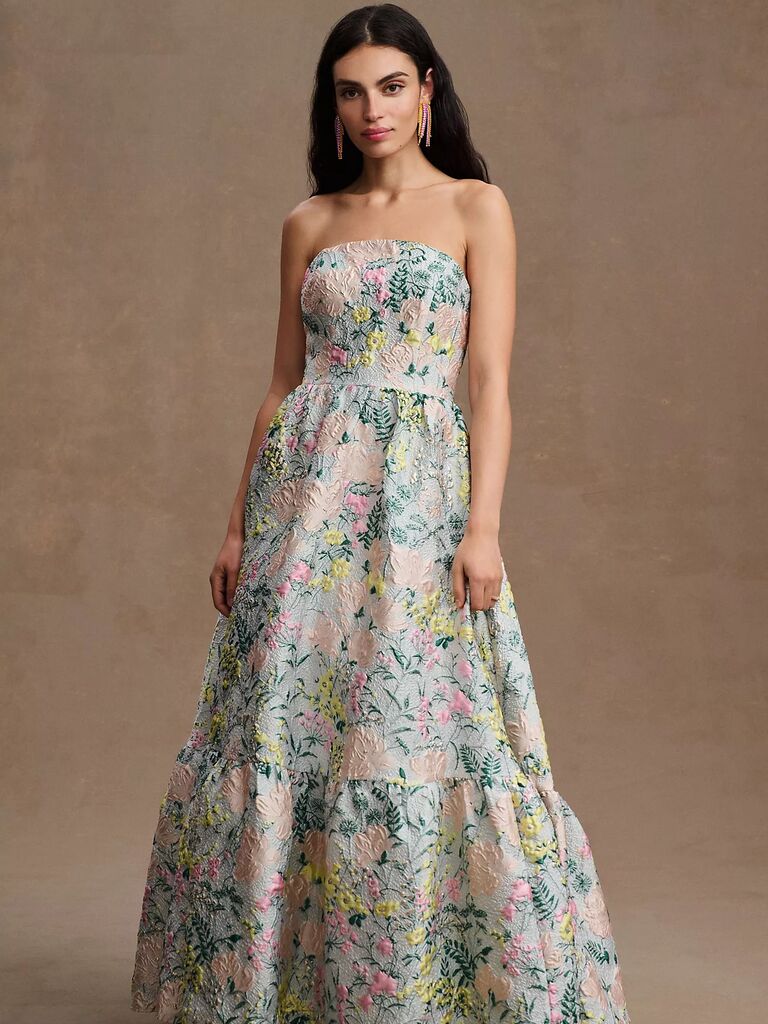 Flaunt your tan in this strapless pick. Its colorful floral print is sure to make a statement against the white sand at a beach wedding. Plus, its airy A-line silhouette will keep you cool throughout the day, and pair perfectly with a bolero or wrap for the night.
Dress code: Formal | Size range: 2 - 20W
Sachin & Babi Lavinia Gown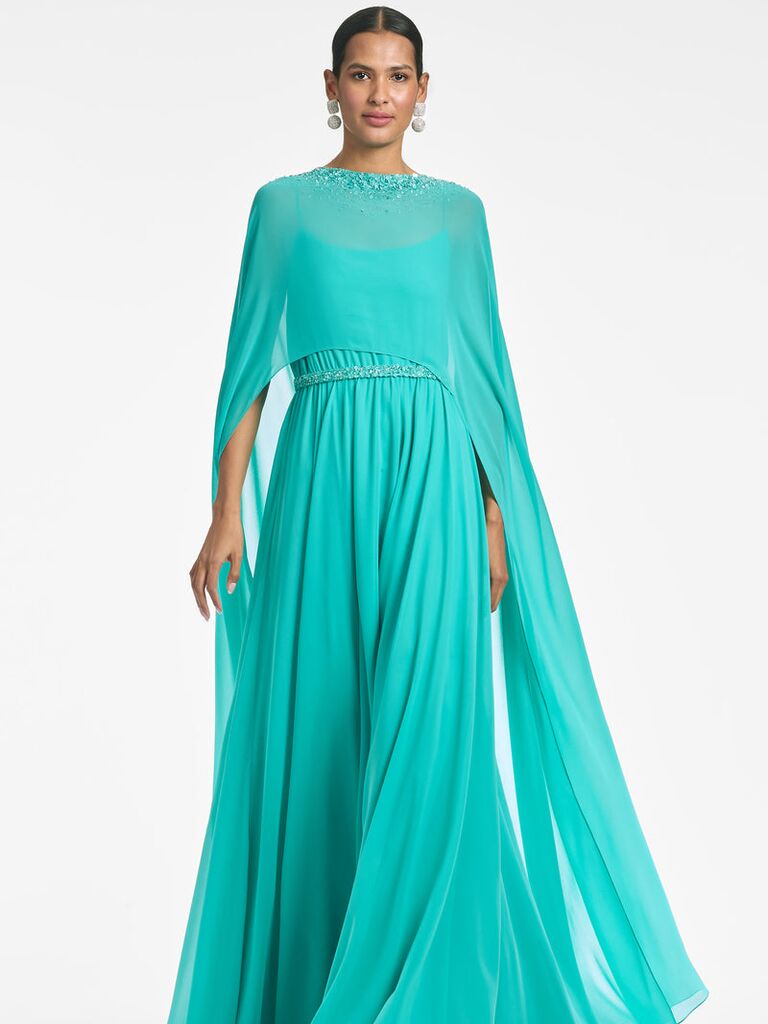 Considering this MOB dress comes in the color 'bahama blue', it's safe to say it was made to be worn to a beach wedding. Thanks to its detachable shawl, you'll be prepared if an ocean breeze decides to strike.
Dress code: Formal | Size range: 0 - 14
Lane Bryant Scoop-Neck Cami Slip Dress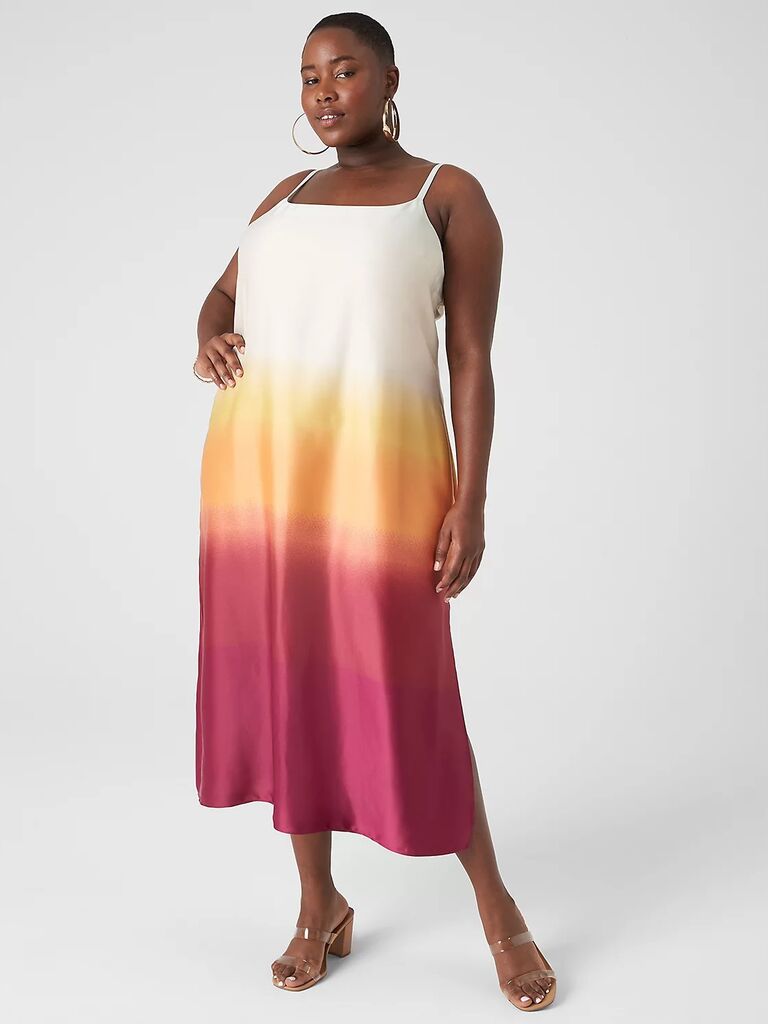 How about a sunset-colored dress to match your surroundings? Pair the streamlined slip dress with a comfortable pair of sandals to seamlessly go from the sea shore to the dance floor.
Dress code: Dressy Casual | Size range: 12 - 28
Sachin & Babi Grace Gown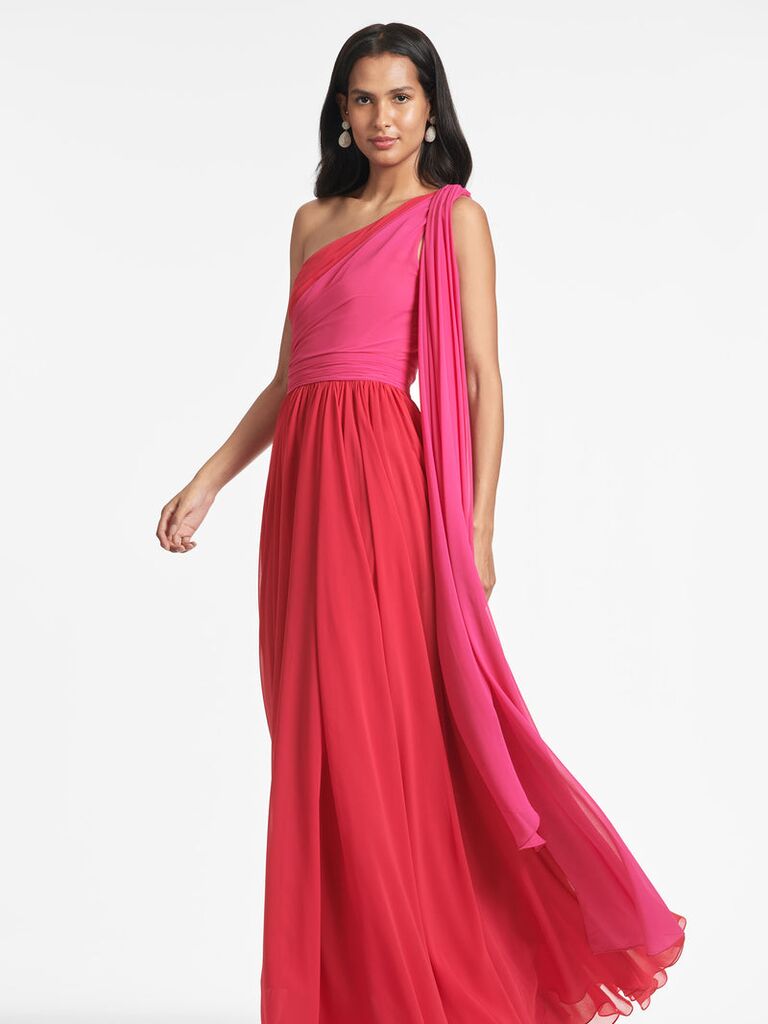 A pop-of-color is a sure way to make a statement this summer. Opt for a bold look by adding accessories in a contrasting shade, or keep things classic with nude-colored heels and a simple pair of gold hoops.
Dress code: Semi-Formal | Size range: 0 - 14
ELOQUII Flutter Sleeve Maxi Dress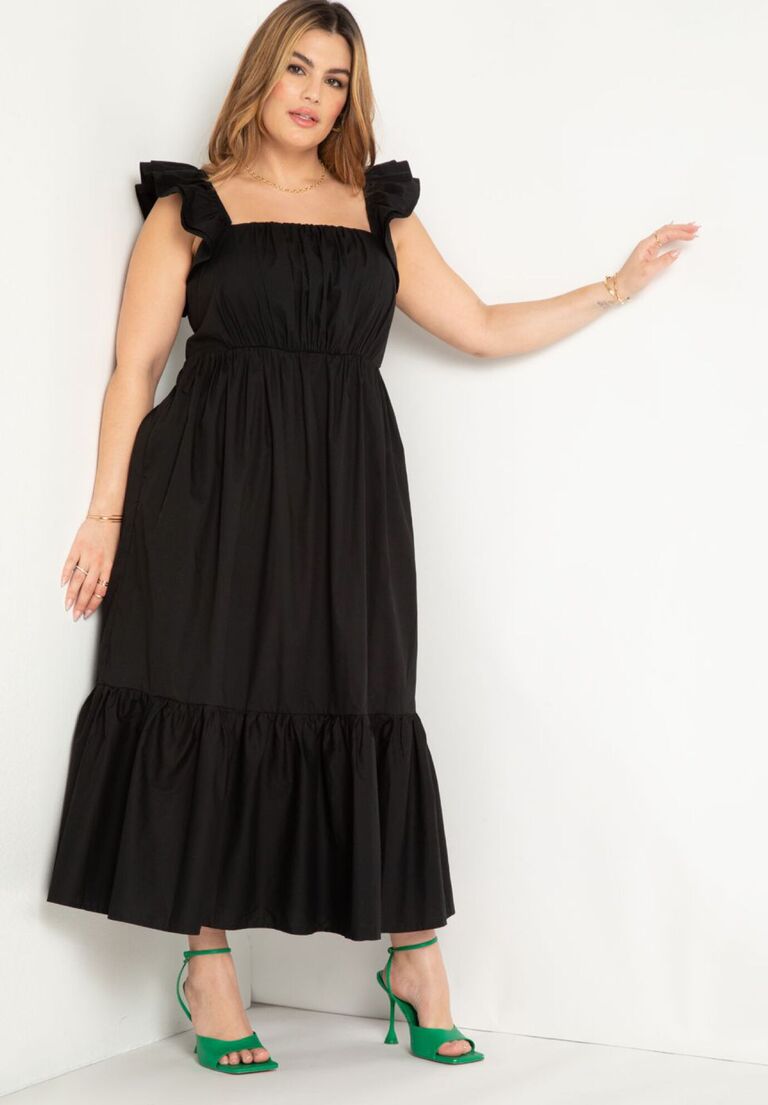 This versatile pick can be worn as a wedding guest dress or stylish beach cover up (hey, why not both?). Either way you spin it, a rattan purse and an aperol spritz are must-have accessories to complete your look.
Dress code: Casual | Size range: 14 - 32
Ulla Johnson Olina Dress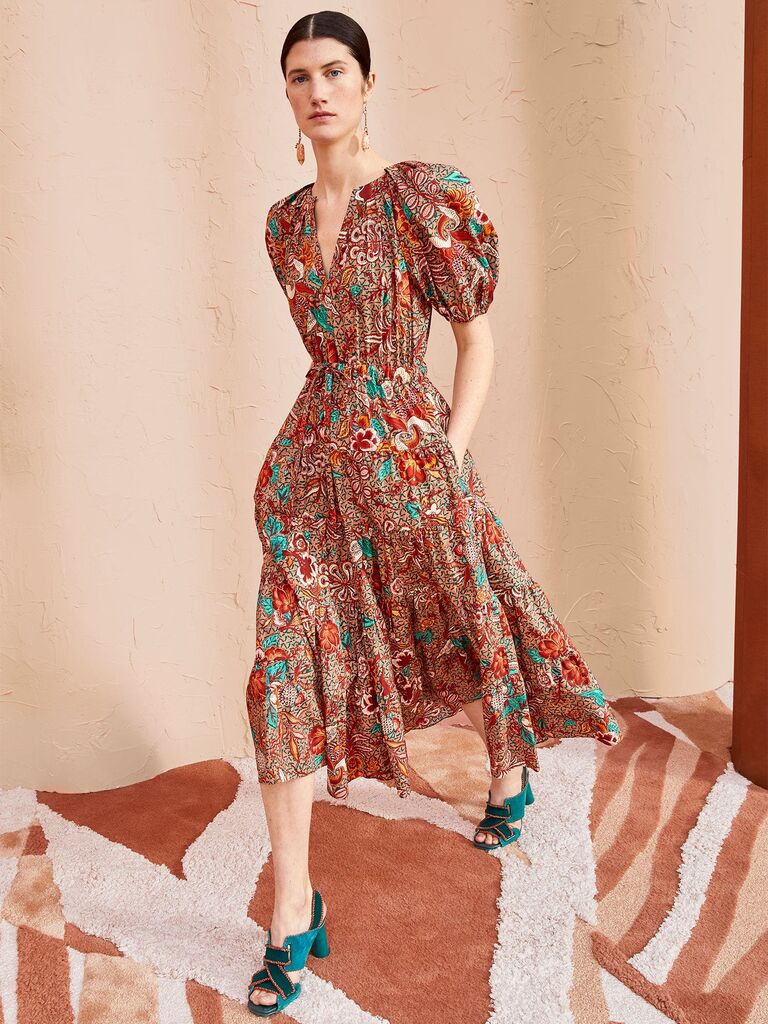 Fashion-forward moms: Here's a look you'll love long after the wedding. Puff sleeves, a smocked skirt and a charming boho print are just a few of the many details that make the midi dress a standout pick.
Dress code: Casual | Size range: 00 - 16
Sachin & Babi Ronit Gown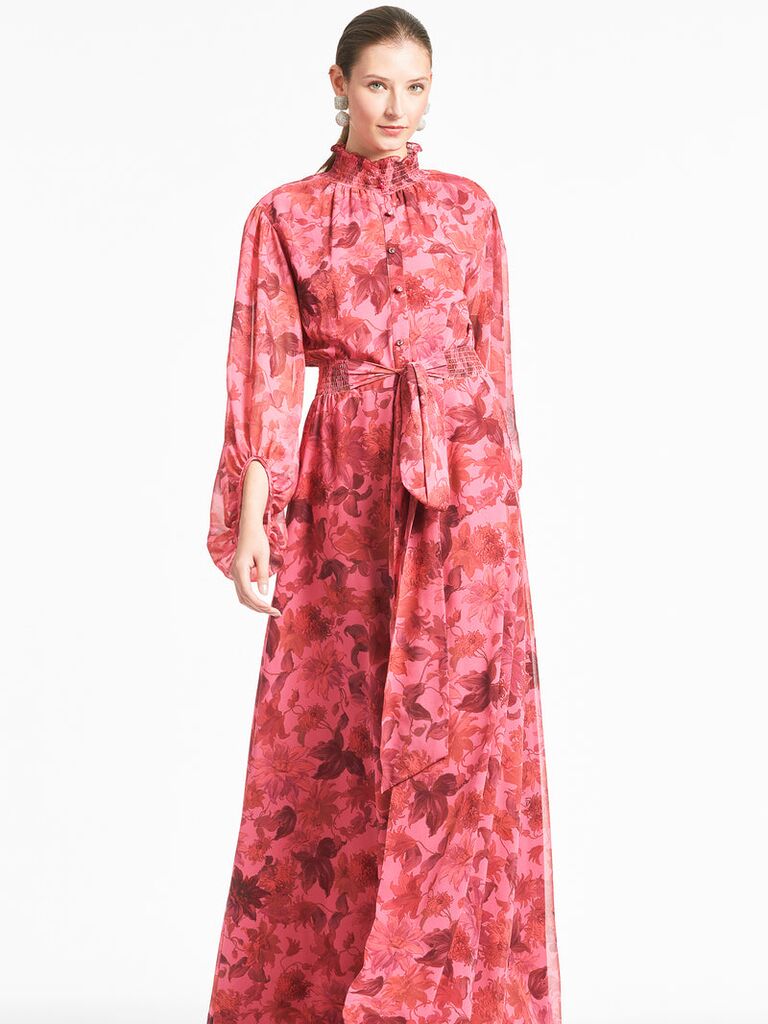 Maybe you're in the market for a long sleeved MOB dress—after all, sunburns are never in style. In that case, you'll love this fuschia maxi dress. It's made from breathable chiffon fabric and features a tropical floral print for the ultimate beachy vibe.
Dress code: Semi-Formal | Size range: 0 - 22W
Tuckernuck Green Leaf Myers Midi Dress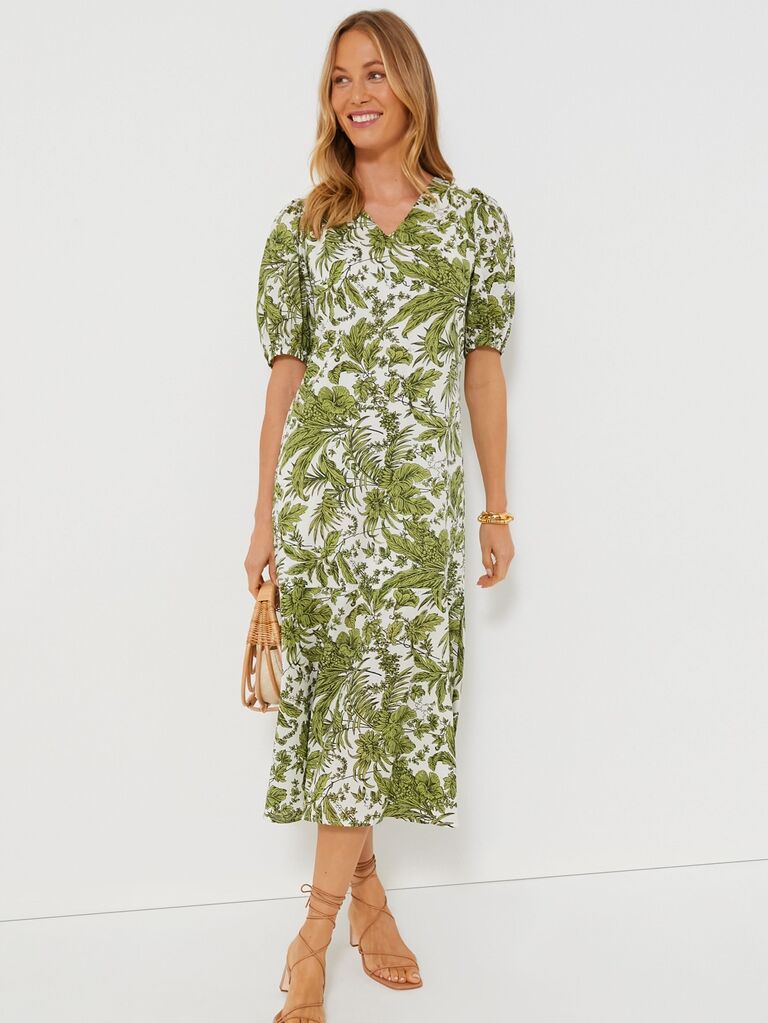 There's nothing like a palm tree print to get you in the vacation mindset. This versatile midi dress is perfect for nuptials by the sea, whether you wear it to the welcome party, the wedding or any moment in between.
Dress code: Casual | Size range: XS - L
Boston Proper Metallic Lace Inset Eyelet Maxi Dress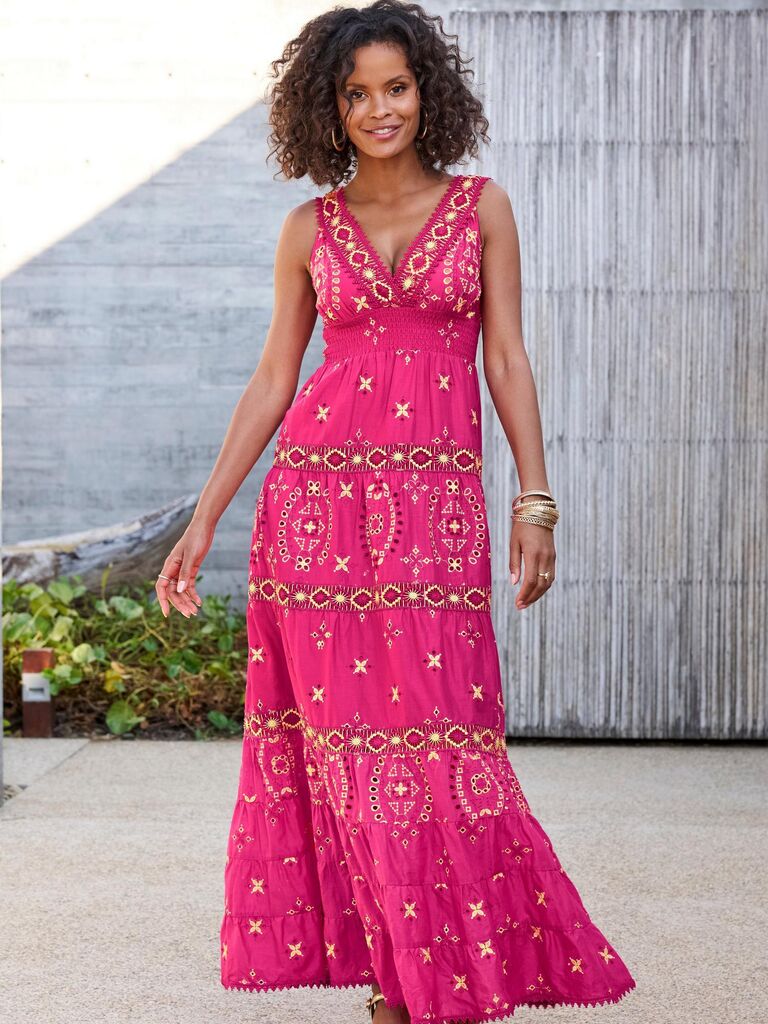 Attending a tropical destination wedding? This pick has beach vacay written all over it. Between its vibrant color and lightweight feel, you'll definitely want to add it to your packing list ASAP.
Dress code: Semi-Formal | Size range: XXS - L
Phase Eight Priscilla Abstract Floral Pleated Maxi Dress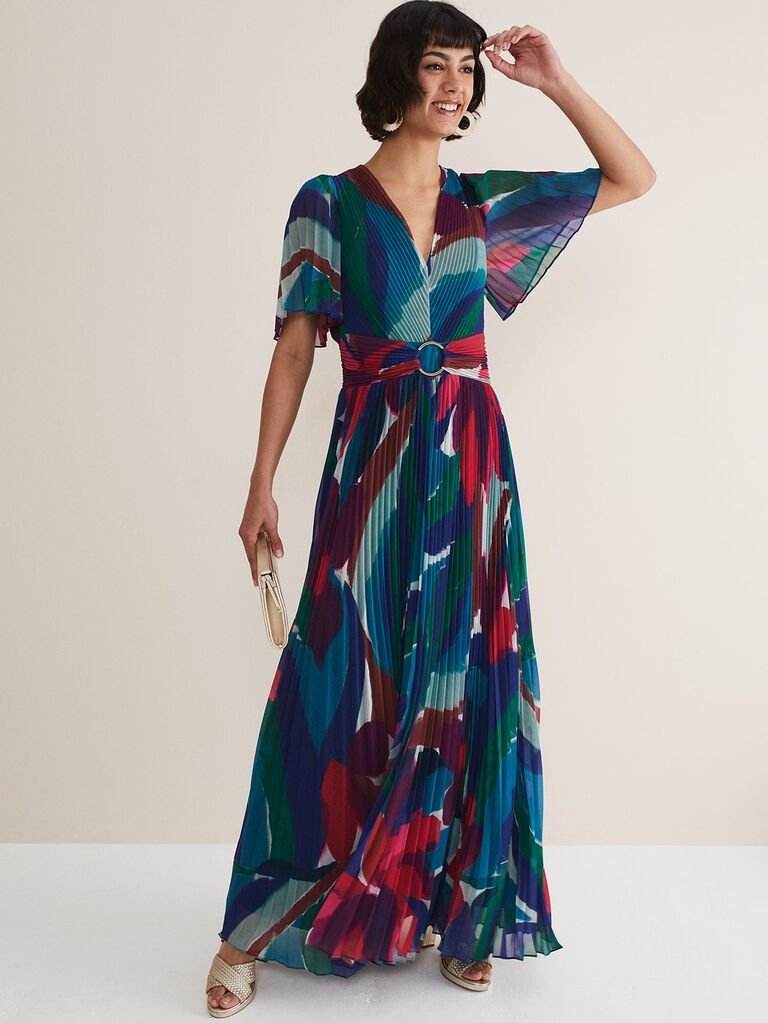 You'll certainly be the best dressed guest in this festive maxi. Its breathable silhouette, featuring flutter sleeves and a plunging neckline, makes it ideal for summer (though its colors would lend themselves nicely to fall as well).
Dress code: Semi-Formal | Size range: 2 - 22
Kennedy Blue Alyssa Mother of the Bride Dress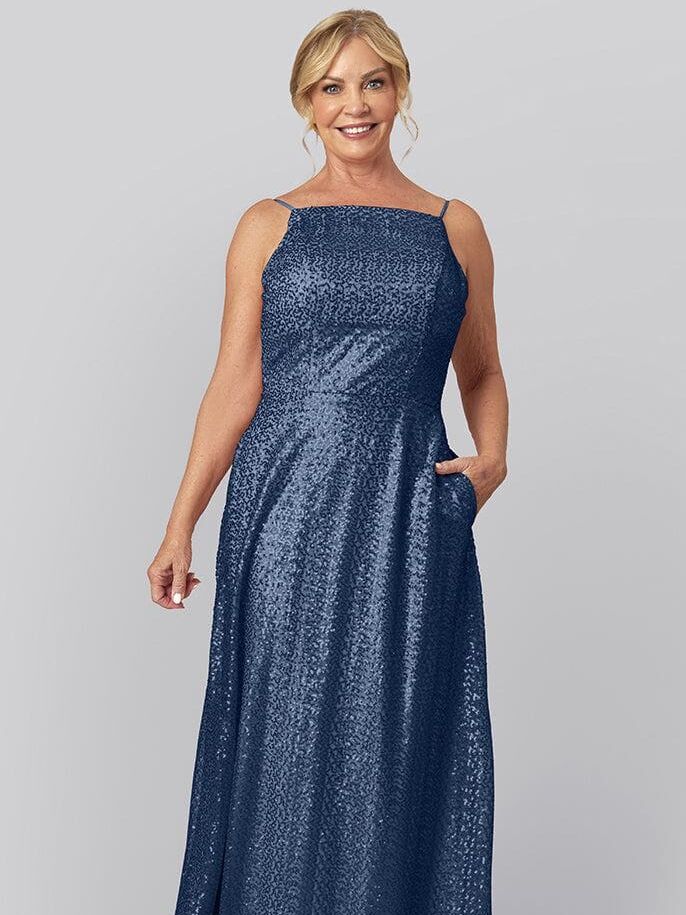 How about a gown in a blue as deep as the ocean? This square-neck look is stylish, sparkly and size-inclusive. . . Seriously, what's not to love?
Dress code: Formal | Size range: 00 - 32
Where to Buy Beach Mother-of-the-Bride Dresses for Every Budget
Now that you have a style in mind, you might be wondering where to shop for a mother-of-the-bride dress? Not to worry—we've got you covered with a few of our favorites.
Sachin & Babi
When it comes to formal dress code events, Sachin & Babi's selection is truly unmatched. Their vibrant array of gowns offers a little something for every style. Not to mention, they also have a designated mother-of-the-bride dress section on their website, which makes browsing looks a breeze.
Lane Bryant
If you've got a destination wedding on your calendar, Lane Bryant can help you round out your packing list. With everyday attire, resort wear, swim and accessories all in one place, they really are a one-stop-shop. We love that their stylish looks are available in sizes 10 through 40.
Boston Proper
For casual wedding looks you're guaranteed to wear again and again, Boston Proper is our go-to. Their fashion-forward dresses and separates strike the perfect balance between boho and chic, and frankly, we can't get enough.
What to Look for in a Beach Mother-of-the-Bride Dress
When it comes to beach weddings, comfort is key. Thankfully, when you find a dress with these key features, it'll be smooth sailing.
Lightweight Fabric
Don't bury your head in the sand when it comes to the weather. When attending a beach wedding, especially during the summer, chances are, you'll be encountering heat and humidity. The good news is that you can keep cool and comfortable by opting for a dress made from lightweight fabrics like linen, organza and chiffon.
Breathable Silhouette
Perhaps more important than fabric choice is the type of silhouette you choose to sport on the beach. Let's be real here: walking on the sand is hard enough—you probably won't want to do so in a form-fitting dress. A-line silhouettes are always a safe bet, but if you're attending a semi-formal event, we recommend opting for a short or midi-length dress.
Short or Sheer Sleeves
If sleeveless isn't your style, not to worry. Short flutter sleeves, and even long sheer sleeves, are great options for keeping cool in the summer heat. Plus, they're also non-restrictive, meaning your arms will be free for dancing the night away at the reception.