24 Purple Bridesmaid Dresses in All the Best Shades
From pastel lilac to deep eggplant, this royal color will work for any season.
by Emily Platt & Avery Hutchinson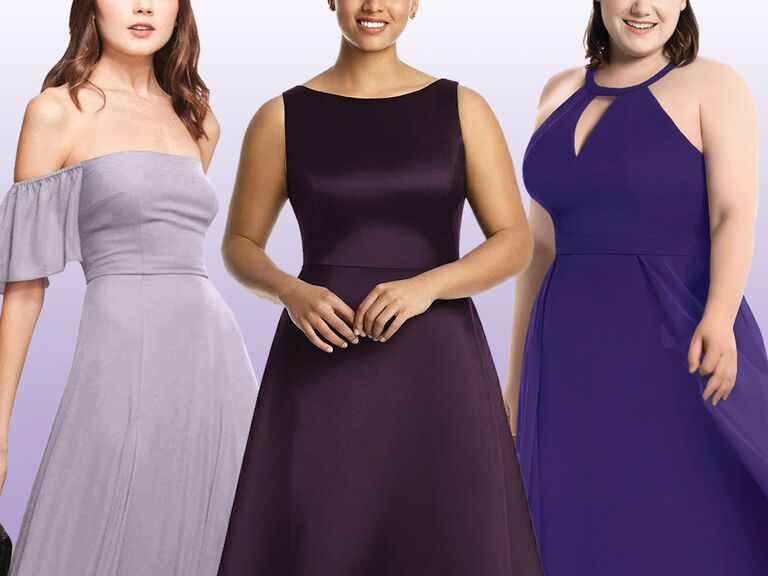 Looking for a timeless color for your bridal party? Consider purple bridesmaid dresses. Once reserved for royalty, this rich hue is undeniably regal. For an ethereal feel, choose soft lilac chiffon dresses, or go glam with lace gowns in a rich eggplant. You can also mix and match different shades for a pretty ombré effect or even play with patterns! Whether you're throwing a casual garden wedding or a formal fete, this versatile range of shades works with a variety of wedding styles and seasons. Keep scrolling to shop some of our favorite purple bridesmaid dresses—plus one super-stylish bridesmaid jumpsuit to boot! And FYI, lots of these styles come in extended sizes, not to mention other chic shades of purple not pictured! 
In this article:
Lavender Bridesmaid Dresses
Lavender is perhaps the most popular bridesmaid dress color—and for good reason! The beloved light-to-medium shade actually spans a few equally-gorgeous hues, from soft pastel purple, to a dusty, dreamy iteration, to a brighter rendition of the flower-inspired color. Whichever option(s) you choose, rest assured your 'maids will look absolutely beautiful.