32 Purple Bridesmaid Dresses in All the Best Shades
From pastel lilac to deep eggplant, this royal color will work for any season.
by Emily Platt & Avery Hutchinson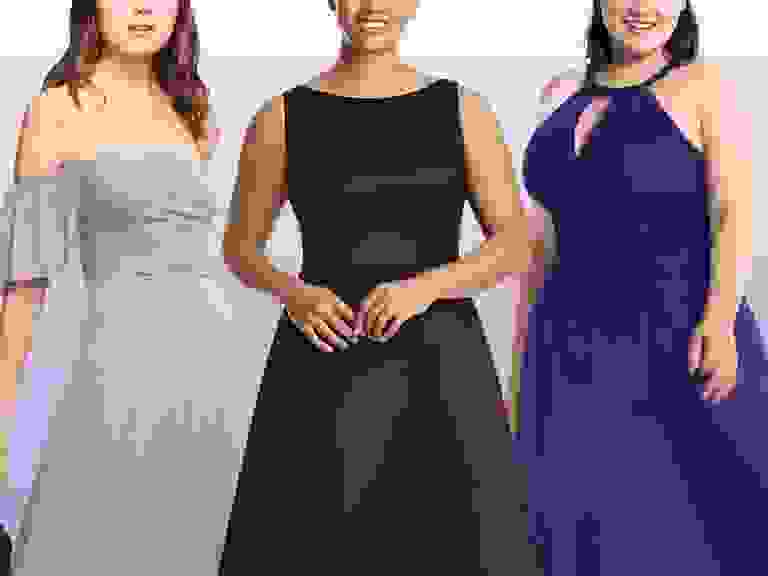 Looking for a timeless color for your bridal party? Consider purple bridesmaid dresses. Once reserved for royalty, this rich hue is undeniably regal. For an ethereal feel, choose soft lilac chiffon dresses, or go glam with lace gowns in a rich eggplant. You can also mix and match different shades for a pretty ombré effect or even play with patterns! Whether you're throwing a casual garden wedding or a formal fete, this versatile range of shades works with a variety of wedding styles and seasons. Select a longer, elegant style or a purple short bridesmaid dress that's made for dancing. Keep scrolling to shop some of our favorite purple bridesmaid dresses—plus one super-stylish bridesmaid jumpsuit to boot! And FYI, lots of these styles come in extended sizes, not to mention other chic shades of purple not pictured! 
In this article:
Lavender Bridesmaid Dresses
Lavender is perhaps the most popular bridesmaid dress color—and for good reason! The beloved light-to-medium shade actually spans a few equally-gorgeous hues, from soft pastel purple, to a dusty, dreamy iteration, to a brighter rendition of the flower-inspired color. Whichever option(s) you choose, rest assured your 'maids will look absolutely beautiful.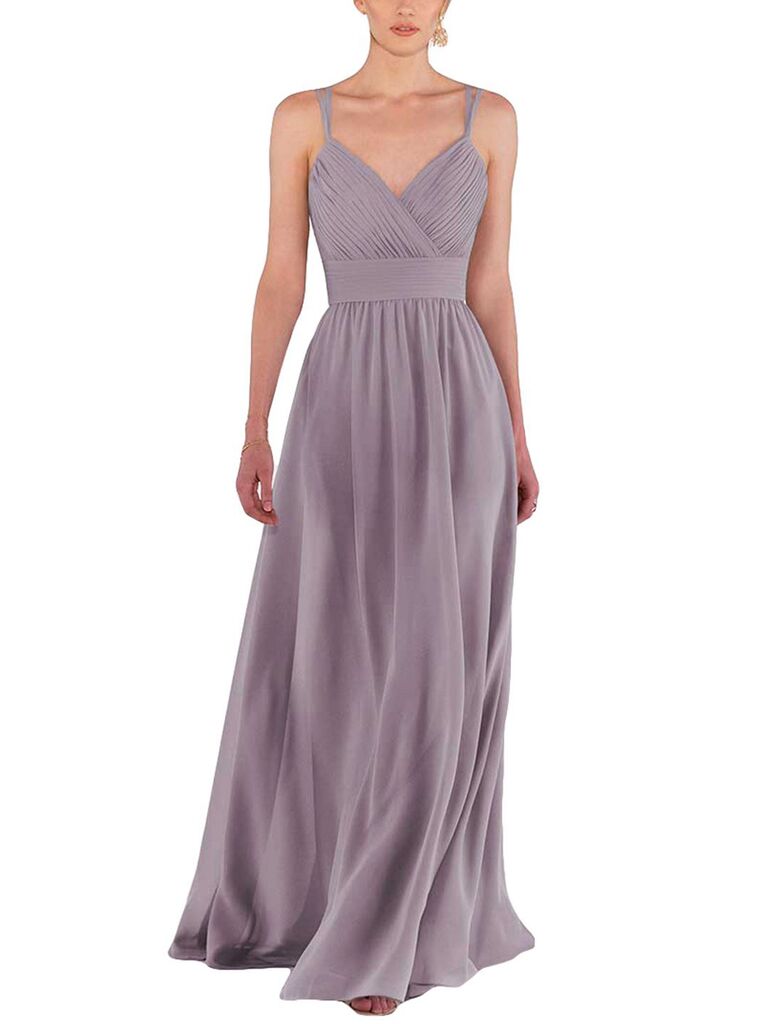 The first on our list of lavender bridesmaid dresses we love is this dusty purple number with a Grecian silhouette ideal for any elegant event. 
Sorella Vita Style 9030 bridesmaid dress in Dusty Lavender, from $259, Brideside.com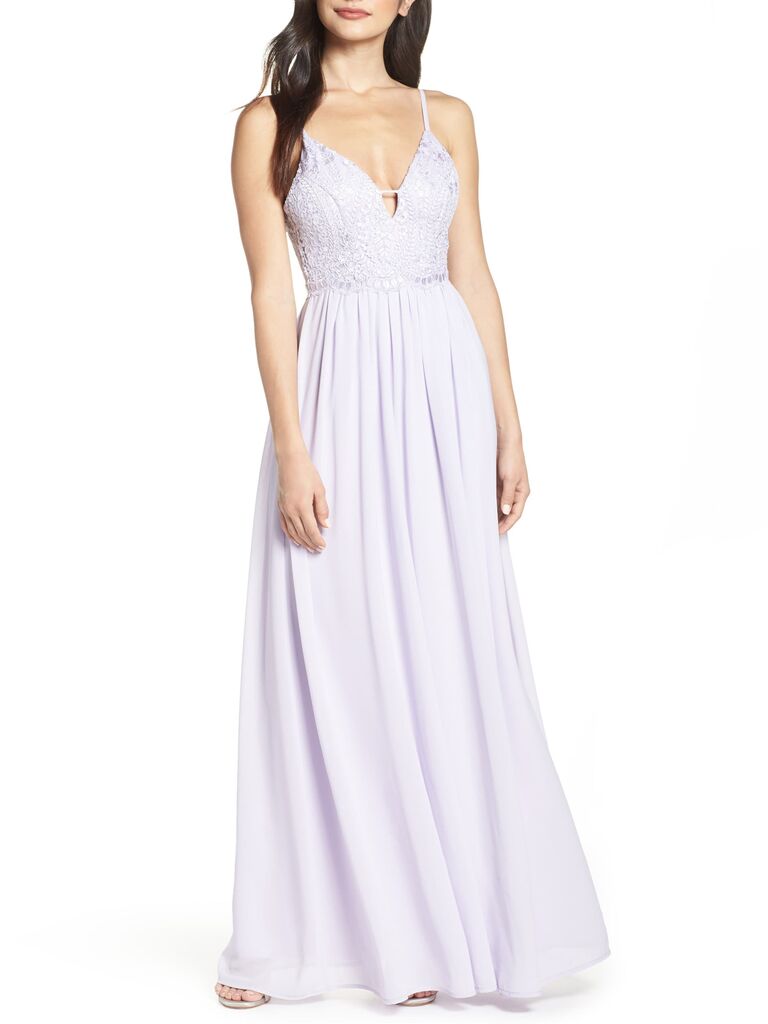 Shopping for affordable purple bridesmaid dresses that don't look cheap? Try this embroidered chiffon gown under $100. The strappy details paired with the timeless shape give it a bohemian-meets-ethereal feel.
Lulus back tie chiffon evening dress in Lavender, $84, Nordstrom.com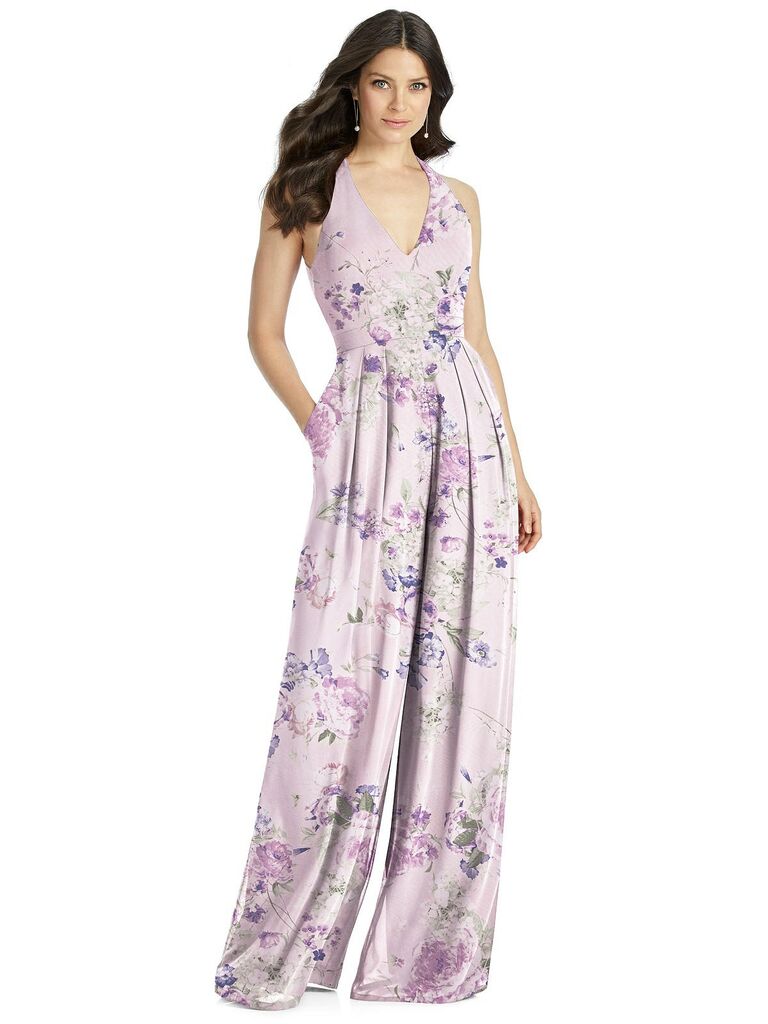 Dare to be different with this halterneck jumpsuit that comes in a variety of purple hues, as well as this gorgeous floral pattern. It's perfect for mixing and matching. By the way, Dessy carries all its styles in plus sizes! 
Dessy Arielle bridesmaid jumpsuit in Lavender Garden, from $263, Dessy.com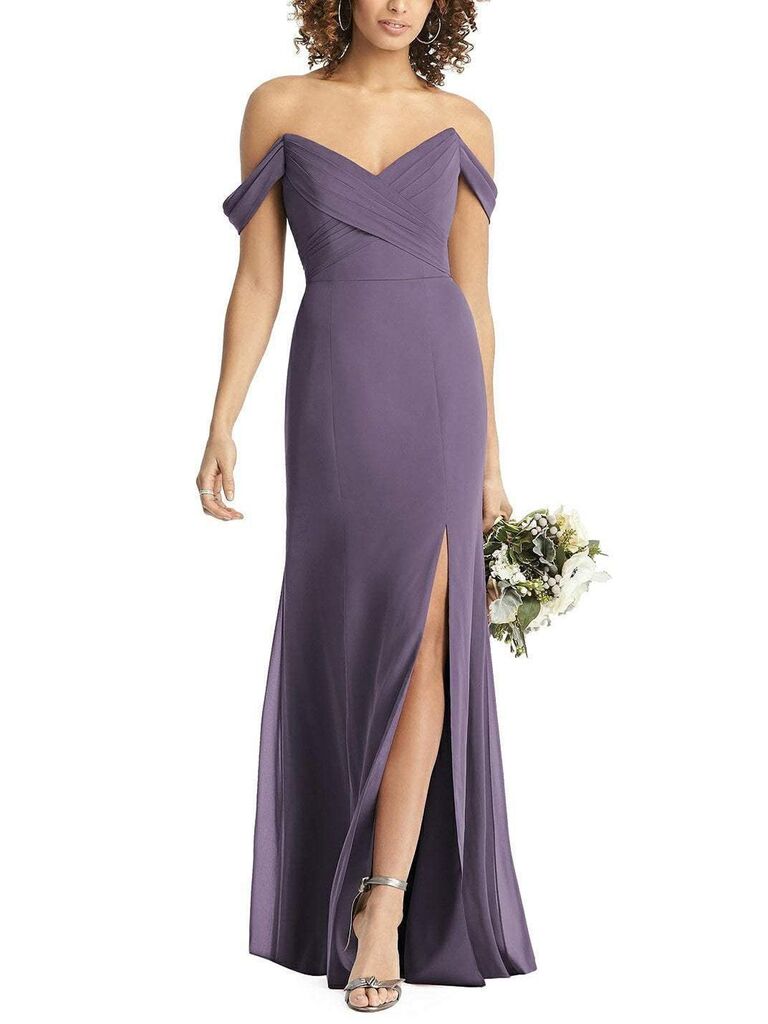 This structural, dark lavender bridesmaid dress is what contemporary wedding dreams are made of. Seriously, get a load of that neckline!
Social Bridesmaids Style 8193 bridesmaid dress in Lavender, from $230, Brideside.com 
Purple bridesmaid dresses can be especially eye-catching when they come in the halter style, like this stunner. Floral lace and a darted sleeveless bodice makes this gorgeous dress a must-have.
Love Poem Lavender Lace Mini Dress, from $64, Lulus.com
Plum Bridesmaid Dresses
Desire a deeper hue? Check out these gorgeous, dark purple bridesmaid dresses in a variety of fruity shades. And while you might think darker gowns are limited to fall and winter, some of the more vibrant variations work just as well for summer!
On the hunt for short purple bridesmaid dresses? Consider this off-the-shoulder style. It's effortlessly sophisticated, which is why we picture it at a formal daytime wedding. 
David's Bridal off-the-shoulder tea-length bridesmaid dress in Plum, from $150, DavidsBridal.com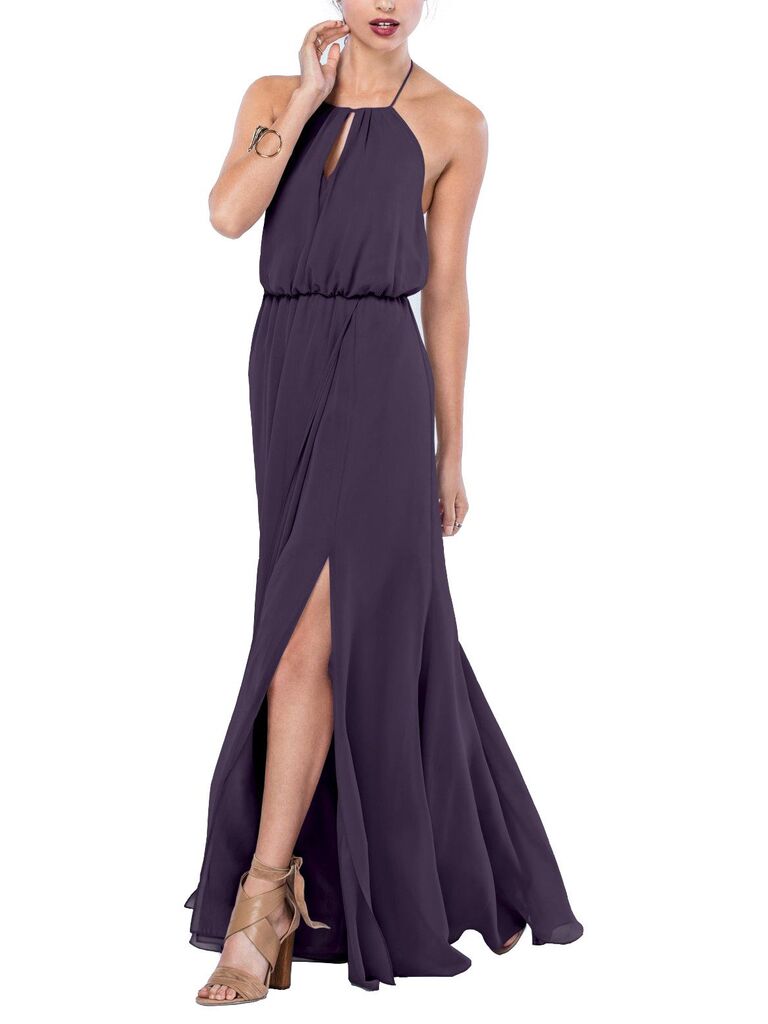 This casual-cool plum bridesmaid dress has a fashion-forward keyhole neckline and a comfortable blouson bodice (complete with an elastic waist—your ladies will surely thank you). 
Brideside Wtoo by Watters Style 307 bridesmaid dress in Plum, from $185, Brideside.com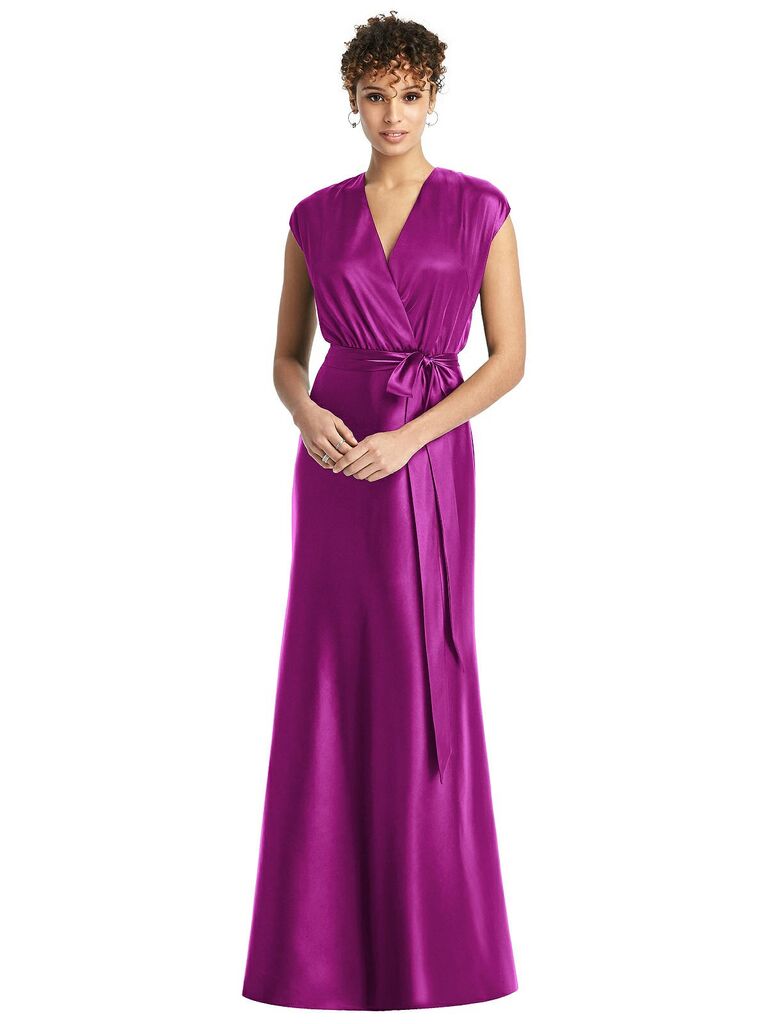 This electric plum bridesmaid dress has an ultra-unique hue. It's bound to brighten up any aisle in the best of ways. Plus, the modern silhouette is so sleek. 
Dessy bridesmaid dress 3050 in Persian Plum, from $271, Dessy.com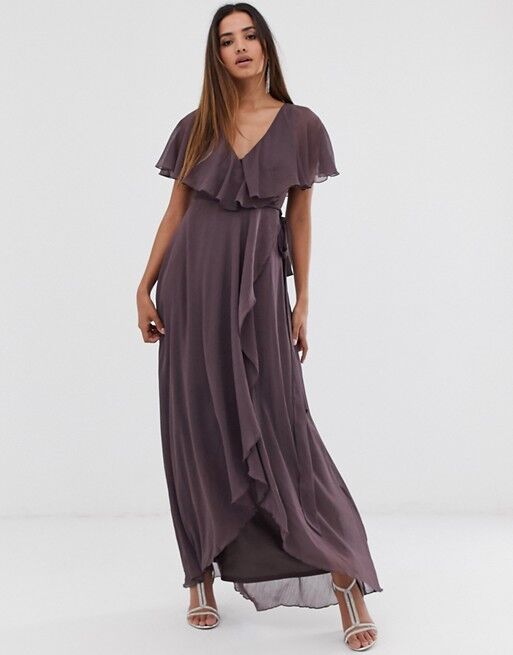 Or, try this dusty purple bridesmaid dress that captures the color's earthier side. The flouncy top is totally on-trend right now. Oh, and it's well under $100—talk about affordable. (Again, your bridesmaids will thank you.) 
ASOS DESIGN cape back dipped hem maxi dress in Purple, $72, ASOS.com  
It can be challenging to find purple bridesmaid dresses, short or long, that are universally flattering. This A-line number cinches at the waist, making it equally chic on frames of all sizes.
Azazie Mila dress in Plum, from $99, Azazie.com
Show off your shoulders and back in one of the most stylish purple bridesmaid dresses on our list. You can leave your clutch at home, too – this one has pockets.
White by Vera Wang, Short Strapless Bridesmaid Dress with Belt, from $129, Davidsbridal.com

Mauve Bridesmaid Dresses
Speaking of dusty purple bridesmaid dresses, here's a whole assortment in the ever-popular color mauve. These chic garments prove that the muted purplish-pink is anything but drab—in fact, the brown undertones make it a total standout.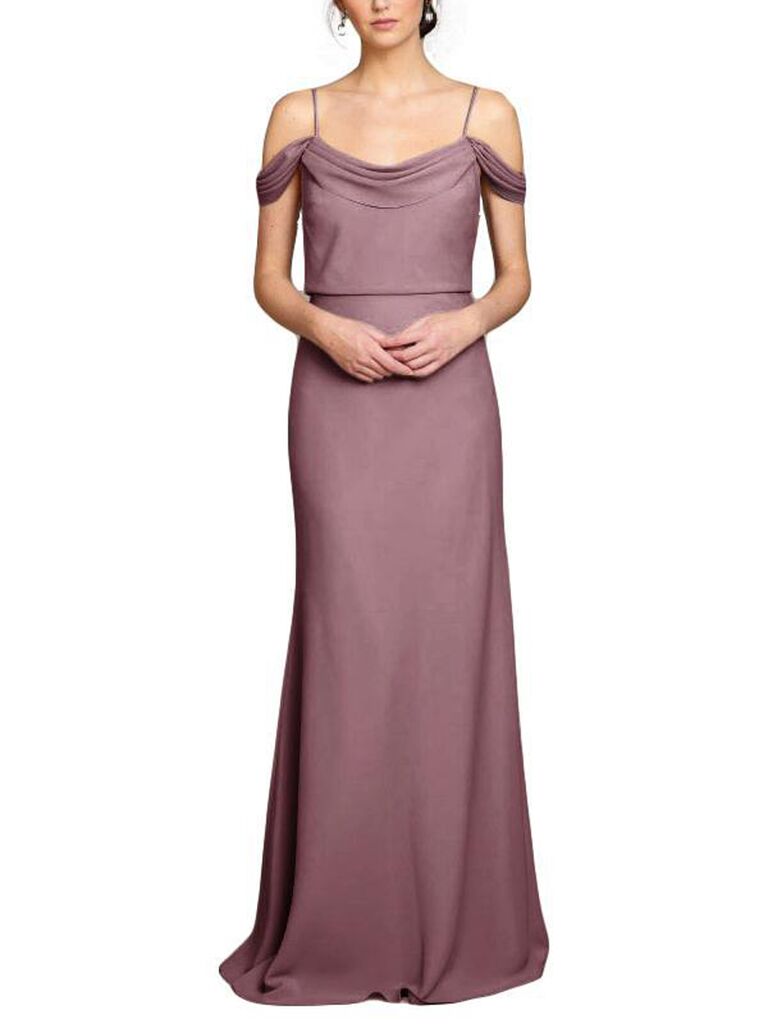 Cold shoulders are hot, hot, hot. This mauve bridesmaid dress also has pretty draping at the arms and neckline that look oh-so polished. Your gals would look simply statuesque in the piece. 
Jenny Yoo Sabine bridesmaid dress in Fig, from $275, Brideside.com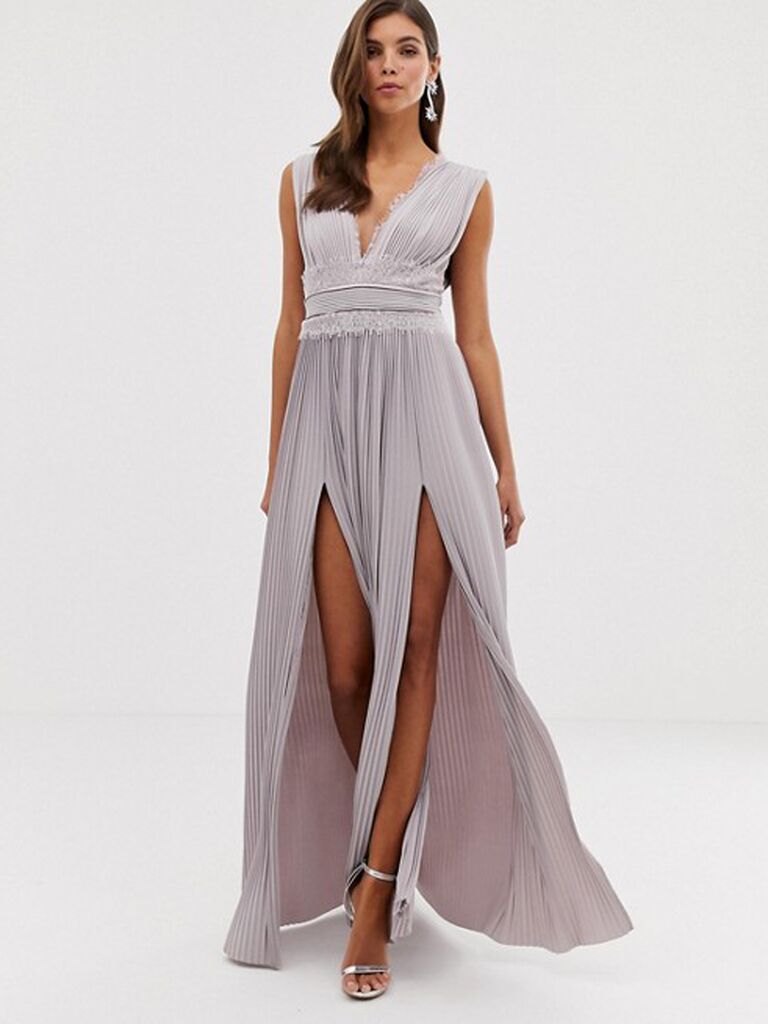 Yep, there are affordable purple bridesmaid dresses in mauve too. This long bridesmaid dress has dramatic slits that'll let the gown float gorgeously in the wind. (Hello, awesome pictures.) We also like the dreamy lace accents.
ASOS DESIGN premium lace insert pleated maxi dress in Mauve, $95, ASOS.com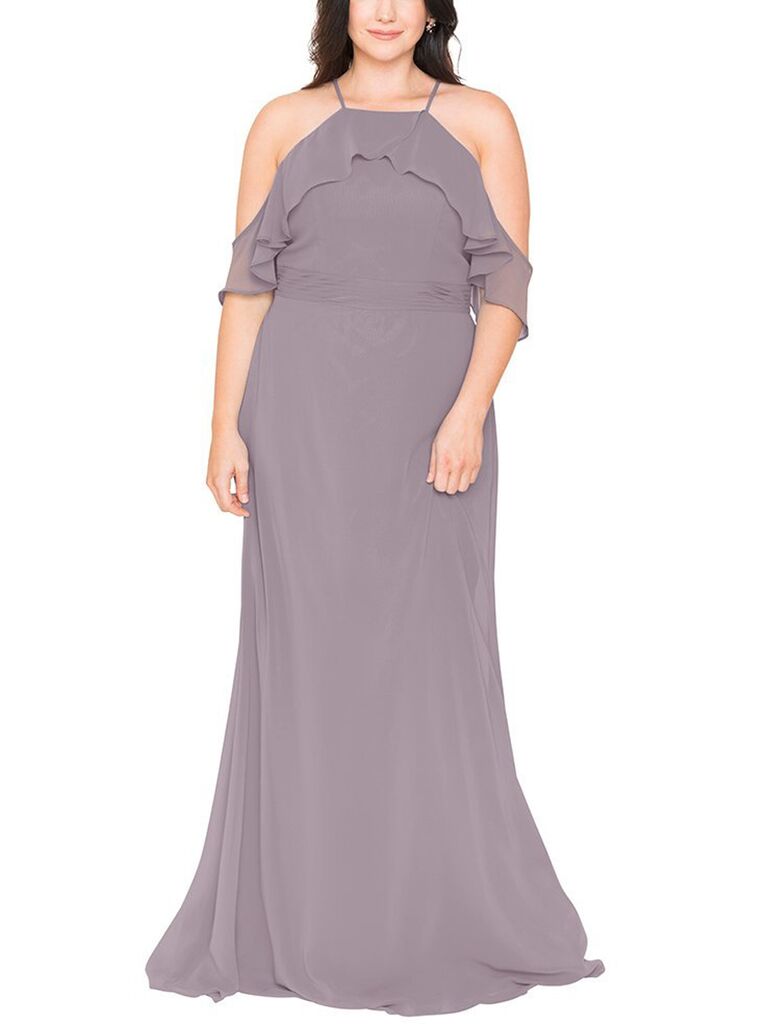 Here's another cold-shoulder option in a dusty purple hue. Can you tell we're all about ruffles? Better yet, it's available in plus sizes—in fact, many Brideside (and ASOS and David's Bridal) offerings are. 
Brideside Lupita bridesmaid dress in Sugar Plum, from $150, Brideside.com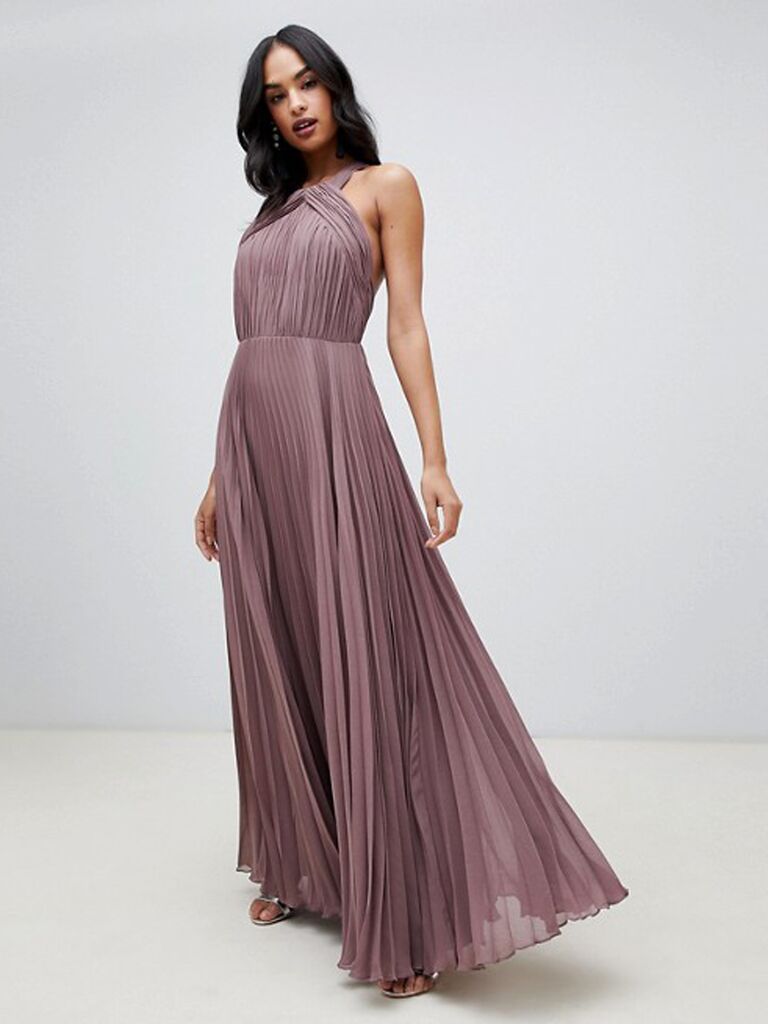 This long purple bridesmaid dress has a classic cut, a cool crossed back and textural pleats to boot. Again, it's also pretty darn affordable. 
ASOS DESIGN pleated bodice halter maxi dress in Mink, $95, ASOS.com
This scoop-neck stunner features an illusion neckline and knee-length chiffon. Take it for a spin on the dance floor – the skirt was made for moving. 
Azazie Scarlett bridesmaid dress in Vintage Mauve, from $109, Azazie.com
Lilac Bridesmaid Dresses
Obsessed with floral hues? Try lilac bridesmaid dresses. The color is a lot like lavender but it's typically a little lighter with pinker, rather than blue-ish undertones. It really screams "spring wedding."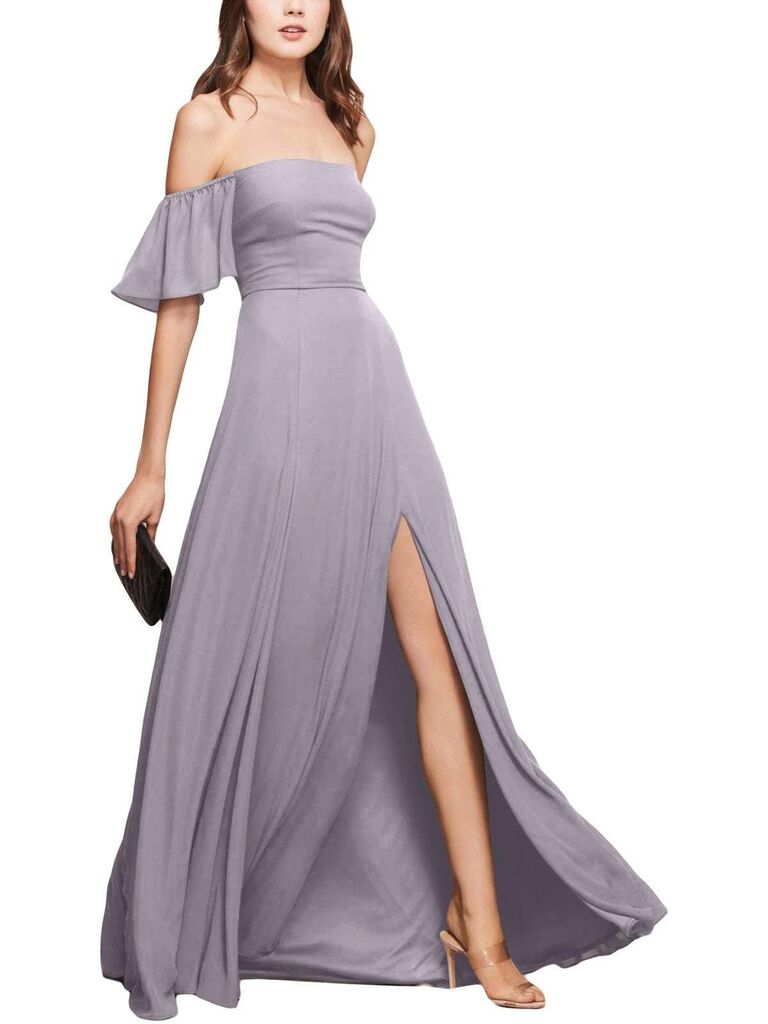 Flutter off-the-shoulder sleeves? So very enchanting. As is this dusty lilac shade!  
Wtoo by Watters Baylie bridesmaid dress in Dusty Lilac, from $235, Brideside.com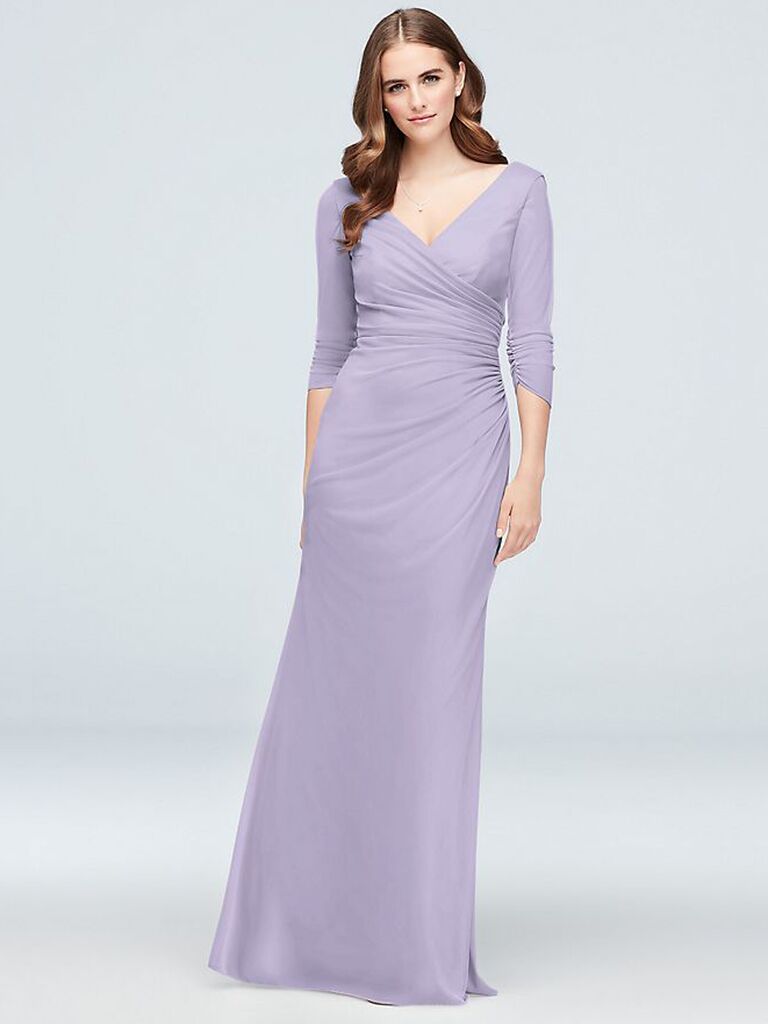 Looking for light purple bridesmaid dresses with sleeves? This glamorous mesh number is an excellent choice. The ruching is also very figure-flattering. As for the color? It's called "Iris," and while we've put it in the lilac category, it could count as very light lavender too! 
David's Bridal F19945 ruched mesh ¾-sleeve bridesmaid dress in Iris, from $140, DavidsBridal.com 
As for this "Enchanted" shade? It really does look mystical. The bateau neckline provides added elegance that beautifully contrasts against the low back. We also like the slits in the flutter sleeves, which make them amazingly airy.
After Six Style 6778 bridesmaid dress in Enchanted, from $240, Brideside.com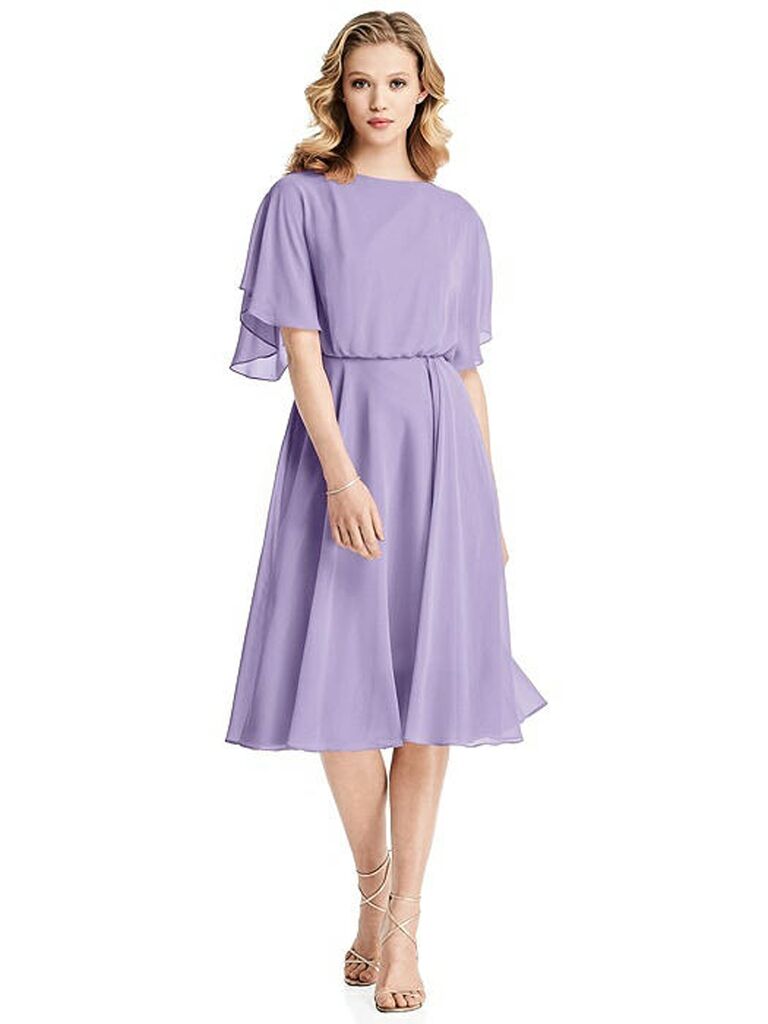 Don't worry, we haven't forgotten about short purple bridesmaid dresses. Here, we have even more flutter sleeves (we're obsessed) as well as a unique tied back. The skirt falls at a fashionable cocktail length.
Jenny Packham flutter sleeve open-back cocktail dress in French Lilac, from $250, Dessy.com  
Channel Marilyn Monroe in this show-stopper V-neck fit-and-flare dress. A chic bow on the back ties the entire outfit together in a playful way.
B. Darlin Sleeveless V-Neck Bow-Back Fit-and-Flare Dress in Lilac, Dillards.com
A little sweet, a little sexy and anything but boring, this gorgeous dress is sure to make jaws drop in the very best way. Delicate lace on top will stun next to brides also wearing dresses with lace details.
Short Lace Mesh Dress with Halter Neckline in Iris, from $99, Davidsbridal.com
Eggplant Bridesmaid Dresses
As you've probably already noticed, the color names of different bridesmaid dresses really come down to semantics. For our purposes, "eggplant" is usually a little darker than "plum," while plum is a little redder. But really, don't get bogged down with the details! No matter what they're called, these dark purple bridesmaid dresses are downright gorgeous. They feel very autumnal to us, but remember, no color is limited to any one season! It's all about your overall aesthetic.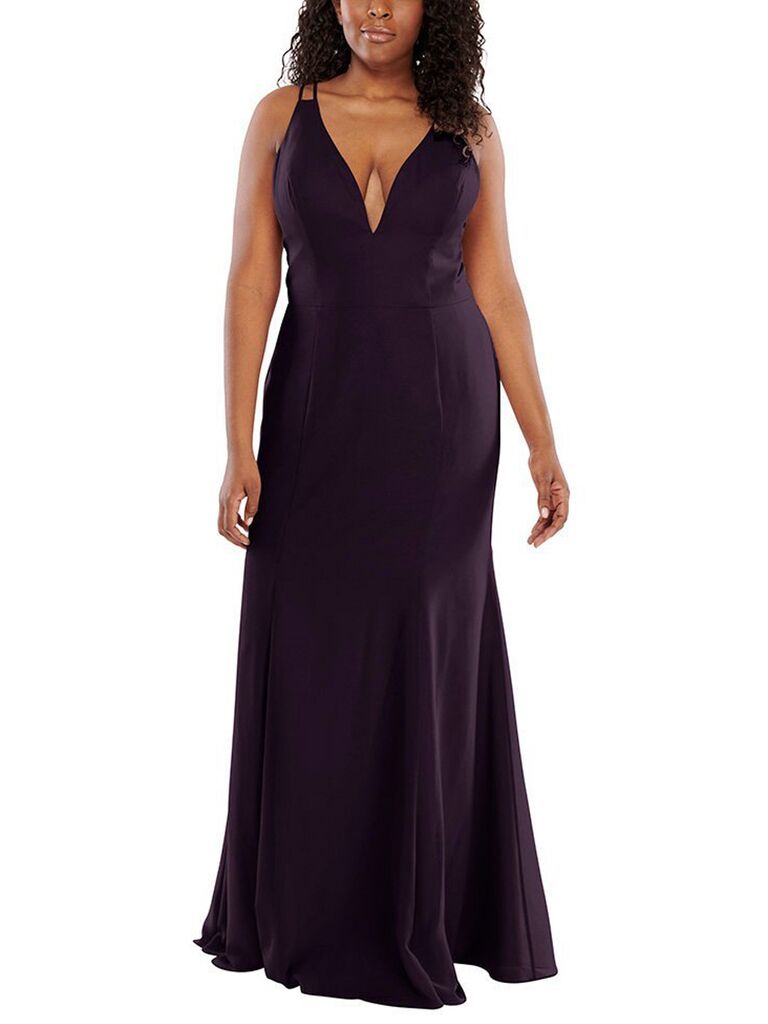 This eggplant bridesmaid dress is all about the deep V. We're also fans of the strappy back. 
Aura by Brideside Gemini bridesmaid dress in Blackberry, from $180, Brideside.com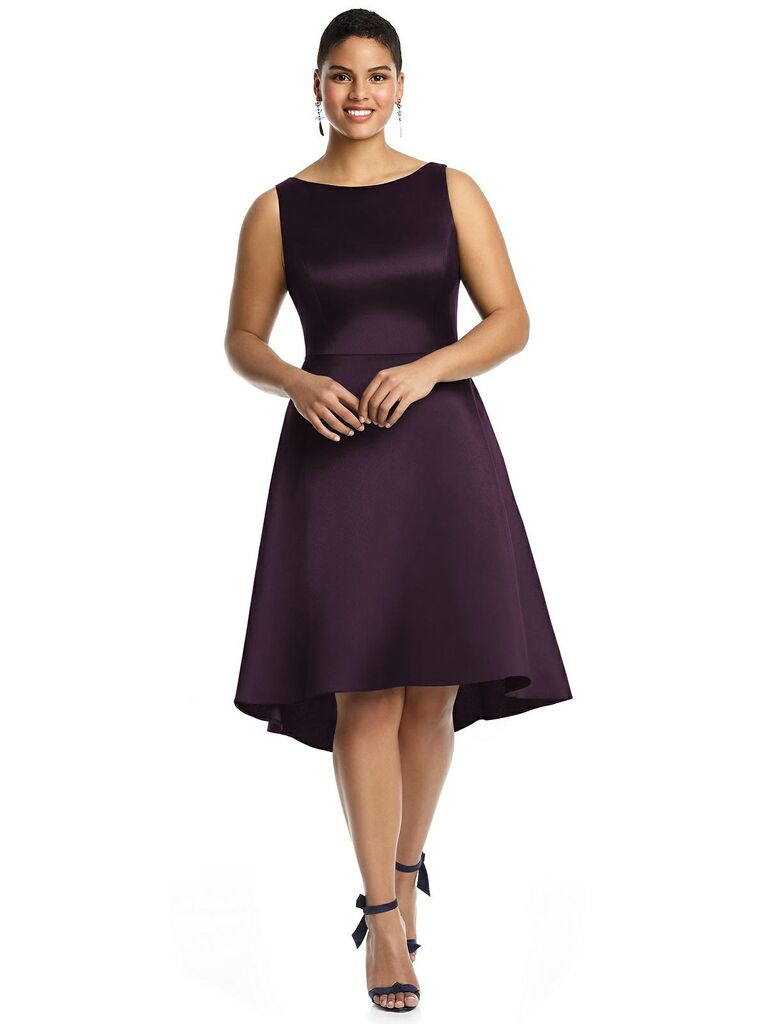 This sleek high-low number has just a touch of sheen and a circle skirt made for twirling on the dance floor. Overall, it's a foolproof choice for a short, dark purple bridesmaid dress. 
Alfred Sung D697 bridesmaid dress in Aubergine, from $208, Dessy.com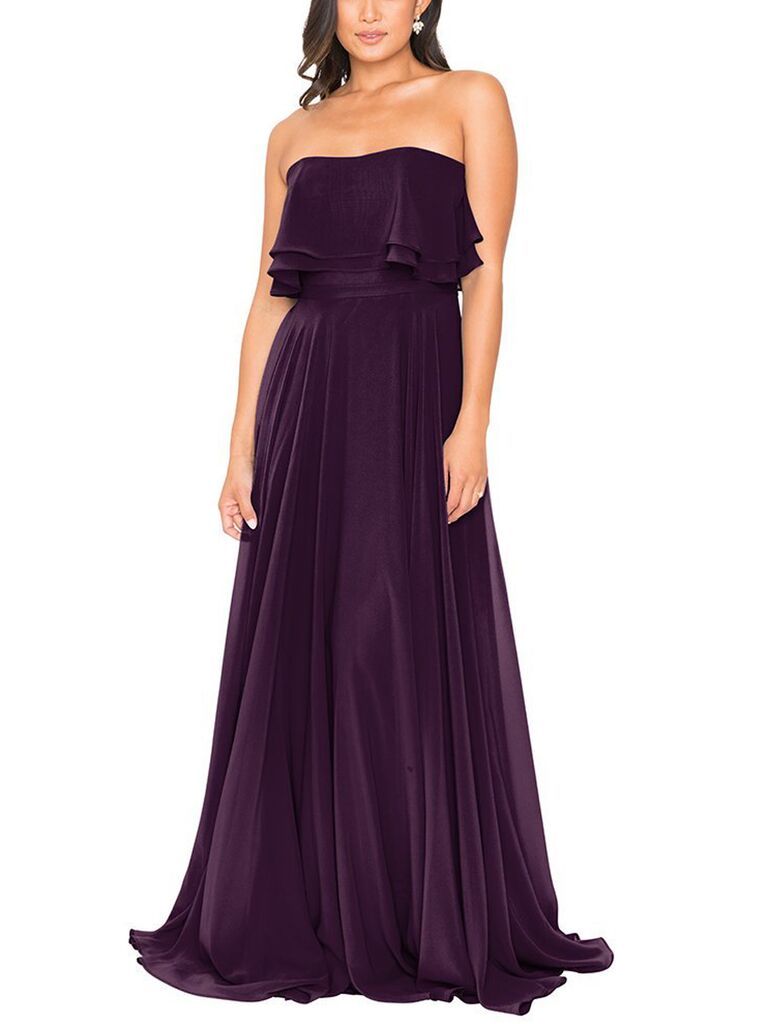 What would a list of purple bridesmaid dresses be without a strapless option? Check out that floaty layered bodice.
Brideside Cameron bridesmaid dress in Eggplant, from $150, Brideside.com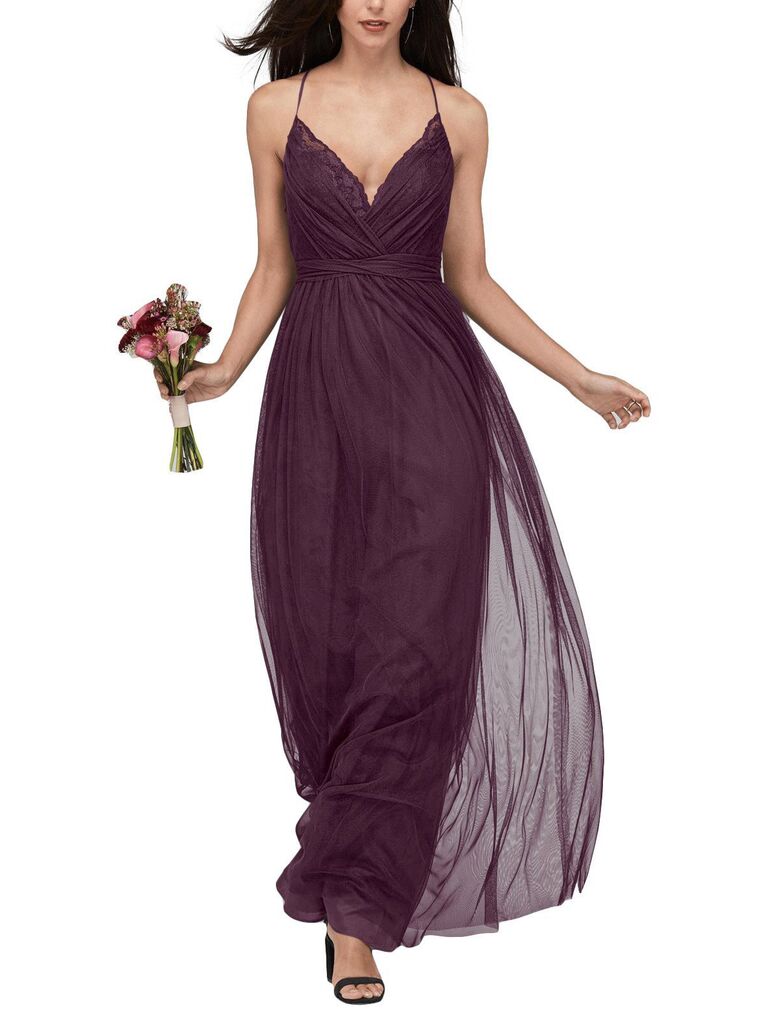 We aren't done with purple lace bridesmaid dresses either. This ethereal pick stole our hearts with its peek-a-boo accents. 
Watters Summer bridesmaid dress in Eggplant, from $295, Brideside.com 
When on the hunt for short purple bridesmaid dresses, don't discount higher-end department stores. This fierce little purple number is sure to photograph beautifully. 
V-Neck Dupioni cocktail dress in Majestic, from $198, Nordstrom.com
Royal Purple Bridesmaid Dresses
Like we said at the beginning, purple is naturally regal, thanks to its royal history. But some shades are so rich and stunning, they're crowned with the name "royal purple." If you're all about bright floral and rich gemstone hues, you'll love these dark purple bridesmaid dresses.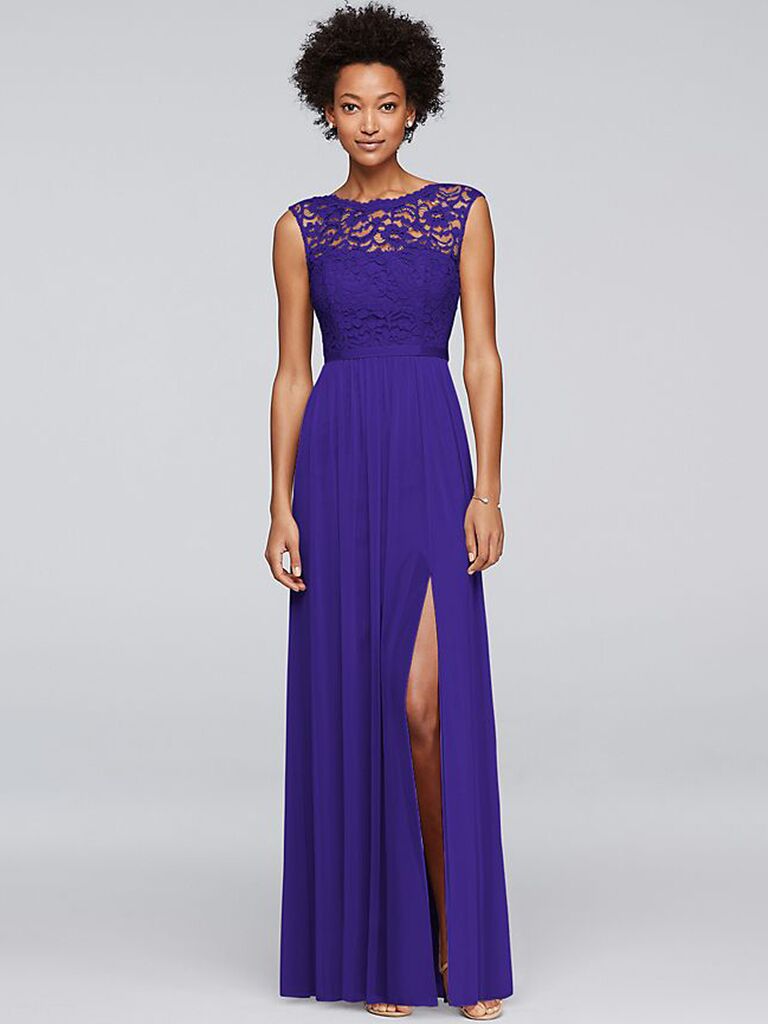 This purple lace bridesmaid dress has a long slit skirt, a partially-sheer neckline (ooh-la-la!) and the boldest purplish-blue hue.
David's Bridal long bridesmaid dress with lace bodice in Regency, from $160, DavidsBridal.com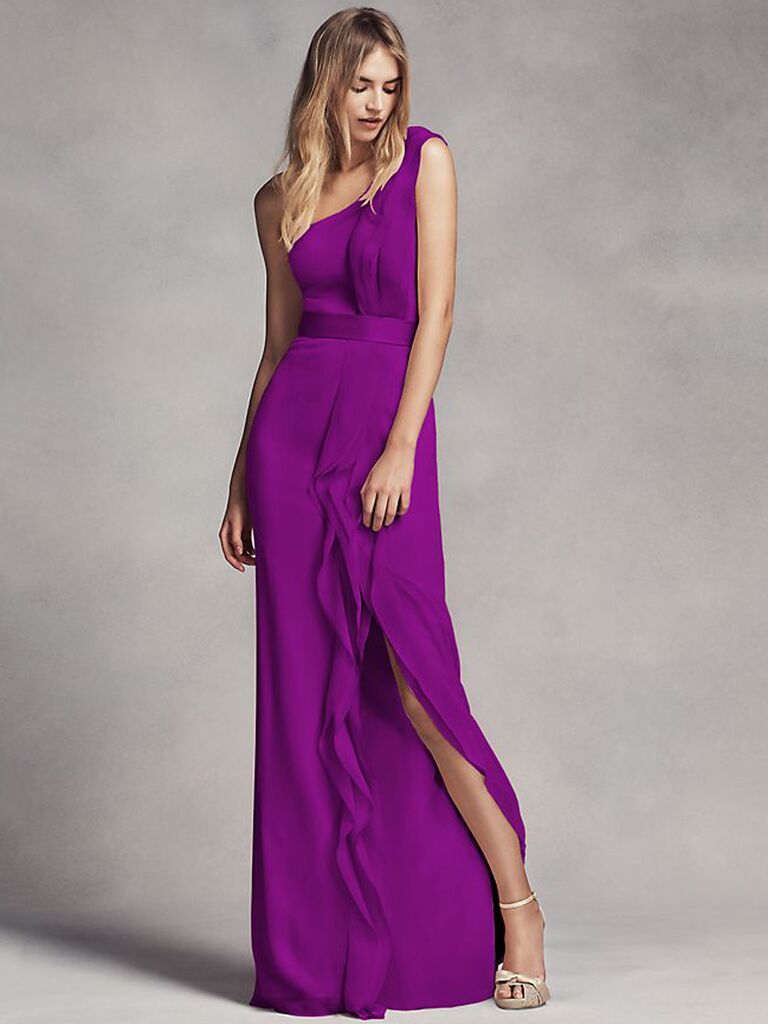 This orchid-y hue reminds us of Pantone's 2018 Color of the Year (Ultraviolet) but with a unique pink tint. We're here for the one-shoulder neckline and long, cascading skirt.
White by Vera Wang long one-shoulder bridesmaid dress with ruffles in Cassis, from $200, DavidsBridal.com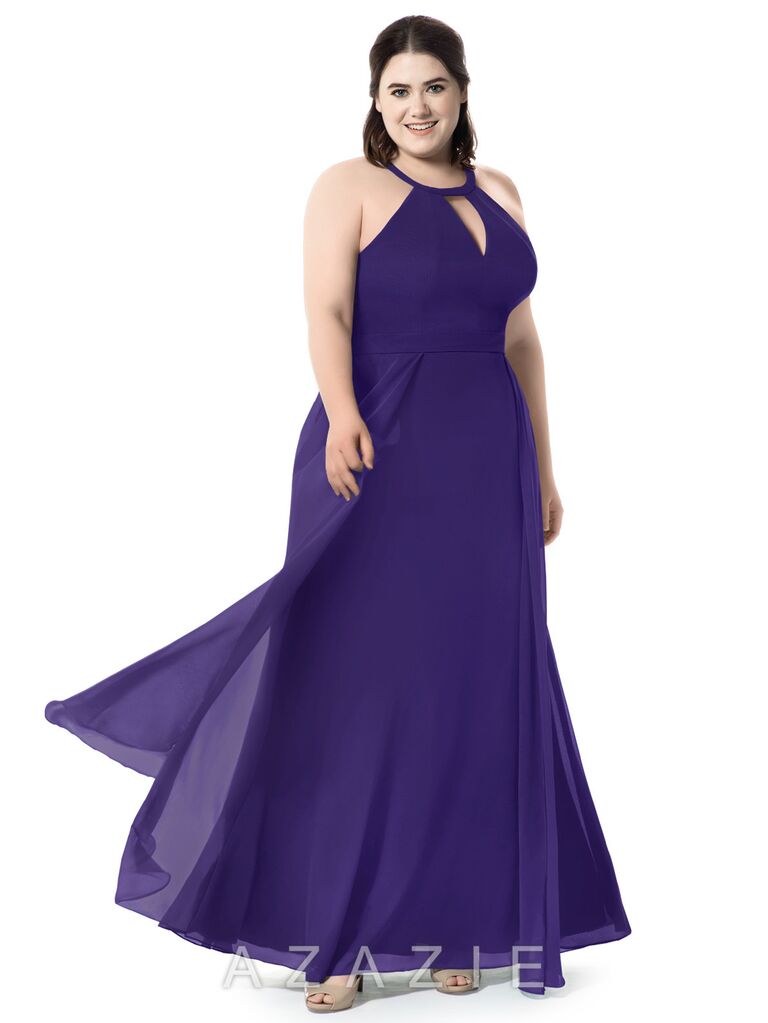 This purple chiffon bridesmaid dress has the coolest keyhole-halter combination neckline. The best part though? It comes with pockets! 
Azazie Melody bridesmaid dress in Regency, from $109, Azazie.com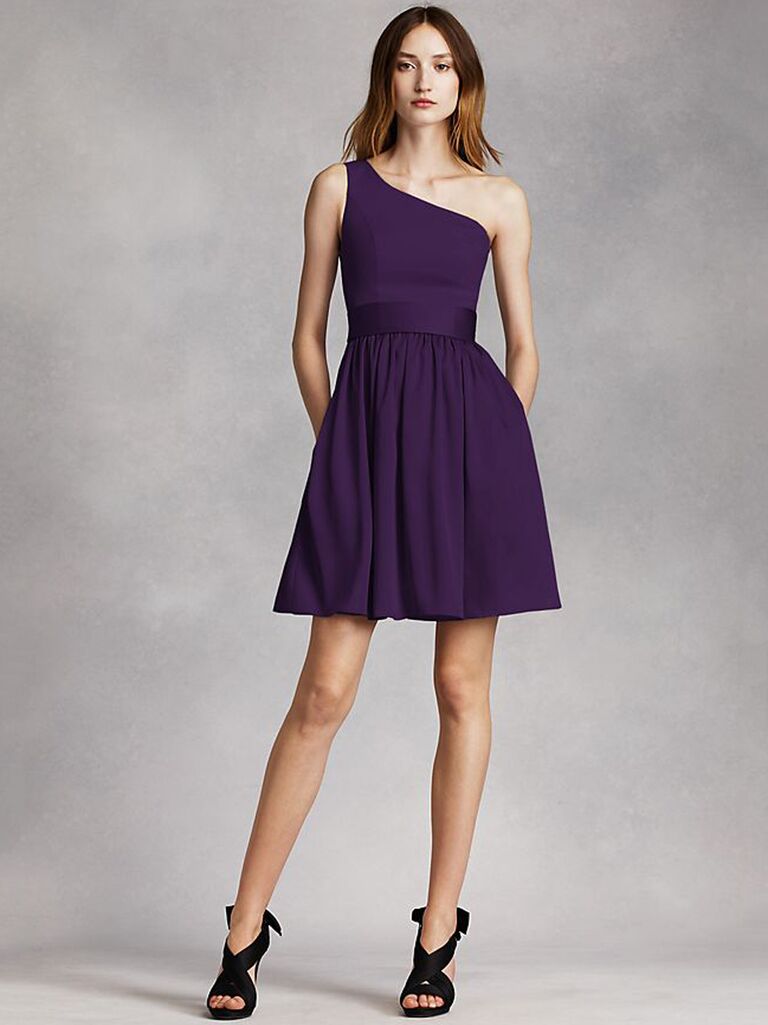 And now that you've got pocket fever, here's a short purple bridesmaid dress with some. Who knew convenience could be so darn chic?
White by Vera Wang short one-shoulder dress with satin sash in Amethyst, from $160, DavidsBridal.com
This knee-length chiffon purple short bridesmaid dress can be altered to ensure maximum comfort and best fit. The keyhole back ensures you'll stand out from the crowd, even when dressed like the other members of the wedding party.
Azazie Kimmy bridesmaid dress in Regency, from $79, Azazie.com
Disclosure: This post contains affiliate links, some of which may be sponsored by paying vendors.
Updated July 2019