The 5 Most Popular Bridesmaid Dress Styles for 2023
Plus, experts weigh in on trending colors, styles and fabrics.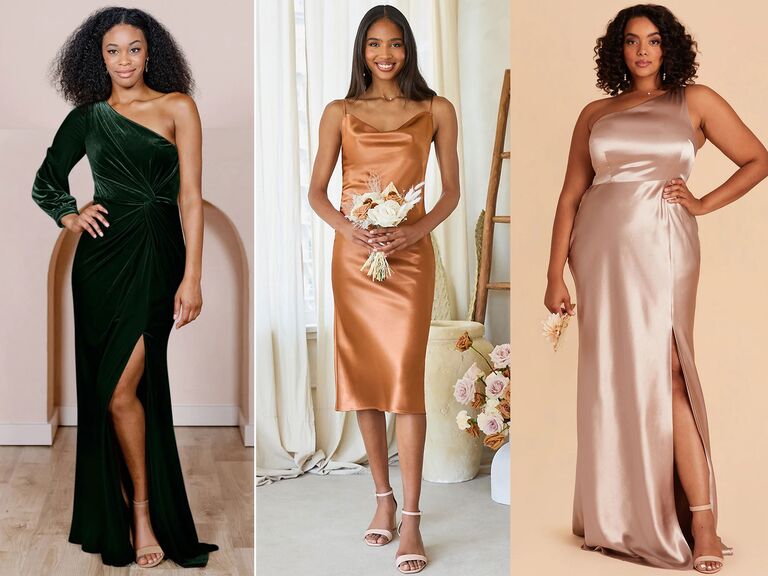 We have included third party products to help you navigate and enjoy life's biggest moments. Purchases made through links on this page may earn us a commission.
Deciding what you'll wear on your wedding day is a major decision, but figuring out how to dress your wedding party is equally important. Not only do you want your friends to look amazing, but you also want them to feel like themselves (and be happy with the new outfit you're asking them to purchase). Luckily, the top 2023 bridesmaid dress styles give you plenty of options that will look great for the wedding day and beyond. Rewearable bridesmaid dresses are still top of mind for 2023—along with some new trends you'll definitely want to know about.
"What we've been seeing year after year is that there are less 'rules' around how to dress your bridal party. In 2023, variety will be the driving force behind bridesmaid looks," says Grace Lee, founder and CEO of Birdy Grey. "You can't go wrong with a tried-and-true uniform look, but more brides are opting to mix between fabrics, hemlines, and really having fun with the palette in lieu of a matchy-matchy vibe."
As for popular hues and styles, neutral shades like "champagne, taupe and black" are going to pick up steam in 2023, Lee says, as well as versatile and simple silhouettes that can be worn again outside of the bridesmaid role. Because of this shift to wearability, we're going to see more "cocktail and evening wear satin gowns at weddings you attend and on social media," Lee explains.
But don't count out color just yet. "Barbiecore and Versace Pink took the world by storm in 2022, and I think that glorious hot pink is such a fun, celebratory color that'll make its way to the wedding scene," says Jessa Maddock, the founder, CEO and creative designer of JessaKae. "And textured bridesmaids dresses are everything—fabrics like velvet, tulle and organza bring another level of interest to each dress."
Whatever you're in the market for, these five bridesmaid dress styles are a great place to start. Keep reading to get a first look at the most popular bridesmaid dresses for 2023 weddings, then shop our personal favorites for each trend.
Top bridesmaid dress trends of 2023:
1. Neutral Bridesmaid Dresses
Long gone are the days when white was strictly reserved for wedding dresses (unless you're a guest, that is). Wedding parties in 2023 will be filled with dresses in neutral tones that are ideal for achieving a fashion-forward look. Pro tip: Choose ivory and cream bridesmaid dresses that are slightly different from the bride's dress and mix in a few patterns or other embellishments, like sequins or embroidery, to add texture and dimension.
Birdy Grey Kira Dress Curve in Taupe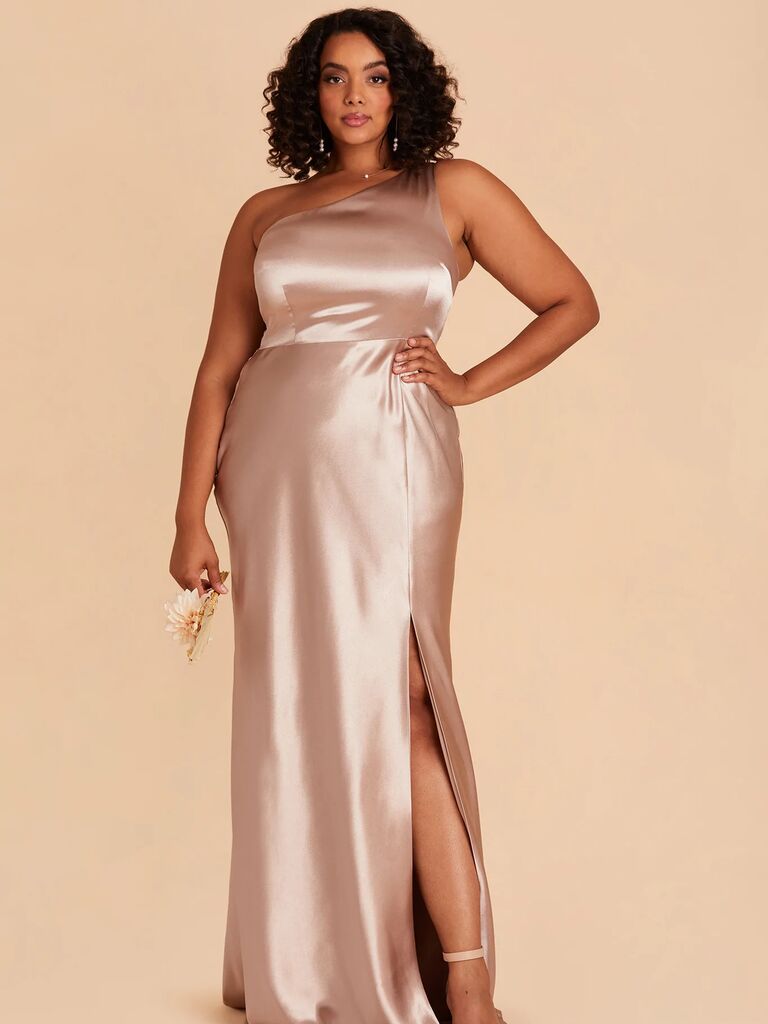 This size-inclusive bridesmaid dress has two trending features we're obsessed with: the one-shoulder neckline and the beautiful Taupe hue. The best part? All of Birdy Grey's bridesmaid dresses are under $100—making them an affordable and stylish option for your entire crew.
Show Me Your Mumu Jasmine Halter Maxi Dress in Ivory Luxe Satin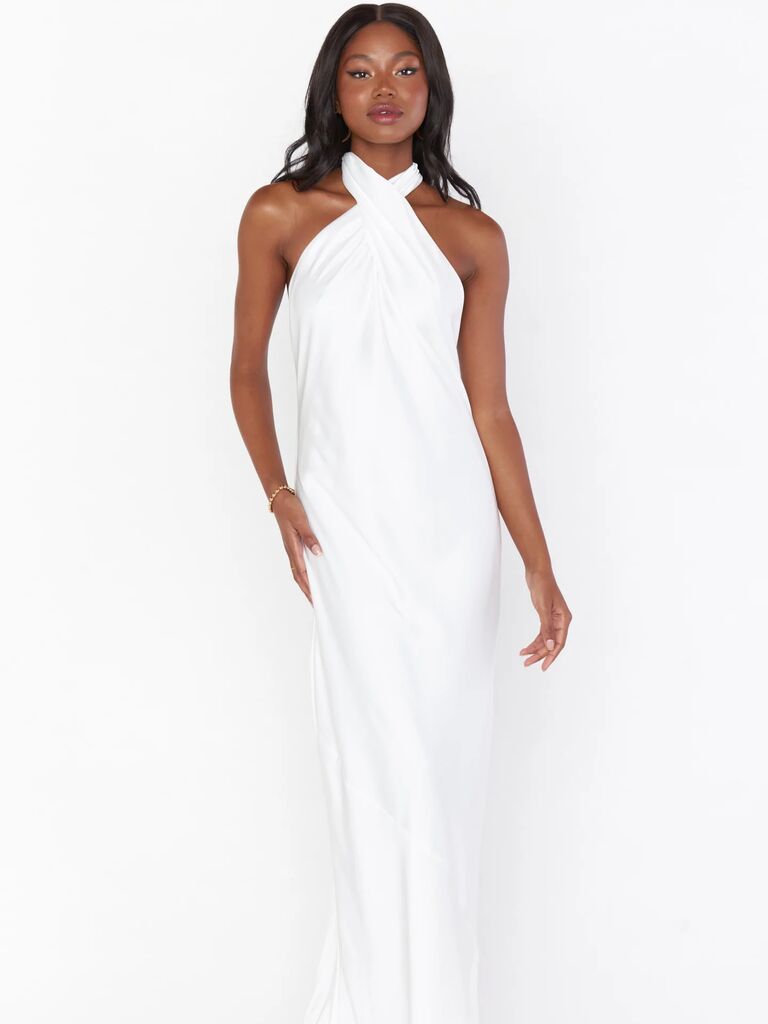 Show Me Your Mumu has wedding party gowns in a variety of neutral hues, from White and Ivory to Silver and Champagne. As for the silhouette, we're captivated by the halter neckline and long maxi skirt on this elegant frock.
JessaKae Victoria Dress in White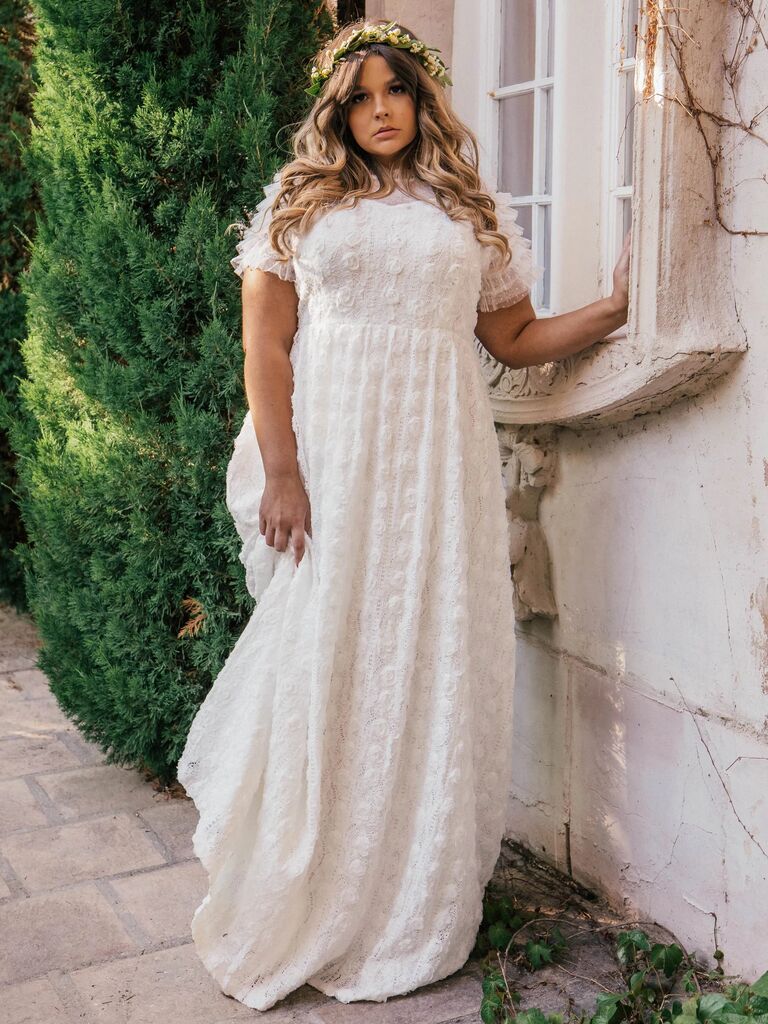 Available in sizes XXS to 6X, your besties will fall head over heels for these whimsical white wedding party gowns. From the dreamy flutter sleeves to the romantic sheer lace fabric, they'll be happy to take home this ethereal style.
BHLDN Remy Satin Charmeuse Dress in Oyster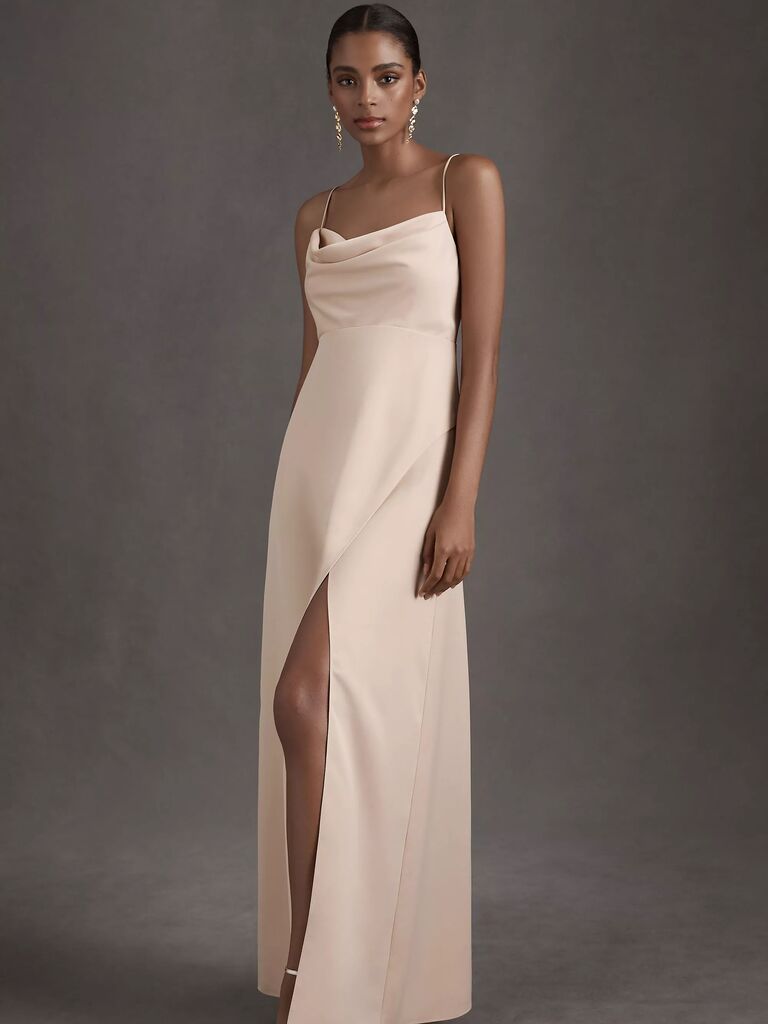 Your besties will look effortlessly elegant in these off-white bridesmaid dresses. Our favorite features are the draped cowl neckline, open back and side slit on the maxi skirt.
Azazie Audrianna Bridesmaid Dress in Ivory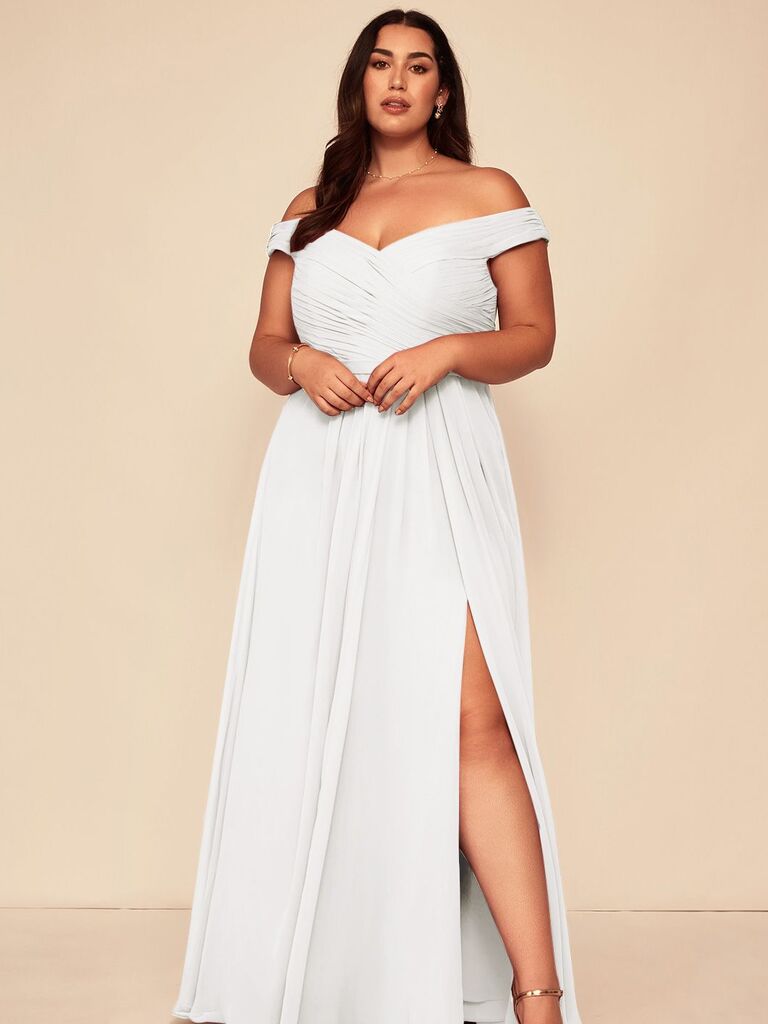 An off-the-shoulder neckline is another romantic choice for your wedding party, especially in this captivating Ivory hue. Better yet, they'll have a blast dancing in the floor-length chiffon skirt.
Lulus Love Me Always Lace Ruffled Mermaid Maxi Dress in White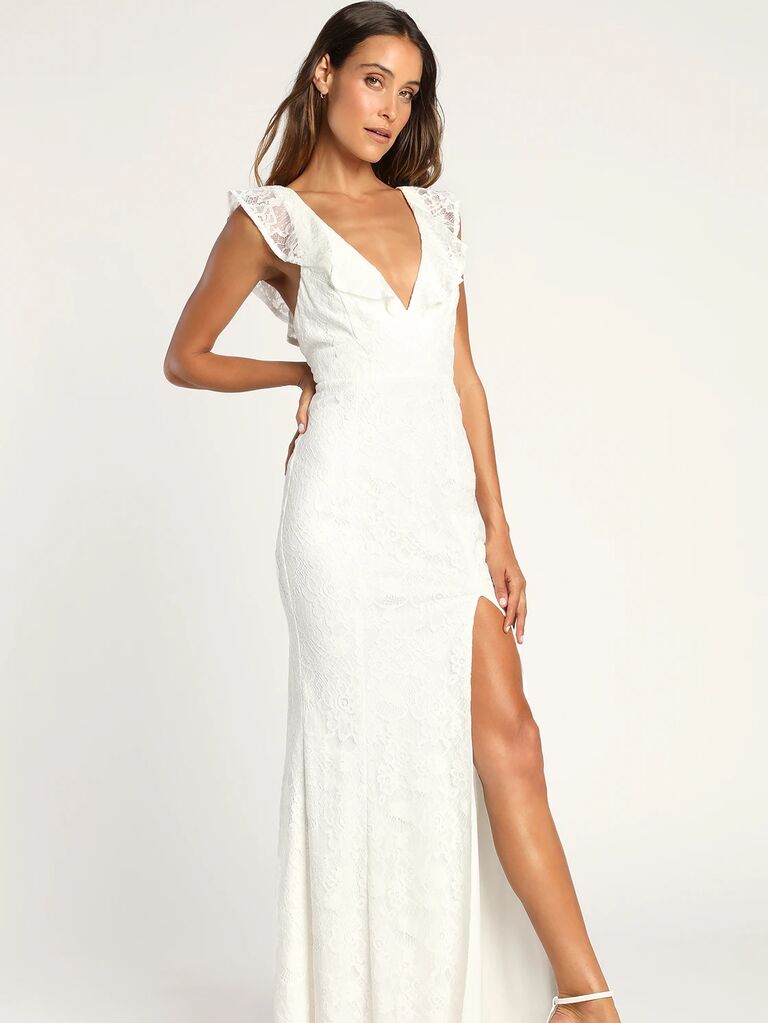 This beautiful white bridesmaid dress is enhanced with a plunging V-neck, a ruffled back and a long maxi skirt. Plus, the thigh-high slit means they can show off a fabulous pair of bridesmaid shoes.
2. Silk and Satin Bridesmaid Dresses
PSA: High-shine fabrics are in for 2023. While satin will continue to be popular in the new year, we also expect to see more silk offerings, including versatile slip dresses that can be repurposed for other occasions. You can find stunning and size-inclusive satin gowns at bridesmaid retailers like Revelry, Dear Cleo and BHLDN Weddings—but silk dresses might be slightly harder to pin down for your entire crew. Instead, consider dressing your 'maids in a mix of silk and satin gowns (more on mismatched bridesmaid dresses in our next section).
Revelry Rory Satin Dress in Gold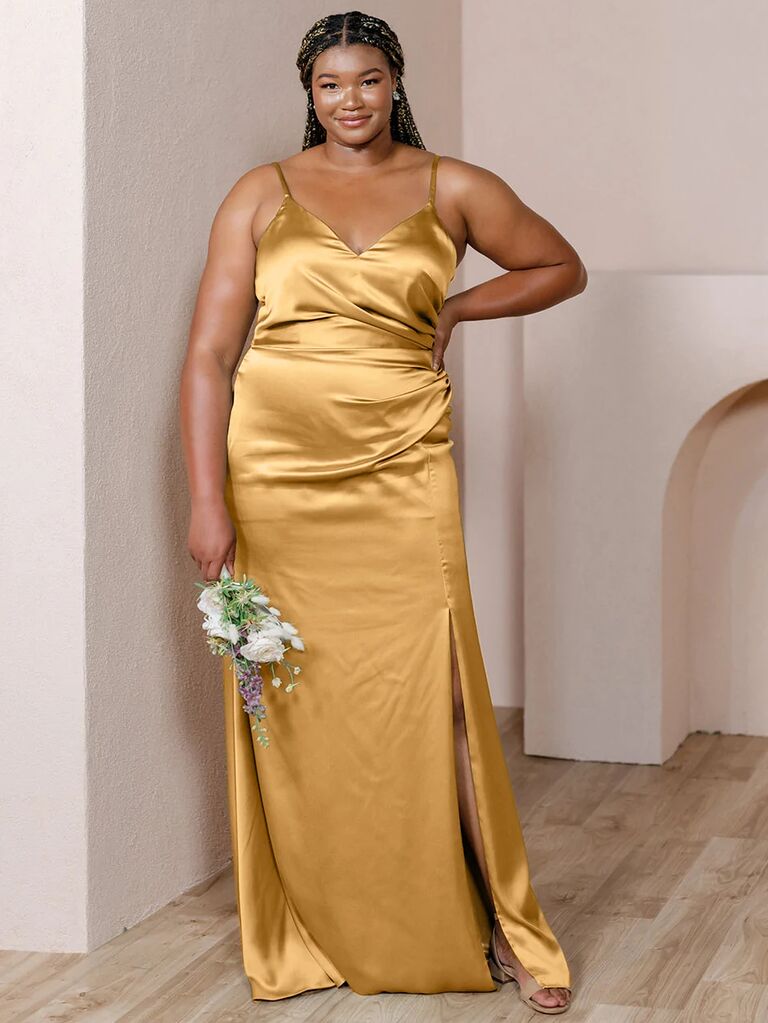 Your BFFs will look glossy and fabulous in this captivating satin bridesmaid dress for 2023 weddings. The modern design is completed with a V-neckline, adjustable spaghetti straps and a floor-skimming maxi skirt. It's also crafted using smooth charmeuse satin fabric with a hint of stretch.
Reformation Veria Silk Dress in Black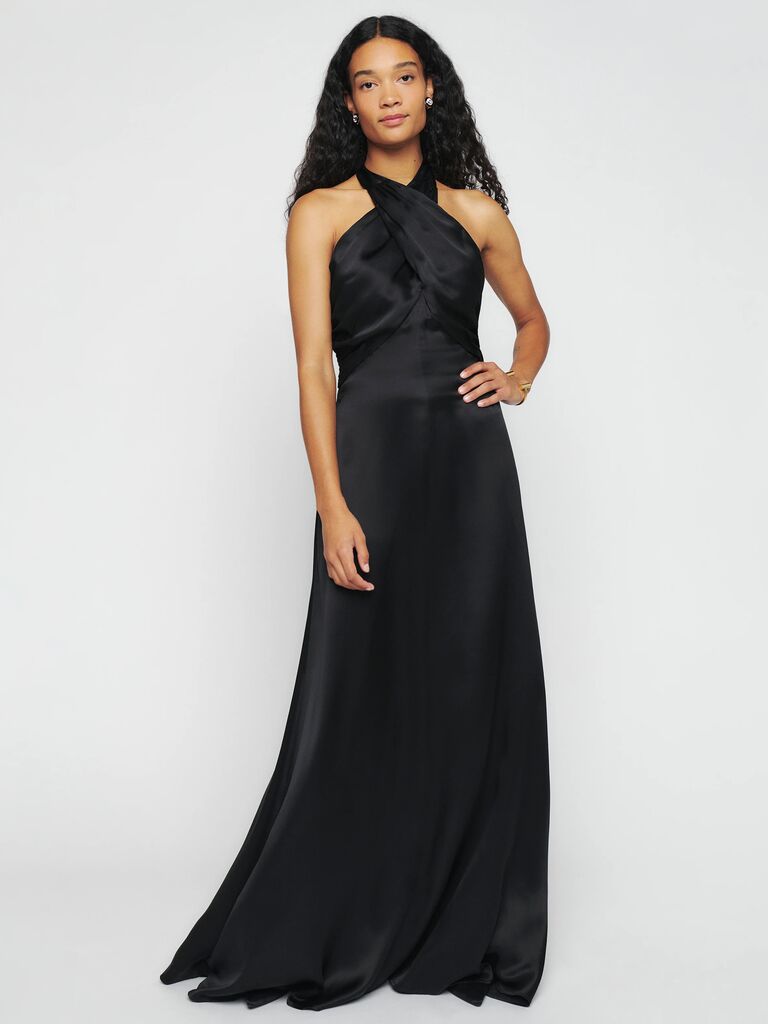 This formal silk dress from Reformation could totally be used as a bridesmaid dress. It comes in a range of beautiful floral patterns and colors, including this sleek black hue. Other standout details include the chic (and adjustable) halter neckline and the beautiful open back with a tie-back.
ASOS EDITION Curve Satin Midi Dress with Tie Back in Olive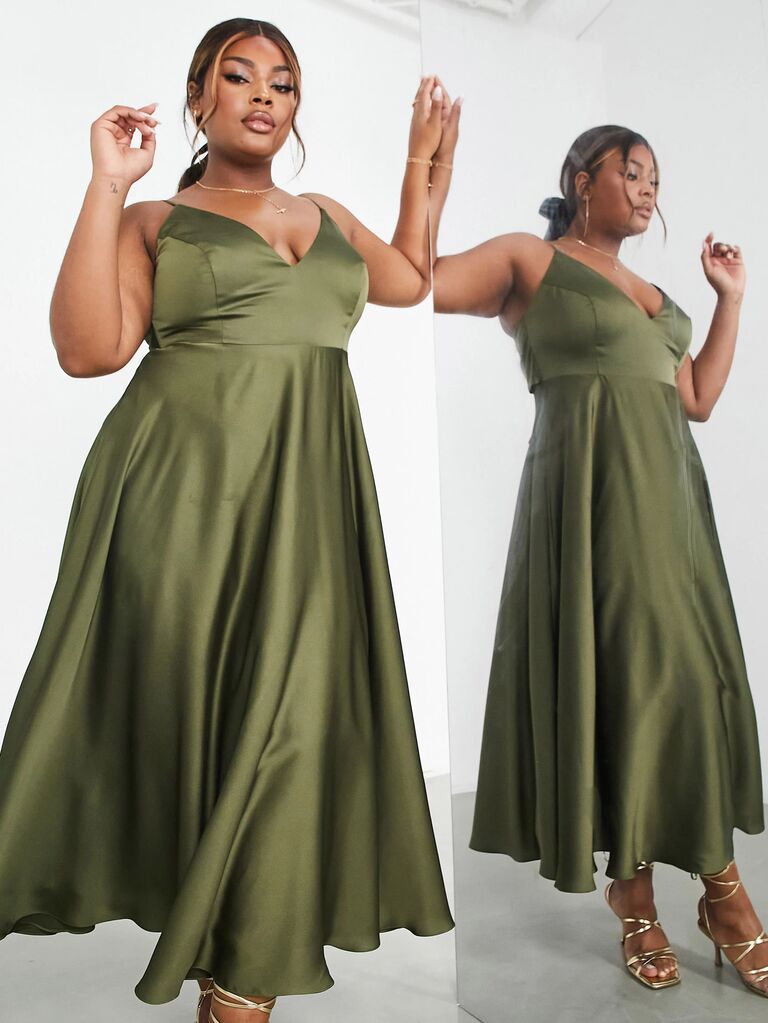 What about this flowy satin midi dress? Aside from the growing popularity of satin, green hues are trending as well in the bridesmaid dress department. This plus-size style features a V-neckline, adjustable straps and a full midi skirt that will make dancing a blast.
Silk Maison French Bow Halterneck Silk Maxi Dress in Copper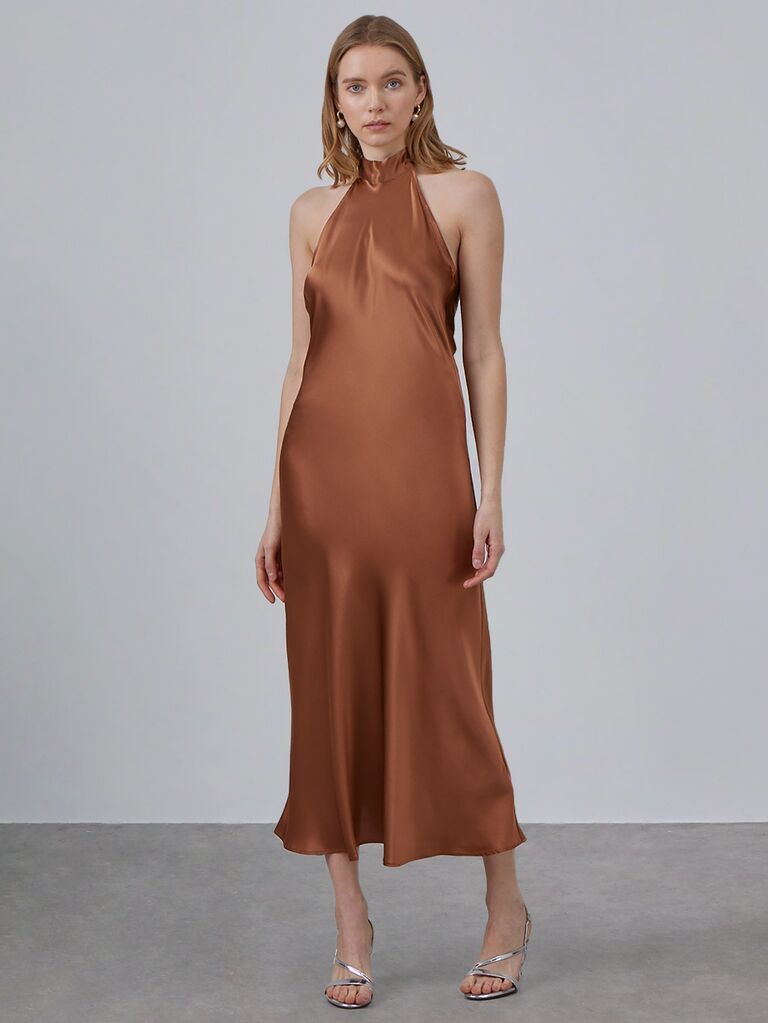 We're simply obsessed with these silk maxi dresses for your wedding party. Not only do they come in an array of beautiful hues—including Copper, Champagne and Baby Blue—but they're packed with trendy details, from the halter neckline to the draped maxi skirt.
Birdy Grey Jay Dress Curve in Desert Rose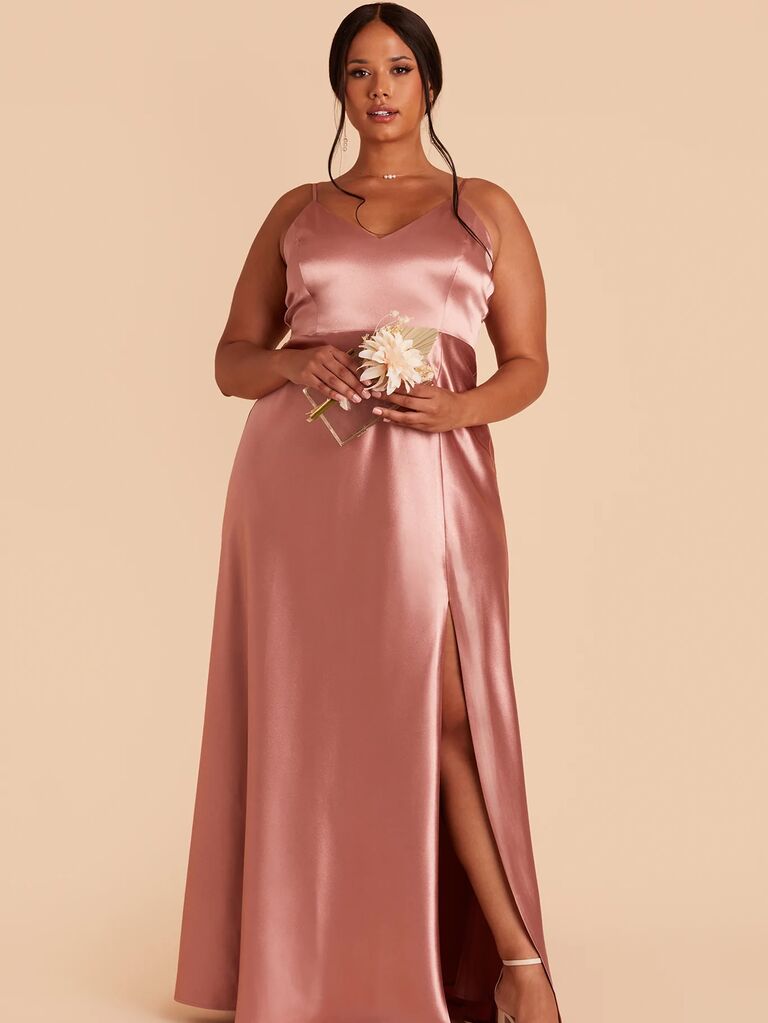 Here's another popular satin bridesmaid dress to have your eyes on in 2023. Available in sizes ranging from XS to 3X, it boasts a minimalist design that feels refined and tasteful. Oh, and check out all of those colors to choose from, including Moss Green, Desert Rose, Rust and more.
Dear Cleo Avery Bridesmaid Dress in Garnet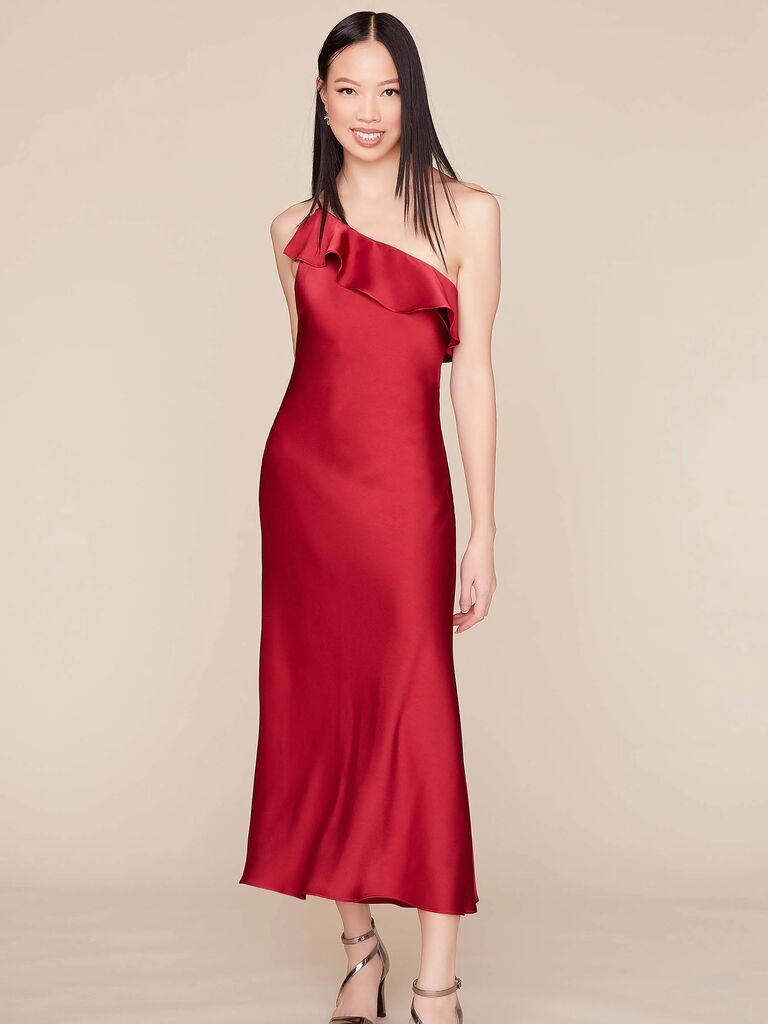 Want to dress bridesmaids in luxe satin dresses they can definitely wear again? Here's a versatile one-shoulder style that will get plenty of use postwedding, too. We love the vibrant Garnet hue for a Holiday or winter-themed function, but it also comes in a rainbow of shades for every wedding vibe.
3. Mismatched Bridesmaid Dresses
On the topic of styles that'll get plenty of postwedding use, mismatched wedding party gowns will still be top of mind in 2023. Why? Because it gives you (and your BFFs) the opportunity to pick styles that everyone will actually be excited to wear, all while creating a wholly unique look for your wedding day. For example, you can mix and match different silhouettes, prints and colors, or go with entirely different dresses for each member of your wedding squad. The choice is completely yours, so we've pulled some inspiration for you to get started.
Show Me Your Mumu Jess Ruffle Midi Dress in Steel Blue Chiffon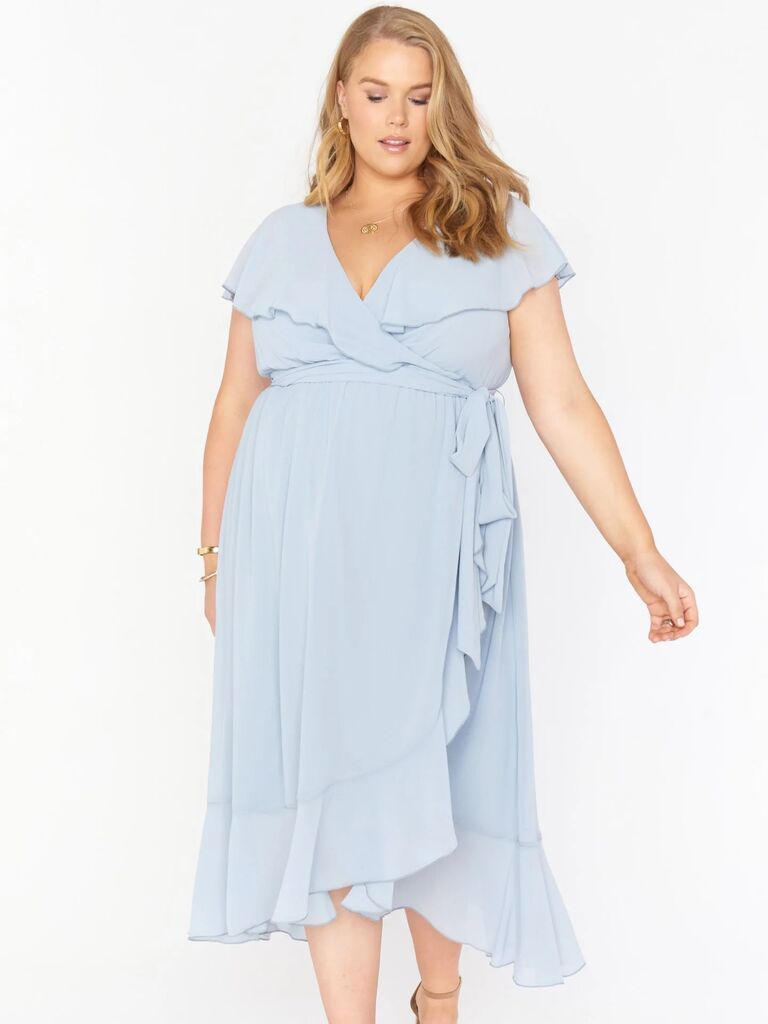 Want to achieve a memorable ombré effect with your 2023 bridesmaid dresses? No problem. Show Me Your Mumu offers three gorgeous blue shades that would look incredibly beautiful mixed together: Steel Blue, Icy Blue and Slate Blue.
Jenny Yoo Dahlia Palermo Satin in Sage/Nude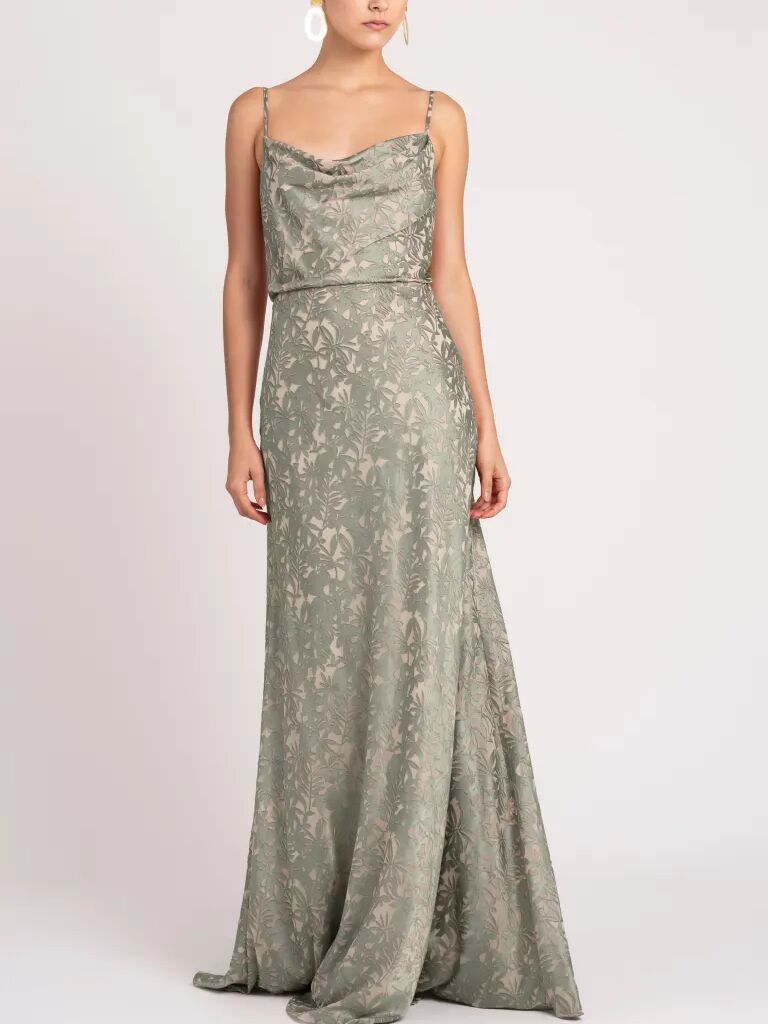 Covered in a gorgeous satin burnout print, this floral bridesmaid dress is a wonderful way to add texture to your bridal party look—especially if you want to mix and match this style with solid sage hues. This floor-length gown also has an elegant cowl neckline and a bias-cut skirt for a stylish edge.
BHLDN Leila Satin Charmeuse Dress in Dark Rust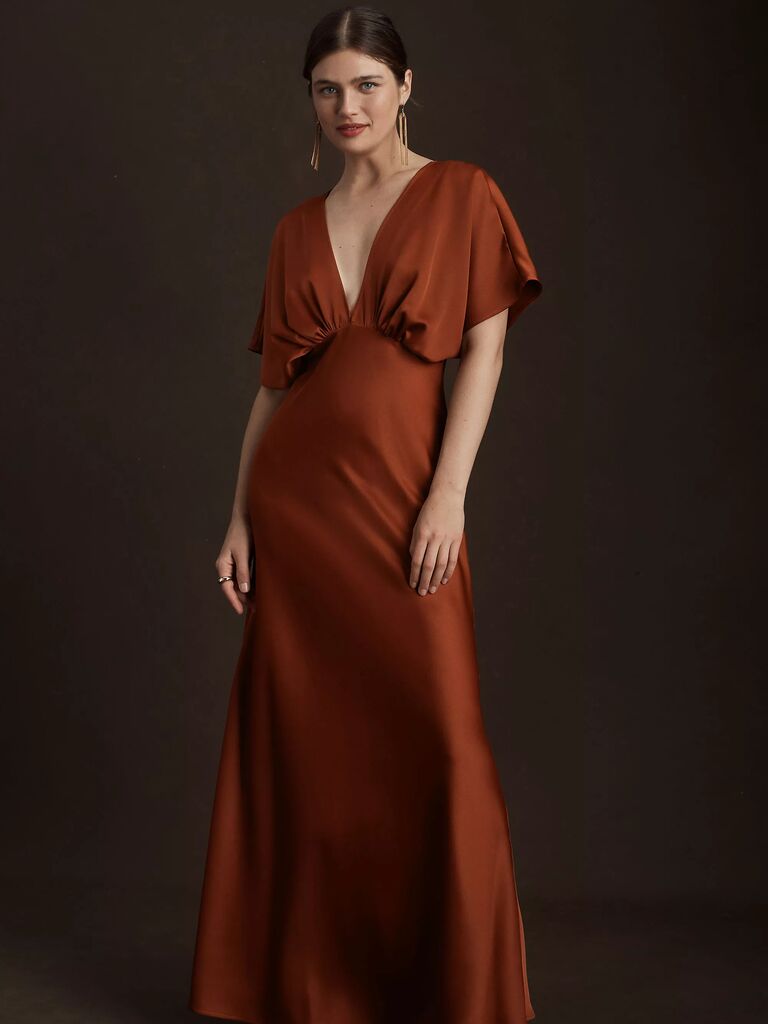 According to Pinterest Predicts 2023, rust will be the go-to hue for bridesmaid dresses in 2023. Here's a stunning bridesmaid dress that comes in a sultry Dark Rust shade. As for the polished silhouette, it features a plunge neckline, a draped bodice and a flowy maxi skirt. Mix this hue with other warm sunset shades for a romantic wedding party look.
Revelry Aurora Velvet Dress in Emerald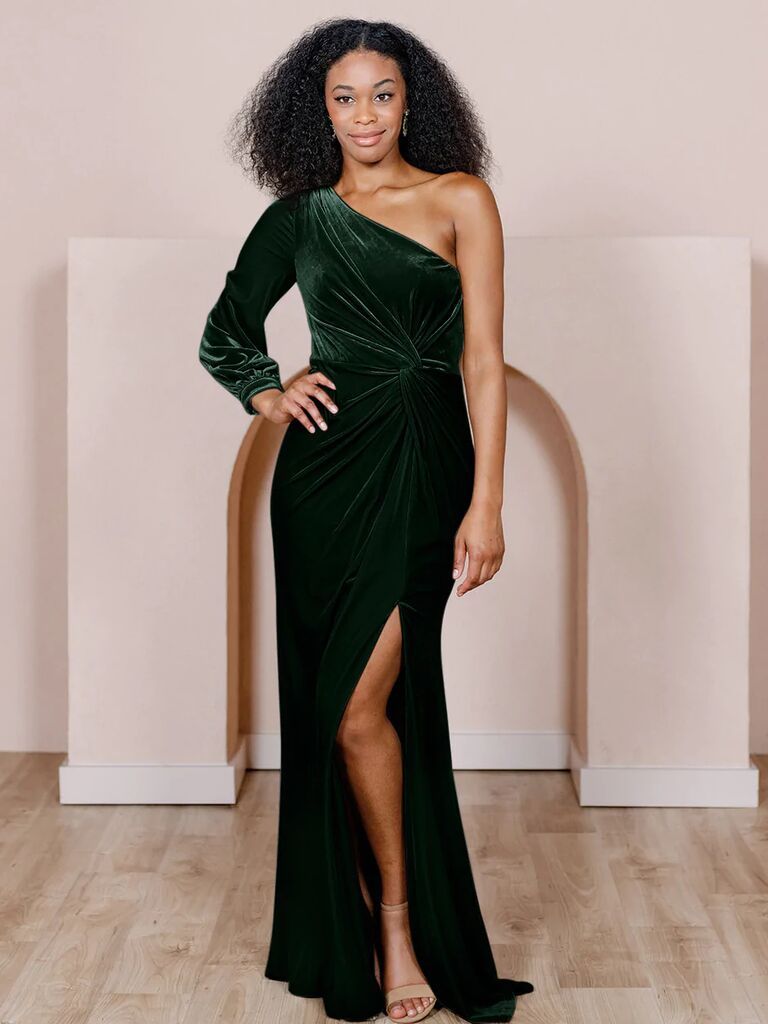 What about creating a mismatched look with jewel-tone bridesmaid dresses? You can mix this one-shoulder Emerald bridesmaid dress with other deep gem-inspired hues, including sapphire, amethyst, citrine and ruby.
Ivy City Co. Whimsical Dress in Sage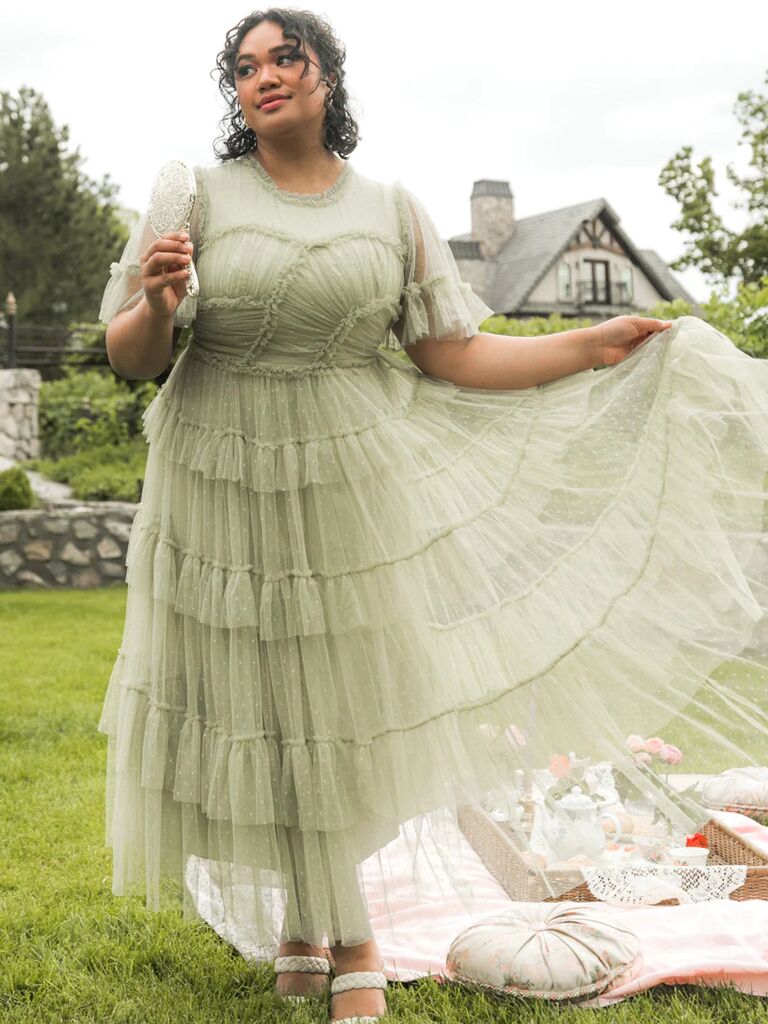 These trendy sage bridesmaid dresses will look so whimsical against any outdoor backdrop, especially combined with other green wedding party gowns. They're filled with so many lovely details, from the sheer flutter sleeves and tiered tulle skirt to the ruffled accents.
4. Cowl Neck Bridesmaid Dresses
If you loved cowl necklines in 2022, you're in luck—this refined style will continue to trend big in 2023. Characterized by loose fabric that creates a draping effect around the collarbone, the effortlessly elegant neckline has made a statement in bridesmaid dress collections. From satin maxi gowns to silk midi dresses, there are cowl-neck bridesmaid dresses in every color and silhouette for your entire crew. Check out some of our go-to styles, below.
Jenny Yoo Saba Bridesmaid Dress in Bluestone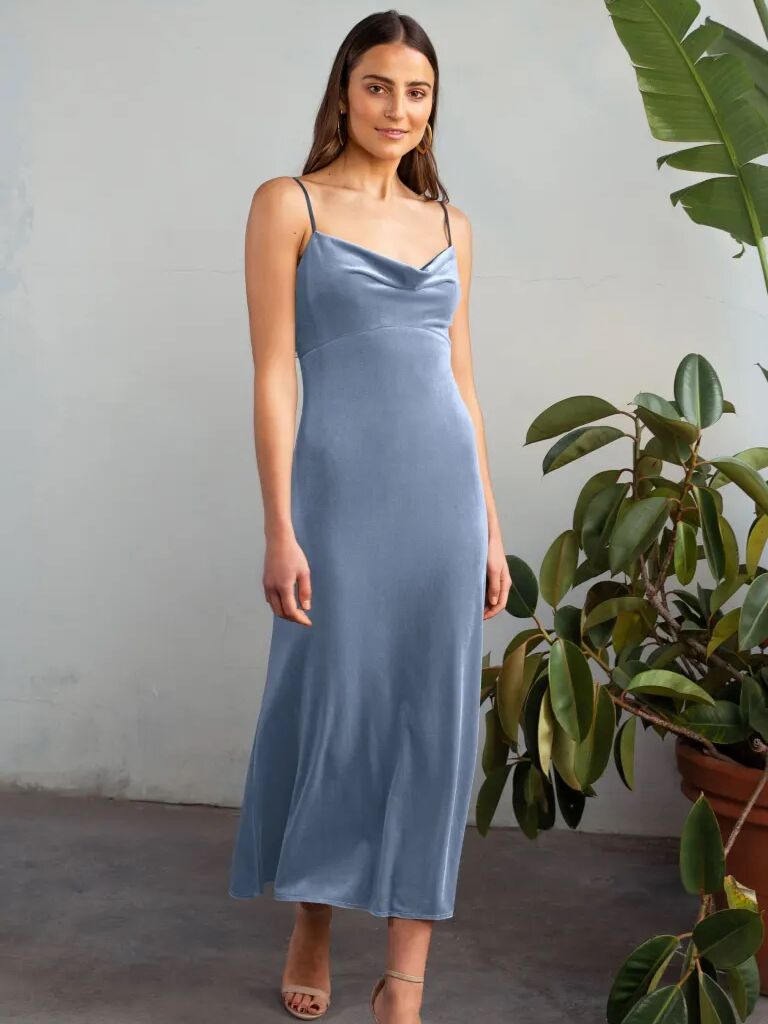 Velvet bridesmaid dresses are a staple for fall and winter weddings. This midi-length dress has a romantic cowl neckline, slim spaghetti straps and an empire waist. Best of all, it comes in so many dreamy hues, from Bluestone to Cinnamon Rose.
BHLDN Cali Satin Charmeuse Midi Dress in Sand Dune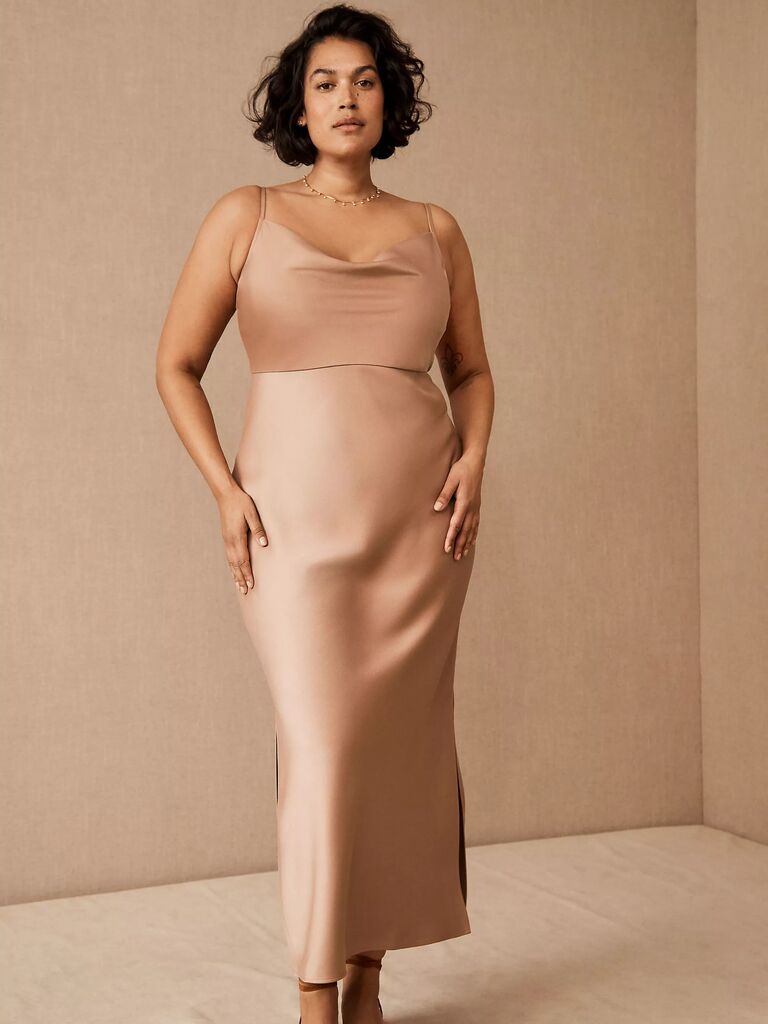 Your besties will be dressed to perfection in this gorgeous bridesmaid midi dress with a cowl neckline. This size-inclusive dress comes in sizes 0 to 26W, as well as a range of colors, including this breathtaking neutral hue.
Dessy Group Cowl-Neck Draped Wrap Maxi Dress With Front Slit in Desert Rose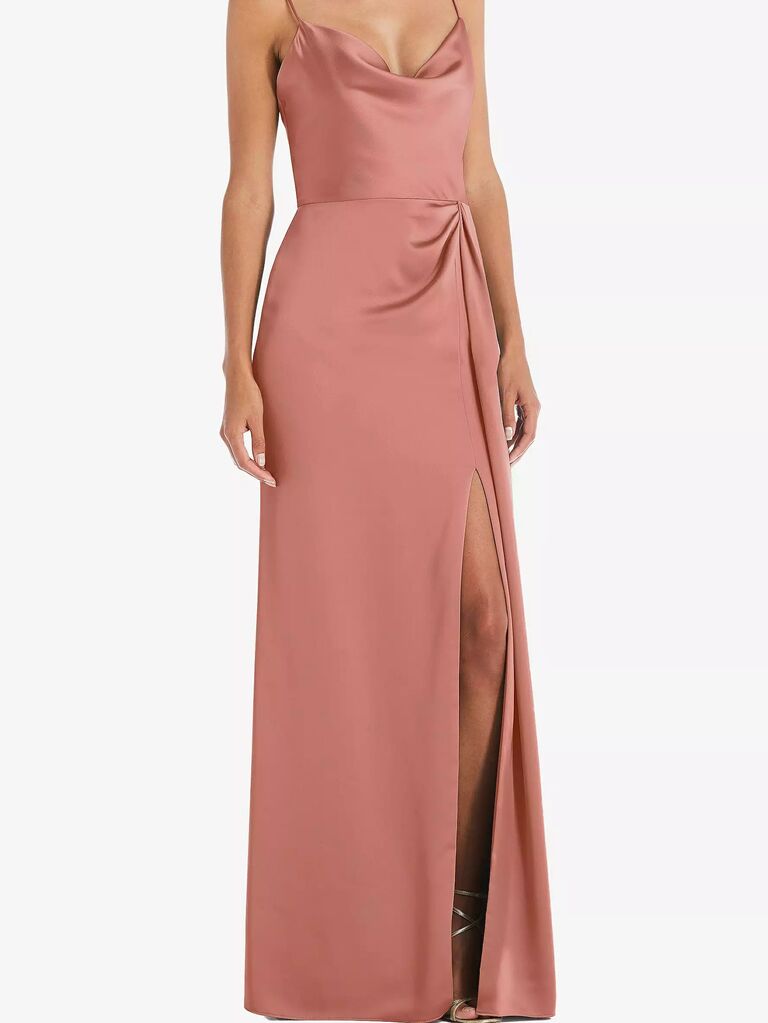 Since wearability is an important aspect of 2023 bridesmaid dress trends, this maxi gown is the definition of versatile. Crafted from silken lux charmeuse fabric, it boasts a gentle cowl neckline and a faux wrap skirt. Your gals can rewear this style to any future formal event—so it's a win-win.
Revelry Skye Velvet Dress in Emerald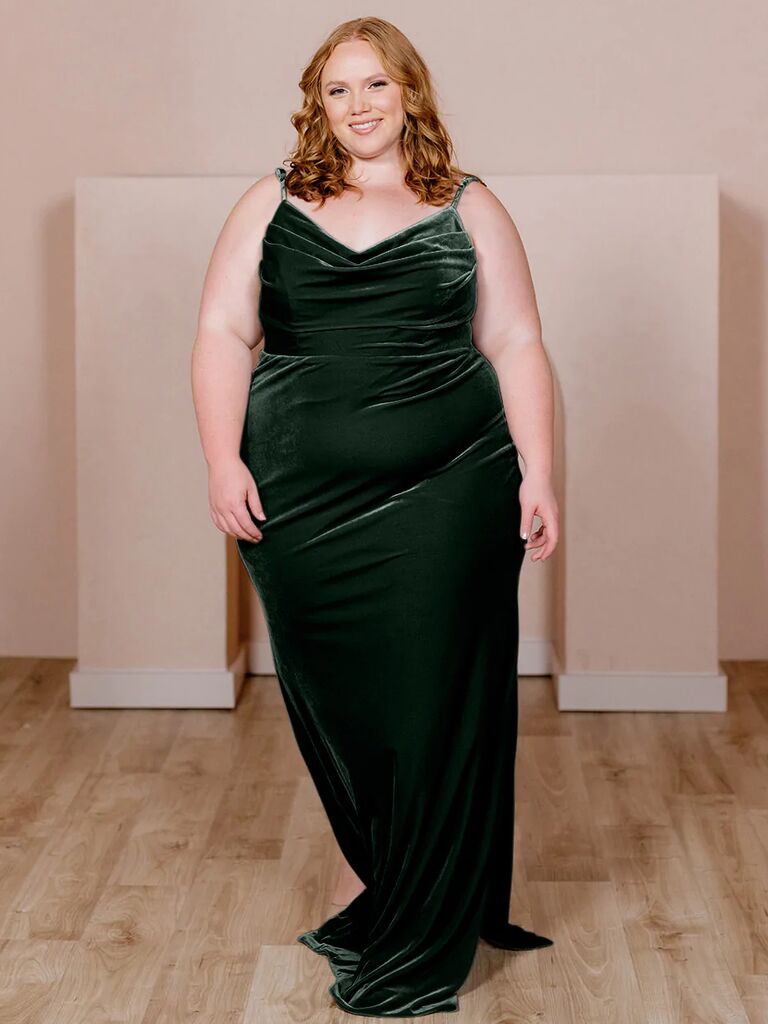 Here's another velvet style that'll look incredible in your winter or fall wedding photos. We're obsessed with this deep Emerald shade, but it also comes in a rainbow of hues, including Romantic Rose, Royal Blue and Champange, so choose the color that best matches your wedding vibe.
Celebrate DB Studio Stretch Charmeuse Sleeveless Cowl Bridesmaid Dress in Wisteria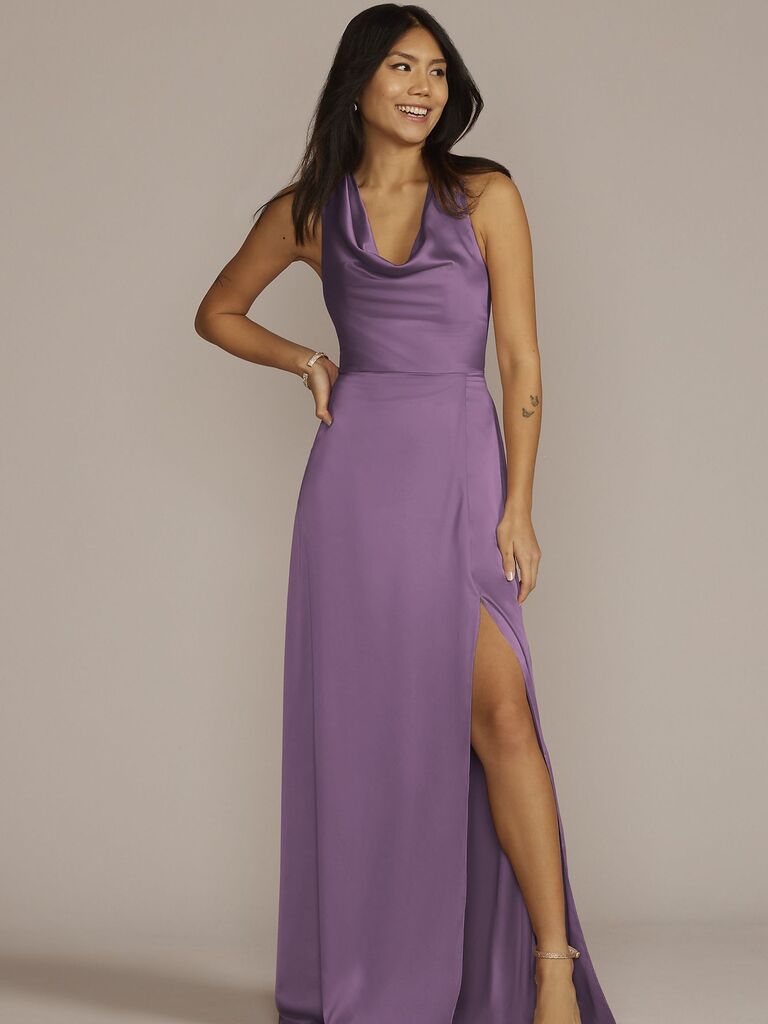 Want a dramatic cowl-neck for your bridesmaids? Try this sleeveless number, which is made from satin-link stretch charmeuse fabric that looks stylish yet refined. We also have to call out the floor-sweeping maxi skirt and the chic thigh-high side slit.
Standards & Practices Cowl Neck Satin Slip Dress in Green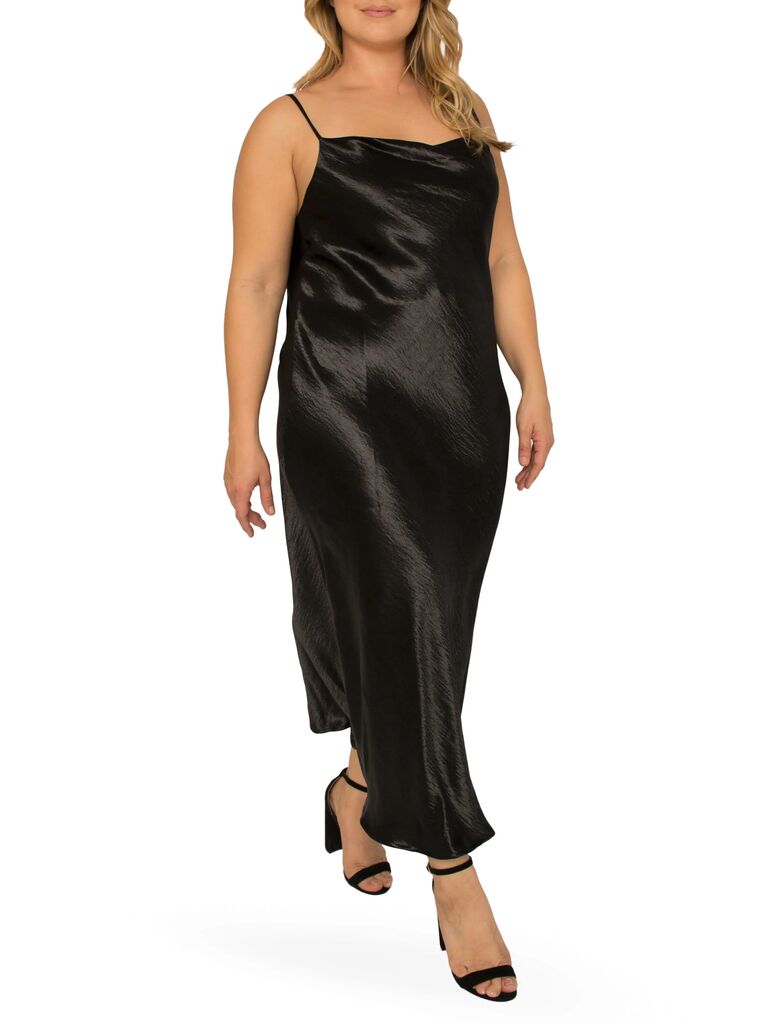 Available in Black, Green or Rosepink, this satin slip dress will become an instant staple in your bridesmaids' closets postwedding. The practical silhouette features a gentle cowl neckline and a bias-cut skirt that elegantly drapes over the body. And for $88, it's a budget-friendly style that won't break the bank.
5. Convertible Bridesmaid Dresses
If you haven't heard of convertible bridesmaid dresses, then get ready to be amazed. A convertible gown is one that typically has two long pieces of fabric that you can style in multiple ways to create different necklines and silhouettes. So basically, each member of your wedding party can easily choose their preferred neckline. More and more bridesmaid dress retailers are including convertible designs in their 2023 collections, such as Birdy Grey, Jenny Yoo and Revelry, to name a few.
Birdy Grey Grace Convertible Bridesmaid Dress in Dusty Blue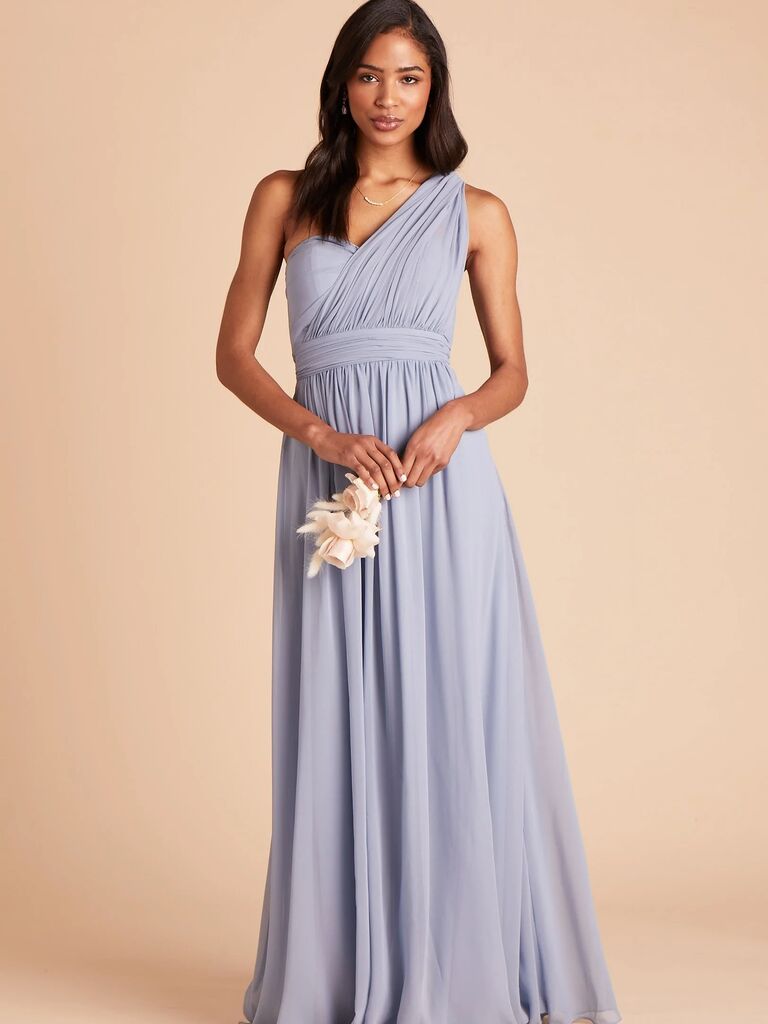 Birdy Grey is known for their vast range of convertible bridesmaid dresses—and this style is just one of many that we're obsessed with. Your BFFs can create multiple looks from this airy chiffon gown, including a halter neckline, flutter sleeves, off-the-shoulder and more. Another plus? It has hidden pockets that integrate seamlessly into the flowy silhouette.
Azazie Fifi Bridesmaid Dress in Eucalyptus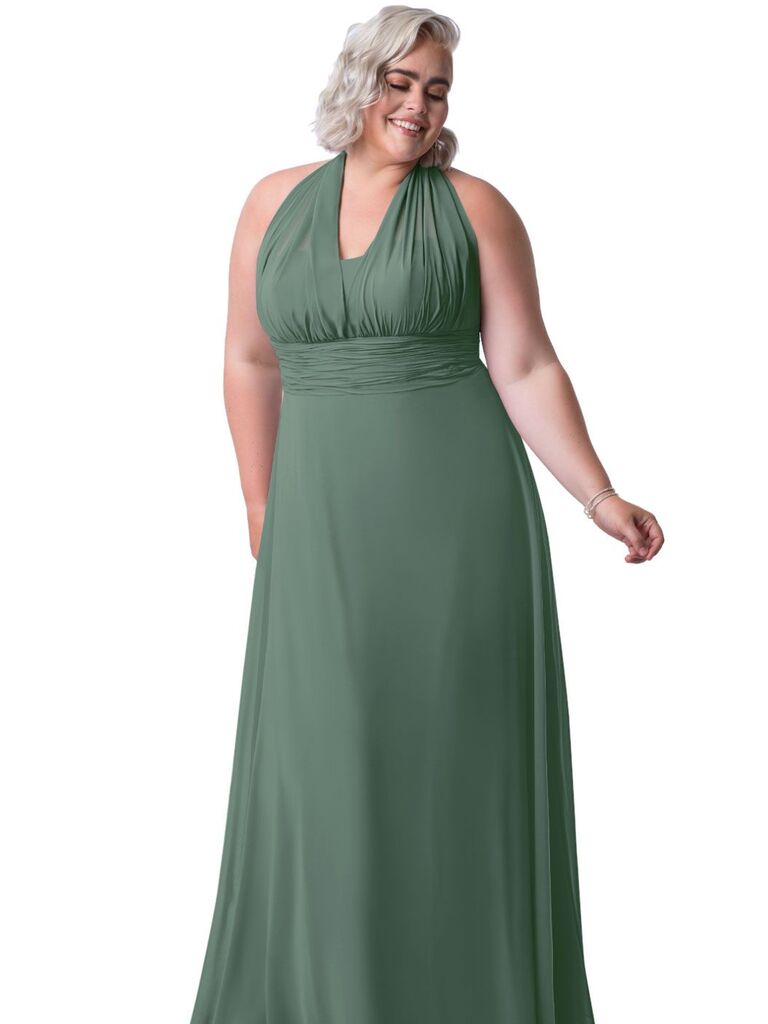 Check this out: You can create more than five different looks just using this one bridesmaid dress, from a chic one-shoulder neckline to dreamy flutter sleeves. Plus, it's available in so many color options, so you're guaranteed to find a shade that complements your wedding colors.
Birdy Grey August Convertible Dress Curve in Taupe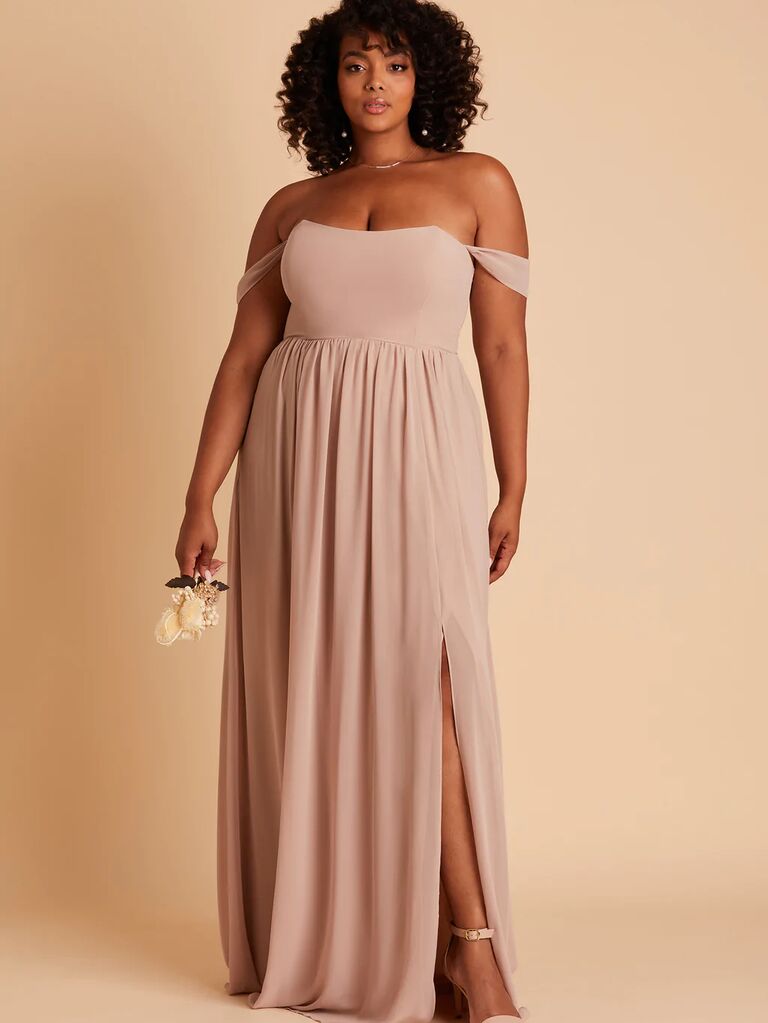 For those looking for a simple silhouette for their bridesmaids, this convertible dress is effortlessly understated (yet totally showstopping). The versatile silhouette offers three different looks for your besties: strapless, with spaghetti straps and off-the-shoulder. Each neckline would look amazing on any member of your crew.
Jenny Yoo Julia Convertible Bridesmaid Dress in Whipped Apricot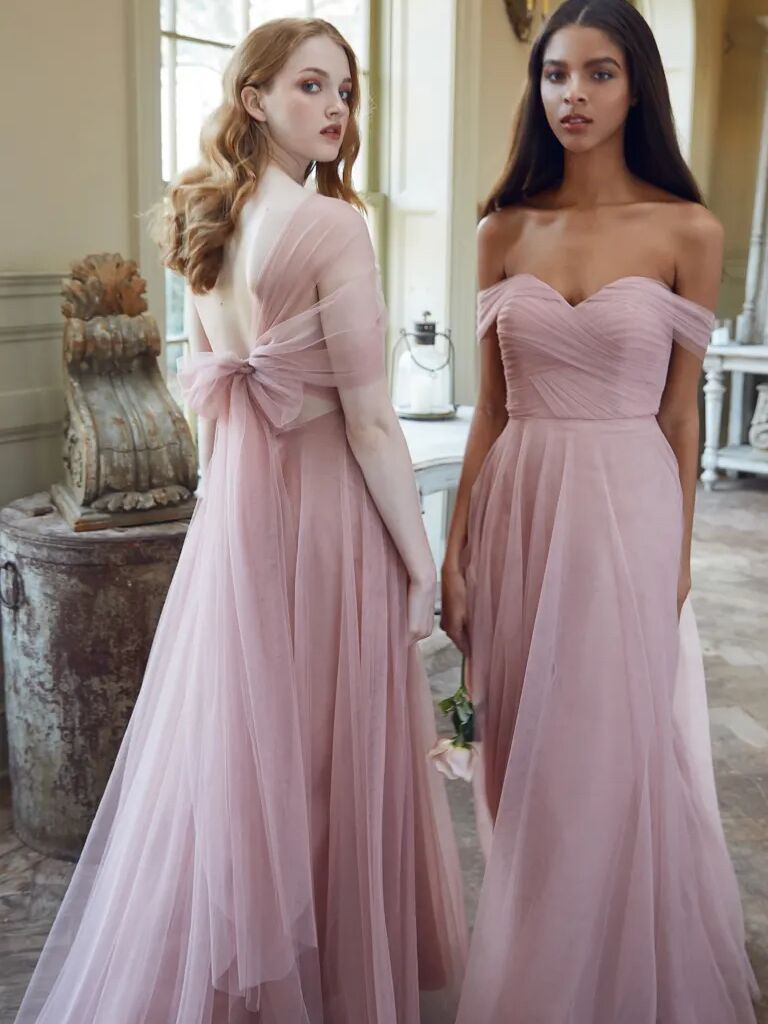 Covered in whimsical tulle fabric, this convertible bridesmaid dress boasts a sweetheart neckline, a beautifully wrapped bodice and a full circle skirt—but that's not all. There are also two back panels and detachable straps, which means your bridesmaids can choose from multiple necklines and strap options to achieve their dream fit.
Revelry Devan Convertible Satin Dress in Terracotta Rust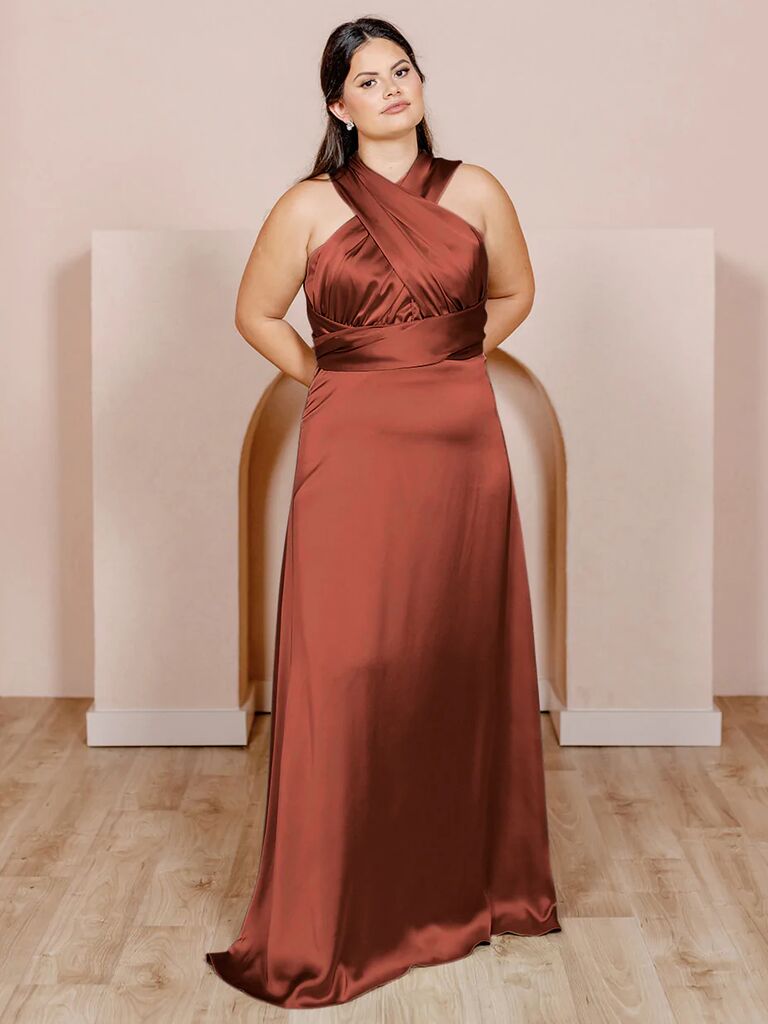 Now, here's a convertible bridesmaid dress style that'll get major points for wearability. The semi-shine charmeuse satin silhouette has two gathered front straps that can be tied in multiple directions over the strapless sweetheart neckline. It's a super easy way to achieve a coordinated bridesmaid look with different styles.
Jenny Yoo Serafina Convertible in Hydrangea
A convertible bridesmaid dress also makes a great maternity option for moms and moms-to-be, thanks to the flexibility of the silhouette. This floor-length style has convertible panels to create various necklines and straps, while the skirt was designed to accommodate a growing bump. Oh, and it also includes a detachable tulle sash that can be tied as a finishing touch on the waist.