5 Dos and Don'ts for Mother of the Bride Dress Shopping
Follow our must-read tips to have a seamless mother of the bride dress shopping experience.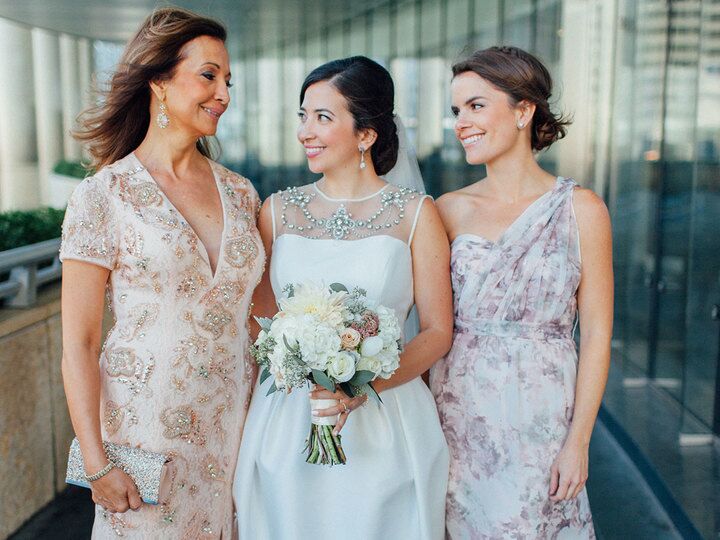 Tim Tab Studios
When it comes to wedding attire shopping, it's not just all about the wedding dress and bridesmaid dresses—as the mother of the bride, finding your dress is a big deal too! Not only will you be photographed—a lot—in your gown, you'll also make a grand entrance during the ceremony and reception and will be mingling and on your feet all day. Steal our top dos and don'ts to make sure you love your mother of the bride gown—and that it checks all the boxes (comfort included).
1. Don't start looking for your dress too late.
Ideally, you should start shopping for your mother of the bride dress six to eight months before the wedding date, leaving any shipping time and alteration needs in mind. This is enough time to give yourself to find a dress you love that you're comfortable in. Also, by this time, the wedding dress and bridesmaid dresses will likely already be chosen, so you can have a better idea of the look you want that coordinates accordingly.
2. Do connect with the mother of the groom before you go shopping.
Traditional wedding etiquette states that the mother of the bride chooses her ensemble first, which then informs what the mother of the groom will wear. This tip is a bit old-fashioned though, and the process doesn't have to be so formal. Call her a week before you go shopping and let her know what you're thinking in terms of colors and where you'll go shopping, giving her an informal go-ahead to do the same. Opening up the lines of communication will benefit you both so you can stay in sync about color coordinating (or not), potential clashing, level of formality, and will help you avoid choosing the same dress. Who knows—you may even decide to go dress shopping together!
3. Don't ignore your daughter's requests.
Before you go shopping, have a discussion with your daughter about what kind of dress you're looking for—chances are, she'll have a few requests for you or will want to go shopping together if possible. Does she think a V-neckline is too revealing? Does she only want you in certain shades of blue? Is she okay with you wearing a pantsuit instead of a dress? These are all things to discuss. While you have every right to say you don't want to wear a sleeveless dress or that purple looks terrible with your skin tone, hear her out and try to compromise so you're both happy. Try on dresses that you're on the fence about anyway, and you'll either be surprised and love it, or your daughter will see why you aren't comfortable wearing a strapless neckline. When it comes down to it, she'll want you to love your dress and feel great in it.
4. Do take into account the wedding colors, formality, location, season and time of day.
While some brides do prefer that their moms wear a color in the same palette as the bridal party, or match it exactly, there's no set rule that all the dresses must coordinate—it just shouldn't clash so it stands out in photos. And just like your daughter's wedding dress, logistics such as the time of day, season, location and formality of the event will help narrow down your options. For example, you can get away with dressing up a notch, but wearing a sundress for a castle venue will definitely be out of place. Or if it's a rustic vineyard wedding, you'll want to forgo a long, voluminous gown that'll get dirty easily. Wearing a long-sleeve dress at an outdoor wedding in July is also something you won't want to do.
5. Don't just ask to see mother of the bride dresses at stores.
If you're striking out with the options presented to you, try a different tactic: Instead of requesting mother of the bride dresses, try asking for formal or black tie gowns instead. You may get a whole other array of dresses shown to you instead that are more in step with what you're looking for. Remember: Mother of the bride dresses don't have to look matronly or conservative—you're allowed to consider strapless, one-shoulder, tea-length and jacket-less options!
Shop mother of the bride dresses here.