13 Romantic Beach Proposal Ideas for the Coastal Couple
Take a knee in the sand.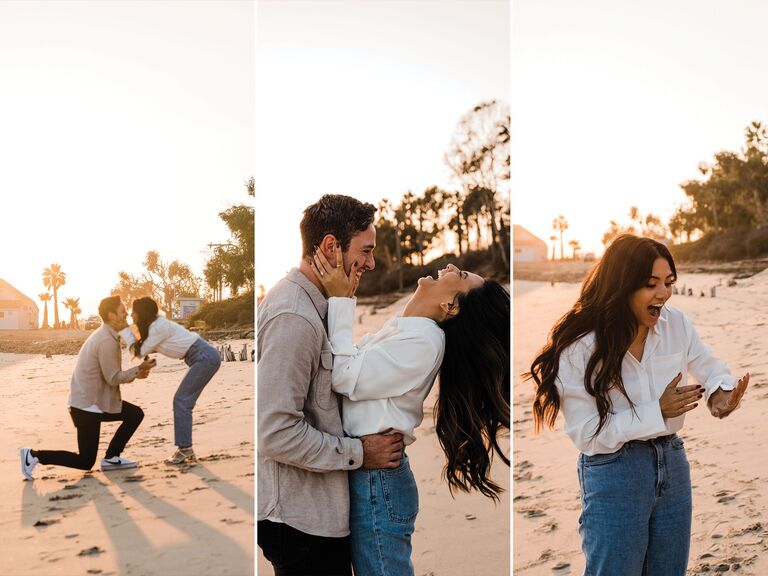 Photos: Megan Goucher
It's true what they say, good things happen at the beach. For the coastal couple who's inspired by the sea to curate one epic romantic beach proposal, listen up, we have some beach proposal ideas to help your planning. Surely, these proposal ideas for the beach will end with, "Shell yeah!" That's beach talk for, "Yes, I will marry you!"
For lovers asking how to set up the perfect beach proposal, how to propose near the beach, and what is the best time to propose on the beach, we've outlined some insightful tips below. So before you hit the sand, make sure to keep these romantic beach proposal ideas in mind.
In this story:
13 Beach Proposal Ideas
When planning your romantic beach proposal, day or night, it doesn't have to be a sink-or-swim endeavor. Simply understanding some of the some salty-and-sweet beach proposal ideas available to you, like popping the question at dusk, can help guide you through all of the little details of popping the question by the ocean.
Below, we have curated some inspired beach proposal ideas for your consideration. These ideas include creative gestures like spelling your message out in the sand and asking for a little assistance from a real-life mermaid. Read the below for 13 romantic beach proposals.
A Golden Hour Beach Proposal
Golden hour is that romantic time period as the sun is just about to rise or set in the sky. For nautical couples wanting to take their relationship to the next level, a golden hour beach proposal is very romantic.
Whether you are planning a beach proposal at night or at daybreak, knowing where the sun rises and sets is a big part of a golden hour proposal. For example, in Virginia Beach, the sun rises over the ocean and sets over the bay. So, if you want to pop the question as the sky radiates sherbert hues over the horizon, you'll want to ask the question at dawn.
Not only does golden hour make for a romantic night beach proposal, but it's also the best lighting for photography. Weather apps such as Sun Seeker allow the user to track the sun's position throughout the day. A general rule of thumb, the best light occurs an hour before sunrise and sunset. Knowing the weather conditions, and the sun's position for your beach proposal can make the outcome sand-tastic.
Write Your Proposal in the Sand
You have probably seen grand gestures of love in movies or TV where the question of marriage is written in the sand. If you are hunting for a good beach proposal idea, consider writing, "Will You Marry Me?" out in the sand. Illuminating your message with flickering candles or flowers can make the big gesture even more grand.
While this romantic beach proposal idea is grand, there are some caveats to consider. One, you'll have to make sure no permits or special permission is needed to pull off something like this. You'll also have to consider if it's a public beach. If so, you'll need to balance your plans so that your proposal isn't interrupted while also being considerate to other beachgoers. It's best to do some preliminary research on what beach you'd like to propose on, the beach's policies, and seek out permission, if needed.
Wedding Message in a Bottle
This idea harkens back to childhood nostalgia. Many kids would play at the beach and finding a message in a bottle was always an exciting possibility, as you'd imagine what salty pirate or shipwrecked sailor may have sent it. Flash-forward to the current day, asking your love to marry you with a note in a bottle is just as exciting.
This romantic beach proposal idea is simple as it can take place day or night. For this beach proposal idea, write your marriage message in a bottle, cap it, and have it pre-hidden along your intended walking path. Here is where you'll ask your partner to pick up the bottle and read it.
You can secure the bottle so it's half buried in the sand or nestled against some beach rocks. This way, when your sunset beach walk comes to an end, the recipient will see the bottle, and the question will be popped.
Beach Proposal Bonfire
Summer bonfires are dreamy, romantic and perfect for your sunset beach proposal ask. For someone looking to capture "The Summer I Turned Pretty" vibes in their marriage ask, consider a summer bonfire. Prior to planning your bonfire beach proposal, make sure a bonfire is legal on the intended beach.
Next, you'll want to make the setup cozy. Be sure to set the scene with padded blankets to lay on, a snack board filled with everything to make s'mores, and supplies to safely start a bonfire, along with something to put the fire out. To ensure this beach proposal idea goes off without a hitch, make sure to research the tide times—after all, you want a proposal that you'll remember for a long tide (pun intended!).
Sunrise Beach Walk Proposal
Planning a sunrise beach walk proposal is pretty simple, but effective. You'll want to make sure the evening before that your partner will want to join you on a morning walk along the beach to witness the sunrise.
Ensure your ring and any additional props are ready to go the evening before. Checking the weather and sun's location the night before will help this romantic beach proposal be a success.
Snorkel Proposal
If you are a coastal couple who loves adventure, planning a snorkel marriage proposal can be romantic. This beach proposal will work best in daylight hours. Some pre-planning will have to go into the snorkel proposal as you have to consider whether will you go with a snorkel guide or opt for something on your own.
Knowing the safest snorkeling spots and tide conditions prior will also keep you safe. If you're considering asking underwater, write "Will You Marry Me?" on a waterproof board or paper.
Picnic Beach Proposal
Who doesn't love a romantic picnic? Planning an evening beach proposal over a quiet picnic near the shore is a memorable idea. To plan your beach proposal picnic, make sure you can do so at said beach. For example, Horseneck Beach State Reservation in Nantucket is a great picnic spot.
After your ocean picnic spot has been secured, fill your picnic basket with desired foods such as tiny tomato sandwiches, sweet potato chips, fresh fruit salad, and blackberry-oat-crumble bars. Your beach proposal will feel right out of an Elin Hilderbrand novel.
Seashell Engagement Ring Box
Some beaches, such as Sanibel Island, Florida, are known for finding beautiful shells. Ask your partner to go shell hunting during a sunrise or sunset walk, right when the tide is high. While they're hunting for mermaid treasures, you'll have yours, a shiny engagement ring waiting inside a pre-picked (and cleaned) seashell. That's an idea to shell-abrate.
Sunset Boat Trip
Ask the big question while out at sea. You can charter a private boat tour, on the waters off South Carolina (or anywhere) by seeking out boat rentals on sites such as Get My Boat. Of course, you'll want to keep the wedding proposal a secret, so plan to have your ring, champagne, and camera setup preloaded on the boat.
Photoshoot Beach Proposal
Documenting your beach proposal is one important step not to overlook. Plan a beach couple's photoshoot that ends with you popping the salty question—success is nearly guaranteed.
To start, book a photographer and work with them to make a plan. A pro can help you put all the beach balls in motion so that the big moment is forever documented. An evening beach photoshoot will give you an entire day to prep, practice and pamper for later that evening.
Cozy Evening Under the Ocean Stars
To curate some cozy engagement vibes, create a comfy spot with plush beach blankets, pillows, glowing lanterns, and champagne on ice to set the perfect spot under the stars for an evening beach proposal. Time your starry beach proposal with the weather and star visibility. Apps like SkyView help you track stars and star visibility to make sure they, too, witness your big proposal.
Ask a Mermaid to Help
In the age of social media, grand gestures (like acquiring a mermaid to help your marriage proposition) can really go viral–just remember to document it. Sites like AquaMermaid allow you to hire a mermaid who can assist with the dreamy factor while you get down on one knee.
Tropical Getaway Proposal
Planning a romantic beach trip to a tropical location is a beautiful beach proposal idea. To execute the plan, consider working with the hotel to plan the beach proposal. They can assist with planning a sunset dinner on the beach. Have the hotel serve your meal, and later, your dessert, where the ring is set under the silver cake platter dome.
5 Steps for Planning Your Romantic Beach Proposal
Planning a beach proposal has many steps. Curating the ultimate proposal checklist will ensure that your big question will end with a "Yes! Yes!" In order to plan a magical evening (or sunrise) beach proposal, you don't have to be a mermaid but rather adhere to these steps to make the beach proposal a shore-thing.
1. Hire a Photographer
Prior to asking any questions about marriage, you'll want to have a photographer booked and ready to go in order to document the big day. Seeking out a professional wedding and engagement photographer through The Knot Vendor Marketplace is a smart choice. Doing this can help you establish a relationship with a photographer who you might want to work with for your engagement photos and, eventually, your wedding day. As you plan your ultimate beach proposal, you'll also fill in and plan the day's timeline with your photographer. The photographer can also assist you with locations, times and tips for pulling off this milestone question.
2. Acquire and Hide Your Engagement Ring
In movies, doesn't one partner always find the ring hidden in their S.O.'s underwear drawer, spoiling the ultimate surprise? No matter if you are traveling with your engagement ring or keeping it safe until the special moment, make sure you keep the ring in a secure spot. It is also a good idea to consider insurance for your engagement ring.
3. Plan For All Weather Conditions
When planning a romantic beach proposal, weather plays a huge factor. Everything from the tide, the chance of rain, and the wind can alter your big plans. In the week leading up to your beach proposal, stay abreast of all weather changes. It is a good idea to have a backup day set aside for you and your photographer if the weather doesn't corporate.
4. Practice Your Proposal
You know what they say, practice makes perfect. The day leading up to your beach proposal, go to the intended spot and practice where you will stand, how you'll ask, and get a feel for the surrounding area. This way, you'll feel more grounded and calm when the moment happens.
5. Focus on Calming Thoughts
The seaside is one of the most peaceful places to be. Use the notion of the ocean as your guide to seek out peace and manifest the outcome you want prior to asking the romantic question. This can be done by having moments of calmness near the ripping waves, practicing ocean yoga, journaling while listening to the waves, or trying deep-breathing exercises while listening to the sea. These little intentional things will get you out of your own head, ground you, and inspire good energy for your upcoming beach proposal. In other words, let the sea set your mind free.