The Best Prewedding Skincare Treatments, According to Pros
Look red carpet ready on your wedding day.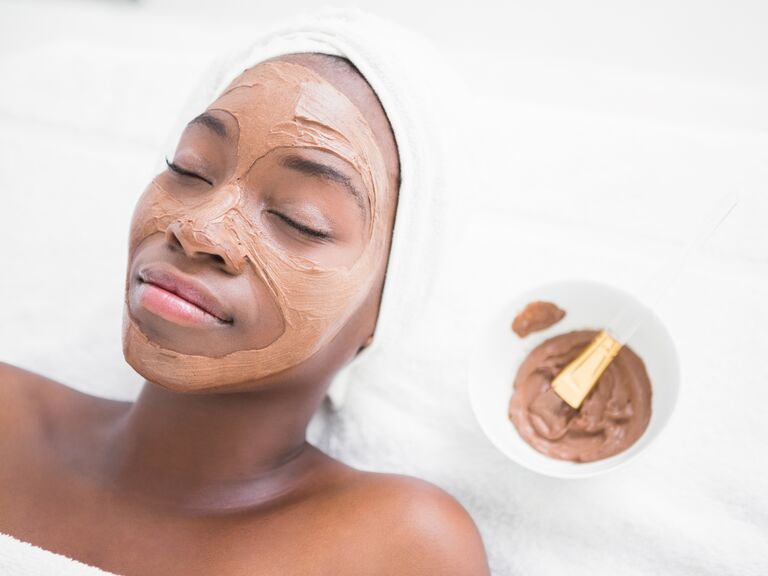 Shutterstock
Considering all of the pictures you'll be taking on your wedding day, you may be focused on finding the best wedding skincare treatments to prep your complexion for the celebration. If you're looking for ways to get your skin on point, you're certainly not alone. Even celebrities like Jennifer Lawrence and Hailey Bieber have stopped by to see their facialist or derm for beauty treatments before their nuptials.
If you're wondering what the stars are getting (or if you're just curious about different wedding skincare options), we have some answers. Check out all of the best wedding skincare treatments you can get, recommended by the pros.
Triad Medical Facial
This three-step facial is one of Jennifer Lawrence's favorites. The actress recently revealed that her dermatologist Dr. David Colbert in New York created the Triad Medical Facial, which boasts both immediate and month-long results. The facial involves microdermabrasion (an intense exfoliation), laser toning therapy and a light chemical peel. The 20-minute facial promises tighter and brighter skin, cell rejuvenation, collagen stimulation, and wrinkle reversal.
A Dermatologist-Approved Skincare Routine
It's true—the best thing you can do for your skin is to get on a strict skincare regimen. But don't rush out to load on a ton of products. Dr. Caren Campbell, a board-certified dermatologist in California, says it's better to see a dermatologist who can tailor a skincare plan for you and avoid any irritants and allergens. You'll want to start this as early as possible, as prep can take six to 12 weeks to start showing significant progress.
A major pro of nailing down an effective skincare routine? Aside from evening out your skin tone and giving you a glow, it can also maximize any other treatments you may want to get. "Skincare also treats and prevents signs of aging and protects your investment in pricier laser and injectable treatment options," Campbell says.
If you're looking to get a head start on your routine, consider three major products. "The holy trinity for skincare should include an antioxidant, sunscreen and retinoid." She recommends to-be-weds use a gentle cleanser morning and night, apply 2-3 drops of an antioxidant serum in the morning, apply a sunscreen every day, and apply a retinoid at night a few times per week. "Your dermatologist can customize your skin care plan to address more specific issues like acne, rosacea and sensitive skin."
Oral Anti-Inflammatories
One of the best-kept secrets when it comes to wedding skincare is taking oral anti-inflammatories to prevent day-of pimples. It's especially common among nearlyweds who are prone to breakouts, says Dr. Dhaval Bhanusali, a board-certified dermatologist in New York. "They essentially shut down the chance of breaking out or having blemishes on the big day," he tells The Knot. The typical regimen is to take the medication a few days before the wedding. "It's certainly not meant to be a long-term solution, but it's definitely something that can help in a pinch outside of steroid injections or other treatments.
Prescription Creams for Different Issues
If you have dry skin or you struggle from pigmentation from acne or sun exposure, certain topical creams can help. Bhanusali, who has worked with New York Fashion Week models, tells The Knot that a dermatologist can prescribe a topical treatment, which tends to be the most effective treatment for a variety of issues.
Hybrid Laser Peel
If you're looking to get even, glowing skin, the hybrid laser peel is a great choice. Bhanusali recommends to-be-weds get the treatment eight to 10 months out from the wedding. The method combines a HLAO fractioned laser (which targets wrinkles, scars and uneven texture) with a BBL laser, which is a device that fights sun damage (think red or brown pigmentation). "The downtime is about four to five days, so patients often have to plan this in advance," he says.
Green Genesis Treatment
This particular treatment is beloved by Bhanusali's patients who walk (and work) the red carpet. It's a non-invasive laser treatment that gently heats the skin to stimulate collagen production. "This is more about getting the 'glowy' skin that everyone asks about. As an added bonus, it helps improve acne and pigmentation." Bhanusali reccomends to-be-weds start this treatment six months out from the wedding and get one every two months.
Microgold Facial
If you're looking for a treatment that doesn't require a lot of downtime, consider the microgold facial. Dr. Papri Sarkar, a board-certified dermatologist, says recovery time is usually one to two days. "I take a sterile container and fill it with botox, hyaluronic acid, vitamins, and compounds that help brighten the skin and stamp it into the skin with gold-plated needles that are thinner than a hair."
In two days, patients typically notice their skin is glowing and feels hydrated. In one to two weeks, she says they will notice less redness, slightly less sweating, and a mild improvement in texture.
Microneedling
Sarkar says to be weds looking to even out skin texture might find success with microneedling. "Microneedling is when we cause controlled injuries to the skin with sterile needles to elicit the would healing response that builds collagen," says the derm. "It improves texture, makes pores look smaller, and—if done in a series—can help with various forms of scarring."
If you're worried about the needles, keep in mind that your dermatologist will apply a numbing cream beforehand. However, it should be noted that microneedling requires up to a week of downtime, so to-be-weds should avoid this treatment if the wedding is very soon—and factor in the events leading up to the wedding.
PRP for Hair Loss
Hair loss can happen for many reasons, but a major trigger is stress (read: planning a wedding). If you're sensitive about your thinning locks, Sarkar suggests looking into a PRP (platelet-rich plasma) treatment. "We draw the patient's own blood, extract the growth factor-rich plasma and then inject it into the scalp. The growth scores act like a fertilizer to promote hair growth," Sarkar says. There is one catch though: you must still have hair follicles for PRP to be effective. She recommends three treatments about one month apart and then one treatment every six months.
Clear and Brilliant Laser
Is your wedding coming up quickly? If you're eager to get glowing, clear skin, Clear and Brilliant might be your best option. Campbell says the laser treatment has minimal to no downtime. "The laser helps with fine lines, wrinkles, pores and discoloration." Typically, She adds that most patients require a series of two to four treatments spaced four to six weeks apart.
Vbeam for Redness
Dealing with redness or rosacea? If you want to minimize it before your wedding day, Campbell says that Vbeam is an effective treatment. It works by targeting and destroying the broken blood vessels, which cause redness, burning and stinging associated with rosacea. "It minimizes redness and evens out skin tone." Most patients need two to three treatments spaced four to six weeks apart. Be sure to give your skin some recovery time, as mild swelling, redness and dryness can occur post-treatment.
Lactic Acid Peel
Angela Caglia, celebrity aesthetician, tells The Knot that nearlyweds can prep their skin for the wedding through chemical peels as well. She suggests a lactic peel, as it resurfaces skin and brightens the complexion. Lactic acid is an alpha hydroxy acid (a chemical exfoliant) that gives patients smooth and balanced skin. It works by dissolving dead skin cells, revealing fresh glowing skin.
Oxygen Facial
Looking for an instant glow? Caglia recommends an oxygen infusion, as it's a super hydrating treatment that will make your skin glow. The process, beloved by Madonna, involves a machine that sprays moisturizer onto the skin via a stream of pressurized oxygen. It's believed to help the product sink into the skin more efficiently, delivering plump dewy skin immediately. The best part? There's absolutely no downtime.