The 5 Best Wedding Day Teeth Whiteners for a Dazzling Smile on Your Big Day
Need to brighten your pearly whites before the big day? Here are five great options.
We have included third party products to help you navigate and enjoy life's biggest moments. Purchases made through links on this page may earn us a commission.
Between posing for wedding photos and laughing it up with friends and family, your wedding day is bound to be one of the most smile-filled days of your life. And while it's easy to obsess over your wedding hair and makeup, a dazzling set of pearly whites is key to looking—and feeling—like the best version of yourself on your day. With so many options for teeth whitening, it can be hard to narrow your choices down, so ahead, we've pulled together an editor-approved list of whitening options to help you check one more thing off your prewedding checklist.
Before You Begin a Teeth-Whitening Treatment
Talk to your dentist prior to beginning any teeth-whitening regimen. Not only can an office visit help address what's causing tooth discoloration in the first place, but it's a good idea to start with a professional cleaning so you're working with a clean slate. If you have a better understanding of what you're working with, you'll be able to better manage your expectations.
Additionally, if you have any issues with your teeth, like cavities or sensitive teeth, you're more likely to experience some heightened sensitivity with at-home whiteners. A once-over on your oral health will also help you keep discomfort to a minimum.
How Do Teeth Whiteners Work?
While there are myriad teeth-whitening products on the market, most of them work in much the same way. Typically, the active ingredients in teeth whiteners are peroxides, specifically hydrogen peroxide and carbamide peroxide, both of which contain volatile oxygen molecules. The concentration of the whitening ingredient and the length of time teeth are exposed are what determine the degree of whitening—and the likelihood of sensitivity.
When the oxygen molecules in the peroxides come into contact with surface stains on your teeth, they react by breaking apart the chemical bonds that hold discoloration to your tooth enamel. Basically, this chemical reaction bleaches away the stains, leaving you with a gleaming white smile.
Different Teeth-Whitening Options
Once you get the all-clear from your dentist, the next step is to figure out which whitening procedure is best for you and your timeline. Here are a few options.
Professional Whitening
The quickest, most effective option, this treatment is administered by a dental professional. A whitening gel made with hydrogen peroxide is smeared onto your pearly whites. A halogen light is then used to activate the bleach, which penetrates teeth, lifting stains in the enamel pores of your teeth. The whole process takes just over an hour, and results last from six months to a year. More effective than at-home solutions, laser whitening removes surface stains on enamel, as well as deep stains, which occur as the dentin of the tooth naturally darkens over time. The treatment also allows for immediate results in comparison to traditional whitening systems, which require days or weeks to work. However, you should avoid dark liquids, mouthwashes and foods for at least 24 hours after treatment. If you're scheduling your whitening close to your wedding date, do it at least a few days before your "I do's" so you can feel free to eat and drink whatever you want.
Teeth-Whitening Trays and Whitening Gels
Teeth-whitening trays and whitening gels are quite effective, but unlike professional whitening procedures, they take more time to work. It could be anywhere from one to two weeks before you see results, so you'll need to plan accordingly.
Prefilled with a whitening gel, trays ensure you get the perfect dose every time. The downside for anyone with super-sensitive teeth is it's harder to minimize contact with gums. One of the most hands-on application methods, the gel is smeared directly on teeth by gliding it in a quick back-and-forth brushing motion, requiring a steady and dexterous hand, before placing the tray.
It's important to note that there are two types of teeth-whitening gels and trays: Those you can purchase over the counter and those purchased through your dentist. A whitening kit purchased through your dentist will work faster because it'll contain a stronger bleaching agent as well as custom trays that perfectly fit your teeth. Over-the-counter trays are universally sized and the whitening agent isn't as strong, so while they'll help you achieve whiter teeth, the process will take longer.
Whitening Strips
Teeth-whitening strips are the most popular home-whitening process. Just as it sounds, whitening strips are thin, disposable strips that are pre-coated with a whitening formula. You align the strips with your gumline, press the gel side on the fronts of the teeth and fold the excess underneath and behind to secure the strips in place. If used daily, it should take about 10 to 14 days to achieve your desired results.
Whitening Toothpaste
In addition to a whitening agent, whitening toothpaste contains peroxide as well as mild abrasives with polishing agents to scratch or scrape stains off while you brush. When used twice a day, whitening toothpaste can take from two to six weeks to make teeth appear whiter.
Whitening Mouthwash
Generally, whitening mouthwashes contains hydrogen peroxide, which does the heavy lifting for brightening your smile. However, whitening mouthwash may be better suited as an addition to your dental hygiene routine as opposed to a prewedding whitening treatment. Mouthwashes are better suited for keeping stains at bay between dental cleanings, as they typically don't deliver dramatic results in a short amount of time.
When Should You Start the Teeth-Whitening Process?
If an out-of-pocket whitening procedure in your dentist's office isn't in your budget, then you should plan for a home-whitening treatment in advance of your wedding day. Most at-home treatments will take longer than an in-office procedure to see results, so give yourself two to three weeks before your wedding date to perfect your wedding day smile.
5 Best Wedding Day Teeth Whiteners
There's no shortage of teeth-whitening options to choose from, but some work better—and faster—than others. Ahead, we take a closer look at five of the best wedding day teeth whiteners.
Crest 3D Whitestrips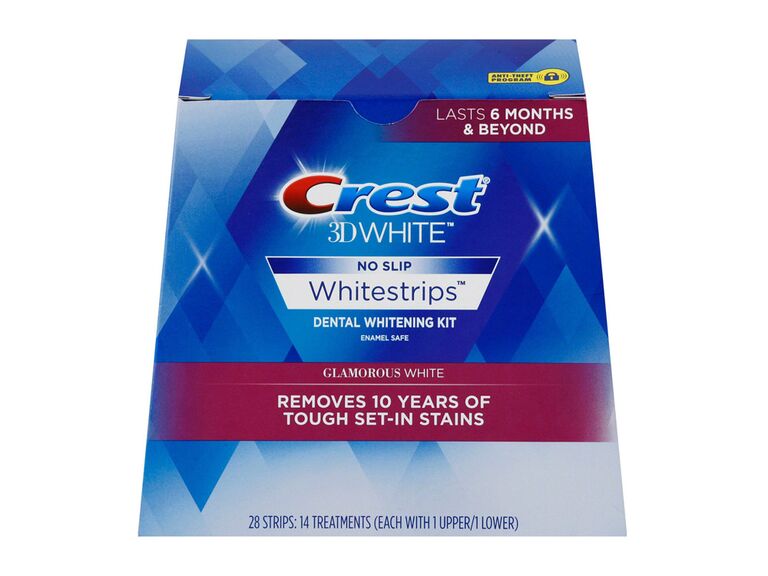 Crest Whitestrips are probably the most well-known teeth whitening system on the market, and for good reason—they work. Each strip molds to your teeth for a mess-free, comfortable and customized fit. According to the information on the box, Crest Whitestrips will dramatically whiten your teeth in about two weeks (when using the strips for 30 minutes a day). Plus, these strips also feature an enamel-safe formula that keeps sensitivity to a minimum.
Colgate Optic White Toothpaste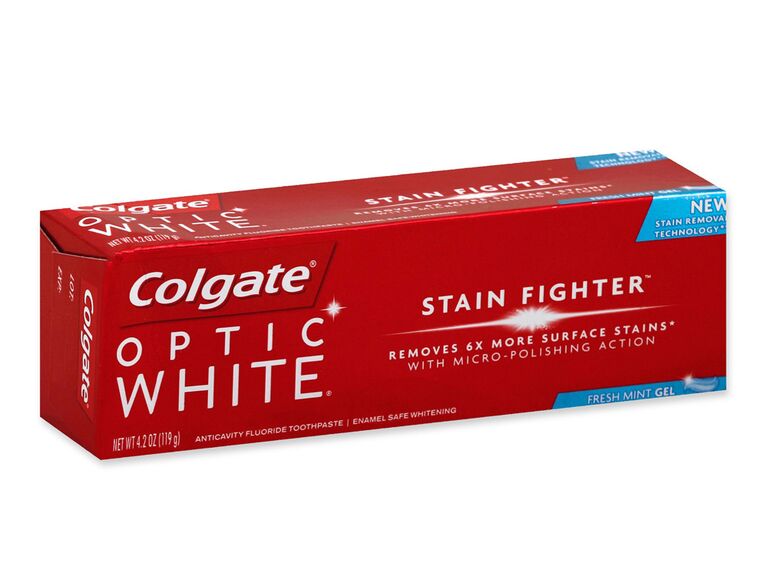 Formulated with 2% hydrogen peroxide, Colgate's Optic White toothpaste offers a whitening formula that's on par with professional whitening treatments. This whitening toothpaste claims to whiten up to four shades brighter, and it's safe to use on delicate tooth enamel. Colgate Optic White also contains fluoride, which keeps cavities away.
Go Smile Extreme White Teeth-Whitening Treatment Set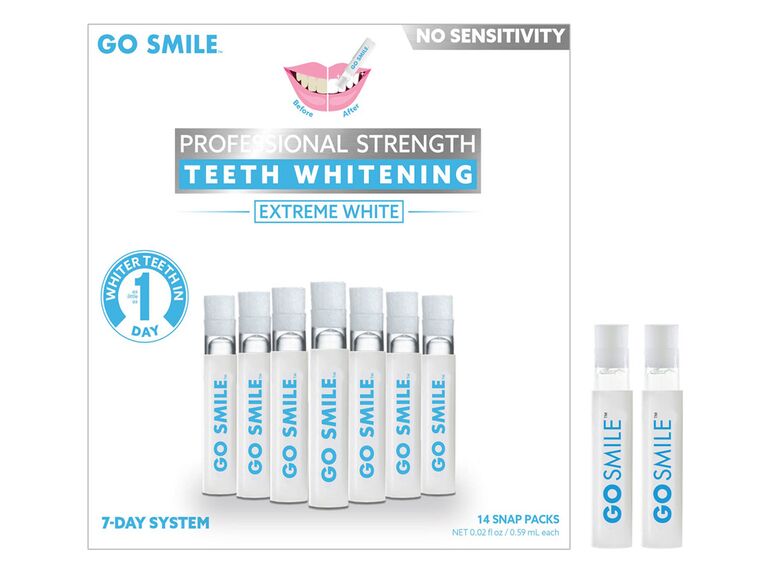 Go Smile's Extreme whitening treatment set promises a brighter smile in 14 days. This set includes 14 single-use applicators containing a gentle yet effective whitening serum in airtight containers that protect its potency. The Go Smile system works best for light-to-moderately stained teeth, and it can help improve the appearance of more prominent stains.
Spotlight Oral Care Whitening Essentials Bundle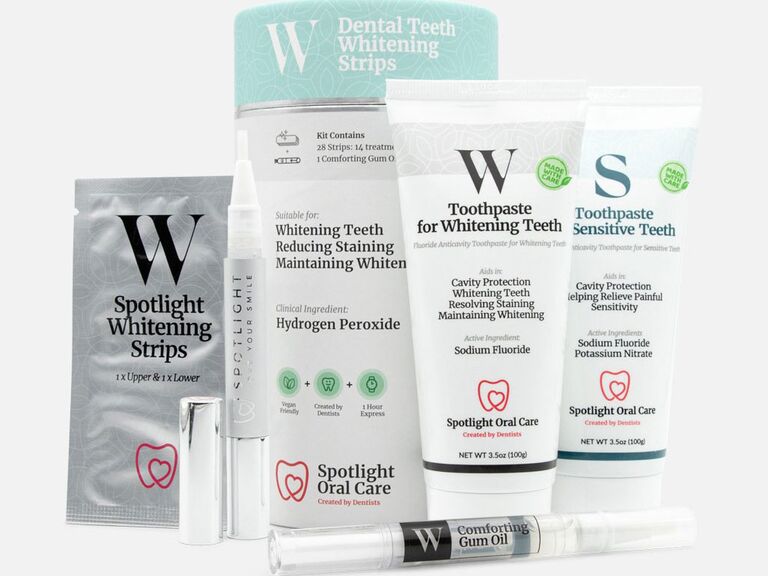 Spotlight Oral Care is a dentist-founded brand with a range of products that can help with bad breath, sensitivity, gum health and—you guessed it—teeth whitening. The Whitening Essentials bundle includes everything you need to achieve a brighter smile both in the short term and the long term. The whitening strips work their magic over a course of 14 days, while the whitening toothpaste should help to maintain resusts for longer. The bundle also includes a teeth-whitening pen for on-the-go use, as well as comforting gum oil and sensitive-teeth toothpaste to reduce sensitivity.
Crest® 3D White® 5.5 oz. Whitening Toothpaste in Radiant Mint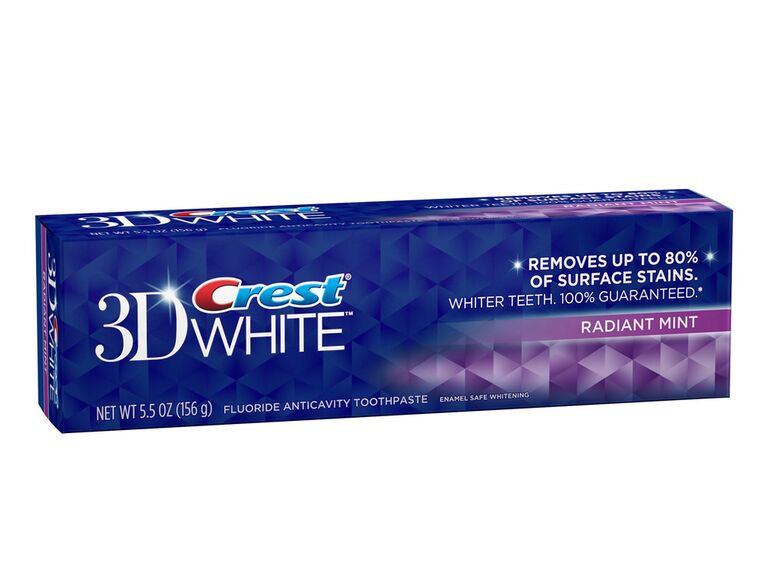 Packed with micro-cleansing whiteners, Crest's 3D White Whitening Toothpaste gently polishes away surface stains on your teeth using an enamel-safe formula. Bonus: This formula also has a gentle foaming action that gets into hard-to-reach places.