The Best False Eyelashes to Keep Your Wedding Lashes Long and Voluminous
The lashes are lashing.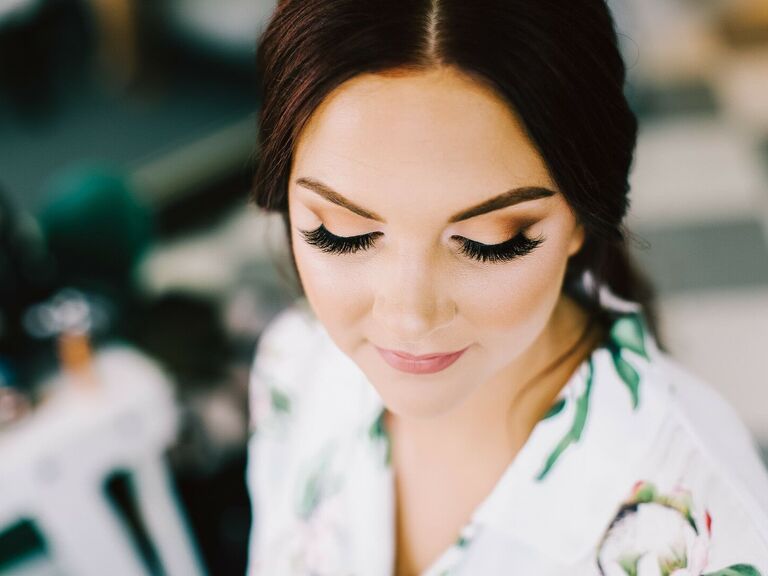 Photo: Peaberry Photography
We have included third party products to help you navigate and enjoy life's biggest moments. Purchases made through links on this page may earn us a commission.
Fact: The best false eyelashes for weddings are also the best for every day. Seriously, whether they're a great pair of strip lashes or professional extensions, they can instantly transform your makeup. From a wispy natural half lash to dramatic lashes for a glamorous eye look, there are plenty of falsie styles to choose from, whether you're in the bridal party, a wedding guest or just someone looking for a great pair of lash strips. Did I mention that they are super easy to apply and don't require any long-term maintenance? To learn more about how false eyelashes can transform your makeup look, I tapped veteran makeup artist Aarin Peguese, of Artistry by Aarin in Los Angeles, California, who has spent over a decade working with brides, fashion brands, and celebrity clientele. It's safe to say she knows her falsies!
In this article:
What We Look for in the Best False Lashes for Weddings
Before you start shopping, take some time to look in the mirror at your eye shape, as it can be key to finding your perfect falsies. "When choosing the best false lashes for your special day, it's best to understand the look you're trying to achieve and what best suits your eye shape. Aarin says. "Depending on your eyelid and eye shape, you want lashes that fit your eye and don't weigh down your eye." Aarin recommends a light-weight lash band on the day of to keep your eye lifted and comfortable. "If you're going for a softer look, individual clusters work amazing," she says.
14 Best False Eyelashes for 2023
Whether you prefer a strip lash or false lashes that look like extensions, these are the best fake eyelashes that get this beauty editor's stamp of approval.
1. Editor's Top Pick: Lilly Lashes Everyday Faux Mink Lashes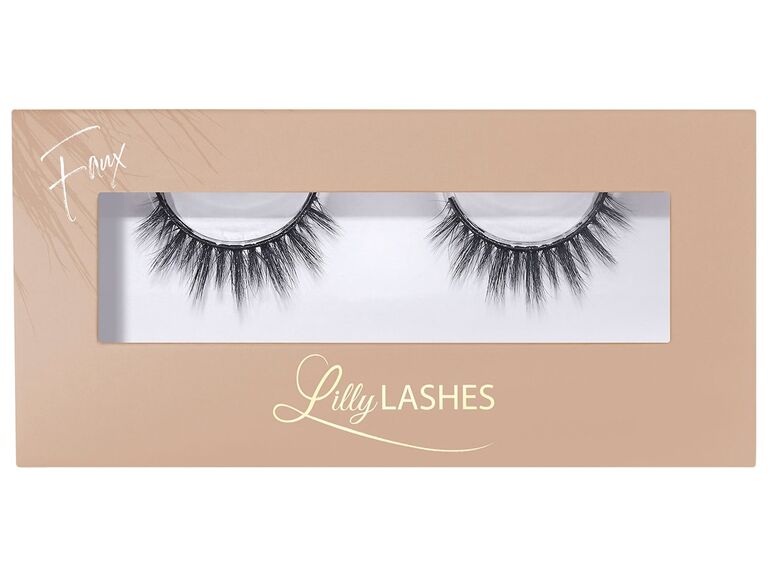 If you haven't heard of Lily Lashes, then let me be the first to introduce you. Available in four gorg styles, the Everyday Faux Mink Lashes give the perfect amount of soft glam, so whether you're a wedding guest or the bride, they'll give you plenty to flutter about. Bonus: These bridal lashes are actually designed with eyeglass wearers in mind, too!
Adhesive: Glue | Call Outs: Vegan, Gluten-free, Cruelty-free, Recyclable Packaging
2. Best Magnetic Eyelashes: Glamnetic Lucky Magnetic Lashes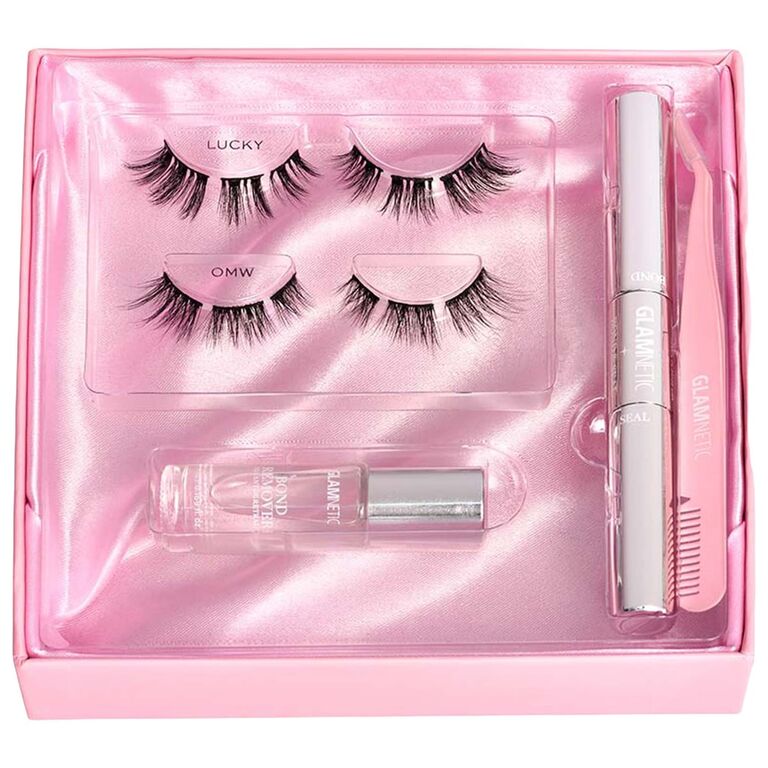 Move over, traditional strip lashes, because there's a new falsie taking over the lash aisle, and they're magnetic. Glamnetic is known for having some of the best magnetic eyelashes on the market, and I can confirm. Their lashes are easily applied with the bonding Soo Future! Magnetic Liner Pen, which makes it a dream for those who want to avoid the messy glue application for their wedding lashes.
Adhesive: Magnetic Liner | Call Outs: Vegan, Gluten-free, Cruelty-free
3. Best Strip Lashes: Colourpop Falsies Faux Lashes in Minx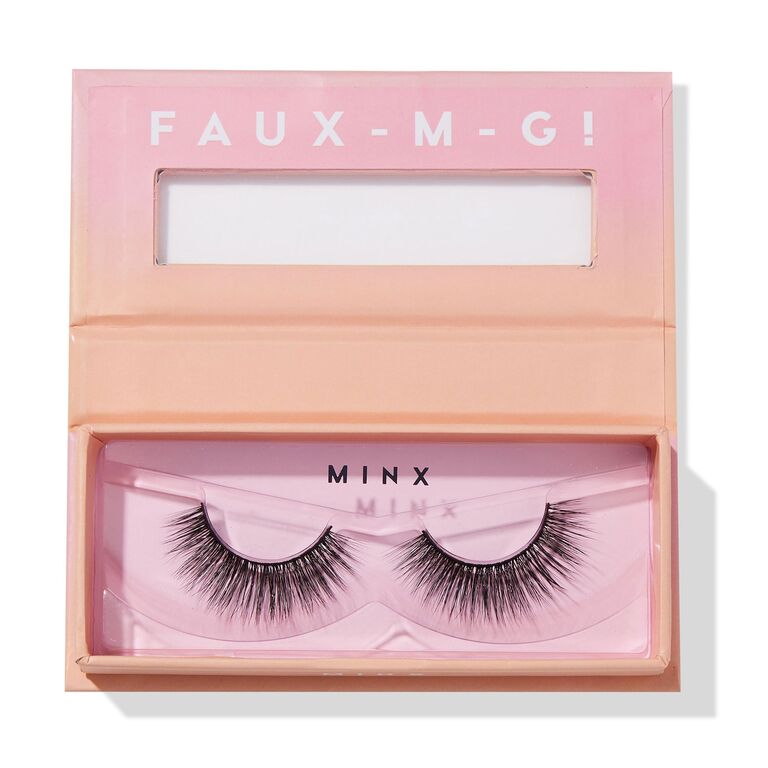 When it comes to affordable makeup that performs like high-end, Colourpop is where it's at, and their strip lashes are no exception. The Minx strip lash is here to give your eyelashes the perfect length, volume and cat-eye shape, while the criss-cross pattern amps up the volume. If you're looking for something more (or less) dramatic, they have a whole range of wedding-worthy falsies.
Adhesive: Glue | Call Outs: Vegan, Cruelty-free, Recyclable Packaging
4. Best Half Eyelashes: Lilly Lashes 3D Faux Mink Butterfl'eye Half Eyelashes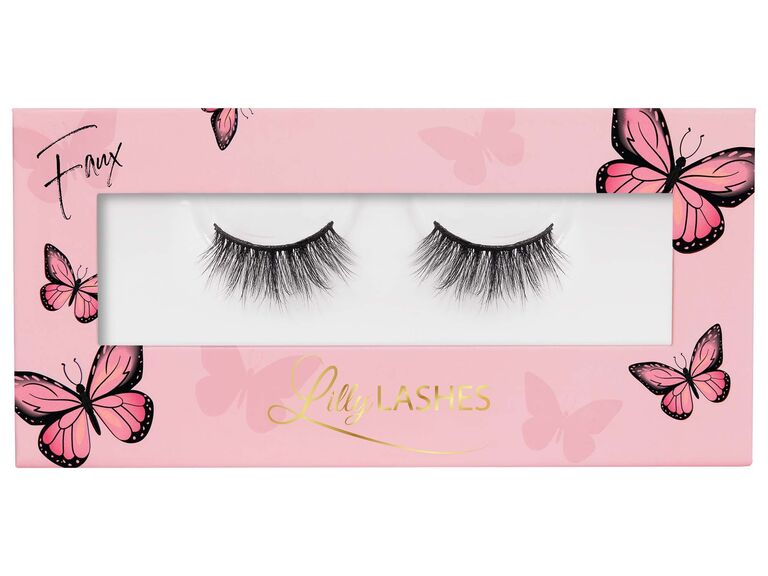 Your heart won't be the only thing fluttering on the big day. These wispy half eyelashes from Lily Lashes will easily accent your already beautiful lashes. Bonus: They are reusable up to 25 times and require no trimming or measuring for easy application.
Adhesive: Glue | Call Outs: Vegan, Cruelty-free
5. Best False Eyelashes for Beginners: Eylure Promagnetic 10 Magnet Natural No. 11 False Eyelashes with Felt Tip Eyeliner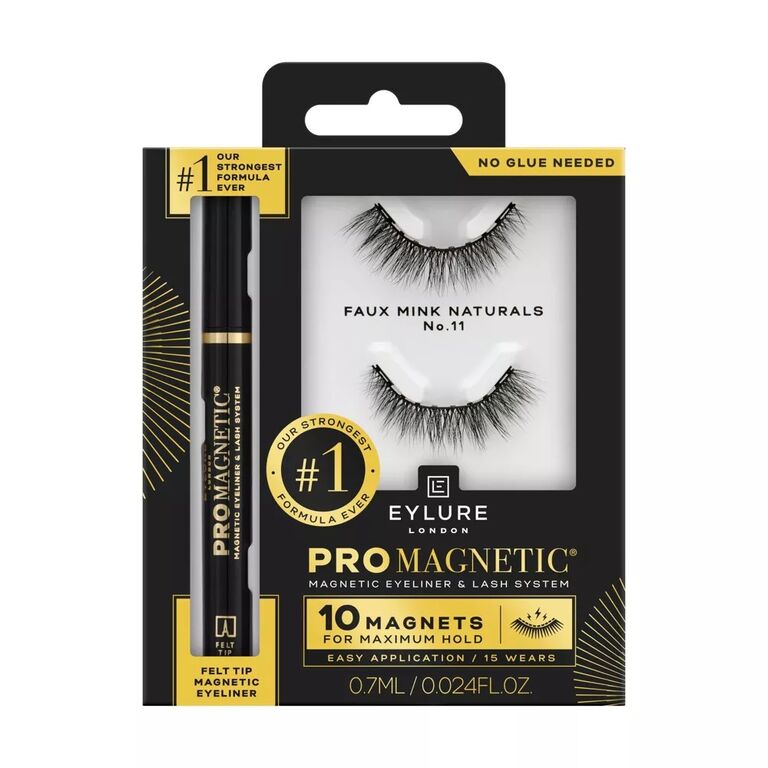 For those who've never laid a falsie on their lashes before, a magnetic lash kit is the way to go. The magnetic lashes easily adhere to your natural lashes without any difficulties or need for glue, making them perfect for brides, bridal parties or anyone who needs their lashes to last from ceremony to after party. Simply apply your magnetic lash to the liner, and you're ready to slay.
Adhesive: Magnetic Liner | Call Outs: Vegan, Cruelty-free
6. Best Drugstore False Lashes: Kiss My Lash But Better False Eyelashes in 'No Filters'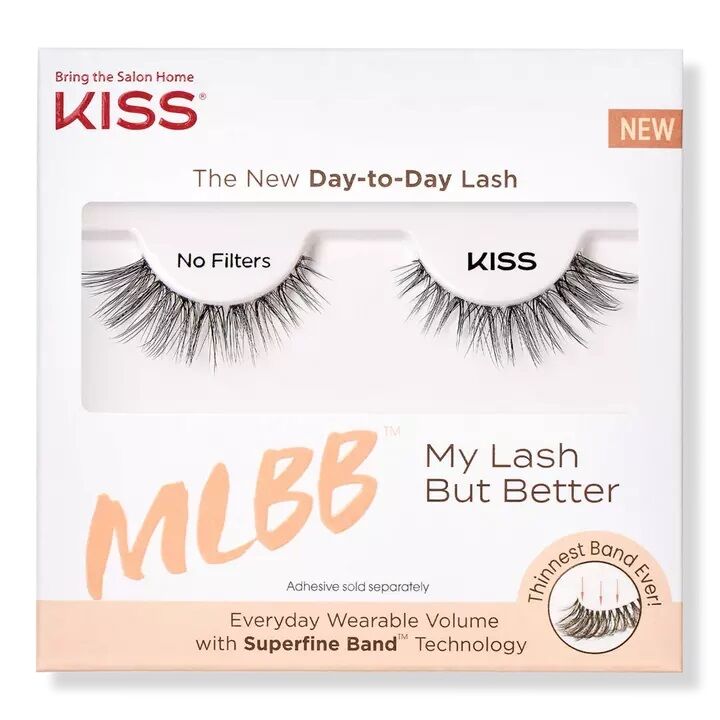 Want the best flash lashes without breaking the bank? Look no further than Kiss My Lash but Better False Eyelashes. Coming in at only $5 a pop, these fab lashes have Superfine Band Technology for the thinnest band ever, so you won't see or feel the band weighted on your lashes, because who has time for that? Plus, the affordable cost makes them perfect for beginners who want to experiment with lash strips.
Adhesive: Glue | Call Outs: Vegan, Cruelty-free
7. Most Natural False Eyelashes: Glamnetic Virgo Magnetic Lashes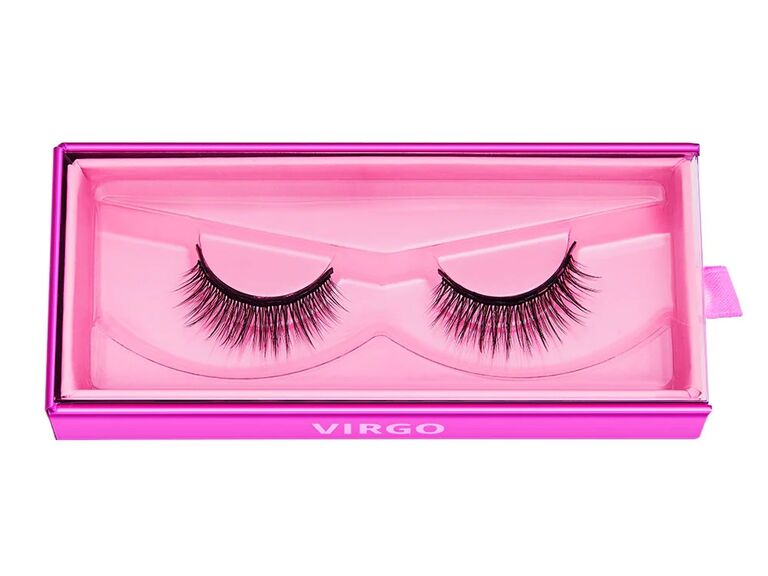 Get the perfect natural lash with the best-selling Glamnetic Virgo Magnetic Lashes. The strips fit all eye shapes and apply smoothly for a natural finish. Not to mention these will last you a whopping 60 wears and are waterproof, smudge-proof and sweat-resistant to get you through nearly any occasion.
Adhesive: Magnetic Liner | Call Outs: Cruelty-free, Gluten-Free
8. Best Dramatic Lashes: Anastasia Beverly Hills Norvina False Lashes in Gorgina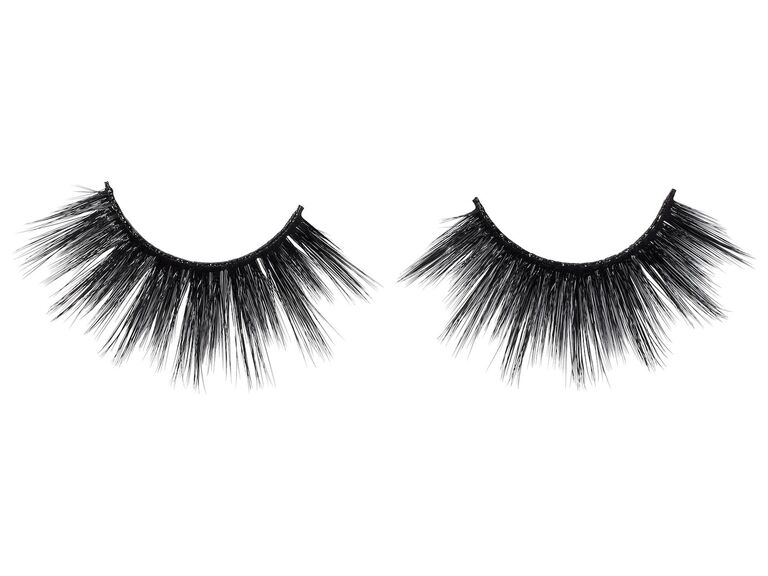 Anastasia Beverly Hills might be known for their brow products, but don't sleep on their strip lashes. With their dense volume and maximum thickness, the Gorgina lashes will have you ready for a wedding, a bachelorette party or any night out that requires XL glam. Psst: Even though they are dramatic, they are still uber-comfortable to wear.
Adhesive: Glue | Call Outs: Vegan, Cruelty-free, Recyclable Packaging
9. Best Wispy Eyelashes: Ardell Lash Demi Wispies 5 Pair Multipack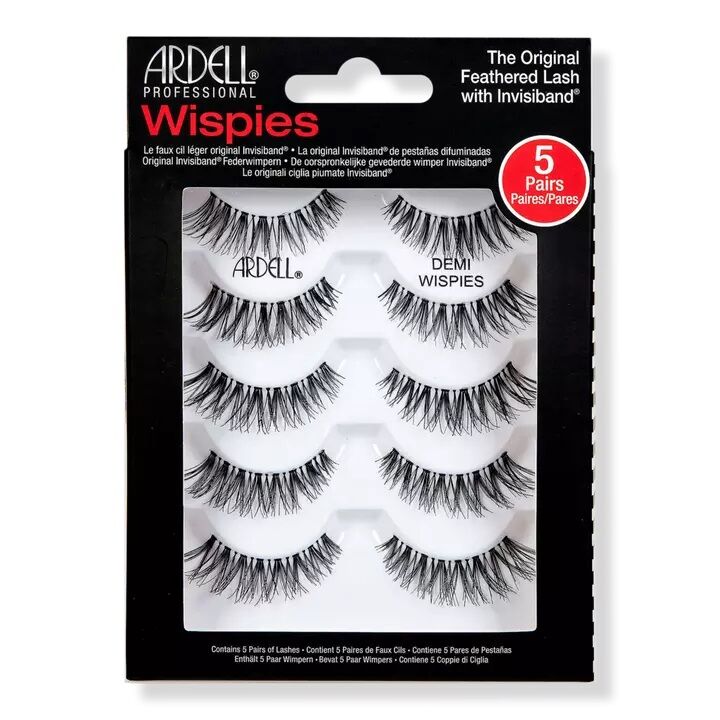 The Demi Wispies from Ardell is a cult favorite for a reason. Its feathery style gives you a step-above-natural look that's both flirty and fluttery, whether you're looking for wedding lashes or everyday wear. And the reviews speak for themselves, with one even saying, "Every woman that I put them on loves them, especially when they shy away from lashes because they want a natural look."
Adhesive: Glue | Call Outs: Cruelty-free
10. Best Short False Eyelashes: SEPHORA COLLECTION Vegan False Eyelashes in 'Irresistible'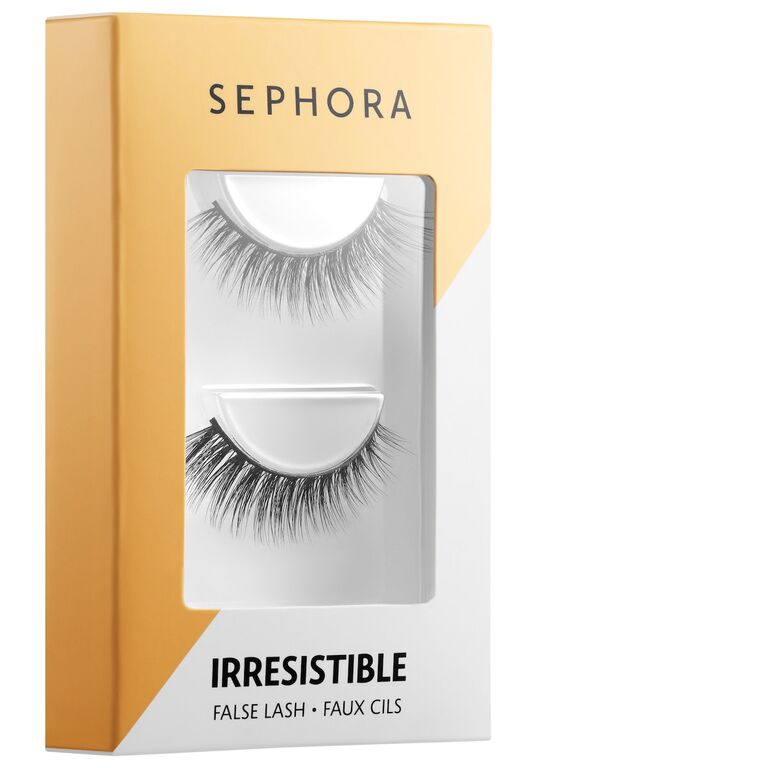 Give your lashes something short and sweet with this flirty set from Sephora. The collection features over 11 styles, but the 'Irresistible' lashes are perfect for those looking for short, natural volume. And they lengthen at the outer corners for a sultry mini cat eye look.
Adhesive: Glue | Call Outs: Vegan
11. Best Lashes for Hooded Eyes: Huda Beauty Classic False Lashes in Giselle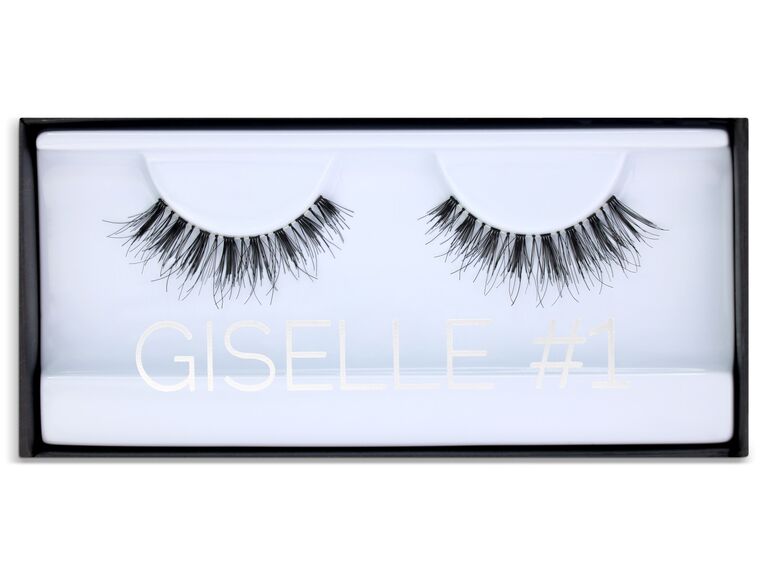 As someone with slightly hooded eyes, I know it can be difficult to find the perfect strip lash. Luckily, Huda Beauty comes in clutch. The Giselle lashes have a thin band, so they won't take up much lid space, while the lashes themselves are natural yet fluffy. Tip: Cut the lash and apply it to the middle of the lash line to help give the illusion of a more open eye.
Adhesive: Glue | Call Outs: Cruelty-Free
12. Best Lashes for Almond Eyes: House of Lashes Demure Lite Natural False Lashes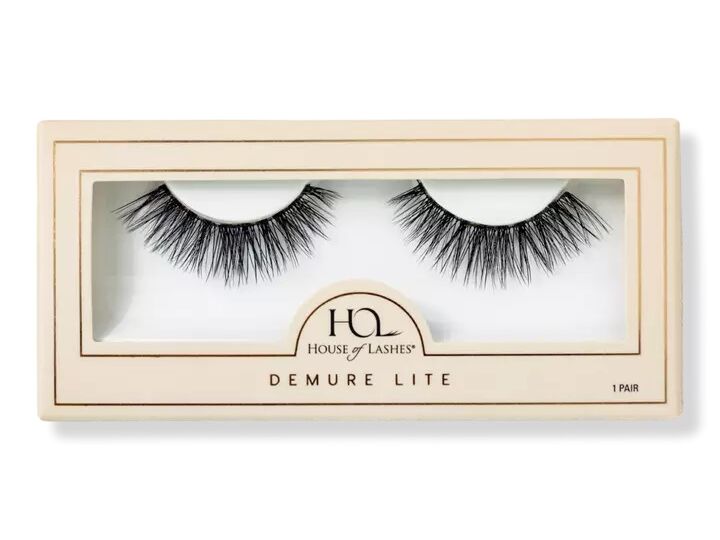 If you're eyeing (pun intended) a pair of bridal lashes for your wedding events, look no further than this set from House of Lashes. The style is flared out on the ends, so it will easily accentuate almond eyes (although this set will look good on just about any eye shape). Not to mention, the criss-cross pattern and thin band blend into the lashes so seamlessly that no one will be able to tell you're even wearing them.
Adhesive: Glue | Call Outs: Vegan, Cruelty-Free
13. Best False Eyelashes for Mature Eyes: Eylure Naturals No.031 False Eyelashes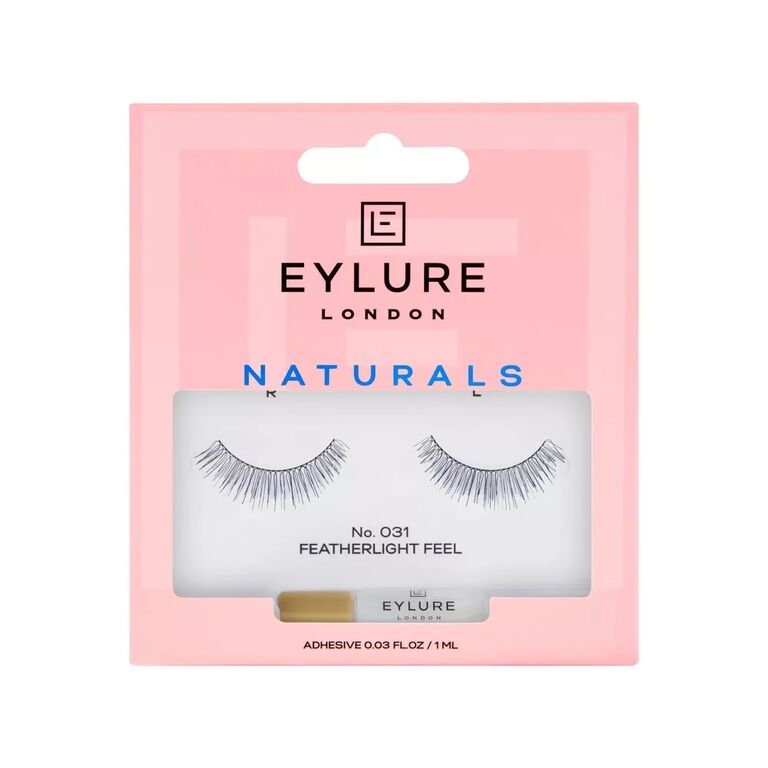 Whoever said mature eyes can't wear lash extensions is downright wrong. Lash extensions are for everyone. Period. It is recommended to use lightweight lash extensions for mature eyes, as the natural lashes and the skin on the lids tend to weaken with age, and these Eylure natural lashes are a must for the perfect lift. They can be found at nearly any drugstore, can be reused up to five times, and only cost $5.
Adhesive: Glue | Call Outs: Cruelty-Free, Vegan, Latex Free
14. Best Lashes That Look Like Extensions: Velour Lashes Velour-Xtensions False Lashes Kit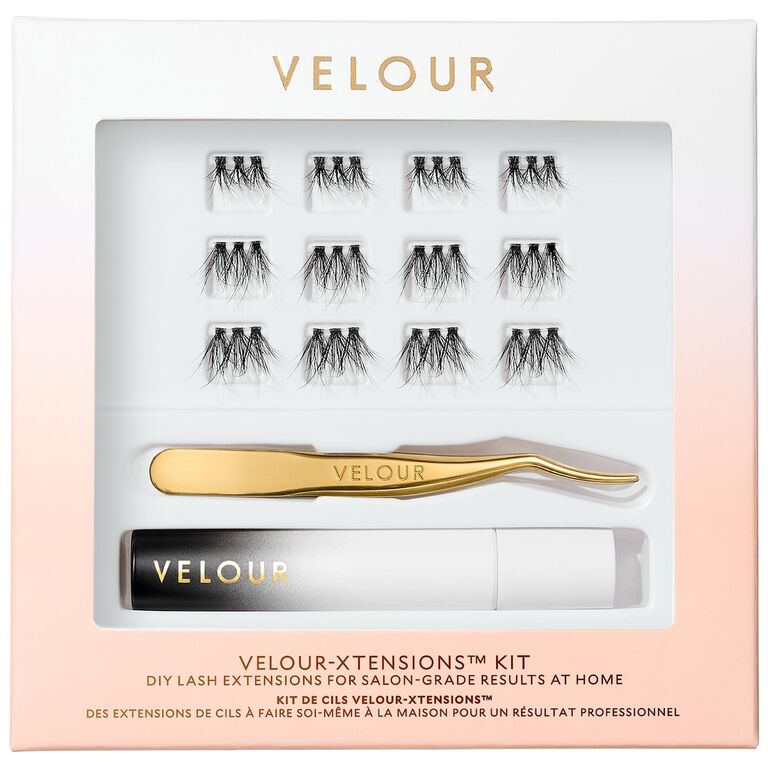 Get the perfect "I can't believe they aren't professional extensions" lash with the Velour extensions kit. It comes with everything you need to get beautiful wedding lashes in minutes: 12 lash clusters, a mini Multi-Day Lash Bond, and a mini Too Real Lash Extension Tool. The result: a gorgeous eye look that will never go out of style.
Adhesive: Glue | Call Outs: Cruelty-Free, Vegan, Gluten-Free, Recyclable Packaging
Types of False Eyelashes & How They Compare
POV: You walk up to the false lash display at your local makeup store. What do you pick? Magnetic? Strip lashes? Or how about a half lash? If you're feeling overwhelmed with options, that's totally normal. To make finding your wedding lashes even easier, let's break down the different styles you might find on the shelves:
Strip Lashes
Strip lashes are false eyelashes placed on one strip that covers the entire lash line. They are perfect for nearly everyone, from beginners to someone looking for easy-to-apply bridal lashes. Like all false lashes, there is a learning curve, but once you master the art, you will be camera-ready in seconds.
Magnetic Lashes
Magnetic lashes are lash strips with tiny magnets attached to the ends that are bound to your lashes with a special magnetic eyeliner. They are the latest innovation in lash strips and make applying your falsies a little less sticky. However, where they lack in sticky application, they make up for in price, with magnetic lashes starting around $15-$20 a pair.
Half Lashes
Half lashes are strip lashes that are only meant to be applied to the outer half of the eye. They are perfect for those who want to add a bit of fluffiness and volume to the outer edge without taking away from the natural lashes.
Best False Eyelash Glue & Lash Glue Tips
Working with lash glue can sometimes get you into sticky situations (I speak from experience). So here are a few tips so you can avoid some of the same mistakes I made so that your lashes apply nicely and last all day:
Let the lash glue dry before applying. "It's best to let the lash glue dry a little bit before applying. Not for too long, or it won't stick to the eyelid," says Aarin. "Try letting it dry until tacky and waiting about 10 seconds before applying. I typically use my mini fan to dry the lash before application."
Patience is Key. While the application is quick and easy. You still need to be patient and trust the process. If you plan on applying the lashes on your own, run through a few practice rounds first to get comfortable with using the glue and adhering it to your lash line.
How Long Do False Eyelashes Last?
False lashes last a full 24 hours," Aarin tells us. "If you would like to save your lashes for another day, you can always remove them from your eyelids, clean the lash glue completely off the lash band and re-use it for another occasion. Typically, if it's a good lash brand, you can get multiple uses out of your lashes. It's always best to remove your false lashes at the end of the day."
How Much Do False Eyelashes Cost? Are Expensive Pairs Better?
False eyelashes can range from an average of $5-$75. Budget-friendly lashes are typically glue strips, while high-end faux mink lashes and kits take up the high end, but are expensive pairs better? Not necessarily.
Best Way to Remove False Eyelashes
Removing your false eyelashes is easier than you think, thank goodness. "Gently remove your lash band from your eyelid and use micellar water to remove any excess glue from the lash line," Aarin recommends. "Then, use a q-tip with makeup remover or a cleansing balm, which should do the trick; my favorite cleansing balm at the moment is the Elemis Pro-Collagen Cleansing Balm."