Enjoy Stunning Beaches and Unique Culture on a Philippines Honeymoon
Let's just say this is one of the best honeymoon destinations in Southeast Asia.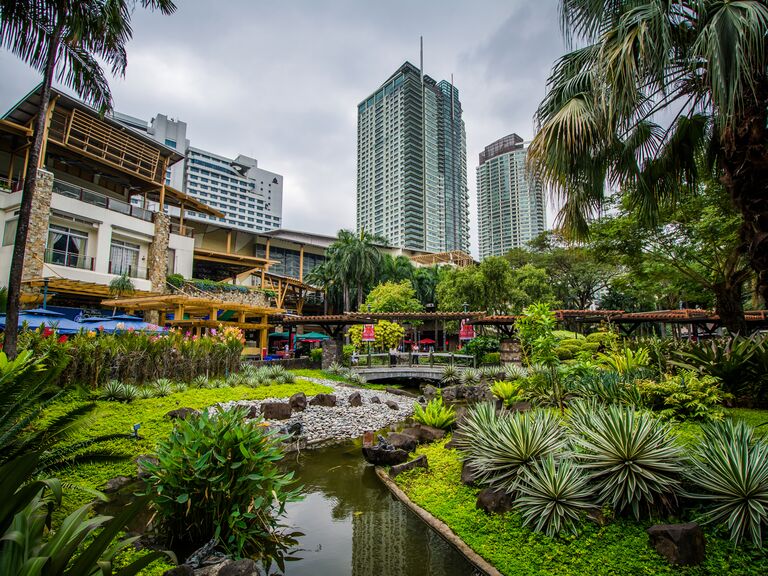 With its thousands of islands, the Philippines is a beach lover's paradise. But beyond the beaches, a Philippines honeymoon offers breathtaking scenery (both beneath and above the water), a fantastic food culture, a bevy of luxury resorts and plenty of opportunities for both relaxation and adventure—easily making it one of the top tropical destinations in Southeast Asia to consider for your honeymoon.
To truly make the most of your Philippines honeymoon, you'll want to do a little planning ahead. This is not a destination where you can just show up and experience all the country has to offer without ever stepping foot from your resort. You're going to want to explore, and to help get you started, we have a few tips.
Are the Philippines Good for a Honeymoon?
Pros of a Philippines Honeymoon
The Philippines boasts a ginormous number of beaches (in fact, the country ranks fifth for most coastline in the world). Romance comes in spades, thanks to the multitude of beautiful places to kick back and relax with your sweetheart. Luxury resorts with honeymoon packages are abundant, but so are more affordable accommodations where you can have a similar experience without the hefty price tag. Plus, there's a nice blend of adventurous activities and relaxing endeavors for the perfect mix of postwedding excitement and leisure.
Cons of a Philippines Honeymoon
The primary downside to a Philippines honeymoon is how long it takes to get there. Unless you're planning to spend more than a week on your honeymoon, you may find the travel time cuts too much into your vacation time. While direct flights to the Philippines are available from Los Angeles International Airport, you'll spend more than 15 hours in the air. If you're traveling from the East Coast, expect to spend at least 20 hours in the air, with at least one layover.
The Best Times of Year to Go on a Philippines Honeymoon for Good Weather
To avoid rain and extreme heat, plan your Philippines honeymoon for the dry season, which is November through February. Earlier in the dry season is better if you want to avoid tourist crowds. Temperatures during these months are usually in the 80s. While you may think you don't mind a little rain and the wet season won't deter you, it's worth thinking twice about that—the wet season brings temperatures in the low 90s, plus typhoons and the inability to access more remote areas of the country.
Places to Visit in the Philippines for a Honeymoon
Don't worry—you won't need to sort through thousands of islands to find the perfect fit for your Philippines honeymoon. There are a few top spots you can consider for your home base, and then you can explore the other islands from there.
Boracay Island is a popular vacation spot, with its lively beaches, plenteous water sports and near-endless activities. It's a great fit for couples who want to keep a full itinerary. Cebu combines gorgeous nature settings with bumping nightlife and a fantastic food scene. You'll get a little bit of it all on this beautiful island.
You'll likely fly into Manila, so why not stick around for a few days? This vibrant urban destination might not be big on nature, but it is big on culture, history and delicious eats.
If you'd rather avoid the crowds and stay somewhere remote and away from it all, you might want to try Siargao Island, which is covered in palm trees, surrounded by sea-green waters, and lined with white-sand beaches. Coron is another popular remote option, with its rustic style and endless tranquility.
Things to Do During a Philippines Honeymoon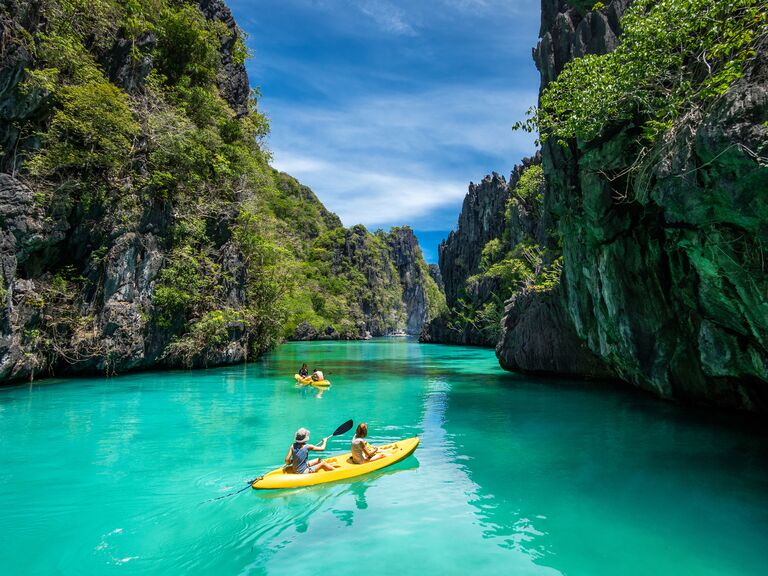 Explore All That Water
You'll likely end up island-hopping a fair amount if you spend your entire honeymoon in the Philippines. Instead of just paddle-boarding or kayaking above the surface of the water, head beneath the blue waters' waves to see what's waiting.
Coron offers excellent scuba diving opportunities, including wreck dives from World War II. Kayangan Lake is a beloved natural wonder where you can swim and snorkel in waters renowned for their clarity. If you want to get up close and personal with the local marine life, try swimming alongside the whale sharks in Tubbataha, or next to the tropical fish, coral reefs and Thresher sharks on Malapascua Island.
Strap on Your Hiking Boots
After you and your loved one have gotten your fill of the water and waves, grab your hiking boots and see what awaits in the Philippines' interior. Hike through historic rice terraces in Banaue or visit the Chocolate Hills, which feature a thousand geometric hills covered in brown shrub grass.
Sagada Mountain Province is another popular hiking spot (partially due to the historic hanging coffins that dangle from the cliffside, some of which are centuries old), as is the national park surrounding Mayon Volcano on the island of Luzon. If you want to challenge yourself, you can always climb Mount Apo, the country's tallest mountain.
Visit Famous Historical Sites
If you'd rather marvel at historic Filipino architecture than lush mountain landscapes, you'll still find lots to explore throughout the Philippines, especially in Manila. Historic Fort Santiago in Manila is an example of Spanish colonial architecture and a popular spot for tourists. The Santo Niño Basilica in Cebu was also founded by the Spanish in 1565, and it's the oldest Roman Catholic church in the Philippines. For World War II buffs, Corregidor Island is a must-visit, with its tunnel system, bunkers, barracks and more.
Best Hotels and Resorts in the Philippines for a Honeymoon
For beach lovers, there's nowhere else to stay other than the Shangri-La Boracay Resort and Spa. This luxury beach resort offers a location right on the water, with access to two private white-sand beaches. You have everything you could want on-property, from water sports and spa treatments to multiple dining options. Book a villa for beautiful views and extra amenities.
For an extra-exclusive, world-class experience during your romantic getaway, consider Amanpulo, a luxury resort that sits on its own private island. You'll enjoy your own personal cottage, access to the private beachfront, dining options and a spa, plus activities at the resort's private dive center. The island is only accessible via private plane. A stay is definitely on the pricier side, but if you can swing it, you certainly won't regret it.
Stay in a luxurious villa at this boutique island resort on Siargao Island. Situated on the beach and surrounded by palm trees, the property is everything you could ever want in a romantic honeymoon hideaway. For the most exclusive experience, book the Perlah Villa, which has a spacious terrace, private pool, treehouse and private beach for your use only.
What to Pack for a Philippines Honeymoon
In addition to your honeymoon basics, pack comfortable clothing for hiking and exploring, including lightweight, sweat-wicking clothing that can withstand the islands' heat. Bring all your beach gear, too, and consider water shoes if you plan on hiking to any lagoons, waterfalls or caves. Insect repellent isn't a bad idea either.