What Is the Respect for Marriage Act and Why Should Couples Care?
Learn more about the proposed bill here.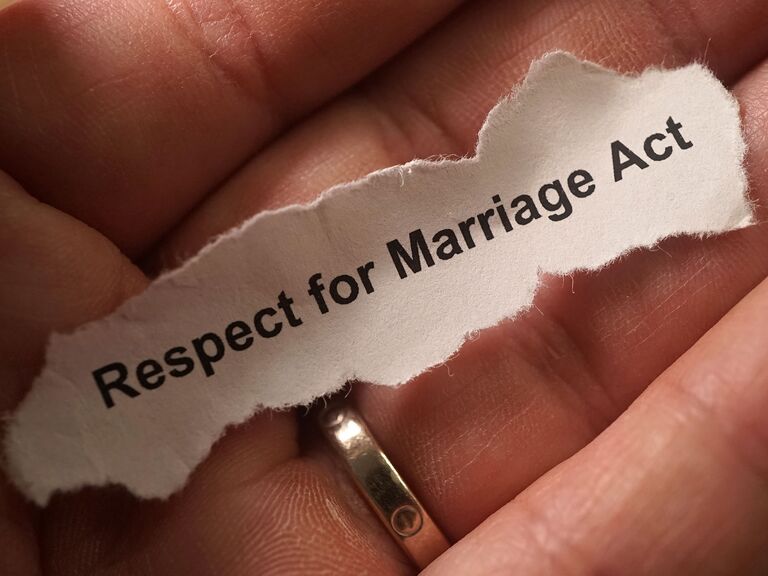 Getty Images
Politicians aren't the only ones to eagerly anticipate the passage of the Respect for Marriage Act (RFMA), a long overdue, yet groundbreaking bill that would protect same-sex and interracial marriage on a federal level. Couples and members of the wedding industry are also following the proposed bill, which has since been delayed by a bipartisan coalition of US Senators. The vote for the bill has now been postponed until after the midterm elections on November 8, 2022.
Needless to say, it's surprising to many that DOMA, also known as the Defense of Marriage Act, still reigns supreme. Passed in 1996, DOMA imposes a federal ban on same-sex marriages and denies federal benefits to same-sex couples who were married under state law, explains Alan Feigenbaum, a matrimonial and family law attorney at Blank Rome LLP in New York City. "DOMA allowed states to refuse to recognize marriages of same-sex couples granted in another state," he says. DOMA also defines marriage as one between a man and a woman, another concept that feels outdated in a world of inclusivity and in one that celebrates all love. Read below why all couples should care about the proposed bill.
In This Article:
What is the Respect for Marriage Act?
The Respect for Marriage Act was passed by the House of Representatives in July 2022 and is now awaiting review and action by the Senate. If passed, it would officially repeal DOMA, therefore establishing protections at both a federal and state level for all marriages.
This means that neither the federal government nor any state government could discriminate based on gender, sexual orientation, race, ethnicity, or national original when it comes to individuals trying to marry—and those marriages would be legally recognized and protected, explains Leah Weinberg, an attorney with Kunbi Odubogun and owner of Color Pop Events in Long Island City, New York.
Although the RFMA was first introduced back in 2009, it's garnered momentum as a result of the Supreme Court's June 2022 ruling in Dobbs v. Jackson Women's Health Organization that overturned Roe v. Wade. "RFMA is meant to address the language in Justice Clarence Thomas' concurring opinion in the case, which suggested that the Court overturn multiple previous rulings, one of which acknowledged the constitutional right for members of the LGBTQIA+ community to marry and have those marriages legally recognized at the state level," she says.
Why RFMA Matters—for All Couples
If you're currently married, especially if you're in a same-sex relationship, you might be wondering how the RFMA can or will affect you—and perhaps why you should advocate for such a bill. Here, legal experts break down what RFMA actually means to couples today—and why every single one of us should care.
Marriage equality impacts everyone.
Whether directly or indirectly, we are all impacted by the laws that regulate marriage in this country. "When inequality exists in our laws, the effects of that inequality trickle down into our communities," explains Nicole Sodoma, a family law attorney and founder, Sodoma Law, and author of Please Don't Say You're Sorry. "I can almost guarantee that everyone knows someone who is part of the LGBTQ+ community—whether they realize it or not."
The majority of Americans are in support of marriage equality.
It's ideal that the laws of the land reflect the overarching sentiment of the citizens who live within it—and this is not currently the case with DOMA still in place. Per Pew Research Center data (based on 2019 polling), a large percentage of the population believes in same-sex marriage. In fact, even more recent Gallup polls from 2021 show that as many as 70% of Americans support same-sex marriage, up from 27% back in 1996 when DOMA was passed.
It would protect human rights.
At its very core, the RFMA is protecting fundamental human rights, Weinberg points out. "It's a fundamental right for people to be able to love whoever they want and marry whoever they want, and the RFMA thinks those rights are so critical that they need to be codified at the federal level," she says. "Being in support of this bill shows that you care about your fellow humans and have general empathy, kindness, and understanding for other people in this country—and for heterosexual couples, it makes it clear that you want everyone to be able to enjoy the rights you currently have."
It could have economic implications.
Tax attorney, Joshua Hamlet, Esq., points out that RFMA is more than just a social issue. In fact, he warns that, if the bill is not passed, it will have adverse consequences that our current governmental and economic systems will have to address. "As a tax attorney, I often work with clients who are in same-sex and interracial marriages, and can therefore take advantage of the federal benefits offered to married couples such as joint filing and the marital deduction," he says. "If this bill is not passed and Obergefell v. Hodges is overturned, these couples would no longer qualify, which could have a domino effect on the entire tax system."
Attacking one group's human rights only leads to more attacks.
So many of us were shocked when the Supreme Court overturned Roe v. Wade, but it's proof that even long-standing rights can be taken away. As such, Weinberg points out the very important notion that, once the rights of certain people come under attack, it's only a matter of time before other rights come under attack.
"The recent 2022 decision in Dobbs v. Jackson Women's Health Organization is the perfect example of that, seeing as the case directly addressed the rights of people with uteruses to obtain abortions, but the fallout from that ruling has now brought people's rights surrounding marriage, contraception, and intimate relationships into question," she says. "That impacts a much larger number of people than Dobbs' decision itself, so we should all be fighting for passage of the RFMA in order to take a clear step in the opposite direction."
It would force a conversation about marriage on a fundamental level.
The title of this bill alone pleads the point that marriage is something that should be respected. For this reason, Feigenbaum hopes that this bill brings about a deeper discussion on marriage, specifically what it really means to "tie the knot."
"With divorce rates sky high, it's important to focus on the fundamentals that make a marriage work—not the old-school and traditional aspects such as women taking the last name of the men they marry," he says. "Perhaps Representative Nancy Mace said it best on Twitter: 'If gay couples want to be as happily or miserably married as straight couples, more power to them. Trust me, I've tried it more than once.'"
The delay may help the bill pass.
The delay in the bill being considered in the Senate until after the midterms might actually increase the odds that it passes, notes Nicholas Creel, Assistant Professor of Business Law at Georgia College and State University and a political scientist. "Taking it up before November would virtually guarantee that a few Senate Republicans, looking to garner some free publicity that appeases their base, would filibuster the bill, which may mean that it faces less resistance," he says. "We'll probably also see the bill reworked a bit between now and then, which may entice a few Republican Senators to vote in favor of the bill without angering the base and opening themselves up to a primary challenge from the right in the next electoral cycle."