10 Rosalía Love Songs for Your Wedding Day
Add these hits to your playlist.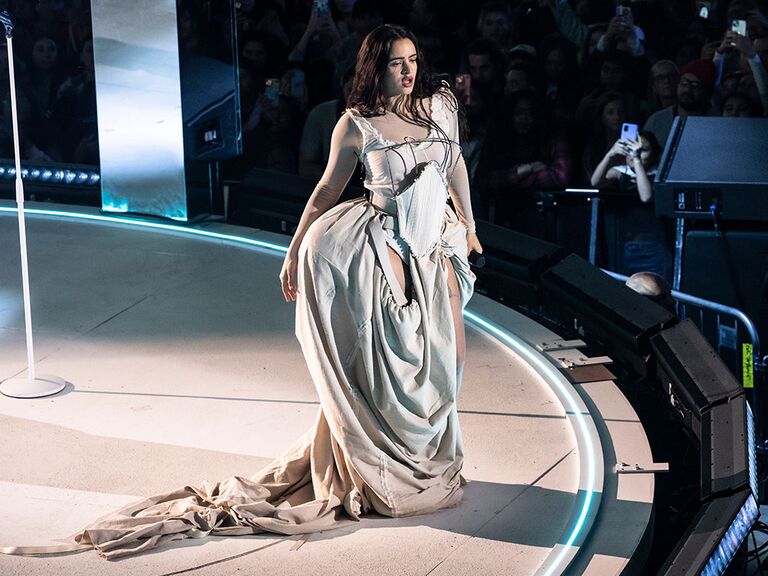 lev radin / Shutterstock
One of the most fun parts of wedding planning? Finalizing your music playlist for the big day. With countless songs to choose from, the options are endless; however, you can never go wrong by adding a few Rosalía love songs to the list. Best known for her flamenco-pop tunes, the award-winning Spanish singer-songwriter has some incredible Spanish love songs in her portfolio: and we've rounded up a few of our favorites.
While it is worth noting that all of these Rosalía songs are necessarily about love, they all offer something special (be it an upbeat rhythm, gorgeous harmonies or even both!), making them the ideal addition to your big day. So, if you love feel-good tunes that'll set the scene for a fun-filled night—consider having your wedding band or DJ add these Rosalía love songs to the must-play list.
"LLYLM," LLYLM
Lyrics we love: "Covеr me in a dream/I'll be yours, our fantasy"
Following its January 2023 release, Rosalía's "LLYLM" quickly became a smash hit. The tune—best described as a blend of flamenco pop and electronic—has an upbeat rhythm that's great for grooving with your wedding guests during your reception.
"Yo x Ti, Tu x Mi" (feat. Ozuna), Yo x Ti, Tu x Mi
Lyrics we love: "Se me para el cora' sólo con mirarte"
Rosalía teamed up with acclaimed Puerto Rican singer Ozuna for this romantic reggaton-esque single. We especially love the flirty lyrics and oh-so-catchy chorus.
"Que No Salga La Luna," El Mal Querer
Lyrics we love: "Qué suerte la que yo tuve/El día que la encontré"
This flamenco-pop number puts Rosalía's signature pipes on full display. The stunning instrumentals are perfect for playing during cocktail hour or dinner—you can ask your wedding band or DJ to slow it down for an extra-sultry touch.
"Lo Vas A Olvidar," Euphoria Season 1 (an HBO Original Series soundtrack)
Lyrics we love: "Dime si aún queda algo en común/El tiempo que se pierde no vuelve/Dame un beso y bájame de la cruz"
"Lo Vas a Olvidar" features tantalizing vocals from Rosalía and Billie Eilish, and the harmonizing is simply stunning. The best way to describe this dreamy acapella ballad? Raw and powerful.
"Dolerme," Dolerme
Lyrics we love: "Quiero que lo veas y no pienses en detenerme"
While the lyrics to "Dolerme" aren't inherently romantic (Rosalía sings about heartbreak), the guitar and keyboard instrumentals make this song a must-play at your wedding. Tip: Have your wedding band or DJ slow down the tempo to play for your first dance as a married couple or while walking down the aisle.
"Besos moja2," La Última Misión
Lyrics we love: "Lo tuyo es mío, era real (oh-oh)/Yo pienso en ti incondicional"
In 2022, Wisin y Yandel & Rosalía released a reimagined version of the former's 2009 tune. This new version is best categorized as reggaeton with hints of flamenco flavors—and it's absolutely perfect for dancing.
"A Palé," A Palé (Gesaffelstein Remix)
Lyrics we love: "Desde el día en el que nací/Traigo la estrella que llevo/Sé que a nadie se la debo/Y solo me protege a mí"
Released in 2019, this fast-paced dance number features a pulsating beat. As such, it's the perfect addition to your after-party playlist. Although we wouldn't categorize "A Palé" as a love song, the feel-good lyrics will certainly make you smile.
"Aute Cuture," Aute Cuture
Lyrics we love: "Te conjuro y te dejao prendado/Encima de los techos vivo, no es pecado"
"Aute Cuture"—an intentional misspelling of "haute couture"—is amongst Rosalía's most fun, catchy songs. It's easy to sing along to the chorus while dancing to the beat.
"La Noche De Anoche," El Último Tour Del Mundo
Lyrics we love: "Tú y yo juntos creando un imperio"
Rosalía is featured on "La Noche De Anoche," a pop-infused reggaeton number from Puerto Rican rapper and singer Bad Bunny's third studio album, El Último Tour Del Mundo. We especially love the steamy metaphor-filled lyrics; however, for this same reason, we'd recommend playing it during the after-party when surrounded by your nearest and dearest.
"Barefoot In The Park," Assume Form
Lyrics we love: "Ya tengo to' lo que quiero/Ya no puedo pedir má'/Cuando te tengo a mi la'o" ("I already have everything I want/I can't ask for more/When I have you by my side"
With its romantic lyrics and beautiful harmonizing, you'll want to add "Barefoot In The Park" to your wedding playlist, ASAP. More specifically, its slow tempo makes it a great song choice for cocktail hour or dinner.