8 Royal Wedding Tiaras Meghan Markle Would Turn Heads in on Her Wedding Day
Having a royal wedding is amazing and all—but what about getting to wear a tiara steeped in centuries of tradition? Here are eight of our favorite diamond heirloom headpieces (and the stories behind them).
by Ivy Jacobson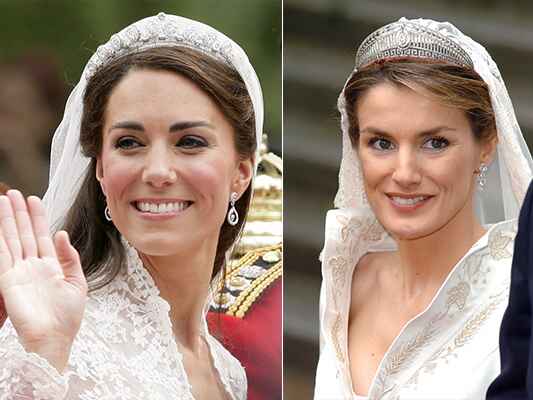 Contrary to popular belief, royals don't wear tiaras on a regular basis (sad, we know). In fact, the rules are (in England, at least), the women of the royal family—by blood and by marriage—must wear a hat to formal events. However, if the event takes place in the evening, after 6 p.m., hats are replaced by gorgeous tiaras—but only if they're married. Since wearing a tiara signifies someone is a married woman, it's traditional for a royal bride to don a tiara on her wedding. 
That means there's a serious chance Meghan Markle will wear one when she walks down the aisle to marry Prince Harry in May, and we truly can't wait to see which makes the cut. We personally hope it's the Spencer Tiara, worn by Princess Diana when she married Prince Charles, since Markle's engagement ring already includes two side diamonds from Princess Di's jewelry collection. See eight of our absolute favorite diamond-encrusted diadems worn by princess brides from all over. 
Catherine, Duchess of Cambridge

Victoria, Crown Princess of Sweden

Princess Madeleine of Sweden

Sophie, Countess of Wessex