10 Royal Wedding Tiaras We Can't Stop Thinking About
Having a royal wedding is amazing and all—but what about getting to wear a tiara steeped in centuries of tradition? Here are 10 of our favorite royal heirloom headpieces (and the stories behind them).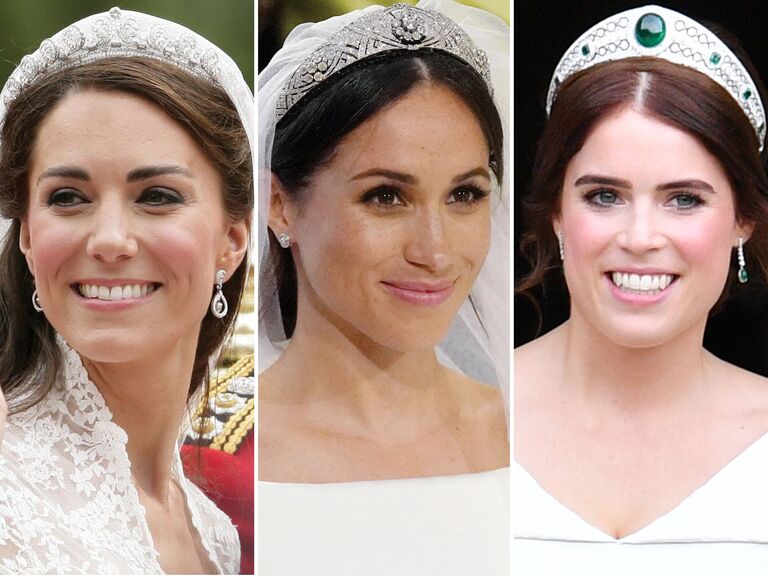 Shutterstock
Contrary to popular belief, royals don't wear tiaras on a regular basis (sad, we know). In fact, the rules are (in England, at least), the women of the royal family—by blood and by marriage—must wear a hat to formal events. However, if the event takes place in the evening, after 6 p.m., hats are replaced by gorgeous tiaras—but only if they're married. Since wearing a tiara signifies someone is a married woman, it's traditional for a royal bride to don a tiara for the first time on her wedding day.
See 10 of our absolute favorite diamond-encrusted diadems worn by royal brides from all over, below.
1. Meghan, Duchess of Sussex
All eyes were on Meghan Markle as she wed Prince Harry on May 19, 2018, in St. George's Chapel at Windsor Castle wearing Queen Mary's diamond bandeau tiara. The dazzling headpiece, which Queen Elizabeth II lent Duchess Meghan for her wedding day, was made in 1932 and frames a detachable diamond center brooch dating back to 1893. Not a bad "something borrowed," if we do say so ourselves.
2. Catherine, Duchess of Cambridge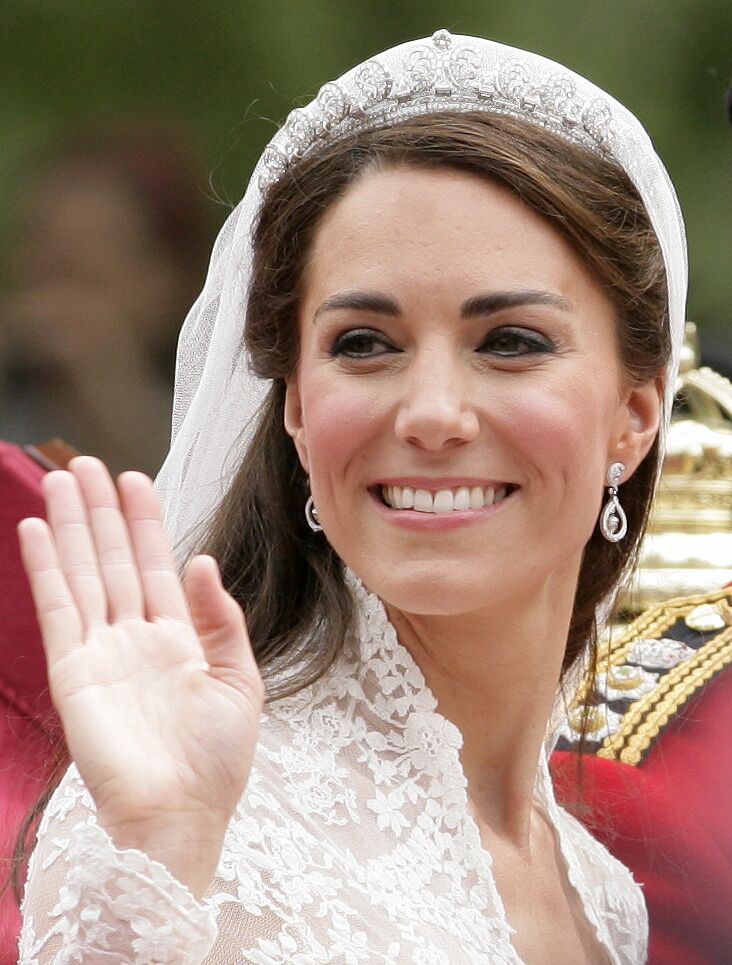 Everyone knows Kate Middleton loves to re-wear her outfits, but it may come as a surprise to some that her wedding tiara was also recycled—in the most glamorous way possible, of course. Complete with 739 brilliant-cut diamonds and 149 baguette-cut diamonds, the headpiece was made in 1936 by Cartier for the Queen Mother from her husband, King George VI. Since then, Queen Elizabeth II (who inherited it on her 18th birthday) has loaned the crown to other royal family members—namely the Duchess of Cambridge on her wedding day in 2011.
3. Princess Eugenie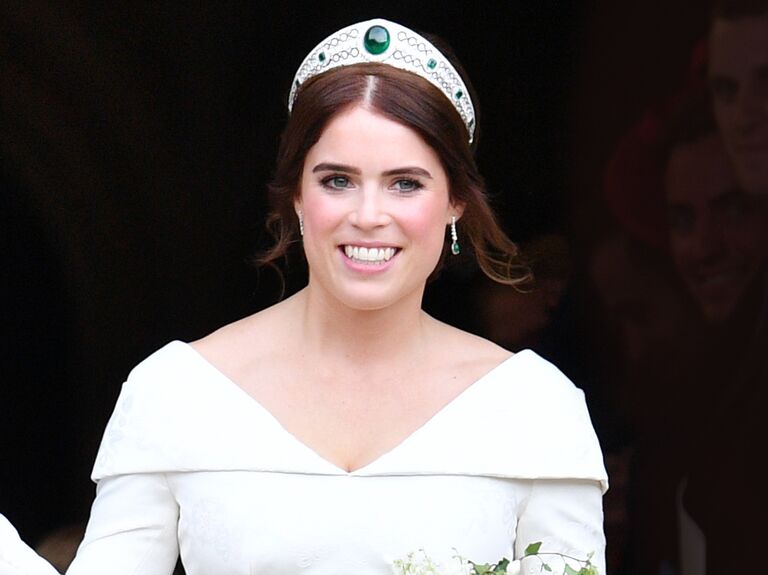 Princess Eugenie, granddaughter of Queen Elizabeth II (and the second daughter of Prince Andrew, Duke of York and Sarah Ferguson), borrowed a spectacular heirloom headpiece for her Windsor Castle wedding to her longtime love Jack Brooksbank. The Greville Emerald Kokoshnik tiara, a loan from Her Majesty for Eugenie's special day, is a diamond and platinum diadem featuring one 93-carat oval-cut emerald at the center and six smaller emeralds around the sides. French jeweler Boucheron originally designed the headpiece in 1919 for British socialite Dame Margaret Greville, invoking the iconic Russian kokoshnik headdress style to create it. The Greville tiara was later bequeathed to the Queen Mother, and Queen Elizabeth inherited the headpiece after her mother's death in 2002. Princess Eugenie could not have chosen a more gorgeous tiara to highlight the green in her eyes and incorporate some (literal) jewel tones into her autumnal ceremony.
4. Princess Sofia of Sweden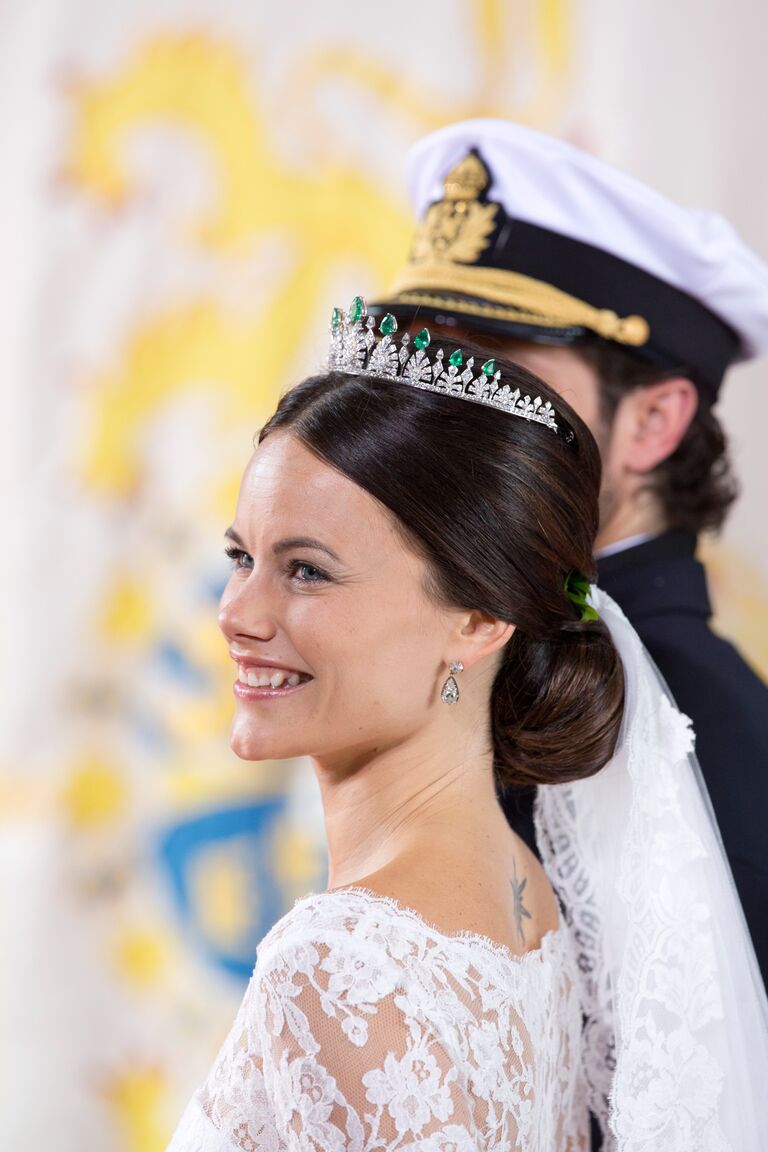 Sofia Hellqvist got quite the wedding present from her in-laws, King Carl XVI Gustaf and Queen Silvia, when she married Prince Carl Philip on June 13, 2015: a brand-new emerald and diamond tiara.
5. Victoria, Crown Princess of Sweden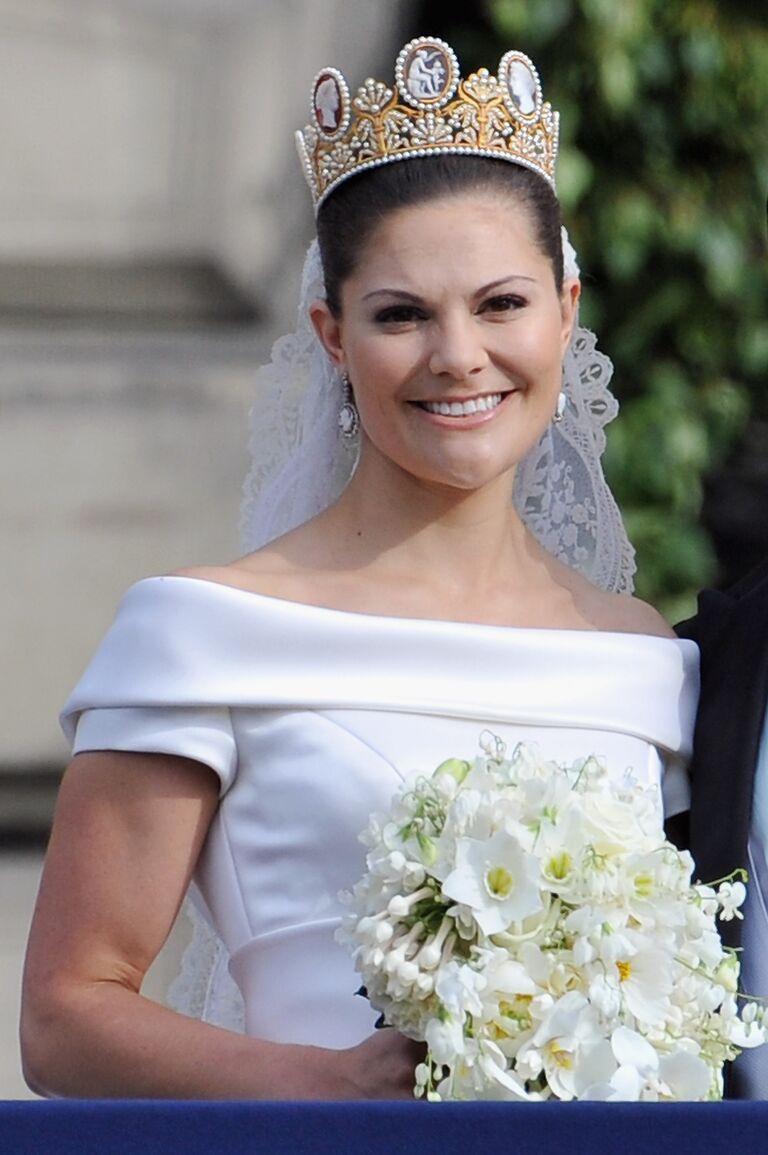 Princess Sofia's sister-in-law, Victoria, Crown Princess of Sweden (who's first in line to the throne), put a traditional feel on her wedding day in 2010 when she married Prince Daniel. She wore the same headpiece her mother, Queen Silvia, and her father's sisters, Princess Birgitta and Princess Désirée, did on their own wedding days: the Cameo Tiara, a Swedish royal family heirloom. It's one of the oldest tiaras still being worn, since it's thought to have been gifted to Empress Josephine de Beauharnais by her husband, Napoleon Bonaparte, in the early 1800s, and was handed down through several royal families (due to marriage) since then.
6. Princess Madeleine of Sweden
Victoria's sister, Princess Madeleine, didn't follow her family's bridal tradition of wearing the Cameo Tiara when she wed Christopher O'Neill in 2013. Instead, she chose to wear the tiara she wore the most in public: the Modern Fringe Tiara. A 10th-anniversary gift from King Carl XVI Gustaf to Queen Silvia in 1986, it's also referred to as a "private tiara" (meaning it wasn't inherited), and the word "fringe" means it can be worn as a necklace once it's properly unhooked from its frame. The tiara is also said to have remained in Princess Madeleine's possession since her wedding day. Maybe her daughter, Princess Leonore, will wear it on her wedding day (in about 25 to 30 years from now). Silvia, Sofia, Victoria and Madeleine all shared the same wedding day hairdo—maybe a low chignon is tradition in Sweden too?
7. Queen Letizia of Spain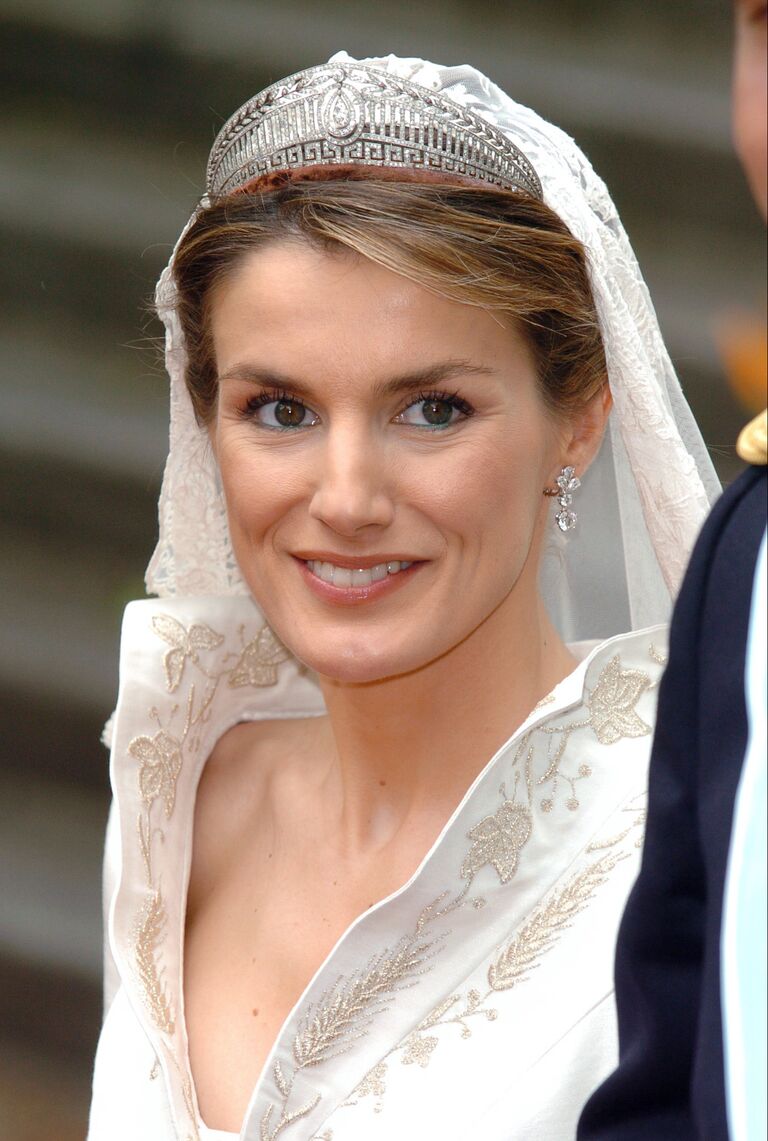 The Queen of Spain wasn't joking around when it came to her wedding tiara, which has crowned quite the resumé of royal heads. Letizia donned a stunning headpiece designed by German jeweler Koch for Princess Victoria Louise of Prussia—a gift from her father, Kaiser Wilhelm II, for her wedding day in 1913. It was passed down from Greek royalty to Spanish royalty (due to marriage), and Queen Sofia of Spain (who wore it on her own wedding day) loaned it to her daughter-in-law to wear on hers in 2003 when she wed King Felipe VI.
8. Diana, Princess of Wales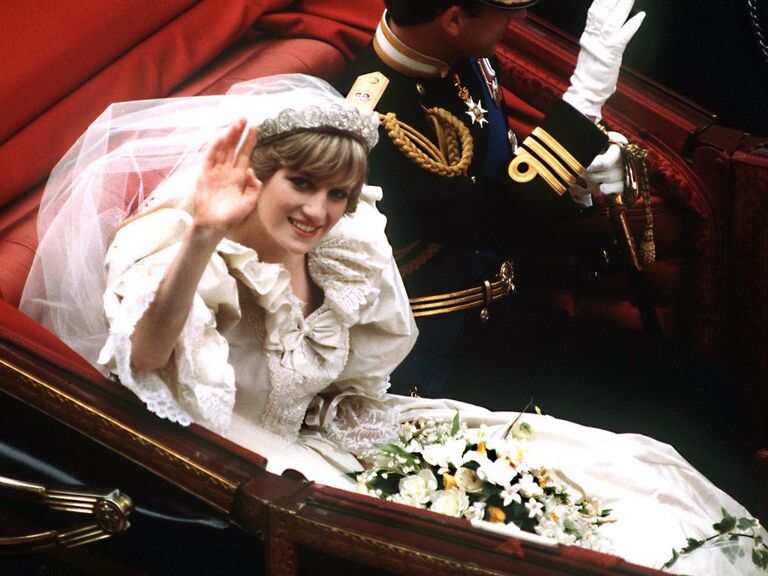 Even though Princess Diana's wedding to Prince Charles in 1981 had the word "royal" written all over it, her beautiful tiara didn't come from Queen Elizabeth II's collection. Instead, she wore the Spencer Tiara, which had been in Diana's family for almost a century. Pieces of the tiara were added to it throughout the years, and was finally complete in the 1930s. Diana's mother and sisters all wore the diamond headpiece on their wedding days too, and it still belongs to the Spencer family.
9. Zara Phillips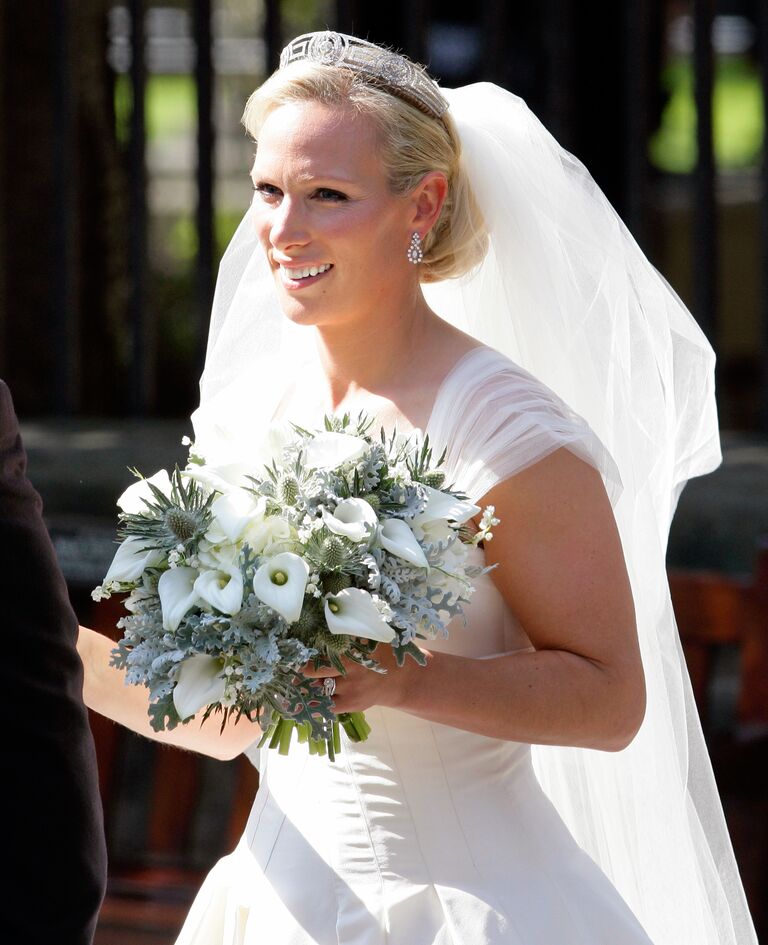 Queen Elizabeth II's second-eldest grandchild, Zara Phillips, proves you don't need a royal title to wear a tiara—just a little (okay, a lot of) royal blood. When Phillips's mother, Anne, Princess Royal, married Captain Mark Phillips, he declined a royal title and therefore their children also forfeited any royal titles. But still, Zara Phillips wore a pretty fantastic "something borrowed" when she wed Mike Tindall in 2011: the Meander tiara. It originally belonged to Prince Andrew of Greece and Denmark and was eventually handed down to Queen Elizabeth II, who gave it to Princess Anne, who loaned it to Phillips for her wedding day.
10. Sophie, Countess of Wessex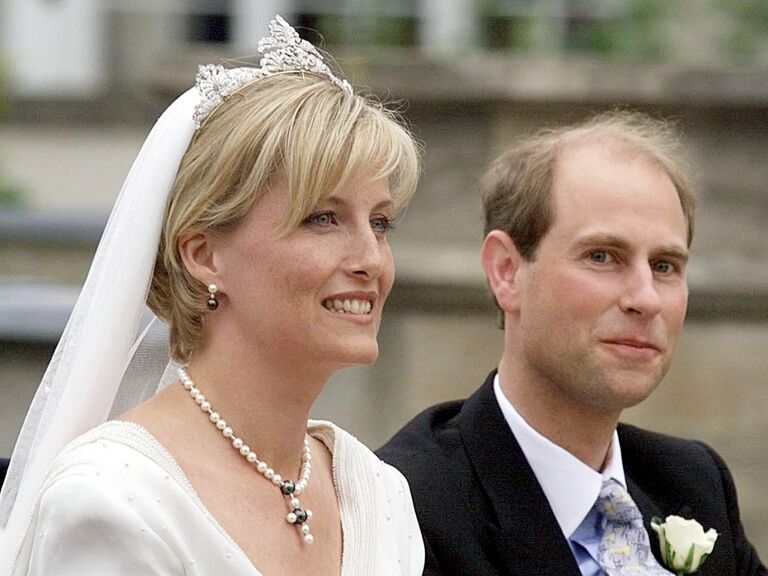 When Sophie Rhys-Jones wed Queen Elizabeth II's son, Prince Edward, Earl of Wessex, in 1999, she wore a tiara that was a gift from her mother-in-law—which is said to have been created from four pieces of one of Queen Victoria's crowns.