Inside Prince William and Kate Middleton's Wedding and Marriage
The Duke and the Duchess of Cambridge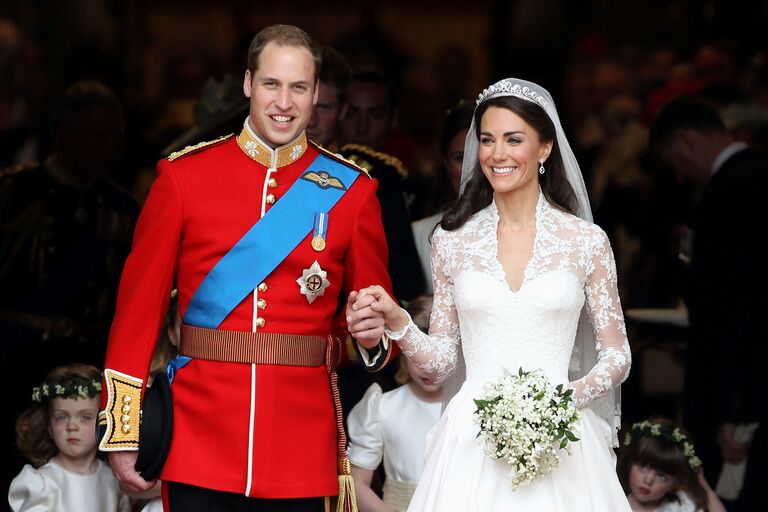 Chris Jackson / Getty Images
A decade has already passed since Kate Middleton and Prince William said "I do" on April 29, 2011. The Duke and Duchess of Cambridge exchanged vows before a congregation of 1,900 guests at Westminster Abbey and more than 23 million viewers worldwide. The pair first met as college classmates at St. Andrews back in 2003, and while keeping their relationship largely concealed during their undergrad years, they eventually had to embrace a relationship in the spotlight.
Kate Middleton and Prince William's wedding was one for the ages, with the actual day declared a public holiday with a number of ceremonial events taking place in advance. Throughout the U.K., an estimated 5,000 street parties were hosted while more than one million people lined the route between Westminster Abbey and Buckingham Palace. In between the wedding day and their decade-long marriage, the couple has stepped out for hundreds of official royal engagements, welcomed three children, endured ups and downs within their own family dynamics, and recently mourned the loss of Prince Philip.
On their 10th wedding anniversary, Kensington Palace fittingly shared several photos of the couple laughing and holding hands outdoors, along with a sweet video of their family of five. "Thank you to everyone for the kind messages on our wedding anniversary," the couple expressed. "We are enormously grateful for the 10 years of support we have received in our lives as a family. W&C."
Read on for more details about the Duke and the Duchess of Cambridge's wedding day and their high-profile marriage.
In This Article:
Prince William and Kate Middleton's Wedding Details
Despite the fanfare, the Duke and Duchess of Cambridge made tributes to the royal traditions that had come before them, while throwing their wedding, their way. Kate, for instance, opted to do her own makeup, despite the fact that a good number of makeup artists likely would have lined up for the opportunity. William decided to go ringless, a choice that baffled some critics, but which said a lot about the couple's preference to do things their way. In an official statement from the Palace, it was stated: "It was something the couple discussed, but Prince Williams isn't one for jewelry."
Here, get all the insider information about the royal wedding of the century, just in time for the couple's 10th wedding anniversary, as well as more marriage updates about the parents of three.
The Venue Was Significant in Tradition
Prince William and Kate Middleton married at Westminster Abbey. William's grandmother, Queen Elizabeth II, also got married at Westminster Abbey back in 1947; before that, her father, His Majesty King George VI, exchanged vows with Lady Elizabeth Bowes-Lyon in April 1923. Given that William is third in line for the throne (after his father, Prince Charles), his choice of wedding venue may not have been without significance.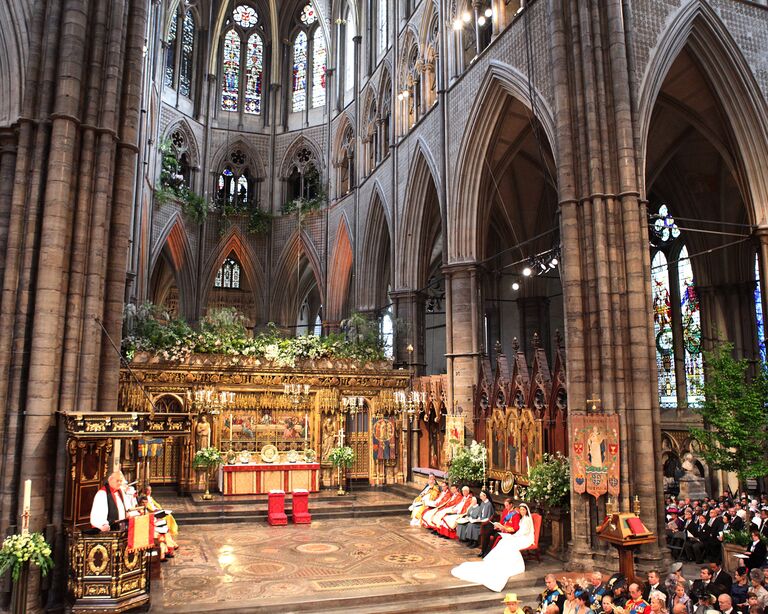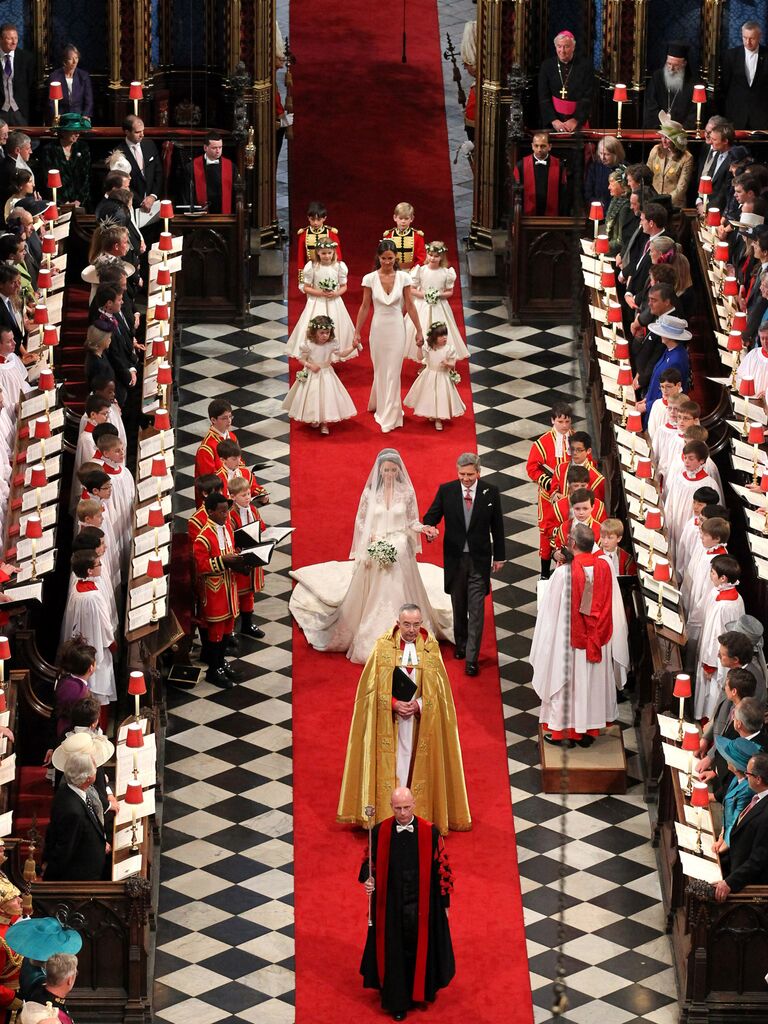 Pippa Middleton Made Her Big Debut
Kate's wedding gown was a breathtaking number designed by Sarah Burton for Alexander McQueen. The piece included a nine-foot-long train, which was held by the bride's younger sister, Pippa, who similarly got her 15 minutes of fame from the wedding.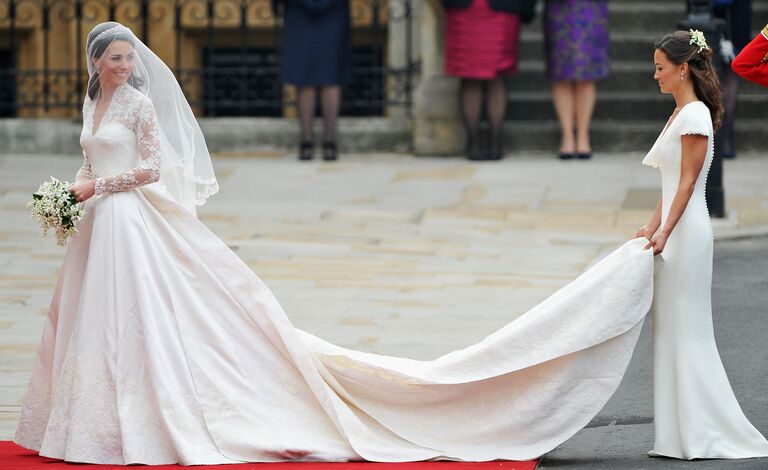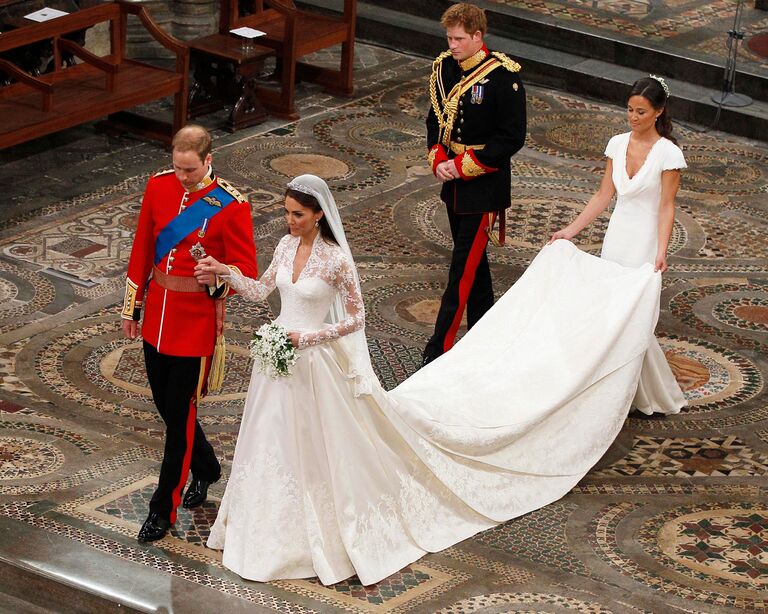 Kate Did Her Own Makeup
Despite their royal status, both William and Kate have displayed their down-to-earth characteristics--and their wedding was no exception. The Duchess opted to do her own makeup rather than bring in a professional for the big day. However, she was adequately prepared. In the weeks leading up to the nuptials, Kate took makeup lessons from Bobbi Brown's team, receiving "makeup artistry assistance" from the brand's makeup artist Hannah Martin.
"Catherine looked absolutely stunning," Brown said at the time in a statement. "I wouldn't have changed a thing about her makeup. She looked beautiful, fresh and most importantly, happy."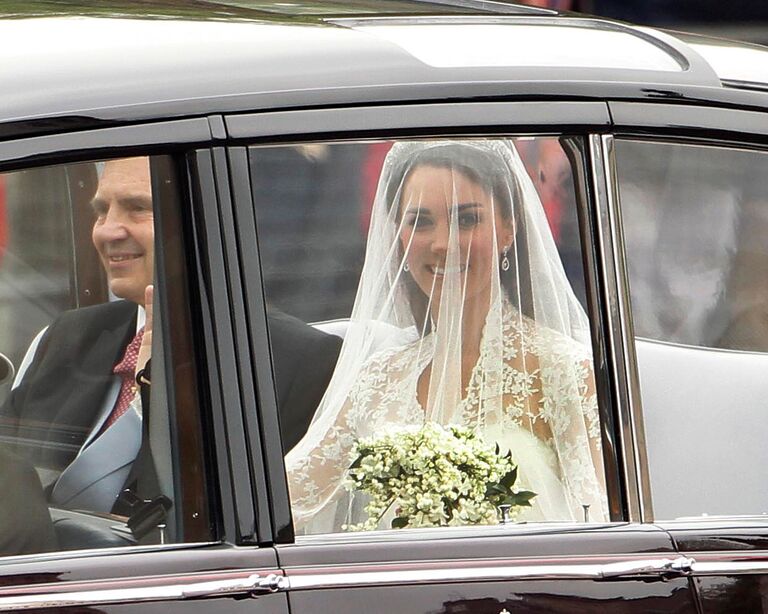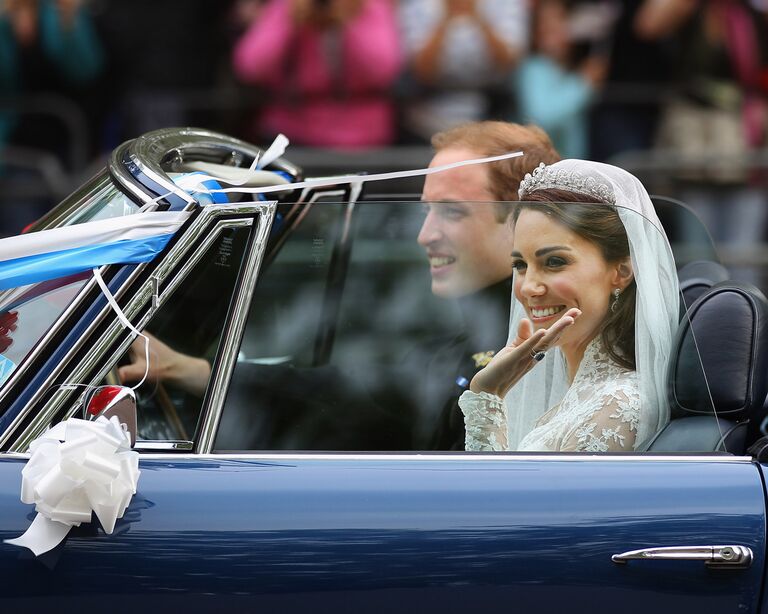 The Entire Ceremony Was Rooted in Tradition
The televised ceremony featured a trifecta of holy men who helped to marry the couple: the Dean of Westminster conducted the lengthy service, the Archbishop of Canterbury married the couple, and the Bishop of London gave the address. (Kate's brother, James Middleton, did a reading.) Kate's father, Michael Middleton, rode with his daughter in a car toward the ceremony and also walked her down the aisle toward William. The newlyweds then rode away to Buckingham Palace in the Imperial State Landau, a century-old carriage originally built for Edward VII. Incidentally, it was the exact same carriage that Princess Diana and Prince Charles rode away in after their wedding back in 1981.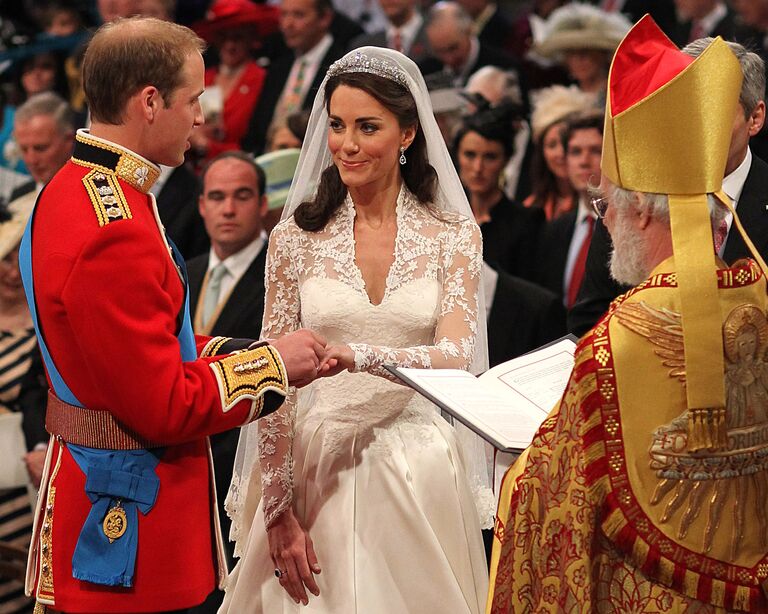 They Kept the Wedding Party Simple
As per British tradition, Kate and Will didn't have a "bridal party," per se, though Prince Harry served as Prince William's best man, and Kate's younger sister Pippa was her maid of honor. Other honorary guests included two page boys and four bridesmaids, all under the age of 10.
An official photo of the family and wedding was taken inside the Throne Room at Buckingham Palace. Along with the bride and groom, others photographed included Grace van Cutsem, Eliza Lopes, the late Prince Philip Duke of Edinburgh, Queen Elizabeth II, Margarita Armstrong-Jones, Louise Windsor, William Lowther-Pinkerton, Tom Pettifer, Camilla Duchess of Cornwall, Prince Charles, Prince Harry, Michael Middleton, Carole Middleton, James Middleton and Pippa Middleton.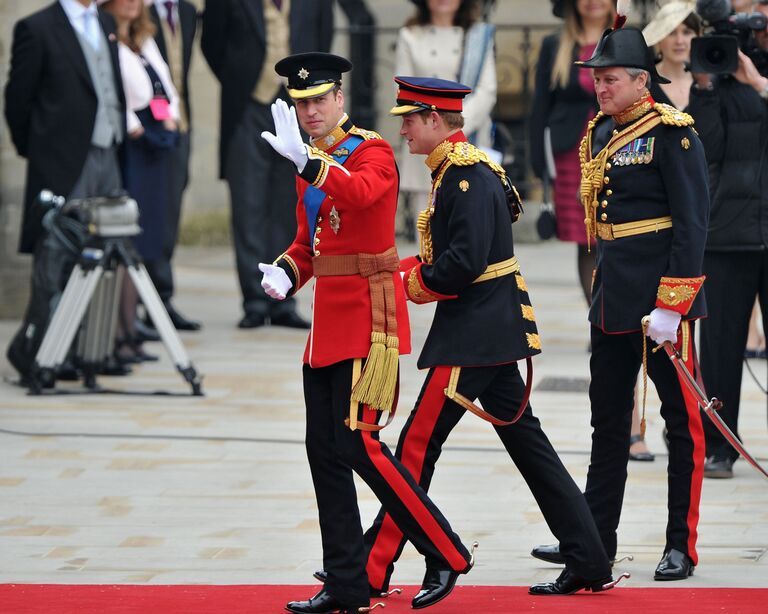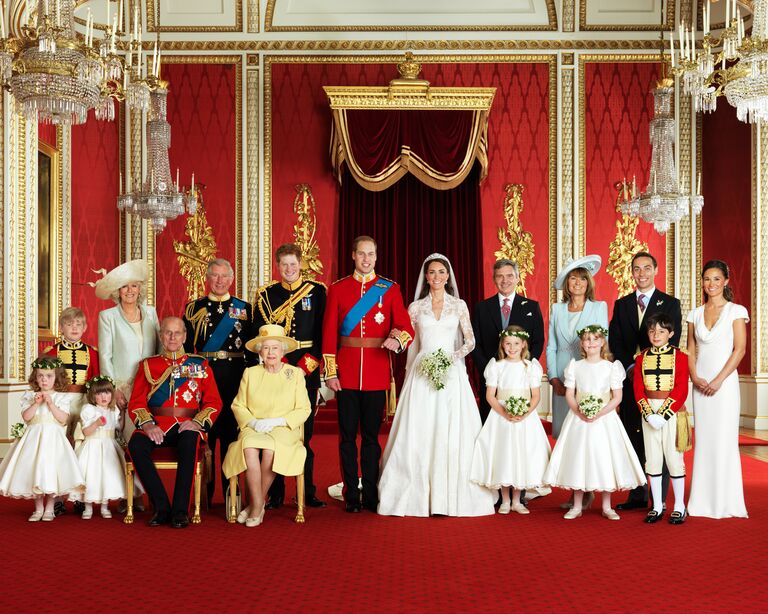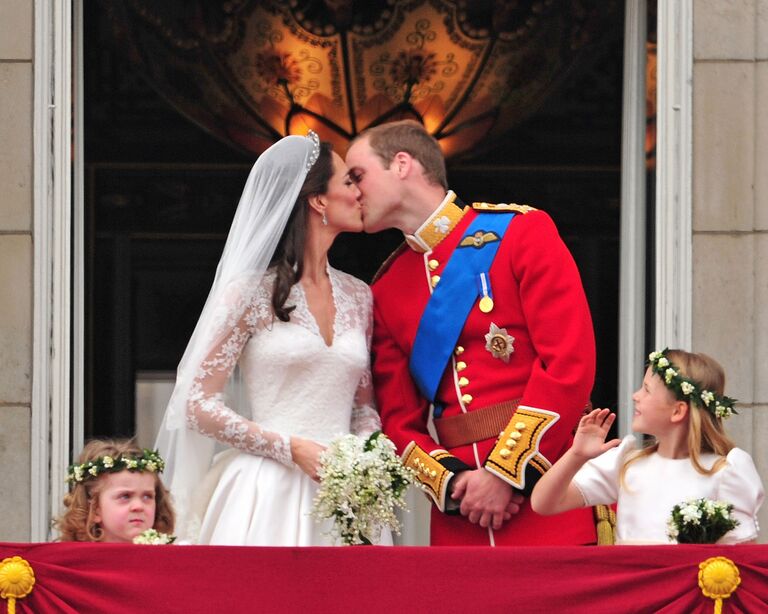 The Couple Swapped Into Evening Reception Outfits
Kate changed into a second dress for the intimate reception held at Buckingham Palace later that evening, this one also designed by Sarah Burton for Alexander McQueen. It featured a more relaxed silhouette and was made of an ivory satin material, with a sweetheart neckline, a circle skirt, and a diamond belt that accentuated her slim waist. She also wore a white angora bolero to cover her shoulders and let her hair down for a more casual look.
The Florals Were a Nod to Tradition
Though there were hundreds of dozens of floral arrangements that dotted both Westminster Abbey and Buckingham Palace, no bunch of flowers was quite as important as the bouquet that Kate held. In a nod to her largely understated, down-to-earth style, the bouquet consisted of lily of the valley, hyacinths, and a sprig of myrtle, as is royal tradition. One fun addition that she made, as a tiny nod to her husband-to-be, was a European flower called sweet William.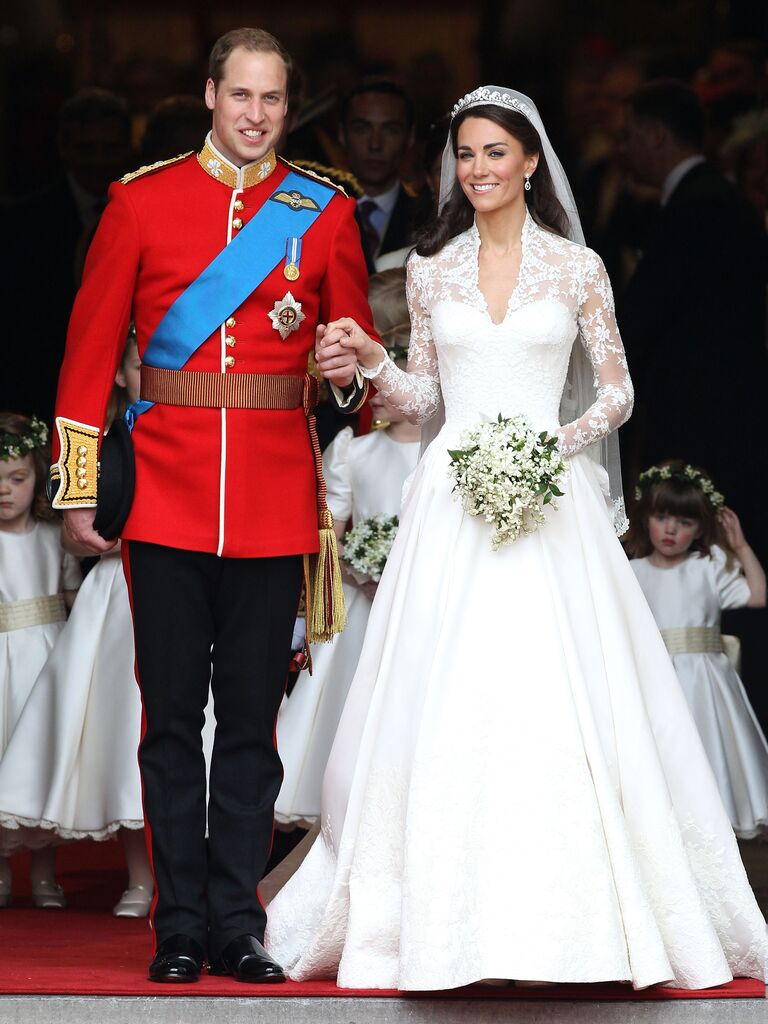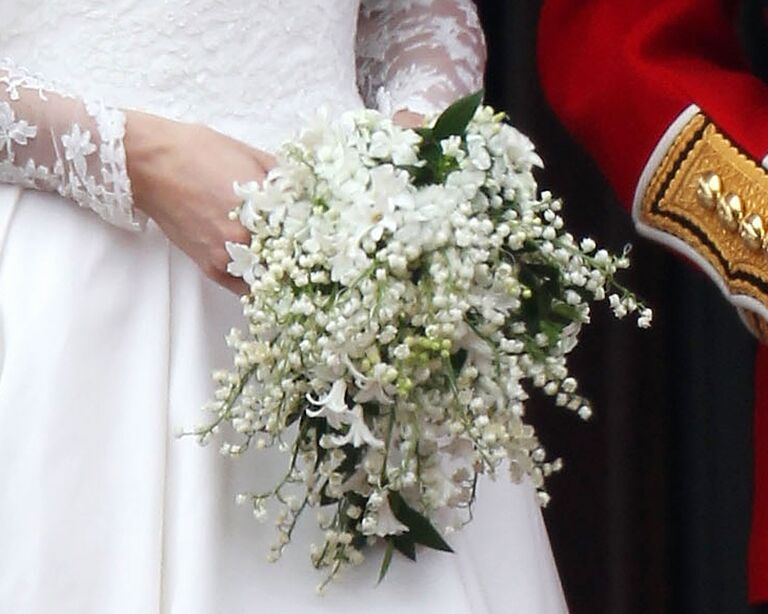 A Natural Atmosphere Was Created for the Event
The decor of both Westminster Abbey and Buckingham Palace was extraordinary—fit, one might say, for royalty. Westminster Abbey was decorated with six English Field Maple trees and two Hornbeam trees, all of which were 20-feet high, to give the space a rather natural, pleasant ambiance. A long red carpet ran the length of the aisle from double doors to the altar.
Seafood and Lamb Were Served
Though every other detail about the wedding was clamored about during the hubbub surrounding the royal wedding, the menu for the couple's reception wasn't released until nearly four years later. A copy of the menu listed for auction at the Reeman Dansie Auctioneers in Colchester revealed that the newlyweds' 300 closest family and friends enjoyed a salad of South Uist salmon, Lyme Bay crab and Hebridean langoustines, followed by a main course of North Highland organic lamb with spring vegetables.
Sides of English asparagus and Jersey Royal potatoes helped round out the main dish, while a trio of desserts, including Berkshire honey ice cream, sherry trifle, and chocolate parfait, completed the food offerings.
The Couple Served a Fruit Cake
Kate and William didn't skimp on their wedding cake, which they entrusted in the hands of U.K.-based baker Fiona Cairns. Cairns created an eight-tier fruit cake that was as practical as it was beautiful: the couple opted to save the top three tiers for future celebrations, according to the famous baker. The cakes have since been served at William and Kate's children's christenings. Fitting, then, that they have three little ones, one for each layer, eh?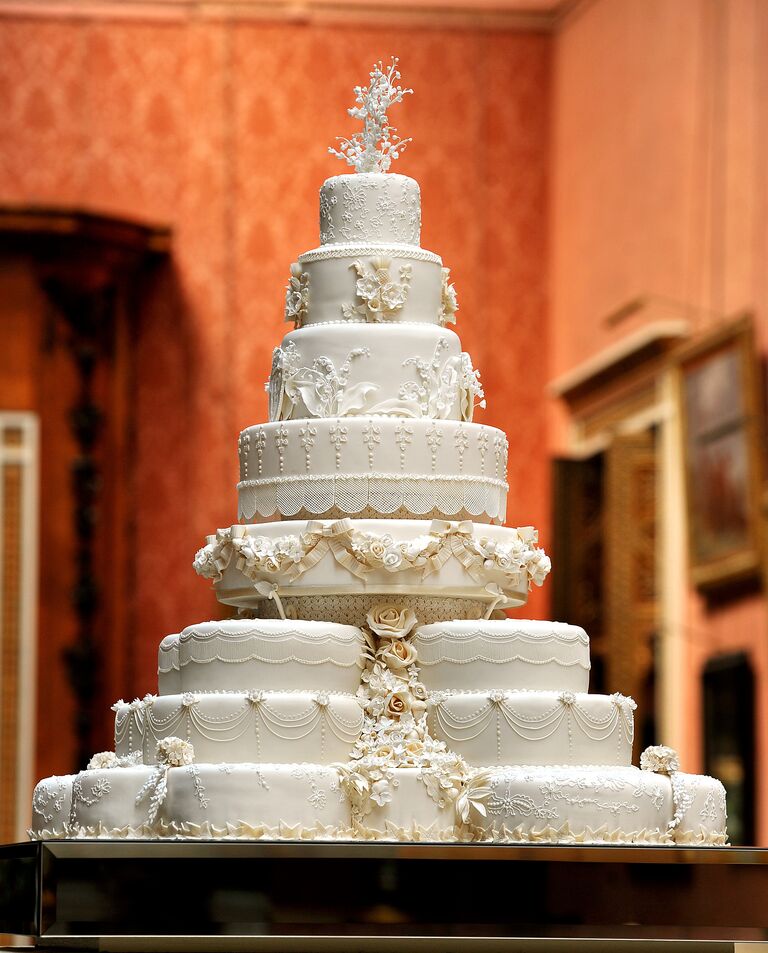 Ellie Goulding Performed
The royals are known for their pop culture savvy, and didn't disappoint in their choices for wedding entertainment. In addition to a more traditional organ and orchestra combo, the couple also invited British singer Ellie Goulding to their wedding to perform "Your Song." The momentous occasion had Goulding "sh-tting her pants," she would later tell Vanity Fair.
There Were Numerous Forms of Transportation
After making their union official and celebrating with their loved ones, William and Kate set off as newlyweds in a 1969 Aston Martin, which had been gifted to William's father Prince Charles on his 21st birthday. The license plate cheekily read: "JU5T WED."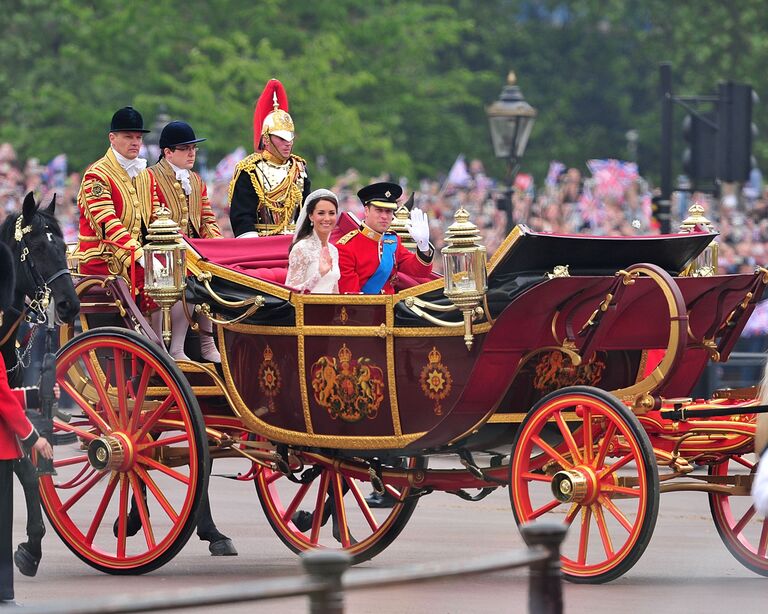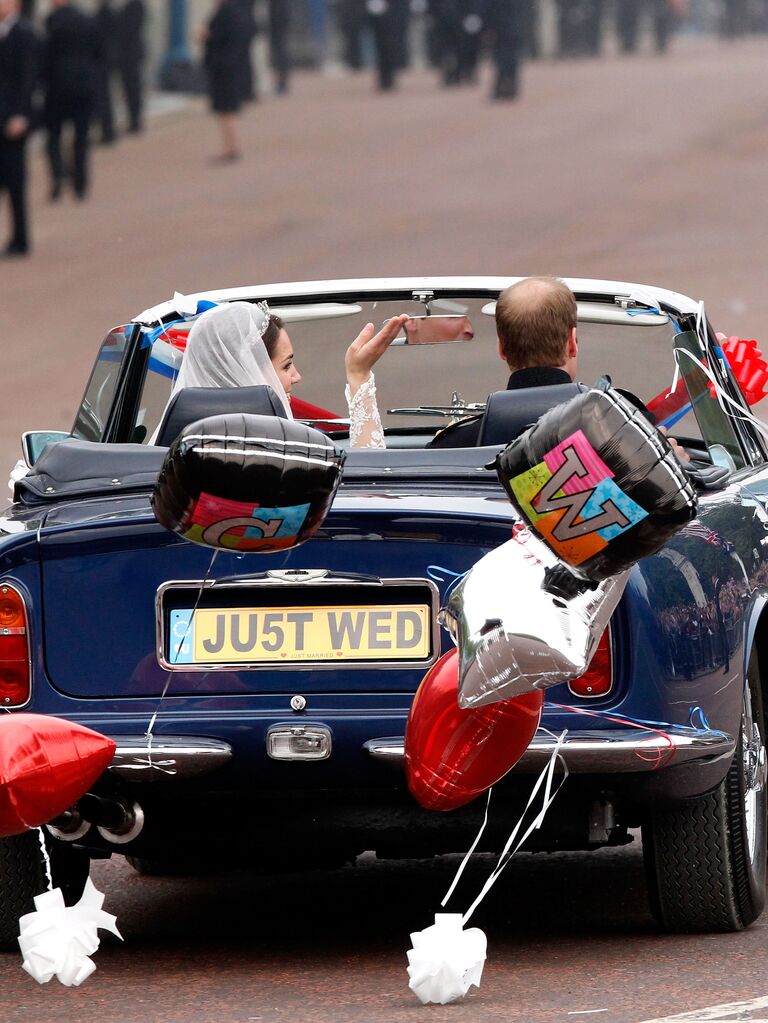 Prince William and Kate Middleton's Marriage
After their massive wedding, the couple flew off to the Seychelles, where they stayed at an exclusive and remote resort—a stark contrast from their global wedding. In the first year of marriage, the newlyweds lived seaside in a rented cottage in Anglesey, North Wales, a stone's throw away from William's workplace when he served on the Royal Air Force as an air-sea rescue pilot.
While there, the couple practiced for parenthood by welcoming cocker spaniel puppy Lupo into their home to start the New Year in 2012. By December 2012, it was revealed they were expecting their first child together.
They Have Since Welcomed Three Kids
Eventually, they settled down in Kensington Palace, establishing an office through which their communications are released. They welcomed their first child, Prince George, on July 22, 2013, followed by the arrival of their daughter, Princess Charlotte, on May 2, 2015. The couple memorably took Prince George on a tour through Australia and New Zealand the following year, where he stole the show while marveling at animals.
On April 23, 2018, their third child Prince Louis was born.
Of Course, They're Very Busy
Of course, the work hasn't stopped for the pair who've since juggled their roles as full-time roles as members of the British Royal Family, as well as parents to their three little ones. Shortly after welcoming their third child, Prince William shared in remarks in Namibia that both had endured more than enough sleepless nights.
"I'm delighted to be visiting Namibia for the first time. I'm only sorry that my wife, Catherine, is not able to join me. She is immensely jealous," he joked. "Particularly, because I'm looking forward to a few good uninterrupted nights' sleep this week away from my wonderful children."
The Couple Has IKEA Furniture in Their Home
While visiting Sweden in January 2018, Kate Middleton—who was at the time pregnant with Prince Louis—stopped by Sweden's official museum for art and design, ArkDes, to explore the latest innovation in furniture. There, they revealed a fascinating tidbit about their furniture inside their home of Kensington Palace.
The head of design subsequently told reporters that the Duke and Duchess have furniture from the affordable Swedish company inside their own home. "They also revealed that they have Ikea pieces for the children's rooms," Engman said following the couple's visit. "I'm proud that we can suit everybody. That's what we want Ikea to be–for the many people of the world, both royalty and ordinary people."
They're Otherwise Low-Key
While the couple has access to all the splendor that comes with the monarchy, they've made multiple relatable comments about their lifestyle choices in their past decade of marriage. For example, they've revealed that a typical date night involves curry delivered straight to their home (likely by assistants) and binge-watching Game of Thrones.
During COVID, the couple welcomed cameras inside their Sandringham workspace, where they had a sweet display of their three kids in the backdrop. The same situation held true when they held video calls inside their country home in Norfolk and eagle-eyed observers noticed more family photos.