The Pros and Cons of Doing a Second Hairstyle for Your Reception
Is a midwedding switch-up really worth it? Here's what we think.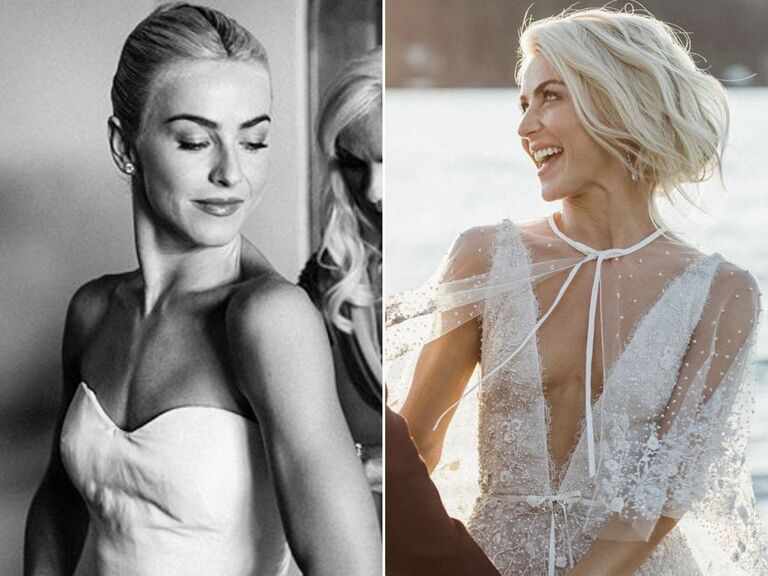 juleshough/instagram; brookslaich/instagram
There are tons of reasons to want a second hairstyle for your reception—if you're removing your veil after your ceremony, for instance, you might want your hairstylist on hand to make sure every strand's still in the right place. And imagine the looks on your guests' faces when you come out with a different dress on and a different hairstyle!
But is it really worth it? Well, it depends how much you want that second style (but if you really do and have the budget, we say go for it). Read some pros and cons of doing a midwedding hair switch-up, below.
Pro: Two gorgeous hairstyles are undeniably better than one.
Especially if you're planning on sporting a second dress for your reception. You'll get to decide on two beauty looks tailored specifically to your dresses (or vice versa). And if you can't decide between a tight chignon and loose, beachy waves, you can do both.
Con: You'll have to pencil in a time to do so during your busy day.
If you haven't already received a day-of itinerary from your wedding planner, we'll give it to you straight: It's going to be a jam-packed day. Getting your hair done (for the second time) in between your ceremony, cocktail hour and reception just might not seem like a priority for you, and that's totally okay.
Pro: You can do whatever hairstyle you want for your ceremony—without having to worry about how it'll fare on the dance floor.
Nervous the messy updo you envisioned for your ceremony won't last a minute once the DJ starts playing "Uptown Funk"? You won't have to worry about it in this case—your hairstylist will be on deck to make sure you're equipped with a new style that's better suited for busting a move.
Con: You'll need a bigger beauty budget.
Speaking of having a hairstylist on deck, it'll obviously cost you more to get your hair done twice. According to The Knot 2017 Real Weddings Study, the average cost of a hairstylist was $119 in 2017, so you can expect to pay even more than that for two styles. Your hairstylist might give you a discount for the second look—especially if it's relatively simple—but considering you'll potentially want a separate hair trial for that style too, it can understandably add up.