18 Adorable Flower Girl Hairstyles and Hair Accessories She'll Love
From crowns to braids, these adorable flower girl hairstyles are perfect for your wedding day mini-me.
We have included third party products to help you navigate and enjoy life's biggest moments. Purchases made through links on this page may earn us a commission.
Flower girls are undoubtedly the most adorable members of the wedding party. There's just something about their sweet faces, twirl-worthy dresses and little petal tosses that's guaranteed to make your guests say, "Aw!" When it comes to choosing flower girl hairstyles, there's no shortage of pretty style options out there. What's most important is that your little one feels both beautiful and comfortable in her hairstyle.
To help make things easier, we've gathered the cutest flower girl hairstyles from real weddings that everyone will love, along with a few adorable flower girl hair accessories to finish the look.
5 Things to Consider Before You Choose a Flower Girl Hairdo
Before diving into all of the flower girl hairdo inspiration, there are some important factors to consider before deciding on a flower girl hairdo. Below, we've included all the details to take note of for your littlest bridal attendant:
Hair Length & Pattern: Let your flower girl's hair length and texture be your style compass. For instance, if she has long straight hair, reinforce it with a bouncy ponytail, or if she has short natural curls, let them shine as they are and top off her 'do with a cute hair accessory.
Who's Doing the 'Do: Many styles are simple and can easily be DIY-ed by a loved one or friend. If complex styling is required, you may want to work with a professional stylist who specializes in flower girl hair.
Styling Time: it's important to remember that flower girls are typically between the ages of three and eight years old, so their desire to sit still can vary. Some styles take just a few minutes to pull off, while others require a bit more time and patience. Generally, the more complex the hairstyle, the longer it will take to execute. Take this into consideration if you're working with a particularly energetic mini.
Wedding Style: Keep the wedding theme and style in mind when looking for hair inspiration. It can also be helpful to send style ideas to the couple in advance so they can give their thoughts on the flower girl hairstyle you're loving.

Flowers & Accessories: Flower girl accessories like tiaras, bows and headbands are the easiest way to transform the simplest of styles into something elegant without the extra time or effort. If you're going the flower crown route, you should discuss that with your florist well in advance of your wedding day.
18 Trendy Flower Girl Hairstyles She'll Swoon Over
There are plenty of adorable ways to style the littlest member of the bridal party. From cute curls to pretty updos, we've rounded up some of the best flower girl hair inspo that will help her shine on the big day.
1. Curly Updo with Crystal Headband
Creating this sweet style was as simple as pinning up this flower girl's natural curls into a bun and adding a dainty crystal headband. The updo will keep strands out of her face, which is sure to last for a long day of celebrating and petal tossing.
2. Braided Updo with Flower Crown
This braided updo with a boho-inspired waxflower crown was made for flower girls with long hair. Another pro of this style? You'll be able to see all of her gorgeous little dress details.
3. Vintage Curls with Sparkly Headband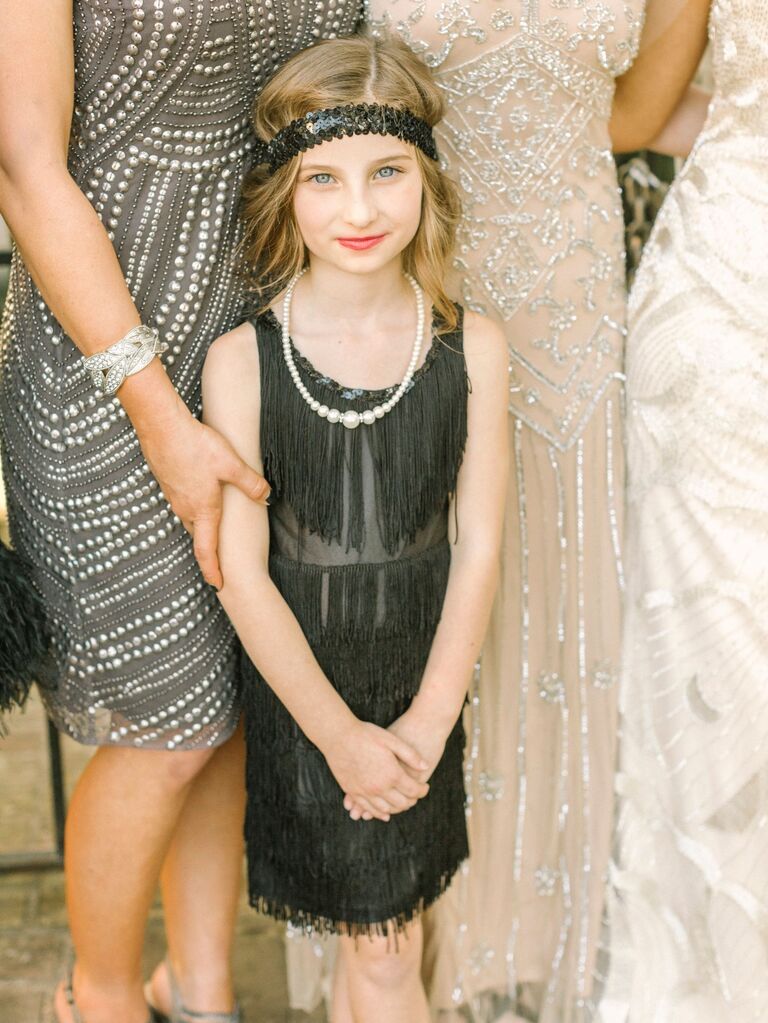 This flower girl's glitzy headband mirrors art deco style while still keeping her curls out of her precious face. We're obsessed with how well it pairs with her on-theme flapper girl dress and vintage pearl necklace.
4. Knotted Updo
Take your flower girl's updo to the next level with this knotted bun that will look extra adorable when she walks down the aisle for her petal-tossing duties. Don't forget to add a few loose blooms as a finishing touch.
5. Ringlets with Baby's Breath Flower Crown
These itty-bitty ringlets are just too cute for words. The choice of an ethereal baby's breath flower crown only adds to the romantic wedding aesthetic.
6. Baby Birdcage Headband
This no-fuss hairstyle is perfect for toddlers whose hair is still growing. Simply slide on a headband (like this adorable birdcage style) over their delicate baby hairs, and voilà!
7. Edgy Updo
Looking for an edgy natural wedding hairstyle? To show off maximum volume and cuteness, gather her coils into four small buns down the top center of the head for an unforgettable aisle moment.
8. Matching Pearl Headbands
Whether their hair is long, short or somewhere in between, pearl headbands are always a good idea! They paired perfectly with this duo's matching flower girl dresses.
9. Ponytail with Flower Clip
Add a whimsical touch to a classic ponytail by French braiding the bangs and pinning them back with a flower hair clip. The result is total cuteness.
10. Updo with Mini Pink Veil
This flower girl hair style has it all: a high bun, a flowy pink veil and a flower crown. Talk about a dreamy 'do!
11. Messy Boho Waves with Flower Crown
Looking to add some oomph to your flower girl's curls? Apply a mouse and texturizing spray for some natural volume. Top with a lush flower crown to complete the more rustic style.
12. Elegant Bun with Hair Bow
After putting your flower girl's hair up in a twisted bun, polish it off with a slightly oversized bow that flawlessly complements her statement dress.
13. Floral Crowns with Ribbon
Flower girls and floral crowns go hand-in-hand, much like these two angels. Their bouncy curls are topped with floral headpieces made of white roses that tie in the back with soft pink ribbon.
14. Straight and Simple
With such beautiful long locks, little styling is needed. Just spray an anti-frizz serum throughout for added shine, and finish with a lace headband for the perfect beachy flower girl hairdo.
15. Curled Updo with Tiara
An elegant updo like this will make your flower girl feel like a princess, especially when coupled with a dainty tiara. Peep the mini lace veil added to the back for an equally stylish moment.
16. Fishtail Braid with Flower Accessory
This cutie is the epitome of boho chic with her long fishtail braid. Just add a few moody faux florals to the base of the braid and she's ready to go to a rustic fall wedding.
17. Matching Top Knots
If you love a matching moment, this one's for you. These flower girls both wore stylish top knots with a simple pink ribbon tied at the base. It's the perfect addition to their coordinating tulle dresses.
18. Half-Up Half-Down Curls with Flower Pin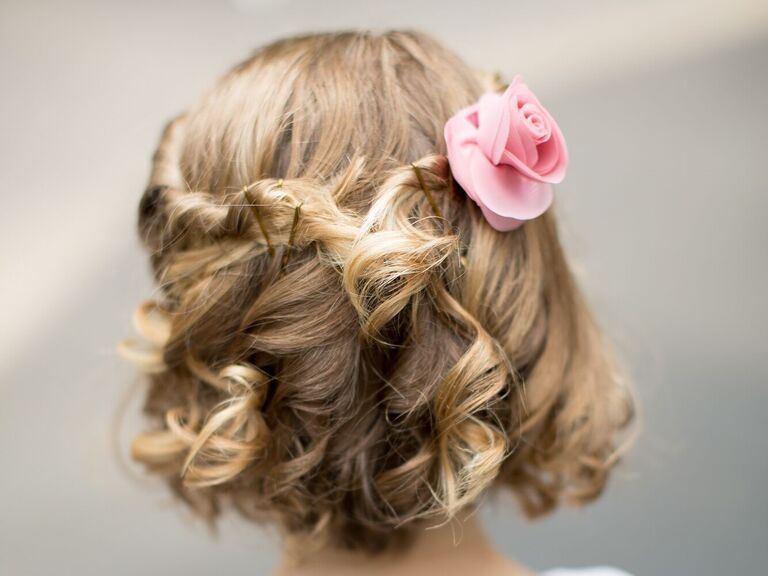 The half-up, half-down hairstyle is the quintessential flower girl look that almost anyone can DIY. Make it your own by adding a twist and tucking in a tiny blossom or two.
10 Cute Flower Girl Hair Accessories to Complete Her Look
Now that you have your hair inspiration, it's time to find the perfect flower girl hair accessories to match. From boho crowns to sparkly headbands, we've gathered a few of our favorite picks below that are available to shop online now.
1. Aurora Wedding Design Crystal Flower Girl Headband
This flower girl headband is equal parts whimsical and fun. The crystal flowers and pearl leaves make it a shimmering addition for little ones with any hair length or texture.
2. David's Bridal Pearl-Topped Flower Girl Hair Bow Set
Get your flower girl in on the pearlcore trend with these pearl-encrusted bows from David's Bridal. Use them to accent an elegant updo or pin back a half-up half-down style.
3. Capelli New York 4-Pack Butterfly Hair Pins
Let's not forget that a hint of sparkle can go a long way. These pearl and crystal butterfly hair pins can help tame loose flyaways or play up a whimsical pixie cut. Either way, she's sure to look absolutely precious.
4. Davlya Weddings Ivory Flower Crown
Real talk: A flower crown is always a good idea, regardless of your little one's hair length. Whether it's simple ringlets or a low ponytail, this lovely ivory headpiece would perfectly complement any style.
5. DB STUDIO Cascasding Flower Girl Veil
Searching for formal hair accessories? This mini veil from David's Bridal is a great choice. Not only is the style absolutely angelic, but the flower comb at the top makes it easy to apply, pleasing even the most fidgety of flower girls.
6. Cat & Jack Solid Ribbon Bow Headband
This budget-friendly headband from Target is simplicity at its finest. It's a versatile choice that will go with nearly any flower girl dress, striking the perfect balance between minimal and playful.
7. Headbands for Hope
If you're looking to add some art deco flair to your flower girl's hairstyle, then you'll love this vintage-inspired beauty from Headbands of Hope. The best part? For every item sold, the brand donates a headband to a child with cancer. Now that's how you can shop with impact.
8. Mini Tropical Flower Crown
Not all flower crowns need to be ivory or blush. For an effortlessly boho look, top off a loose fishtail braid or relaxed waves with this colorful crown from Claire's.
9. Pixie Blossoms Baby Flower Headband
Does it really get any cuter than this itty bitty headband from Etsy? If your flower girl is a newborn or infant, this headband can easily slide on and off for a darling yet practical choice.
10. David's Bridal Flower Girl Hair Bow
Let your flower girl proudly show off her new title with this bow that she can wear to all of your wedding festivities, from the rehearsal dinner to her walk down the aisle. Plus, how cute would it look in your flower girl proposal box?