14 Adorable Flower Girl Hairstyles
Time to focus on the mini members of your wedding party.
It's very possible that the kids in the wedding party are the most excited—playing dress up with the adults and getting pampered is a rare, very grown-up occasion for a 10-year-old. Besides wanting to treat your smaller attendants, as an added bonus they'll probably be on their best behavior when they feel included. All eyes will be on your sweet flower girl before you make your grand entrance, so choose a hairstyle and outfit she'll love.
Here are 14 options that will let your little star have her moment to shine.
1. Crowned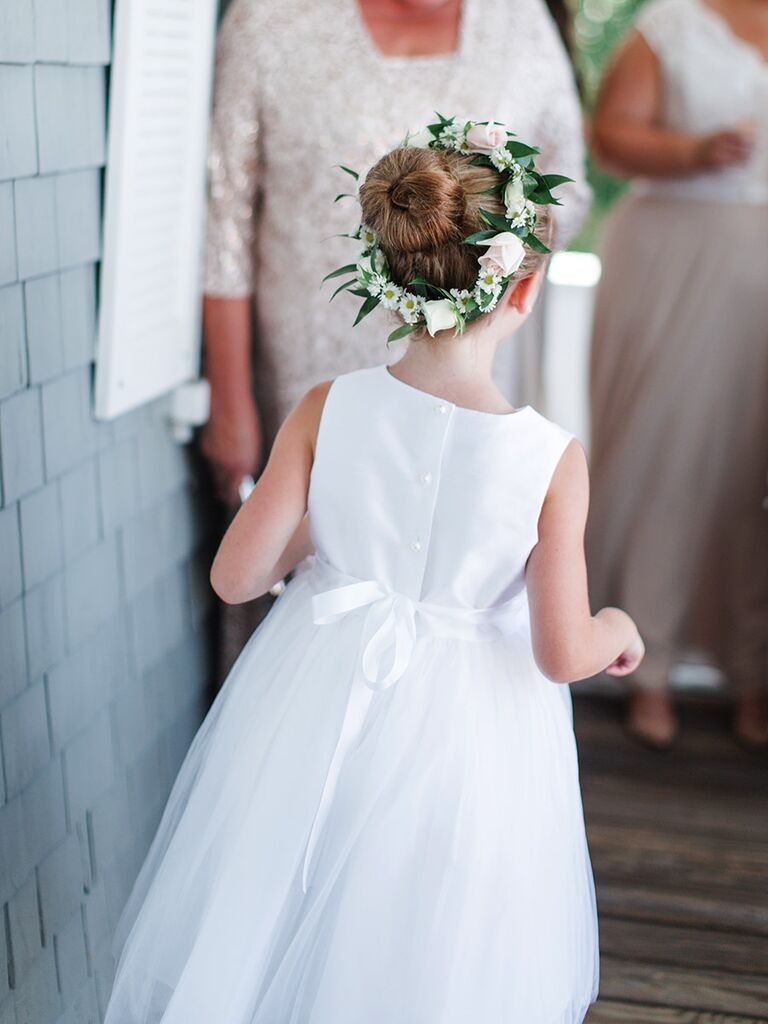 Keep hair off of her face with in a chic ballerina bun. Add a crown with flowers that match those in your bouquet.
From: A Modern Nautical Wedding At Newport Beach House In Middletown, Rhode Island
2. Pinned Back Curls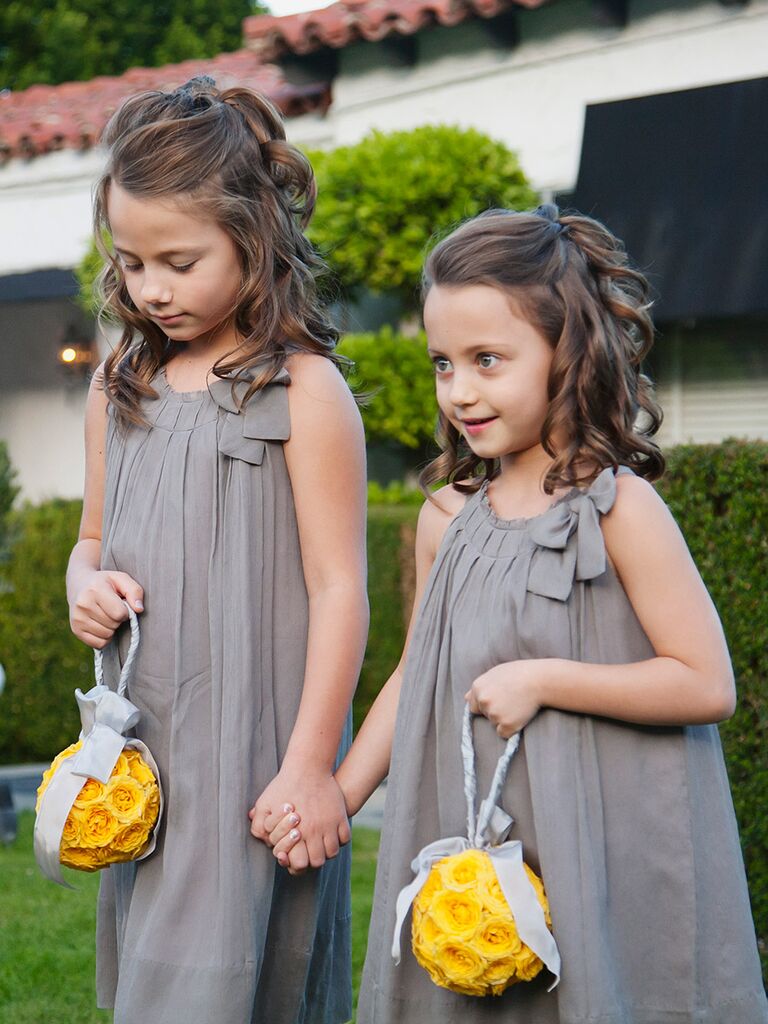 This sweet style is a classic. Give your flower girls loose curls and pin the front pieces of their hair back for a youthful finish.
From: A Hollywood-inspired Classic Wedding At Avalon Hotel Palm Springs In Palm Springs, California
3. Floral Hairpiece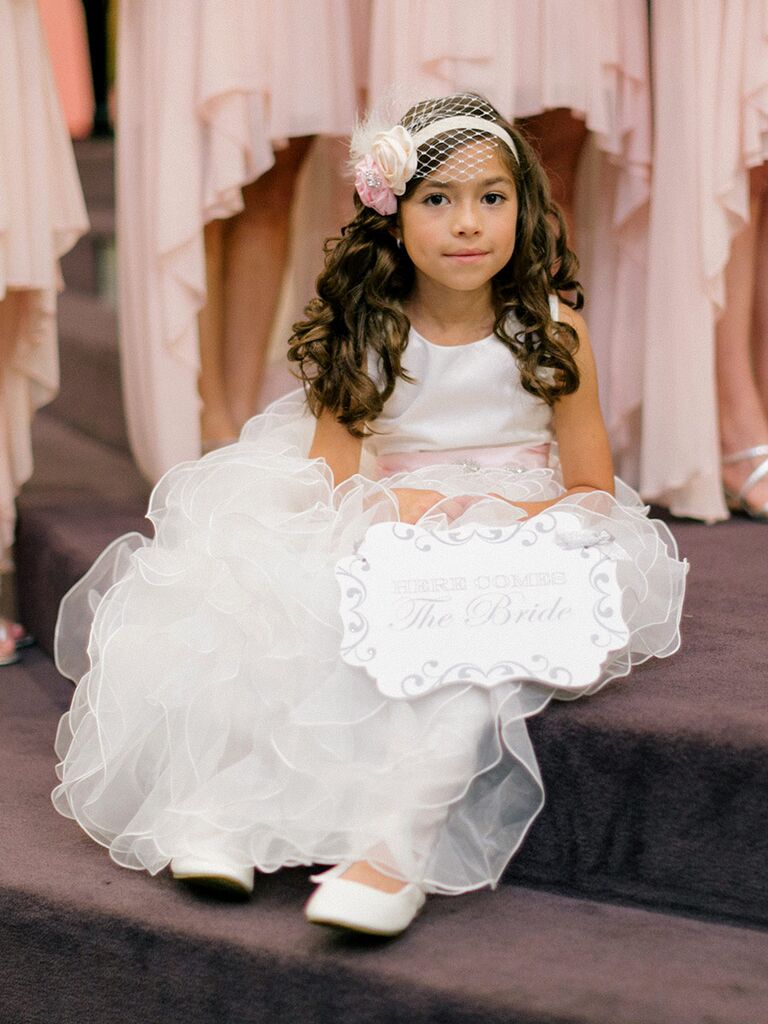 Hairpieces are a charming way to add personal flair. This birdcage headband with a feathery pink flower goes perfectly with long curls.
From: A Romantic Wedding At The Westin Colonnade In Coral Gables, Florida
4. Fishtail Braids
Everyone will be buzzing about how sweet this look is. A beautiful fishtail braid paired with luscious blooms is perfect for a wedding in the warmer months.
From: A Warm, Romantic Wedding At Stone Tower Winery In Leesburg, Virginia
5. Natural Curls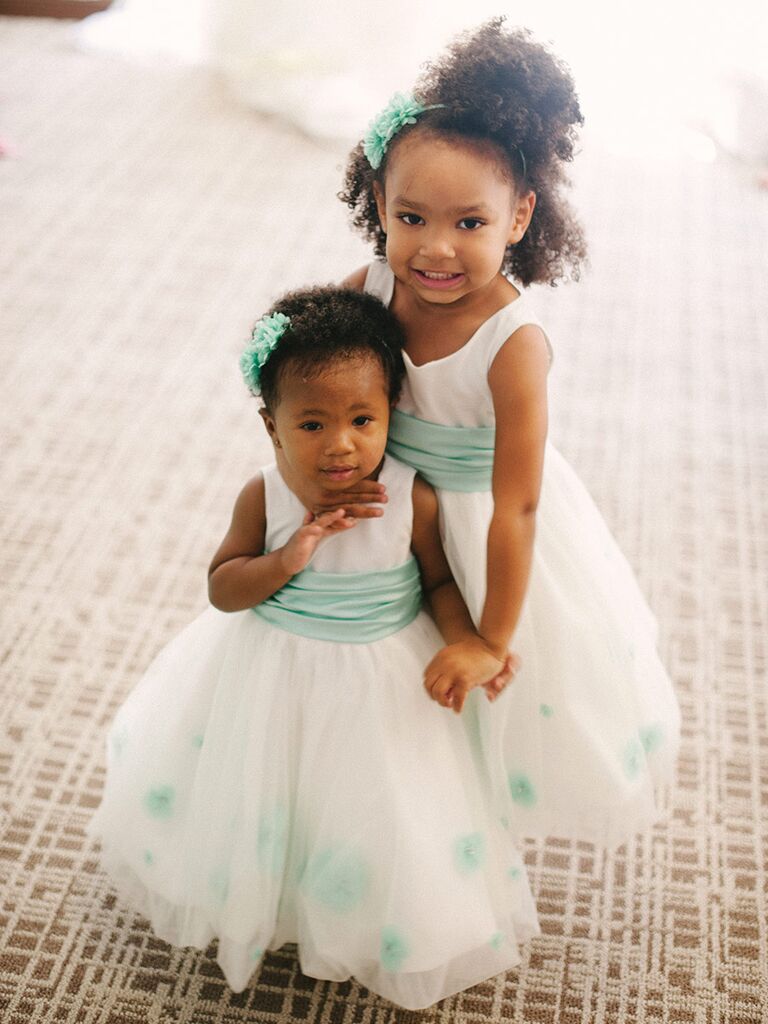 Not much is cuter than these natural curly-q's! Add a pop of color, whether it be a headband, bow or flower—you can't go wrong.
From: An Elegant Wedding At The Renaissance Esmeralda Resort In Indian Wells, California
6. Ballerina Bun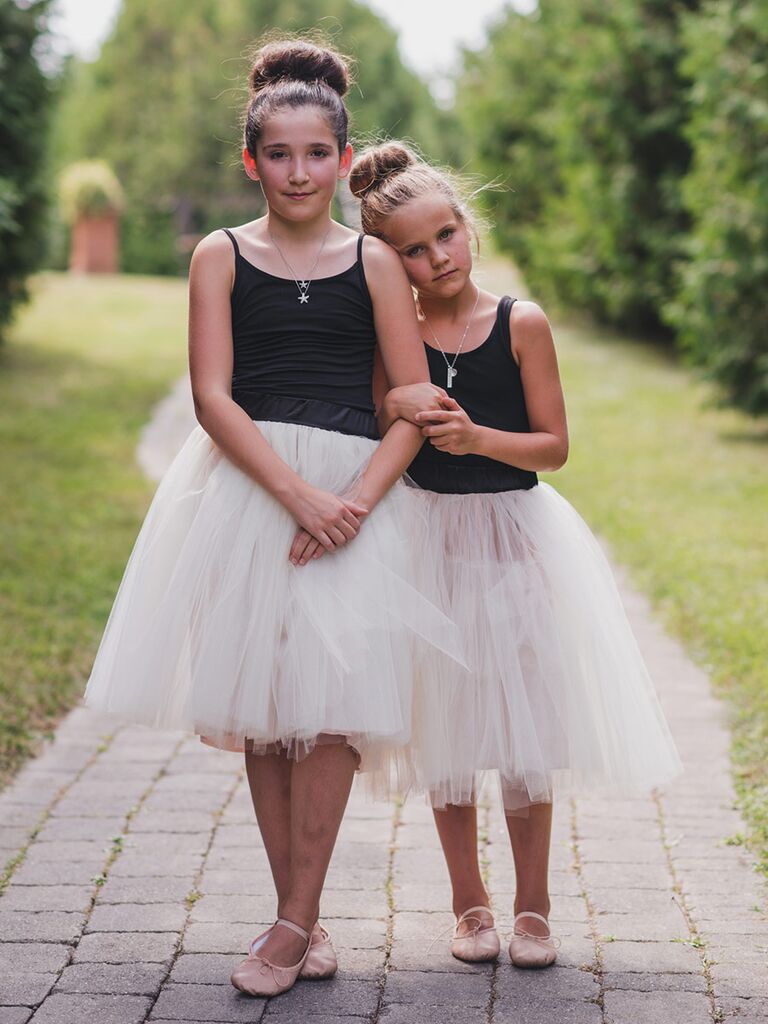 No fuss ballerina buns are always a good option. Besides keeping the hair out of the way, the attention will be on your flower girls' beautiful faces.
From: A Casual, Elegant Wedding At Kurtz Orchards In Niagara-on-the-lake, Ontario
7. Twisted Half-Up Do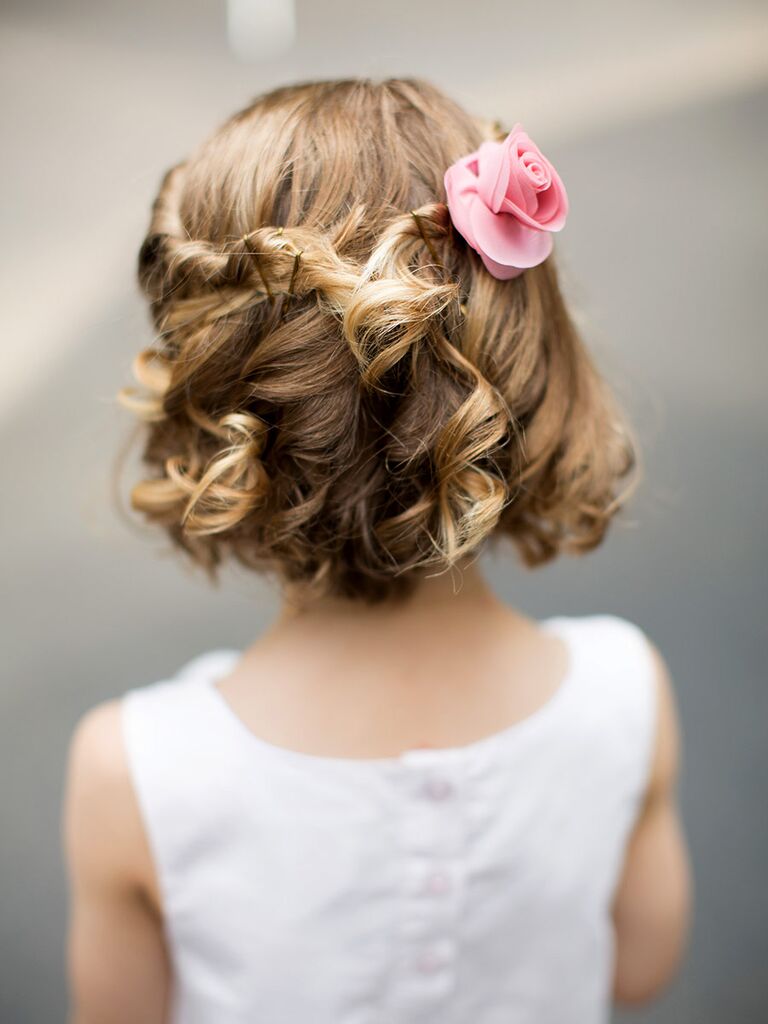 Your flower girl probably has her own opinion and style. This fun half-up style lets her have the best of both worlds with curls and accessories.
From: A Clean And Simple Modern Wedding At La Piece - The Room In Tilton, New Hampshire
8. Braided And Curled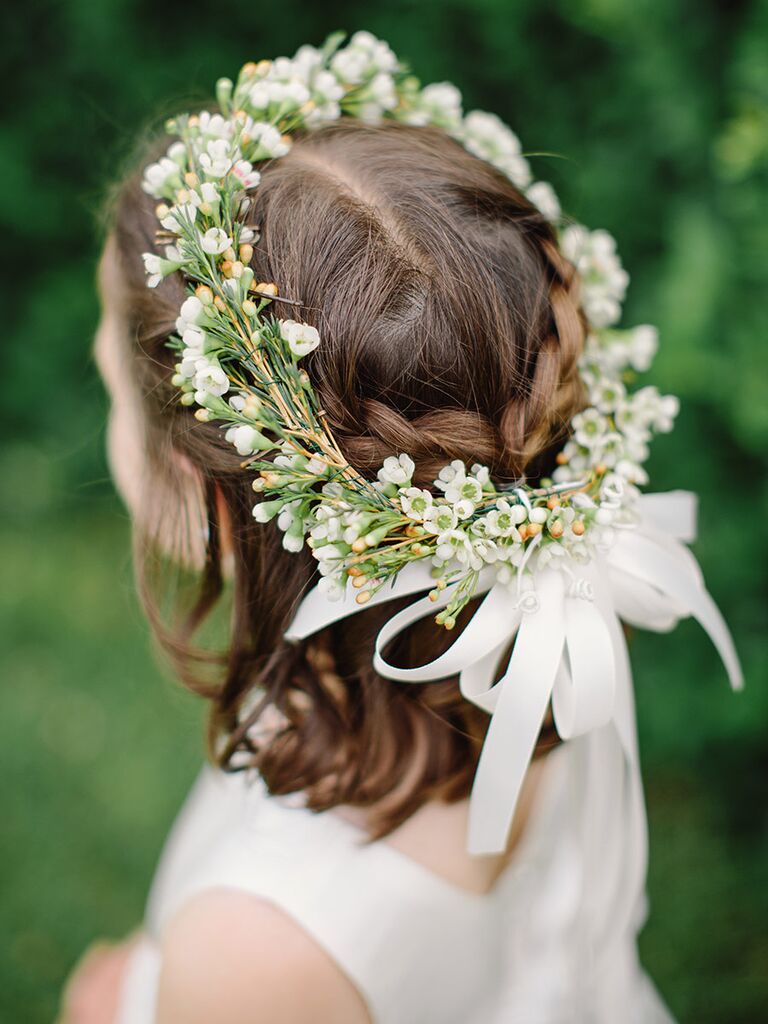 Crowned with green and white buds plus a silk bow will have your flower girl feeling like the belle of the ball. A simple braided halo lends a romantic vibe.
9. Boho Updo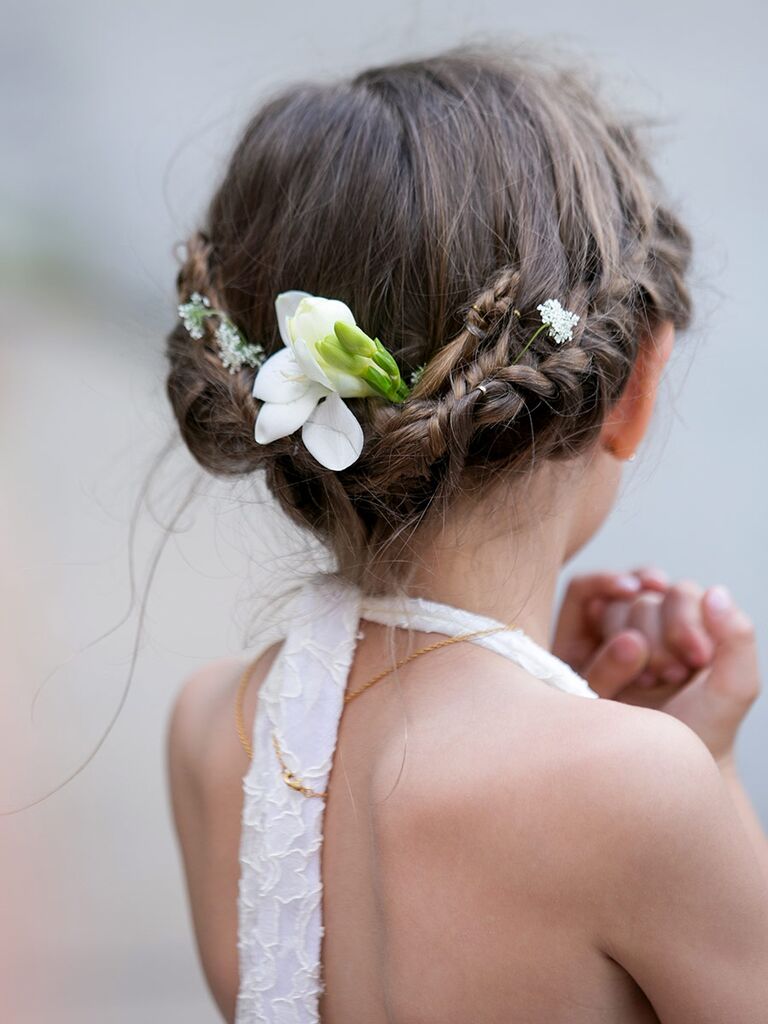 Anyone else want this look for themselves? Braids and twists pull this boho-inspired updo together. Loose tressels add to the effortless vibe.
From: A Romantic Bohemian Wedding at The Van Noy Mansion in Kansas City, Missouri
10. Wrapped Up In A Bow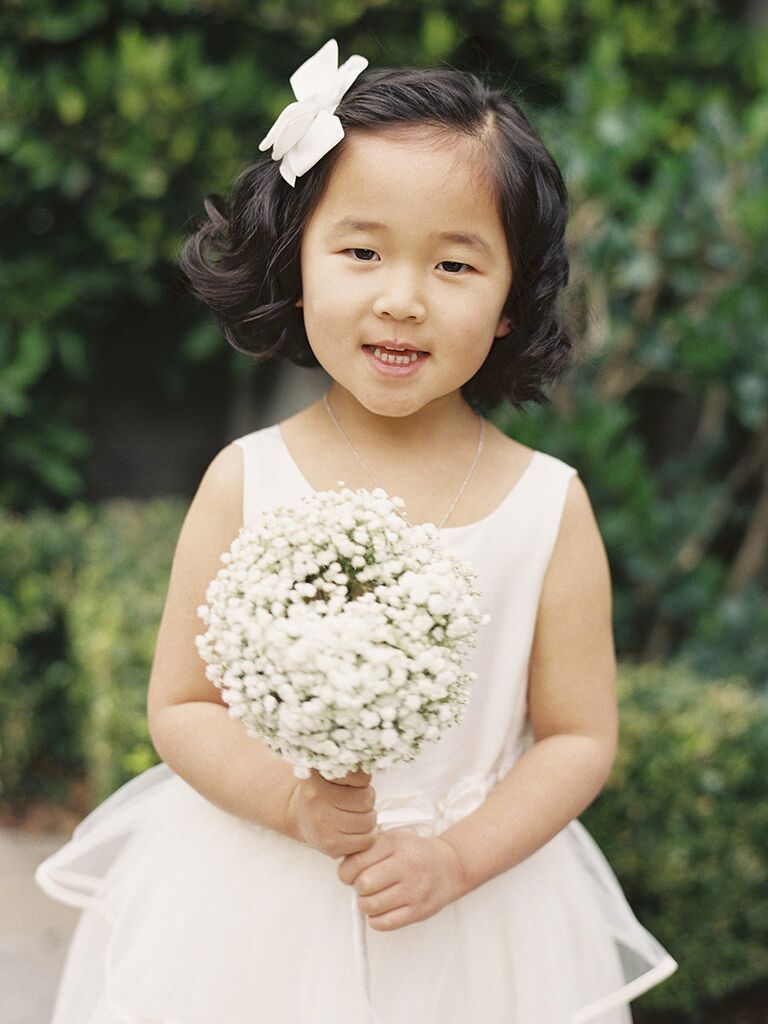 A bow just makes everything sweeter. A deep side part and loose curls look polished and playful.
From: Caroline Tran Photographer
11. Loose Waves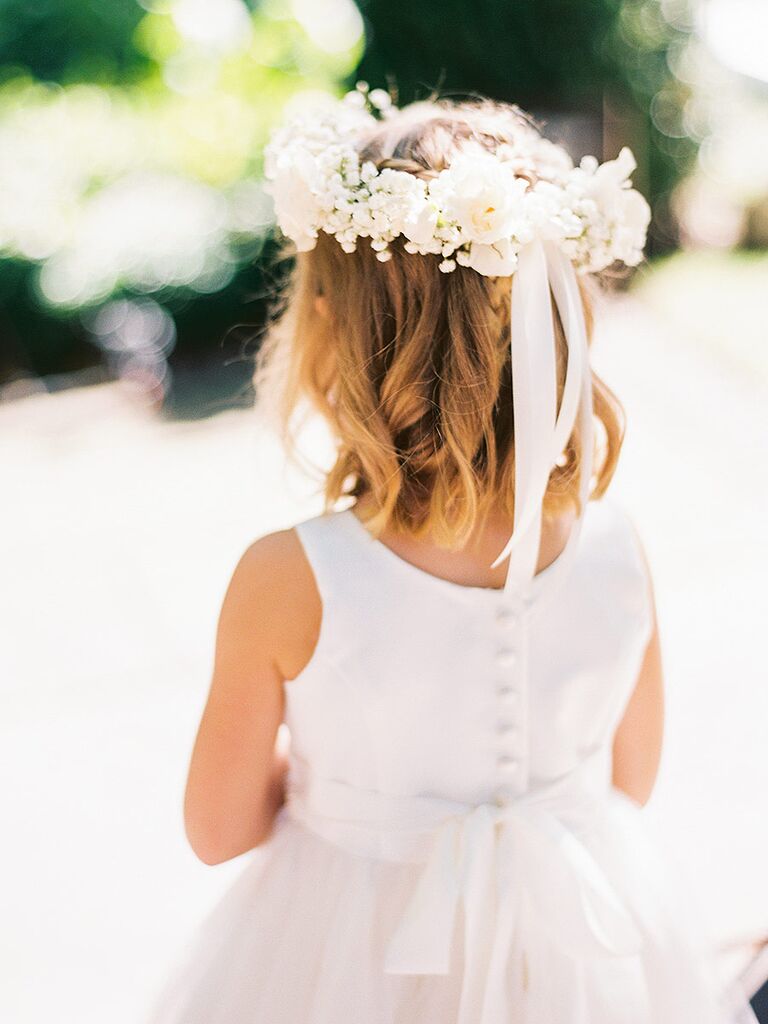 A luscious flower crown is the perfect accessory for effortless, loose waves.
From: Kristin La Voie Photography
12. Pinned Braids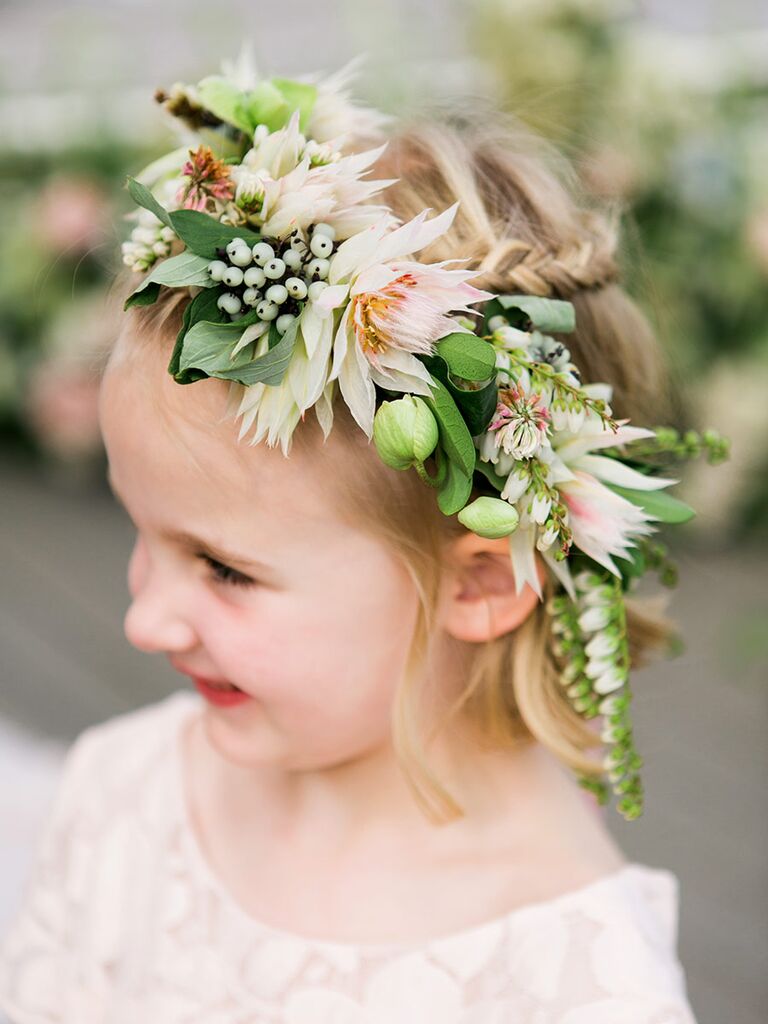 Braids are always stylish. Pinning them back and adding a statement flower crown make it a stand-out style.
13. All-Down Shoulder Length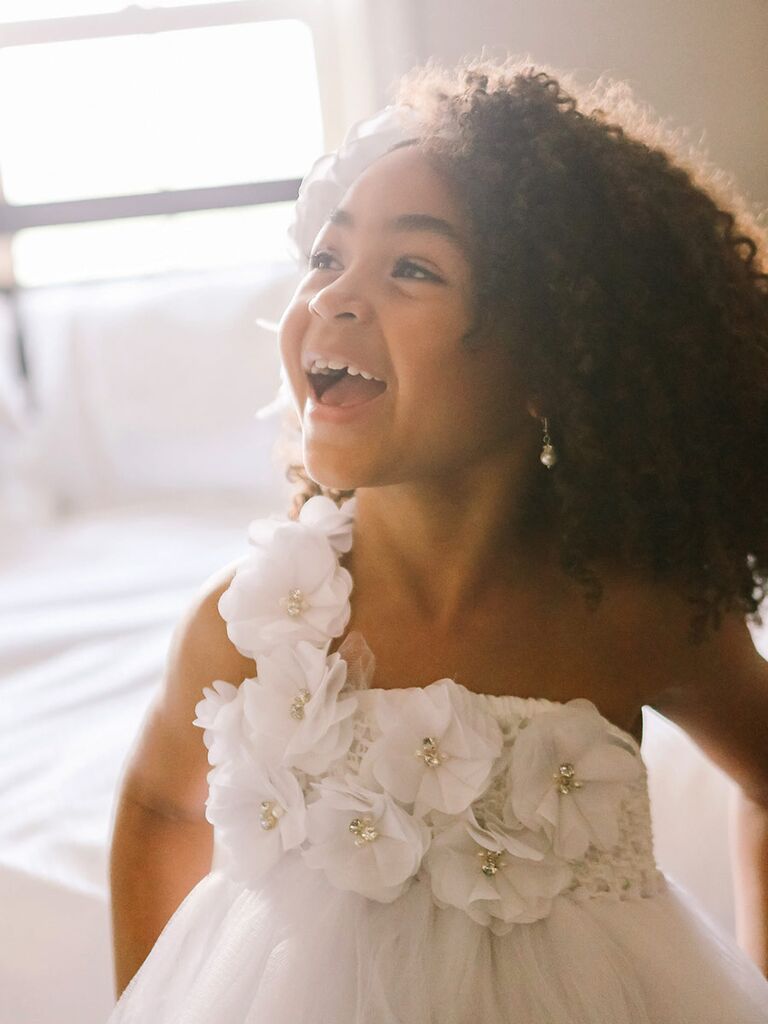 Let your flower girl be the natural beauty she is by simply adding an accessory to either side of her hair. If she wants to take it out halfway through the ceremony, no harm done.
From: A Glamorous And Vintage Wedding At The Venetian In Garfield, New Jersey
14. Long And Girls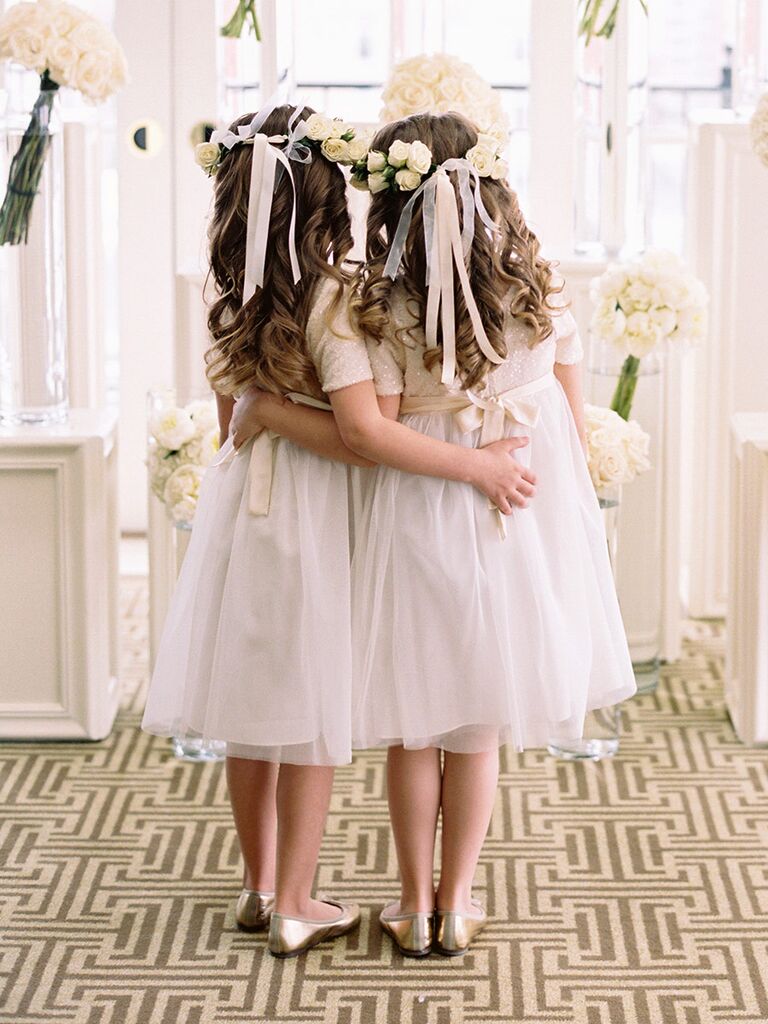 This style is for the ultimate girly-girl. Style her up with the works! Long curls,and a rose flower crown with pretty ribbon will be a style she'll be asking for every day.
From: A Chic Metallic Wedding At The Hay-adams In Washington, DC