The 2021 Wedding Hair Trends You Need to Know About
The '90s are back, baby.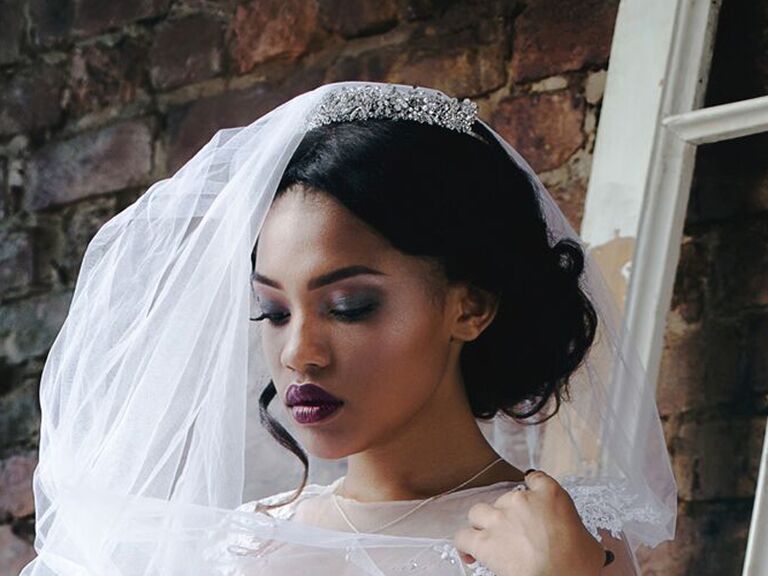 Veda Wildfire/Shutterstock.com
We have included third party products to help you navigate and enjoy life's biggest moments. Purchases made through links on this page may earn us a commission.
Due to the coronavirus pandemic, everything has changed: we've swapped out business casual for comfy athleisure and full-face makeup for simple, "no makeup-makeup" looks. As such, popular hairstyles, cuts and colors have shifted too. Whether you're in the market for a fashion-forward cut or you just want fresh fringe ideas, we rounded up 11 wedding hair trends for 2021 that you need to know about. Quarantine has allowed to-be-weds to experiment with bright colors and edgier, old-school cuts. However, it's also caused a shift back to the basics: low-maintenance cuts (think: pixie cuts and bobs) and casual styles (soft waves and low buns, for example). 
Scroll through the biggest wedding hair trends of 2021 to find your favorite, and then set up a call with your wedding hairstylist to test it out. You can either visit a guideline-abiding salon or set up a video consultation. If ever there was a time to take a hair risk, it's now, right? (We see you eyeing that mullet.) See the pros' hair predictions for this year, below.
Curtain Bangs
This viral hairstyle was all over TikTok at the end of 2020, so it's no surprise pros predict it's going to be everywhere in 2021. Curtain bangs are longer, softer side bangs that hit at the cheekbones and "curtain" open in the middle to frame the face (as shown here on Camila Cabello). Celebrity hairstylist Ryan Richman says they're likely so popular because they're so low-maintenance. "Curtain bangs and longer, side-swept bangs are softer and easier to style than short, blunt bangs," he explains. "Best of all they're noncommittal: As they grow out, they'll start to blend into the longer lengths of your hair while still framing your face." Plus, they're easy to trim at home, which means you can continue to wear this gorgeous trend even if the local salons aren't open.
Face-Framing Colored Streaks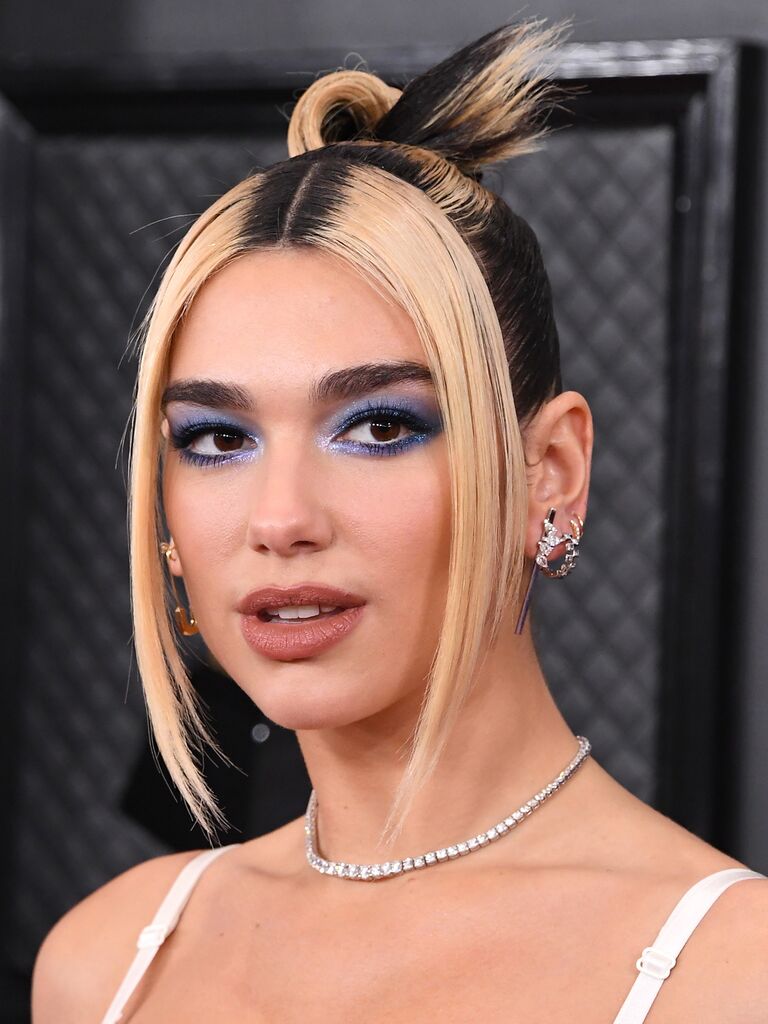 Ready to come back to your wedding stronger than a '90s trend? The latest old-school trend on the hair scene is face-framing colored streaks. This edgy style has been seen on the likes of TikTokers and celebrities everywhere (think: Dua Lipa, Bella Hadid and Billie Eilish), which is why Richman predicts it's going to be huge in 2021. To master the trend, dye the two front pieces of your hair or create thick, colored highlights around the top of your head.
Shags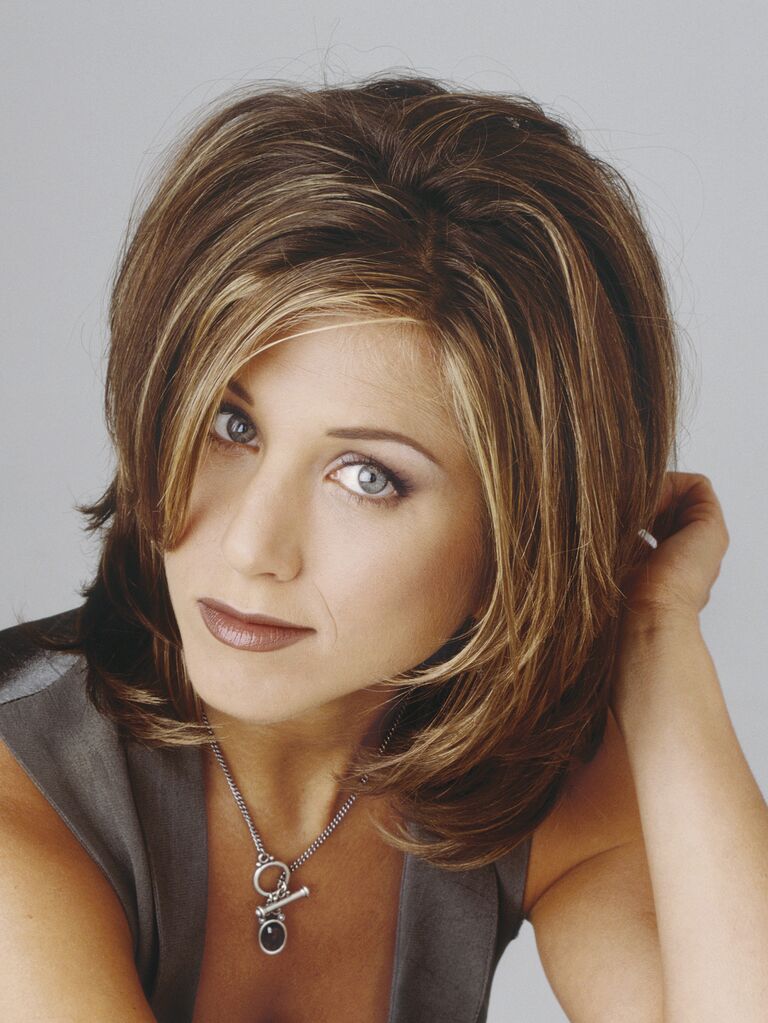 Calling all Friends fans. The moment you've all been waiting for is finally here: The shag is officially back. The style, popularized by Jennifer Anniston on the hit sitcom, is going to be huge in 2021. "The shag gives you tons of movement and volume at the crown with airy texture around the edges," Richman says. He adds that this style plays well with anyone's natural texture—from straight to wavy or curly. "The Rachel" is the most popular version of this style, but feel free to make it your own. Rock straight-across bangs or your natural curly texture for your own spin on this '90s-inspired 'do.
Modern Mullets 

Gilles Mingasson / Contributor/Getty.com
Yes, you read that right. Thanks to Miley Cyrus, the '80s are back as well—and Richman is here for it. "We'll see mullets on males and females alike," he says. But this year, they'll be back with a fresh, modern twist. "Miley's mullet is a combination of all current hair trends: a lob, shaggy bangs and short layers around the face. This haircut is edgy and very easy to style." In fact, all you need is some kind of styling cream (Richman recommends Monat's Studio One Air Dry Cream) to make it happen. Brush it through towel-dried, combed hair and let your locks air dry.
Natural Texture

Kevork Djansezian / Stringer/Getty.com
Because of the coronavirus pandemic, people are visiting the salons less frequently. As a result, celebrity hairstylist Kiyah Wright says people are gravitating towards low-maintenance hairstyles. "In 2021, people are looking for styles that are easy to maintain," she says. "A lot of women of color are cutting out their relaxer and going natural." If you're rocking your natural texture (like Tracee Ellis Ross is above), Wright recommends using some kind of nourishing hair oil (like Pantene's Gold Series biotin and kukui nut oil) to keep the hair healthy and happy. "It hydrates the hair, helps reduce hair breakage and makes [your hair] stronger—especially for newbies going natural."
Bobs/Lobs

Scott Dudelson / Contributor/Getty.com
In that same vein, many to-be-weds are chopping off their long locks for a fuss-free hairdo. Richman says even though bobs were popular last year, we'll definitely see an increase in them this year. "We will continue to see the bob in various lengths, from chin-length to shoulder-length," he says. "The difference will be in more of a carefree, natural style." Soft waves and subtle texture (as pictured above on Kehlani) will be added into every bob and lob you see this upcoming year. Nervous about making the chop? Consider a lob (long bob) cut right above your shoulders. It's a low-committal approach to the trend.
Soft Waves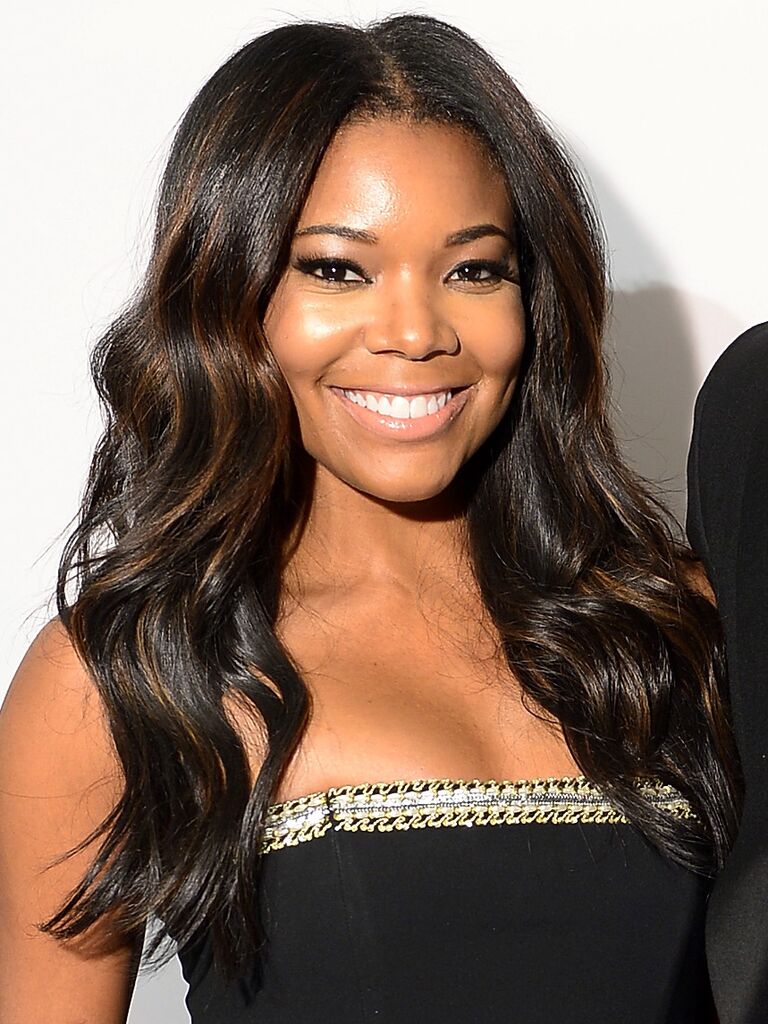 Due to the state of the world, 2021 will be the year of simple, laid-back wedding hairstyles. "People have become more comfortable with taking a step back from heavy glam and precisely-done hair due to the pandemic," Richman says. "As a result, wedding hair looks will be more casual." Soft waves, for example, will likely be everywhere since they're easy to achieve and look great with any outfit no matter the style or season. (Pro tip: Pin Gabrielle Union's gorgeous waves here for your own wedding glam inspo.)
Simple Updos

Kevork Djansezian / Stringer/Getty.com
Another simple style Richman expects to see everywhere this year? Simple updos, like a casual low bun (like this one on Alicia Keys) or a modern French twist. We love these 'dos because they look like they require a lot of effort and time—when in reality they're easy to achieve. Additionally, they'll keep your hair out of your face (and you won't have to worry about any rogue bobby pins falling out during the ceremony or reception).
Pixie Cuts

Jason Merritt/TERM / Staff/Getty.com
Low-maintenance to-be-weds, you'll love this of-the-moment cut. "The pixie is freeing—cool, sexy and easy to style at home," Richman says. "Ditch the hair repair products, split end creams, and deep conditioners, and visit the salon less frequently." All you need to style your pixie cut is some sculpting taffy or wax and a texturizing spray. Blow dry however you'd like (though we're partial to Halle Berry's effortlessly cool style), and you're done.
Bold Colors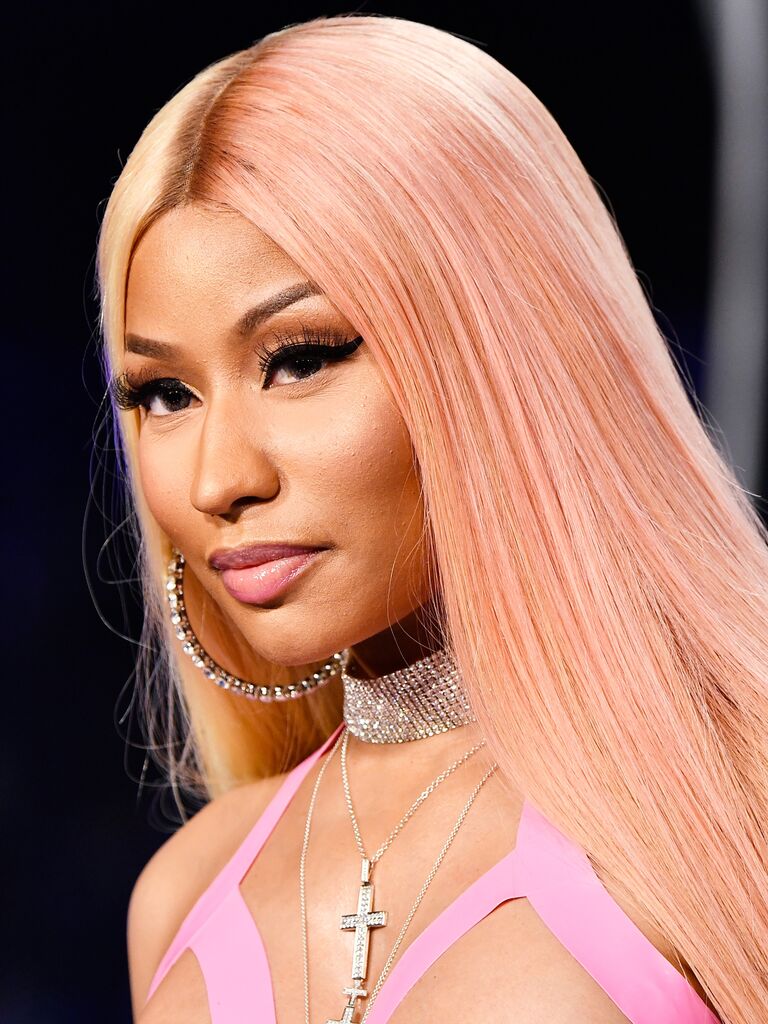 Wright says there isn't one single color that's going to be trending in 2021 because everyone is getting more adventurous. But she has noticed a few stand-out hues, which she predicts will be popular this year. "Lately, I've been seeing a lot of icy turquoise blues, rose golds, platinum blondes and warmer reds," she says. You can dye your head any of these popular colors, or consider a combination, like Nicki Minaj's blonde and rose gold style.
In addition, Richman predicts dark chocolate, lilac, silver and blue will be everywhere in 2021. If you're dreaming of a colorful wedding hairstyle, what better time to test out some different hues? Wedding hair pros are even offering hair-dyeing kits for purchase and instructional video calls so you can dye your tresses from the safety of your own home.
Regency-Inspired Hair Accessories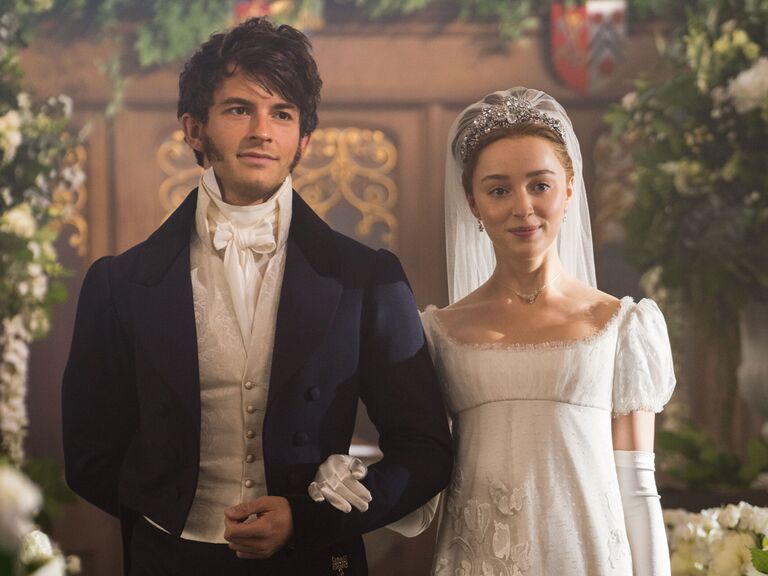 Given all the wedding dress and wedding decor inspo Brigerton has given us this year, it's not surprising the hit series has caused a new hair trend. Our editors predict that regency-inspired hair accessories (think: tiaras, beaded combs, fabric bows and silk flowers) will be everywhere in 2021 thanks to Daphne and the other members of the Ton. Word to the wise, Dear Reader: If you're planning on wearing a Bridgerton-inspired hair piece, make sure you tell your stylist in advance. That way, they'll be fully prepared to create the hairstyle of your dreams. You'll be shining like the diamond of the season—we guarantee it.